This avocado dip combines creamy avocado with sour cream, salsa, tomatoes, and shredded cheese for a quick and easy game-day snack.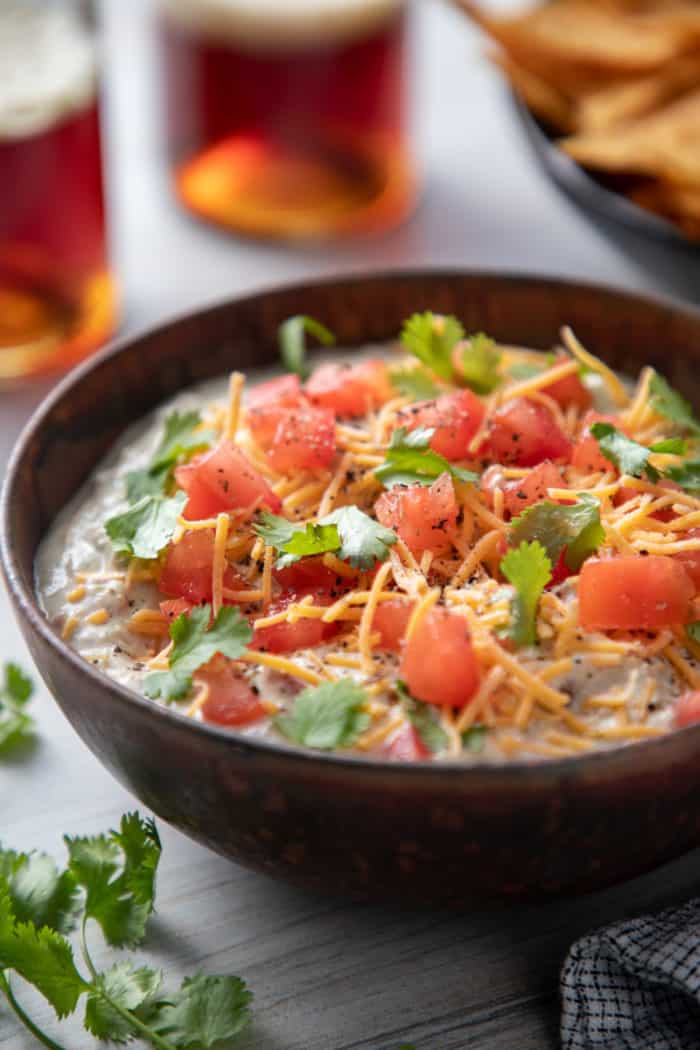 If you've been following My Baking Addiction for long, you probably know something about me: Football annoys me.
And don't even get me started on fantasy football teams. Hello, it's fantasy, so why is it necessary to take over the laptop, iPad, and TV to check scores and stats of some fantasy game?
But the one thing I don't mind about football is the food. You probably wouldn't find me anywhere near a game-day party if it weren't for the buffalo chicken dip, jalapeño popper dip, and spicy sausage dip.
Several years back, I had some beautiful avocados on hand and decided to throw together a dip with some other ingredients I found in my fridge. The result was a pretty rockin' avocado dip that has since made an appearance for many football games.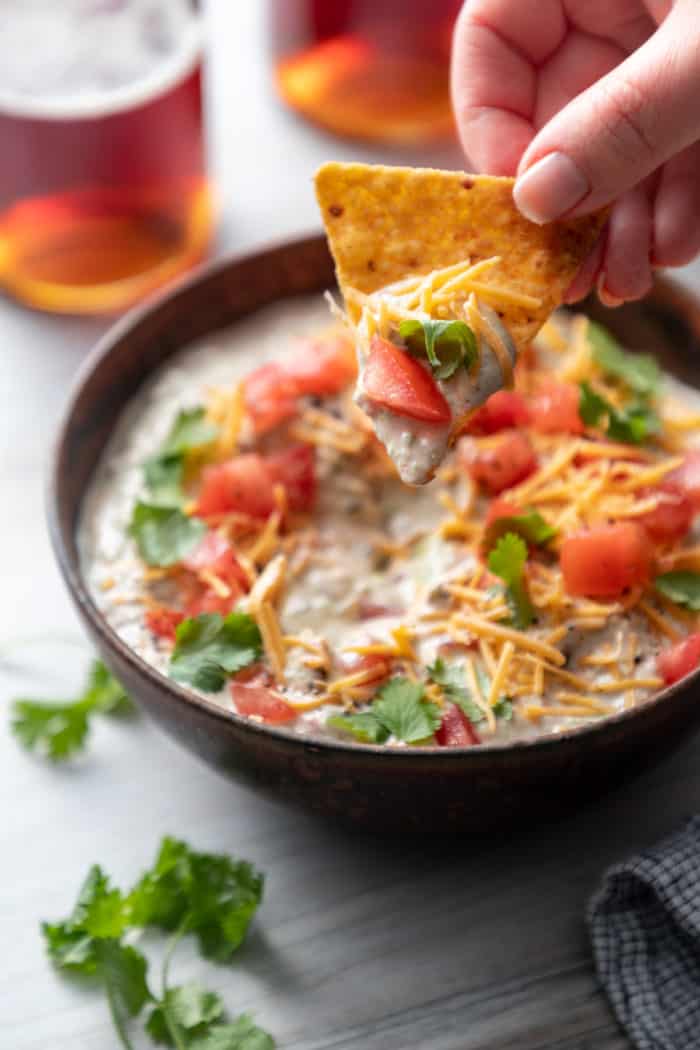 AVOCADO DIP VS GUACAMOLE
You might be thinking, "Jamie – isn't avocado dip just guacamole?"
Sort of…but not necessarily. Guacamole tends to be made with lime juice, jalapeños, onions, and cilantro in addition to the avocado.
This avocado dip, on the other hand, is more of a spin on traditional guacamole, and includes ingredients such as sour cream, cream cheese, salsa, and shredded cheddar cheese.
If you're a guacamole purist, this probably isn't the recipe for you. I'd recommend you try my spicy guacamole instead!
But if you love guacamole and other super creamy dips like my jalapeño dip or even a good ol' 7-layer dip, and are open to trying something a bit different, you'll love this avocado dip.
Give me a big bowl of this dip and a bag of tortilla chips and even *I* can happily sit through a game of football.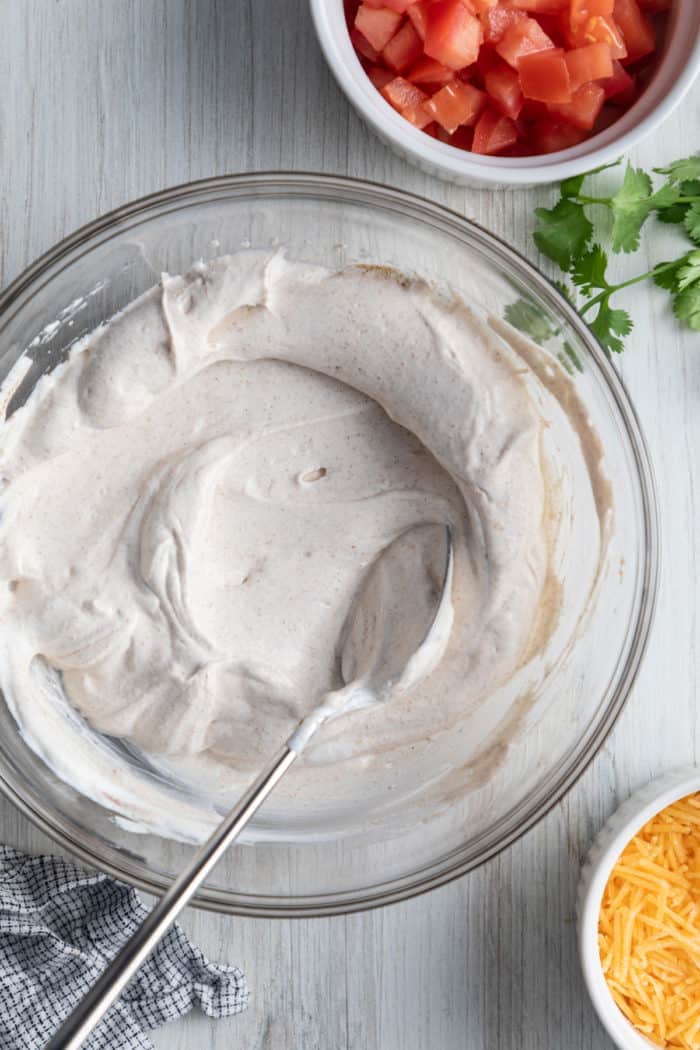 HOW TO MAKE MY AVOCADO DIP
Like so many dip recipes, this one is pretty easy to make. And It's even easier to make it as mild or as spicy as you like!
Ingredients you'll need
To make my avocado dip, you will need:
2 large or 3 small Haas avocados; halved, seeded and scooped
1 cup sour cream
4 ounces cream cheese, softened
1 teaspoon cumin
1 teaspoon lime juice
1/2 teaspoon hot sauce, or to taste
1/2 cup chunky salsa
3/4 cup shredded mild cheddar cheese, divided use
3/4 cup chopped tomato; divided use
salt and pepper to taste
Use your favorite hot sauce and salsa when making this dip. I often use Sriracha, but you could use Cholula, Frank's Red Hot, or something even spicier!
Same with the salsa. I usually use a mild or medium salsa, but don't be afraid to grab a fiery one if you want a spicy dip.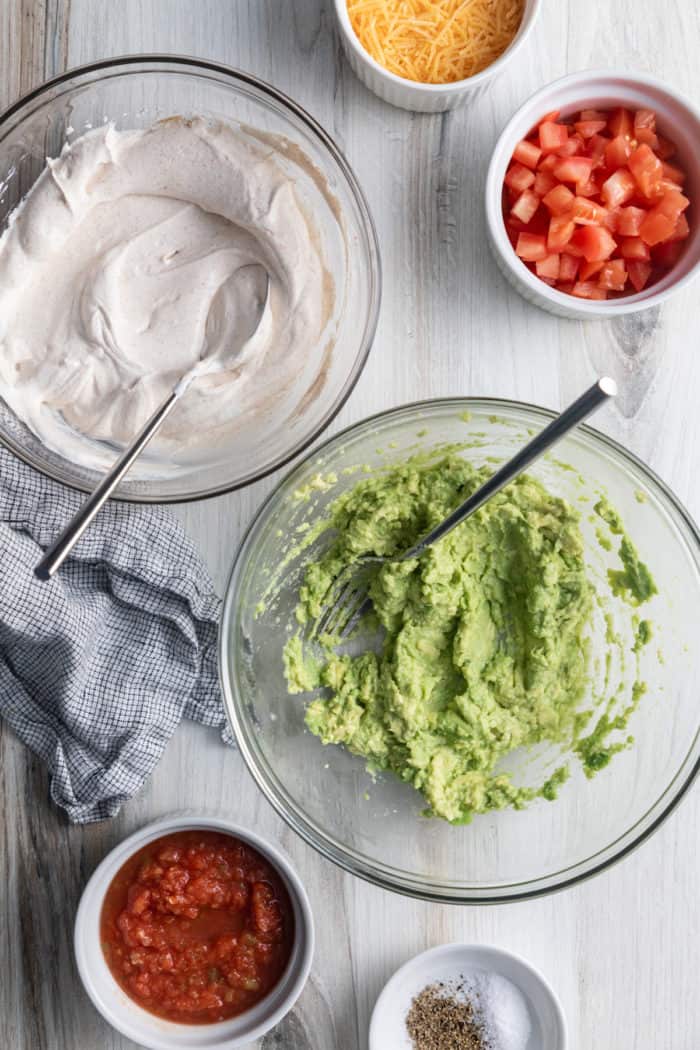 Making this dip
To make your avocado dip, start by mashing the avocados in a bowl. I usually like to use a fork or a potato masher to do this.
If you need to use a food processor to do this you can, but keep in mind that it will make for a smoother mash and a smoother dip, with fewer chunks of avocado.
In a separate bowl, mix together the softened cream cheese, sour cream, cumin, lime juice, and hot sauce.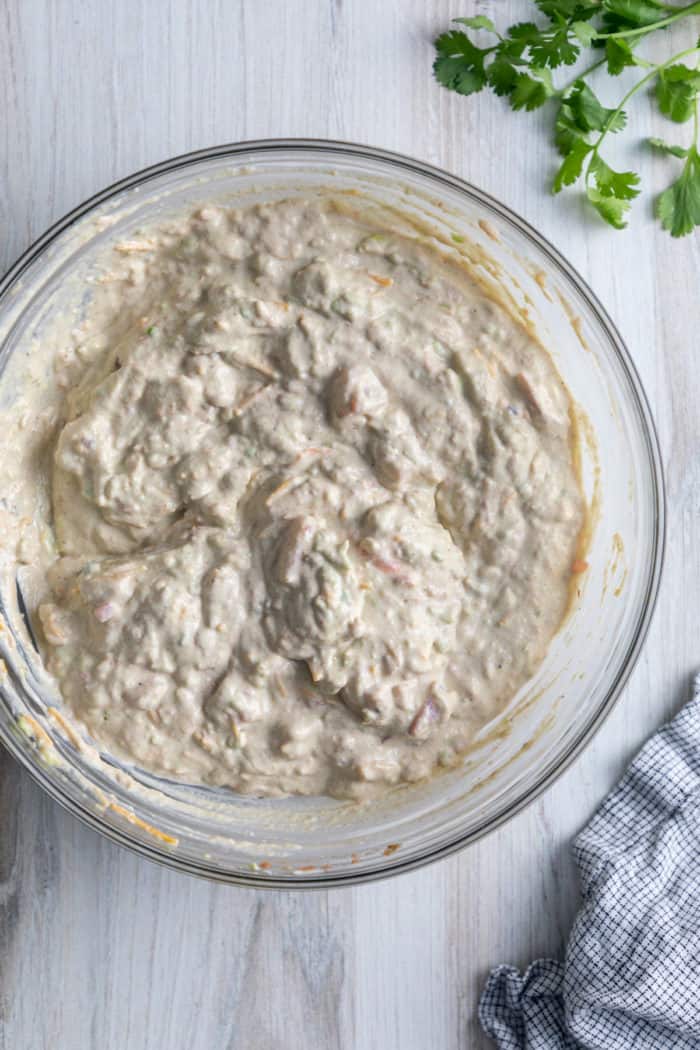 Fold the sour cream mixture into the avocados with the salsa, then add in ½ cup of the cheese and ½ cup of the diced tomatoes. Season with salt and pepper to taste; you can also add in more hot sauce or lime juice if you like.
Cover and refrigerate for at least 1 hour before serving.
Garnish with the rest of the cheese and tomatoes, as well as some cilantro, before serving with tortilla chips.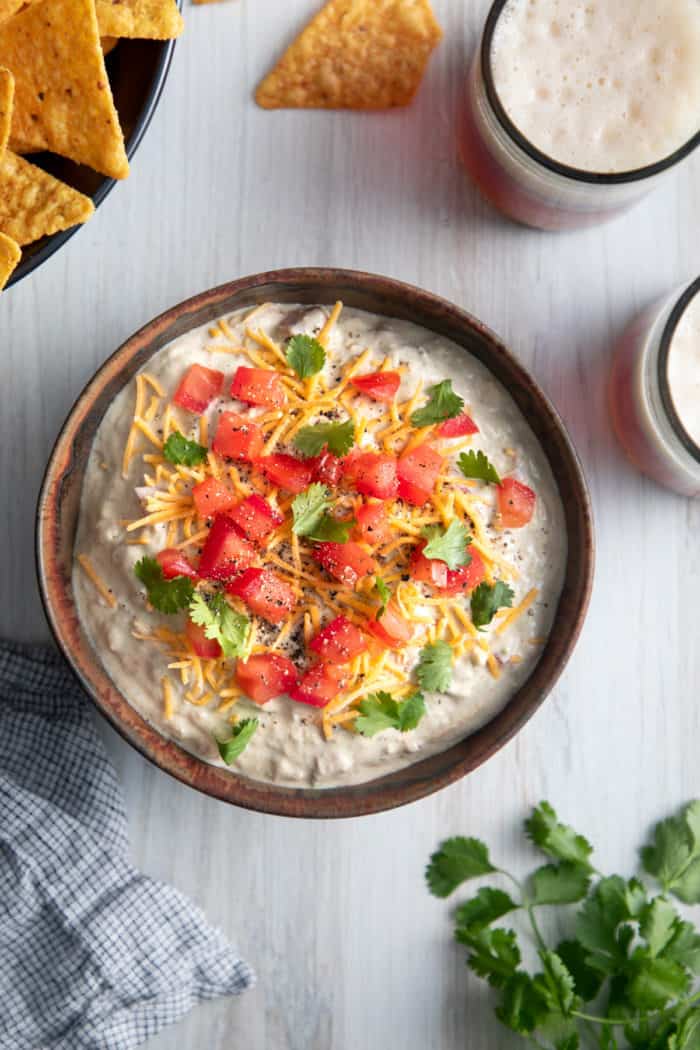 STORAGE
Store this avocado dip in an airtight container in the refrigerator.
Because the avocado is mixed with so many other ingredients, it should not oxidize as quickly as a traditional guacamole would. I still like to press a piece of plastic wrap on the top of the dip if I am storing it for longer than a day, though, just to be safe.
I don't recommend freezing this dip, due to the dairy in it.