Avocado Dip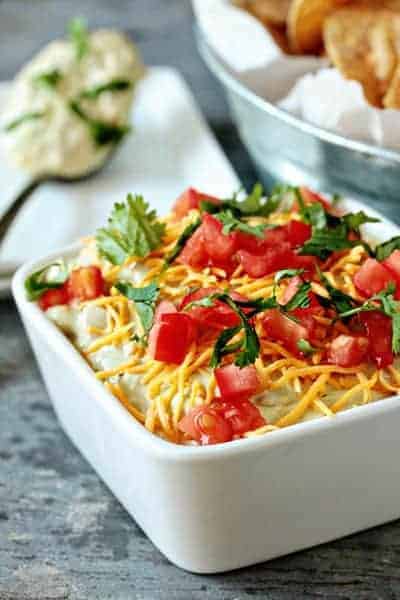 I'm about to tell you something controversial, something you may not love. Football annoys me. Not only does it dominate my television screen, but it kind of becomes the hub of our weekends. And what's up with the fantasy football teams? Hello, it's fantasy, so why is it necessary to take over the laptop, iPad and TV to check scores and stats of some fantasy game?
Can you tell I'm a teensy bit bitter? Clearly football has officially taken over my house, and if Brian had it his way – it would also take over the kitchen. For whatever reason, he feels as though every football game is cause for some type of mini party – complete with snacks. And guess who is supposed to be making these snacks? Yep, that would be me.
I have stash of game day grub recipes that typically make an appearance every Sunday to keep the boys happy, but sometimes I want something just for me. Something outside the realm of our standard Spicy Sausage Dip, Jalapeno Popper Dip and Sweet and Spicy Wings. Wandering around the grocery store (as I love to do), I picked up a few gorgeous Hass avocados. At home I tossed in a couple of ingredients I already had on hand, and suddenly we had a pretty rocking dip.
This Avocado Dip is a fun spin on traditional guacamole – it's bursting with bold flavors and is sure to satisfy that craving for game day grub. Although I'm not making any promises – it may even make football a little more tolerable for those of us less than enthused about the pigskin.
Avocado Dip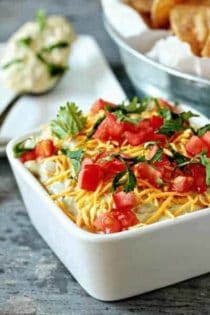 Ingredients:
2 avocados; halved, seeded and scooped
1 1/2 cups sour cream
1 teaspoon cumin
1/2 teaspoon Sriracha or other hot sauce
3/4 cup chunky salsa
3/4 cup Sargento shredded mild cheddar cheese, divided use
3/4 cup chopped tomato; divided use
salt and pepper to taste
fresh cilantro for garnish
Directions:
1. In a large bowl, mash avocados with a fork or potato masher.
2. In a small bowl, stir together the sour cream, cumin and Sriracha.
3. Fold sour cream mixture and salsa into the avocados. Add in 1/2 cup cheese and 1/2 cup tomato, season with salt and pepper; mix well.
Cover mixture; chill 1 hour. Before serving sprinkle remaining cheese and tomatoes over dip. Garnish with cilantro. Serve with chips.
Notes:
-The flavor of this dip will vary depending on the salsa you use. I prefer a fresh variety over canned.
-If you prefer a smoother dip, place the avocado and sour cream in a blender and pulse your machine until you reach a smooth consistency.
-If you want a thinner dip, add in a bit more sour cream.
-Feel free to substitute reduced fat sour cream and/or cheese. I'm not a fan of the fat free stuff, so I wouldn't recommend that option.
-Recipe adapted from Sargento Cheese Avocado Delight
All images and text ©
Follow Jamie on Instagram. We love to see what you're baking from MBA! Be sure to tag @jamiemba and use the hashtag #mbarecipes!
This post may contain affiliate links. We are a participant in the Amazon Services LLC Associates Program, an affiliate advertising program designed to provide a means for us to earn fees by linking to Amazon.com and affiliated sites.