Made with pickled jalapeños, creamy avocado, and lots of lime juice, this jalapeño dip is smooth and zippy and begging to be added to your game-day menu.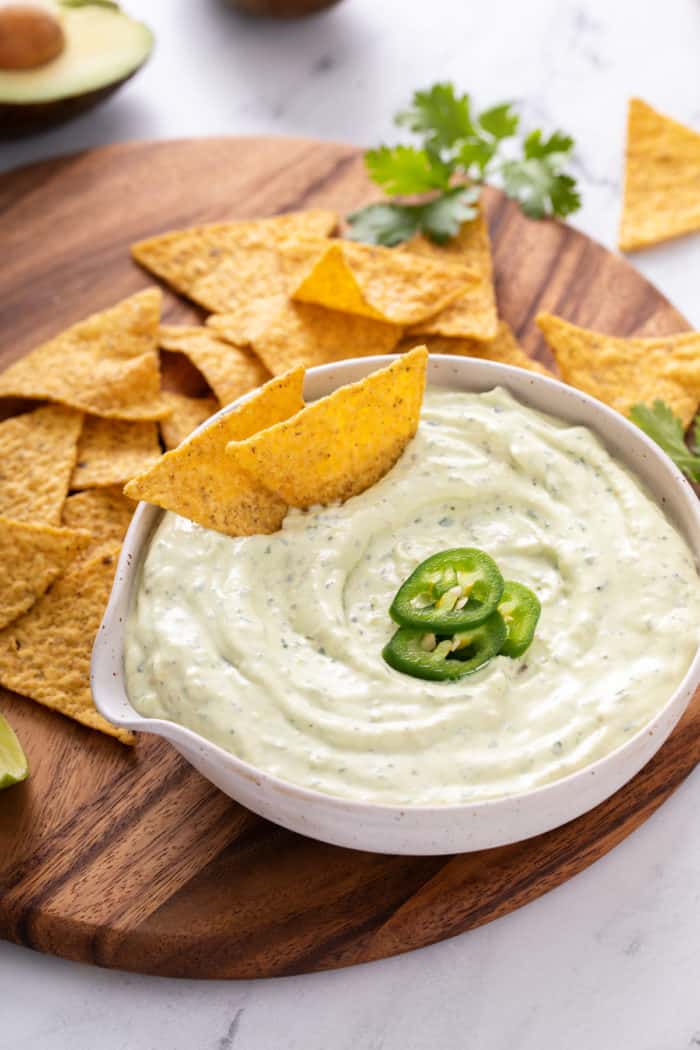 This post contains affiliate links.
I know that this time of year, everyone is all about the sweets.
But we've gotta balance out the sweets with a little bit of savory goodness right?
Whether it's a Christmas party, New Year's party, or a party for the big game, the dips are one of the first things I go for. Whether it's French onion dip, pizza dip, or just a container of hummus, I can get down with almost any dip.
This creamy jalapeño dip is the newest addition to my dip obsession. It's got just enough kick to it with a little bit of tang – I think you'll love it, too!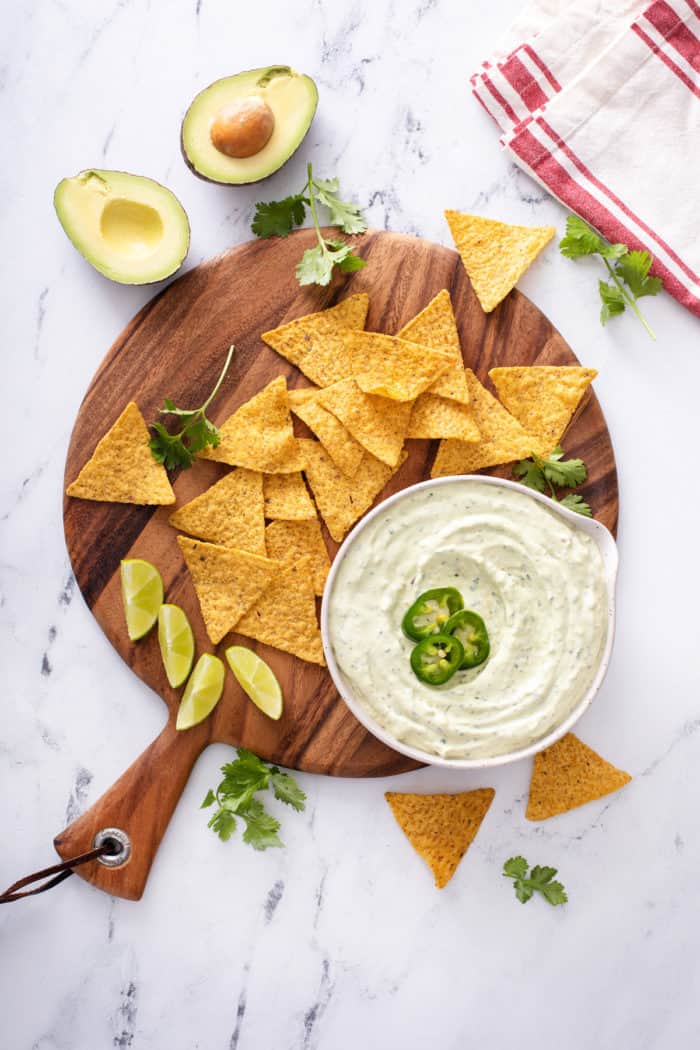 THE BEST AVOCADO JALAPEÑO DIP
Some time ago, I shared with you my recipe for jalapeño popper dip. It's a hot dip (like buffalo chicken dip) and is full of cheese and diced jalapeños and topped with a crispy panko topping.
And let me tell you, it is gooooood.
But this year, I started to crave a cold jalapeño dip thanks to some posts I saw on Instagram and TikTok. I couldn't get the idea out of my mind, so I did some experimenting and tweaking and this recipe was the result.
In my opinion, the avocados really make this jalapeño dip *chef's kiss* amazing. The creaminess of the avocados helps to make the texture of the dip super silky and their mild flavor balances out the tanginess of the peppers.
The other thing that makes this dip perfect is using pickled jalapeños.
My jalapeño popper dip uses diced canned jalapeños, but this recipe really benefits from the extra acidity from the pickled jalapeño brine.
It's creamy and tart and herby and just a little spicy and absolutely perfect on a tortilla chip.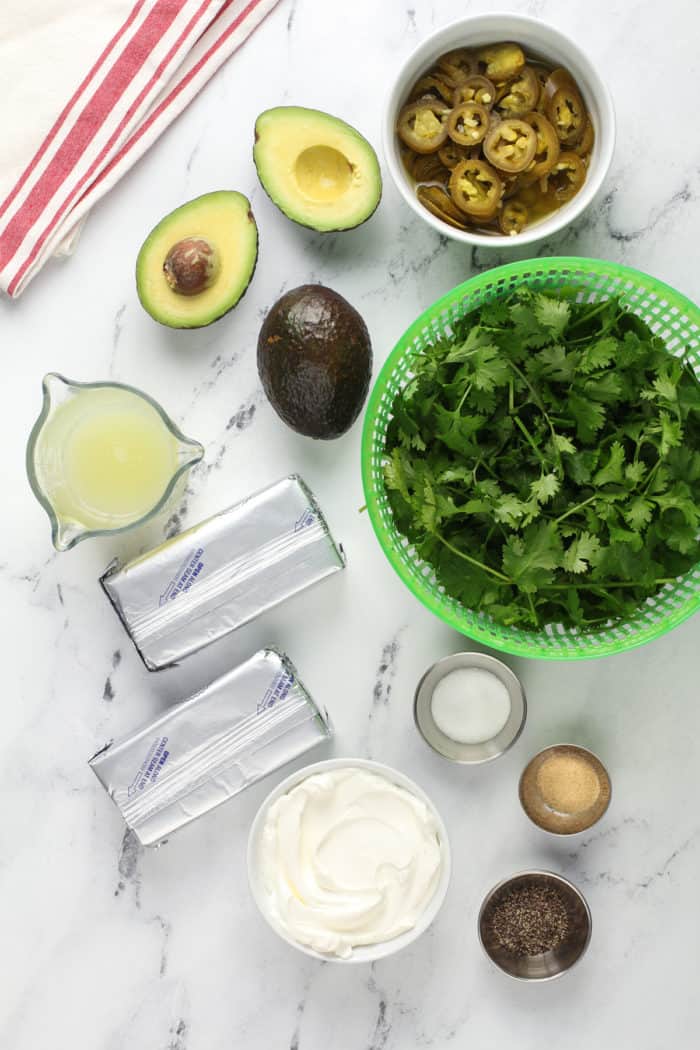 HOW TO MAKE JALAPEÑO DIP
Not only is this jalapeño dip delicious, it's incredibly easy to make!
Ingredients you'll need
As the recipe is written, you will need the following ingredients:
2 (8 ounce) packages cream cheese, softened
2 avocados, pitted and flesh removed
1 (7 ounce) can pickled jalapeños
1 cup sour cream
3-4 limes, juiced
1 bunch fresh cilantro
2 teaspoons black pepper
1 ½ teaspoons salt
1 teaspoon garlic powder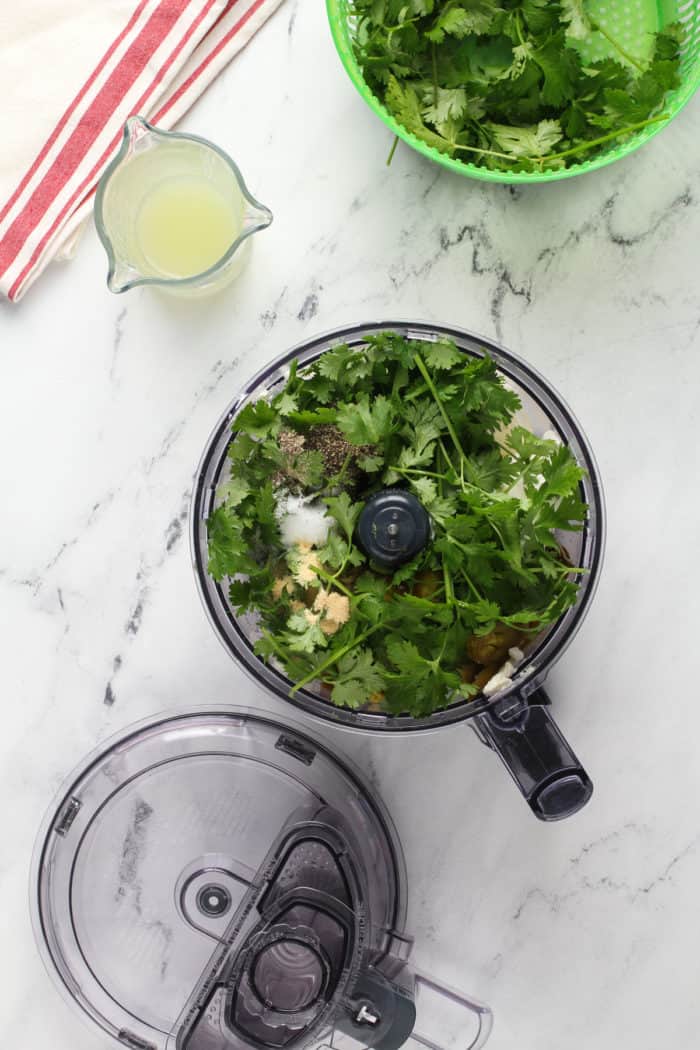 I like to use the sliced pickled jalapeños so I don't have to worry about removing the stems. If you can only find whole pickled jalapeños, I do recommend taking off the stems before making the dip.
One caveat is that this recipe makes a LOT of jalapeño dip. If you are prepping for a party or tailgate or any other big gathering, you'll be set!
If you want to make a smaller batch, you can halve the recipe. In this case, you will only use about half of the can of pickled jalapeños; you can always add more after you taste the dip if you think it needs it.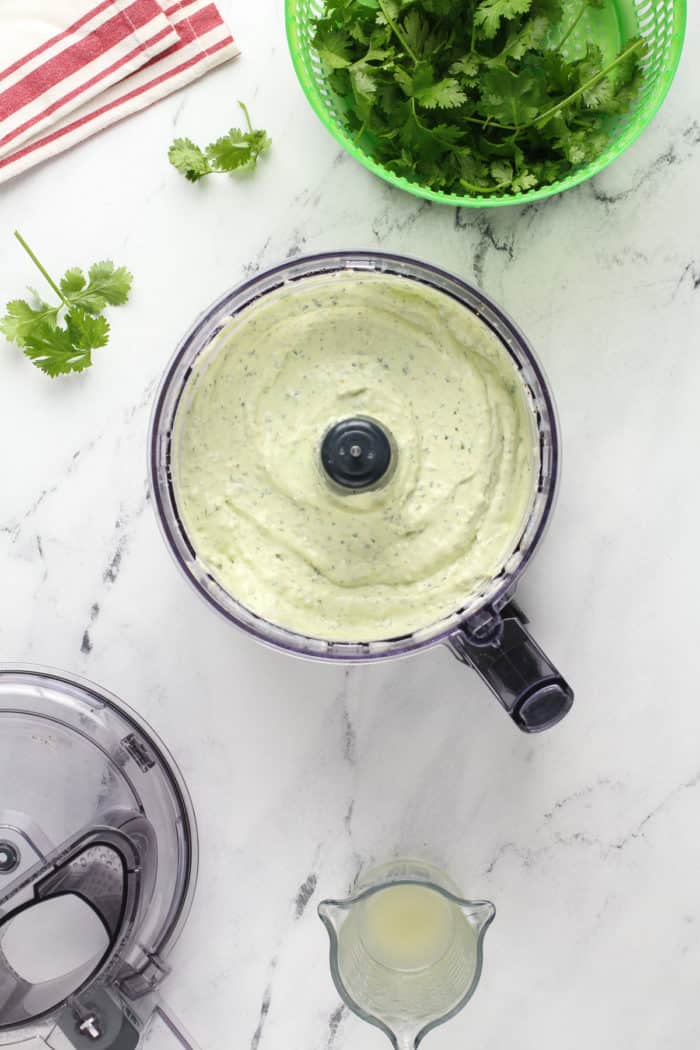 Equipment you'll need
This recipe is so easy that you really only need one thing to make it: a food processor!
Since this does make a large amount of dip, you'll want to use a full-size food processor, not one of those mini choppers.
You can also use a high-powered blender, although I think a food processor is a bit easier to use here.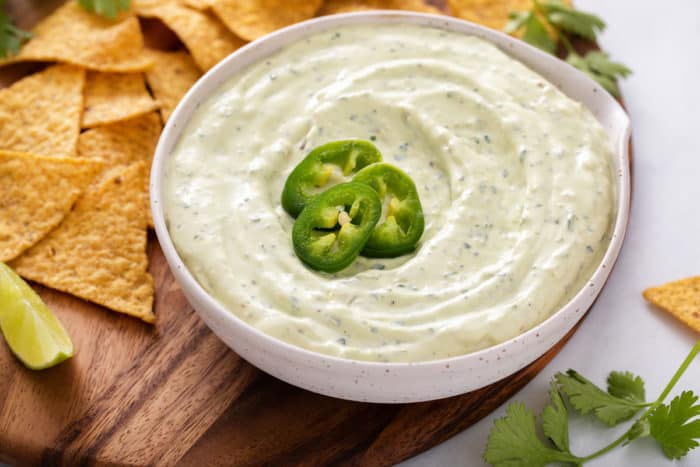 Making this recipe
Ok, I'm gonna show you how easy this dip is to make. Are you ready?
Add the cream cheese, avocados, pickled jalapeños (with all of their juices!), sour cream, half of the lime juice, and half of the cilantro along with the salt, pepper, and garlic powder to the bowl of your food processor.
We're only adding half of the lime juice and half of the cilantro to start so that we can adjust the dip to taste in a moment. Cilantro especially can be a divisive ingredient, so you may prefer the dip with more or less depending on your preferences!
Process all of the ingredients until combined. Give the jalapeño dip a taste and add more lime juice and/or cilantro as you think it needs it.
Process the dip until it is smooth and creamy. Serve it right away, or allow it to rest in an airtight container in the refrigerator for a couple of hours to tighten it up before serving.
This dip is incredible with tortilla chips, but would also be amazing on flank steak tacos!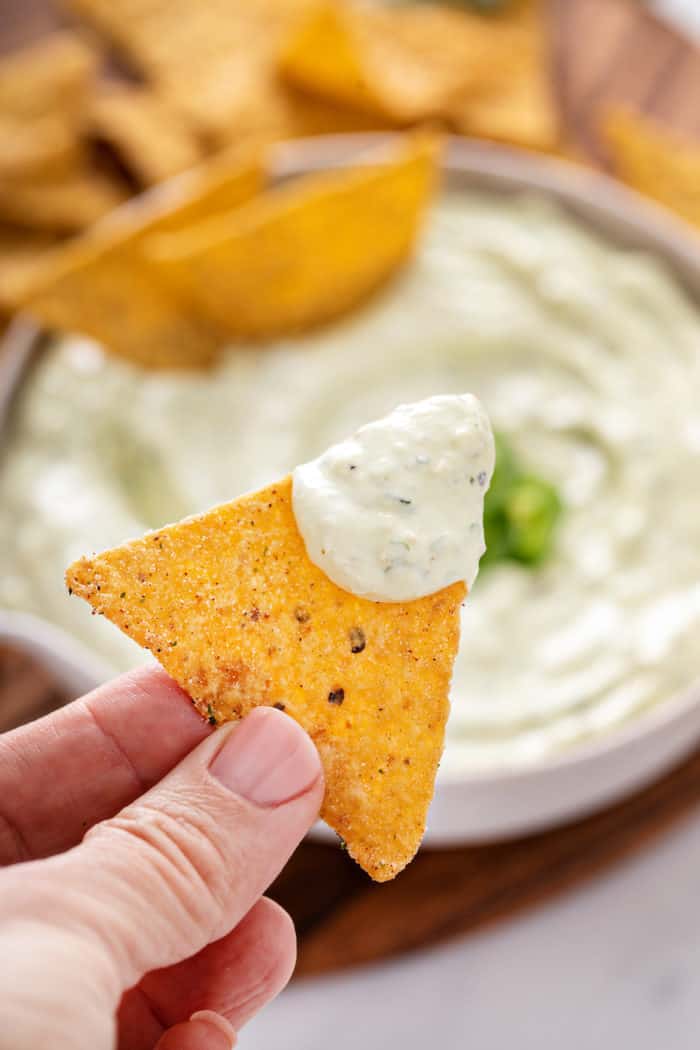 STORAGE
Store your jalapeño dip in the refrigerator in an airtight container for up to 4 days.
Since it can rest in the refrigerator until you're ready to serve it, it's perfect for making a day or two ahead of time!
I do not recommend freezing this dip. Dairy tends to do weird things after it thaws, and we don't want any funky textures here. Stick to making it a day or two before your party instead.