Hello, again! It's Emily from Jelly Toast and I'm so excited to be back here on MBA to hang out with you all. You're such an awesome bunch.
With all of the holiday cookie baking going on lately, I got to thinking about all of the other desserts that often take a backseat to "The cookie tray." By the way, does your family have a cookie tray too? We totally rock the cookie tray.You know the one – the tray with about twenty different kinds of cookies and a little something for everyone.
As much as I love a good cookie selection, I also like the idea of having one main dessert that anchors the entire dessert table and is then surrounded by all of its little cookie friends creating one big happy dessert family.
For me, a great example of a main holiday dessert is my Grandma's Apple Crisp. She often brings it to family holiday gatherings and it's always been one of my favorites. I love the fact that it is kind of like a pie, but much more casual. Like a pie in jeans. I decided to give the apple crisp a whirl for myself so I called up my Grandma and she very generously shared her recipe. She's sweet like that.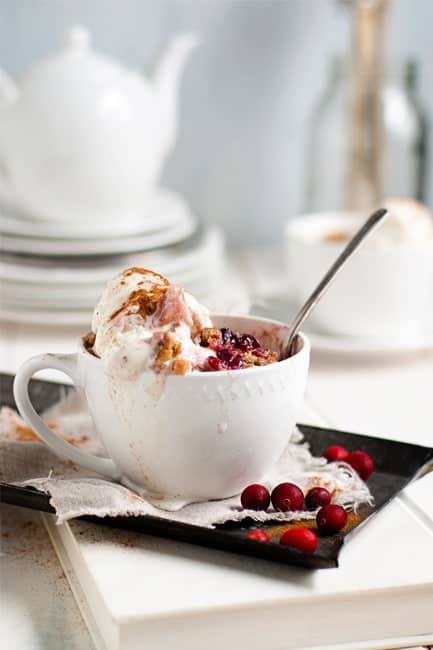 Because I am a tinkerer, I just had to add my own touch to her recipe by mixing in some fresh cranberries to make it extra holiday-ish. I admit that I tend to go overboard this time of year and add cranberries to everything. Fresh or dried, from cookies to drinks – it doesn't matter. I love those little red berries. I am also in a complete miniaturizing phase, so I had no choice but to turn these into mini crisps. No choice I tell ya.
So these Mini Apple Cranberry Crisps are my spin on my Grandma's traditional treat. Sweet and spiced apples paired with tart and tangy cranberries. The whole thing is finished with a crispy brown sugar and oat topping that will make your mouth scream for more. It's seasonal, a total comfort food and an absolutely perfect centerpiece for your holiday dessert table (especially when it's topped with a giant scoop of vanilla bean ice cream).
Happy Holidays!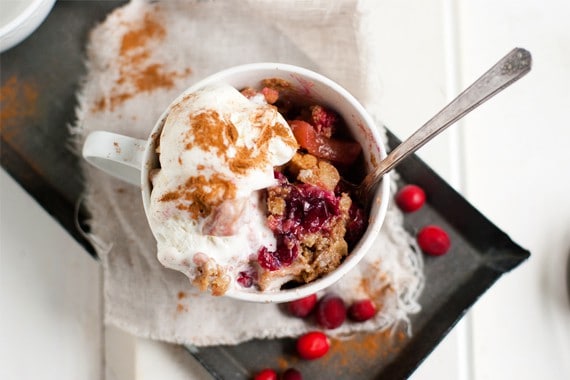 [pinit]

Mini Cranberry Apple Crisps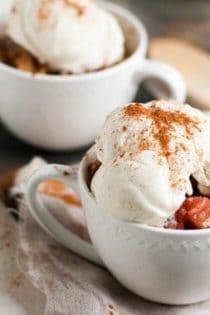 Ingredients:
For fruit filling:
4 large apples, peeled, cored and chopped into ½ inch pieces (about 5 ½ cups) I used Granny Smith and Fuji
1 1/2 cups of fresh cranberries
1/4 cup of brown sugar
1/2 teaspoon of cinnamon
For topping:
6 Tablespoons of butter, cold and cut into small pieces
1/2 cup of all-purpose flour
3/4 cup of brown sugar
3/4 teaspoon of cinnamon
1/2 teaspoon of freshly grated nutmeg
1/2 cup of rolled oats
For serving (optional):
vanilla bean ice cream
whipped cream
sprinkle of cinnamon
Directions:
1. Preheat oven to 350. Place 10-6oz ramekins (or other oven proof dishes) on a rimmed baking sheet and set aside.
2. Prepare fruit filling: Place apples and cranberries into a large bowl. Add brown sugar and cinnamon and toss to coat.
3. Divide mixture evenly between 10 ramekins. The ramekins will seem very full but the fruit cooks down during baking.
4. Prepare the topping: Place all of the topping ingredients into a medium sized bowl (butter, flour, brown sugar, spices and oats). Using a pastry blender, cut the butter into the dry ingredients; this step will take a few minutes, but in the end you should end up with a well-blended crumbly topping with pea-sized pieces of butter throughout.
5. Divide the topping evenly among the ramekins, gently pressing it into place on top of the fruit. The ramekins will seem extremely full at this point, but it will all cook down in the oven.
6. Place the baking sheet with the filled ramekins into the oven and bake for 35-40 minutes or until the fruit is bubbling and the topping is golden brown.
7. Allow to cool slightly. The crisps can be served warm or at room temp with a big scoop of vanilla bean ice cream or dollop of whipped cream. A sprinkle of cinnamon is always a nice idea, too.
8. Store extra crisp covered in the refrigerator.
Want to make one large crisp? No problem. This can be baked in a 9×13 inch glass baking dish. You may need to increase baking time slightly.
Enjoy!
All images and text ©
Follow Jamie on Instagram. We love to see what you're baking from MBA! Be sure to tag @jamiemba and use the hashtag #mbarecipes!