Cranberry apple crisp is sweet, tart, and perfect for the holiday season.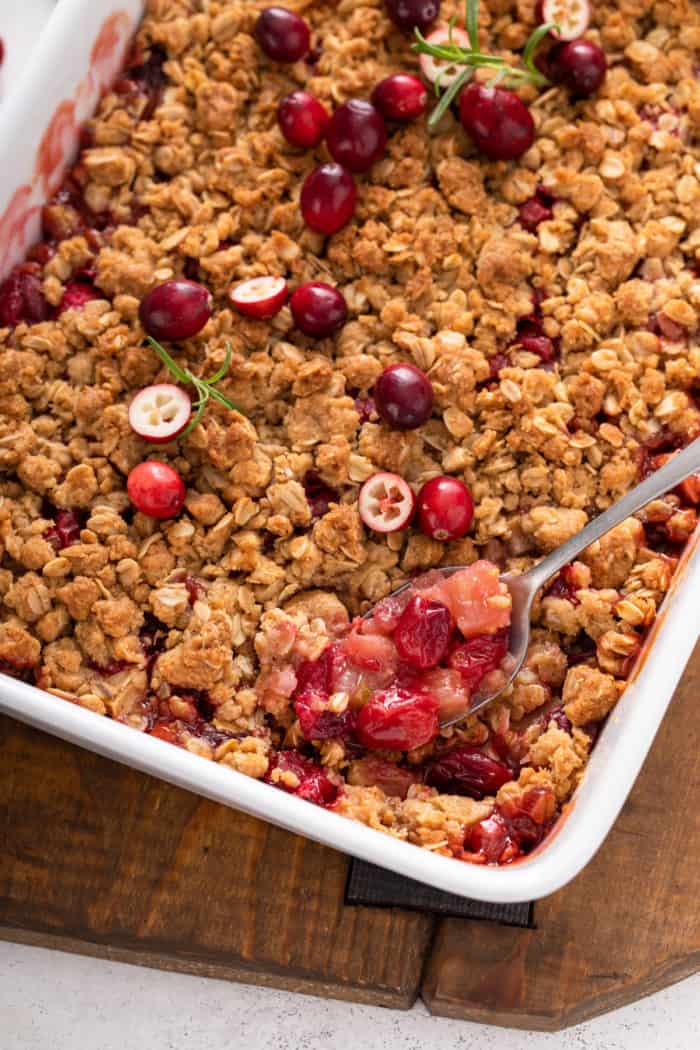 This post contains affiliate links.
What are you planning to make for Thanksgiving dessert this year? Is your family all about one big statement dessert – such as pumpkin cheesecake or chocolate pecan pie – or do you like to have a few different desserts?
I have to say, I like the idea of having two or three simple yet flavorful desserts so that everyone can try a bit of everything. Pecan bars, no-bake pumpkin cheesecake, and an apple crisp would be a dessert spread to go crazy for!
The idea for this cranberry apple crisp originally came from my friend Emily over at Jelly Toast as a spin on her grandma's traditional holiday apple crisp.
I love the combination of the tart cranberries with the apples and sweet oat topping and think this would be a beautiful addition to your Thanksgiving menu.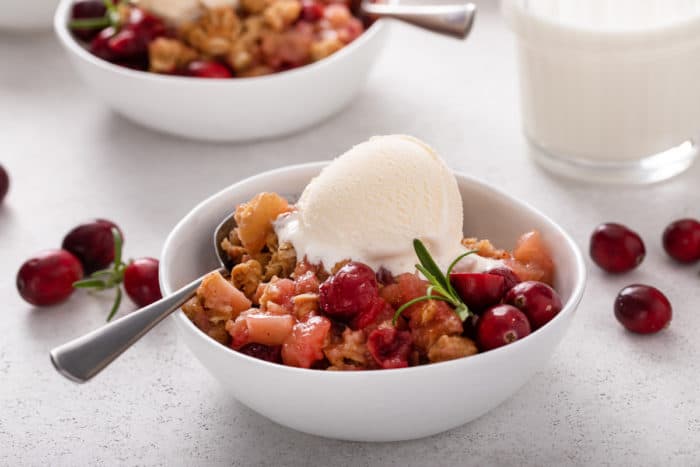 A CRANBERRY TWIST ON APPLE CRISP
I am a big fan of old-fashioned apple crisp this time of year.
After all, there's just something about that spiced apple filling paired with a sweet and crunchy oat topping. You know we are ALL about the oat topping around here!
I love twists on apple crisp, too, whether it's my apple pear crisp, caramel apple crisp, or this cranberry apple crisp.
And you know what else I love this time of year? Cranberries!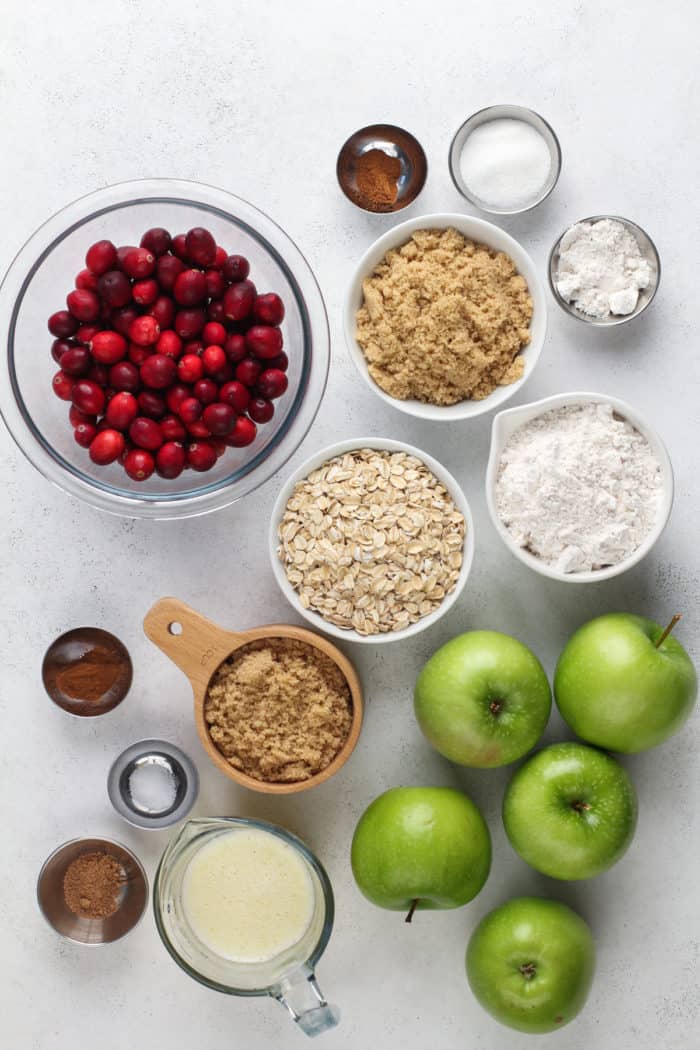 From appetizers (such as cranberry brie bites) to side dishes (cranberry fluff, anyone?) to the dessert table, those tart little jewels just scream holiday cheer to me.
So it makes perfect sense to combine tart cranberries with sweet apples for the perfect holiday crisp!
The result is a fruit base that is a great balance of tart and sweet, crowned with everyone's favorite oat topping.
I like to toss everything into a 13×9-inch pan, but you could bake it in 8-ounce ramekins for individual crisps that are impressive enough for any holiday table.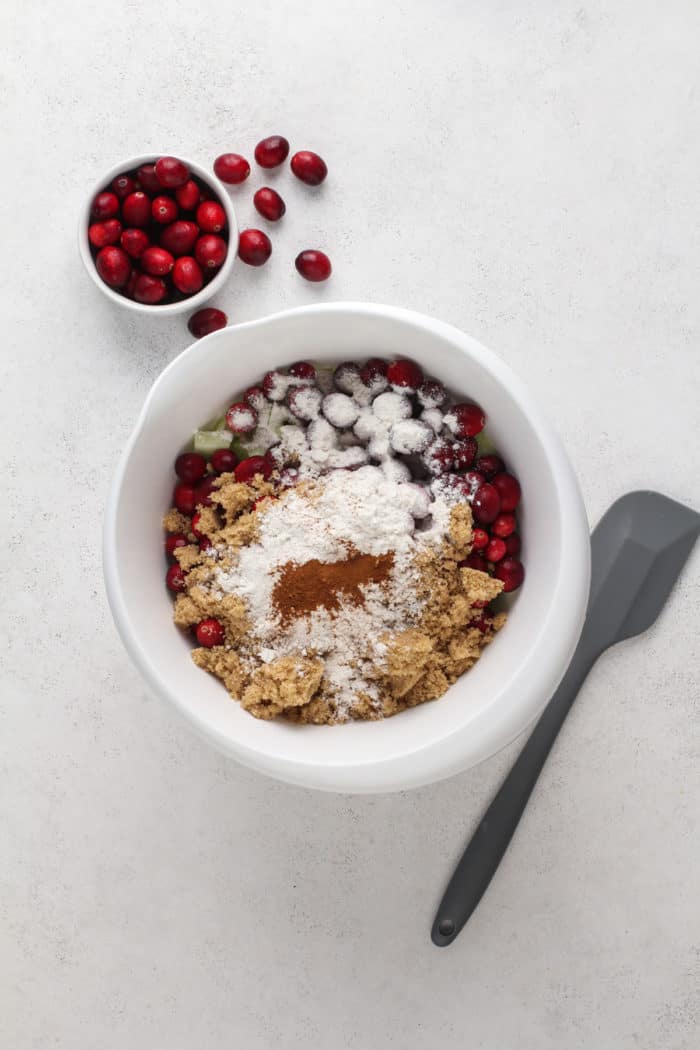 HOW TO MAKE CRANBERRY APPLE CRISP
Even though pie is often considered a traditional holiday dessert, I think we should consider making fruit crisp the star of the show! It's so much easier to make than pie and never disappoints.
This cranberry apple crisp is simple to throw together and is so delicious, I promise you that no one will miss the pie.
When are cranberries in season?
If you've ever tried to buy fresh cranberries, you probably know that they aren't available year-round like some fruits are.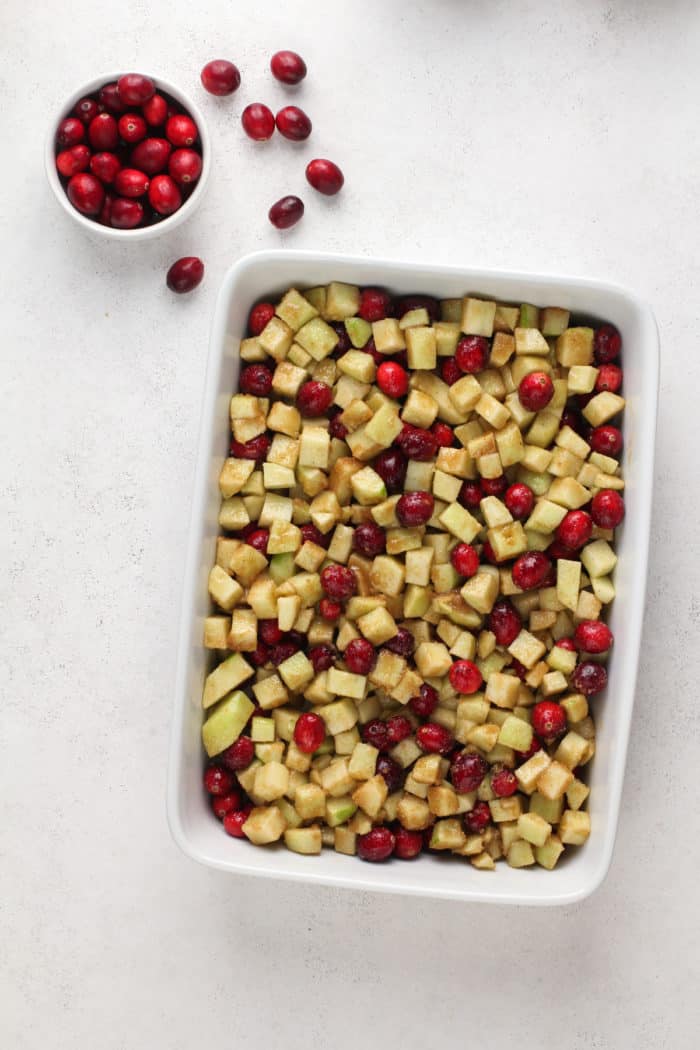 Here in the US, you can typically find fresh cranberries in stores starting in October and going through December.
Sometimes you can get lucky when fresh cranberries are out of season and find bags of frozen cranberries in the freezer section. I recommend checking your store's website before you go, though, because not every grocery store carries frozen cranberries.
When fresh cranberries are in season, I like to buy a few extra bags to keep in my freezer. Spread the cranberries on a sheet pan and freeze for a couple of hours. Transfer to zip-top freezer bags and keep in the freezer for up to 6 months.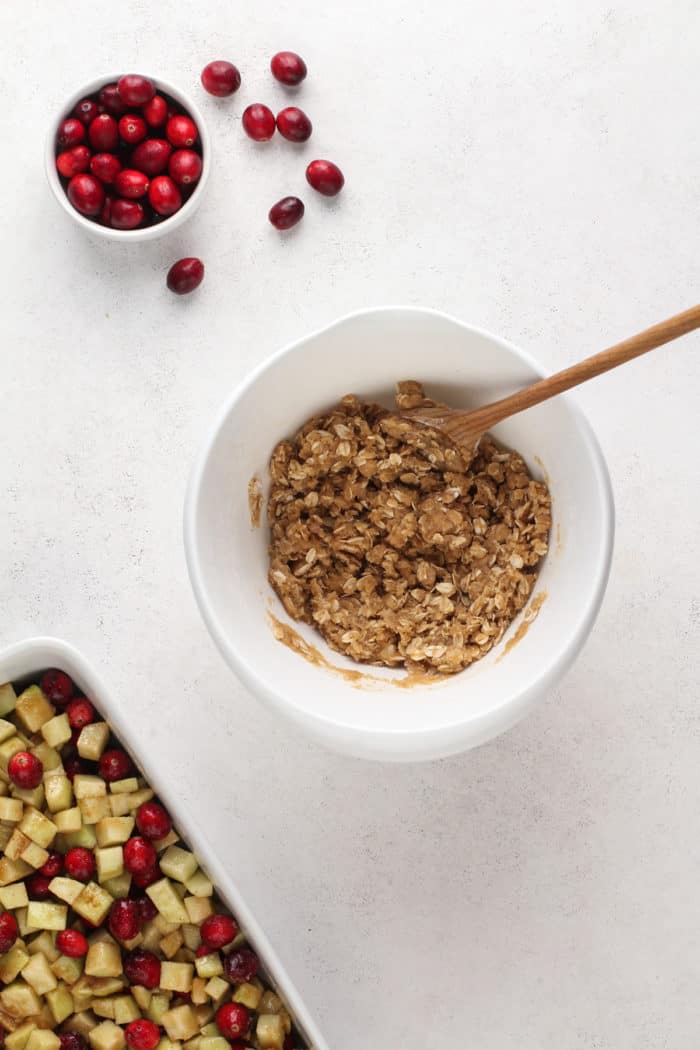 What apples should you use?
This recipe calls for using Granny Smith apples in the filling. I like using Granny Smith apples because they are nice and tart and hold up well to baking.
If you prefer a slightly sweeter filling, you could use a less tart baking apple, such as honeycrisp, golden delicious, jonagold, or pink lady apples.
I do recommend sticking with baking apples, such as the ones listed above, so that the apples don't break down too much in the oven. We want cranberry apple crisp, not cranberry applesauce!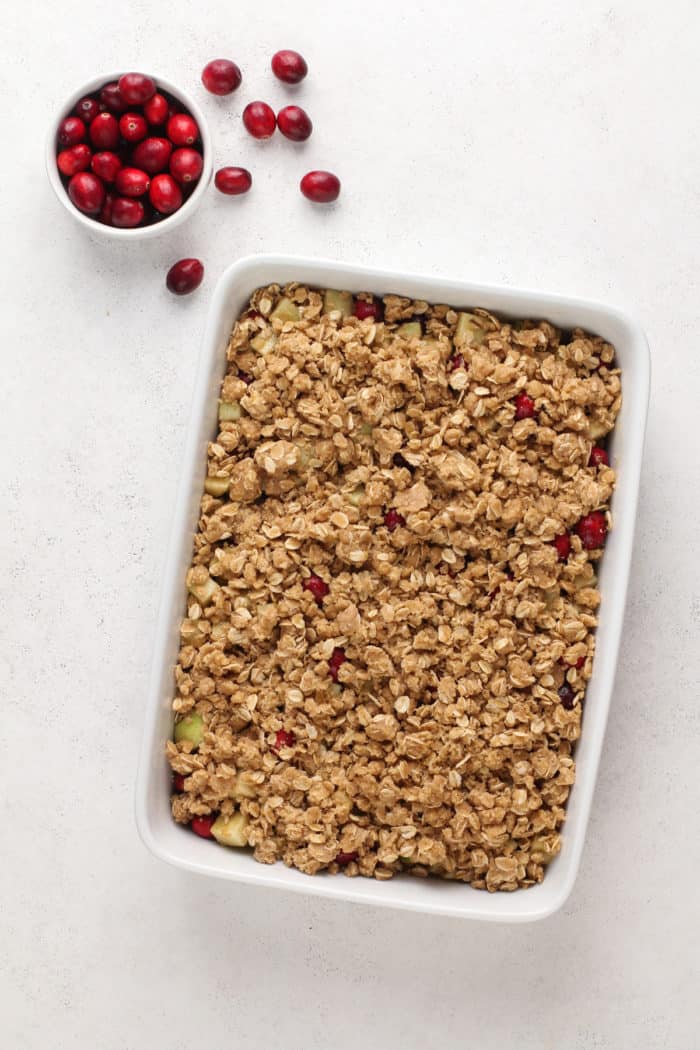 Making cranberry apple crisp
Start with tossing together the filling. Stir the peeled, cored, and diced apples with the cranberries, sugars, flour, and cinnamon. Spread this mixture into a 13×9-inch baking dish.
Next, make the crisp topping.
Stir together the flour, brown sugar, salt, cinnamon, nutmeg, and oats, then stir in the melted butter. The mixture should come together and create big crumbs.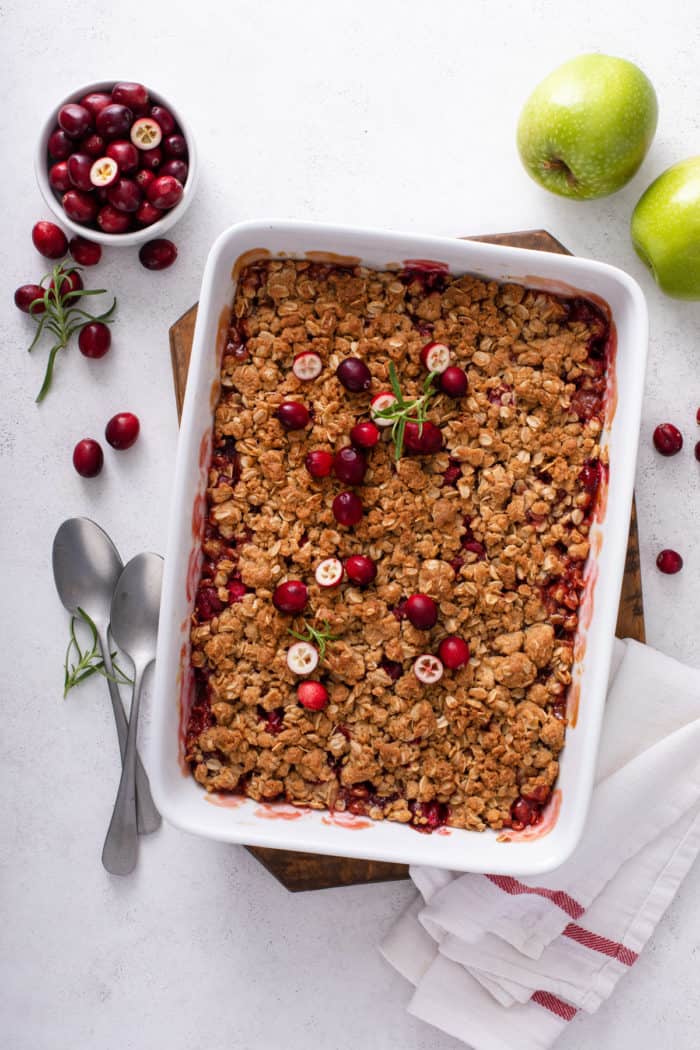 Sprinkle the crumb topping evenly over the fruit, then bake the crisp for about 45-50 minutes. You'll know it's ready when the fruit is bubbly all around the edges of the pan and the crisp topping is golden.
You can serve this cranberry apple crisp warm from the oven or at room temperature. I like to serve mine with a big scoop of vanilla bean ice cream or a dollop of homemade whipped cream!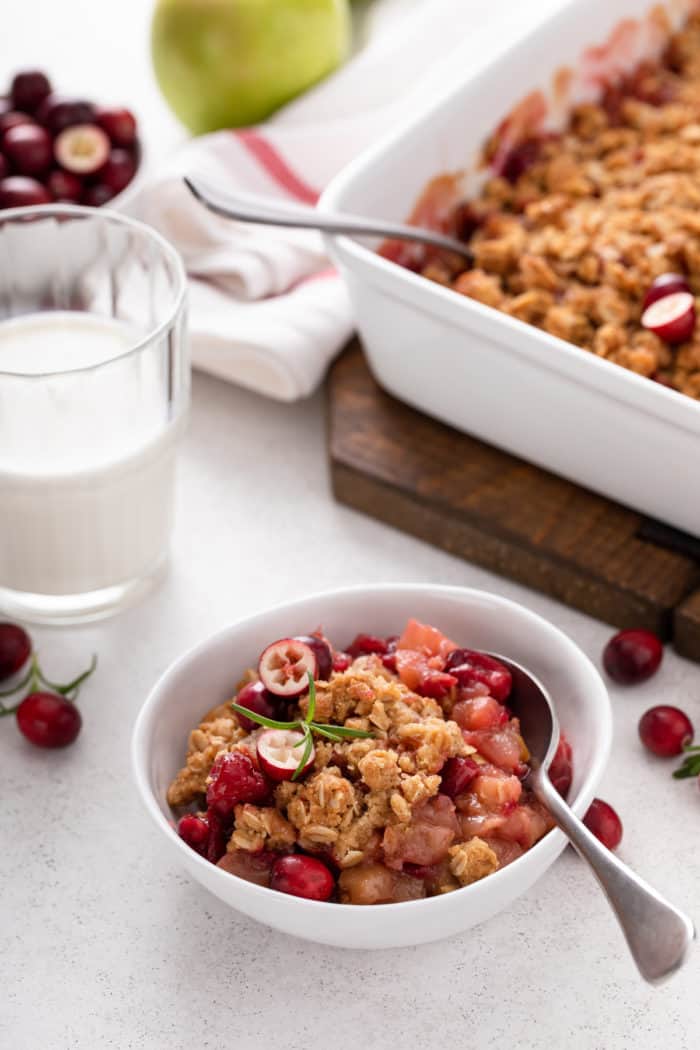 MAKE-AHEAD TIPS
This crisp is pretty quick to prepare, so it's something you can throw together and pop into the oven the morning of a holiday dinner or just before guests start to arrive.
However, if you need to make it ahead of time, you have a couple of options:
Make the crisp the night before and reheat it in a 300°F oven for about 15 minutes before serving. This will reheat the fruit and help crisp the topping back up.
Mix together the filling and topping in separate bowls. Place each into separate airtight containers and refrigerate overnight. The day of, assemble the crisp in the baking dish and bake according to the recipe instructions.
Store any leftover cranberry apple crisp at room temperature for up to a day or in the refrigerator for up to 3 days.