A shortbread crust is topped with chewy pecan filling for a bar that is part pie, part cookie, and 100% delicious. These sweet pecan bars are a must-make for your holiday table or cookie exchange!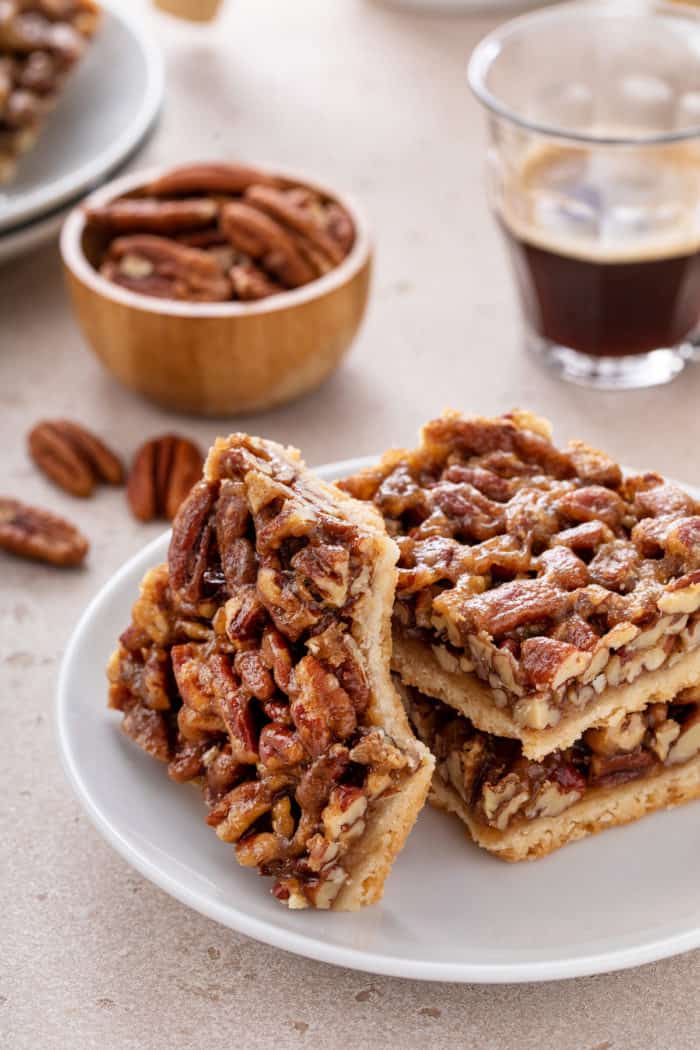 It's almost time for cookie exchanges and I couldn't be more excited.
I love a good cookie exchange. Whether it's boxes of rum balls, piles of hot chocolate cookies, stacks of snowball cookies, or platters of ambrosia cookies, I love seeing and sampling what everyone brings.
Bar cookies are always a fun option for cookie exchanges because they're so quick and easy to throw together, but can be cut into any size pieces you like. This year, I think these pecan bars are going to be my cookie exchange go-to.
They're chewy, sweet, and have all of the flavors of pecan pie without any of the hassle!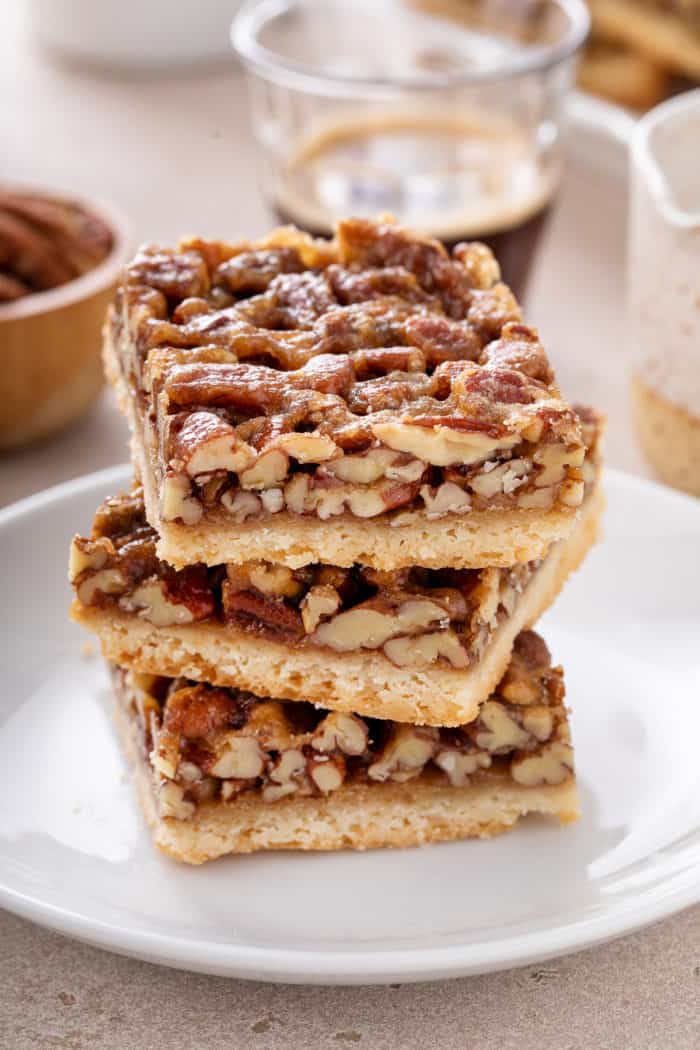 WHAT ARE PECAN BARS?
These pecan bars are one of those bar desserts that falls somewhere between a pie and a cookie.
They take all of the flavors of classic pecan pie, but take away the gooey filling and turn it into a more portable bar version of this holiday classic.
If you prefer mini pecan pies to a whole pecan pie because you like the filling-to-pecan-to-crust ratio better, you'll love pecan bars!
The shortbread crust is topped with a filling featuring lots of pecans, brown sugar, and butter. The topping gets nice and chewy after it cools, giving these buttery bars tons of texture and sweet flavor.
You can cut them into larger pieces and top them with a dollop of homemade whipped cream or cut them into smaller pieces and take them to a cookie exchange. It's really all up to you!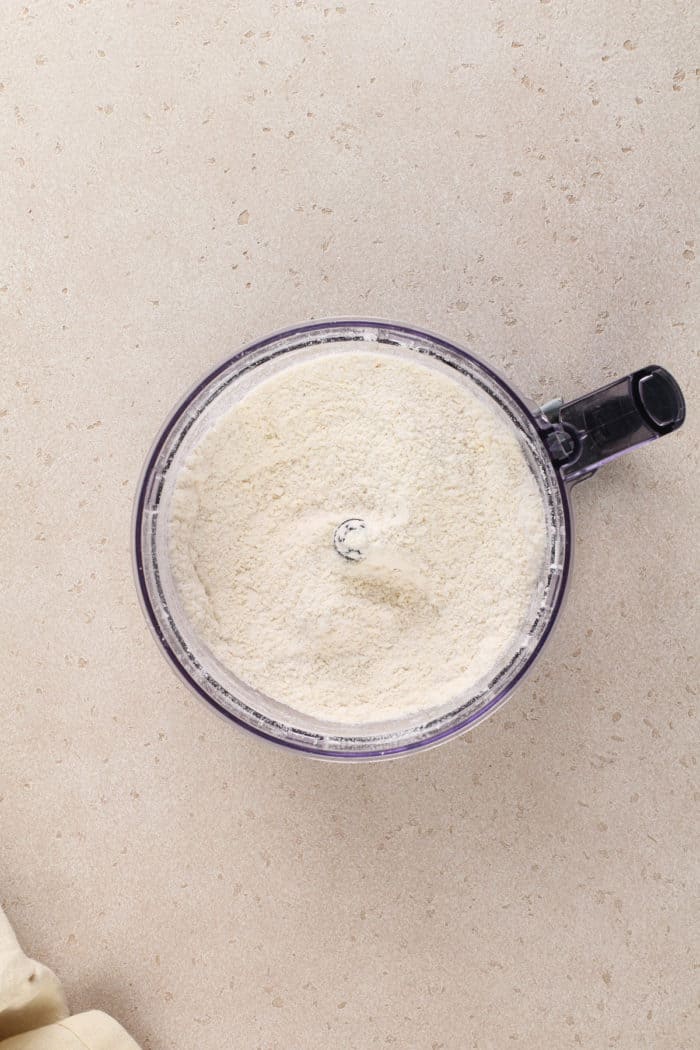 HOW TO MAKE PECAN BARS
These pecan bars are pretty easy to make, so they're a great option for anyone who gets nervous about making a traditional pie.
Key ingredients
The shortbread crust for this recipe uses four simple ingredients:
Flour
Unsalted butter
Powdered sugar
Salt
Make sure that the butter for the crust is cold.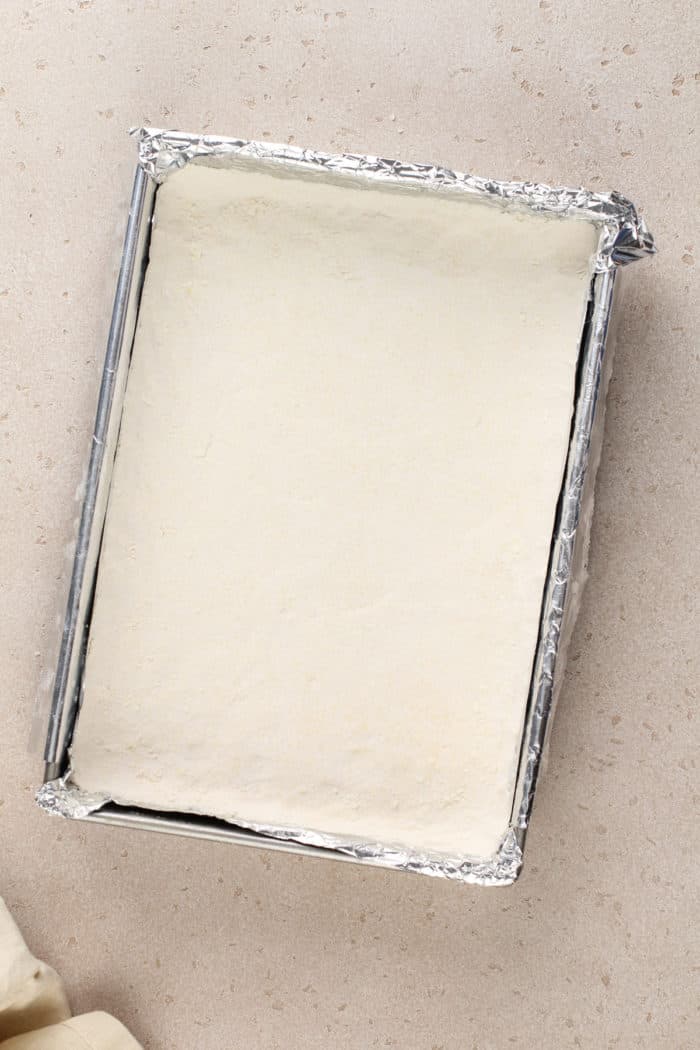 The filling uses:
Softened butter: If you forgot to set out your butter ahead of time, check out my tricks for how to soften butter quickly.
Light brown sugar: This adds a beautiful flavor that pairs perfectly with the pecans and also helps with that chewy texture in the final bars. If you ran out of brown sugar, you can use my brown sugar substitute.
Light corn syrup: Just like traditional pecan pie, this filling using a bit of corn syrup. Instead of making the bars gooey, though, it will make them chewy and perfectly sweet.
Flour: The filling uses just ¼ cup of flour, but it helps bring the filling together so don't skip it!
Chopped pecans: Pecans are obviously the star of this show. There are 3 full cups of chopped pecans in this recipe!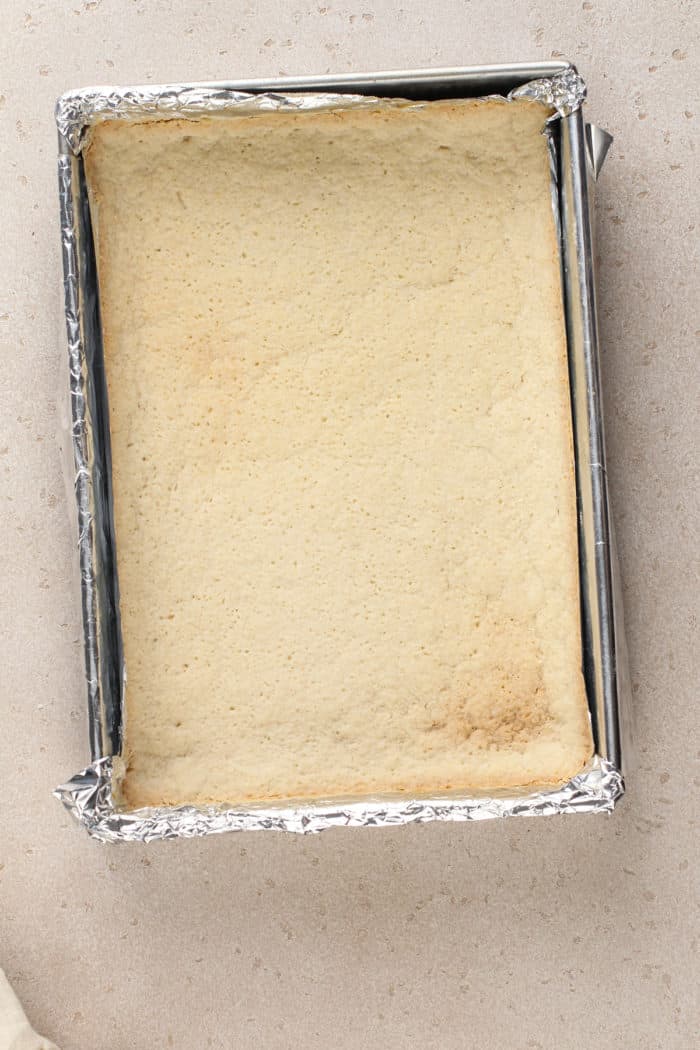 Making the crust
This shortbread crust is going to seem a little weird as you make it, but I promise it will turn out great!
Unlike my apple pie bars that have a dough you spread into the bottom of the pan, this "dough" is more of a crumbly flour that you press into the pan, similar to the one for my homemade lemon bars.
Add the crust ingredients to a food processor and pulse until the mixture resembles coarse sand. It won't look like dough, but it's not supposed to!
Pour the mixture into the bottom of a prepared 13×9-inch pan and use your hands to firmly press it into the bottom and slightly up the sides of the pan.
As the crust bakes, the butter will melt and it will come together into a shortbread base.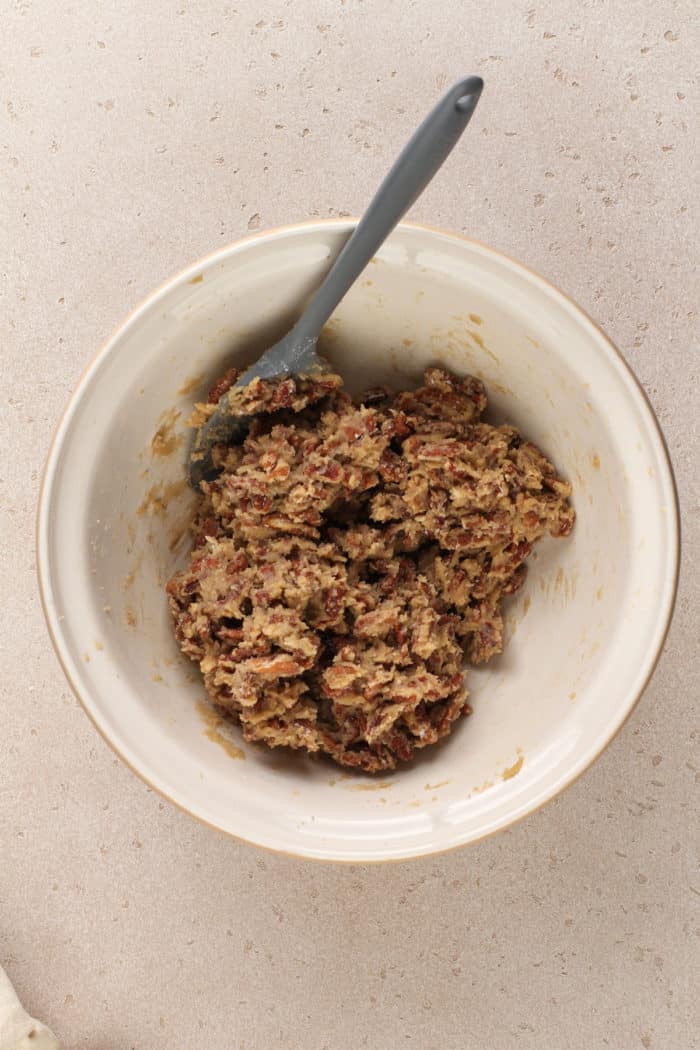 Making the filling
While the crust is baking, make the filling.
Using a stand mixer fitted with the paddle attachment, mix the softened butter, brown sugar, and salt on medium speed until light and fluffy. This will take about 3 minutes.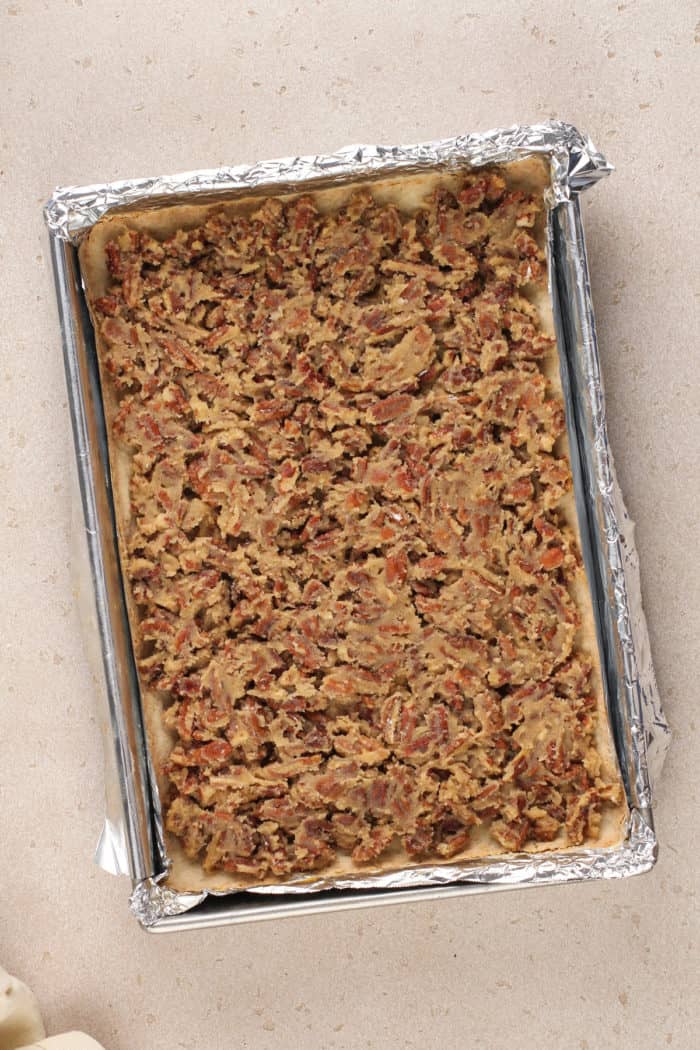 Add the corn syrup, vanilla, flour, and pecans and mix just until incorporated. The mixture is going to be thick, kind of like cookie dough.
Once the crust has baked, spread the filling over the crust. I think it's easier to do this while the crust is still warm, but you can do it after the crust cools, too.
The filling is thick, so it's ok if some of the crust peeks through after spreading it over. The filling will distribute itself more evenly while it bakes.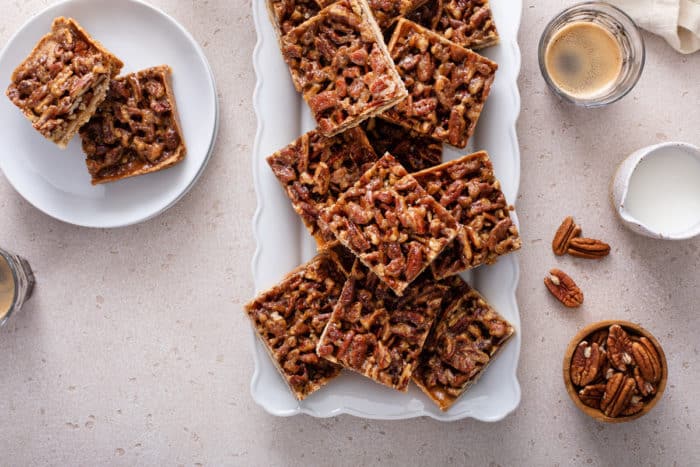 How to tell when these pecan bars are done
The filling for these bars has enough butter, brown sugar, and corn syrup in it that as it bakes, it starts to melt and bubble, sort of like making candy.
You know the bars are done when the filling is very bubbly and a deep caramel color. This will take about 30 minutes.
As you remove the pan from the oven and the bars start to cool, they will stop bubbling and the filling will set.
Let the bars cool completely, then use the foil to remove them from the pan. Place the pecan bars on a cutting board and cut them into bars.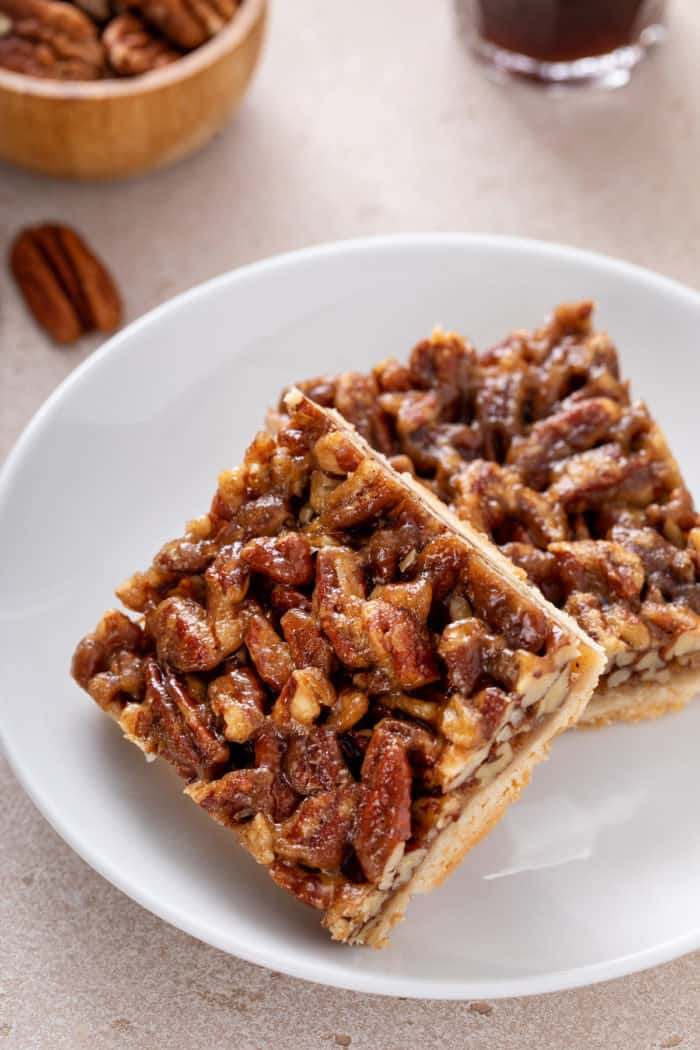 STORAGE
Store these pecan bars in an airtight container for up to 3 days.
Because of the chewy texture of the filling, I would recommend avoiding the freezer for these bars. They are not likely to thaw well due to the way the moisture from freezing would react with the filling.