Looking for a last minute dessert to add to your Thanksgiving dinner menu? How about one that uses only five simple ingredients?
Today I am featuring a quick, simple and decadent recipe for Pecan Bars from Claire Robinson, the host of Food Network's 5 Ingredient Fix.
The holidays can be extremely hectic, so I love coming across great recipes that don't require a slew of ingredients and that are easy to prepare. I whipped this Pecan Bars Recipe last night to take to our annual Thanksgiving Dinner at work and I must say I was extremely pleased with the results. The rich buttery crust comes together in a matter minutes with the aid of a food processor and the filling could not be any easier. The final result is a rich, delicious bar that is full of pecan goodness.
Claire's new book 5 Ingredient Fix offers a variety of eclectic recipes all using 5 ingredients or less. 5 Ingredient Fix makes preparing sophisticated and delicious meals a snap. Of course you know I headed right to the desserts where I found several some amazing creations such as Chai-Spiced Smores, Mocha Meringue Bark and a scrumptious Ginger-Pumpkin Tart.
If Clarie's new book, 5 Ingredient Fix sounds like something you would dig, you're in luck because Food Network has offered to give away two copies here on MBA. Woot Woot!
How Do You Enter?
Simply leave a comment on this post that finishes this sentence: I am thankful for ____________.
Want an Extra Entry?
Head over to Breakstone's Triple Churned Contest and vote for My Baking Addiction! Each time you cast your votes automatically enters you to win up to $1,000. Be sure to come back to this post and leave a separate comment letting me know you voted! Thanks so much for your support.
You can catch Claire on 5 Ingredient Fix Saturdays at 10:30am/9:30c and on Food Network Challenge which airs this Sunday, November 28th at 8pm
If you are still looking for some great holiday recipes, you can find them from Claire and all the Food Network talent this Thanksgiving season at www.foodnetwork.com/thanksgiving and on Food Network's new In The Kitchen App for the iPad, iPhone, and iPod Touch available on the App Store (more info at www.foodnetwork.com/mobile).
The Details
-This giveaway is open to USA residents only and will run until Sunday, 11/28/10 at 11:59 pm EST.
-Winner will be drawn via random.org and will be contacted via the email provided on the comment contact form.
-Winner will have until Wednesday (12/1/10) to claim their cookbook, or I will have to choose another winner.
-Winner will receive one copy of Claire's new book, 5 Ingredient Fix. Cookbook will ship directly from Food Network.
Disclosure
This giveaway is provided to you by the Food Network. The views and opinions expressed on My Baking Addiction are purely my own and based upon my personal experiences. I was not monetarily compensated for this review or giveaway.

Pecan Bars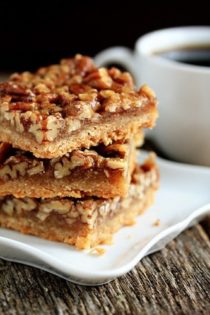 Ingredients:
For the Crust:
1 1/2 sticks (3/4 cup) cold unsalted butter, cubed, plus more for dish
1 1/2 cups unbleached all-purpose flour
2/3 cup light brown sugar
1 teaspoon kosher salt
For the Filling:
1 stick (1/2 cup) unsalted butter, softened
1 cup light brown sugar
Pinch salt
1/3 light corn syrup
1/4 cup unbleached all-purpose flour
3 cups coarsely chopped pecans
Directions:
1. Preheat oven to 350 degrees F.
2. Line a 13 by 9-inch baking dish with foil allowing an overhang about 2 inches off the sides. Butter the foil.
3. In a food processor, blend together flour, sugar, butter and salt until the mixture resembles coarse sand. Add 2 tablespoons cold water and mix until the dough just holds together. Press dough into bottom of buttered baking dish and bake in oven until golden in color, about 20 to 25 minutes.
4. Meanwhile, make the filling. In a stand mixer fitted with paddle attachment, add the butter, brown sugar and a pinch of salt and mix on medium speed until light and fluffy, about 3 minutes. Add the corn syrup, flour and pecans and mix until just combined. Spread the filling over the baked crust and bake until golden brown, about 30 to 35 minutes. Remove the dish from the oven and allow it to cool completely in the pan.
5. Remove from pan by pulling up the foil sides and putting it on a cutting board. Cut bars in desired size with a sharp knife and arrange them on a serving tray.
Notes:
- Can be stored in an airtight container up to 2 days.
All images and text ©
Follow Jamie on Instagram. We love to see what you're baking from MBA! Be sure to tag @jamiemba and use the hashtag #mbarecipes!