Zucchini Cookies are a surprising way to use up your summer zucchini harvest! These sweet cookies are a bit cakey and infused with plenty of lemon for a bright citrus flavor.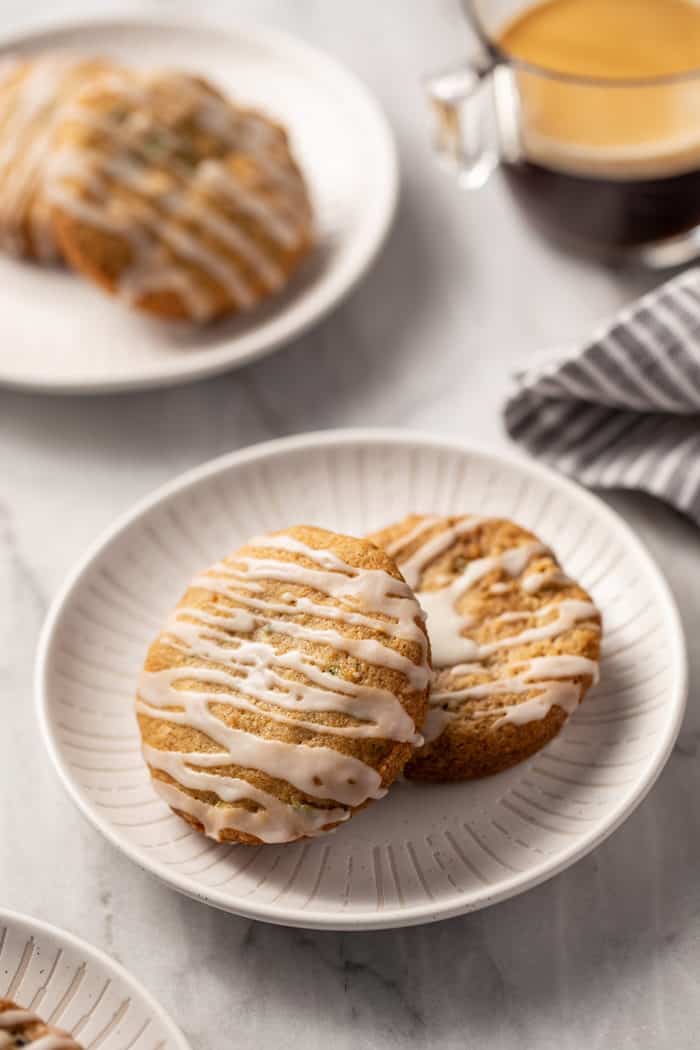 I cannot garden to save my life. Seriously, I kill mint. Those of you who garden know that mint is often deemed "unkillable," if that's even a word.
Mint is definitely not unkillable. I've killed it – several times.
But for some reason I always think my black thumb will turn a pretty shade of green every single spring – that I'll miraculously transform into some kind of amazing farmer.
Well, folks that doesn't happen – ever.
So despite my best efforts year after year, I'm pretty much gardenless and have to rely on veggies from our friends or the farmers market.
Thankfully, I still always end up with plenty of zucchini because it seems to grow like mint for everyone but me.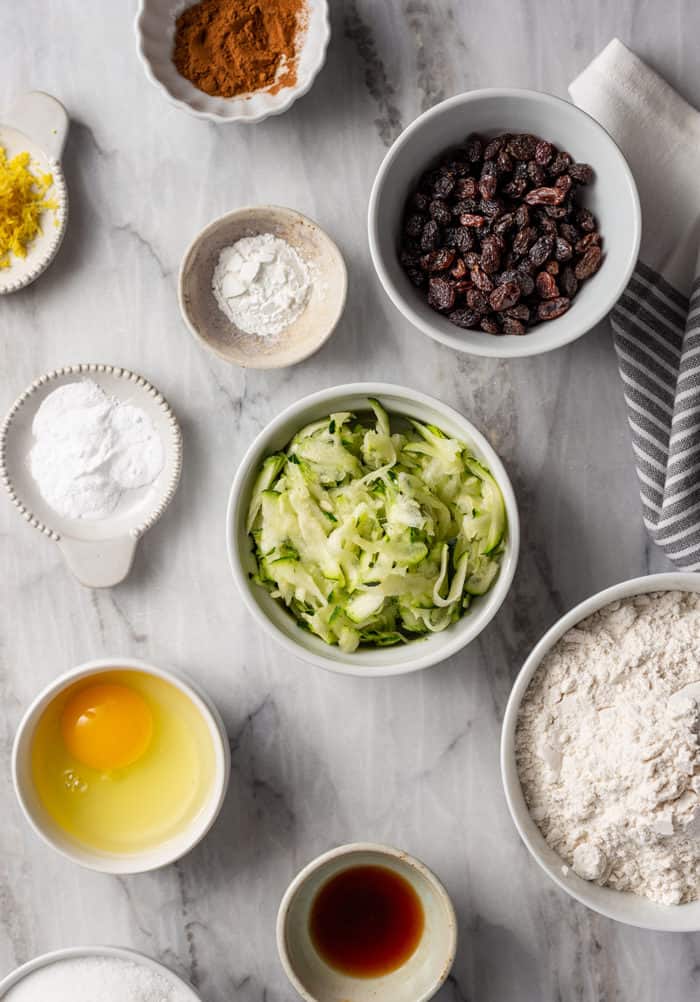 ZUCCHINI IN COOKIES? REALLY?
Yes, really.
Look, if you've had your friends drop bags of zucchini on your porch ding-dong-ditch-style, you know that you'll do anything creative to use it up.
After making Lemon Zucchini Bread, Chocolate Zucchini Muffins, Lemon Zucchini Cake, Zucchini Bread Pancakes and Chocolate Zucchini Cake, I wondered if it was possible to put zucchini in cookies.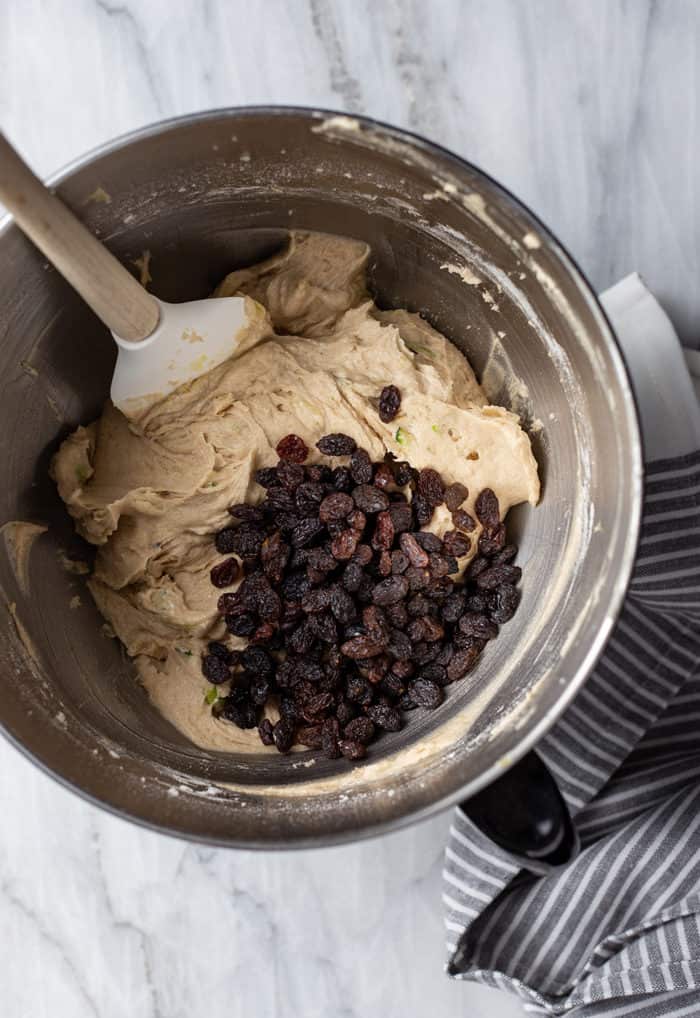 I've got news, folks. You can!
Just like with any other baked good made with zucchini, let me go on record as saying that the zucchini flavor in these cookies is subtle and sweet. Delectable even.
And because we love lemon and zucchini together, they're infused with a bit of lemon zest and drizzled with a lemon glaze.
These cookies are a little bit cakey, a little bit chewy from the raisins, and bursting with sunny citrus flavors. I think you'll love them!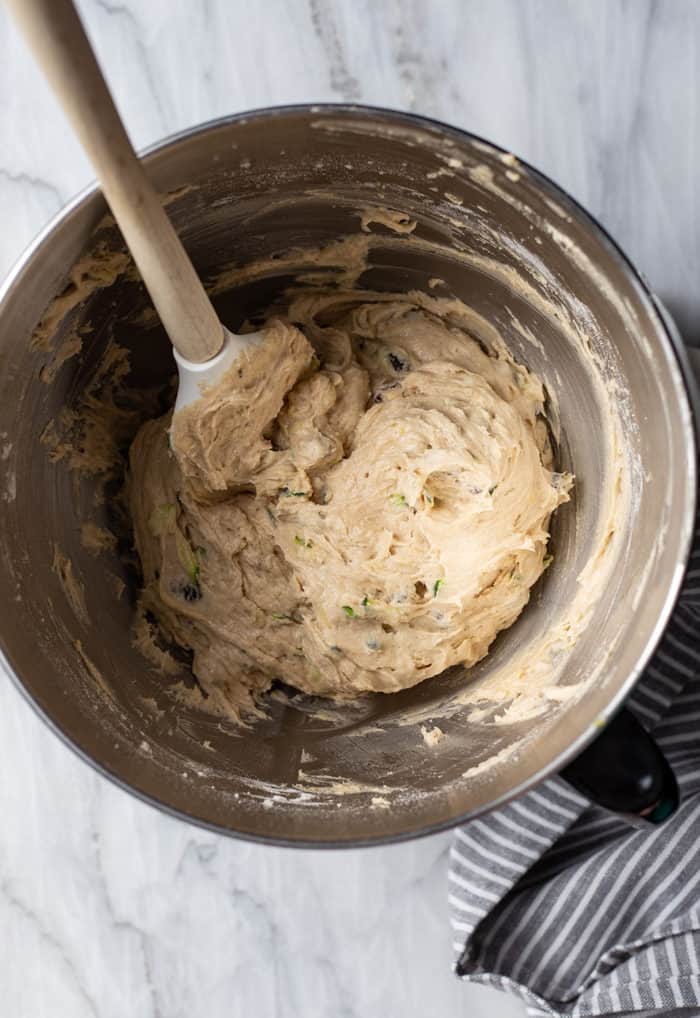 HOW TO MAKE ZUCCHINI COOKIES
The ingredients for these Zucchini Cookies are pretty similar to what you might use to make zucchini bread or zucchini muffins:
Unsalted butter
Granulated sugar
Egg
Finely shredded zucchini
Finely grated lemon zest
Pure vanilla extract
All-purpose flour
Baking soda
Baking powder
Ground cinnamon
Kosher salt
Raisins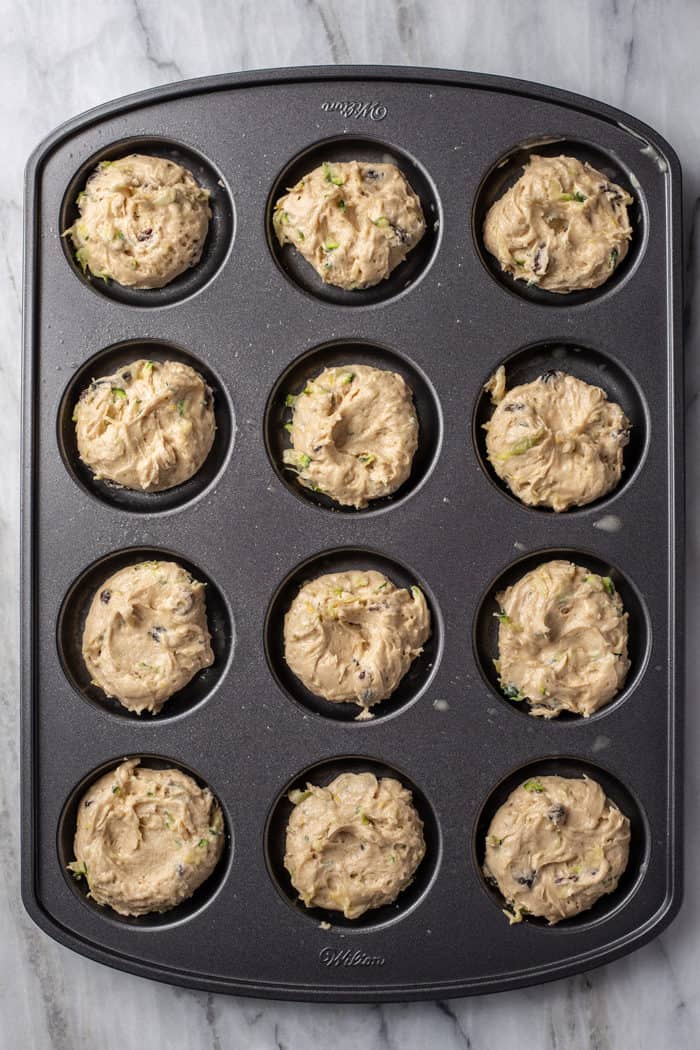 Start by beating the butter and sugar together with a stand mixer until light and fluffy, then add the egg, zucchini, lemon zest, and vanilla.
In a separate bowl, whisk together the flour, baking soda, baking powder, cinnamon and salt. Add this to the wet ingredients until just combined, then fold in the raisins.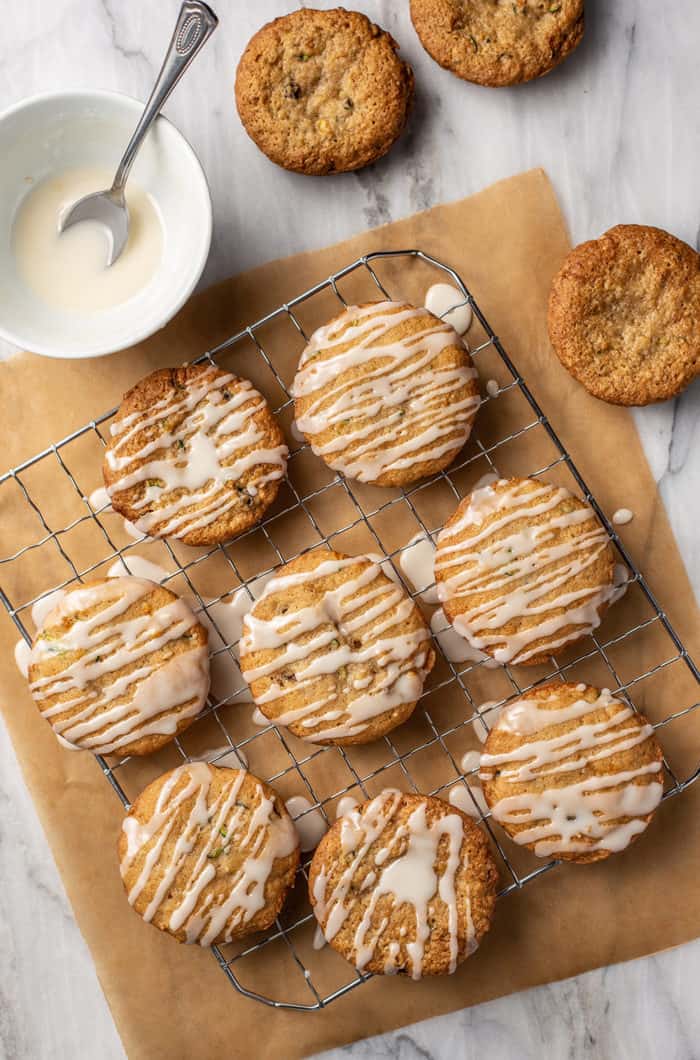 To make sure the cookies are perfectly round, we'll bake them in a whoopie pie pan. Grease the pan and drop the dough into the center of each well with a medium cookie scoop.
Bake the cookies for 8-10 minutes. Once the cookies have cooled on a wire rack, drizzle them with the lemon glaze.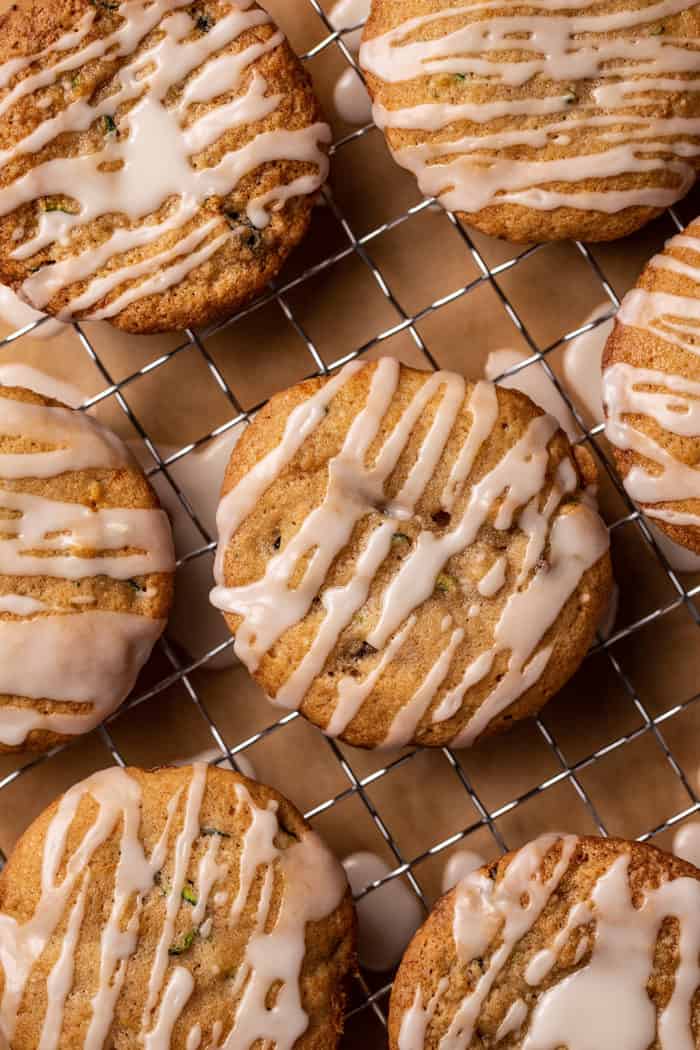 DO I HAVE TO USE A WHOOPIE PIE PAN?
If you don't have a whoopie pie pan, you can bake them on a regular parchment-lined baking sheet instead. The shape just won't be as perfect!
Drop the dough onto the parchment-lined baking sheet with a medium cookie scoop. Make sure to leave a few inches of space between the cookies as they will spread quite a bit.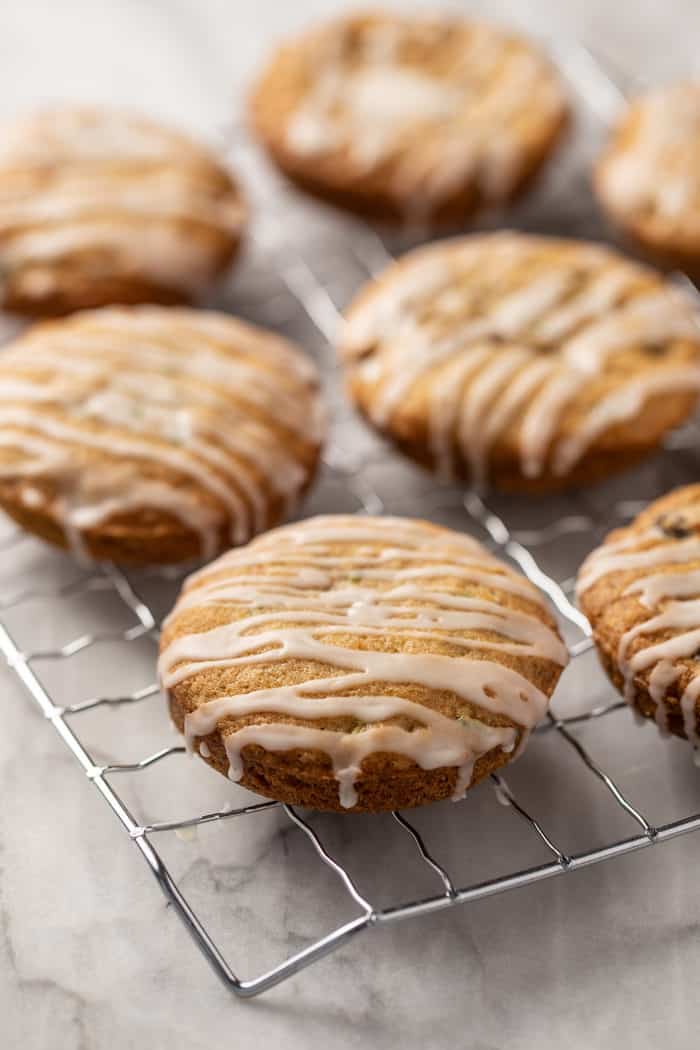 CAN YOU FREEZE THESE COOKIES?
Just like your favorite zucchini breads and muffins, Zucchini Cookies freeze really well.
I like to freeze cookies in airtight containers with a layer of parchment paper or waxed paper between each layer of cookies. This keeps the cookies from sticking together once they freeze, so you can grab as few or as many cookies as you want at a time.