I cannot garden to save my life. Seriously, I kill mint. Those of you that garden know that mint is often deemed "unkillable", if that's even a word. Mint is in definitely not unkillable. I've killed it – several times. But for some reason I always think my black thumb will turn a pretty shade of green every single Spring – that I'll miraculously transform into some kind of amazing farmer. Well, folks that doesn't happen – ever.
So I'm gardenless and pretty much herbless unless you count the pathetic cilantro and basil plants that Brian continuously has to revive on the deck. I've developed some serious garden envy, but Brian's friend Corey – whom I affectionately refer to as "Husband #2", brought me some pretty amazing vegetables from his garden. I use the word amazing because they were freaking gargantuan – like veggies on steroids.
I decided to tackle the zucchini first and ended up with enough from one vegetable to make three different zucchini recipes. And of course all three of those recipes were desserts – go figure, right?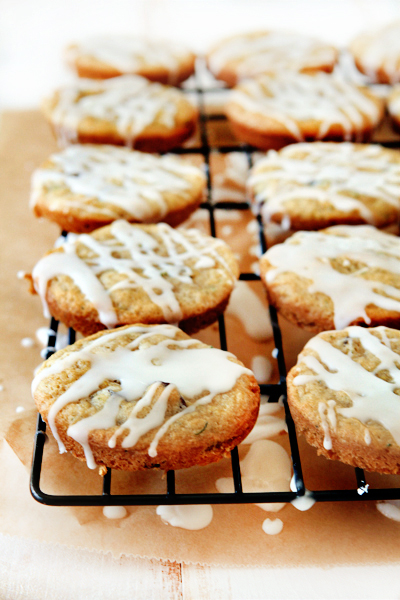 The first recipe I'm going to share with you are these cute zucchini cookies that are infused with a bit of lemon zest and drizzled with a lemon glaze. Before you get worried about vegetables in your cookies, let me go on record as saying that the zucchini flavor is subtle, and sweet. Delectable even.
I baked them in my whoopie pie pan because I wanted perfectly round and slightly puffy cookies. But you can totally bake them on a cookie sheet, they will just be – well, less perfect.
These little guys are cakey bites of cookie goodness. I especially loved the sunny citrus flavors and the chewy texture from the raisins – and they are the perfect way to use up this season's overabundant zucchini harvest.
What have you baked zucchini into? Corey may dump more of his harvest on me without notice, so I need a few recipes in reserve!
Zucchini Cookies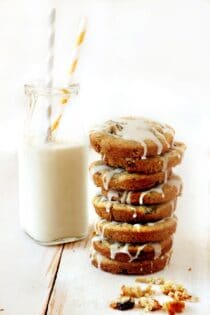 Ingredients:
For the Cookies
1/2 cup unsalted butter, room temperature
1 cup sugar
1 egg
1 cup finely shredded zucchini
1 teaspoon finely grated lemon zest
1 teaspoon pure vanilla extract
2 cups all-purpose flour
1 teaspoon baking soda
1 teaspoon baking powder
1 teaspoon ground cinnamon
1/2 teaspoon kosher salt
1/2 cup raisins
For the Lemon Glaze
1 cup confectioners' sugar, sifted
2 tablespoons lemon juice
1/4 teaspoon pure vanilla extract
Directions:
1. Preheat oven to 375 degrees F. Spray a whoopie pie pan with nonstick cooking spray or line a regular baking sheet with parchment paper.
2. In the bowl of a stand mixer fitted with the paddle attachment or with a hand mixer, beat the butter and sugar until light and fluffy, about 2 minutes. Beat in egg, zucchini and lemon zest and vanilla.
3. In a medium bowl mix together the flour, baking soda, baking powder, cinnamon and salt. Stir flour mixture into wet ingredients until just combined. Fold in raisins.
4. Use a medium cookie scoop (1 ½ tablespoons) to drop dough into the center of each whoopee pie well or simply drop them directly onto the prepared cookie sheet. If you are using a cookie sheet, be sure to leave a few inches between each cookie.
5. Bake in preheated oven for 8-10 minutes or until lightly browned. Remove to wire racks to cool.
6. Make the glaze by mixing together the confectioners' sugar, lemon juice and vanilla extract. Drizzle the glaze over cooled cookies.
Notes:
-If you are using a regular a regular sheet, your cookies will be a bit thinner than the ones pictured above.
-Store cookies at room temperature in an airtight container for up to 3 days.
-Recipe adapted from allrecipes.com.
All images and text ©
for My Baking Addiction
Follow Jamie on Instagram. We love to see what you're baking from MBA! Be sure to tag @jamiemba and use the hashtag #mbarecipes!