Spiced Apple Cider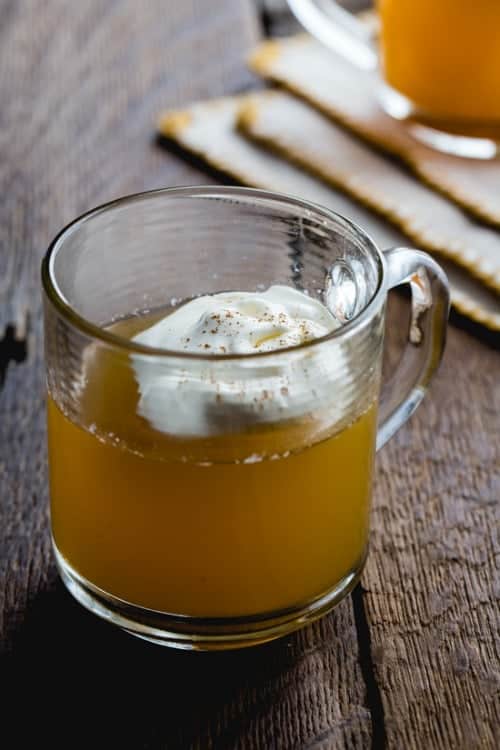 Fall is here and with it comes a shift in weekend cocktails. Cozy drinks like this Warm Spiced Apple Cider embrace the flavors of the season and are more than welcome on cool, Fall nights.
Fall is officially here and I couldn't be more thrilled. Like many Fall loving folks, as soon as that calendar flips to September I have an undeniable weakness for anything apple and pumpkin flavored.
From sweets to savories to drinks, pretty much anything I consume from now through November will be laced with my favorite fall ingredients.
Cocktail Fridays are no exception. I'm a long standing devotee to simple, seasonal cocktails and am always on the lookout for new ways to serve up some of my favorites. Well, a few weeks ago I was presented with a mammoth display of local apple cider as soon as I walked into the market.
I'm proud to say that I didn't hesitate as I walked straight over to the wall of cider and loaded my cart up with several gallons of my favorite drink.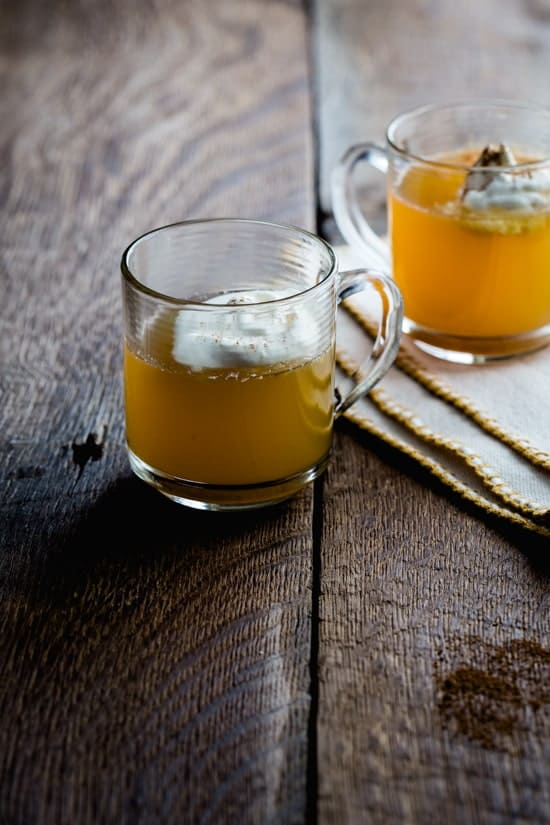 While I knew much of the cider would be consumed chilled and straight from the fridge, I also knew that some would be earmarked for a warm Fall cocktail.
I've been making mulled apple cider for years and an Autumn party at our house is never complete
without a pot of simmering, spiced apple cider. This year I wanted to mix things up a bit and add a vanilla bean and a pinch of cardamom to the mix. The resulting Warm Spiced Apple Cider is a veritable mug full of comfort. A shot of good bourbon and dollop of sweetened whipped cream only increase the yum factor of this cozy cocktail.
If your home hasn't been graced with cool fall breezes, check out my simple (iced) spiked caramel apple cider. Either way, I hope you are enjoying the flavors of the season!
Spiced Apple Cider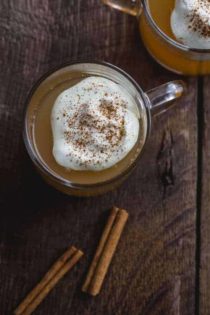 Ingredients:
4 cups fresh apple cider
2 cinnamon sticks
1/8 teaspoon cardamom
1 vanilla bean
4 ounces bourbon (optional) - I used Makers 46
sweetened whipped cream and cinnamon for serving
Directions:
Place apple cider, cinnamon sticks and cardamom in a medium size sauce pan set over medium heat. Split vanilla bean lengthwise with the tip of a sharp knife and scrap out the seeds using the back of the knife. Add bean pod and seeds to the pan. Bring cider to a simmer and reduce heat to low, allowing the cider to cook for about 15 minutes.
Strain cider through a fine mesh sieve to remove cinnamon sticks and vanilla bean solids. Divide cider among four heat proof mugs and stir 1 ounce of bourbon into each glass (if using). Top each with a dollop of whipped cream and a pinch of cinnamon. Serve warm.
Note: Leave the bourbon out for a wonderful, kid friendly beverage.
All images and text ©
Follow Jamie on Instagram. We love to see what you're baking from MBA! Be sure to tag @jamiemba and use the hashtag #mbarecipes!
This post may contain affiliate links. We are a participant in the Amazon Services LLC Associates Program, an affiliate advertising program designed to provide a means for us to earn fees by linking to Amazon.com and affiliated sites.