Heat up a batch of spiced apple cider to serve this holiday season. Whether you spike it with bourbon, add a dollop of whipped cream, or enjoy it as-is, this is a drink that will warm you from the inside out.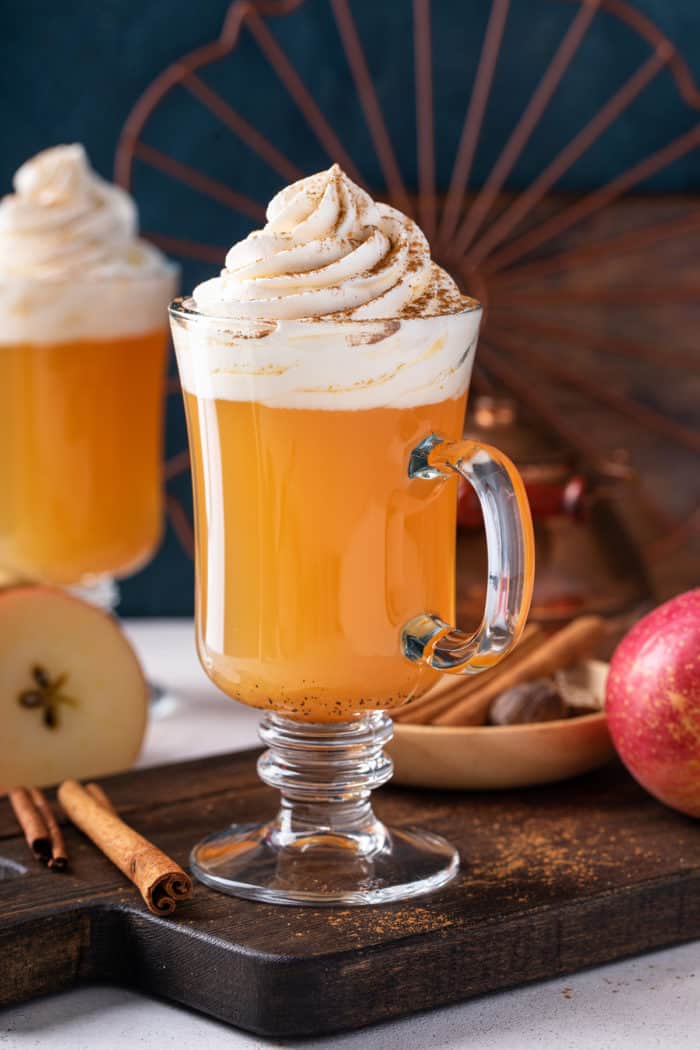 This post contains affiliate links.
Want to know a really simple way to impress guests at any gathering?
Make your own drinks!
I don't necessarily mean making something like a signature cocktail. Even making a non-alcoholic drink for everyone to enjoy is always a hit.
In the summer, I like whipping up a batch of homemade strawberry lemonade or watermelon lemonade.
This time of year, warm drinks are more appropriate, so I turn to making batches of instant pot hot chocolate or this spiced apple cider.
These drinks are perfect for serving all ages. The kids will love them and adults can add a splash of their favorite alcohol if they want!
And you can let the compliments roll in without telling anyone how easy all of it was to put together.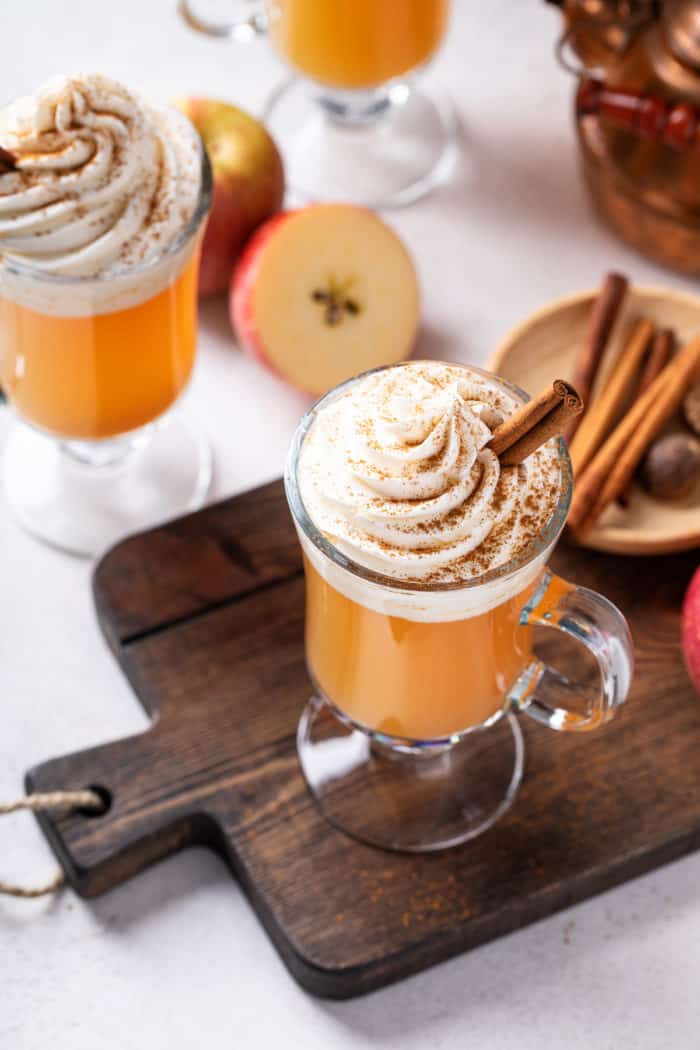 WHAT IS SPICED APPLE CIDER
If you've never had spiced apple cider before, you're in for a real treat.
Spiced apple cider is apple cider that has been flavored with warm spices, typically those that you might find in apple pie spice.
Spiced cider is usually served warm, sometimes topped with whipped cream or served with a cinnamon stick.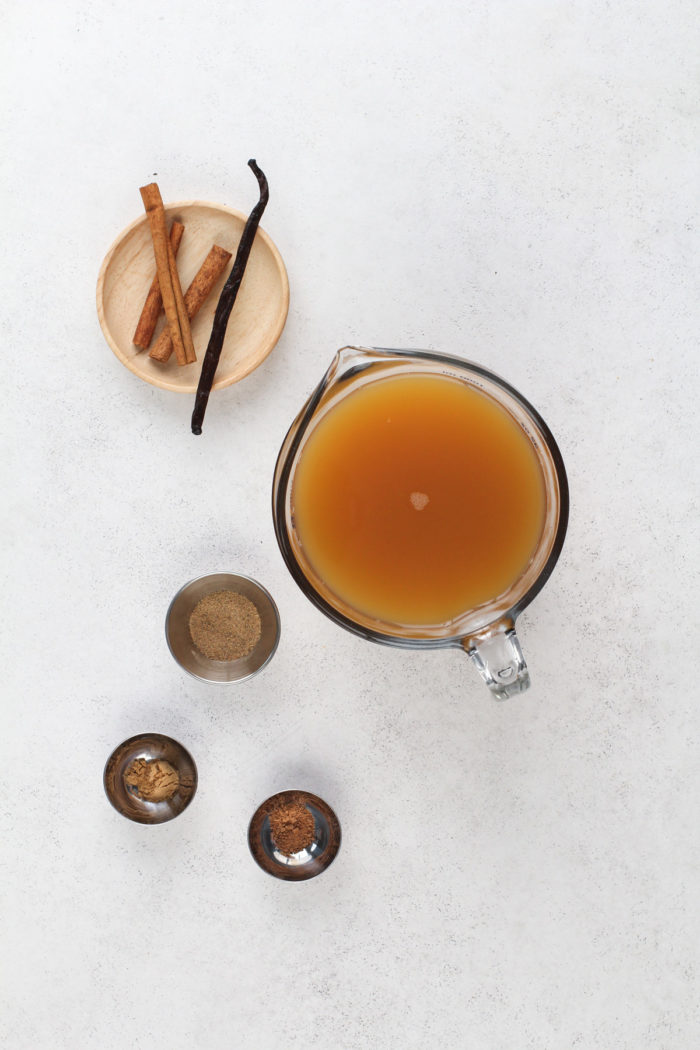 HOW TO MAKE SPICED APPLE CIDER
Are you ready for a mug of pure comfort? Then let's get into how to make this spiced cider!
Spiced cider vs wassail
My spiced apple cider is similar to my wassail recipe, but has a couple of key differences.
Both recipes have cinnamon, nutmeg, and a bit of ginger. But the wassail is also flavored with orange, cloves and allspice and is sweetened with simple syrup to taste.
My spiced apple cider, on the other hand, is flavored with cardamom and vanilla and does not have any added sweetener (although you could add some if you like).
Wassail tends to be more common around Christmas, while spiced cider is often more popular in the fall, but they are both totally delicious and would be perfect for any fall or holiday gathering!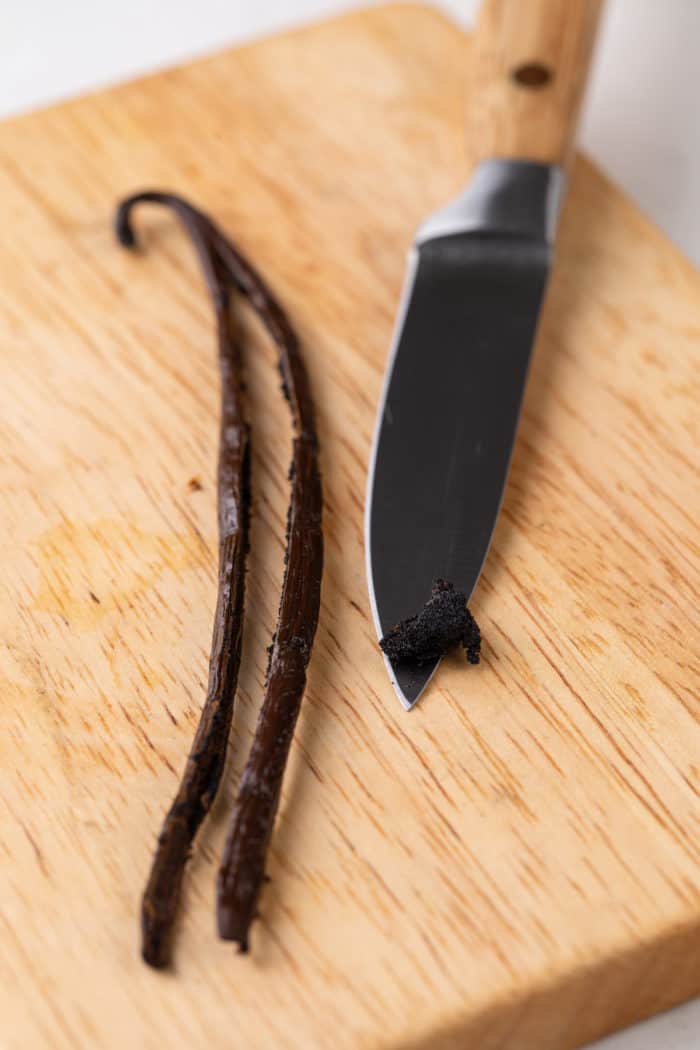 Ingredients you'll need
This recipe has just a small handful of ingredients to pack a flavorful punch.
You will need:
4 cups apple cider
3 cinnamon sticks
½ teaspoon ground cardamom
¼ teaspoon ground nutmeg
¼ teaspoon ground ginger
If you don't have a vanilla bean on hand, you can use 1 tablespoon of vanilla bean paste instead. If using the vanilla bean paste, wait to add it until the very end, after straining out the other spices.
This recipe makes 4 1-cup servings, but you can easily increase the batch to serve a larger group!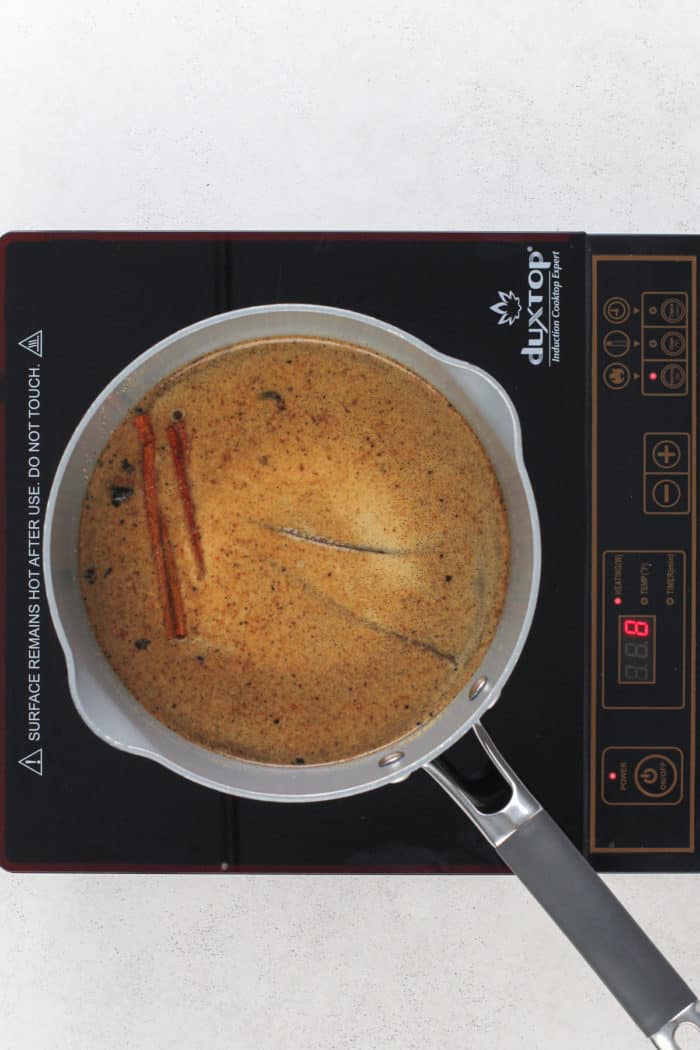 Making this recipe
Grab a medium saucepan and set it over medium heat. Add the apple cider, cinnamon sticks, cardamom, and nutmeg.
Split the vanilla bean lengthwise with the tip of a sharp paring knife. Use the back of the knife to scrape out the seeds. Add the bean pod and the seeds to the cider.
Bring the cider to a simmer and then reduce the heat to low. Let the cider simmer for at least 15 minutes, although you can let it go for as long as you like.
When ready to serve, strain the cider through a fine mesh sieve to remove the vanilla bean solids and the cinnamon sticks.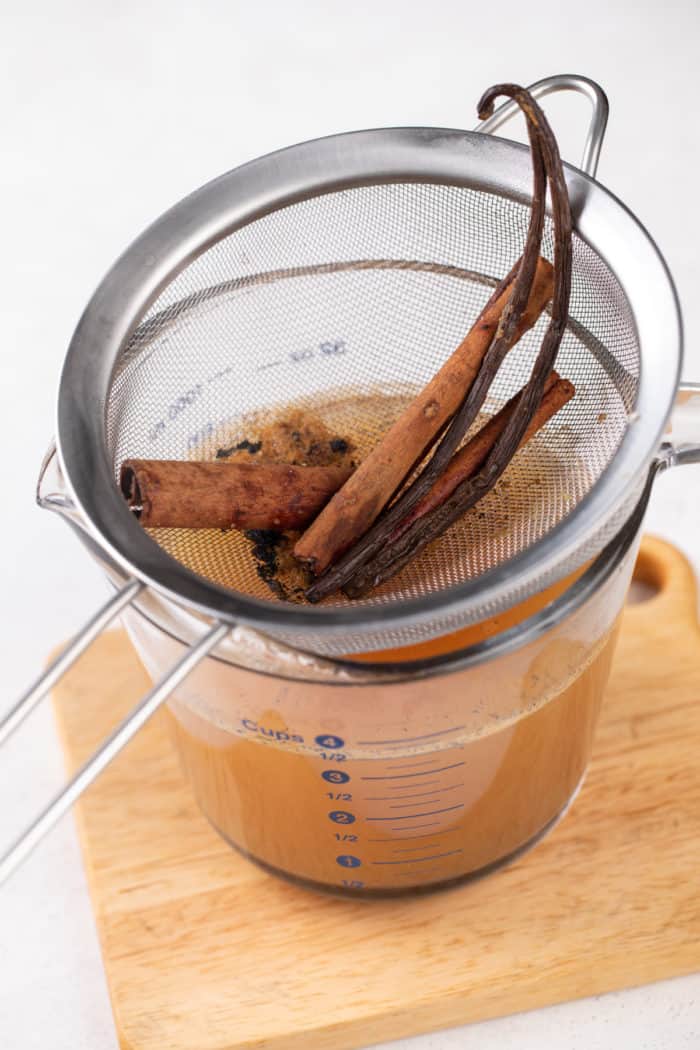 SERVING SUGGESTIONS
This spiced apple cider is delicious straight from the pot, but there are other ways to dress it up, too!
Try topping it with a dollop of homemade whipped cream and sprinkling on some ground cinnamon or apple pie spice.
For a boozy twist, put out some alcohol for guests to add to their glasses! Some of our favorites are: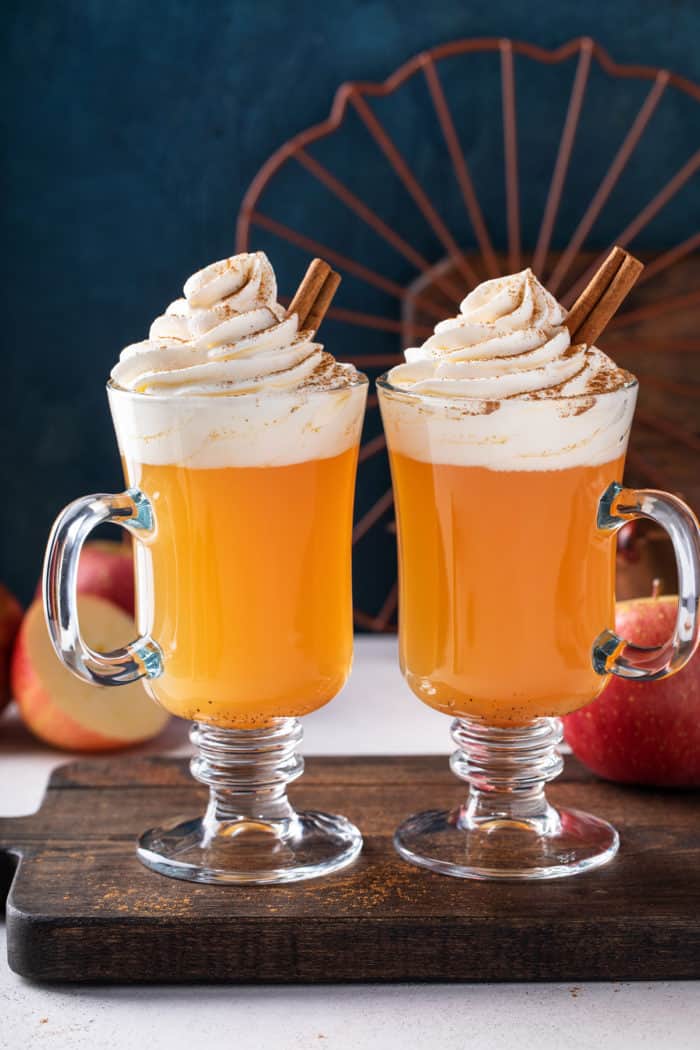 MAKE-AHEAD AND REHEATING
If you're planning on serving this spiced cider for a party, try making it ahead of time. You have a couple of options.
The first is to make the cider as written. Strain it, pour it into airtight containers, and refrigerate for up to 3 days.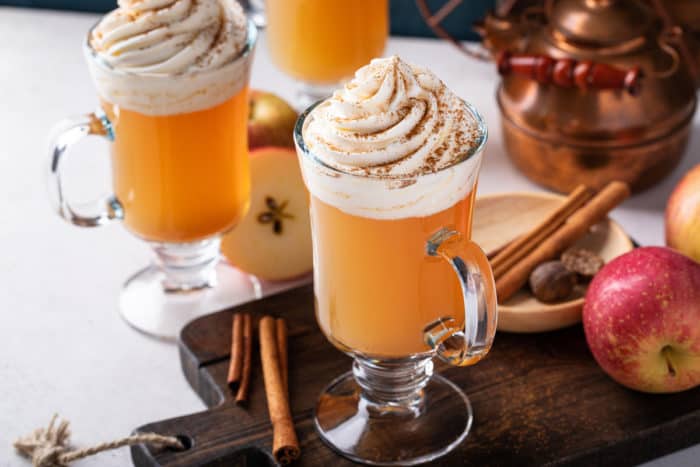 When you're ready to serve, reheat it in a saucepan.
You can also prepare this cider in your slow cooker for a more hands-off approach.
Add all of the ingredients to your slow cooker and simmer it on low for 1-2 hours. Strain, then return the cider to the slow cooker on the warm setting to keep it warm during a party.
No matter how you serve this spiced apple cider, it is a cozy drink that will keep you warm all winter long!