Homemade watermelon lemonade is one of the most refreshing summer drinks you could make! This sweet-tart lemonade is bursting with the flavor of fresh watermelon. Serve it as-is or dress it up with vodka or gin for a simple cocktail.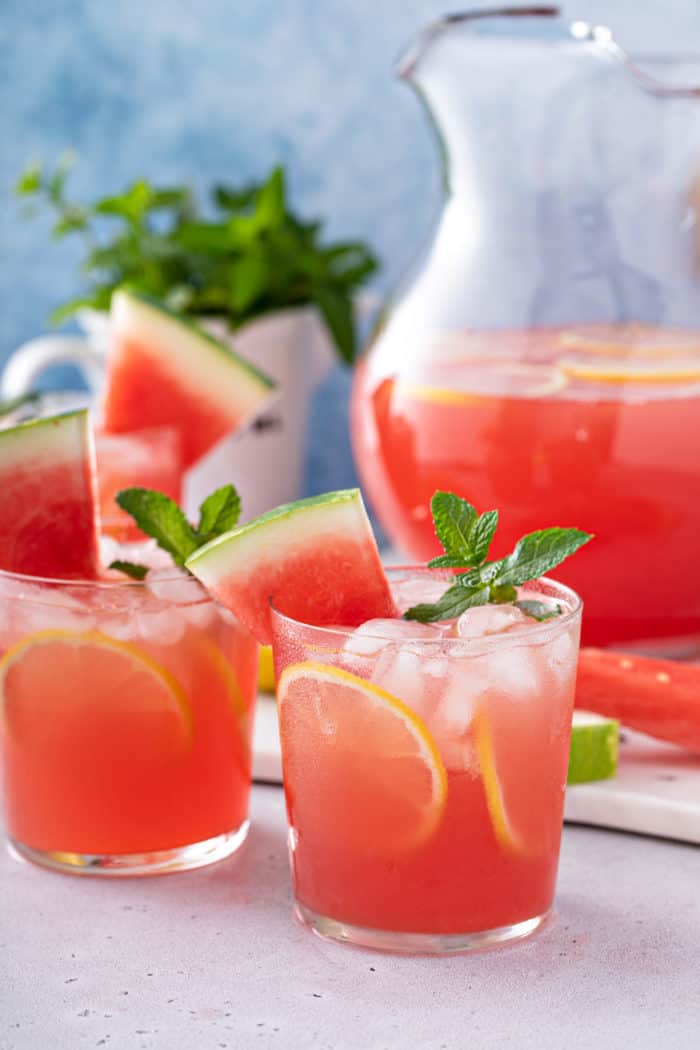 This post contains affiliate links.
If your weather is at all like ours here in Ohio, I'm going to bet that you're on the hunt for super refreshing drinks to help you beat the summer heat.
Last year, I was pretty obsessed with my homemade strawberry lemonade – so much so that I purchased an electric juicer – which by the way also comes in pretty handy for my delicious lemon bars!
Although we're still huge fans of the strawberry lemonade, this year, we're all about watermelon lemonade!
It's sweet, tart, super refreshing, and the perfect way to use our favorite summer fruit!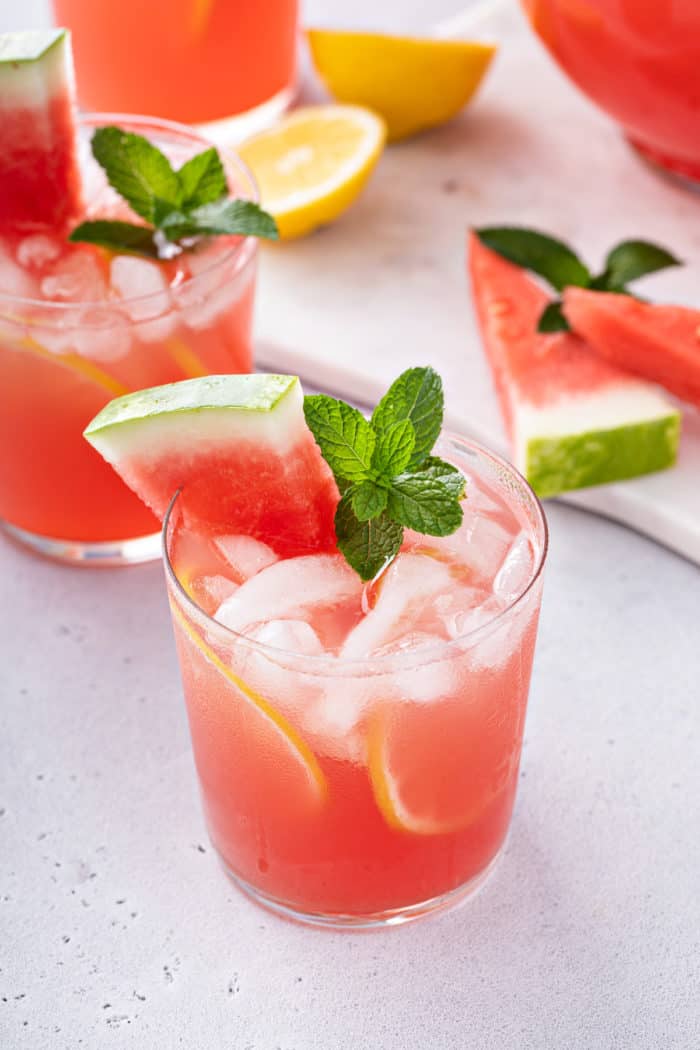 HOW TO MAKE WATERMELON LEMONADE
I don't know why, but for years I thought that making homemade lemonade would be kind of a hassle. I couldn't have been more wrong!
This watermelon lemonade is simple to make and is one of the most refreshing drinks to sip on when the weather is hot.
Ingredients you'll need
In addition to water, you'll only need 3 ingredients to make my homemade watermelon lemonade:
Fresh seedless watermelon
Fresh lemon juice
Granulated sugar
Because there are so few ingredients in this lemonade, you'll want to make sure you use freshly squeezed lemon juice (not the bottled stuff!) and look for a nice, flavorful watermelon.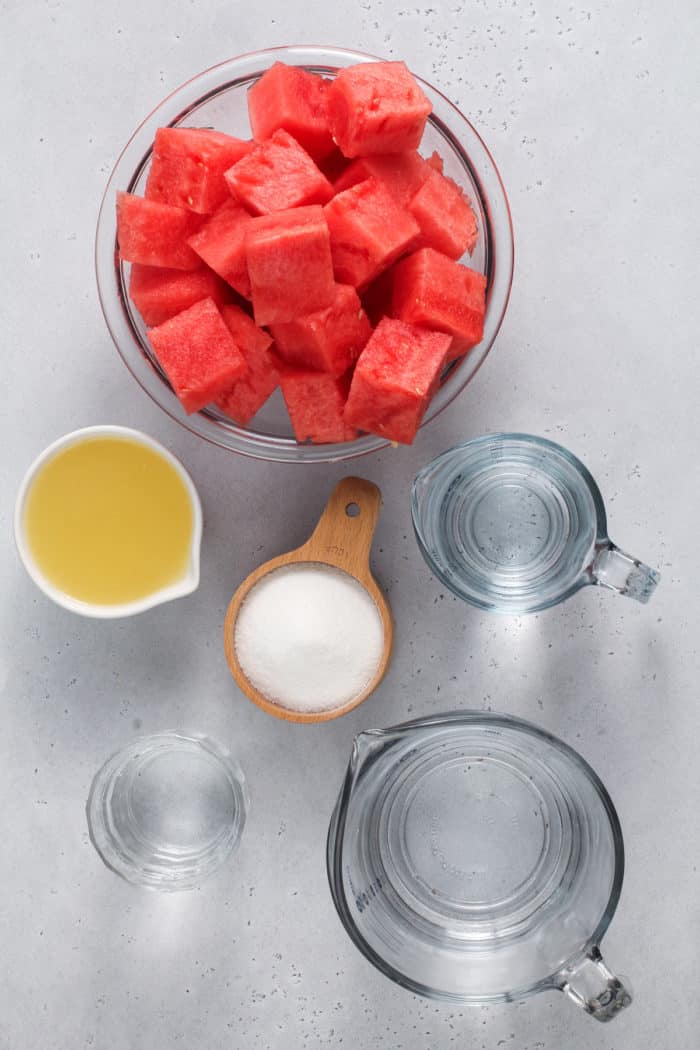 How to pick a good watermelon
Not sure how to pick a good watermelon? There are lots of different tricks out there, but I usually look for two things in a watermelon:
A yellow spot: There is usually a "field spot," or a spot on where the watermelon was touching the ground. I look for one that is yellow, not white – a yellow field spot means it was left on the vine longer and will be more flavorful.
A rounder melon that is heavy for its size: Even though people like to think of watermelons as more elongated, the melons that are more uniform in shape and feel heavy for their size are more likely to be sweeter!
When I look for those things, I nearly always bring home a really sweet, flavorful watermelon that is perfect for turning into lemonade or tossing into fruit salsa.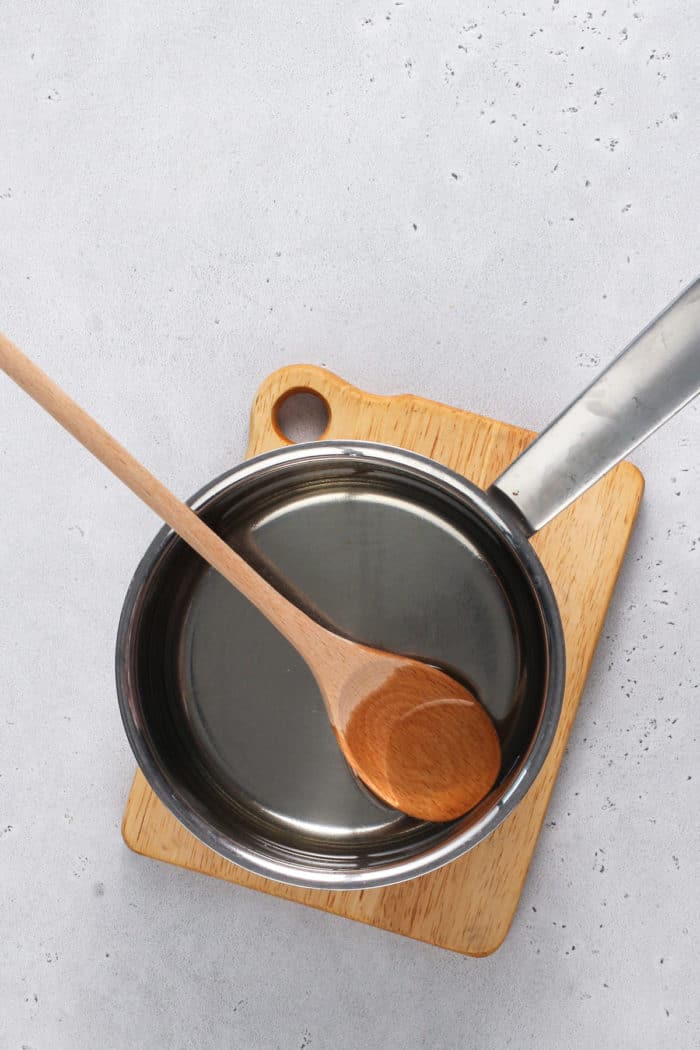 Helpful tools
If you're going to be squeezing large amounts of lemon juice for homemade lemonade or lemon bars, you will definitely want an electric juice or a citrus squeezer. It will help you get the most juice out of the lemons with the least amount of work!
You will also need a blender or food processor to blend the fresh watermelon.
If your grocery store sells fresh watermelon juice, you could substitute that in place of making your own with cubed watermelon. You will need just over 2 cups of fresh watermelon juice.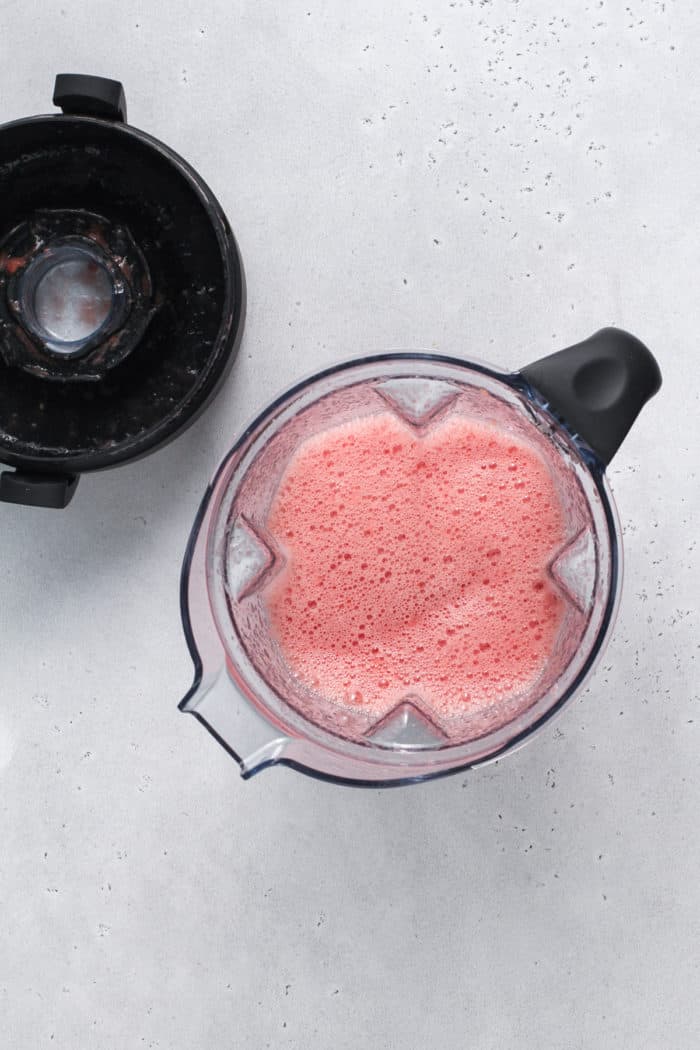 Making this watermelon lemonade
The best homemade lemonade is sweetened with simple syrup. This is the best way to sweeten the lemonade without having any grainy sugar at the bottom of the pitcher.
To make the simple syrup, heat 1 cup of water with 1 cup of sugar in a saucepan until the sugar has dissolved. Let this cool before adding it to the lemonade. You could make this as far in advance as you like.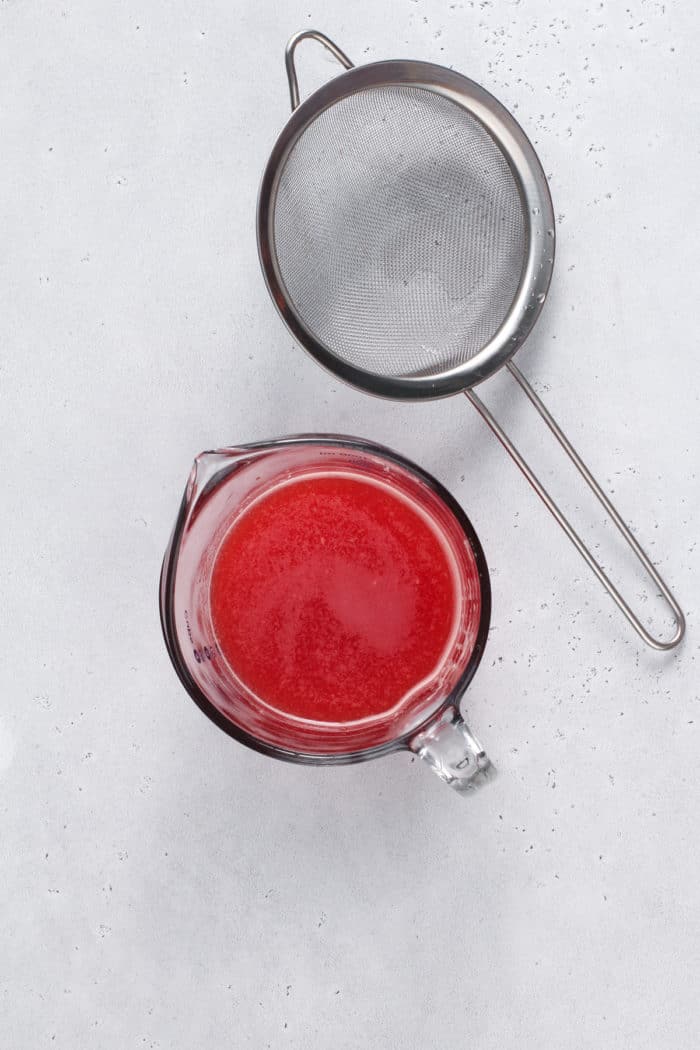 Once the syrup has cooled, puree the watermelon chunks in the blender, then run the puree through a fine mesh sieve. This will leave you with a flavorful juice without a bunch of pulp in it.
From there, all you have to do is mix together the simple syrup, watermelon juice, and lemon juice. Add as much cold water as you like to reach your preferred balance of tart and sweet – start with about 2 cups and add more as necessary.
Serve your fresh watermelon lemonade right away or keep it refrigerated until it's time to serve. If you refrigerate it, give it a quick stir before serving.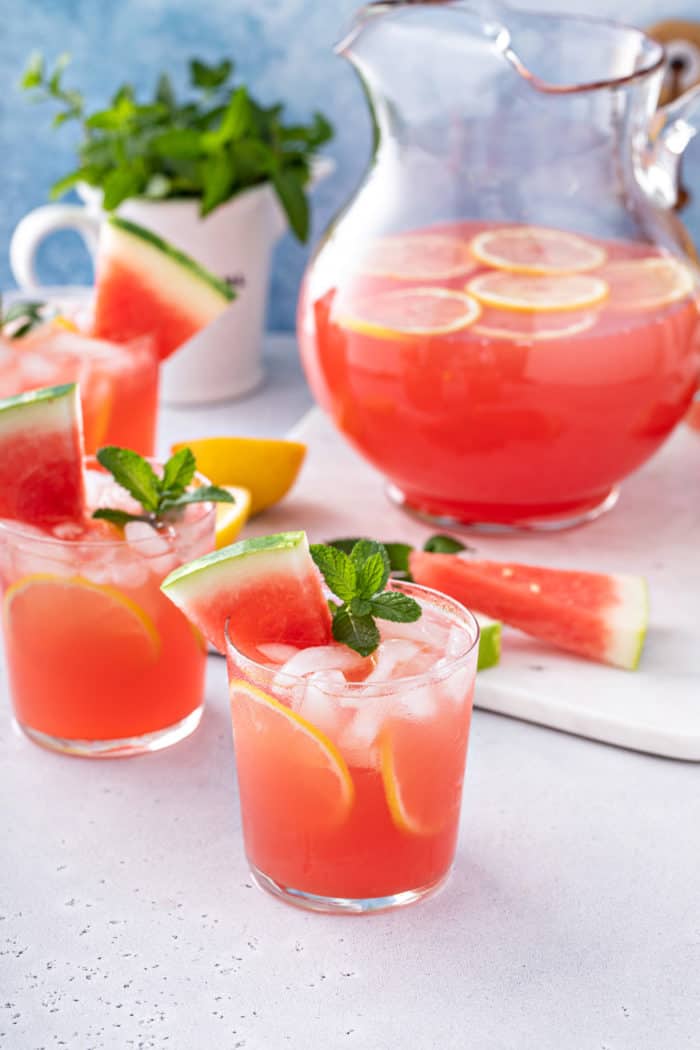 WAYS TO CHANGE UP THIS RECIPE
I think that this lemonade is pretty much perfect the way that it is, but there are a few different ways that you can spruce it up!
Turn the pitcher into a batch of boozy watermelon lemonade by adding 1 cup of vodka or gin in place of some of the water. You can also set out bottles of your favorite vodka or gin when serving if you prefer to have guests mix their own cocktails.
For a sparkling version, use sparkling water in place of the still water. The bubbles will make the lemonade feel even more refreshing!
You can also get creative by using flavored simple syrups! A mint simple syrup would pair so well with the watermelon.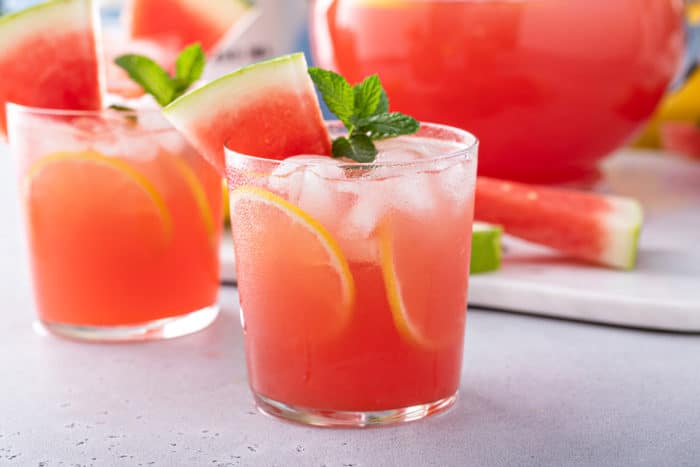 MORE REFRESHING LEMONADE RECIPES
If you love this watermelon lemonade recipe, then you have to branch out and try some other flavors, too!
My homemade strawberry lemonade is an instant classic. I make it multiple times each summer – once you try it, you'll see why I return to it again and again!
If you love fruity lemonades, you have to give raspberry lemonade a try, too.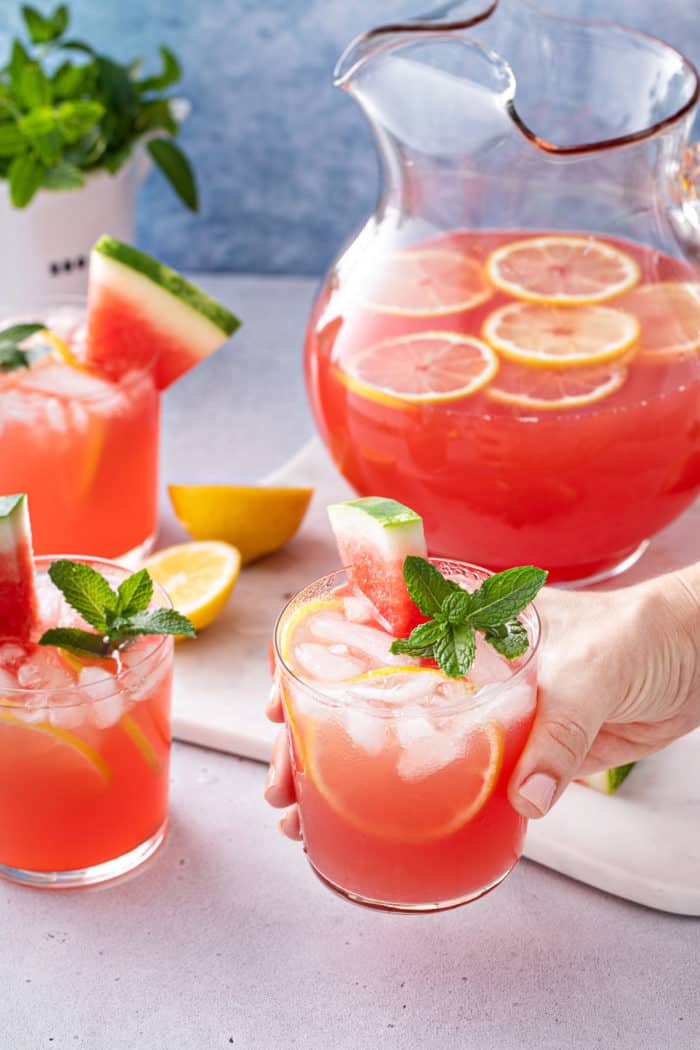 Did you know that vanilla adds a beautiful floral sweetness to lemonade? Vanilla lemonade is absolutely perfect!
And I know you'll love the bright, fun color and flavor of frozen mint lemonade. This one is perfect for anyone who finds themselves with too much mint growing in their garden!
Whether you're sipping this watermelon lemonade on the back porch or at a cookout alongside plates piled high with old-fashioned baked beans and easy potato salad, this is a drink you'll be mixing up all season long.