You can't have a cookout without potato salad! This easy potato salad recipe is creamy, tangy, and so delicious alongside all of your favorite summer foods.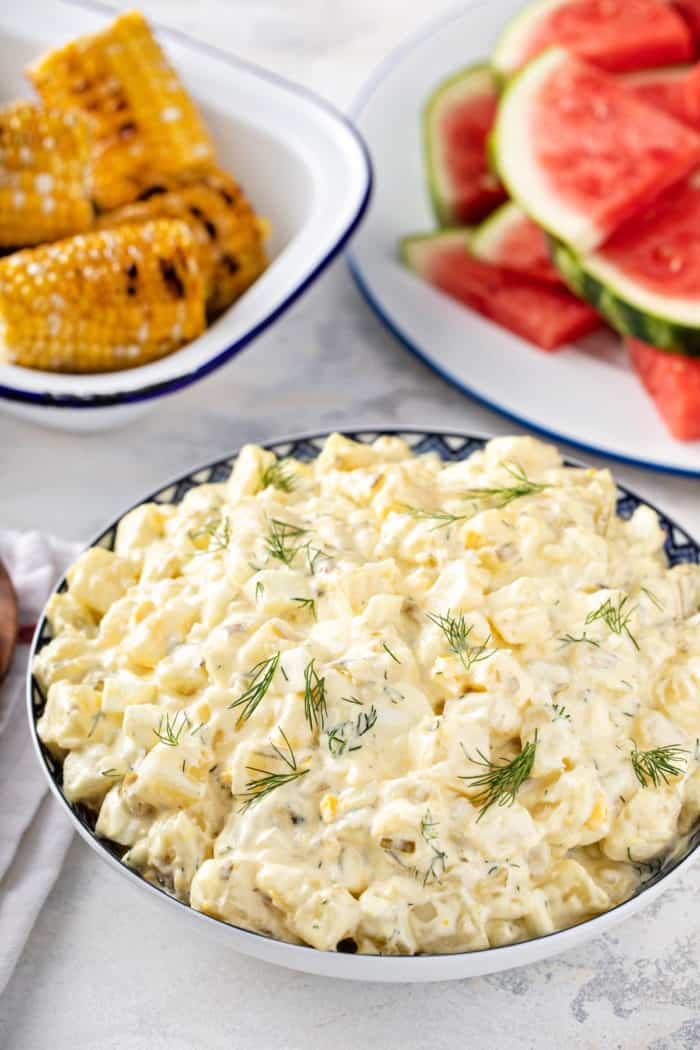 Summer weather makes me crave all kinds of summer potluck foods.
You know what I'm talking about. Big tables filled with summer salads, baked beans, sweet corn, fresh watermelon, pitchers of strawberry lemonade, and plenty of no-bake desserts.
It's the kind of food you dream about during those dreary late-winter days when you think the snow will never end.
But that hot weather is finally here and with Memorial Day right around the corner, I'm planning all of my favorite cookout foods, starting with this easy potato salad recipe.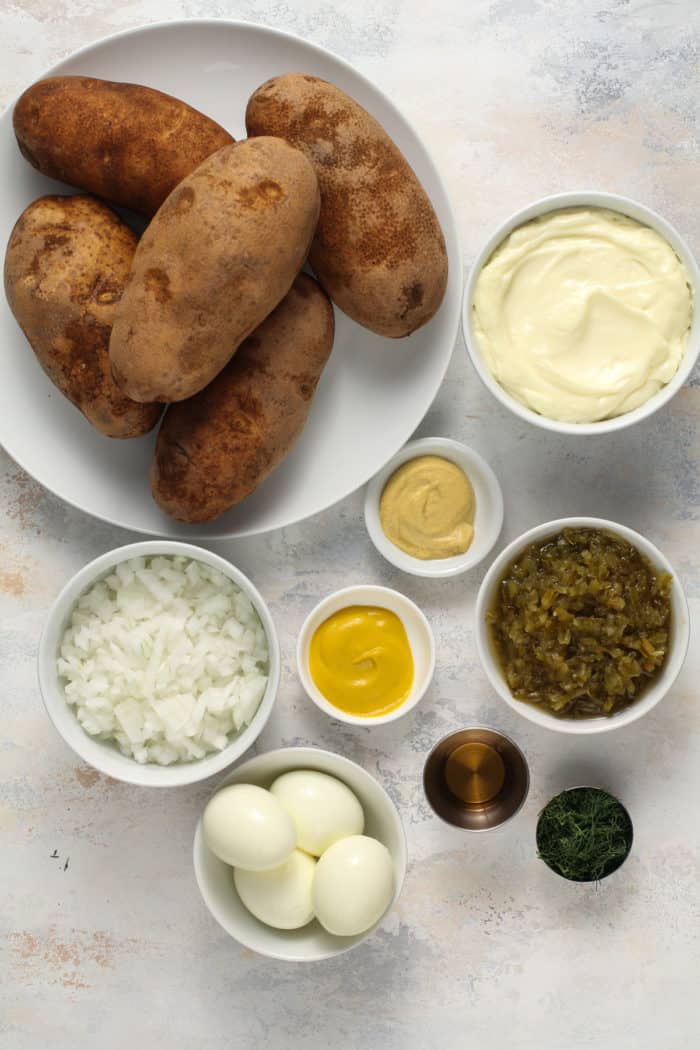 THE BEST POTATO SALAD
There are a few dishes that I immediately look forward to at any potluck.
Here in the midwest, there's a good chance I'll be able to find a pan of hash brown casserole (aka cheesy potatoes or funeral potatoes) and a bowl of ambrosia salad or sometimes watergate salad.
There's also likely to be some macaroni salad and a platter of deviled eggs and probably a pan of baked beans.
And there is always, always going to be at least one kind of potato salad. If it's a summer cookout, there will probably be a couple different types.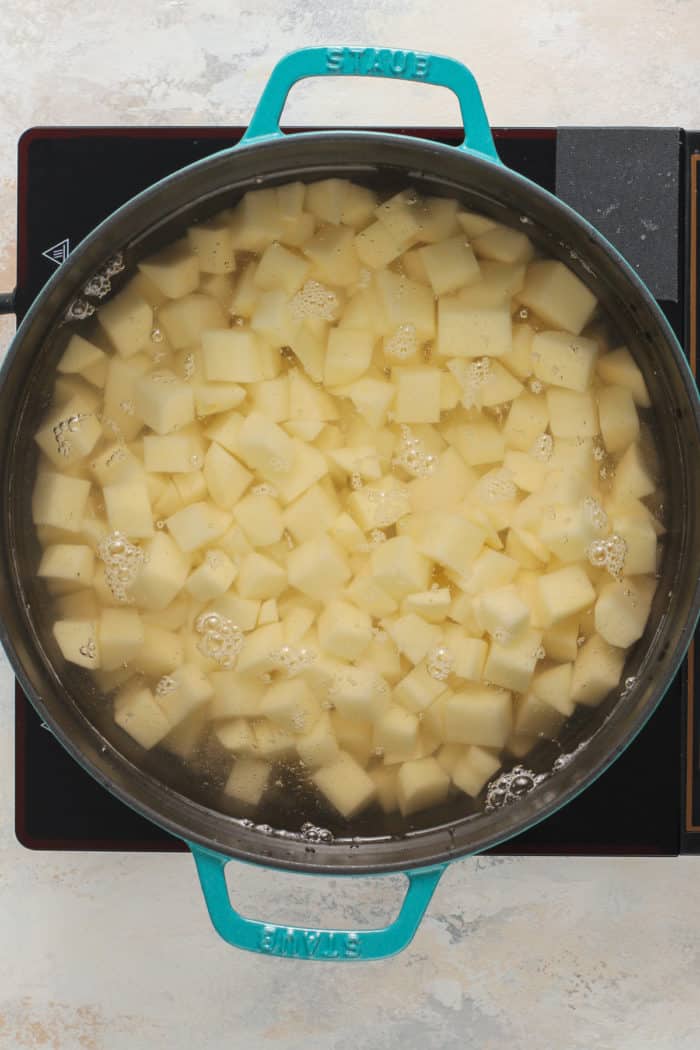 Now, I won't turn down a store-bought potato salad. In fact, there are some pretty good deli potato salads out there these days. But nothing compares to a homemade potato salad.
And when it comes to the classic creamy potato salad, I think this recipe is the BEST.
It's creamy, a little bit crunchy, and it has just the right amount of tang to balance out the creamy mayo and the starchy potatoes.
And the best part is that this recipe is so much easier than you might think!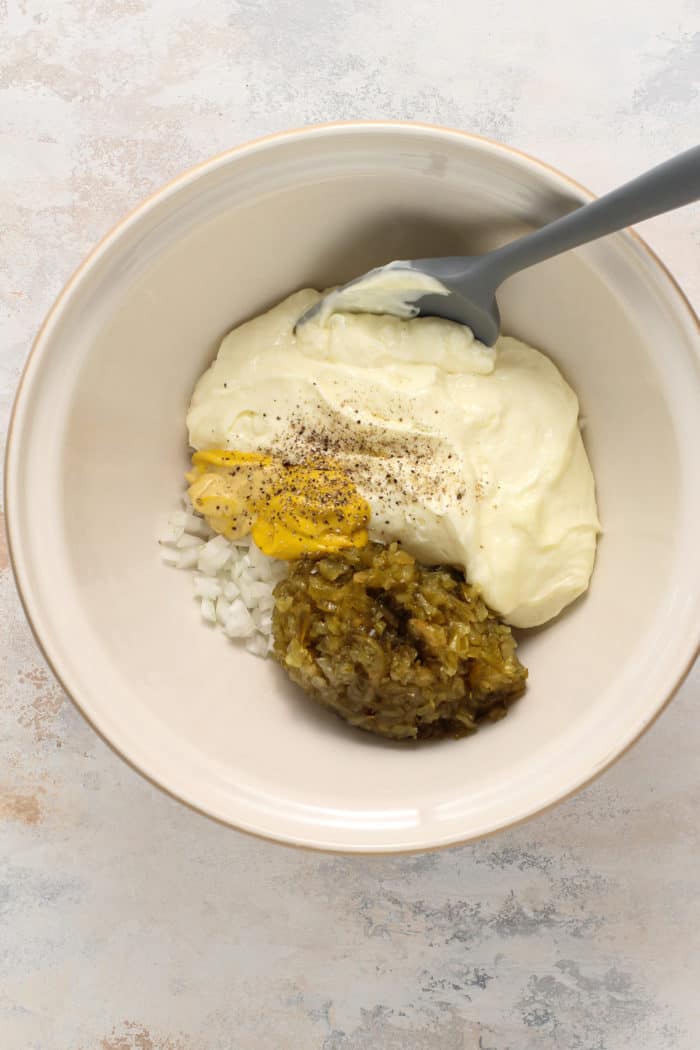 WHAT POTATOES ARE BEST FOR POTATO SALAD?
When you walk into the produce section of the grocery store, it's easy to get overwhelmed by the variety of potatoes. How do you know which ones are right for your recipe?
Save the yukon gold potatoes for scalloped potatoes and the red potatoes for German potato salad. For this easy potato salad recipe, grab a bag of russet potatoes.
Yes, the same potatoes you'd use to make baked potatoes! (I have a helpful post on how to bake potatoes if you're curious.)
Russet potatoes are nice and starchy, which means that they will pair really well with the creamy dressing in this salad. They are a classic potato for a classic recipe!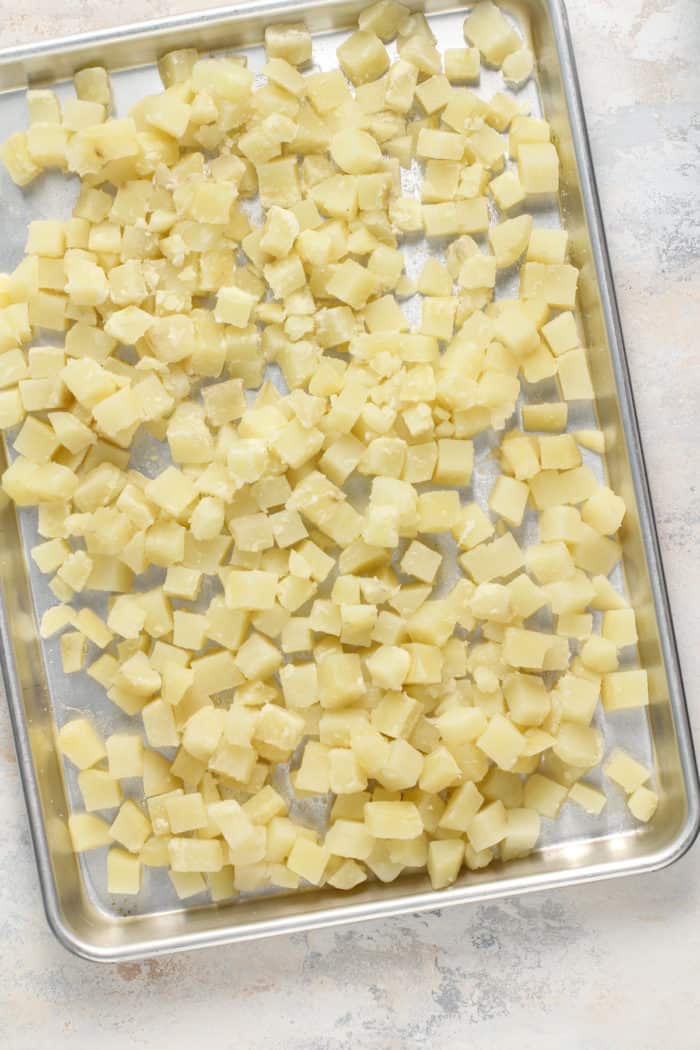 HOW TO MAKE THIS EASY POTATO SALAD RECIPE
Keep reading to find out my TOP TIP for making the most flavorful potato salad you've ever had!
Ingredients you'll need
To make this recipe nice and easy, I stick to the basics here. Nothing too fancy or frilly! You'll need:
Russet potatoes: These starchy potatoes are perfect for dressing with a creamy mayo-based dressing.
Yellow or sweet onion: Onion adds lots of flavor and a little bit of crunch to the salad. Try rinsing the diced onion in water and draining well to remove some of the harshness from them before they go in the salad.
Mayonnaise: This makes the dressing nice and creamy
Sweet pickle relish: I prefer sweet pickle relish in this recipe, but you could use dill relish if you prefer.
Mustard: I like to use a combo of yellow mustard and Dijon mustard here.
Apple cider vinegar: The vinegar adds some great tang to the salad and imparts tons of flavor.
Hard-boiled eggs: These are optional, but I love them in my potato salad. Learn how to hard boil eggs in the Instant Pot or on the stove.
Fresh dill: This is also optional but adds so much flavor!
If you love celery and want a little extra crunch in your salad, you can add some finely chopped celery as well.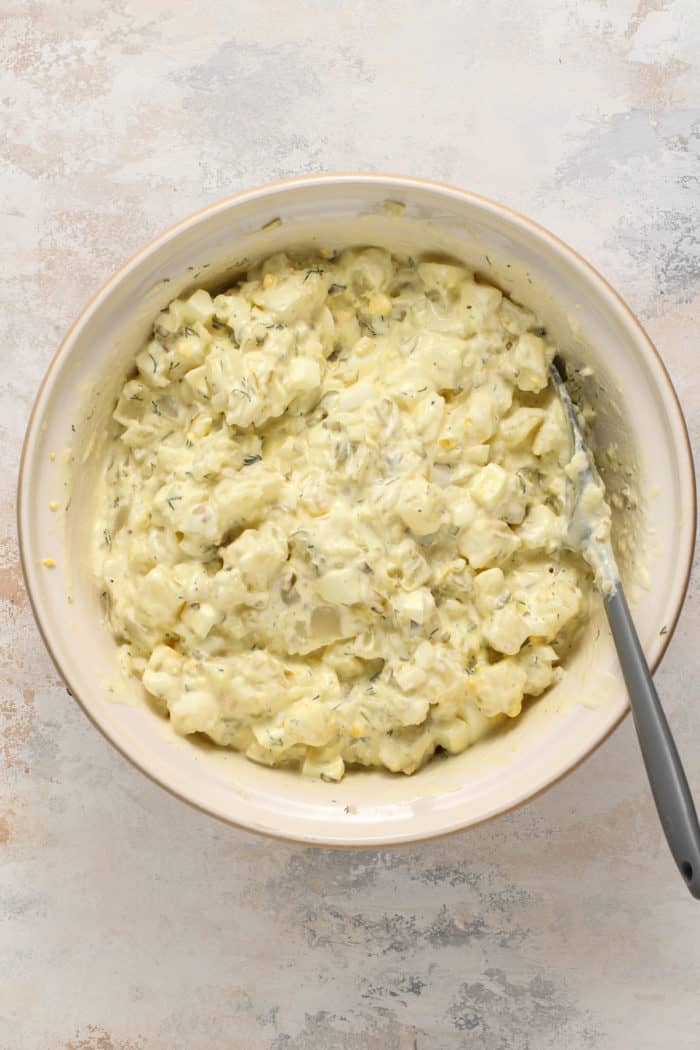 Making this recipe
To make this easy potato salad recipe, start by peeling the potatoes. I like to leave some strips of skin on for extra texture, but you can peel them completely if you prefer.
Cut the peeled potatoes into cubes and add them to a big pot. Cover them with cold water (make sure it's cold!) and lots of salt, then cook them until they are just fork tender.
While the potatoes are cooking, you can mix together the onion, mayonnaise, relish, mustards, and some black pepper to make your dressing.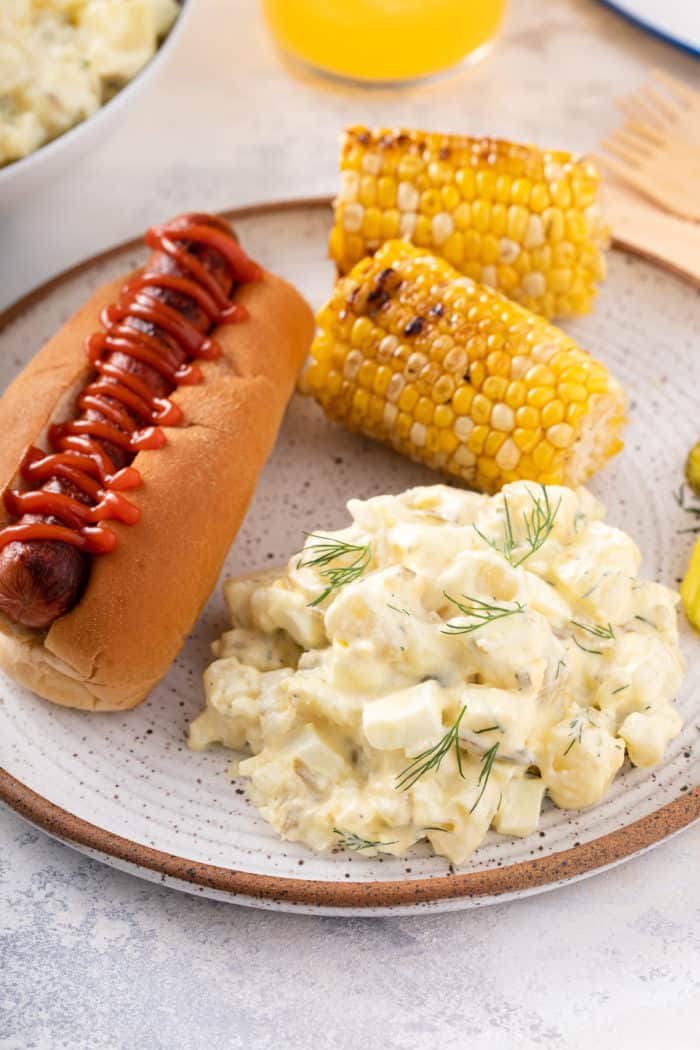 My TOP potato salad tip
Now for my top tip when it comes to making potato salad:
As soon as the potatoes are finished cooking, drain them and spread them onto a large baking sheet. Immediately drizzle them with apple cider vinegar and sprinkle them with several big pinches of salt.
The potatoes will soak up tons of flavor while they're hot, so adding some extra salt and a nice amount of vinegar will make them super tangy and delicious. No bland potatoes here!
Let the potatoes soak up the vinegar and salt for a few minutes, then give them a taste. You can always add more vinegar or salt if you want!
After the potatoes are perfectly seasoned and have cooled, you can add them to the dressing along with the eggs and dill.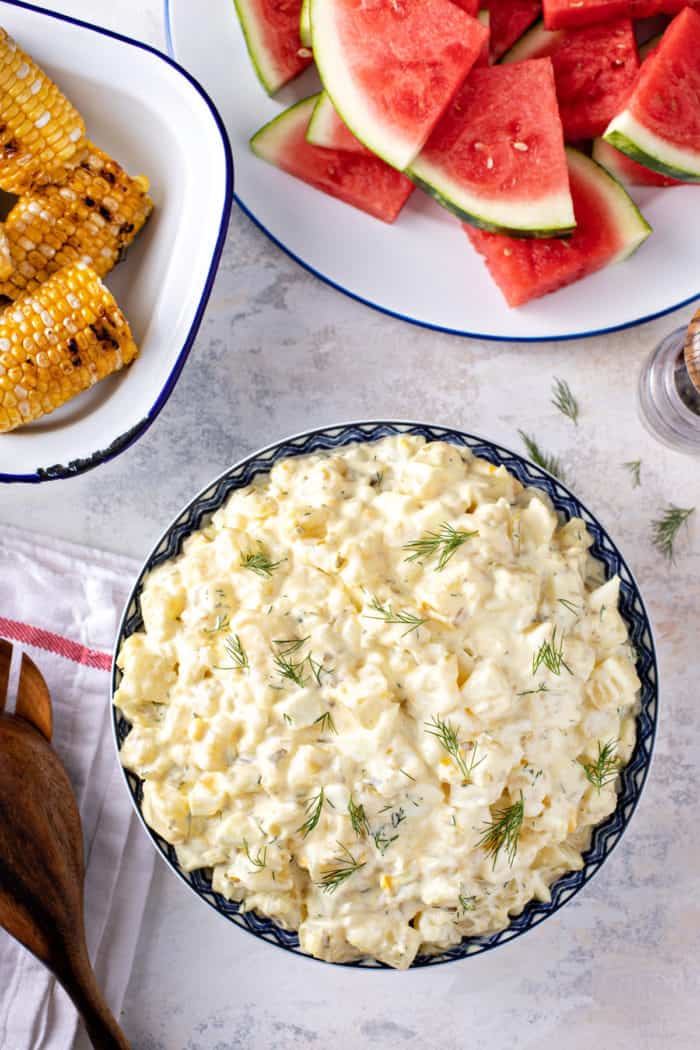 MAKE-AHEAD AND STORAGE TIPS
Guess what?
This simple, classic potato salad only gets better with time. It's even better the second day than it is the first!
That means it's the perfect dish to make ahead of time. Pop the salad into an airtight container and keep it in the fridge until you're ready to serve.
It will keep for up to 5 days, so don't shy away from snacking on any leftovers.
In fact, if you wanted to make extra helpings of this easy potato salad recipe just so you'll have leftovers to eat all week long, I wouldn't judge you at all!