Hard boiled eggs giving you trouble? Learn how to hard boil eggs on the stove or in the Instant Pot, plus tips for peeling and storing your eggs.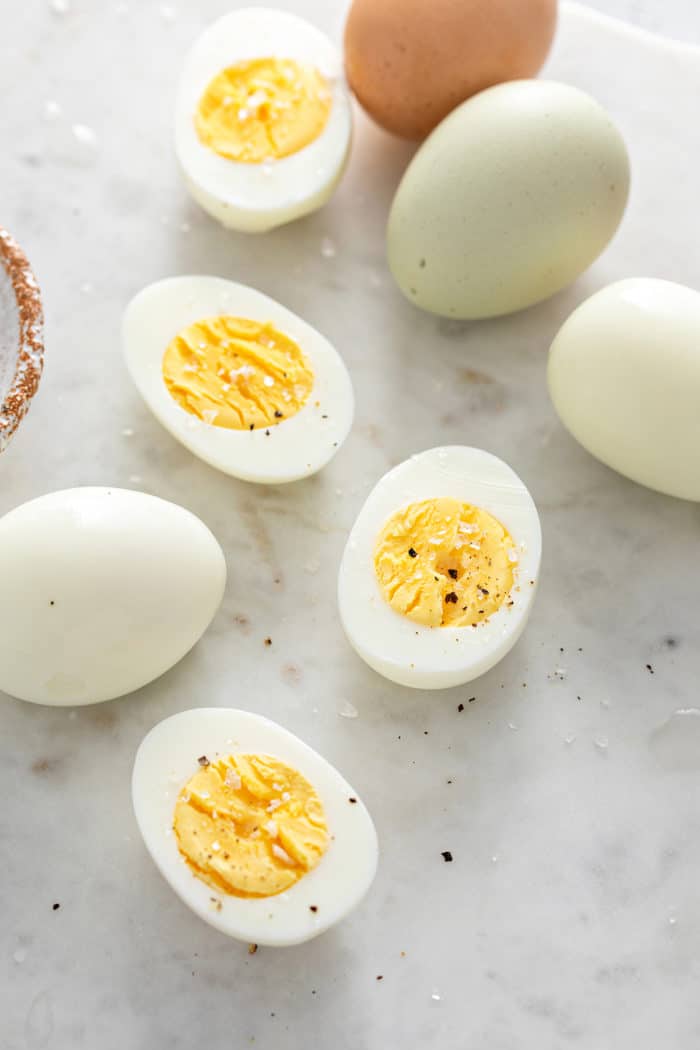 This post contains affiliate links.
If you grew up learning to cook and bake from your mom or grandmother, or even a beloved aunt or next-door neighbor, you might have picked up a lot of basic cooking and baking how-tos along the way.
But even those of us who have been cooking for decades sometimes forget the right way to make a buttermilk substitute or how to make self-rising flour.
Whether you're self taught or have been in the kitchen for years, hard boiled eggs are a thing that a lot of people struggle with.
I've spent a lot of time playing around with different ways to hard boil eggs and am sharing my two go-to methods and answering some frequently asked questions to help you along the way.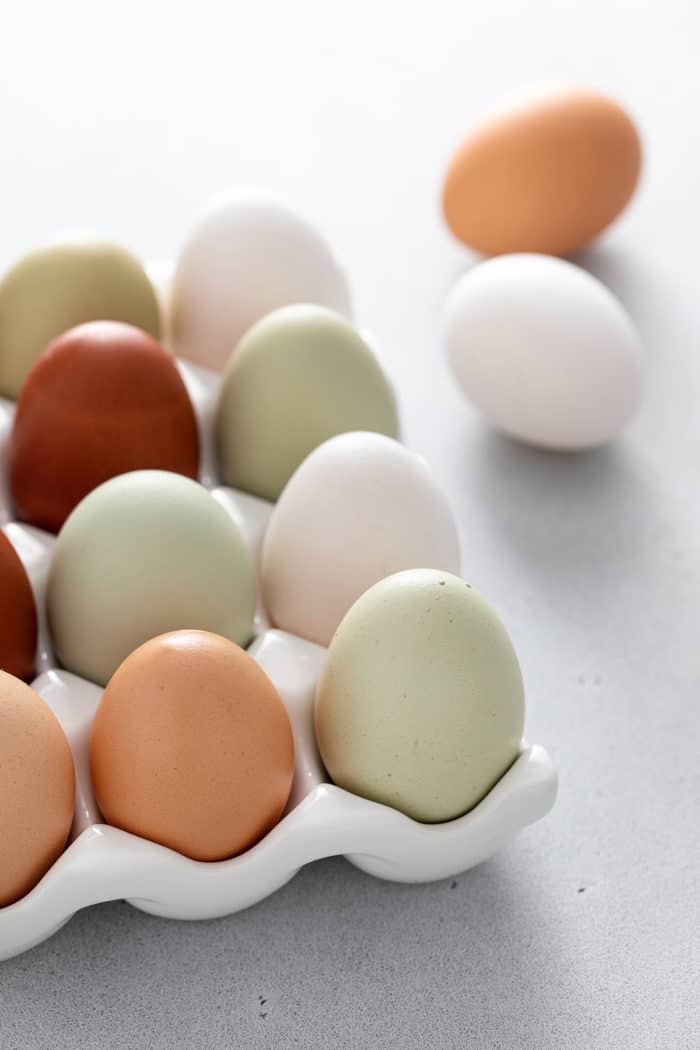 HOW TO HARD BOIL EGGS ON THE STOVE
The most classic way to boil eggs is, of course, on the stove. If you grew up cooking, this is probably the way you learned to do them.
There are actually a few different ways to boil eggs on the stove and different cooking times that go with all of them. But this is my favorite way to do them and the way that I think is easiest:
Add eggs to a saucepan large enough to fit as many eggs as you wish to cook.
Add enough cold water to cover the eggs by about 1 inch.
Place the pot over medium-high heat and bring the water to a roiling boil.
Immediately remove the pan from heat, cover, and set a timer for 15 minutes.
After 15 minutes, immediately move the eggs to an ice bath to stop the cooking process.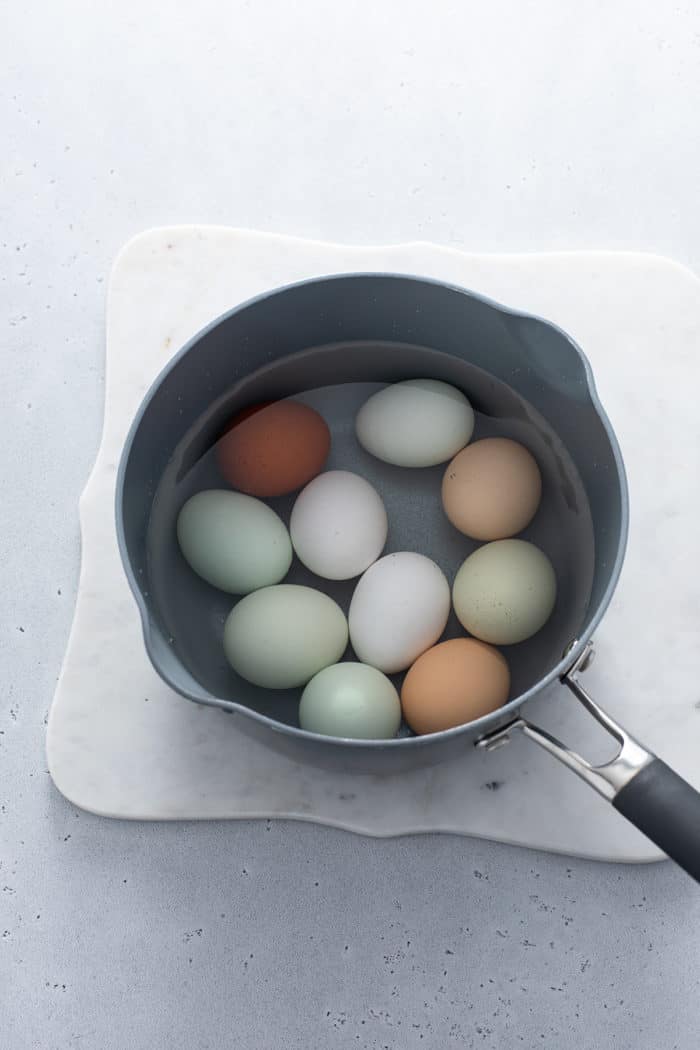 INSTANT POT HARD BOILED EGGS
Now that so many people have Instant Pots, hard boiling eggs in the Instant Pot has become really popular.
One of the biggest benefits to hard boiling eggs in the Instant Pot is how easily they peel.
To make Instant Pot hard boiled eggs:
Add 1 cup of water to the bottom of the Instant Pot insert.
Place the rack that came with your Instant Pot, a silicone egg tray, or a stacking egg rack inside of the pot. Add as many eggs as you wish to cook.
Lock the lid, closing the steam vent. Pressure cook on manual on high for 5 minutes; allow the pressure to naturally release for 5 more minutes.
Release any remaining steam and remove the eggs to an ice bath to stop the cooking process.
If you prefer a slightly jammy yolk, do a quick release instead of the natural release after cooking on high for 5 minutes.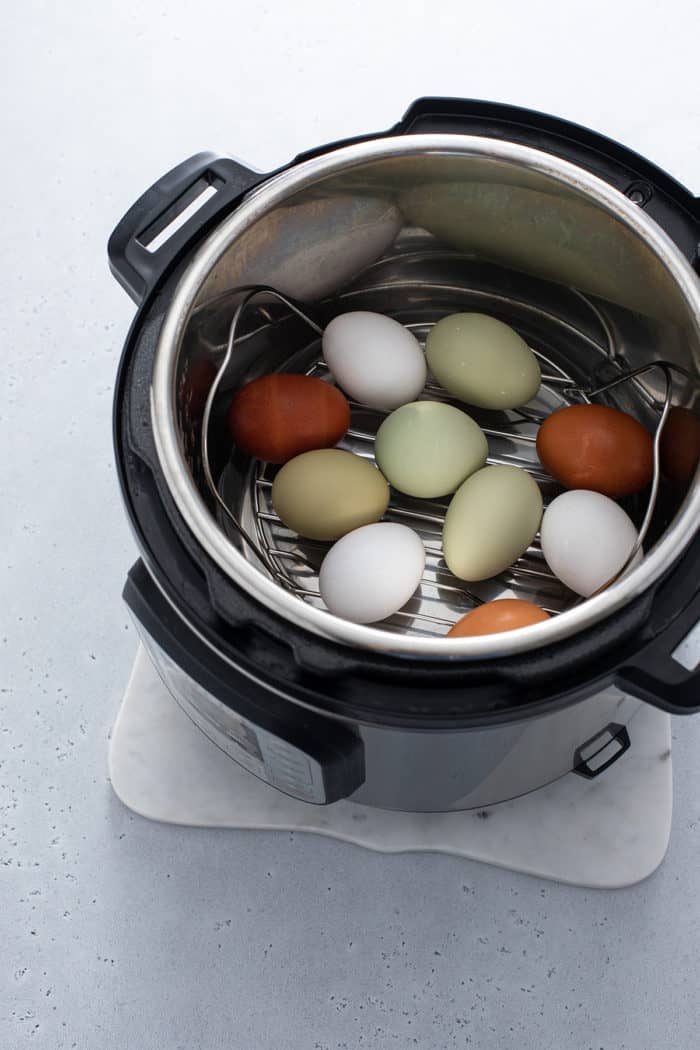 PEELING TIPS AND TRICKS
Peeling is the part of making hard boiled eggs that most people find super frustrating. Especially if you're making deviled eggs, you want your eggs to peel cleanly!
I've seen and tried a lot of things for making hard boiled eggs easier to peel, including adding salt and vinegar to the boiling water. I don't think most of these tricks actually work that well, but have found some things that do work.
I have a couple of tips to share on peeling your eggs:
Use semi-fresh eggs (1-2 weeks old) instead of super fresh eggs. As eggs age, the inner membrane becomes less attached to the whites, making the eggs easier to peel. Supermarket eggs are always older and will be easier to peel than farm-fresh eggs.
Cook your eggs in the Instant Pot if you can. They really are the easiest to peel!
When the eggs are nice and cold, tap both the top and bottom of the egg against the counter. One end, usually the larger end, will have a slight pocket. Start peeling at this end, making sure to pinch the membrane away from the white. Run the egg under cool water while peeling; this will allow the water to get between the membrane and the white and will help the shell to come off easier.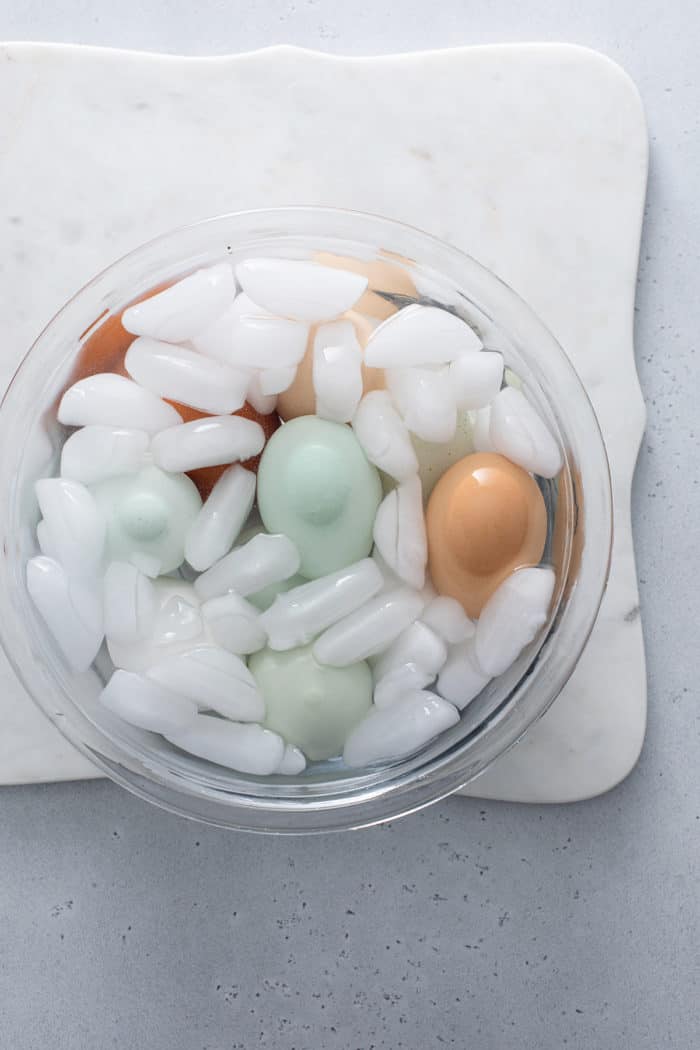 WHY ARE MY HARD BOILED EGGS GRAY?
Have you ever gotten that weird gray ring around the yolks of your hard boiled eggs?
The good news is that it is harmless. It's caused by a chemical reaction between the sulfur in the white and the iron in the yolk and happens when the eggs are cooked too long or at too high of heat.
So basically, it's from your eggs being overcooked!
Aside from the whites being a little rubbery and the egg not looking as appetizing, there's nothing wrong with the eggs and you can still eat them.
If you follow the cooking instructions above and put your eggs in an ice bath right after cooking, you shouldn't have any problems with getting a gray ring on your eggs.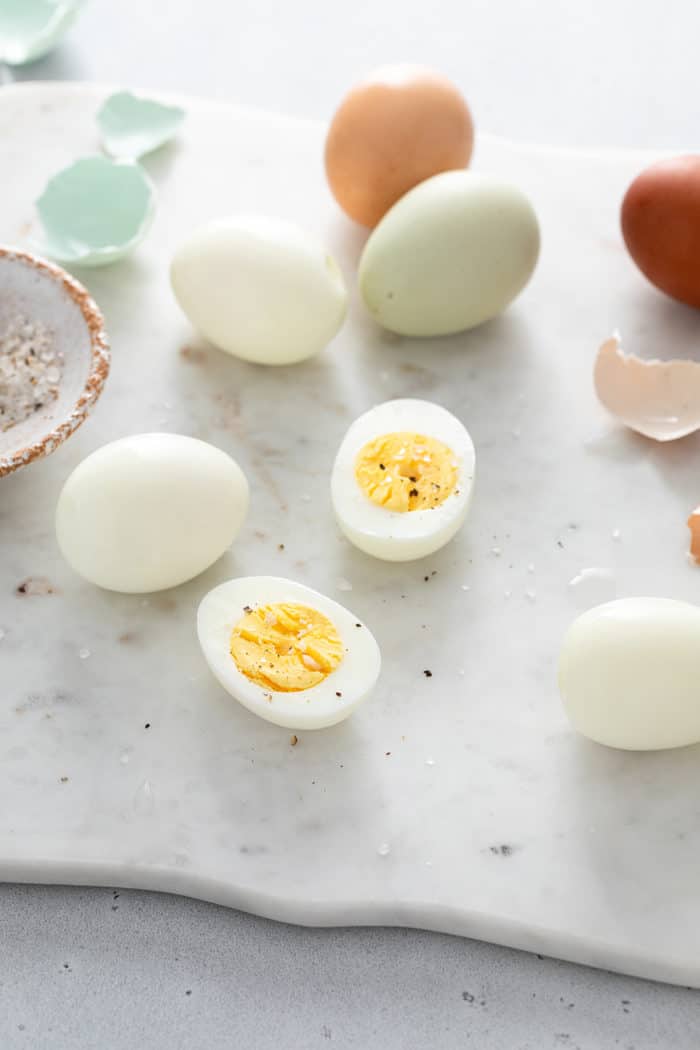 STORAGE TIPS
Hard boiled eggs are a great food to prep at the beginning of the week for easy breakfasts, snacks, or for adding to cobb salads along with homemade blue cheese dressing.
You can store peeled or unpeeled hard boiled eggs in an airtight container in the refrigerator for up to a week.
If you are storing peeled eggs, I recommend placing them in cold water or placing a damp paper towel on top of the eggs within the airtight container to keep them super fresh. Change the water or the paper towel out daily.
Now your eggs are ready for whenever you need a quick bite of protein to power through your day!