These classic deviled eggs are always a hit at any gathering. Make these for your next party or cookout and watch them disappear in the blink of an eye!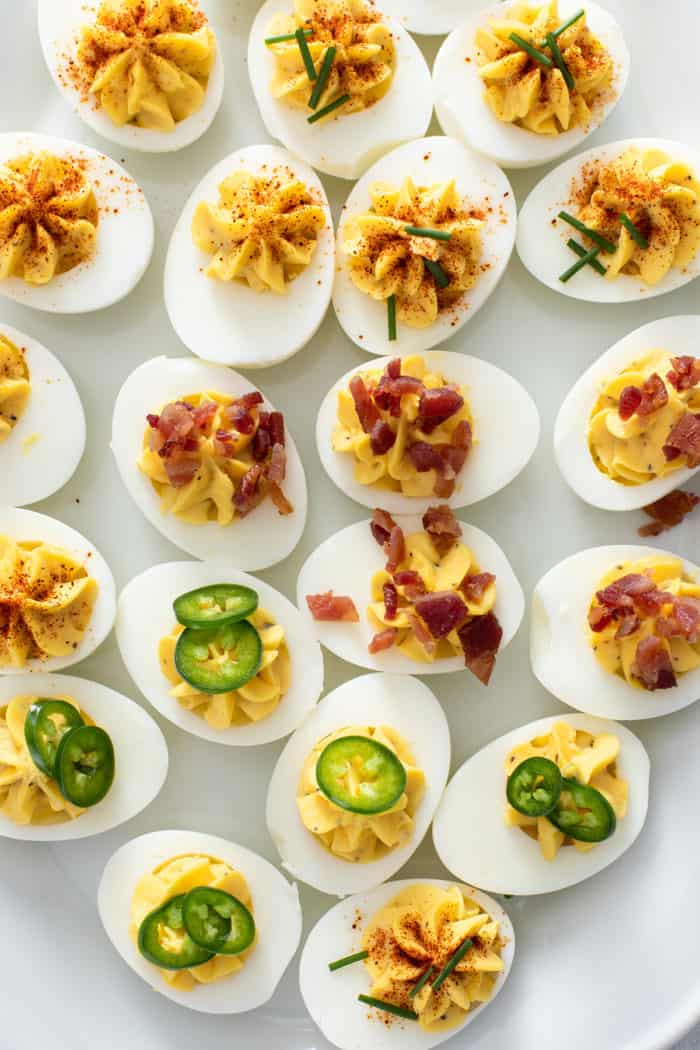 This post contains affiliate links.
Now that spring is here, I am finding myself dreaming of all of the warm-weather get-togethers. Brunches, cookouts, potlucks, I love them all.
I love piling up my plate with plenty of Amish Macaroni Salad, Old-Fashioned Baked Beans, Ambrosia Salad, and plenty of deviled eggs.
Honestly, I don't even need a hot dog or a burger at that point! Give me all of the summer sides.
If you're as big of a fan of deviled eggs as my family is, you will want to keep this recipe close by all summer long.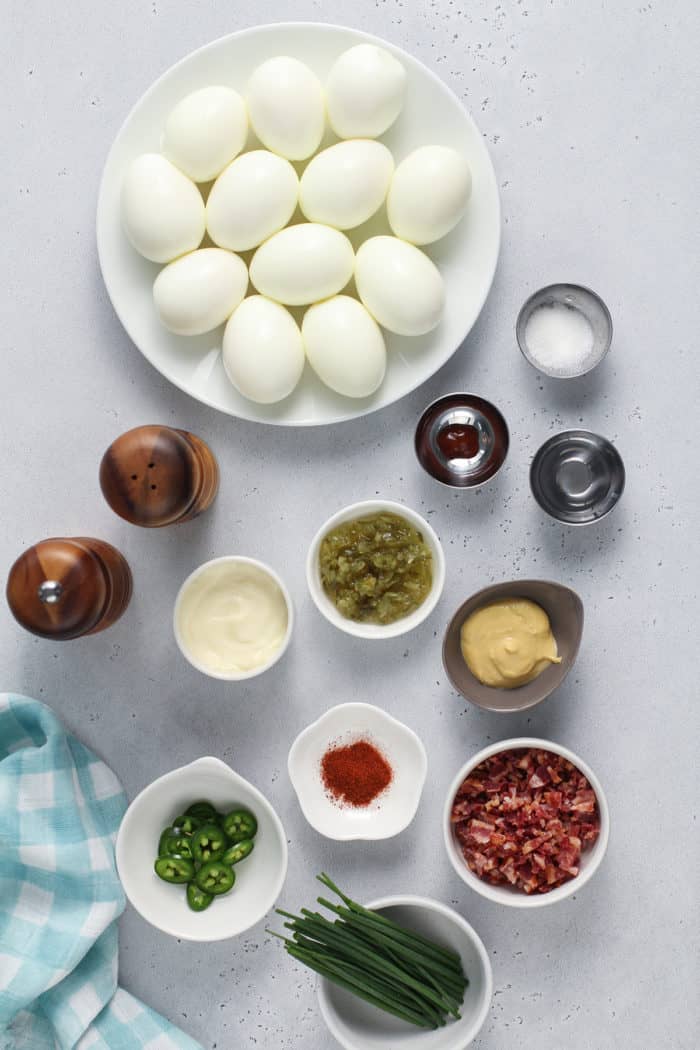 WHY ARE THEY CALLED DEVILED EGGS?
Deviled eggs are hard boiled eggs that have been cut in half. The yolks are then removed and mixed with ingredients such as mayonnaise, mustard, and more, and then spooned or piped back into the whites.
They are especially popular around Easter, when many people have an excess of hard boiled eggs on hand, and at parties and cookouts.
But have you ever wondered why they're called "deviled" eggs?
Using the word "deviled" to describe food began in the late 1700s and referred to foods made with what were considered to be spicy seasonings such as mustard or pepper.
Of course, we don't usually think of classic deviled eggs as spicy these days, but the name has stuck!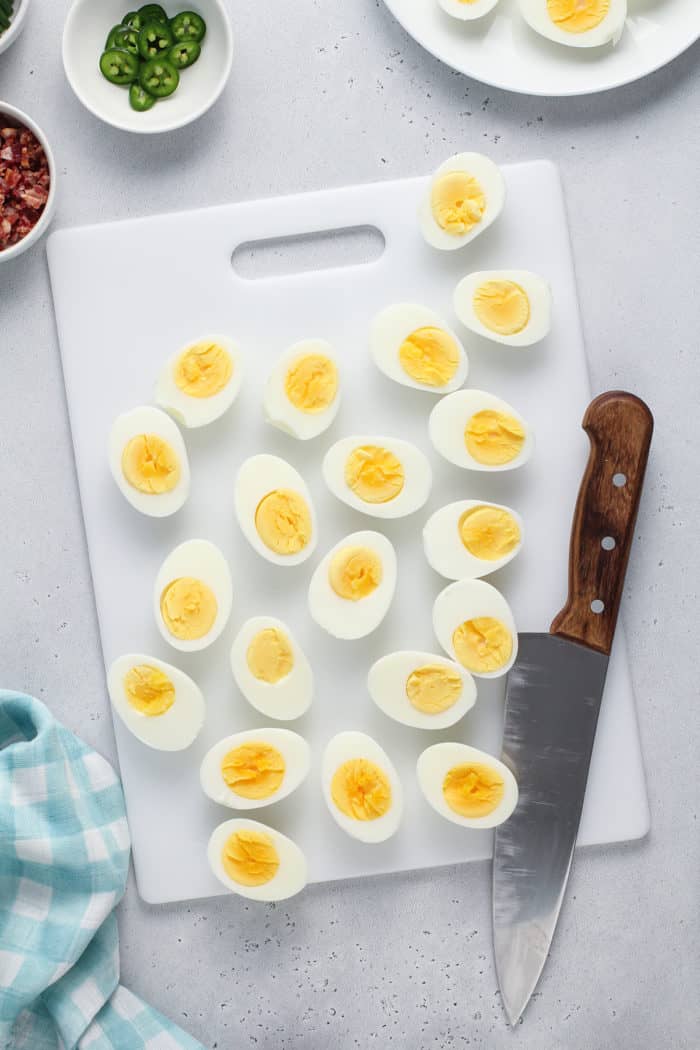 HOW TO MAKE DEVILED EGGS
Deviled eggs are actually really fun and easy to make. So there's no reason not to whip up a batch for your next party or gathering!
Ingredients you'll need
My recipe makes a pretty classic version of this party favorite, so let's talk about the ingredients you'll need:
Hard boiled eggs: These are obviously our base for the deviled eggs. This recipe makes 24 deviled eggs, so you'll need 12 peeled hard boiled eggs.
Mayonnaise: Mayo makes the filling super creamy and adds a lot of flavor. Use your favorite mayonnaise, but I always like to reach for a good quality one.
Sweet pickle relish: You could always use dill pickle relish, but I like sweet pickle relish in this recipe.
Mustard: You could use yellow mustard or dijon mustard in this recipe, or a combination of the two!
White vinegar: Vinegar adds a very slight tang to the eggs. You won't really realize it's in there, but you'll notice a difference if you leave it out!
Sugar: Like the vinegar adds a slight tang, a very small amount of sugar adds just a hint of sweetness. But don't worry, it won't make the eggs sweet! It just helps balance out some of the other ingredients in the filling.
Hot sauce: This is optional, but just a dash of your favorite hot sauce really rounds out the entire filling. You can always add more if you want your eggs a bit spicier.
If you grew up making your deviled eggs with Miracle Whip, you can definitely use that here. If you use Miracle Whip instead of mayonnaise, I recommend leaving out the vinegar and the sugar. You can always add them to taste after the filling is mixed together.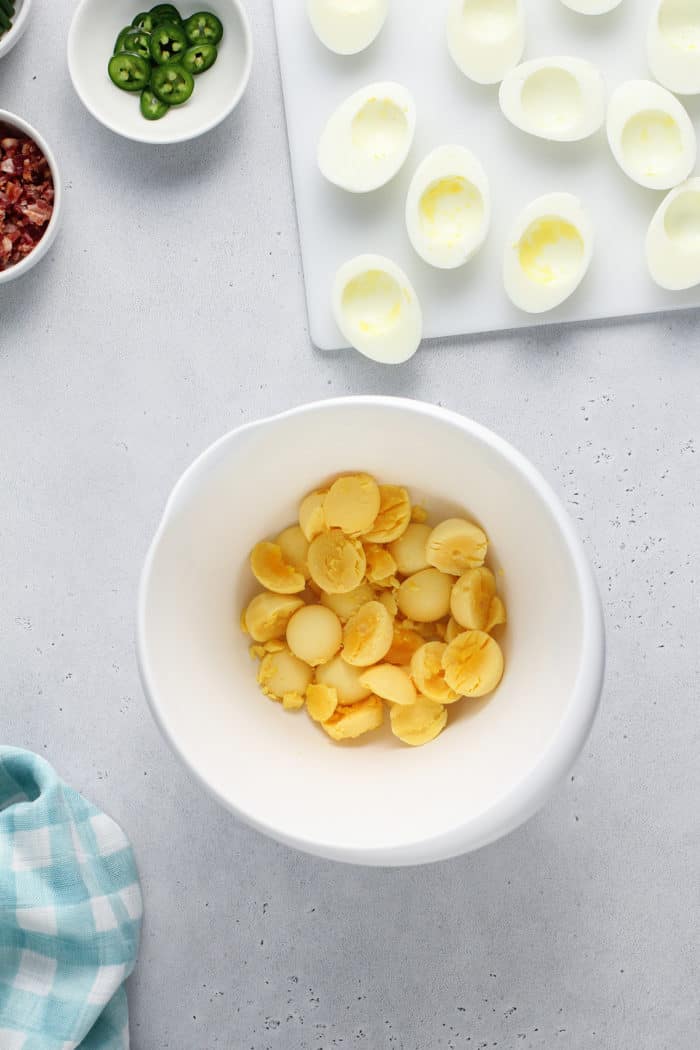 Tools you'll need
The only required tools for making this recipe are a mixing bowl and some measuring cups and spoons.
My family likes the filling to be super smooth. If this is how you like your deviled eggs, you will want to use a hand mixer or a food processor to mix the filling.
You can also use a piping bag and piping tips to add the filling back into the egg whites, but a spoon works just fine!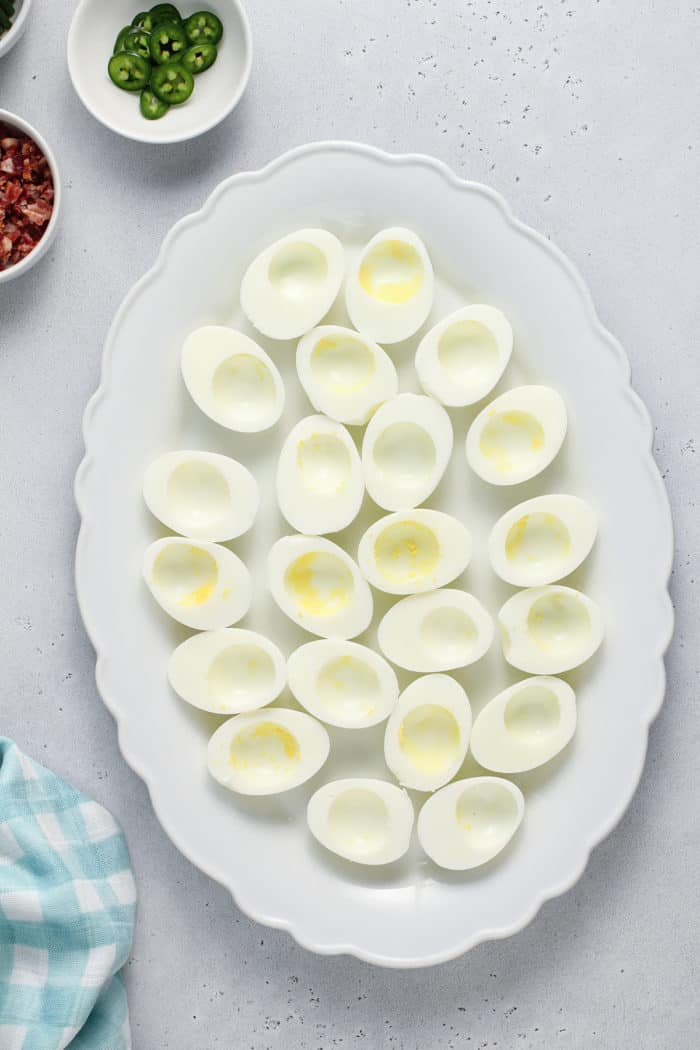 How long should you boil eggs for deviled eggs?
When you're prepping your hard boiled eggs, you will want to make sure your eggs are cooked just enough. Undercooked eggs will give you a jammy yolk and overcooked eggs will give you that weird gray ring around the yolk.
I have a whole post on how to hard boil eggs that can walk you through the right cooking times, whether you're boiling them on the stove or cooking them in the Instant Pot.
No matter which cooking method you use, make sure you put the eggs into an ice bath right after cooking to halt the cooking process.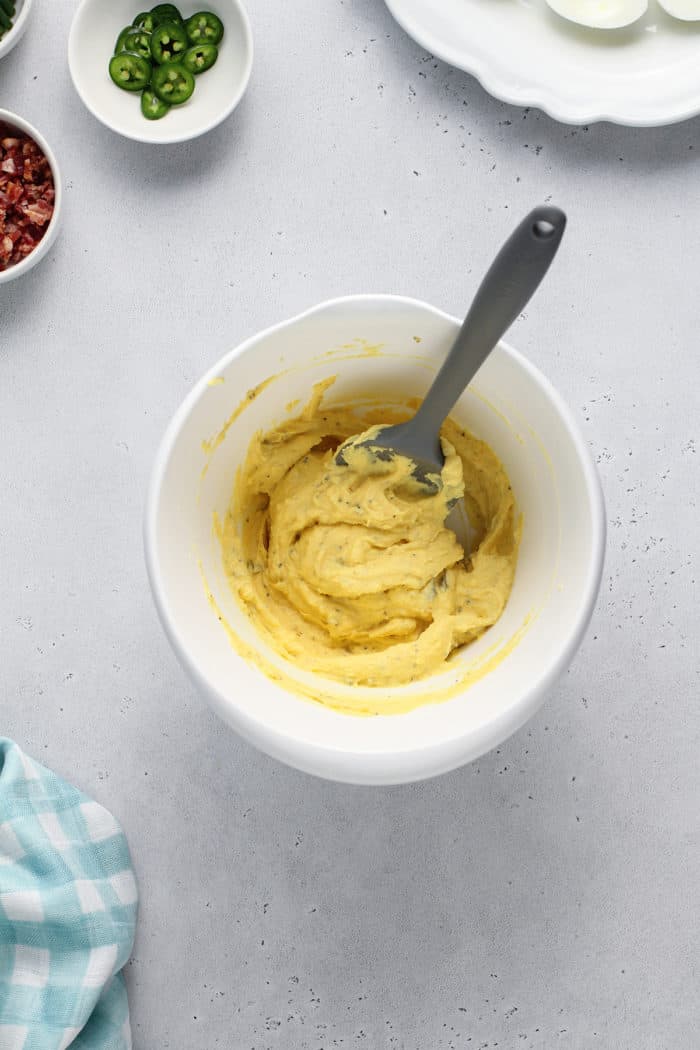 Making this recipe
To start, cut all of the eggs in half lengthwise. Carefully remove the yolks from the egg white halves – I use a small spoon to do this.
Place the yolks in a bowl and set the whites aside on a baking sheet or platter.
Add the rest of the filling ingredients to the bowl with the yolks. I used about ½ teaspoon each of salt and pepper in mine, but make sure to give the filling a taste as you add your seasoning so you don't add too much.
For a super smooth filling, use an electric mixer to mix the filling. You can also combine everything in a food processor.
Once the filling is just the way you like it, spoon it or pipe it into the egg whites and garnish with your desired toppings.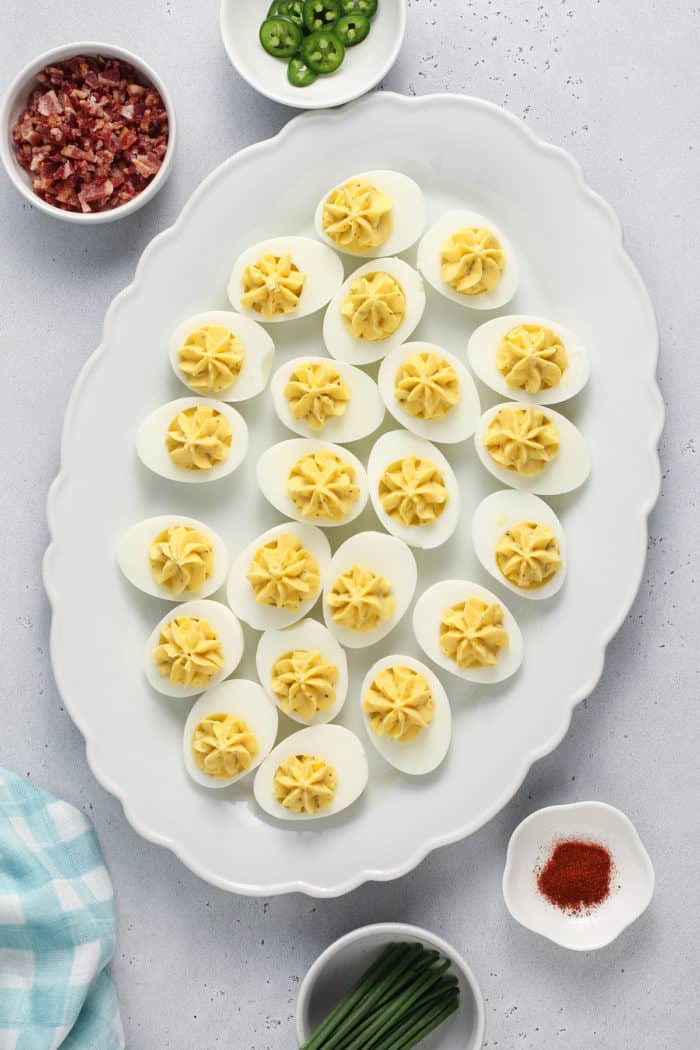 TOPPINGS AND GARNISHES
There are so many ways to garnish your deviled eggs! A sprinkling of paprika is the most traditional, but that's only the tip of the iceberg. Give some of these toppings a try:
Fresh or pickled jalapeño
Pickled onions
Chopped chives
Smoked salmon
Salmon roe or caviar
Lump crab meat
As you can see, you can keep things as simple as you like or make them as fancy as you like! You could even use a variety of garnishes to make 2 or 3 types of deviled eggs out of one batch.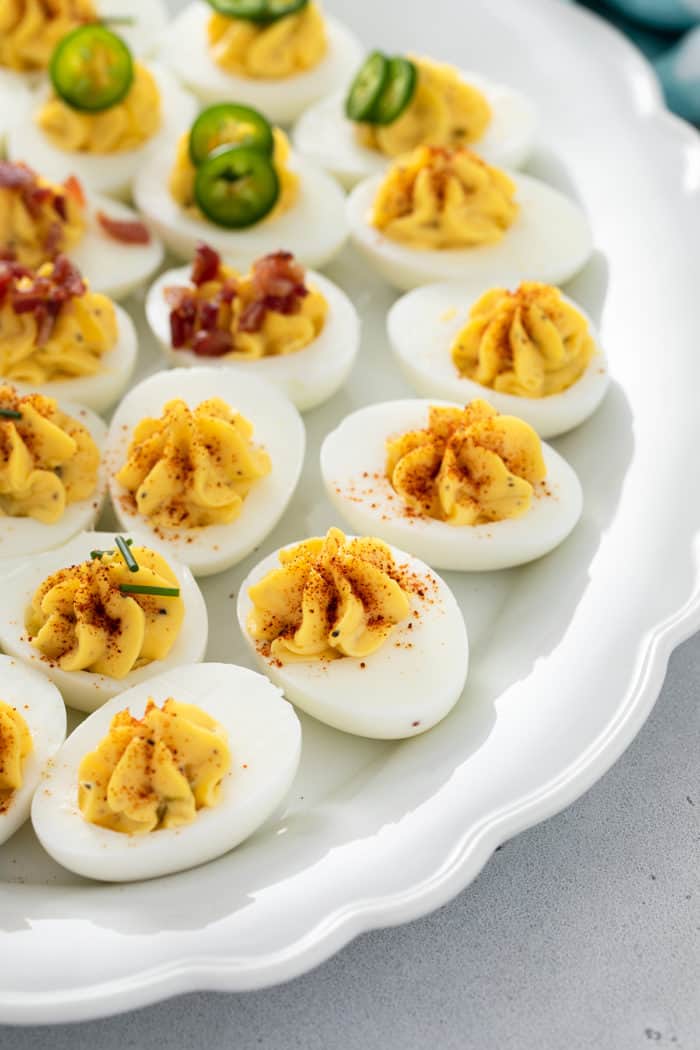 MAKE-AHEAD AND STORAGE TIPS
If you're hosting an Easter or Mother's Day brunch, chances are good that you don't want to do everything for making your deviled eggs that morning.
There are a few ways you can prep some or all of your eggs ahead of time:
Hard boil your eggs up to a week ahead. Hard boiled eggs will keep in the refrigerator for up to a week, so feel free to boil the eggs well in advance or as soon as the night before.
Prep the filling the night before. Halve the eggs and make the yolk filling the night before. Place the filling in an airtight container and wrap the egg whites well with plastic wrap (press-and-seal wrap is perfect for this). Keep everything in the refrigerator until you're ready to assemble the deviled eggs. This is my preferred method to keep everything super fresh.
Prep the eggs entirely the night before. Make the deviled eggs but leave off any garnishes. Cover the eggs and place them in the fridge until ready to garnish and serve. I think it's harder to wrap them well enough once they're assembled without smashing the filling, so this is my least favorite option.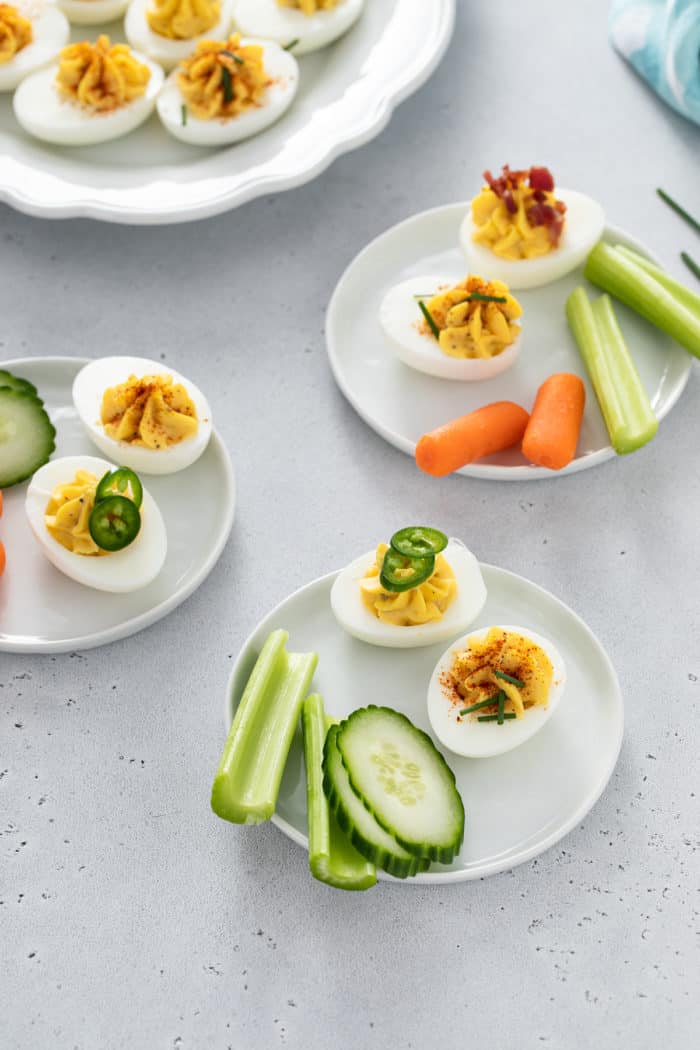 Make sure that you store any leftover eggs covered in the refrigerator. Keeping them tightly wrapped with plastic wrap or press-and-seal wrap will help keep the whites from getting as rubbery.
Properly covered, the eggs will keep in the fridge for 1-2 days, though they are best eaten within the first day they are assembled.
Whether you're making these deviled eggs for a spring brunch or a summer cookout, they are sure to be the hit of the party. Better make some extras because they disappear fast!