Made with red potatoes, plenty of bacon, and a tangy vinaigrette, this German potato salad is a delicious mayo-free side dish for any time of year.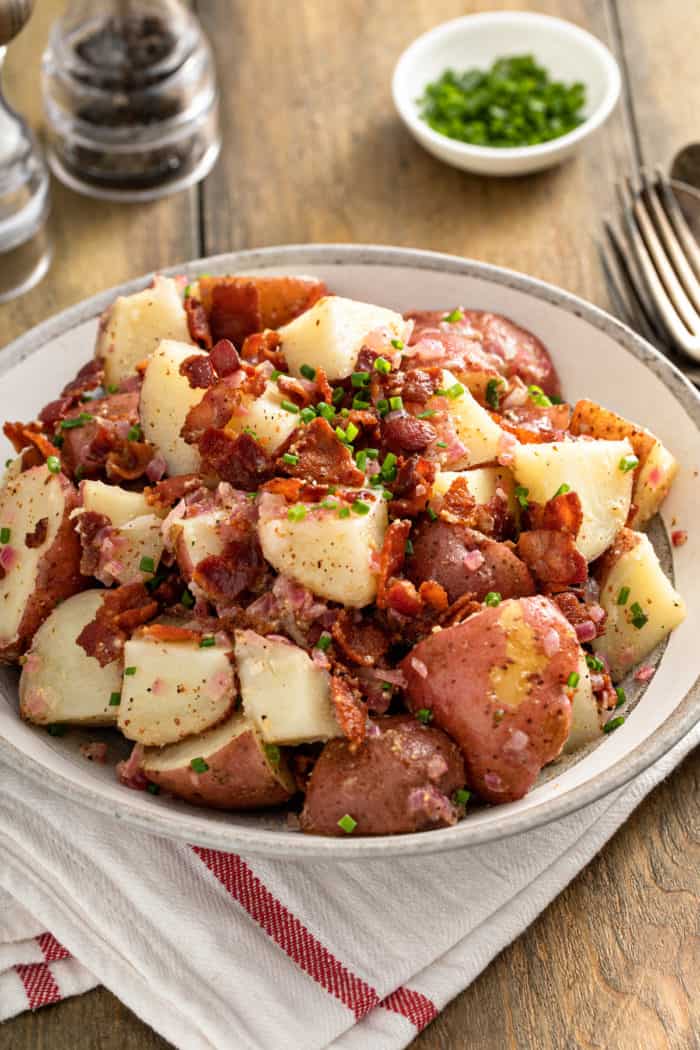 Would you believe me if I told you that a lot of people in my family often look forward to my side dishes more than my desserts? Well, it's true – especially if we're talking summer side dishes.
No summer pool party or barbecue around here is complete without Amish macaroni salad, easy coleslaw, old fashioned baked beans and some form of potato salad.
Lately we've been loving a simple bacon, cheddar, ranch potato salad and this German potato salad. Basically just give us potatoes mixed with a delicious dressing and we're good.
Of course, there's always dessert, but I'm not going to lie, sometimes they're fresh from the Costco bakery.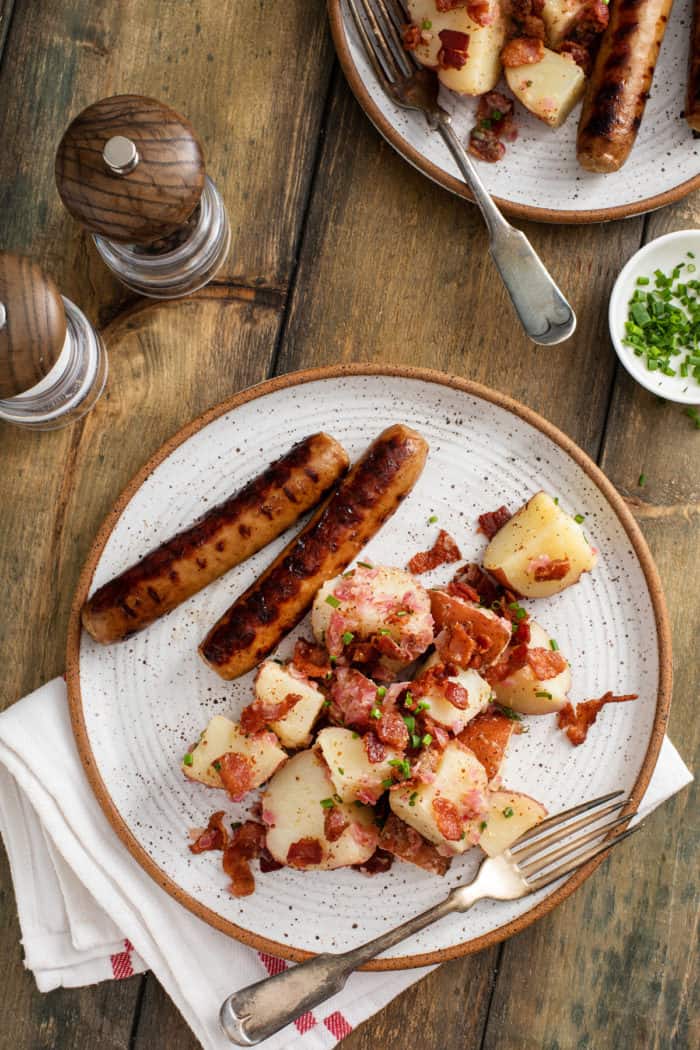 AMERICAN VS. GERMAN POTATO SALAD
A lot of families have one go-to potato salad recipe that they make, so it's possible to be an adult before you realize that there are different types of potato salad!
American-style potato salad – like my easy potato salad recipe – is usually served cold or at room temperature and typically has a mayo-based dressing. Other common ingredients include hard-boiled eggs, herbs, and raw veggies such as celery or onions.
German-style potato salad, on the other hand, is usually served warm or at room temperature and has a vinaigrette dressing. It also usually includes bacon.
For anyone who doesn't care for mayo, German potato salad is a must-try! I know so many people who thought they didn't like potato salad until they tried German-style potato salad.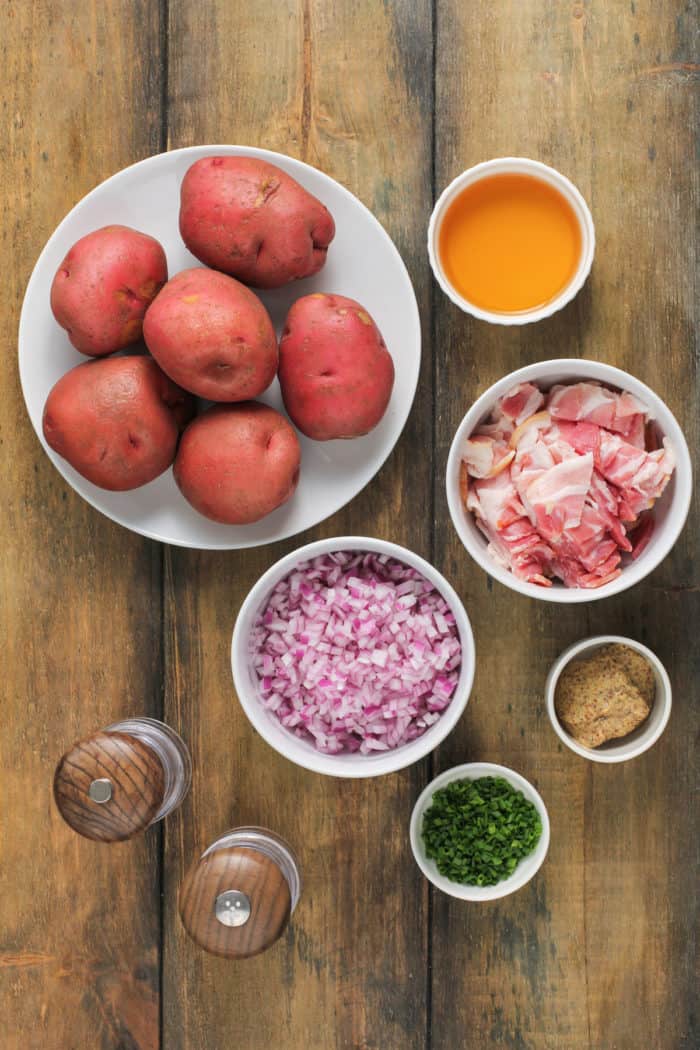 HOW TO MAKE GERMAN POTATO SALAD
We've learned how to bake potatoes, we've made garlic mashed potatoes, now it's time to add to our potato repertoire with this German potato salad recipe.
Keep reading to find out my TOP TIP for making the best potato salad!
What potatoes should you use for German-style potato salad?
Unlike American-style potato salad, which usually uses russet potatoes, you will want to use red potatoes for German potato salad.
Since red potatoes have thin skins and are on the smaller side, you don't need to peel the potatoes.
Halve or quarter the potatoes, depending on their size. You want all of the pieces to be about equal in size and easy to bite.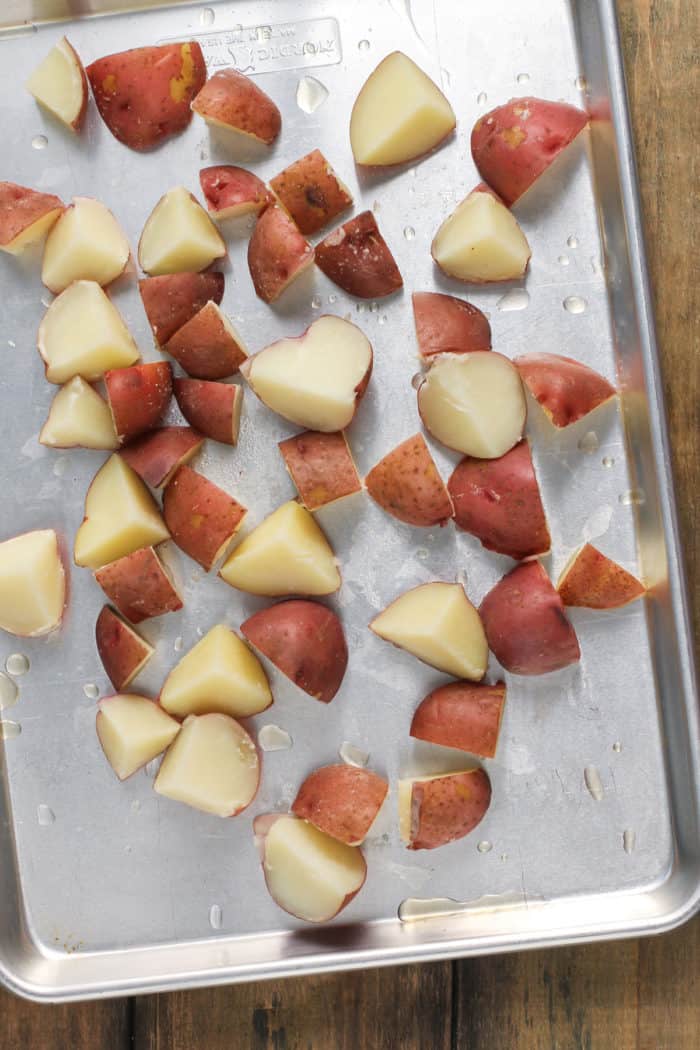 Making this recipe
Start by cooking the potatoes. Add the cut potatoes to a large pot and cover them with about 2 inches of cold water and add 2 tablespoons of salt.
Bring the potatoes to a boil over high heat, then let them simmer for 5-10 minutes; you want the potatoes to just be fork tender.
Work on the dressing while the potatoes are cooking.
Cook the bacon in a skillet until it is crispy and most of the fat has rendered out. Use a slotted spoon to remove the bacon and place it on a layer of paper towels to drain.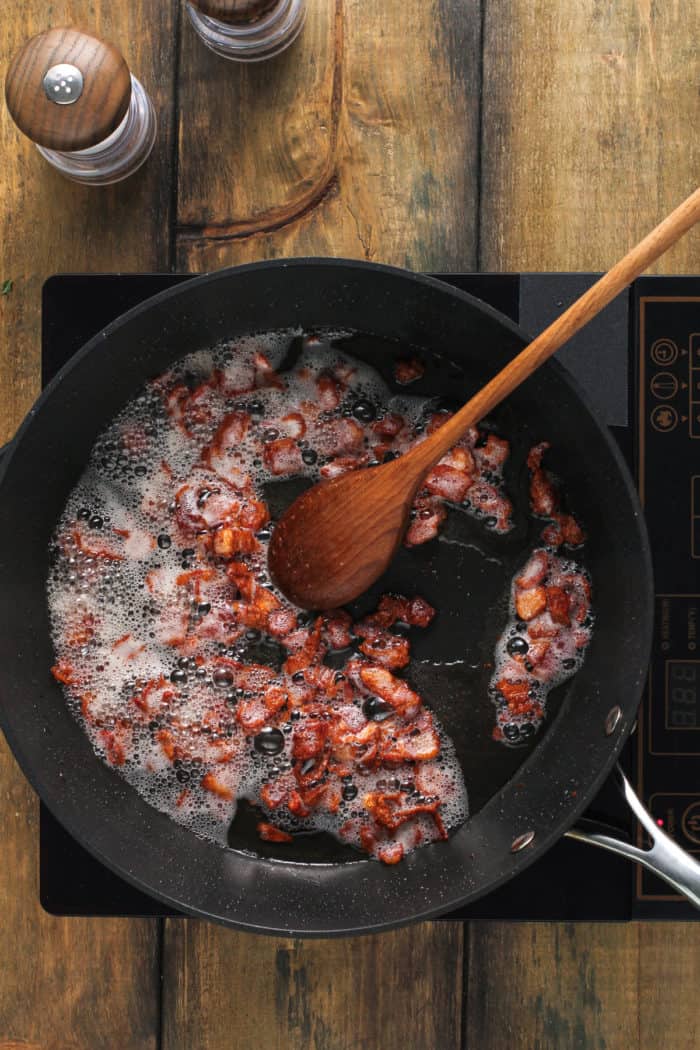 Don't discard the bacon grease, though! We'll need that to make the dressing.
Add the onion to the pan with the bacon drippings and cook until the onions are soft. Take the pan off the heat and add the mustard and ¼ cup of the vinegar.
Whisk the dressing and season with a pinch each of salt and pepper. Make sure to give the dressing a taste to ensure it's seasoned the way you like it!
Now you're just about ready to toss the salad together.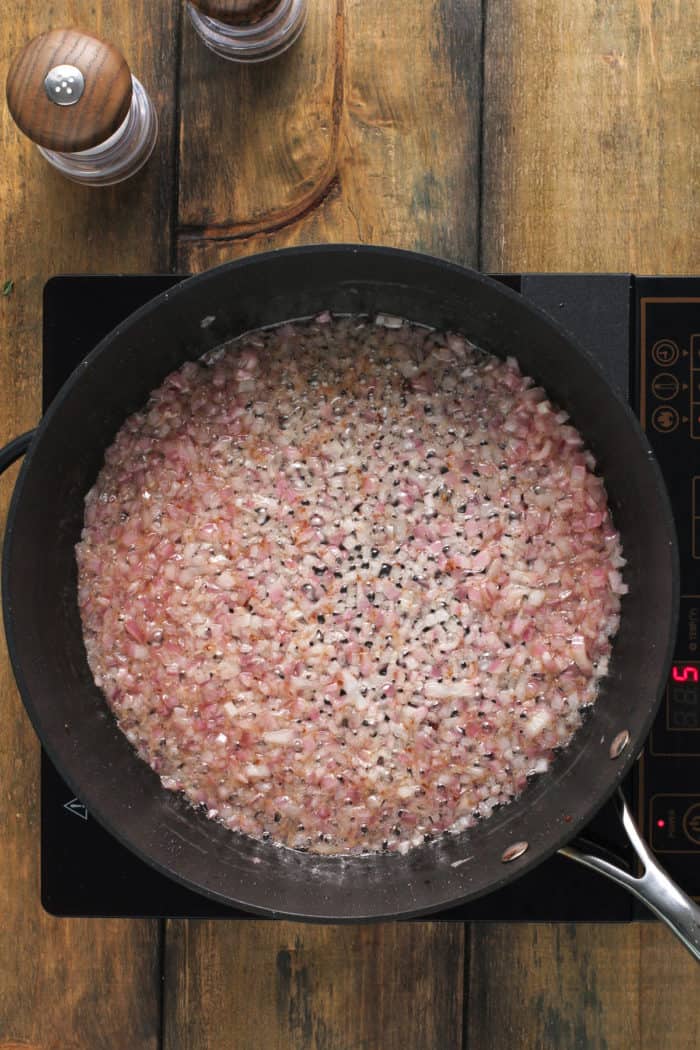 My TOP potato salad tip
Here's my top tip when it comes to making any potato salad:
As soon as the potatoes are finished cooking, drain them and spread them onto a large baking sheet. Immediately drizzle the hot potatoes with 1-2 tablespoons of the remaining vinegar and sprinkle them a couple of big pinches of salt.
The potatoes will soak up tons of flavor while they're hot, so adding some extra salt and a nice amount of vinegar will make them super tangy and delicious. No bland potatoes here!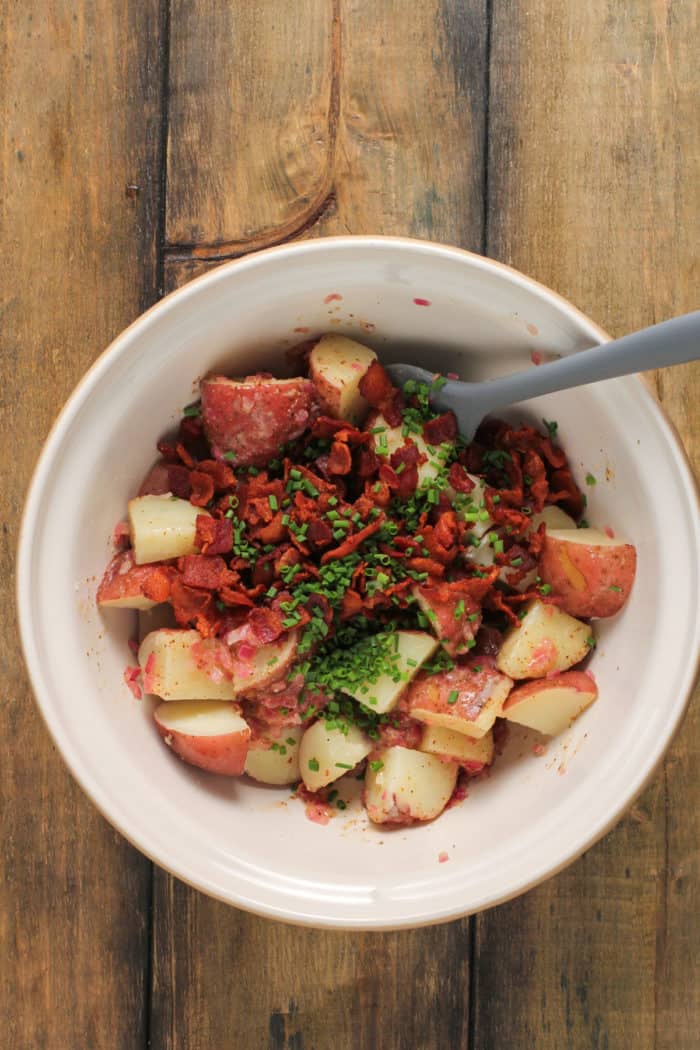 Let the potatoes soak up the vinegar and salt for a few minutes, then give them a taste. You can always add more vinegar or salt if you want!
After the potatoes are perfectly seasoned and have rested for about 10 minutes, toss them with the warm dressing, cooked bacon, and chives.
Give the salad a taste and add more salt, pepper, and/or vinegar as desired.
Serve German potato salad right away while it is still warm or let it cool to room temperature before serving.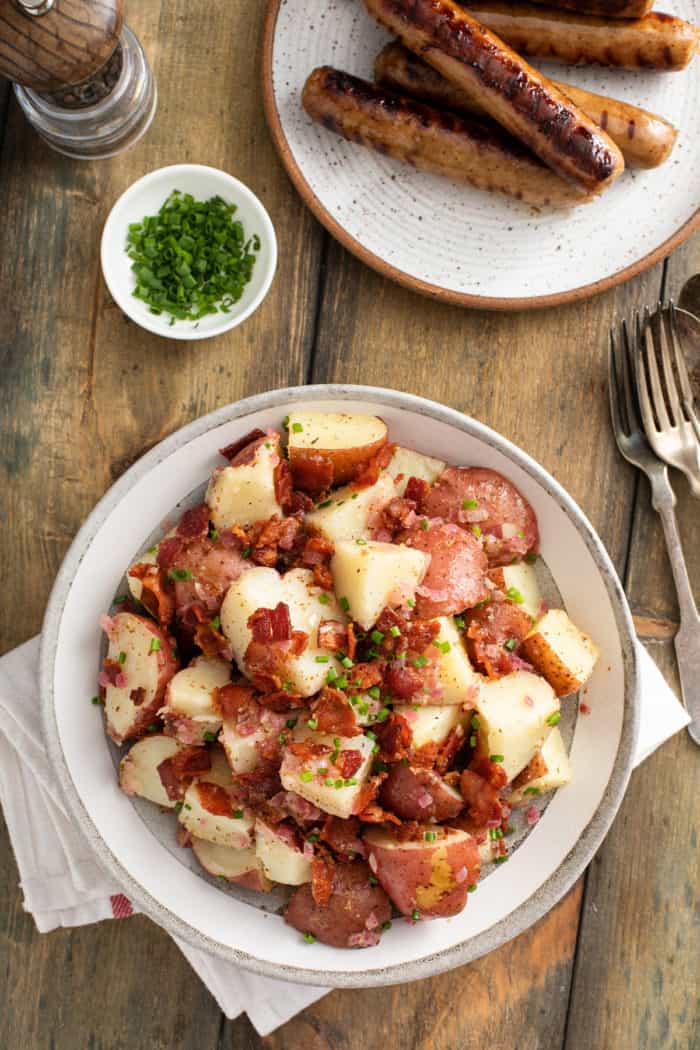 SERVING SUGGESTIONS
German potato salad is a versatile side dish that can go with so many meals.
It's great at any cookout with your favorite hot dogs, brats, or burgers. Since it doesn't have any eggs or dairy in it, it won't spoil in the heat if it needs to sit out for a bit.
But it's also delicious with any weeknight meal, any time of year!
It's excellent as a side to pork tenderloin, easy meatloaf, Italian beef sandwiches, Ritz cracker chicken, and more.