If you are looking for an easy Super Bowl sandwich recipe to please the football fans in your life, definitely take a second and keep reading! This recipe sort of came about as a fluke. I originally planned to make mini pulled pork sandwiches, but I sent the fiancé to the store and he came back with a sixteen dollar beef roast. I was a little irritated at first, but figured it was not worth the effort or time to return a hunk of meat to Kroger and figured I could make it work. Being that I wanted to slow cook dinner, I simply changed up my plan and decided to go with BBQ beef sandwiches instead of pulled pork. The flavor of this BBQ beef is quite delectable and the sauce tastes very similar to Arby's Sauce, which I love in large doses! This recipe could not be easier and it just might steal the spotlight at your Super Bowl party.
Toss it into the crock pot Sunday morning, and you'll have the men drooling by game time. I served these up slider style on mini buns with a dollop of homemade cole slaw and alongside potato chips. This made for a very hearty dinner and great leftovers. If you are looking to add something to your Super Bowl Spread, give these a try. Remember to stop back over to let me know how you liked them…I love hearing from my fabulous readers!
Just a note: When I switched to WordPress, I seem to have lost quite a few readers, so if you still like me and want to re-subscribe, you can do so by clicking here.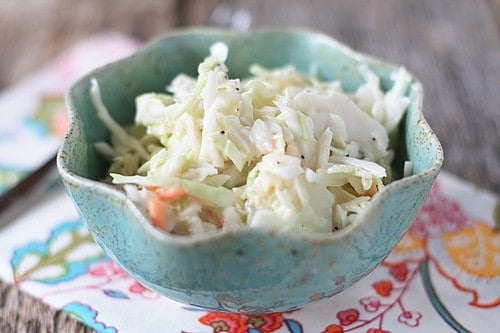 BBQ Beef Sandwiches and Sweet Slaw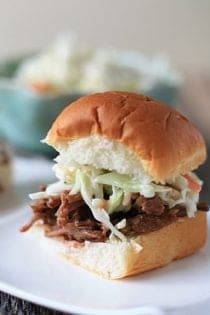 Ingredients:
For the BBQ Beef
3 1/2 pounds beef chuck roast
1 cup water
1 tablespoon and 1-1/2 teaspoons white vinegar
2 tablespoons brown sugar
2 tablespoons honey
1 teaspoon dry mustard
2 tablespoons Worcestershire sauce
1 1/2 cups ketchup
1 teaspoon salt
1/4 teaspoon ground black pepper
1/8 teaspoon cayenne pepper
1/4 teaspoon crushed red pepper flakes
2 cloves garlic (minced)
For the Sweet Slaw
1 (16 ounce) bag coleslaw mix
2 tablespoons diced onion
2/3 cup Miracle Whip
3 tablespoons vegetable oil
1/2 cup white sugar
1 tablespoon white vinegar
1/4 teaspoon salt
1/2 teaspoon poppy seeds
Directions:
For the BBQ Beef
Place the roast into a slow cooker along with the water. Cover, and cook on LOW for 4 hours, or until beef can be easily shredded with a fork.
Shred the beef, removing fat as you go. Remove 1/2 cup of the broth from the slow cooker, and reserve for later.In a medium bowl, mix the vinegar, brown sugar, dry mustard, Worcestershire sauce, ketchup, honey, salt, pepper, cayenne, crushed red pepper and garlic.
Stir into the shredded beef so that the meat is thoroughly coated.
Cover, and continue to cook beef on LOW for an additional 4 to 6 hours. Add the reserved broth only if necessary to maintain moisture.
Serve on mini buns, such as King's Hawaiian rolls and top with coleslaw.
For the Sweet Slaw
Combine the coleslaw mix and onion in a large bowl.
Whisk together the salad dressing, vegetable oil, sugar, vinegar, salt, and poppy seeds in a medium bowl; blend thoroughly. Pour dressing mixture over coleslaw mix and toss to coat. Chill at least 2 hours before serving.
Both adapted from allrecipes
All images and text ©
Follow Jamie on Instagram. We love to see what you're baking from MBA! Be sure to tag @jamiemba and use the hashtag #mbarecipes!