Mashed potatoes are a favorite holiday side for a reason! These Garlic Mashed Potatoes are full of roasted garlic flavor and sure to be a hit with everyone.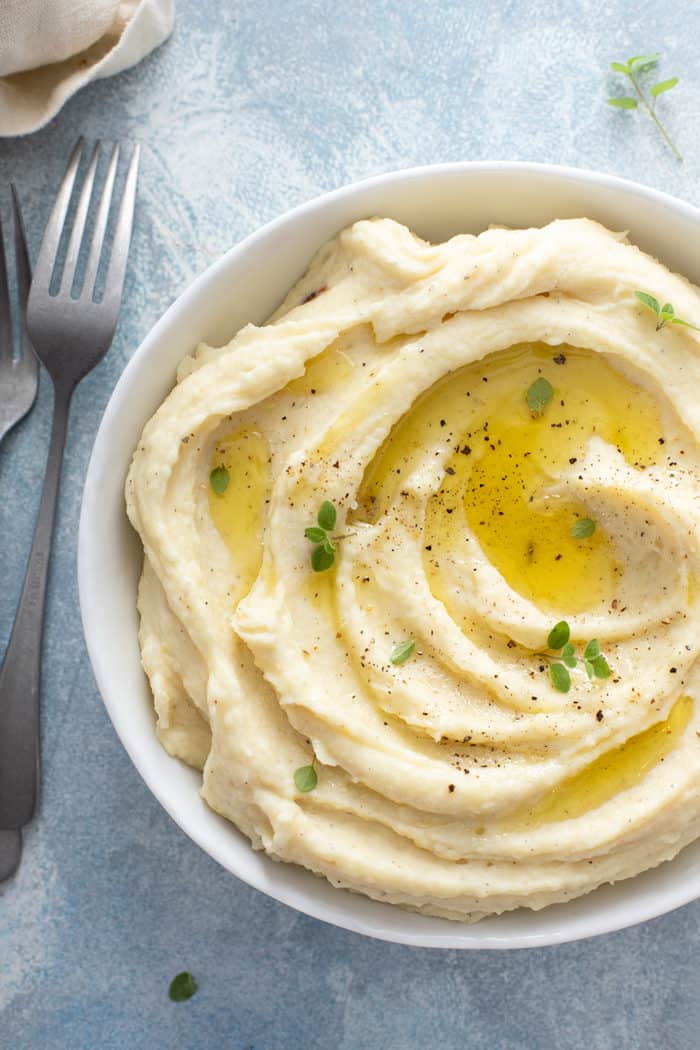 As I've mentioned numerous times, Thanksgiving is all about the sides for me. I honestly don't even think I had a bite of turkey last year.
I am absolutely obsessed with my Sweet Potato Casserole, brown butter stuffing, Jiffy Corn Casserole, Baked Macaroni and Cheese and of course – my Cranberry Fluff and Ambrosia Salad.
It's so hard to choose, but I think these homemade garlic mashed potatoes might be my favorite side dish ever! They're rich, creamy and absolutely perfect for Thanksgiving or just a Wednesday night!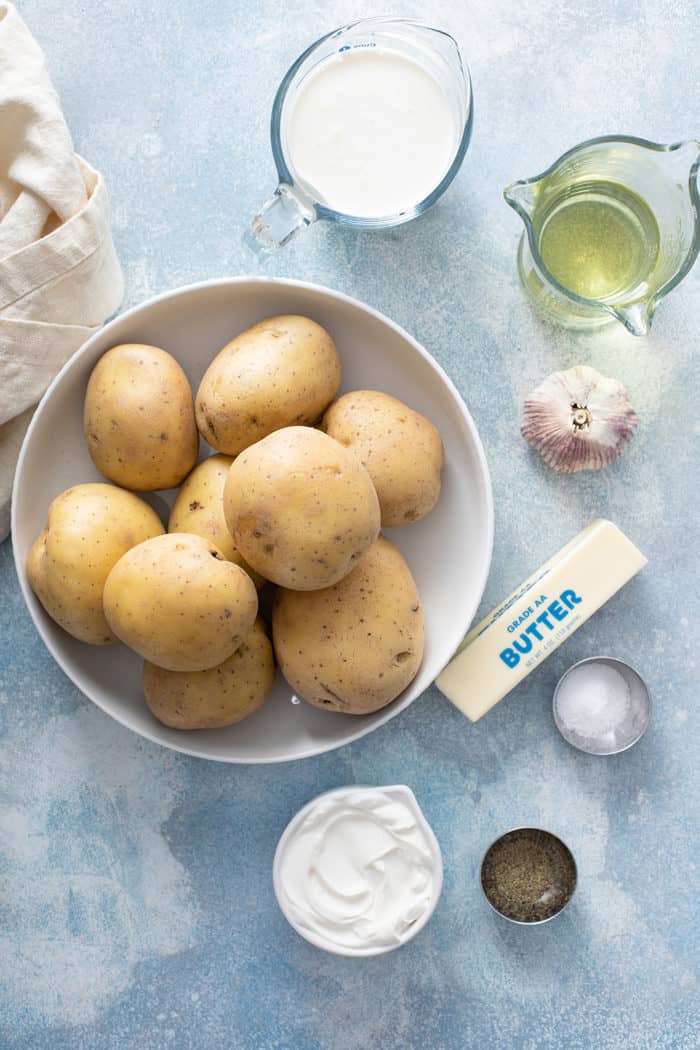 WHAT ARE THE BEST POTATOES FOR MASHED POTATOES?
While you can use any variety of potato to make mashed potatoes, my favorite for mashing are Yukon gold.
Yukon gold are medium-size potatoes with a buttery yellow color. The flesh is firm and moist, compared to waxy new potatoes or drier russet potatoes.
The medium starch content makes them perfect for making the best garlic mashed potatoes, in my book!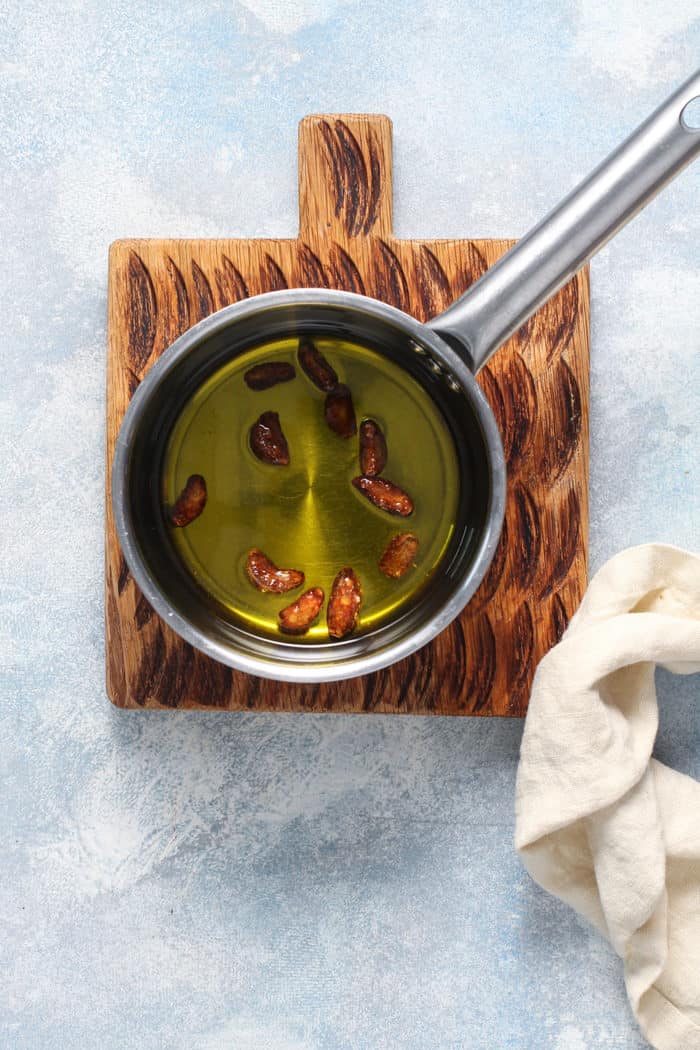 Make sure you get potatoes that are firm and smooth. Avoid buying potatoes that are soft, wrinkled, or have green bits.
You can use other potatoes in a pinch, but I prefer to save new potatoes for air fryer roasted potatoes, or make twice-baked potatoes with my russets.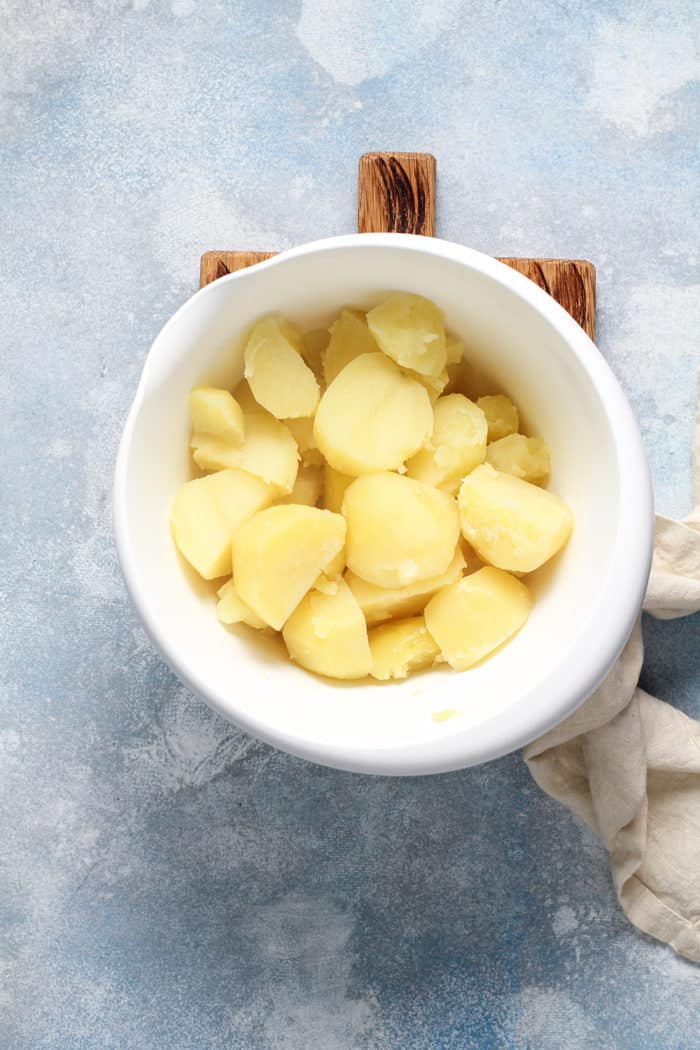 INGREDIENTS FOR GARLIC MASHED POTATOES
Aside from the potatoes, you obviously will need garlic.
This recipe calls for 1 head of garlic. A head of garlic, also called a garlic bulb, usually has between 8 and 10 cloves.
Do not buy pre-minced garlic in a jar! It won't work with this recipe method.
In order to make the creamiest garlic mashed potatoes, we're going to use not just butter, but also heavy cream and sour cream.
Trust me when I say it's worth it!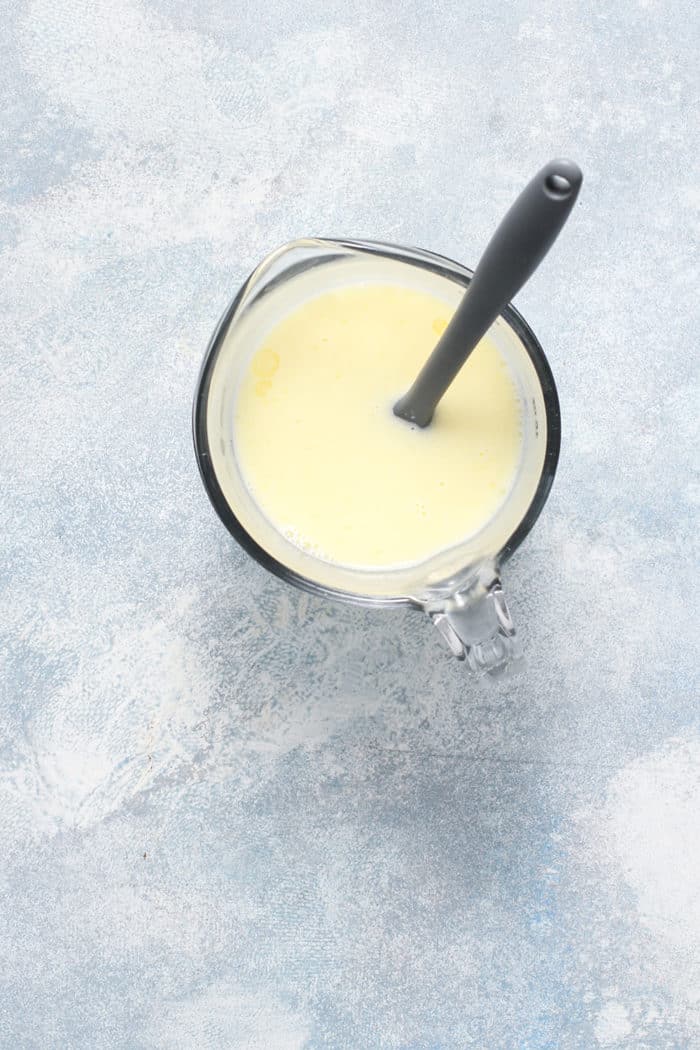 HOW TO MAKE GARLIC MASHED POTATOES
First, wash and peel the potatoes, then cut them into large chunks. While I sometimes leave the peels on potatoes for other recipes, in order to have the smoothest mashed potatoes I remove them here.
Put the potatoes in a large stock pot and cover with cold water. Make sure that the pot is large enough so the potatoes are not crowded. Bring to a boil and cook until tender.
Why not boil the water first? Starting the potatoes in cold water will help them cook more evenly. Boiling first can cause the outside to be mushy while the inside is still hard.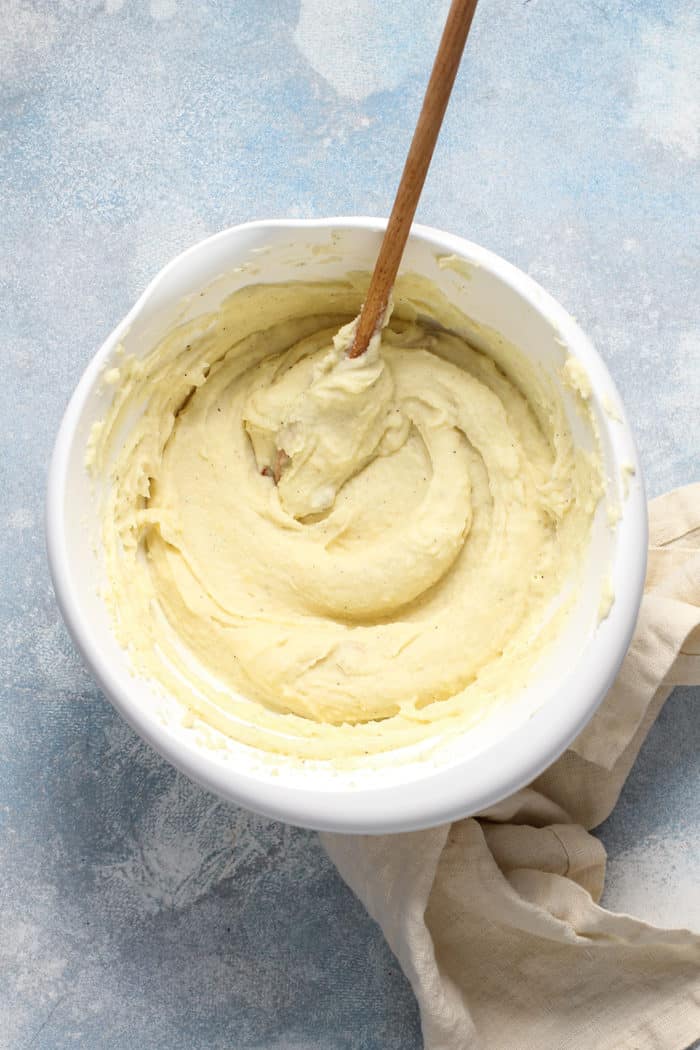 While cooking the potatoes, add the garlic and olive oil to a small saucepan and cook over low heat. You want the garlic to be very tender and not burned. This will take about 15 minutes.
Warm the cream and butter together in a microwave-safe measuring cup, heating it in 15-30 second increments. You want the cream warm but not hot, and the butter melted.
Once the potatoes are cooked, drain them well and add to a large bowl. Add the sour cream, salt, pepper, garlic cloves, and some of the oil from the garlic, and use a hand mixer on low setting to mix just until the potatoes are broken up.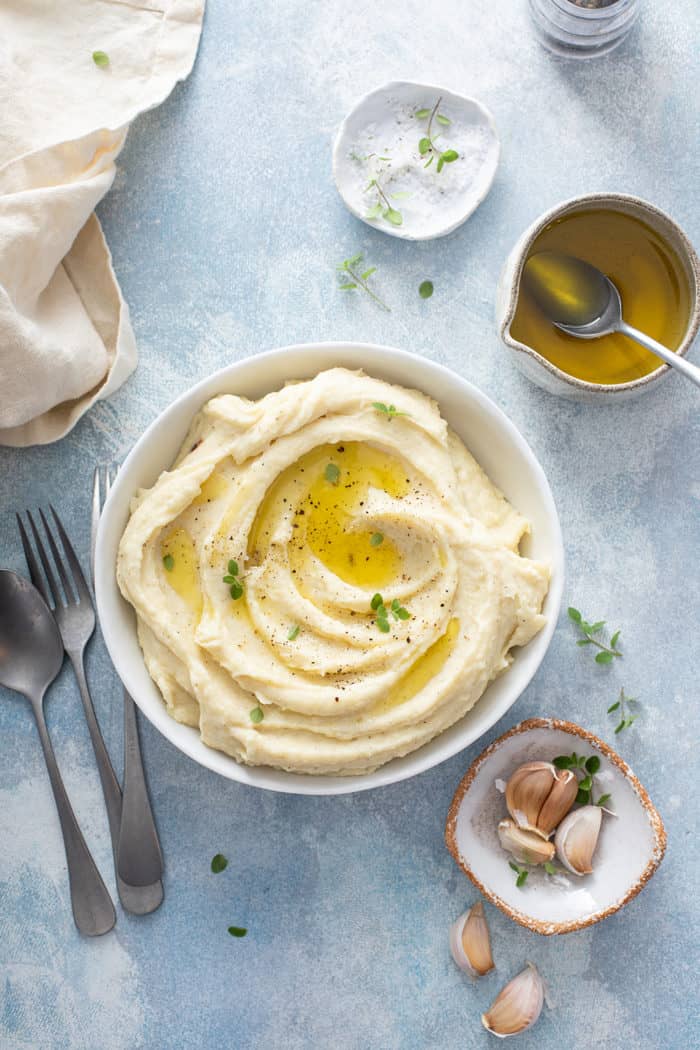 Now, slowly add in the cream and butter as you continue to mix until the potatoes are smooth and creamy. Depending on your potatoes, you might need less of the liquid, so adding slowly is key!
Don't overmix the potatoes or they can become gluey due to more starch being released. You can use a rubber spatula to mix in any additional salt, pepper, or garlic oil to avoid this.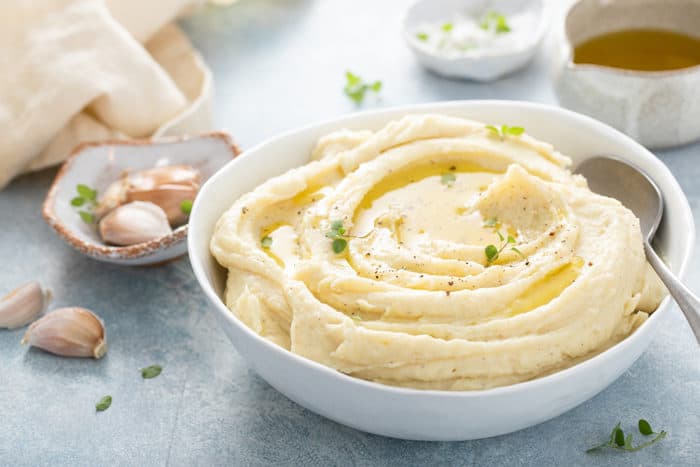 CAN I FREEZE THIS GARLIC MASHED POTATOES RECIPE?
If you choose to make mashed potatoes ahead of time, they freeze well!
Make sure you don't skimp on the cream, butter, or sour cream. The extra fat content here will help your potatoes be the best garlic mashed potatoes ever, and keep their lovely texture and flavor.
After mixing, let the potatoes cool completely. Portion the potatoes into freezer-safe containers, or scoop 1-cup portions onto a parchment-lined baking sheet.
Place the baking sheet in the freezer and freeze until solid, then transfer to a ziptop freezer bag, label, and store for up to 3 months.
Thaw overnight in the refrigerator, and reheat gently on the stove over medium-low heat.
Have some extra potatoes? How about making cheeseburger soup or hash brown casserole?