Cheeseburger Soup is creamy, cheesy, and a comforting weeknight dinner! Top with pickle relish, diced tomato, and easy hamburger bun croutons to round out all the cheeseburger flavors.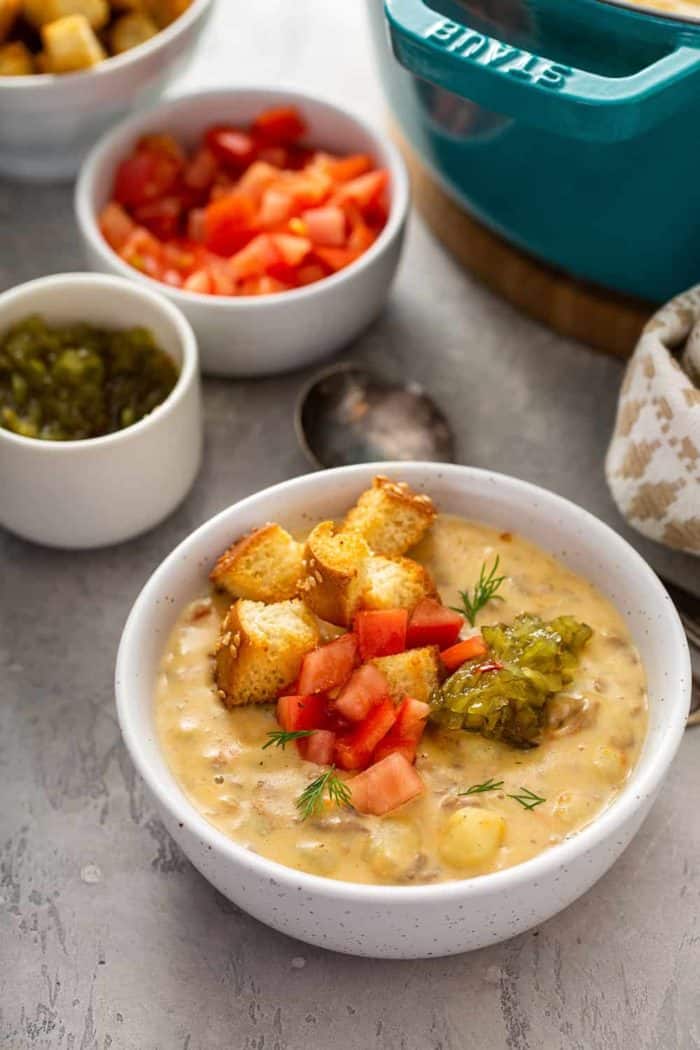 I go in serious phases with cheeseburgers. Some months I crave them constantly and then I won't consume one for ages.
While I love a juicy homemade burger on the grill, your girl also loves a Whopper with cheese from Burger King with a side of onion rings. It's a fast food guilty pleasure of mine that's right up there with a McDonald's Filet-O-Fish and fries.
I've been on a bit of burger kick, but also a soup kick, so I thought why not combine both of those into a delicious Cheeseburger Soup recipe complete with hamburger bun croutons!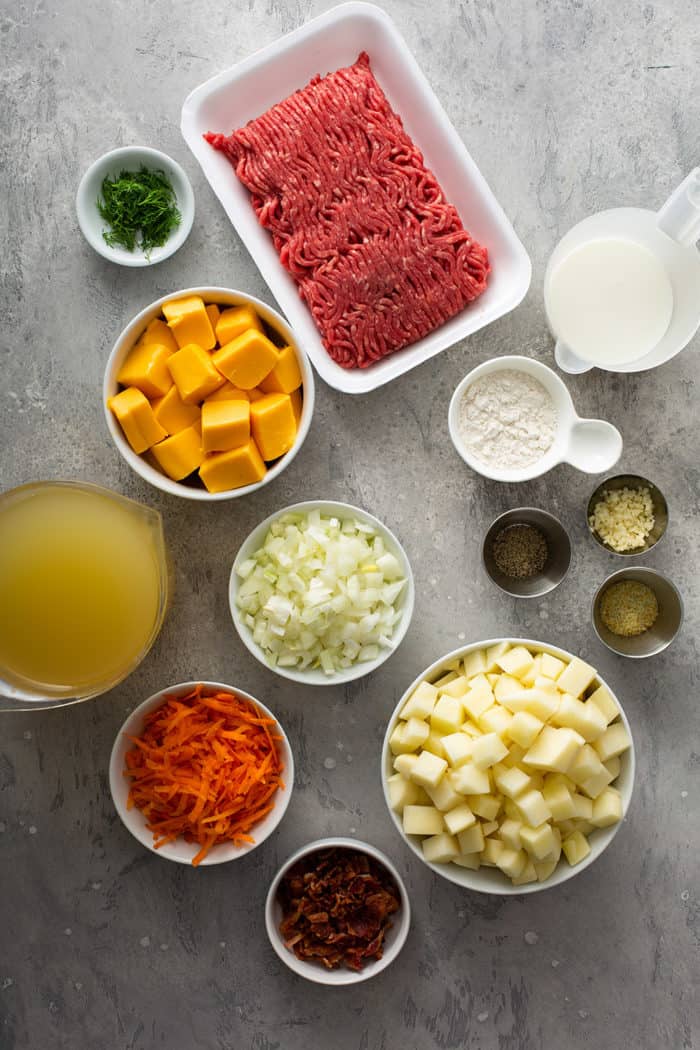 MY FAVORITE CHEESEBURGER SOUP RECIPE
I've seen and made a number of cheeseburger soup recipes, but I didn't love any of them. So I took matters into my own hands and came up with my own.
Like most of the recipes out there, my version still has potatoes and carrots in the base, along with the ground beef.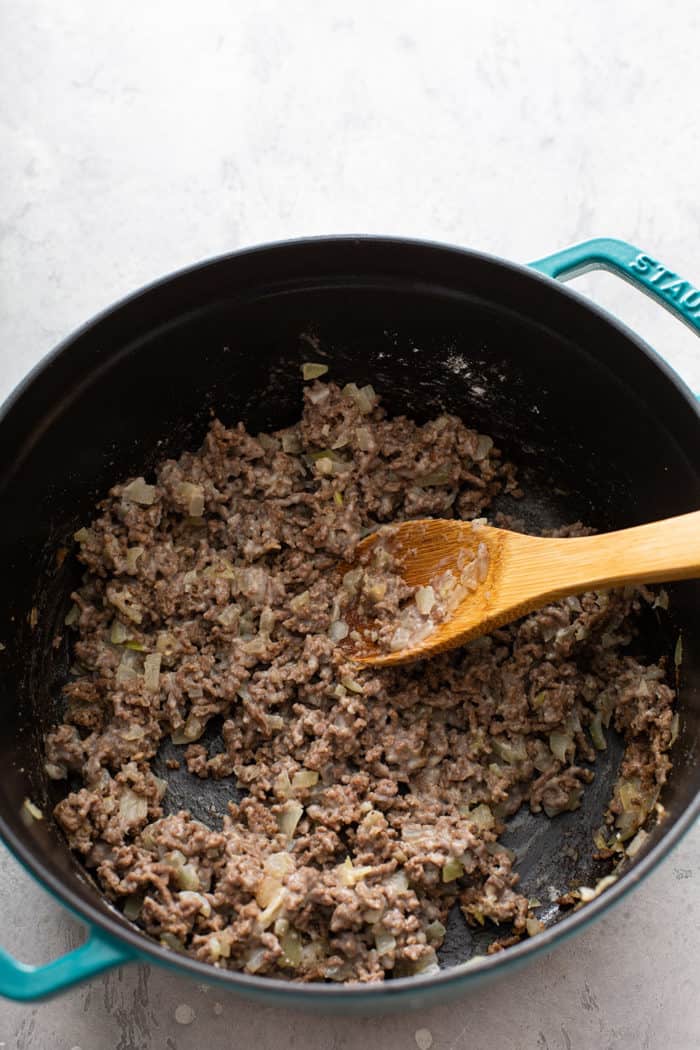 To up the cheeseburger factor, I added some seasoned salt while cooking the beef, which is something I often do when making burgers. I also added some cooked bacon (who doesn't love a bacon cheeseburger?) and dill for some of that pickle flavor.
Another thing I didn't love about most of the versions I've seen is that they require you to make a separate cheese sauce that you stir into the soup at the end.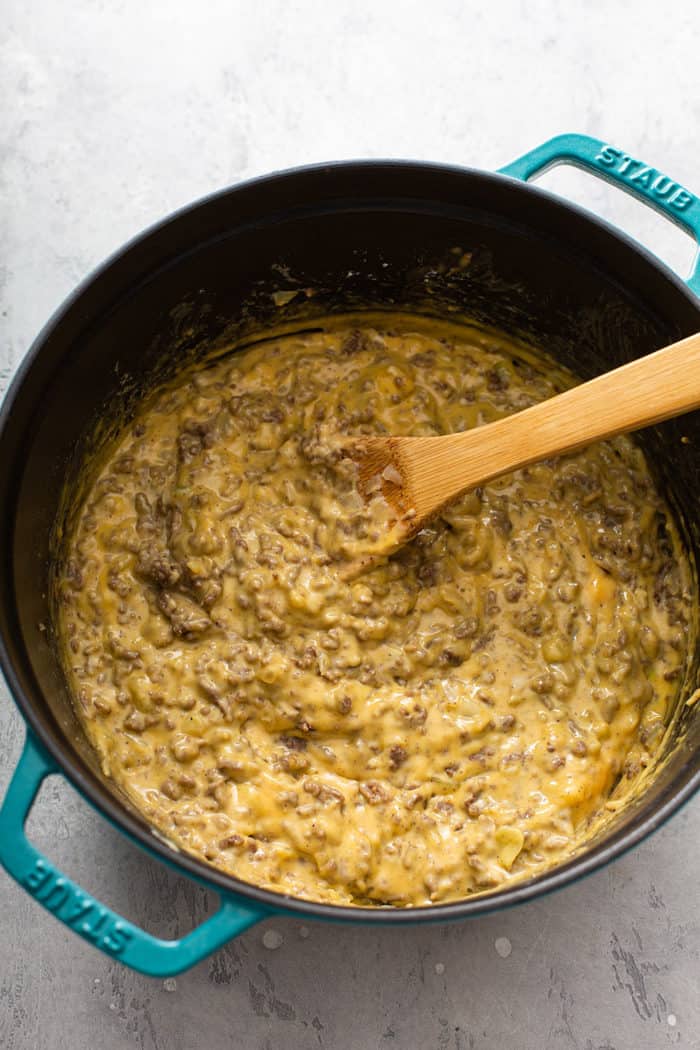 If I'm going to make soup, I want to make it all in one pot. So I tweaked the method so you can make it all in one pot, no separate cheese sauce needed!
The final version of my Cheeseburger Soup is thick and creamy, super cheesy, and when topped with pickle relish, diced tomatoes (if you like them), and hamburger bun croutons, is a fun take on a cheeseburger.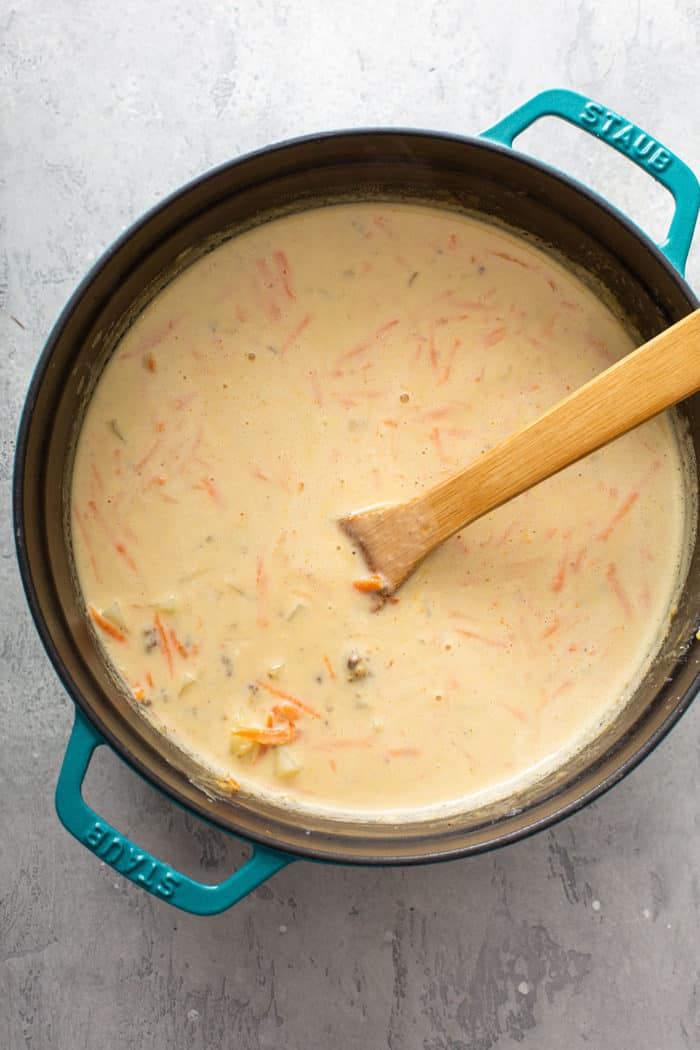 HOW TO MAKE CHEESEBURGER SOUP
To make this soup, start by browning ground beef with the seasonings in a large dutch oven, adding diced onion and garlic halfway through cooking. If your beef has a high fat content, you may need to strain off the fat after cooking.
Sprinkle in the flour and stir to combine. This in place of making a traditional roux like you'd make for making baked macaroni and cheese. Whisk in ½ cup of milk and whisk until thickened.
To make this soup super creamy, like my broccoli and cheese soup and loaded baked potato soup recipes, I like to use Velveeta. Add the Velveeta now and stir until melted and combined.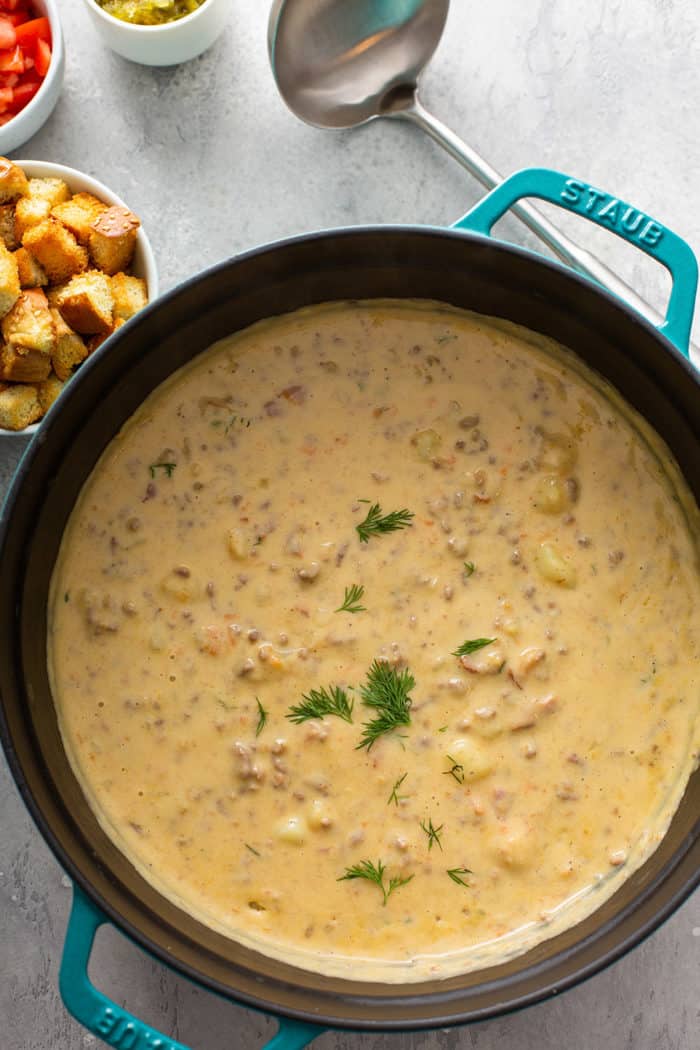 Whisk in beef or chicken stock – whichever you prefer or have on hand – and bring the soup to a simmer. Add the carrots and potato and cook until the vegetables are softened but still hold their shape.
Tip: If you want to skip peeling and dicing or grating the vegetables, you can purchase grated carrots and use a few cups of diced or shredded hash brown potatoes.
A few minutes before serving, stir in the bacon and dill. Simmer for another 5-10 minutes before serving.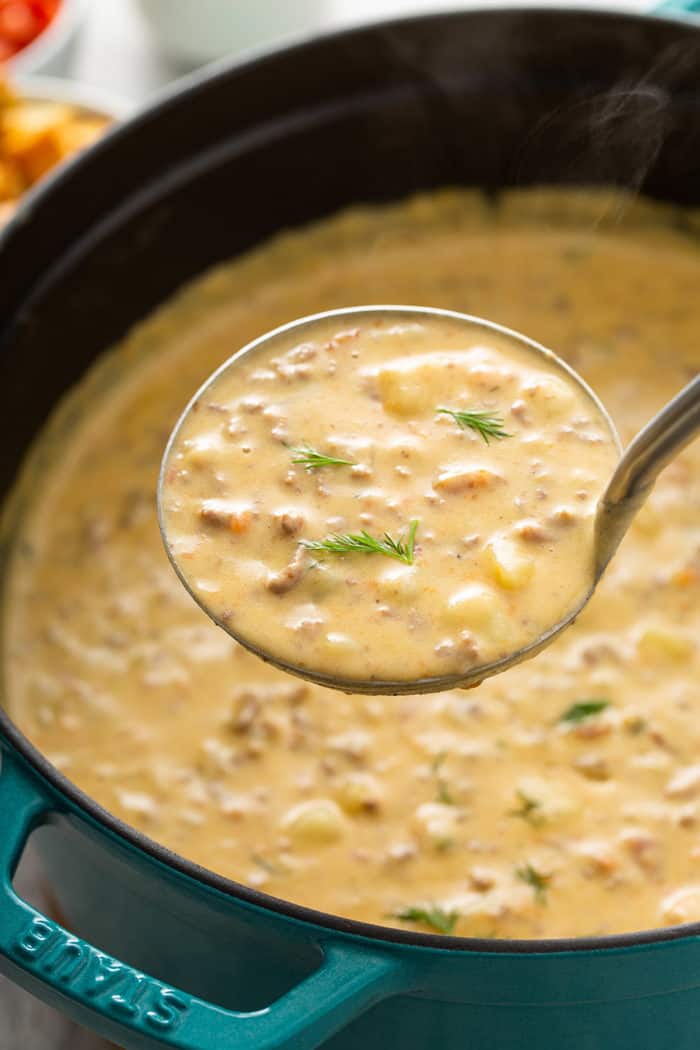 HOW TO MAKE HAMBURGER BUN CROUTONS
If you ask me, the hamburger bun croutons are what really make this soup. It's delicious without them, but it's REALLY good with them.
You'll only need 3 things to make these croutons:
Cubed sesame-topped hamburger buns
Olive oil or melted butter
Seasoned salt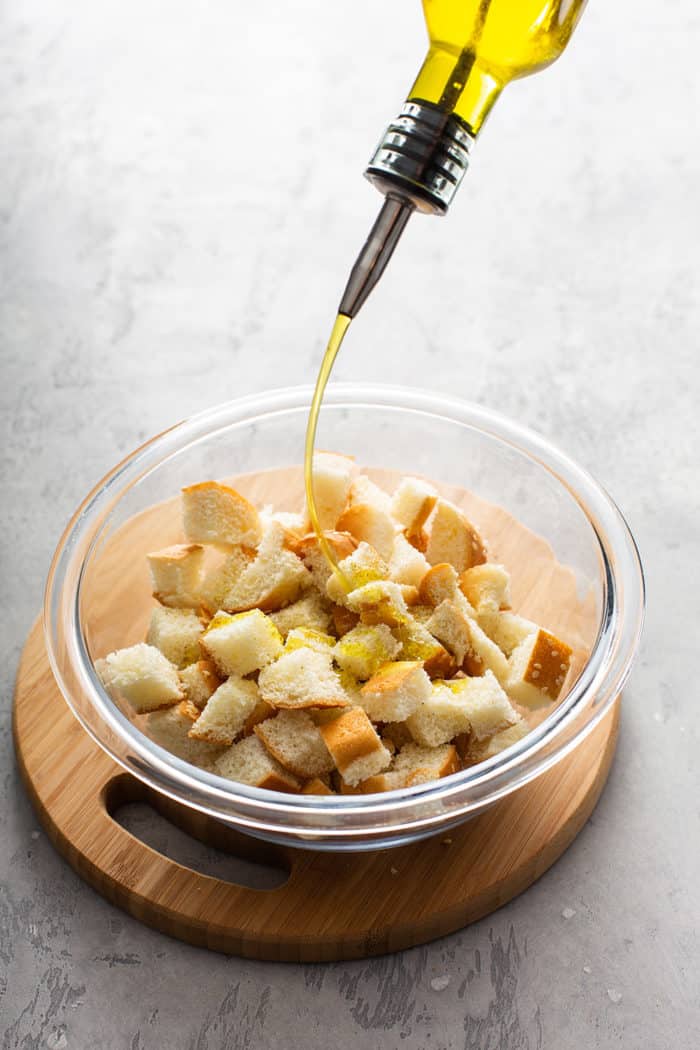 I like to use the seasoned salt on the croutons because it's what we used in the soup itself. Toss the cubed buns with the oil or butter and a heavy pinch of the salt.
Spread the buns into an even layer on a baking sheet and bake for about 10 minutes, stirring them halfway through.
The croutons are done when they're nice and golden. As they cool, they'll get even more crisp.
If you love pickles on your burgers, make sure to pair the croutons with sweet or dill pickle relish on top of the soup. You can also top it with some diced tomatoes, shredded cheese, or additional crumbled bacon.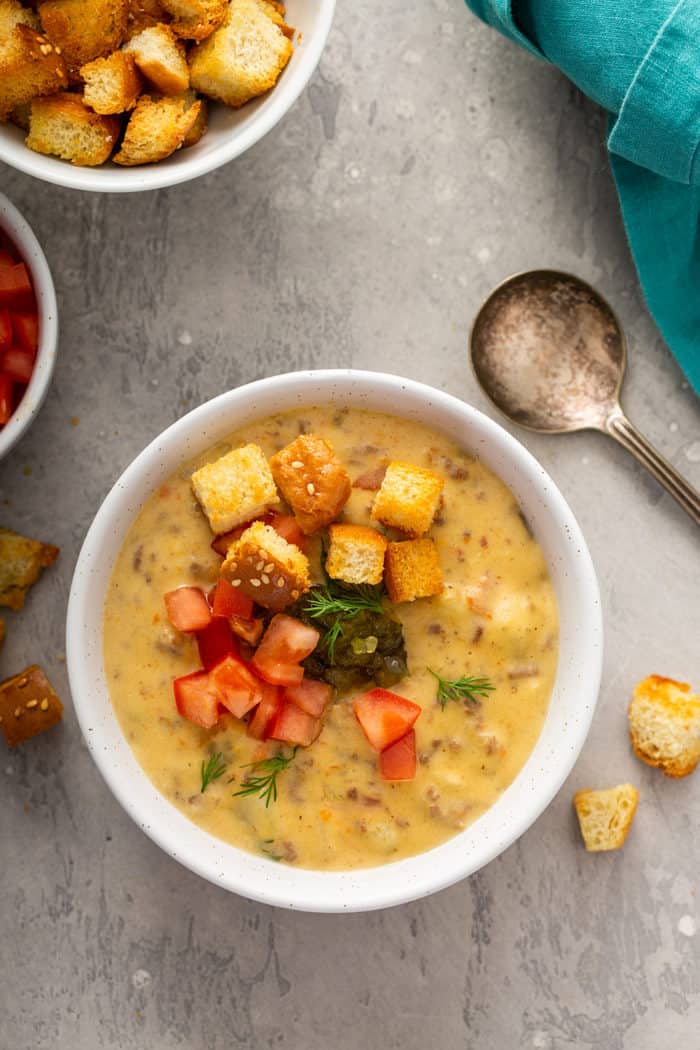 CAN YOU FREEZE THIS SOUP?
Soups that have a lot of milk in them don't always freeze well because they can separate after thawing.
Because I tweaked this recipe to use mostly stock as the liquid and it uses Velveeta as the cheese, it should freeze pretty well. Make sure to put the cooled soup in an airtight freezer-safe container and thaw in the fridge before reheating.