If you love baked potatoes with all the fixings, then you'll love this soup! Loaded Baked Potato Soup is thick and creamy, packed with cheese, bacon, and sour cream.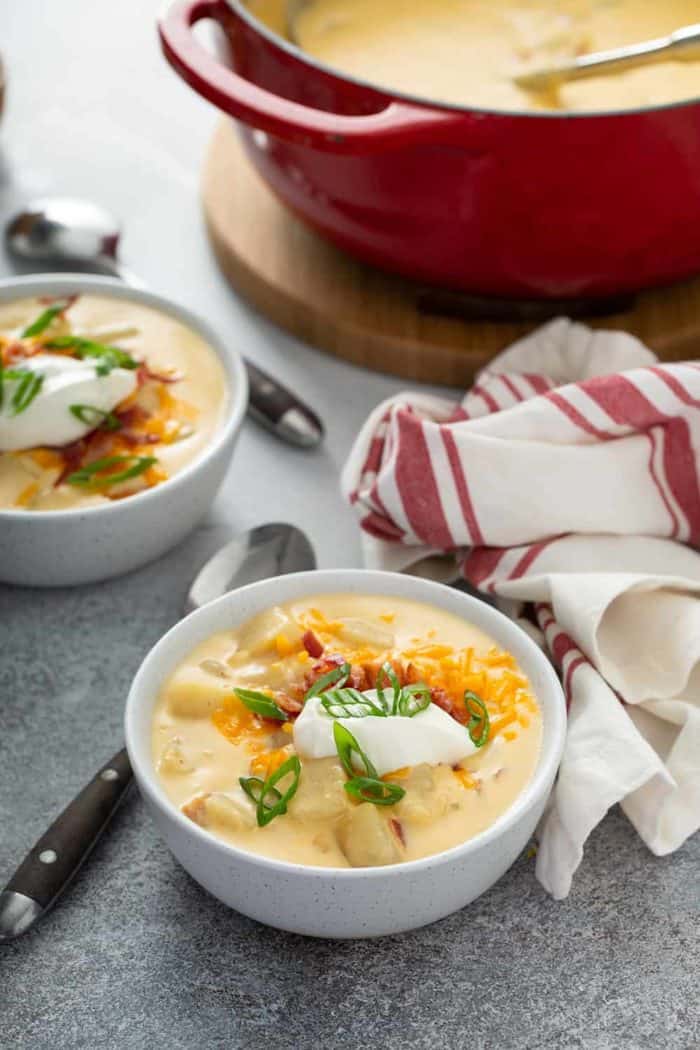 Guys, it's definitely soup season around here. It's basically all I want to eat right now because it is so darn cold outside.
And lucky for me, my fam is completely content with soup being dinner.
Whether it's tomato soup with grilled cheese or Zuppa Toscana with crusty bread and a salad, we're all on board with soup season.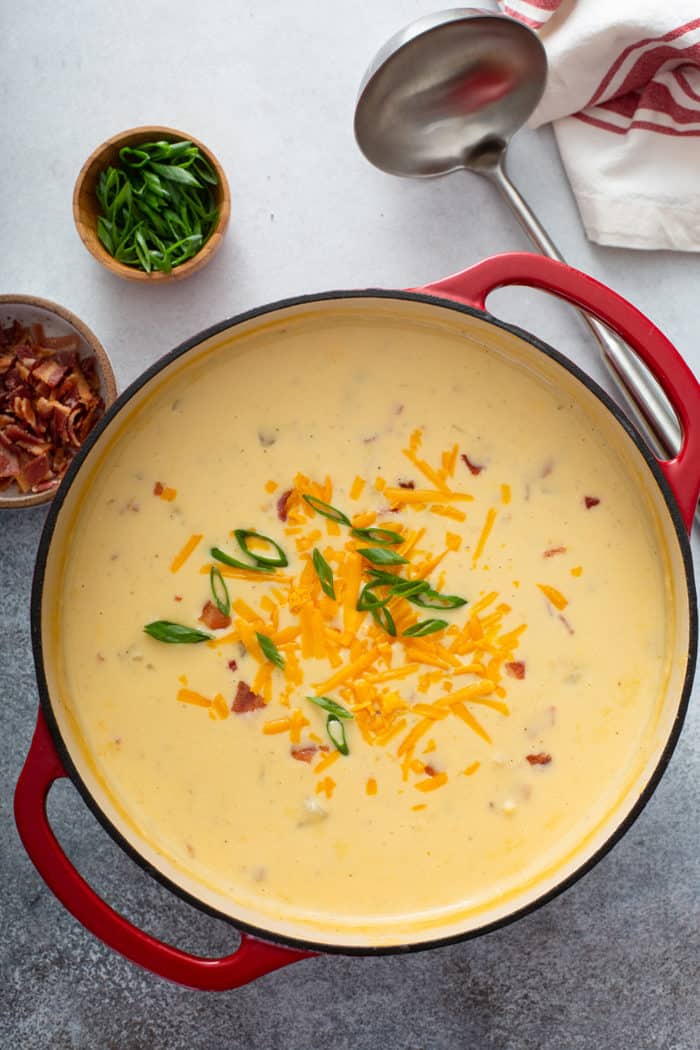 WHAT'S IN LOADED BAKED POTATO SOUP?
I am not exactly going to say no to any bowl of potato soup. I mean, you know I love soup recipes – especially in the winter – and I definitely love potatoes.
But there's really something special about a bowl of Loaded Baked Potato Soup.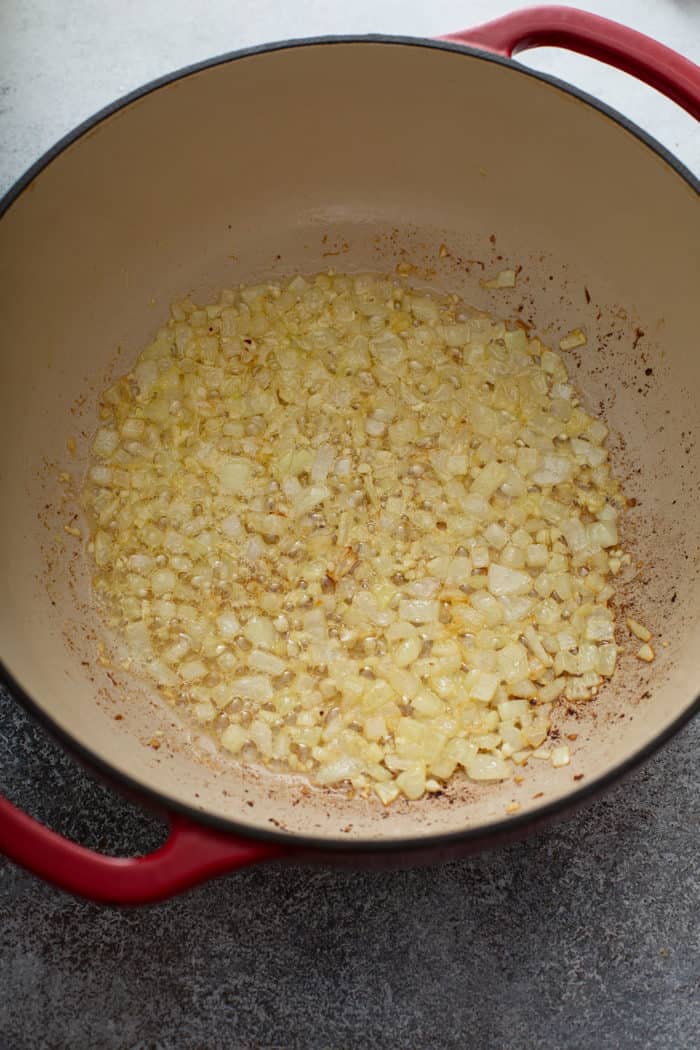 I mean, come on. Creamy potato soup with all of your favorite baked potato fixings mixed in? That's the dream.
To play up the "loaded" part of this soup, my recipe uses:
Cheese – cheddar for sharpness and Velveeta for creaminess
Cooked and crumbled bacon
Sour cream
And of course I like to add on some green onions and an extra dollop of sour cream when I serve it!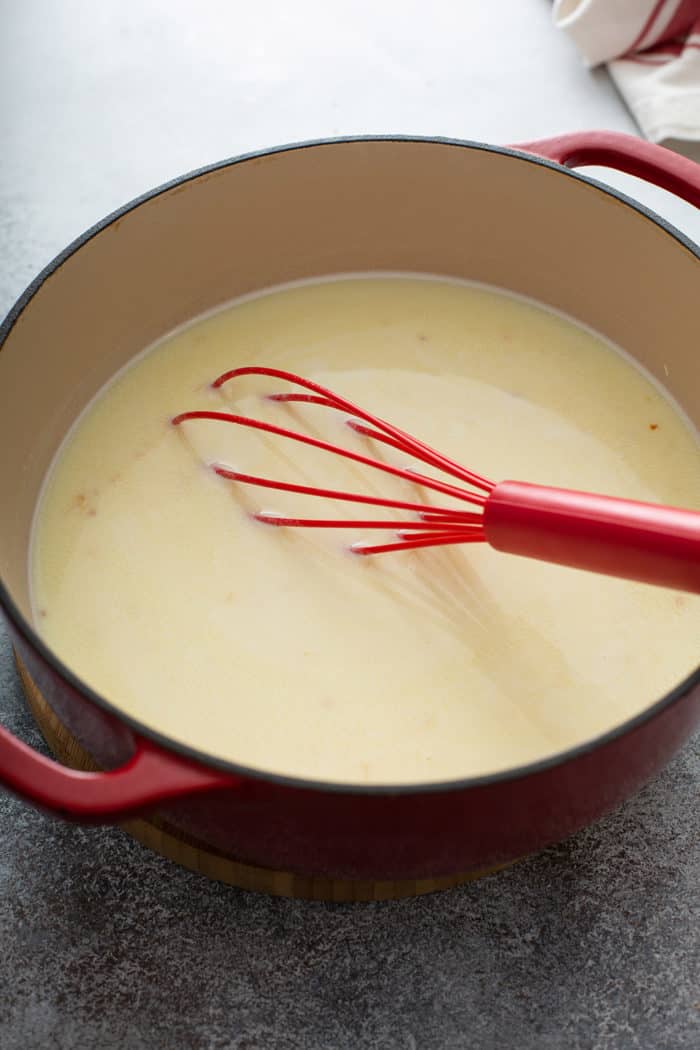 HOW TO MAKE MY BAKED POTATO SOUP RECIPE
This recipe starts with four baked russet potatoes. If you've never baked potatoes at home before, don't worry! I have a whole post on how to bake potatoes that can help.
In a large dutch oven, cook diced onion and garlic in butter. Whisk in some flour and cook this for 1-2 minutes, whisking constantly. You're making a roux that will help thicken the final soup.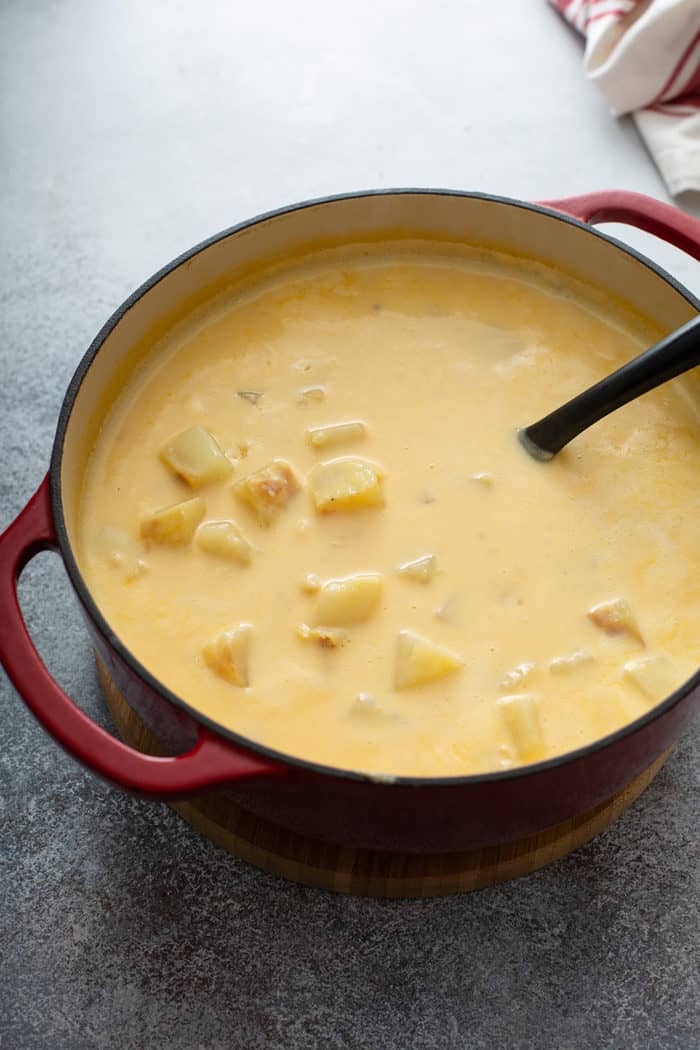 Gradually add the chicken broth and milk. Stir constantly while the mixture comes to a boil.
Once the mixture has started to boil, reduce the heat and add in the potatoes, shredded cheddar cheese and cubed Velveeta cheese. The cheddar gives the soup sharpness while the Velveeta makes it super creamy.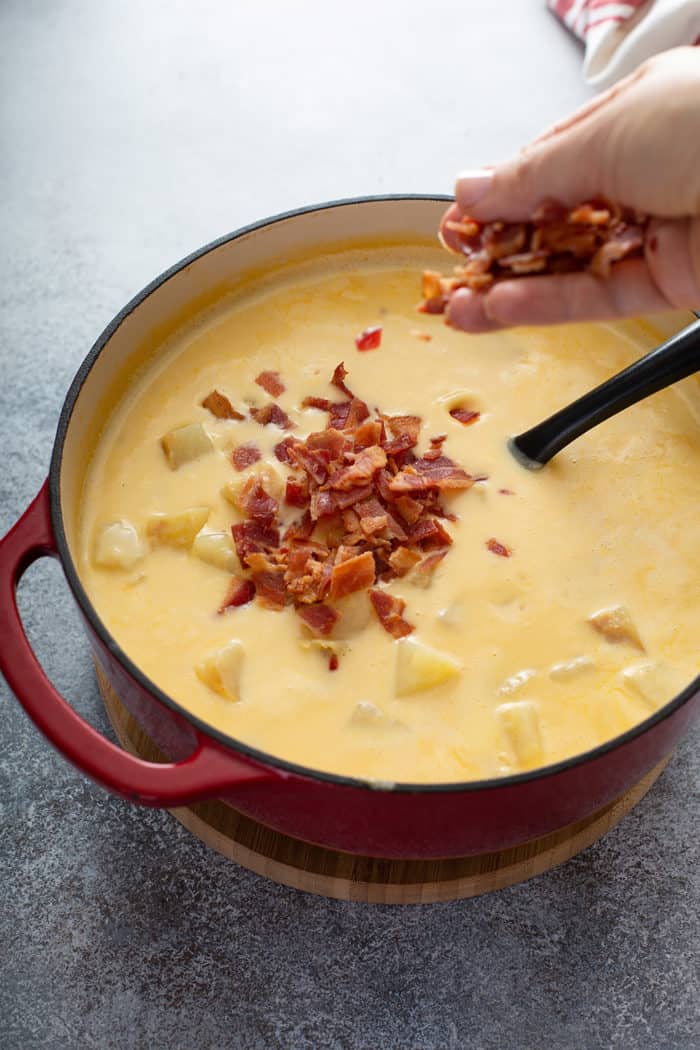 Let the soup simmer for about 15 minutes, giving it a stir every now again. After 15 minutes, the cheese should be melted and the soup should be nice and thick.
Just before serving, stir in the bacon, some sour cream, and season with salt and pepper.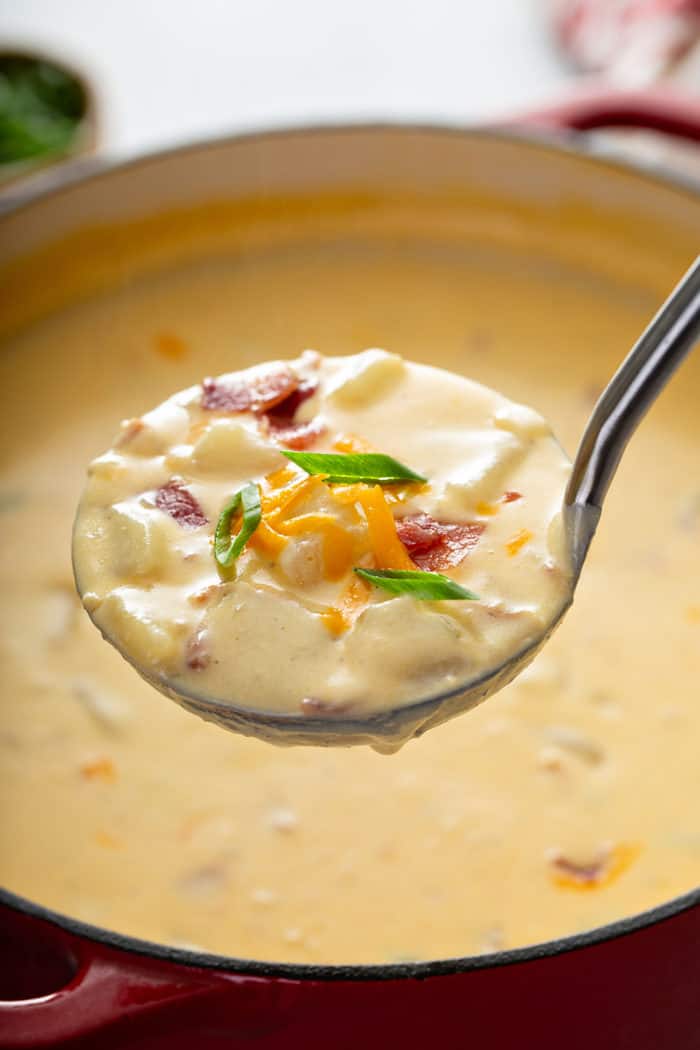 CAN BAKED POTATO SOUP BE FROZEN?
I love soups that can be made ahead and frozen as much as anyone. Recipes like Stuffed Pepper Soup and Sausage and Lentil Soup are great for freezing.
Loaded Baked Potato Soup? Not so much.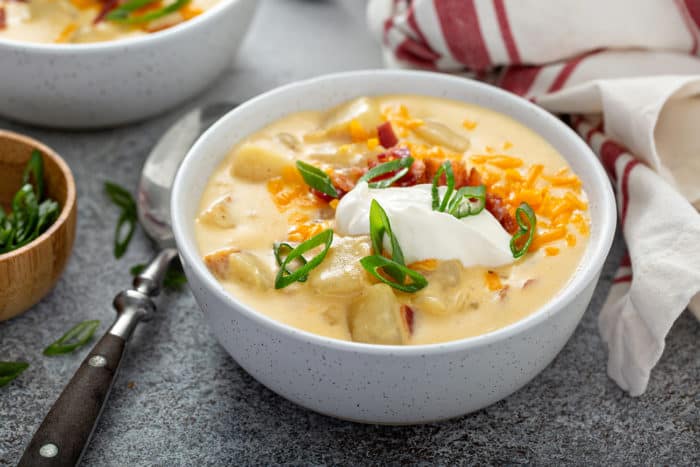 The problem with freezing soups that have a lot of dairy in them is that they can separate when they thaw. This means the texture when you reheat it could be a little weird.
This recipe as written serves 8, but because it is a savory recipe (and not a baking recipe), you could easily halve the recipe if you are looking for something that makes a smaller amount.
Or you could do what I do and portion out half the soup for a friend or neighbor. This is a great recipe to take to a loved one who needs a meal, especially alongside a loaf of beer bread!