Watergate Salad is loaded with pistachio pudding, crushed pineapple, miniature marshmallows, and pecans. It's perfect for s Spring get-together or mid-week dessert.
Growing up, salads that weren't really salads were a staple at my Nana's house. From Ambrosia Salad to Strawberry Pretzel Salad – these were the salads that I looked forward to at family gatherings, and Watergate Salad was no exception.
Nana and her friends always had their go-to recipes that they were famous for and could whip them up in no time flat for a church function, ailing friend, or family get-together. Nana was known for her cheesecake – usually cherry cheesecake, but switched up with other pie fillings depending on the season. Strawberries during spring, and lemon during the summer months.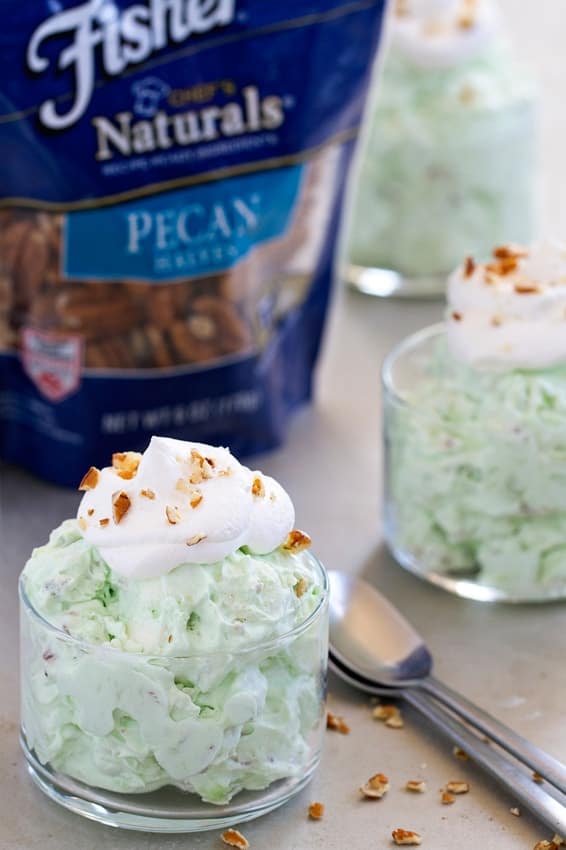 Nana's friend, Anita, always made an amazingly fluffy pistachio salad known as Watergate Salad. We come from a family that loves anything with pistachio pudding from pudding pie to Pistachio Pudding Parfaits, so naturally, I was obsessed with the stuff as a kid. When Fisher Nuts asked me to share a spring recipe with you, I knew exactly what I'd be making.
Pistachio pudding isn't the only thing making this "salad" awesome. There's crushed pineapple, fluffy marshmallows and whipped topping, and most importantly, crunchy chopped Fisher Pecans for just the right amount of texture.
I've tried this salad with and without pecans, and I have to tell you, it's just much better with them. Pecans add a sweet, earthy flavor that makes all the others that much more delicious.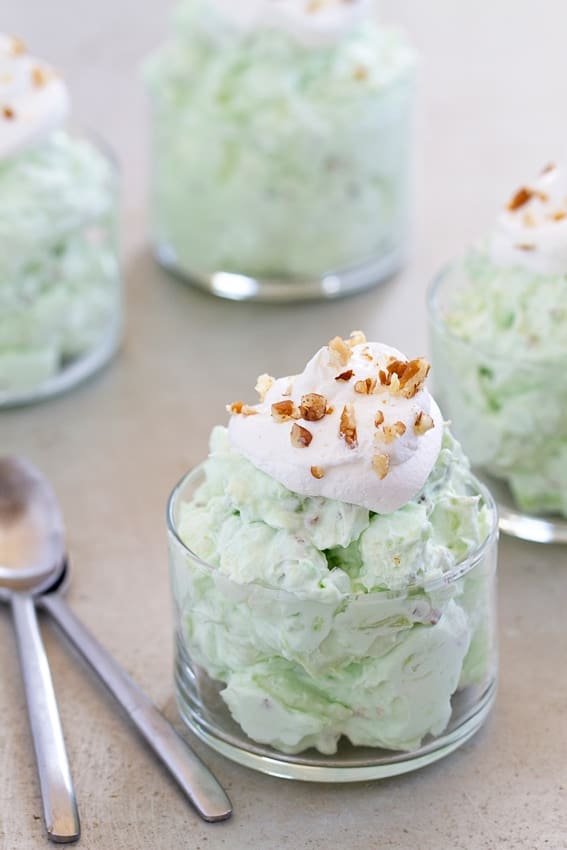 Plus, you can't beat a salad that comes together in a matter of minutes and just gets better with time. Make sure you mix up this Watergate Salad at least a few hours before you'd like to serve it. You'll give the flavors time to meld and heighten – making for one amazing side dish that every party-goer will rave over.
If you've never tried Watergate Salad, you've got to make it immediately. And if you have tried it before, it's time to revisit an old favorite.
This post is brought to you by Fisher Nuts. The ideas expressed in this post are entirely my own. Thank you for continuing to support the brands that allow me to create content like this for My Baking Addiction.