Watergate Salad is loaded with pistachio pudding, crushed pineapple, miniature marshmallows, and pecans. It's perfect for a Spring get-together or mid-week dessert.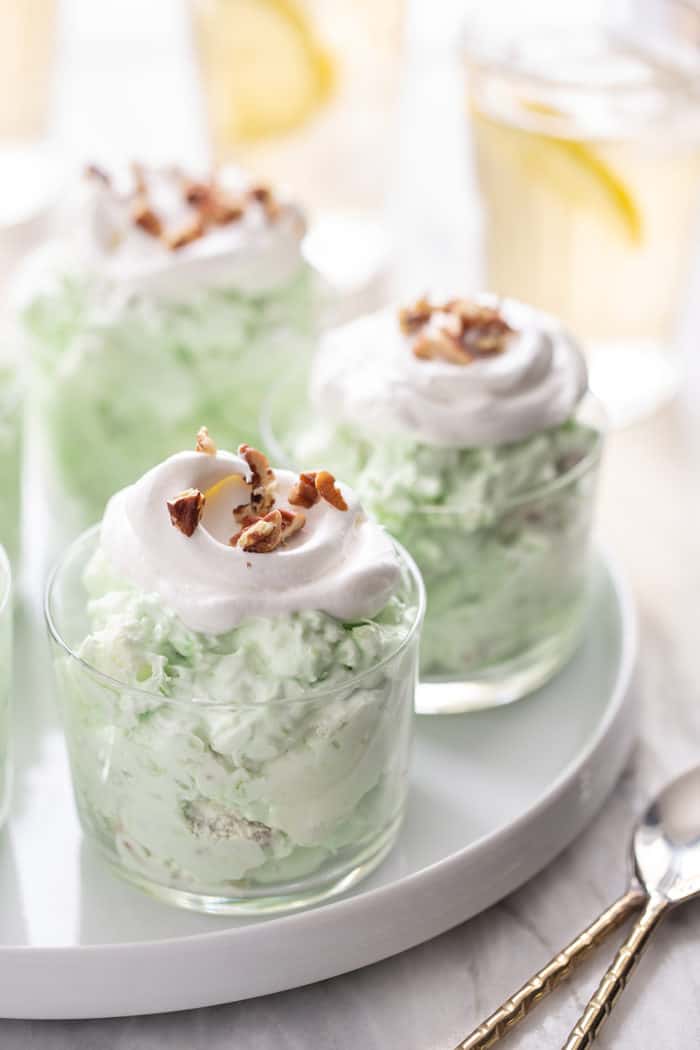 Growing up, salads that weren't really salads were a staple at my Nana's house. From Ambrosia Salad to Strawberry Pretzel Salad – these were the salads that I looked forward to at family gatherings, and Watergate Salad was no exception.
Nana and her friends always had their go-to recipes that they were famous for and could whip them up in no time flat for a church function, ailing friend, or family get-together.
Nana was known for her cheesecake – usually cherry cheesecake, but switched up with other pie fillings depending on the season. Strawberries during spring, and lemon during the summer months.
Nana's friend, Anita, always made an amazingly fluffy pistachio "salad" known as Watergate Salad. We come from a family that loves anything with pistachio pudding, from pudding pie to Pistachio Pudding Parfaits, so naturally, I was obsessed with the stuff as a kid.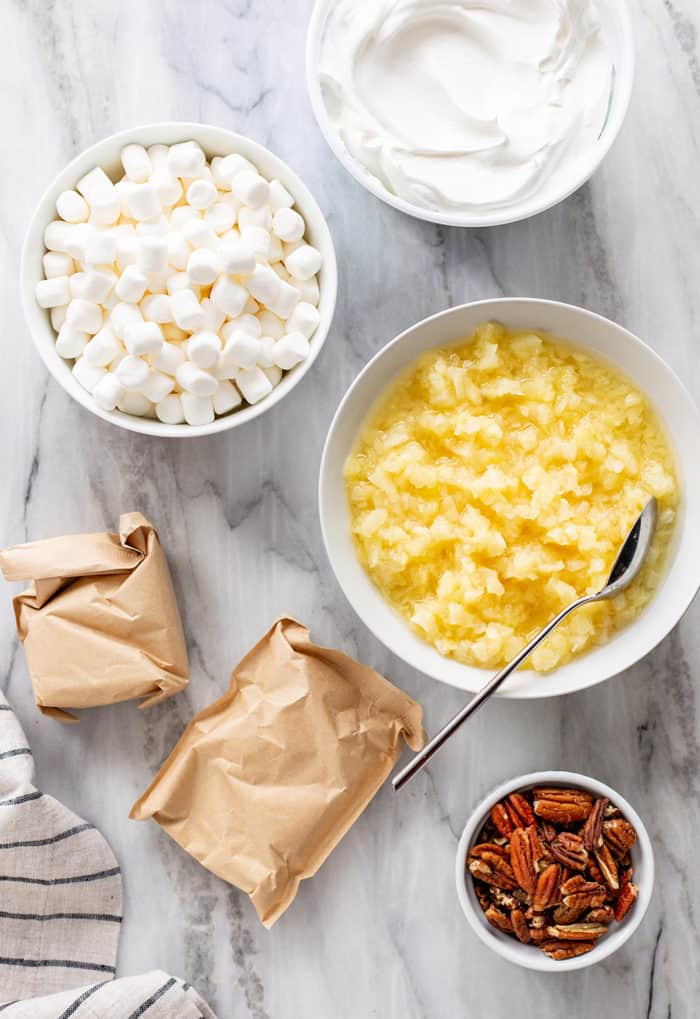 WHAT IS WATERGATE SALAD?
If you're from the Midwest, you might have grown up eating Watergate Salad. Your family might have called it Pistachio Delight, Green Fluff, or even Green Goop.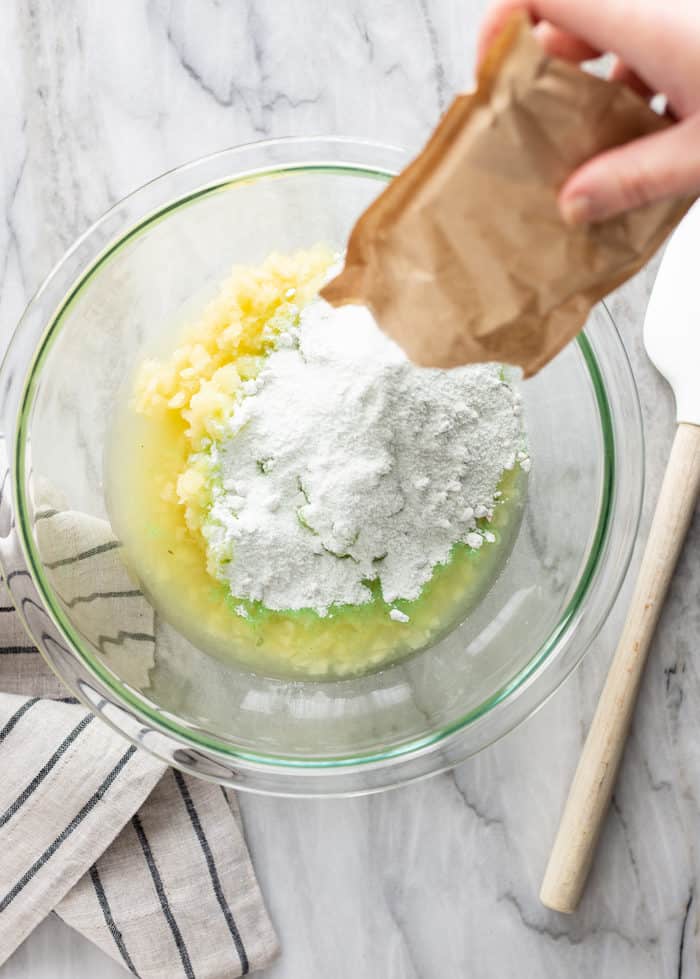 This salad, which can be served as a side dish or a dessert, is made up of a few simple ingredients:
Pistachio pudding
Canned pineapple
Whipped topping
Marshmallows
Pecans
There are some variations of the dish that use jello, mandarin oranges, or even cottage cheese, but Nana's friend Anita always made the most classic version and it's the one I've come to love.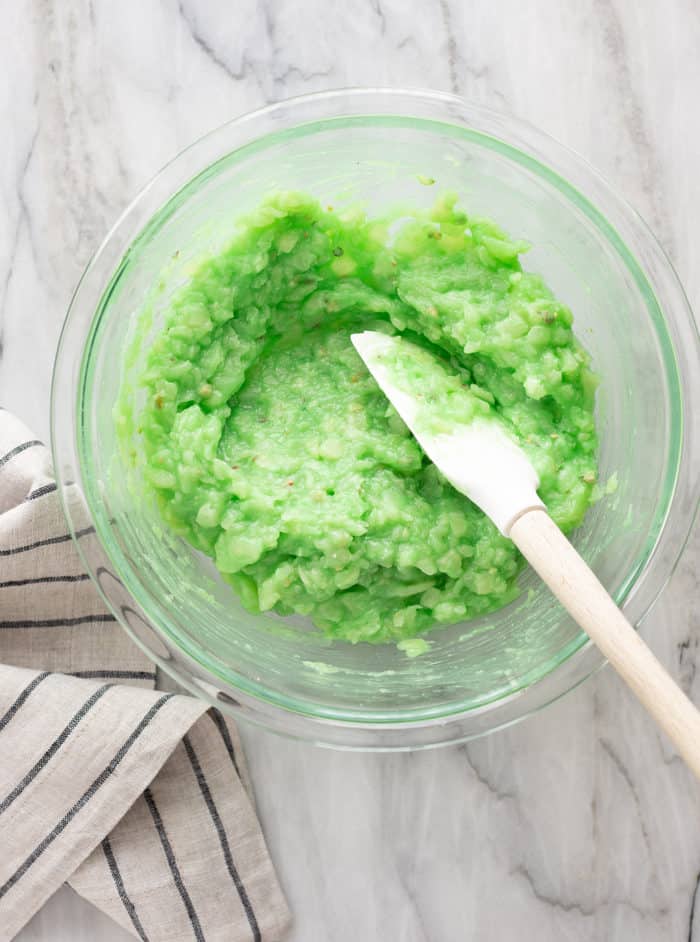 WHY IS IT CALLED "WATERGATE SALAD"?
If you're curious about the name of this recipe…well, so is the rest of the internet, it seems.
I did some research and it seems like no one really knows where the name "Watergate Salad" came from.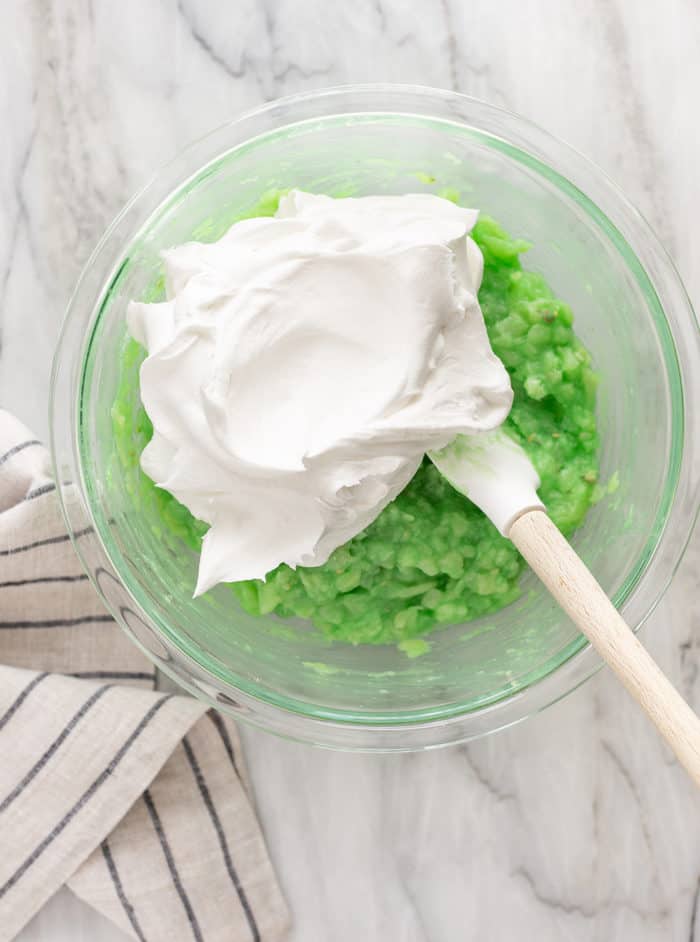 One story says that the recipe was invented by a chef at the Watergate Hotel. Others say that it came out around the same time as Watergate Cake, and both became popular during the Watergate scandal.
Maybe that's why this salad goes by so many different names! No matter what name you call it, I call it delicious.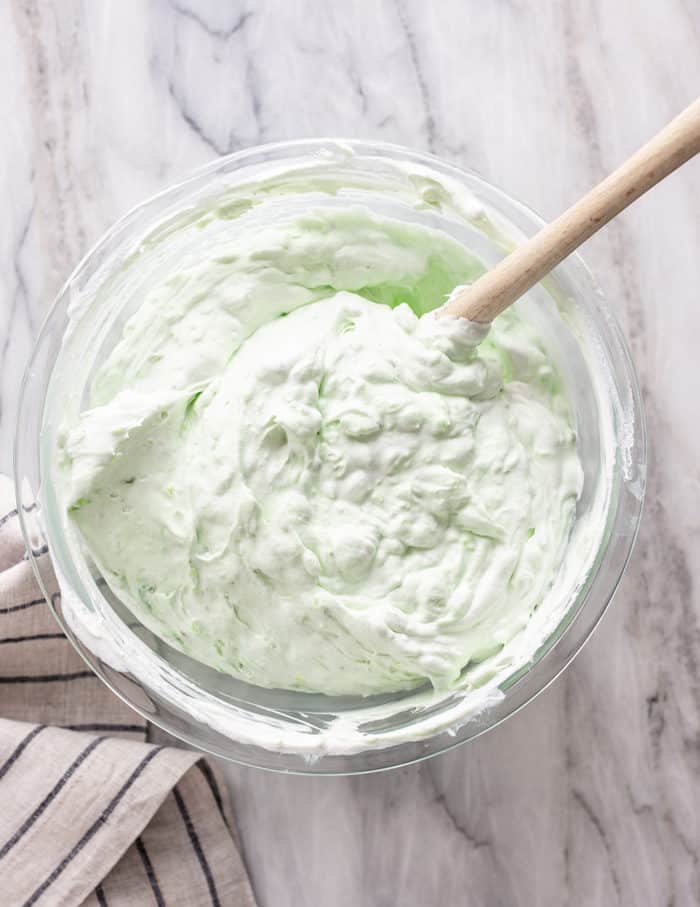 HOW TO MAKE THIS SWEET SALAD
You know how much I love a recipe that comes together in a matter of minutes and just gets better with time.
In a large bowl, mix together the undrained pineapple with the pistachio pudding mix. You need the juice of the pineapple to make this recipe come together, so make sure you don't drain it!
Use a spatula to fold in the whipped topping until no streaks remain, then fold in the marshmallows and the pecans.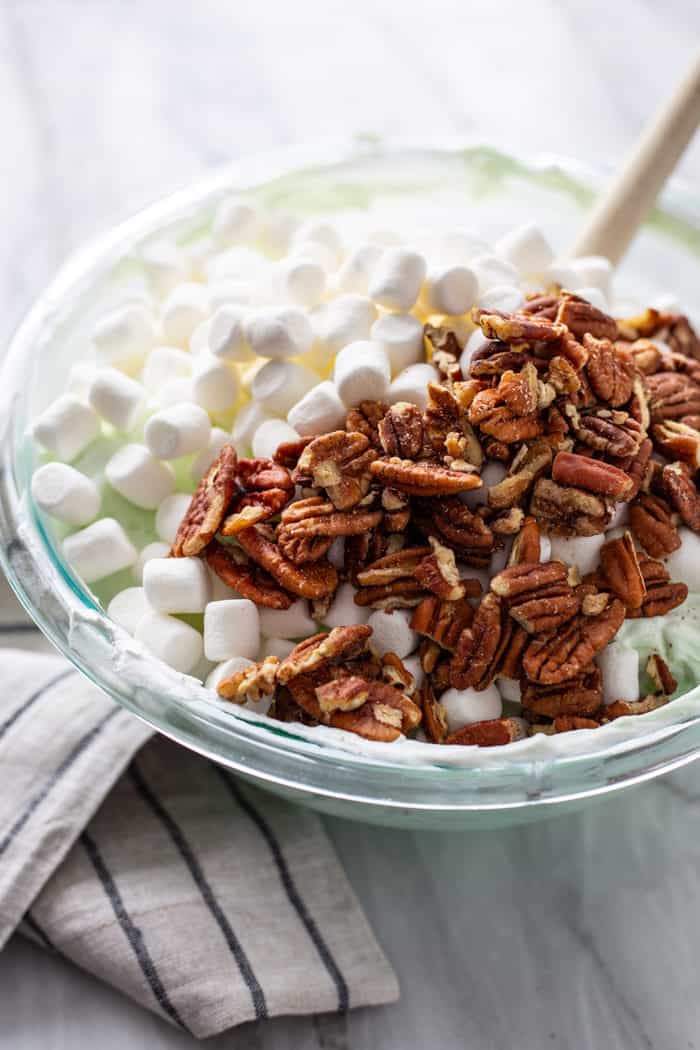 CAN THIS RECIPE BE MADE A DAY AHEAD OF TIME?
Make sure to let this salad chill for at least a few hours before serving it.
If you want, you can definitely make your Watergate Salad the day before. It really only gets better with a little bit of time and will last in the fridge for up to 2 days.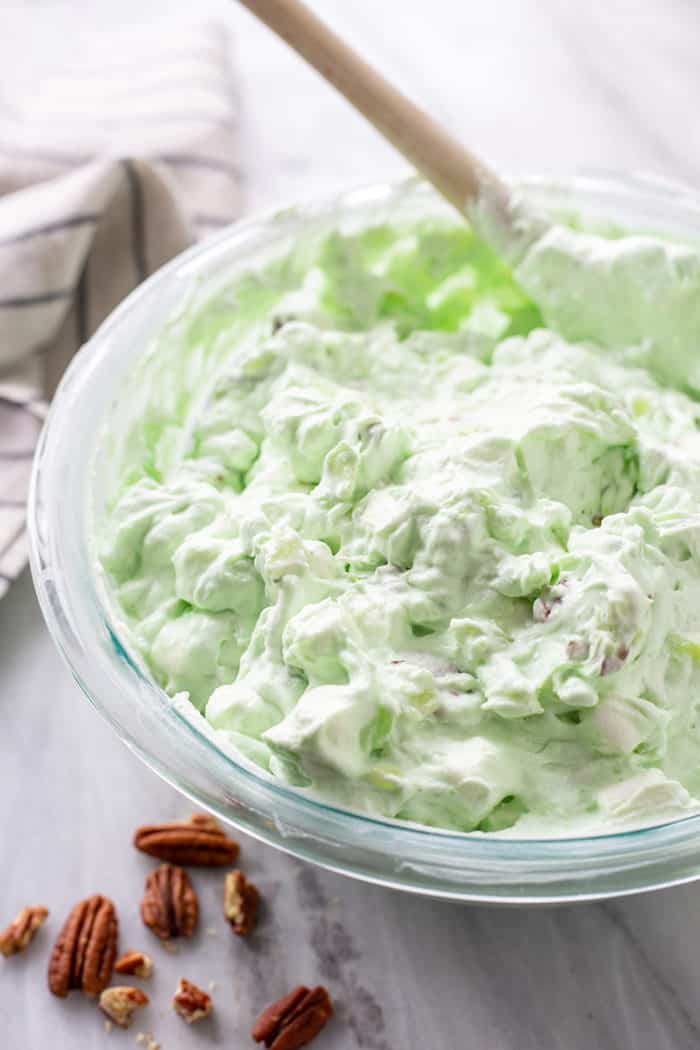 I recommend topping the salad with a few extra chopped pecans right before serving for a bit of extra crunch. You can even add a fresh dollop of whipped topping if you like!
If you've never tried Watergate Salad, you've got to make it immediately. And if you have tried it before, it's time to revisit an old favorite.