Orange Fluff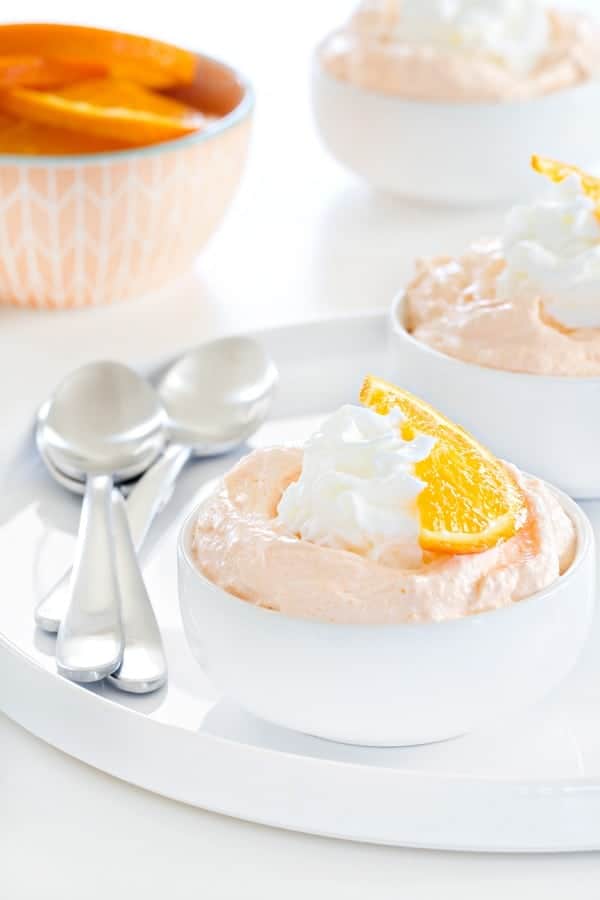 Orange Fluff comes together in a matter of minutes to create a dreamy dessert that is perfect for just about any occasion.
It's no secret that I'm a big fan of fluffy desserts. From Cranberry Fluff to Ambrosia Salad, these sweet and creamy desserts are some of my faves.
Fluff desserts are definitely one of those sneaky mom desserts that pack in a little extra nutrition without you ever being the wiser. My mom's recipe always included cottage cheese, meaning our sweet treats were actually packed full of protein.
She'd whip up fluff-style desserts to keep in the fridge for quick weeknight desserts. Since they're super simple to make and require only a handful of ingredients, they were the perfect dessert recipe for a working mama with a busy schedule.
Although she made a variety of flavors from lemon to strawberry-banana, Orange Fluff has always been my favorite. There's just something so perfect to me about a dessert that mimics my favorite ice cream – the creamsicle – without a lot of effort. Total win, if you ask me.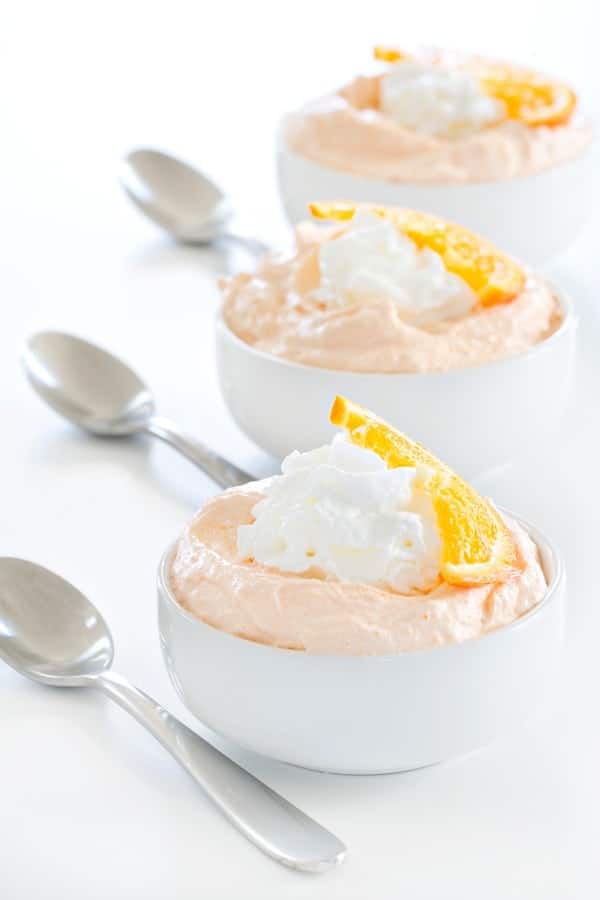 When I went away to college, I worked as a server at a local restaurant my sophomore year and actually saved up my tip money for a week to purchase an inexpensive food processor from Meijer. That way, I could have fluff anytime I wanted it. That's some serious fluff dedication, and tells you just how much I adore my mom's sneaky dessert.
The key to this recipe is to make sure you puree the cottage cheese to remove the texture, unless of course you're into cottage cheese curds in your desserts. And if that's the case, you're one heck of a cottage cheese fan.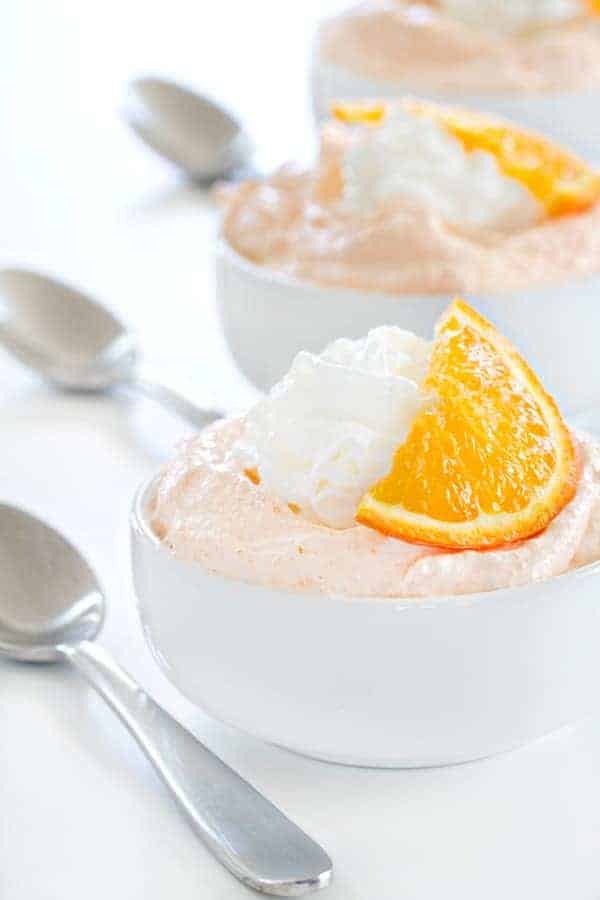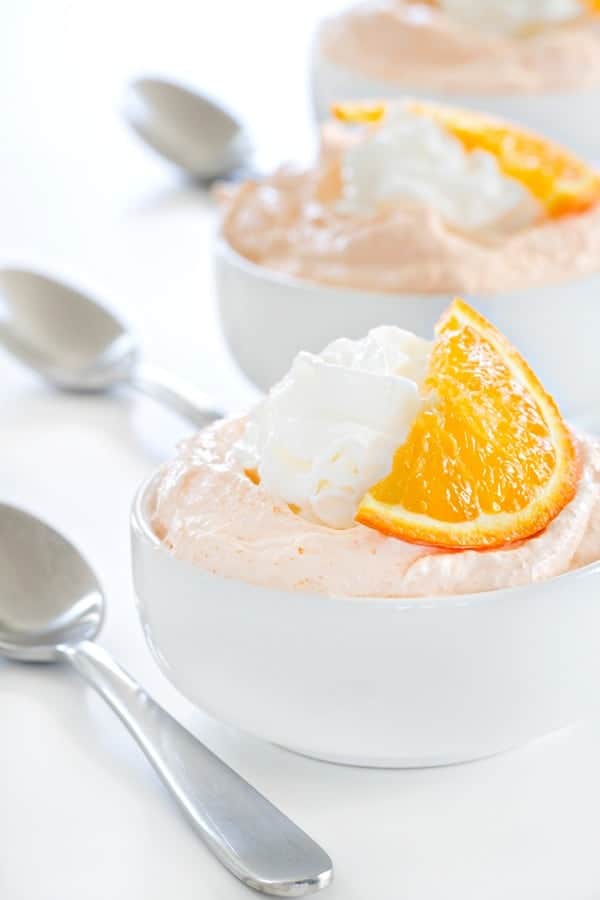 Having these sneak attack desserts that are easy is a total mom-move, from start to finish, so I thought it'd be perfect to share with my friend Joanne. Joanne writes the blog Fifteen Spatulas, and she and her hubby Pete just welcomed baby James.
We had originally planned a baby shower, but the little man came early, and so now we're just saying, "Welcome to the world, buddy!" with all our favorite foods.
I have no doubt James is going to have a deep and abiding love for good food. How could he not, with Joanne as his mama? When I shared this dessert with Elle, her eyes filled with delight, it was a truly awesome moment in the kitchen for me. Something I've loved my whole life is new through her eyes, and that makes it even more special. I can't wait for you to have moments like that, Joanne!
Congratulations to you and Pete – welcome to our foodie family, baby James!

Be sure to check out the delicious recipes from these talented bloggers that came together today to celebrate!
Appetizers
Italian Sub Sandwich Roll-ups from Michael of Inspired by Charm
Smoky Roasted Red Pepper Sun Dried Tomato Hummus from Jeanette of Jeanette's Healthy Living
Creamy Sweet Potato Soup from Sadie of Dairy Good Life
Whipped Goat Cheese & Blueberry Balsamic Crostini from Meseidy of The Noshery
Rosemary Flatbread with Baked Goat Cheese from Heidi of FoodieCrush
Spring Herb Cream Cheese Appetizer Cups from Rachel of Rachel Cooks
Crostini with Almond Ricotta and spicy olive tapenade from Heather of HeatherChristo
Drinks
Fruit Freeze from Deborah of Taste and Tell
Mint Lemonade from Trish of Mom On Timeout
Ginger Lemonade from Kathy of Panini Happy
Desserts
Chocolate-Covered Rice Krispies Treats from Julie of The Little Kitchen
Orange Fluff from Jamie of My Baking Addiction
Chocolate Peanut Butter Pretzel Brownies from Susannah of Feast + West
Mini Ombre Heart Cookies from Bridget of Bake at 350
Mini Coconut Pound Cakes from Mary of Barefeet In The Kitchen
Yellow Sheet Cake with Chocolate Sour Cream Frosting from Jennifer of Savory Simple
Unicorn Shaped Cookies from Jessie of CakeSpy
Oreo Cheesecake Bites from Brenda of a farmgirl's dabbles
Lemon Blueberry Bread from Glory of Glorious Treats
Blintz with Blackberry Sauce from Sommer of A Spicy Perspective
Pastel Rainbow Cake from Bree of Baked Bree
Individual Chocolate Souffles from Andie of Andie Mitchell
This post may contain affiliate links. We are a participant in the Amazon Services LLC Associates Program, an affiliate advertising program designed to provide a means for us to earn fees by linking to Amazon.com and affiliated sites.