Pistachio Pudding Cake is a simple bundt cake to make any time of year. Made with a cake mix and pistachio pudding mix, this cake can be topped with a simple glaze or any number of frostings for a delicious crowd-pleasing dessert.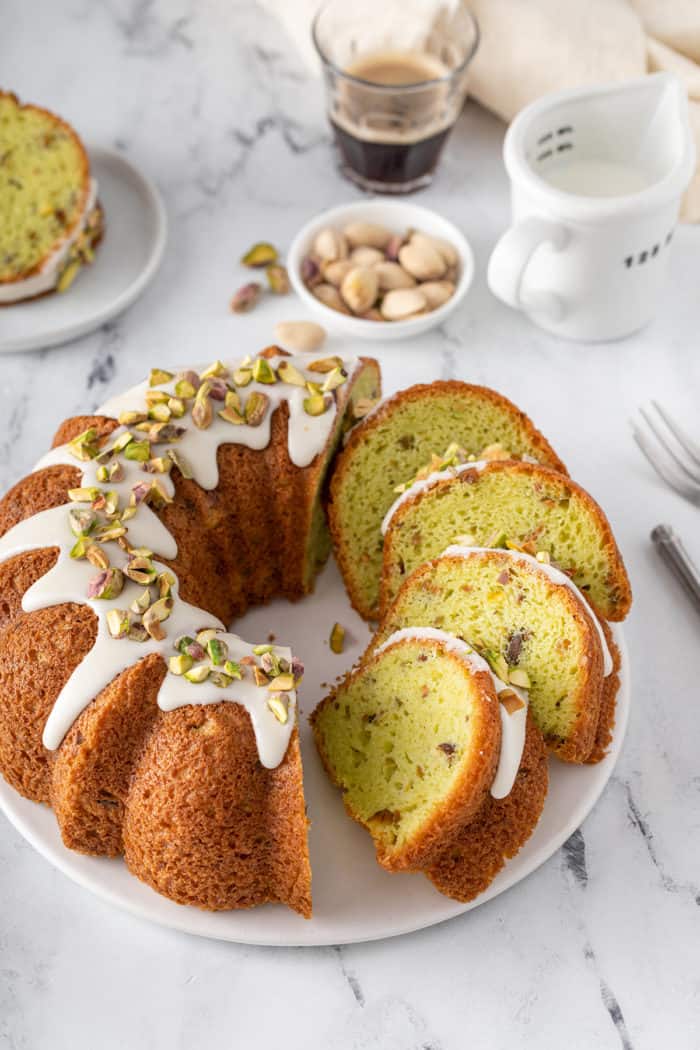 St. Patrick's Day is one of those strange holidays that always sneaks up on me.
Even though I've been blogging for well over a decade at this point, I still get to the beginning of March before I remember that readers are going to be looking for St. Patrick's Day recipes.
Once I finally remember that it's around the corner, I usually try to put something together for you guys. Some years it's savory recipes like Irish Soda Bread, while other years it's desserts using Irish cream, such as Baileys Cheesecake.
This year, I decided to lean into the green theme with this super easy pistachio bundt cake.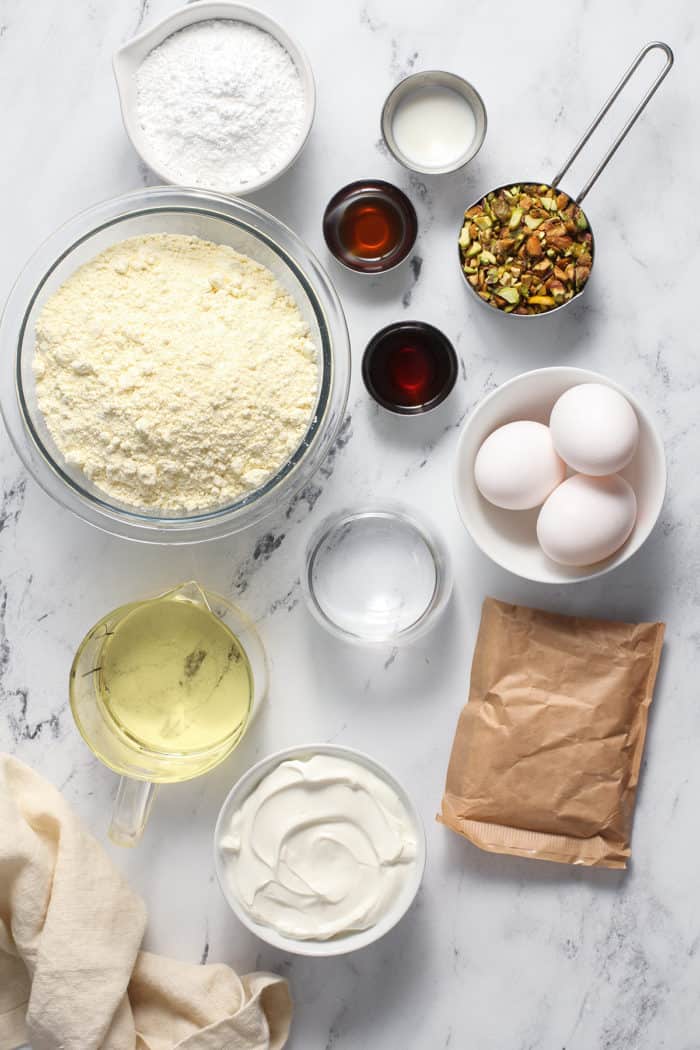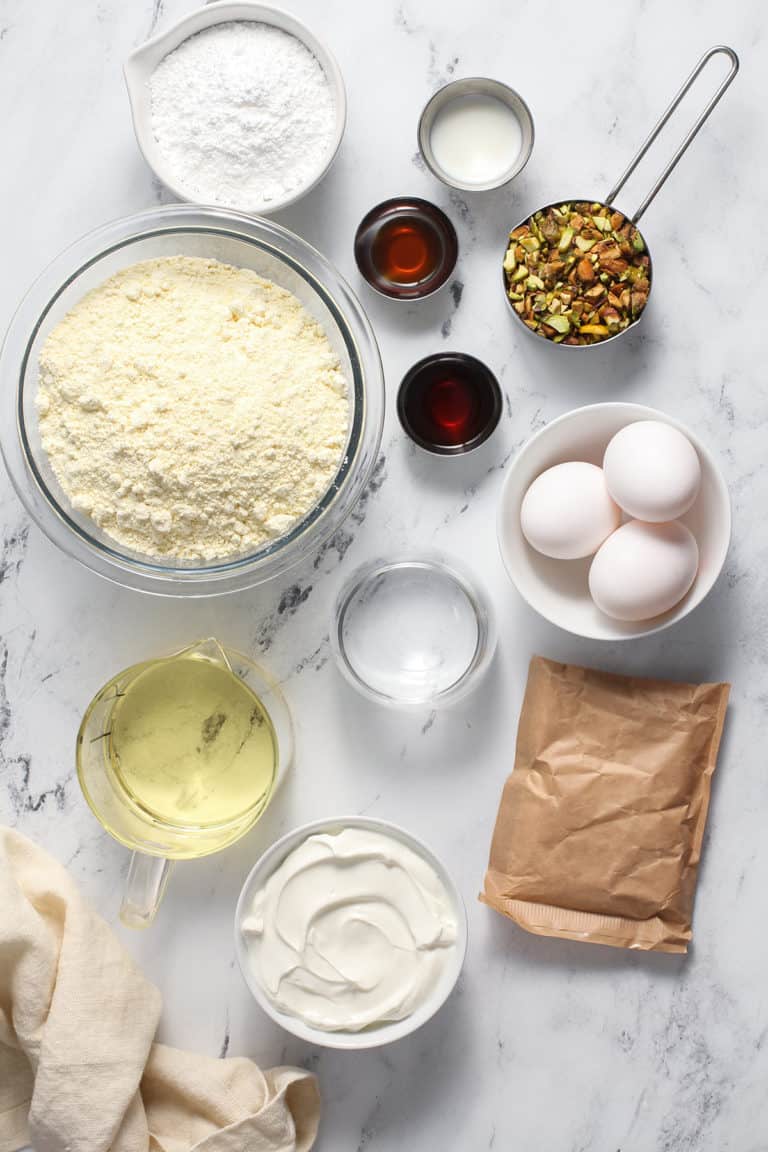 WHAT IS PISTACHIO PUDDING CAKE?
Don't be confused by the name "Pistachio Pudding Cake" – this recipe is 100% cake, not pudding!
So why does it have the word "pudding" in the name?
This recipe uses yellow cake mix combined with instant pistachio pudding mix as one of the dry ingredients. Adding the pudding mix helps keep the cake moist – just like with Chocolate Bundt Cake, Pistachio Pudding Linzer Cookies, and Chocolate Chip Pudding Cookies – and adds great pistachio flavor throughout the cake.
The pudding mix also gives the cake a lovely green color, making it the perfect St. Patrick's Day treat or seasonal spring dessert.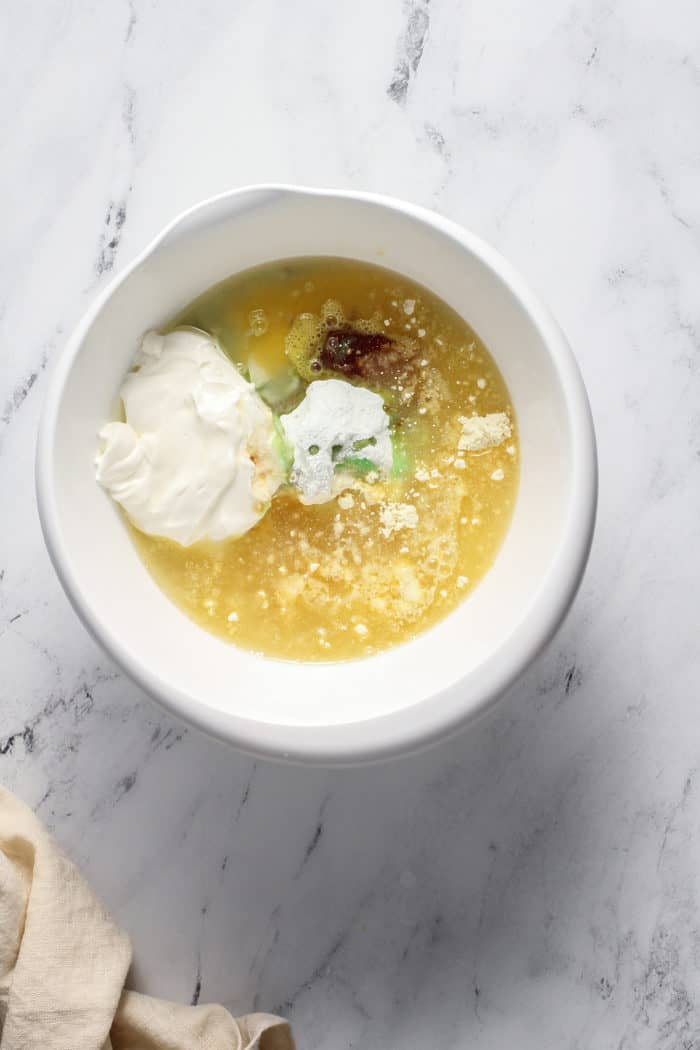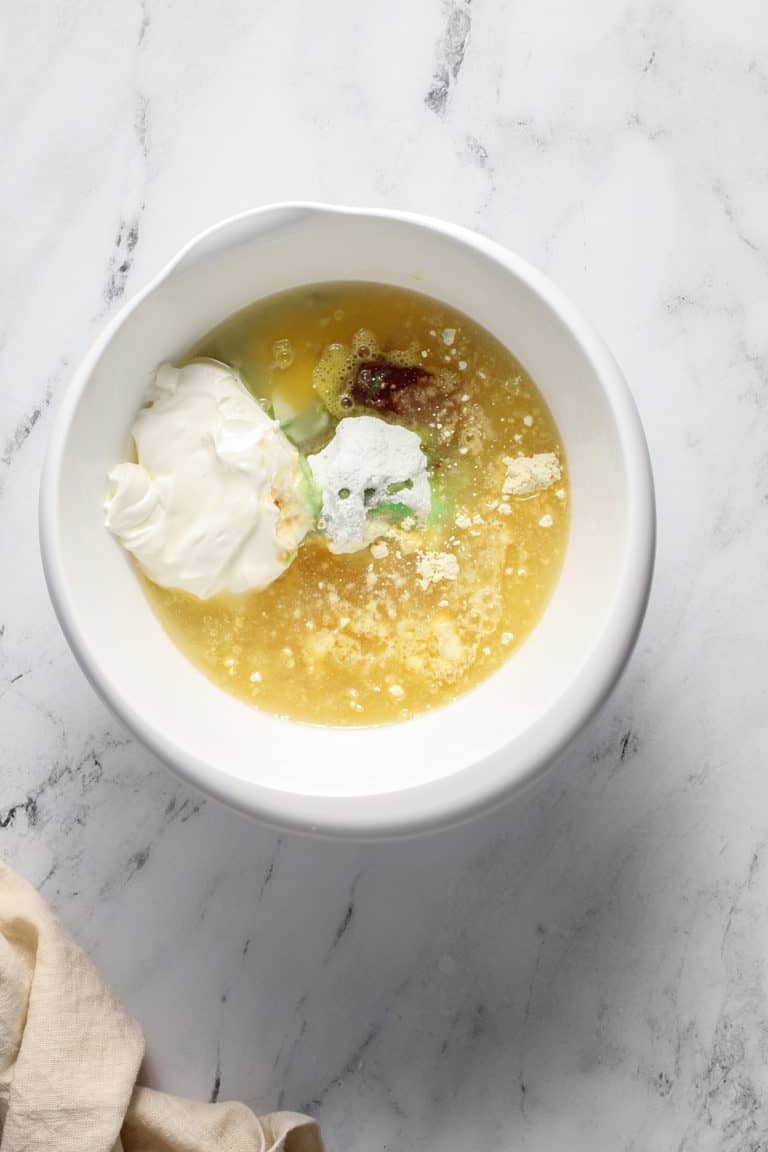 HOW TO MAKE PISTACHIO CAKE WITH CAKE MIX
Because this recipe is a spin on my Doctored Cake Mix recipe, it is super easy to make.
Tools You'll Need
The equipment needed for this cake is all very standard to most kitchens:
10-cup or 12-cup bundt cake pan
Nonstick cooking or baking spray
Large mixing bowl
Electric mixer
Spatula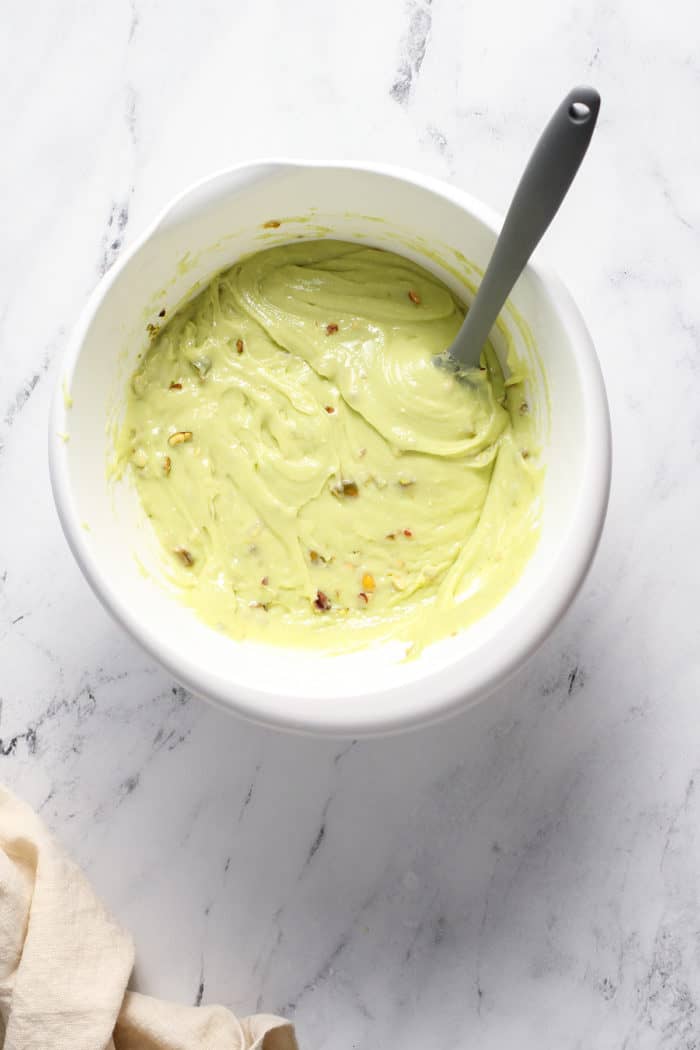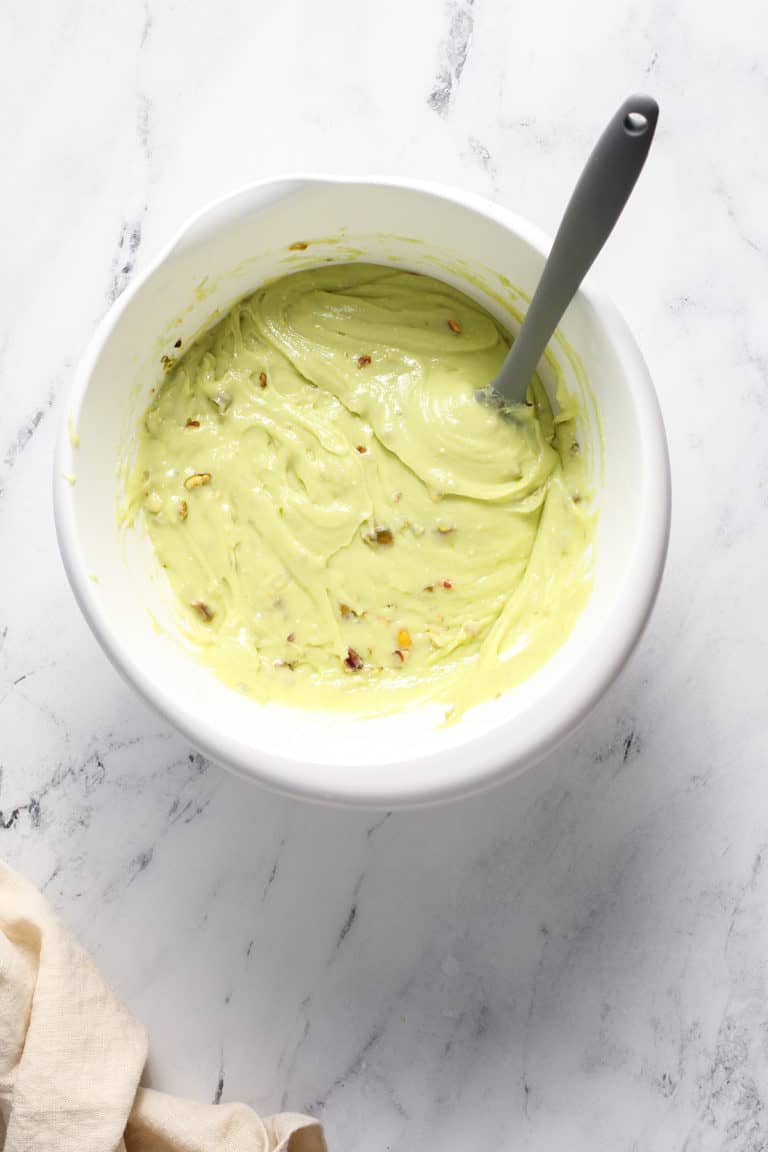 Ingredients You'll Need
The pistachio cake uses a few special, but still basic, ingredients to take the cake mix to the next level and really make it taste homemade:
1 (15.25 ounce) package yellow cake mix
1 (3.4 ounce) package instant pistachio pudding mix
3/4 cup sour cream
3/4 cup vegetable oil
3 large eggs, lightly beaten
2 teaspoons pure vanilla extract
1/2 cup water
½ cup roughly chopped pistachios, plus extra for garnish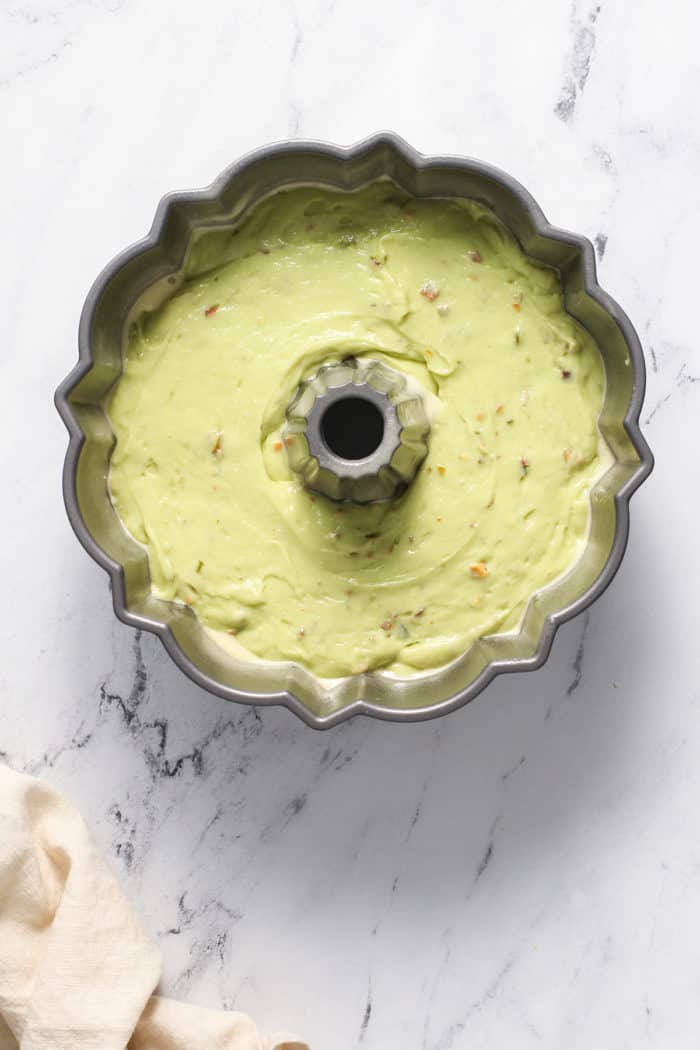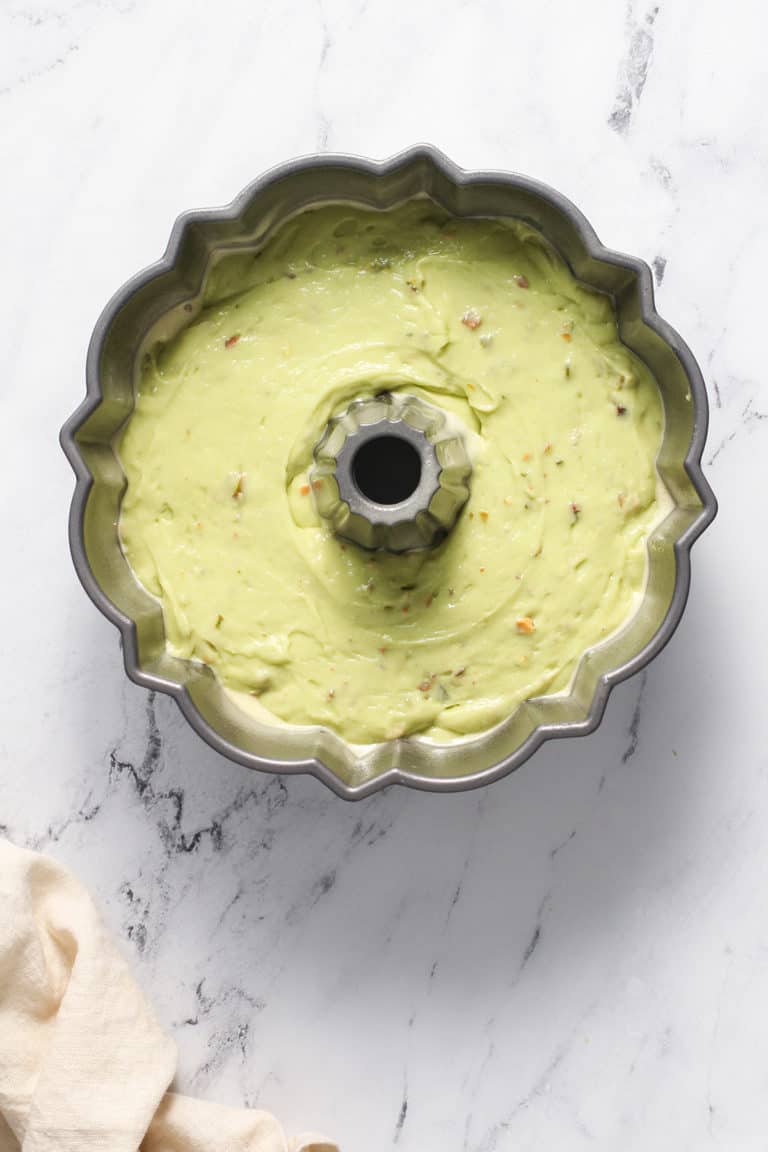 Making this Recipe
To make your Pistachio Pudding Cake, combine all of the cake ingredients except for the chopped pistachios in your large mixing bowl. Use an electric mixer to beat the ingredients together on medium speed for 2 minutes.
After the batter comes together, fold in the chopped pistachios.
Pour the batter into the bundt cake pan sprayed with the nonstick spray. Bake the cake for about 45-50 minutes; you'll know the cake is done when a toothpick inserted in the center comes out clean.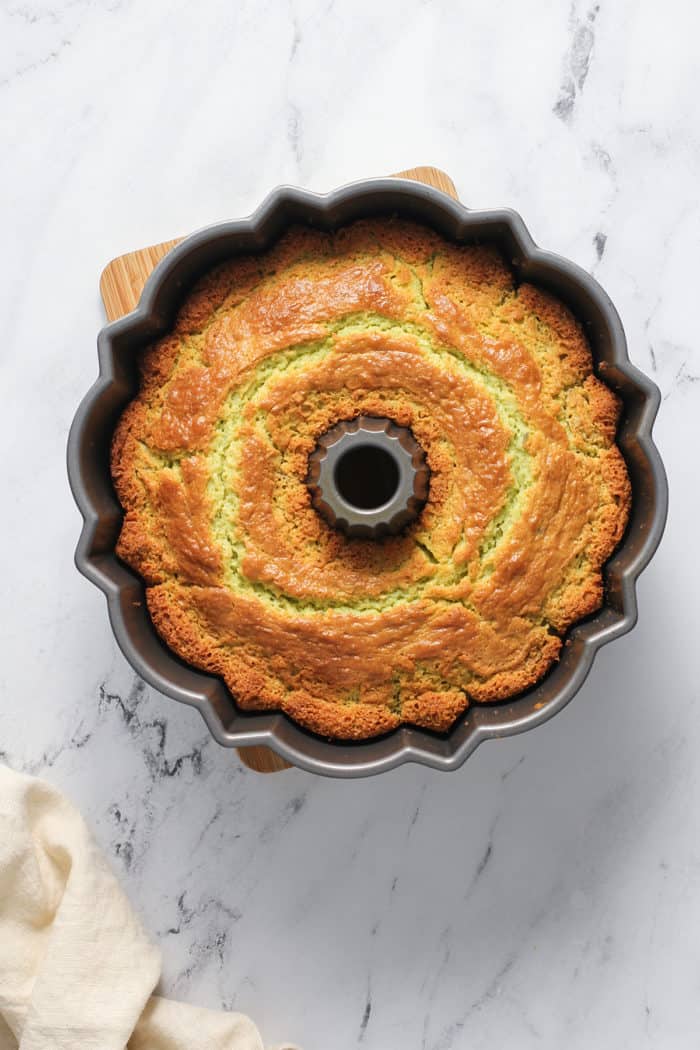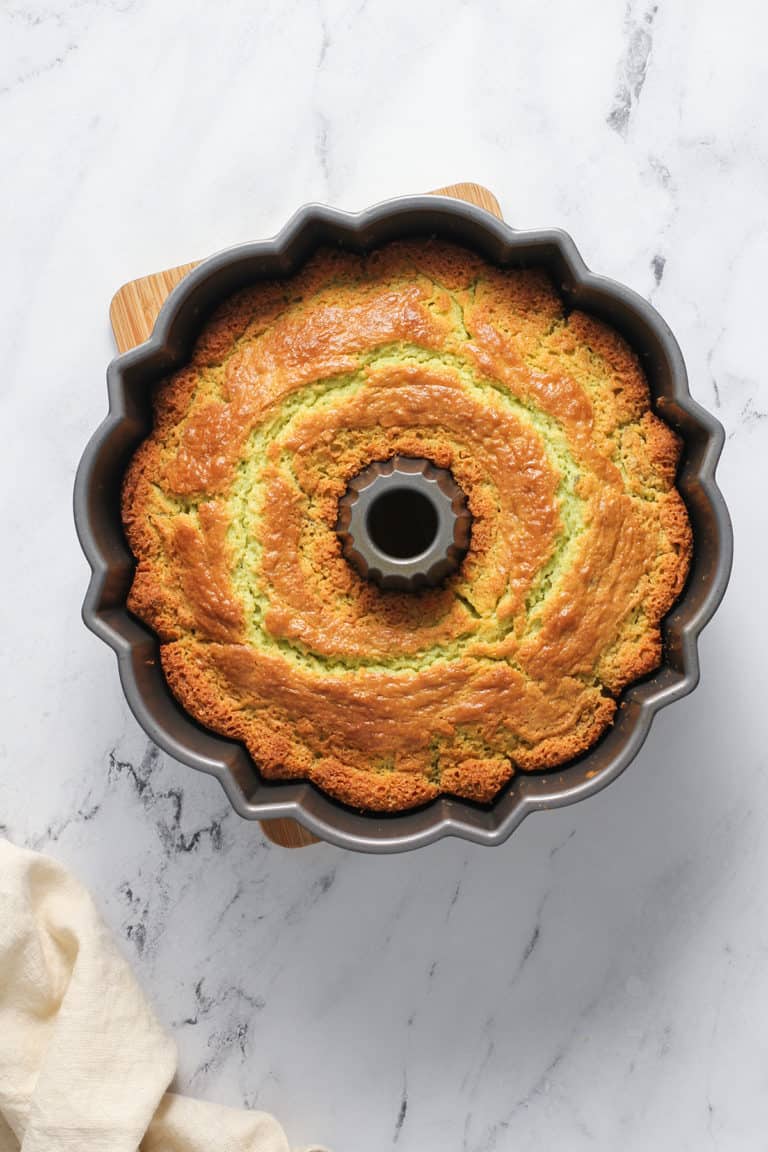 I like to let the cake cool in the pan for about 20 minutes before turning it out onto a cooling rack to cool completely. If the design of your bundt pan is especially intricate, you may need to let the cake cool for a bit longer before turning it out onto a wire rack.
Once the cake is completely cooled, you can glaze or frost the cake however you like.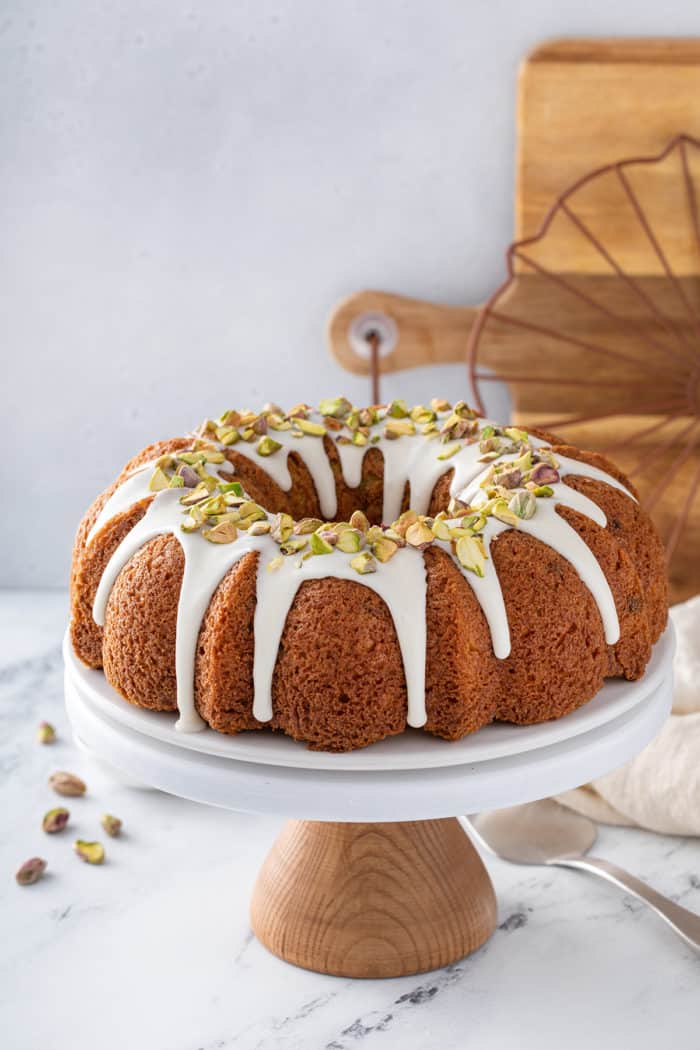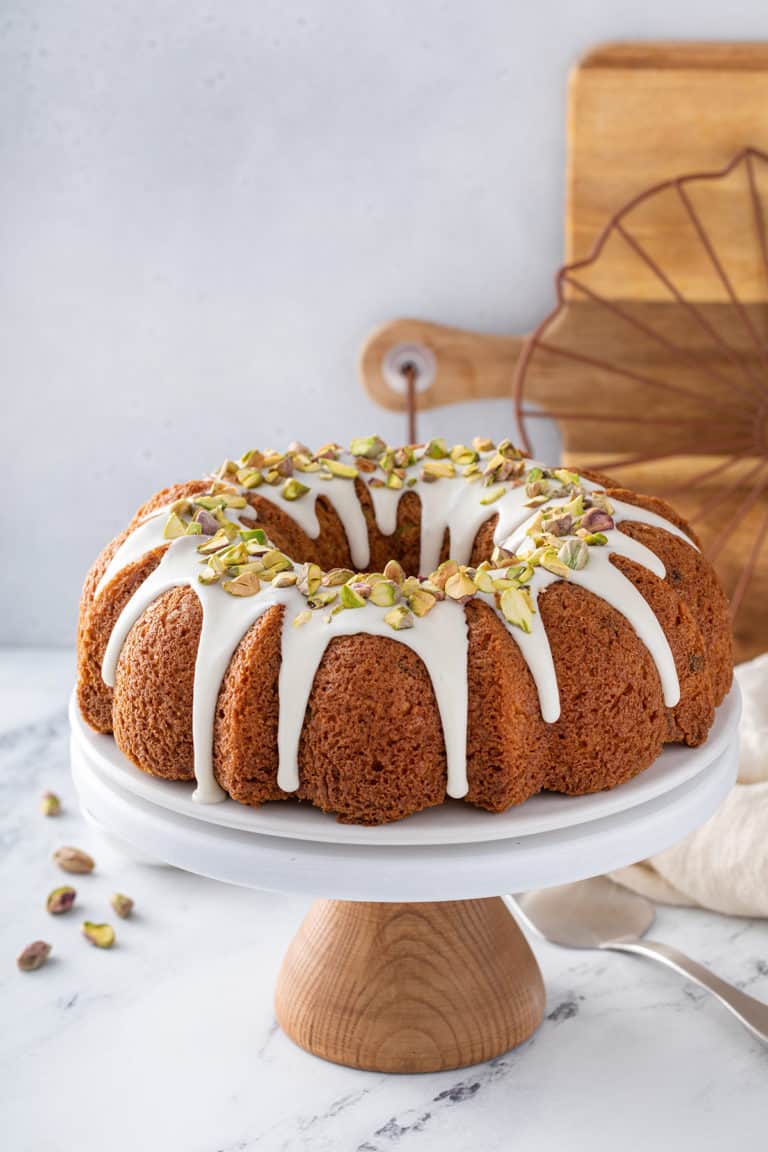 HOW TO TOP THIS PISTACHIO BUNDT CAKE
My personal favorite way to finish this cake is with a simple glaze made from vanilla, powdered sugar, and milk. I sprinkle the top of the glazed cake with some chopped pistachios for some additional color, texture, and flavor.
But don't let me stifle your imagination! This cake would be just as delicious topped with cream cheese frosting, a simple chocolate ganache, or – like with Whipping Cream Cake – even just a dusting of powdered sugar.
You could even pull out some thawed Cool Whip or homemade whipped cream and use those as a simple frosting!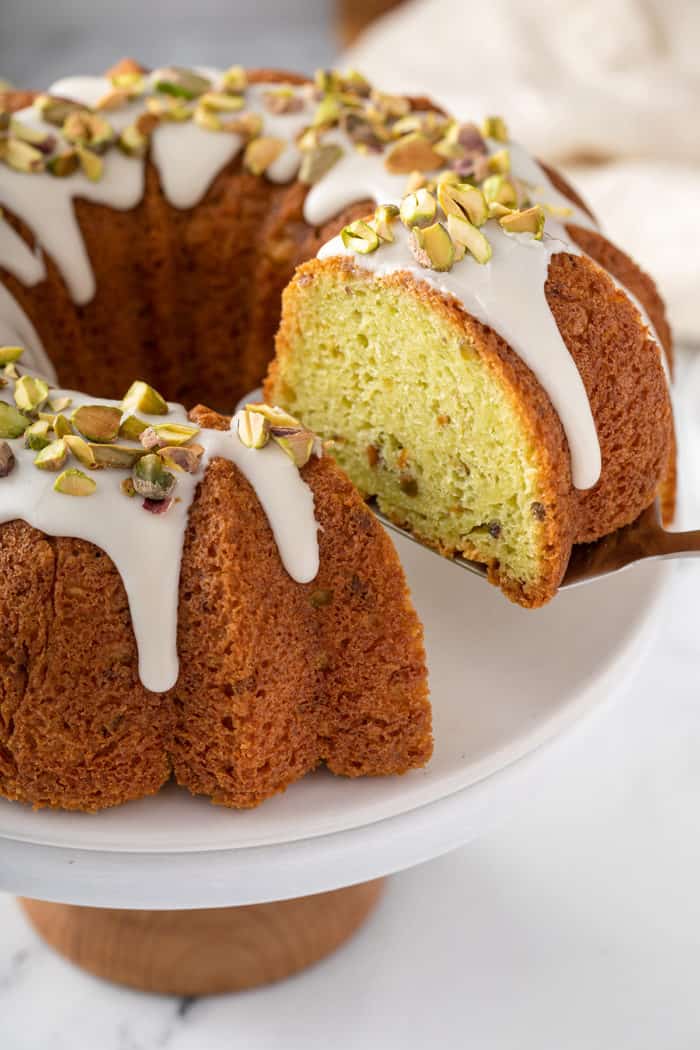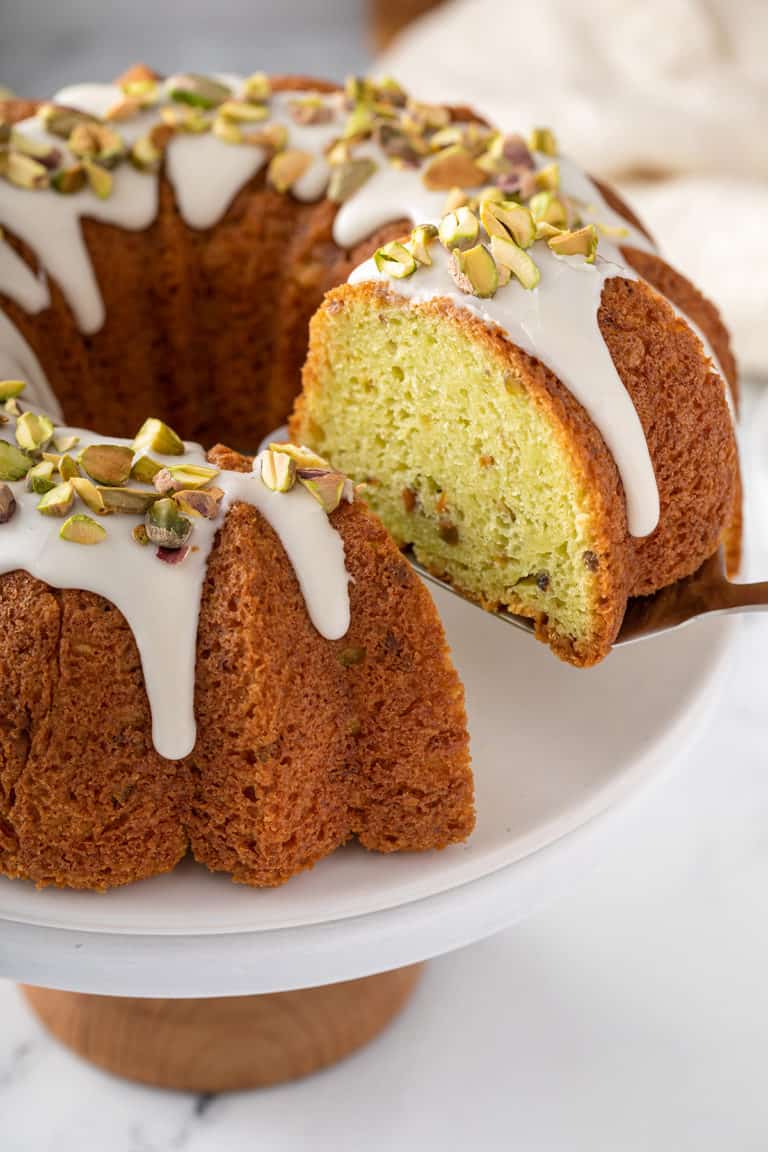 STORAGE TIPS
Because of the pudding mix in the cake, Pistachio Pudding Cake is moist and delicious straight from the oven. It is almost better the next day, though!
Store the cake covered at room temperature for up to 3 days.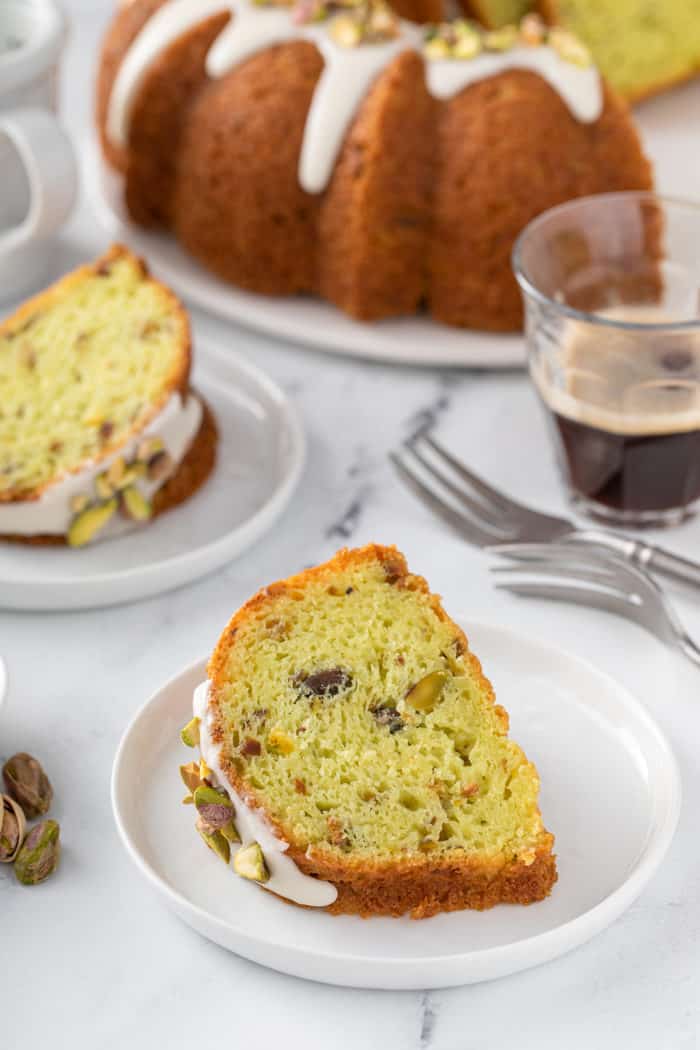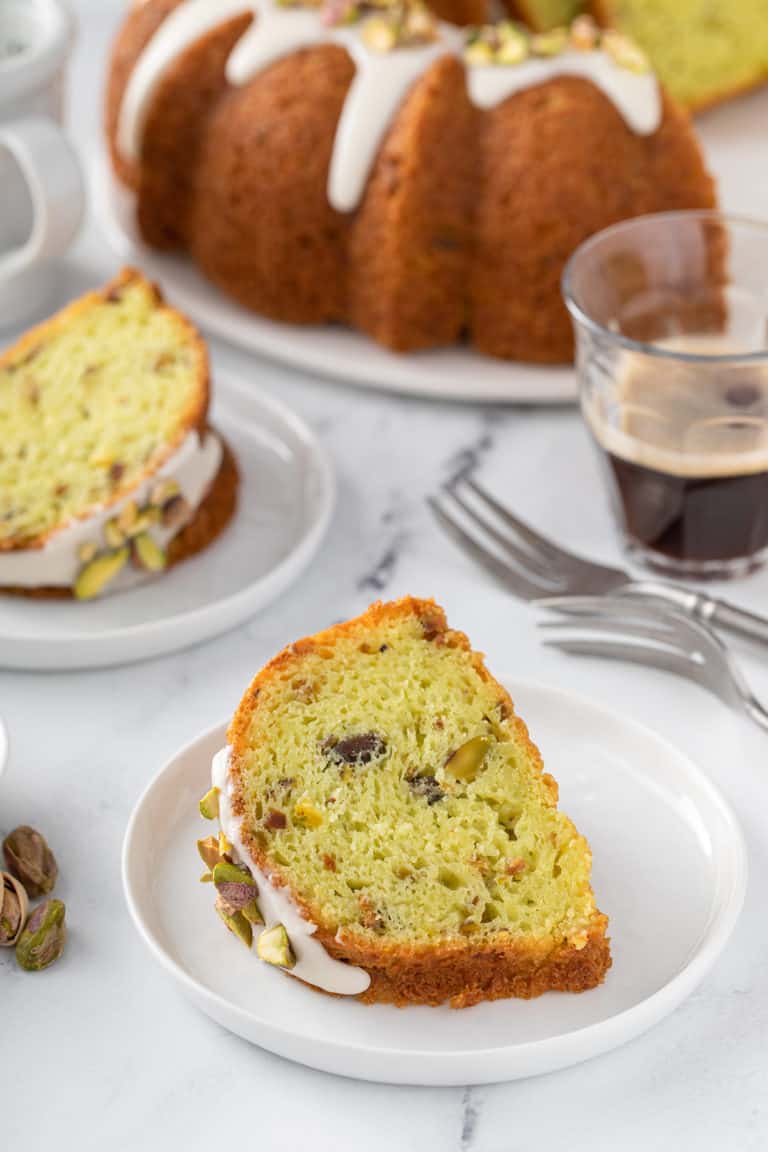 Freezing Instructions
If you can't eat all of the cake within a few days, you can freeze leftovers for longer-term storage.
Cut the cake into slices and wrap each slice in plastic wrap. Place the wrapped slices in a zip-top freezer bag and freeze for up to a month.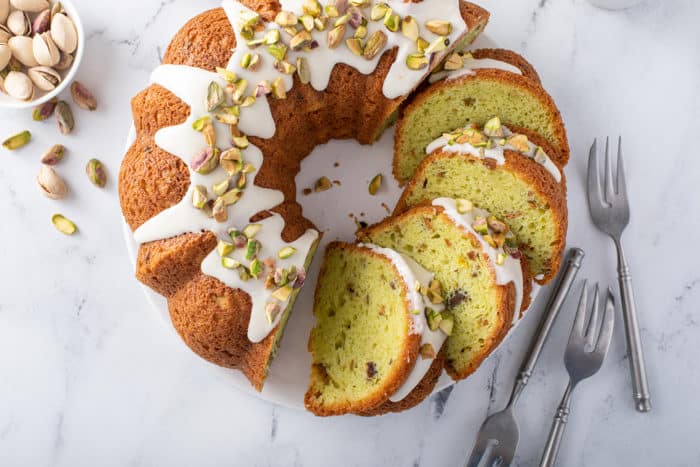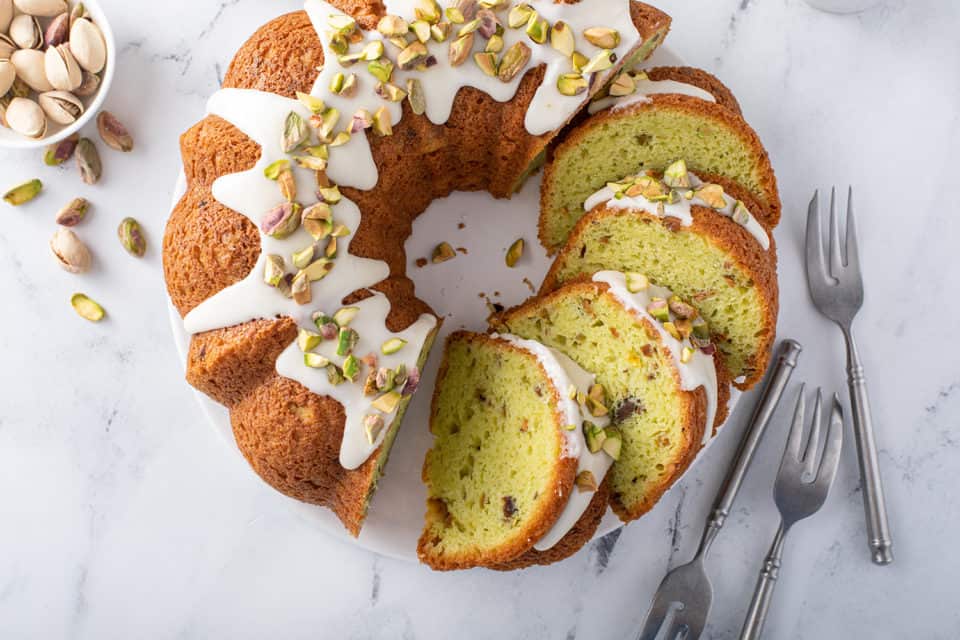 To enjoy, let the cake thaw on the counter for a couple of hours or unwrap it and pop it into the microwave for 30-60 seconds to thaw it and warm it through.
Whether you choose to make this Pistachio Pudding Cake for St. Patrick's Day or on a random weeknight, this moist and delicious cake is sure to be a recipe you'll come back to again and again.