You don't need to be Irish to enjoy this Irish Soda Bread! This biscuit-like bread comes together easily and is delicious when slathered with butter and jam or served alongside a bowl of stew.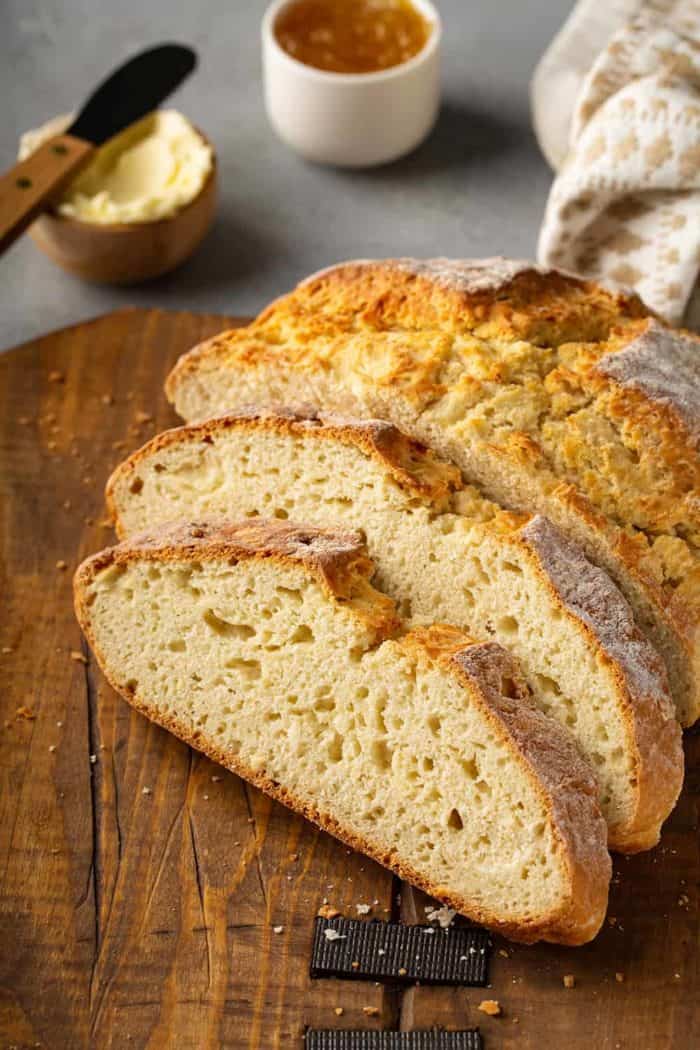 Like a lot of people, I went through a pretty serious sourdough bread baking phase last spring. My friend Stephie had been posting her gorgeous loaves on Instagram and I was super intrigued with the process.
She kindly sent me some of her dried starter and walked me through the process with lots of hand-holding because for whatever reason, I was super intimidated.
After a quick Amazon shopping haul for some bread baking basics, I was all in and loved every single minute of it. I mean, what else was there to do?
Now almost a year later, I still have Stephie's starter in my fridge. And although I am not making much sourdough these days, I'm sure to keep it well-fed.
These days, I'm in more of a banana bread phase, but I also love quick and simple loaves like this Irish Soda Bread.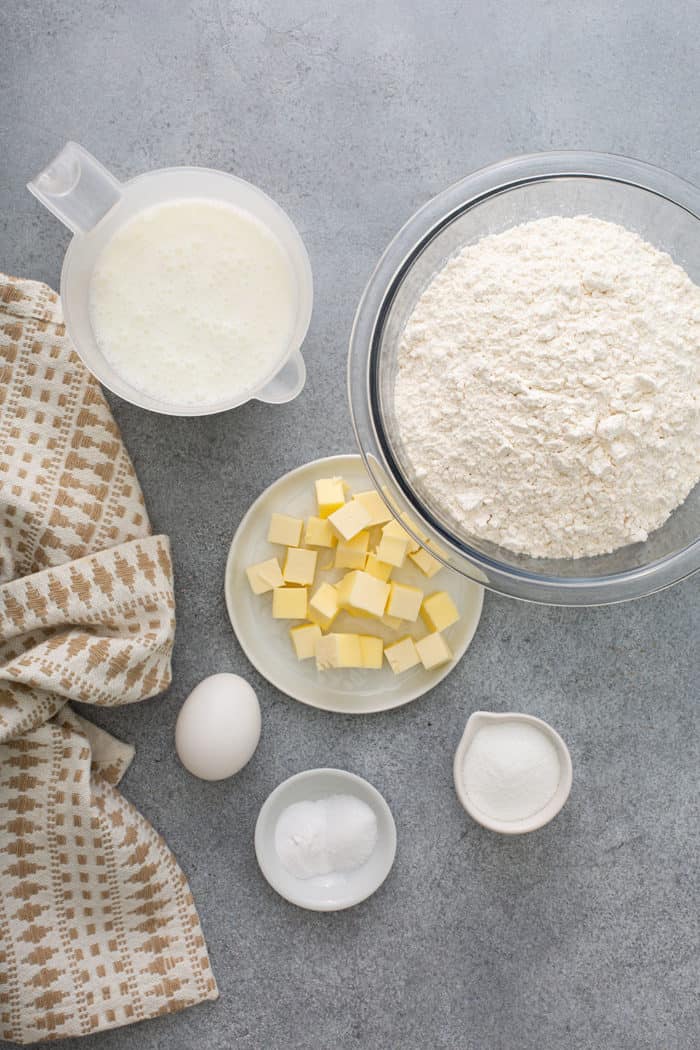 WHAT IS SODA BREAD?
If you didn't grow up eating Irish Soda Bread, the concept of this bread might be unfamiliar to you.
Soda bread really just means bread that uses baking soda as the leavening instead of yeast. A lot of different cultures have their own versions of soda bread.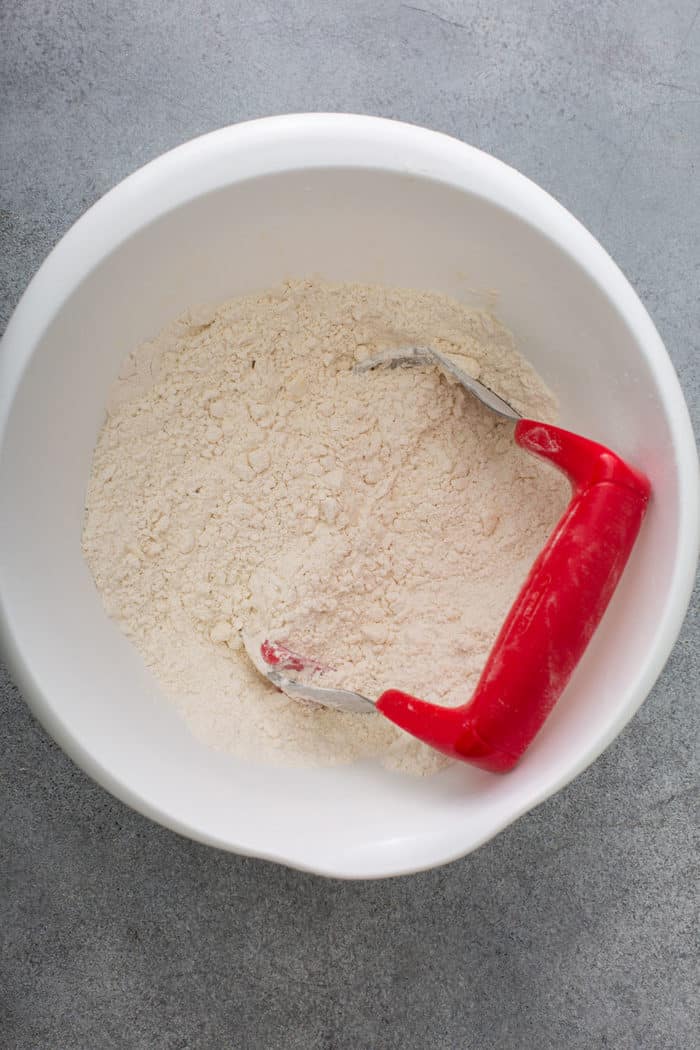 If we're talking about the bread that is often served around St. Patrick's Day, this bread is usually made up of a few simple ingredients:
Flour
Sugar
Salt
Baking soda
Butter
Buttermilk
Some versions stir in raisins or currants, but I like to leave mine simple so I can serve it in more ways.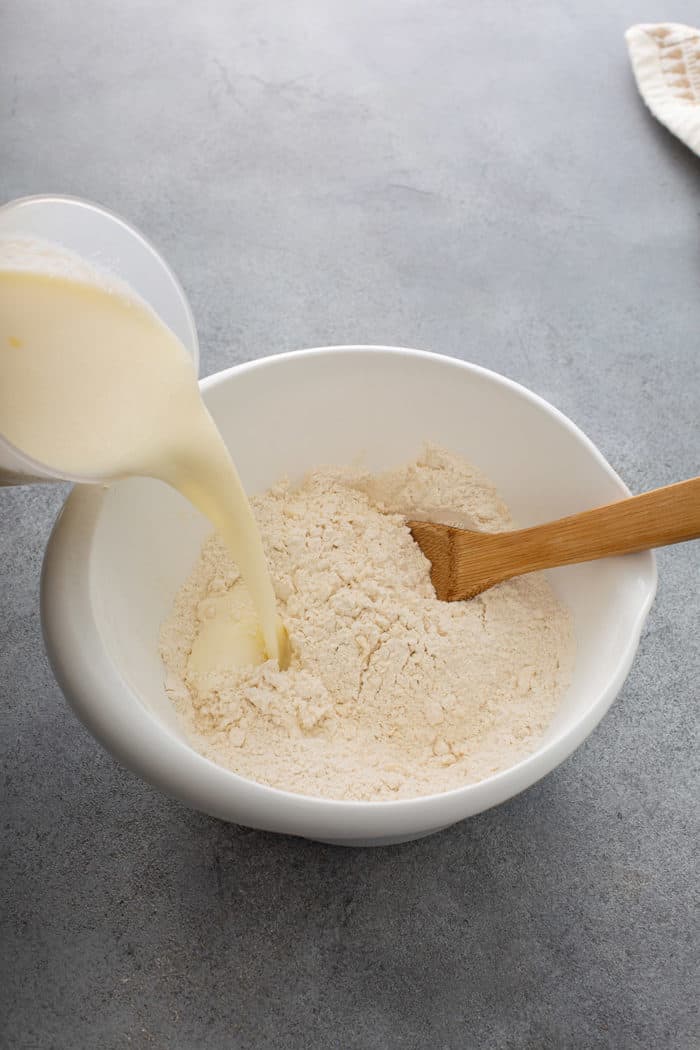 And what does it taste like?
It's got a pretty mild flavor and a soft texture, so it's similar to Bisquick biscuits or a cream scone. Unlike something like Apple Pie Bread, it's not really meant to stand on its own – it's best served alongside something else. But we'll get to that in a minute.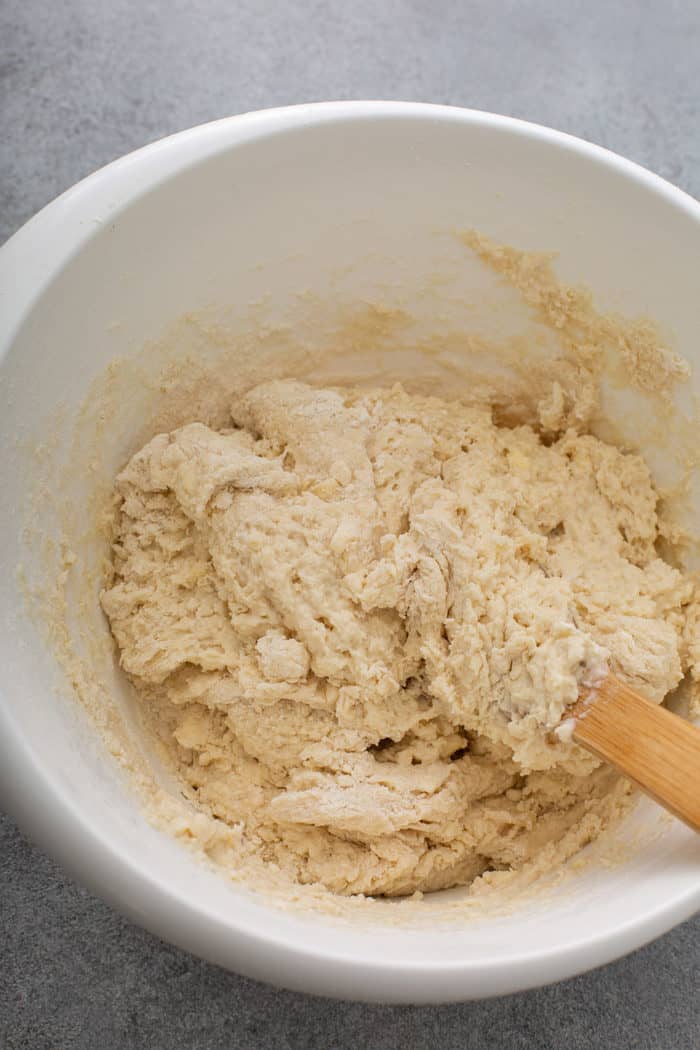 HOW TO MAKE IRISH SODA BREAD
If you've ever made my Orange Scones, the process for making this bread won't be that different for you.
Start by whisking together the flour, sugar, baking soda, and salt. Use a pastry cutter to cut the butter into the flour until it resembles coarse meal.
Whisk together the buttermilk and the egg. If you have run out of buttermilk, you can learn how to make buttermilk with a few other staple ingredients! I've used these substitutes before in this recipe and they work just fine.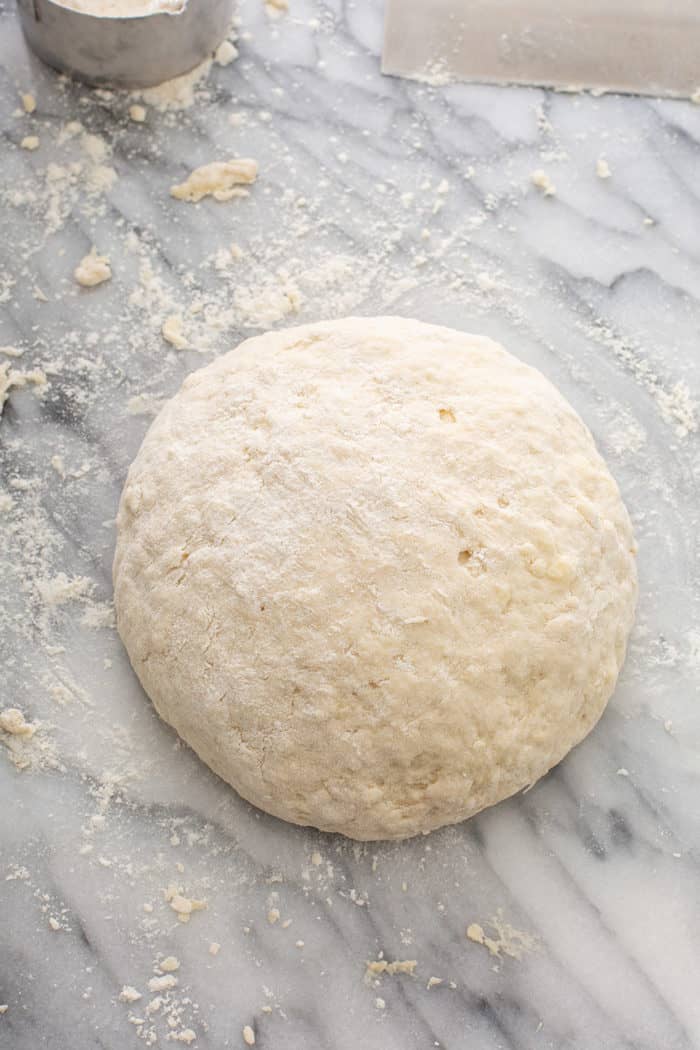 Add the wet ingredients to the flour mixture and stir just until combined. The dough will be sticky – don't worry, you didn't do anything wrong!
Turn the dough out onto a floured surface and knead it with floured hands just until it comes together into a ball. Form the dough into a ball about 7 inches in diameter and transfer it to a cast iron skillet or onto a baking sheet lined with parchment.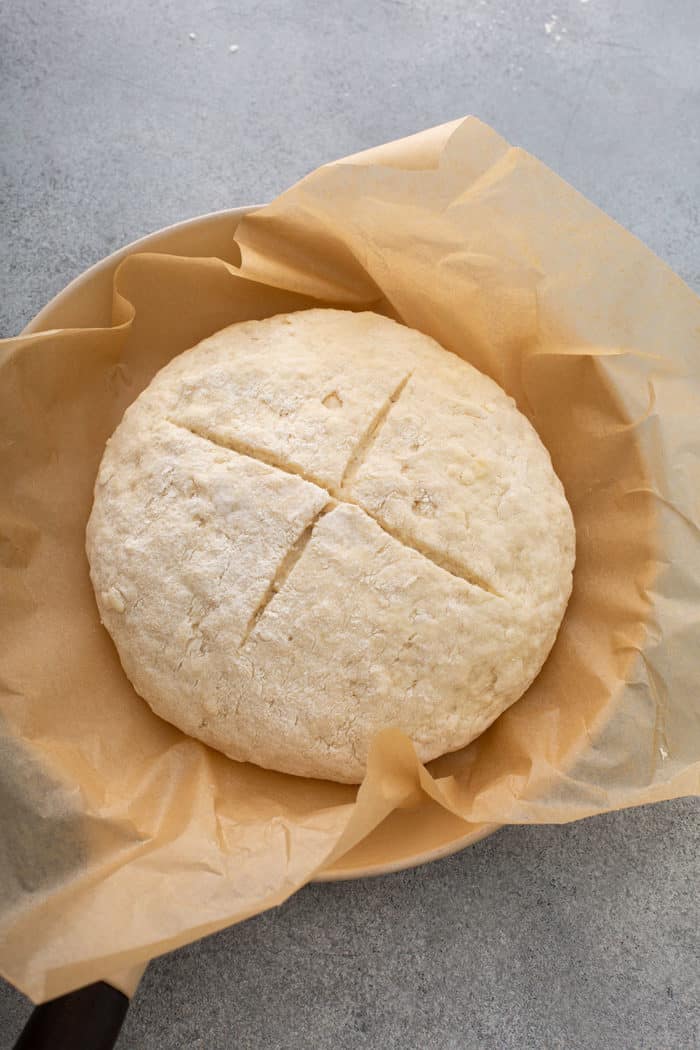 Cut a cross or an X into the top of the loaf with a sharp knife and bake for 45-50 minutes. The bread is ready when it is golden and sounds hollow when it is tapped.
Let the bread cool slightly before cutting. I know you're really supposed to let bread cool completely before you slice it, but honestly – who can resist a slice of bread still warm from the oven?!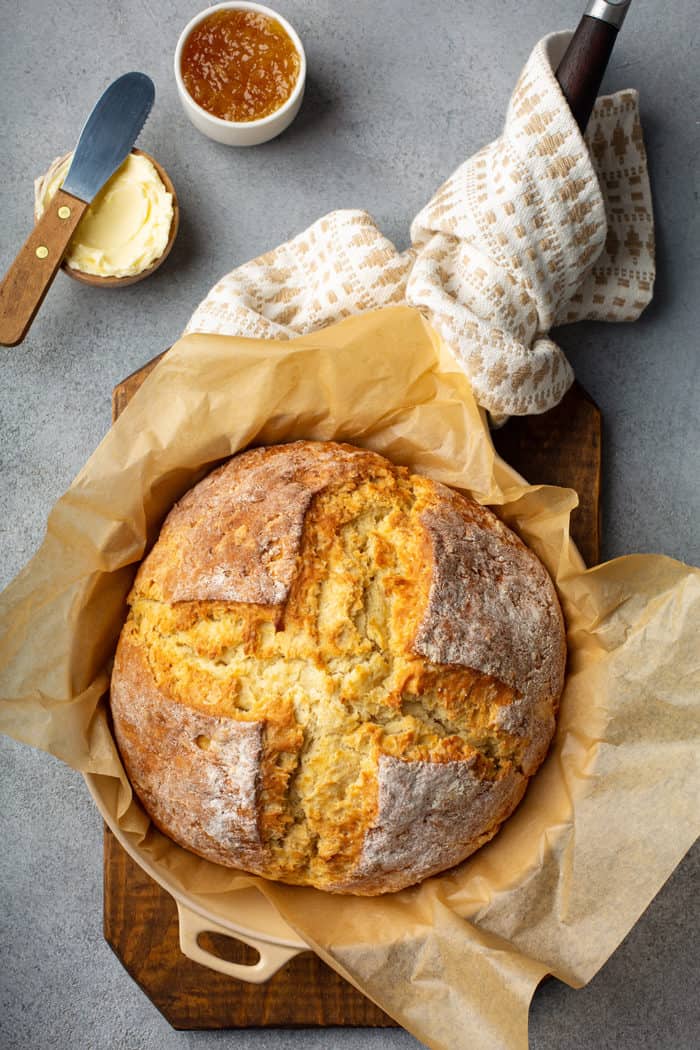 HOW TO SERVE THIS BREAD
So exactly how do you serve Irish Soda Bread?
I love to serve a loaf of this bread alongside Guinness Stew or Beef and Barley Stew.
It is also delicious when slathered with lots of butter and topped with your favorite jam. If you're not a big jam person, try sprinkling some flakey salt on top of the buttered bread. I promise, it'll be life-changing!
Irish Soda Bread may be a St. Paddy's Day favorite, but this is a recipe you'll enjoy year-round.