Cool, creamy, and full of nutty pistachio flavor, this Layered Pistachio Pudding Dessert is both delicious and beautiful! This is one simple dessert that your family will ask for again and again.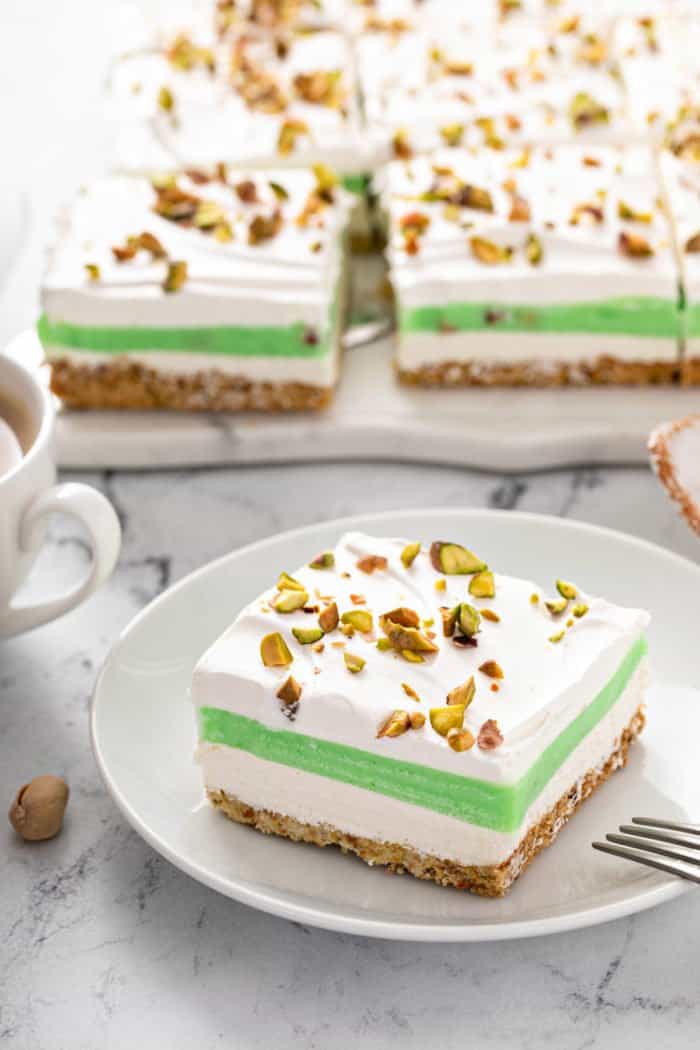 I don't know if it's the exhaustion of the last couple of years catching up with me or what, but these days I am all about desserts that impress but were super easy to throw together.
I still love baking for people and love taking desserts when we visit family and friends, but I'm definitely in a "the easier the better" phase of life.
Thankfully, I've got this Layered Pistachio Pudding Dessert recipe in my back pocket. It's one of those desserts that people always love and always ask for the recipe, but it's so easy that I can throw it together in about 45 minutes.
And really, that's just a win for everyone.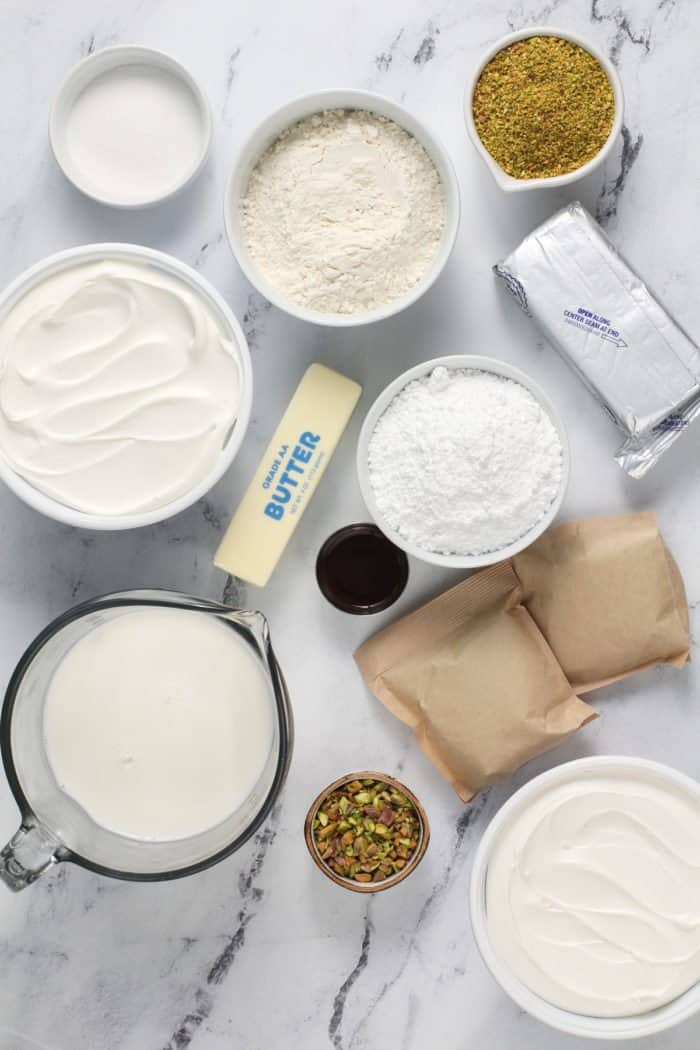 WHAT IS PISTACHIO PUDDING DESSERT?
You took the best things about no-bake cheesecake, eclair cake, vanilla pudding, and watergate salad and put them all together, you'd end up with this pistachio pudding dessert.
This no-bake-adjacent dessert is made up of 4 perfect (yet totally simple) layers:
A pistachio crust
A sweetened cream cheese layer
A pistachio pudding layer
A Cool Whip topping with crunchy chopped pistachios
I call this "no-bake adjacent" because you do bake the crust – but that's the only thing you bake! And while you could make this with a graham cracker crust, taking the time to bake the pistachio crust is totally worth it for the texture and added pistachio flavor.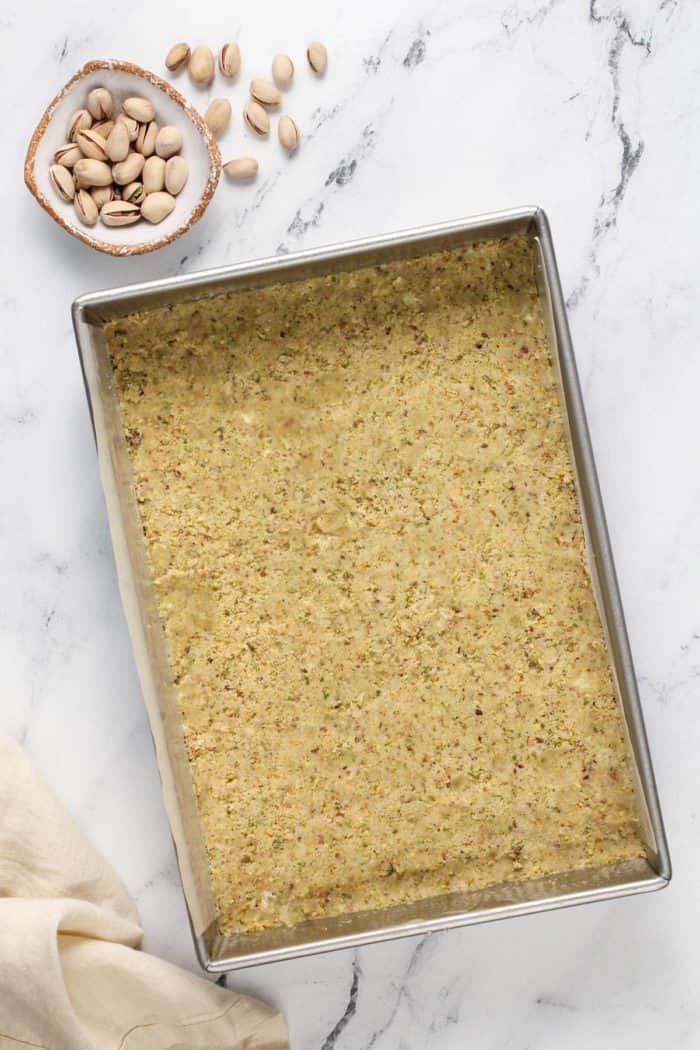 In fact, I could totally just eat this crust all on its own and be happy. But that's just me!
Once you bake the crust, everything else gets layered on top and chilled, so your oven will probably only be on for about 30 minutes total.
The end result when you cut into this dessert is an impressive one. You'll see each of the layers, with the lovely green from the pistachio pudding in the middle.
If you ask me, layered desserts (like brownie trifle) always make a statement, so this is definitely a recipe you'll want to make when you have company over. No need to admit to them that it was super easy to make!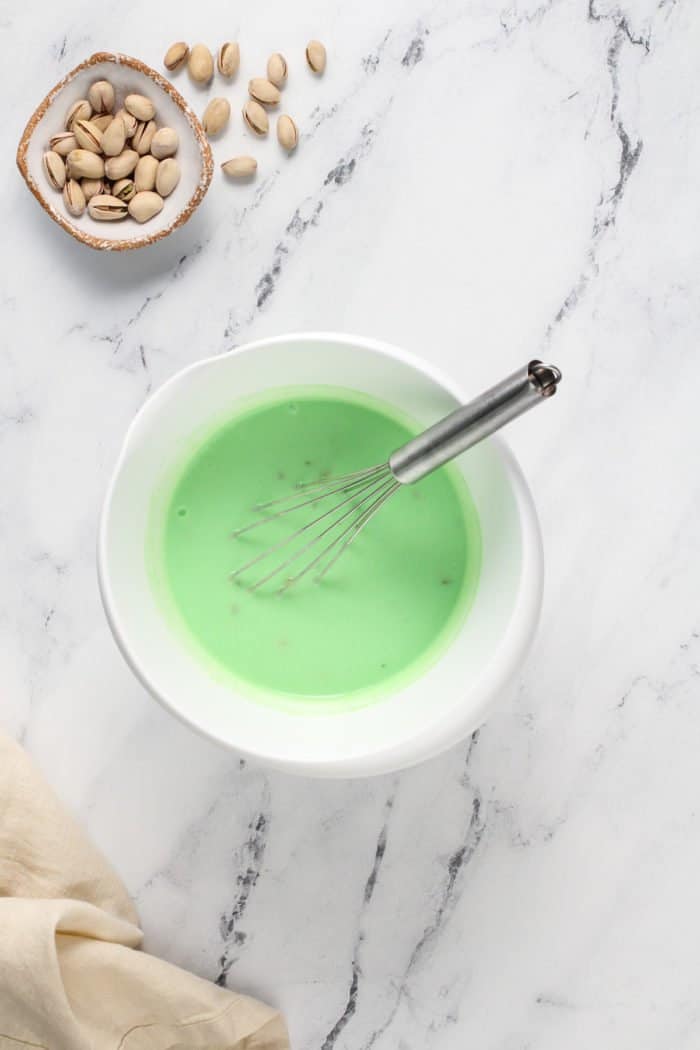 HOW TO MAKE THIS RECIPE
I'll walk you through making each of the layers, but you'll soon see for yourself how easy this recipe is to make.
Ingredients you'll need
Even though there are 4 layers in this pistachio pudding dessert, a few of the ingredients overlap, so there aren't a lot of things you'll need to buy.
You'll need:
Chopped pistachios: Shelled, chopped pistachios add some great pistachio flavor and a lot of texture to this dessert. We'll use them in both the crust and as a topping.
All-purpose flour: Make sure you know how to measure flour properly so your crust turns out perfect every time!
Granulated sugar: We'll only need a small amount of granulated sugar for the crust; making the crust a bit less sweet helps to balance the sweetness of the other layers.
Unsalted butter: Butter holds the crust together and adds a rich, buttery flavor that is hard to beat.
Cream cheese: Make sure the cream cheese for the cream cheese layer is at room temperature before you start mixing it together. Learn how to soften cream cheese if you need some tips for doing this quickly!
Powdered sugar: Powdered sugar works best in the cream cheese layer. You can learn more about the types of sugar if you aren't sure about the difference between granulated sugar and powdered sugar.
Vanilla: It's rare for me to make a dessert that doesn't have vanilla in it. It adds so much depth to anything it's in!
Frozen whipped topping: We'll use thawed whipped topping in both the cream cheese layer and on the top of the dessert. You can use any frozen whipped topping you like best for this.
Instant pistachio pudding mix: I like to use instant pistachio pudding mix to get that beautiful green color in this dessert. You could use homemade pistachio pudding for this layer if you want, but this is definitely easier!
Whole milk: I prefer to use whole milk to make the pudding layer, and recommend you do the same. You could likely use reduced-fat milk if you need to, though.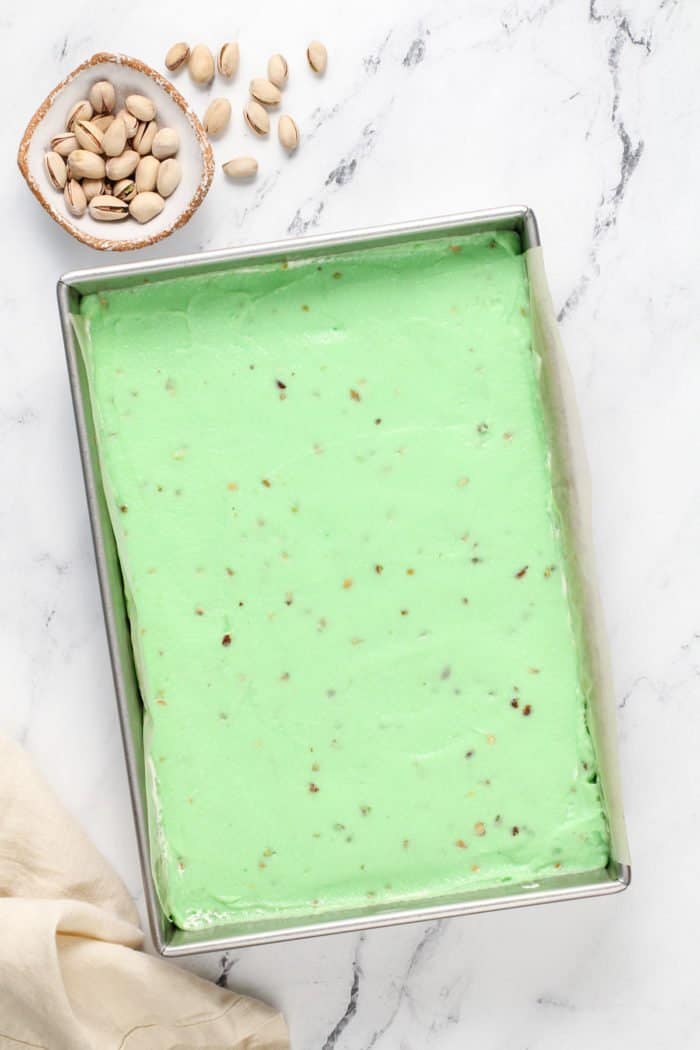 Making this simple dessert
Making the crust layer is probably the most difficult part of this pistachio pudding dessert recipe, and it's really not hard at all!
Using a stand mixer with the paddle attachment, combine all of the crust ingredients until you have a crumbly dough. You can also use two forks or a pastry blender to do this if you don't have a mixer.
Press the dough evenly into a greased 13×9-inch pan and bake the crust for about 12-15 minutes. Make sure you let the crust cool completely before you move on to the next layers!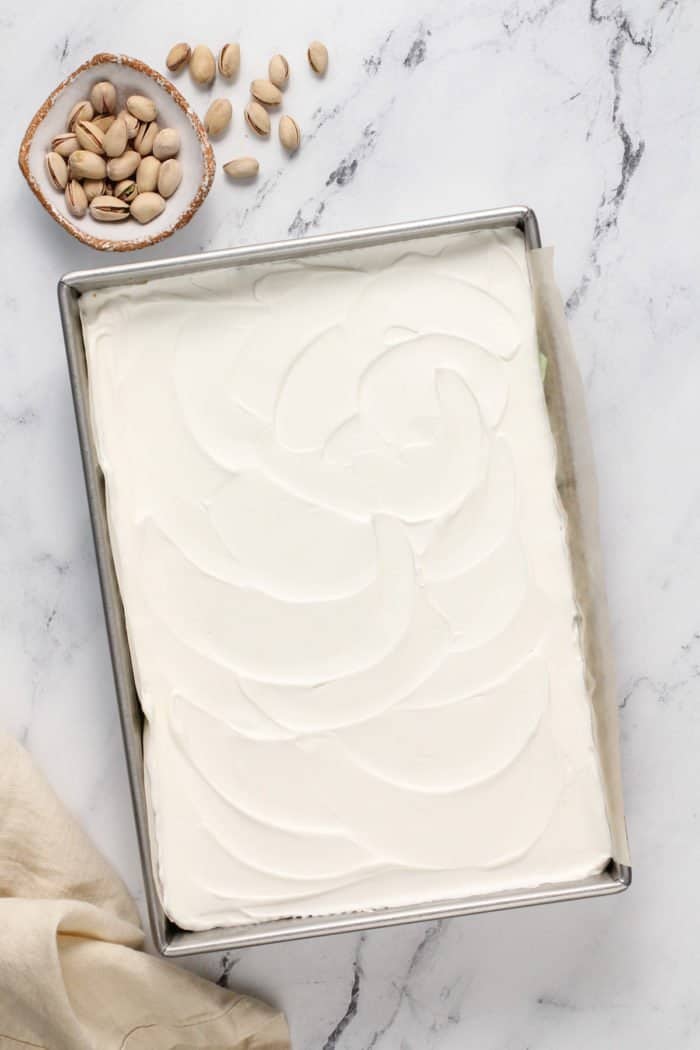 Once your crust has cooled, make the cream cheese layer by beating together the cream cheese, powdered sugar, and vanilla extract. Once that is smooth and creamy, fold in a container of the whipped topping.
Spread this layer evenly over the crust.
Whisk together the pudding mixes and milk and let this thicken for about 5 minutes before you spread it on top of the cream cheese layer.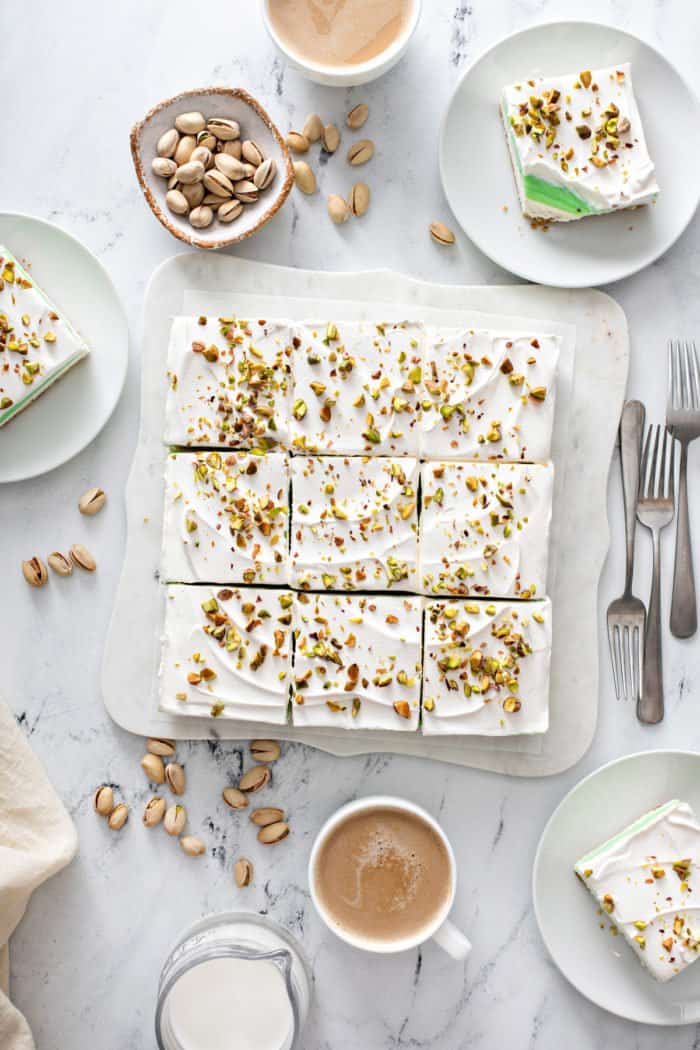 To finish, spread the remaining Cool Whip on top, then refrigerate the whole dessert for at least 6 hours.
Right before serving, sprinkle on the rest of the chopped pistachios. Wait until serving to add these so they don't become soft!
And that's it! A simple yet delicious pistachio pudding dessert that I know will make all of your friends ask for the recipe.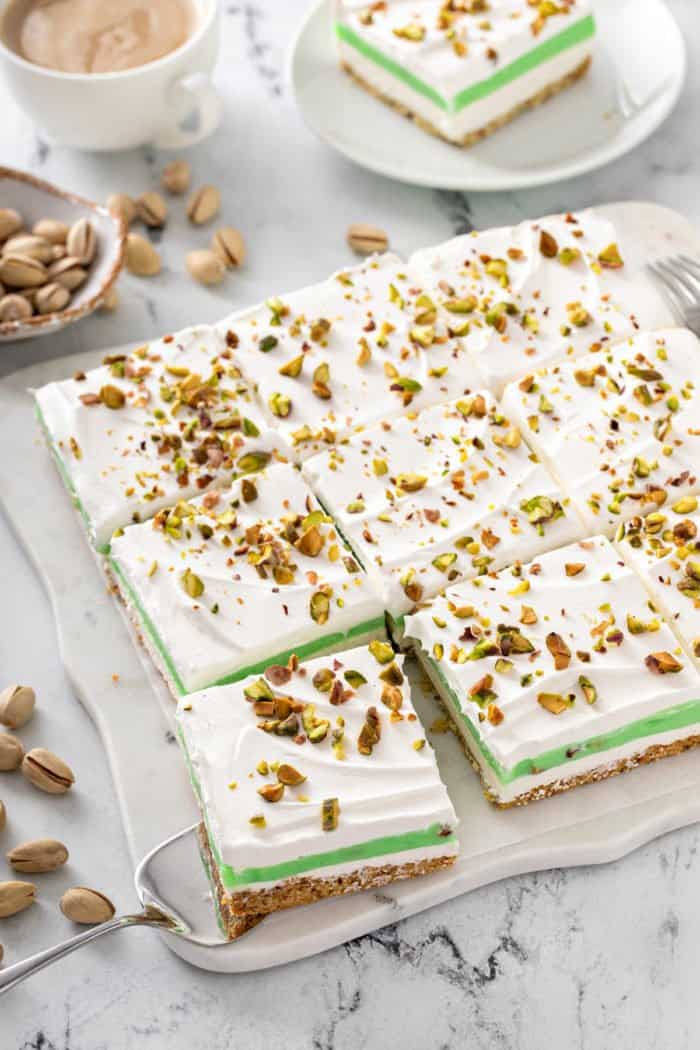 MORE PISTACHIO PUDDING DESSERT RECIPES
Do you love pistachio desserts and want more ways to use pistachio pudding mix? Give these pistachio pudding dessert recipes a try!