Ever since I was kid I've had a mild obsession with all things pistachio. Early on, I think I was intrigued by the bright red hued shells that would dye my fingers – I also think there was a sense of accomplishment with every shell that I successfully cracked open without my mom's assistance.
During my childhood, my mom didn't have a extensive baking repertoire – she bakes a lot more now – but the things she did make were absolutely adored by my brother and I. Our favorite was her No Bake Pistachio Pie. Honestly, it could be easier – a graham cracker crust, pistachio pudding and Cool Whip.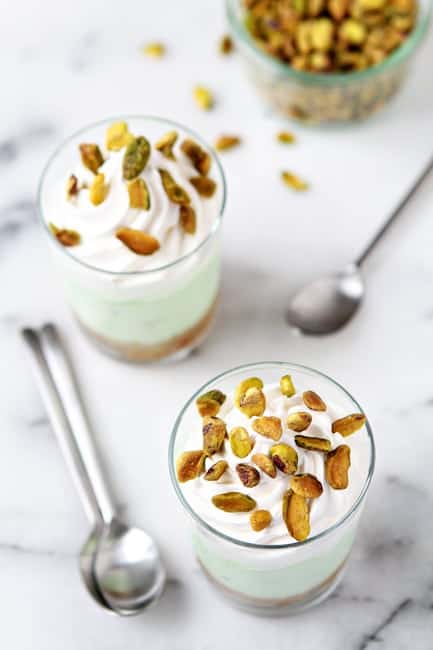 Regardless of the ease of preparation, Jared and I would each hover over the mixing bowl waiting to lick one of the electric mixer beaters. And we'd ask at least one million times, "Is it done yet?" while the pie set up in the fridge.
Deliciously creamy layers of graham cracker crust, pistachio pudding, whipped topping and chopped pistachios equal dessert perfection in my book. I jazzed it up a bit by layering it in mini parfait glasses as opposed to traditional pie form.
This simple, sweet, and nutty dessert will forever remind me of my mom and I still love it as much at 34 as I did at 8. Do you have a dessert like that?
Pistachio Pudding Parfaits
A simple combination of graham crackers, pistachio pudding and whipped topping layered in mini parfait glasses.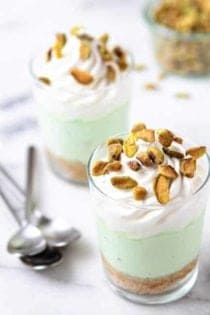 Ingredients:
FOR THE CRUST
6 full graham crackers
2 teaspoons sugar
2 tablespoons unsalted butter, melted
FOR THE PISTACHIO PUDDING LAYER
3.4 ounce box instant pistachio pudding mix (I used Jell-o brand)
1 3/4 cups cold milk
1 cup frozen whipped topping (Cool Whip), thawed (see not below)
FOR THE GARNISH
additional whipped topping
chopped pistachios
Directions:
1. In a food processor or blender, pulse graham crackers and sugar until you create fine crumbs. Remove the crumbs to a medium bowl and drizzle the butter on top of them. Use a fork to combine the butter and graham cracker crumbs. Evenly distribute the crumbs into the bottoms of your serving dishes and gently press them down to create an even crust layer. Since I used small glasses (they're from Ikea by the way) I used the bottom of a glass spice jar to press my crumbs. Set aside.
2. In a medium bowl, combine box of dry pudding mix and milk, whisk for a few minutes. Cover and place in the refrigerator for about 30 minutes.
3. Remove pudding mix from refrigerator and gently fold in 1 cup whipped topping until no white streaks remain. Spoon or pipe pudding mixture into your serving dishes. Cover and refrigerate for at least one hour or until ready to serve.
4. Just before serving, top with additional whipped topping and chopped pistachios.
Notes:
- You can find frozen whipped topping (Cool Whip) in the freezer section of your grocery store. If you are not a fan of Cool Whip, Whole Foods sells a great alternative called Truwhip. It's free of high fructose corn syrup, hydrogenated oils, trans fat and gluten.
- Both the glass cups and spoons were purchased at Ikea.
- Parfaits are best the day the are made, but can be made 1 day in advance and stored in the refrigerator.
My Baking Addiction
All images and text ©
Follow Jamie on Instagram. We love to see what you're baking from MBA! Be sure to tag @jamiemba and use the hashtag #mbarecipes!