Classic cake donuts are a delicious weekend treat. Coat them in cinnamon sugar or powdered sugar or top them with your favorite glaze and colorful sprinkles.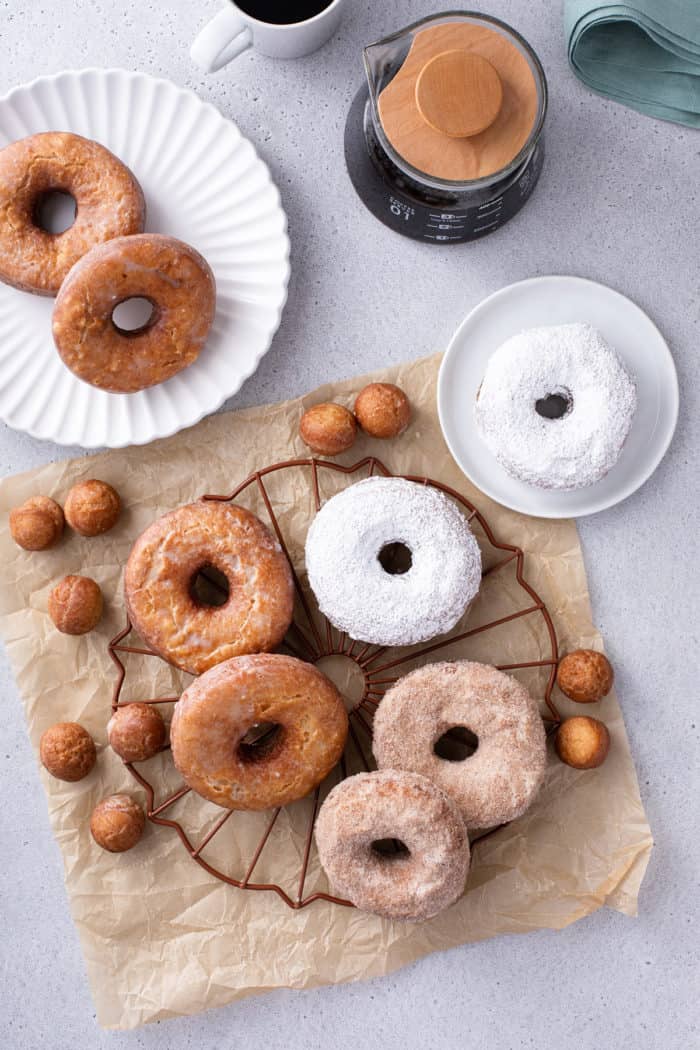 This post contains affiliate links.
Weekends are the best for a lot of reasons. One of those is getting to have a fun treat for breakfast.
Once I've had my coffee, weekend mornings are the perfect time to throw together a pan of cinnamon rolls with heavy cream, Bisquick waffles, or even a batch of classic cake donuts.
As much as I love to stop by the local donut shop, sometimes we just want homemade donuts, ya know? And these cake donuts always hit the spot, especially when we coat them in a variety of sugars and glazes and sprinkles.
If your family lives for their weekend breakfasts, you've gotta give these cake donuts a try.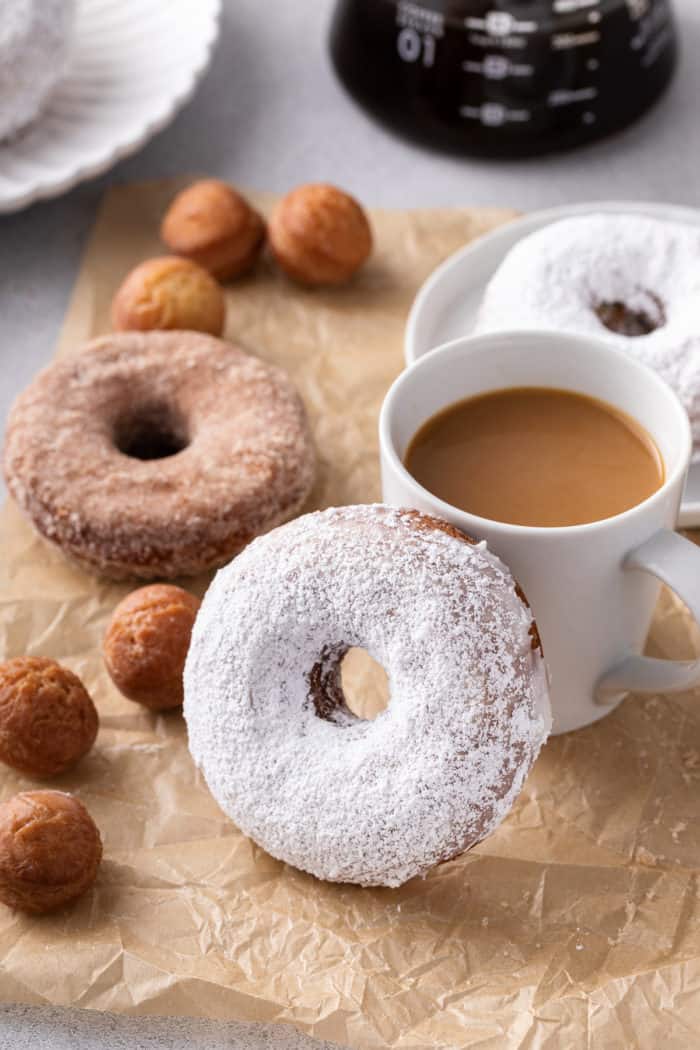 CAKE DONUTS VS YEAST DONUTS
If you love donuts, you probably know that there are two main types of fried donuts: cake donuts and yeast donuts.
Yeast donuts are made with a yeasted dough that typically has to go through two rises before the donuts can be fried. Yeast donuts are super light and airy in texture.
The ever-popular Krispy Kreme doughnuts are an example of a yeast donut.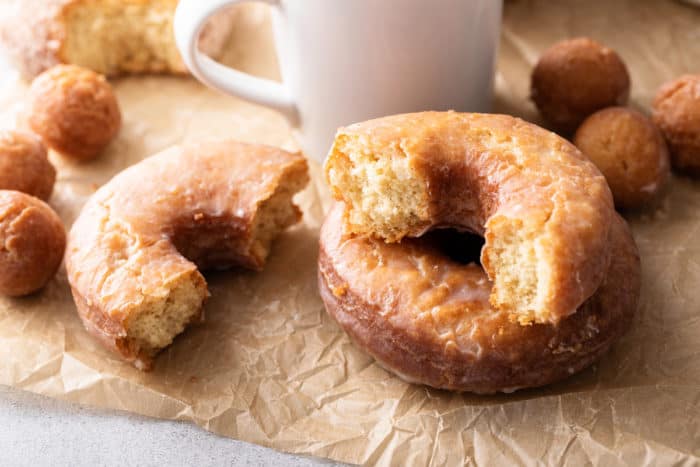 Cake donuts, on the other hand, do not contain any yeast. Instead, they are leavened with baking powder and/or baking soda and do not need to rise before frying.
Cake donuts get their name from their cake-like taste and texture after frying.
There are a ton of different types and flavors of cake donuts, including apple cider donuts.
Today we're going to talk about classic cake donuts – a delicious base you can top in so many ways!
(Psst! Wondering about baked donuts? Most of them, like peppermint mocha donuts, are a type of cake donut, but are baked instead of fried for a slightly different result.)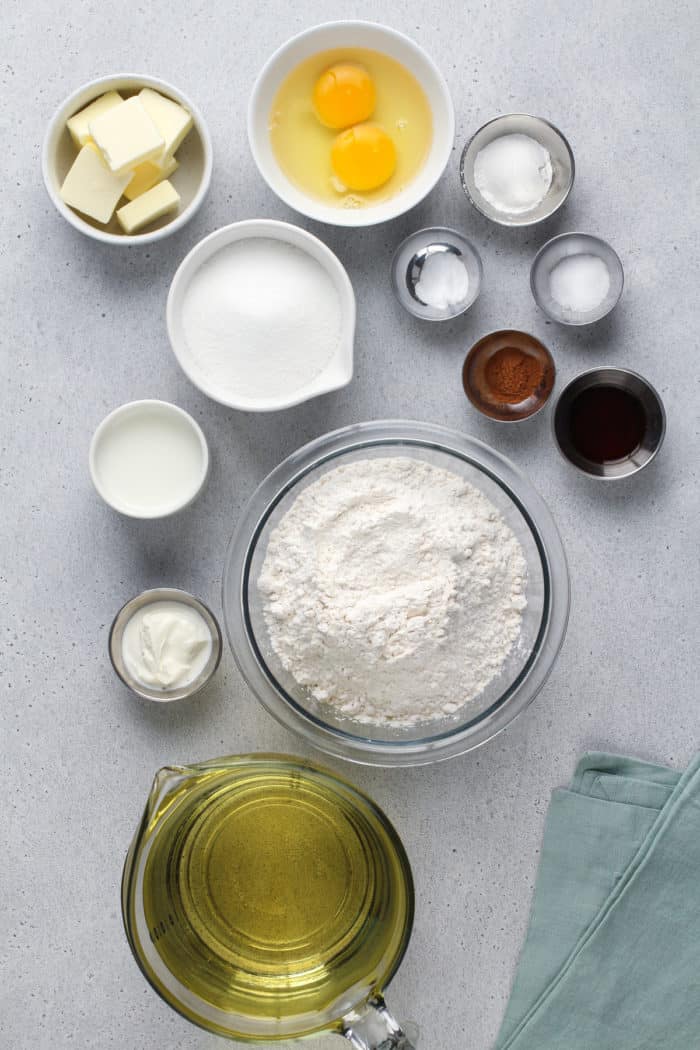 HOW TO MAKE CLASSIC CAKE DONUTS
If you've never fried donuts before, don't be intimidated. You just need to make sure you have a few key pieces of equipment and you'll be good to go!
Equipment for frying donuts
To fry any kind of donut, I recommend having:
Donut cutter or circle cutters in various sizes: To cut out your donuts and the donut holes.
Dutch oven or other heavy-bottomed pot: A heavy-bottomed pot will help the frying oil heat more evenly, so your donuts fry more evenly.
Frying/candy thermometer: I always recommend using a fry thermometer just to keep an eye on the temperature of your fry oil.
Wire spider and/or wooden chopsticks: These will help you turn the donuts in the cooking oil and remove them when they're done.
Paper towels: To help drain the donuts of excess oil after frying.
Sheet pan with a wire rack: To help drain the donuts after frying and to give you a place to rest the donuts after glazing them (optional).
This might sound like a lot of stuff, but you can absolutely use all of these things for other recipes!
Circle cutters are great for cutting out biscuits or sugar cookies. Use your dutch oven to make your favorite soup recipes. Have your candy thermometer handy for recipes like peanut brittle.
Once you have a well-stocked kitchen, you'll be surprised how many things you can make with the set of tools you have!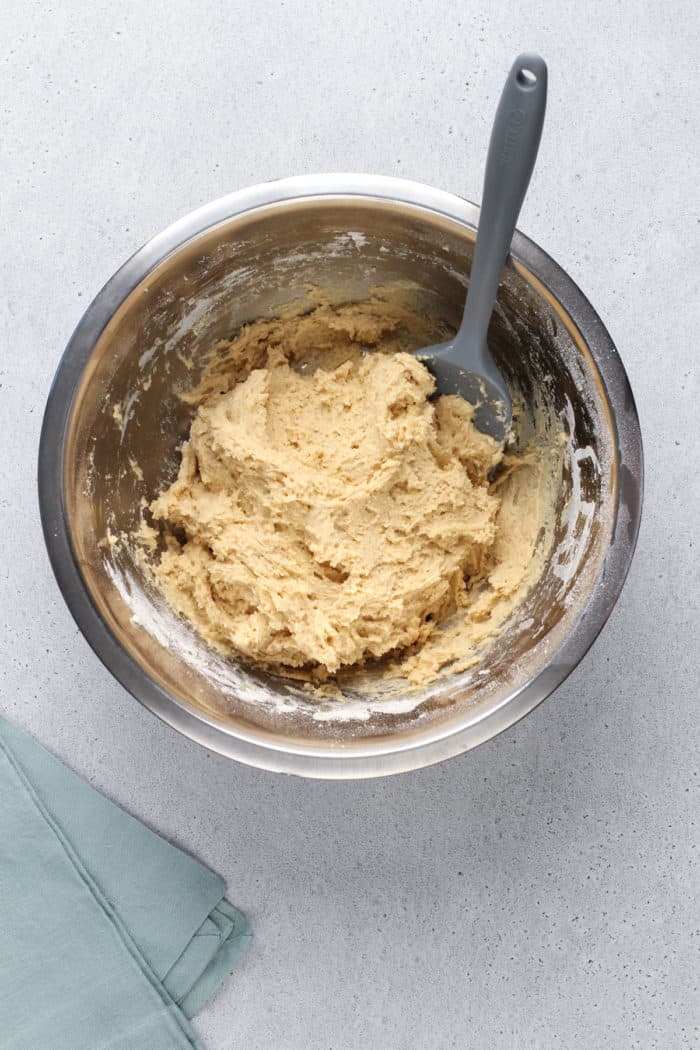 Making this recipe
This recipe happens in 3 parts:
Make the dough
Fry the donuts
Coat or top the donuts, if desired
To make the dough, grab your electric mixer and cream the butter and sugar together. Add in the eggs and vanilla until well combined.
In a separate bowl, whisk together the flour, baking powder, baking soda, salt, and cinnamon. In a measuring cup, whisk together the milk and the sour cream.
Now, just like when making a cake, alternate adding the dry and wet ingredients to the butter mixture, beginning and ending with the dry ingredients. You'll end up with a soft but workable dough.
Turn the dough out onto a floured surface. Dust the dough lightly with flour and knead it a few times, just to bring it into a ball.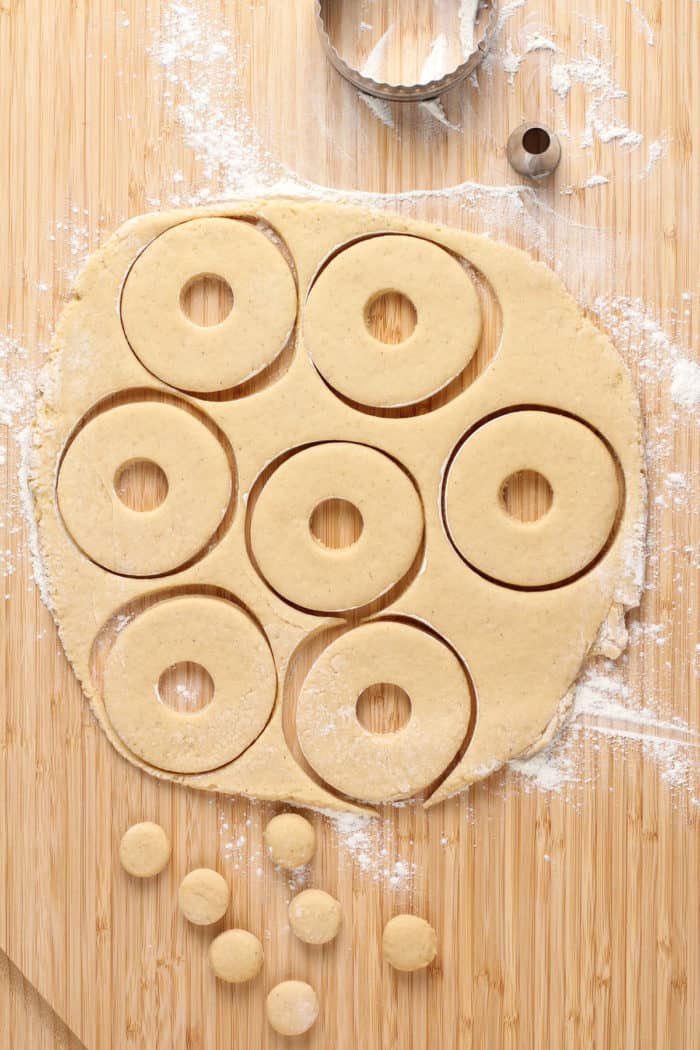 Roll the dough out to ⅓-inch thickness and use your cutters to cut out donut shapes. I recommend dipping the cutter(s) in flour as you go to prevent sticking.
Re-roll the dough scraps as needed to cut all of the dough into your donut shapes.
While you're cutting out your dough, you can start heating the oil in your dutch oven. Heat the oil to 375°F.
Before you start frying, lay out some paper towels on top of your sheet pan, then place the wire rack upside-down on top of the paper towels. This will pull excess oil away from the donuts without letting it soak back into them.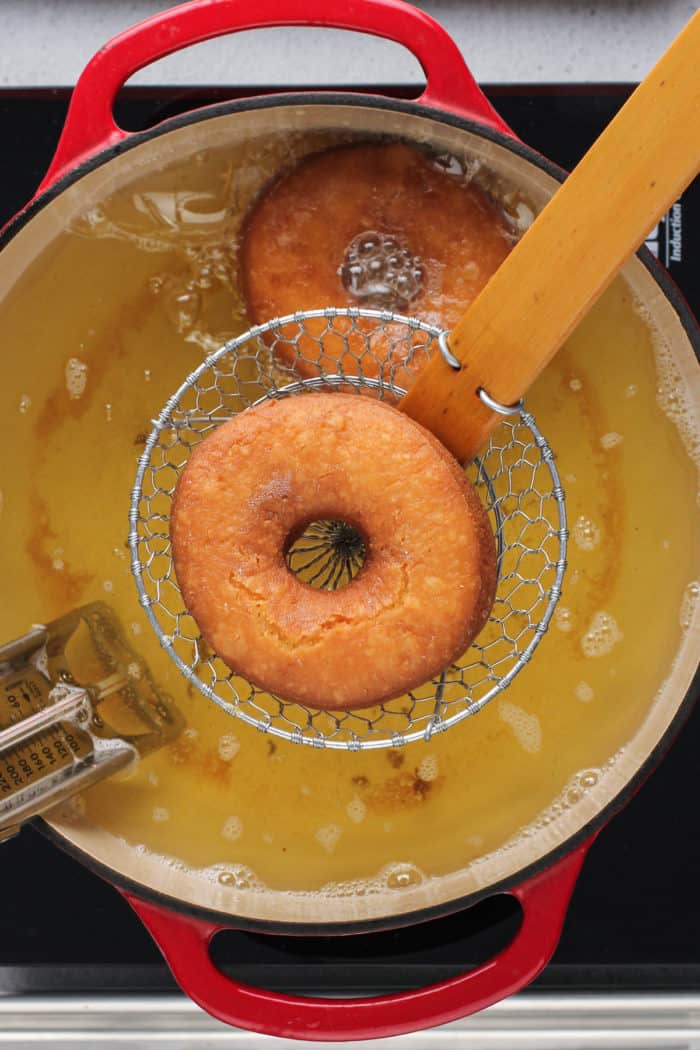 Carefully add a couple donuts at a time into the oil. Cook for about 2 minutes per side, flipping halfway through with the chopsticks or your wire spider.
Use the spider or chopsticks to carefully remove the cooked cake donuts from the oil. Let the excess oil drip back into the pot for a moment before setting them on the waiting cooling rack.
Repeat the cooking process for all of the donuts and holes. The holes will cook very quickly; they only need about 1 minute per side to cook.
Once the donuts are fried, you can think about how you'd like to top them!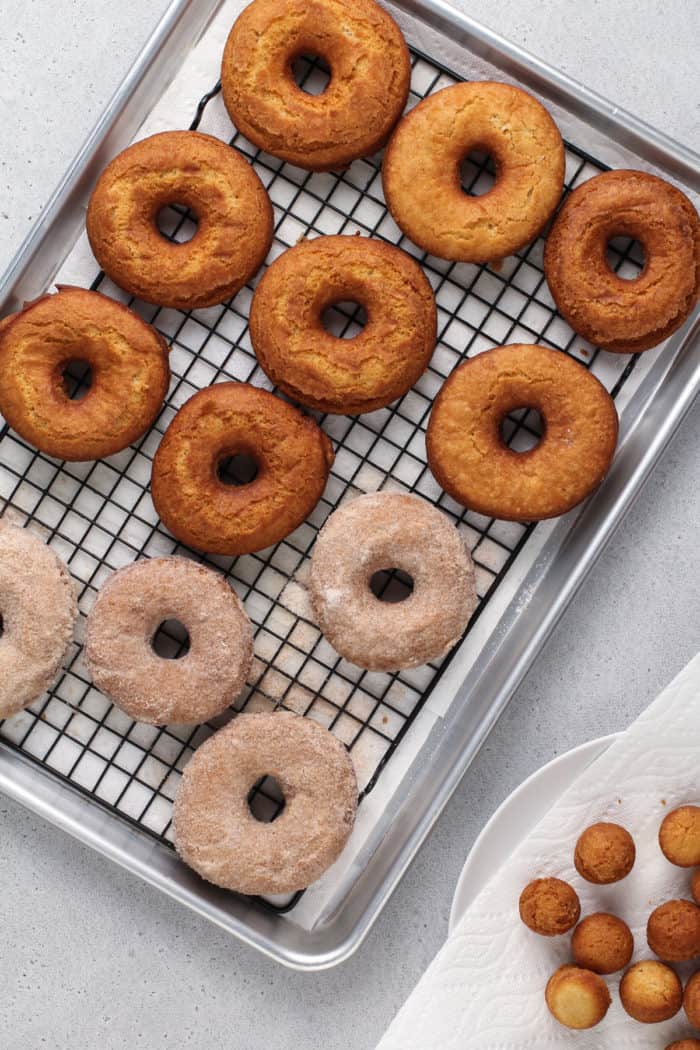 CAKE DONUT TOPPING IDEAS
There are a few different ways I like to top my finished cake donuts. You can coat them with cinnamon sugar, dredge them in powdered sugar, or finish them with a chocolate or a vanilla glaze.
To coat with cinnamon sugar:
Whisk together granulated sugar and cinnamon in a shallow bowl.
Once the donuts come out of the fryer, drain and let cool for 3-4 minutes. While donuts are still warm, but not too hot to touch, coat with the cinnamon sugar. Set on a clean rack to finish cooling.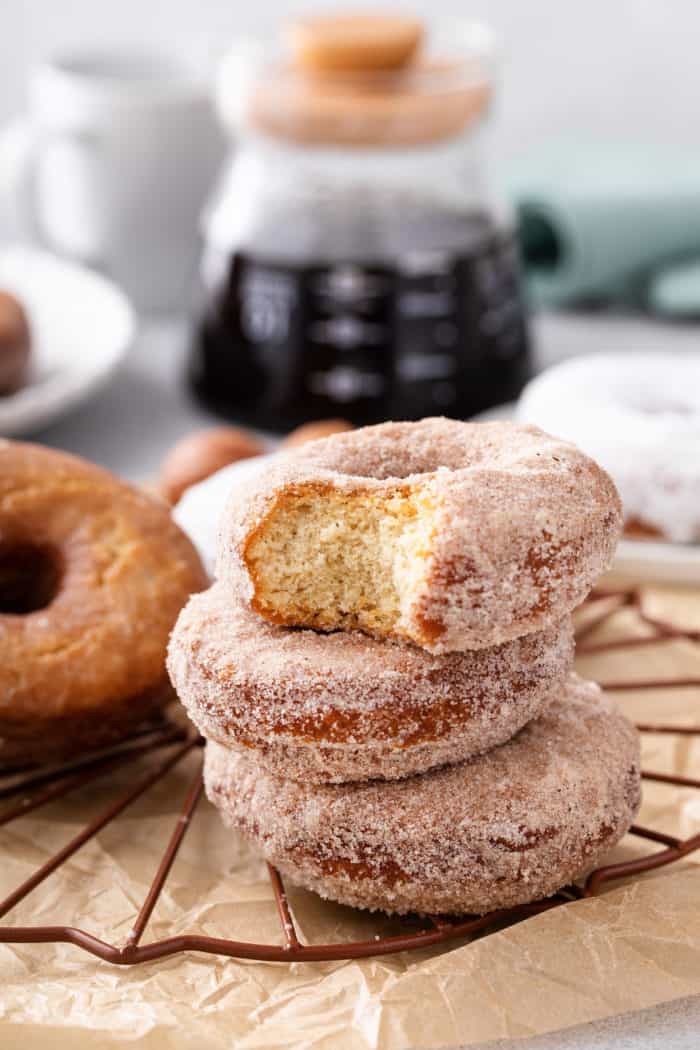 To coat with powdered sugar:
Let the cake donuts cool completely. Place some powdered sugar in a shallow bowl. Coat each donut with the powdered sugar.
If you find you have run out of powdered sugar, learn how to make powdered sugar so you always have a quick substitute at your fingertips!
To coat with vanilla or chocolate glaze:
Let the donuts cool completely. Whisk together the glaze of your choice. I like to use the vanilla glaze from my homemade doughnuts or the chocolate glaze from my chocolate-glazed donuts.
Dip the tops of the donuts in the glaze, then place on a cooling rack set over a sheet pan or a piece of waxed paper to allow excess glaze to drip off. Top with sprinkles while the glaze is still wet, if desired.
No matter how you choose to top them, these classic cake donuts are sure to be a hit with your family as the perfect weekend treat.