Apple cider donuts are loaded with delicious fall flavors and will remind you of trips to the apple orchard. Celebrate the season with this old-fashioned treat the whole family will adore!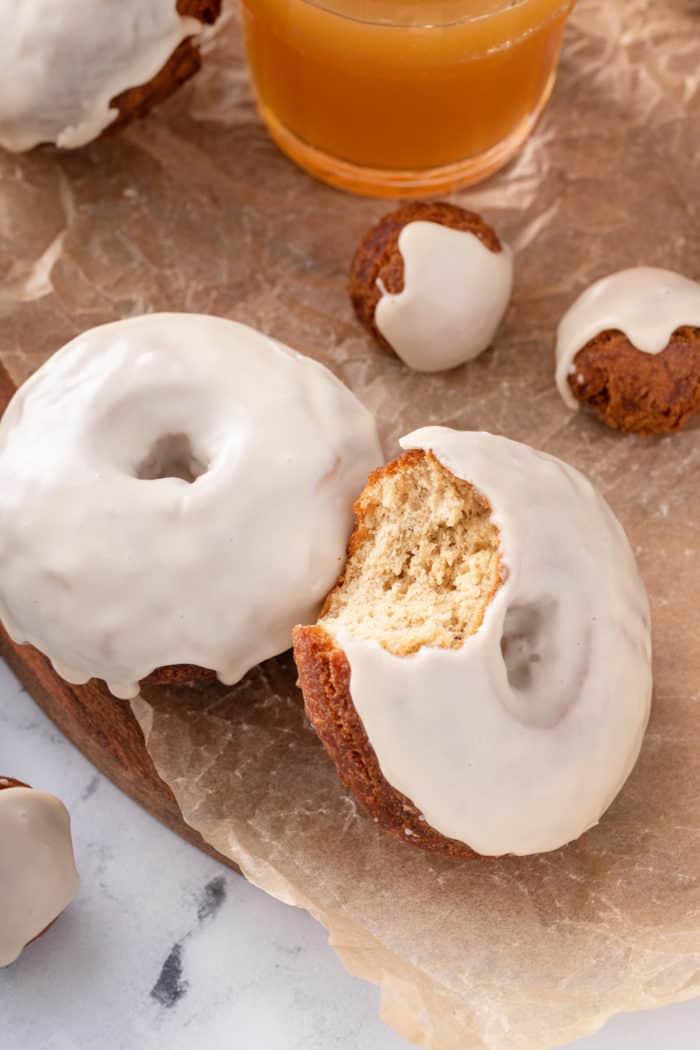 This post contains affiliate links.
It's finally chilly here in Ohio, which means it's almost time for sweater weather, fall decorating, and pumpkin spice everything.
I may have put out all my fall decor weeks ago, but I'm so glad it's finally appropriate now. I couldn't wait anymore!
One of my absolute favorite things about fall is our annual trip to the orchard. We round up the family to spend the afternoon together picking apples, going on hay rides, and winding our way through the corn maze.
And although I adore all of those things, my absolute favorite thing about our day at the orchard are warm apple cider donuts served up with a piping hot cup of spiced apple cider.
These sweet apple cider donuts are everything you want in a fall treat. Whip them up before a chilly day out enjoying the fall leaves, or make them at night to go with a fun fall movie and some popcorn.
I can't imagine a more cozy evening!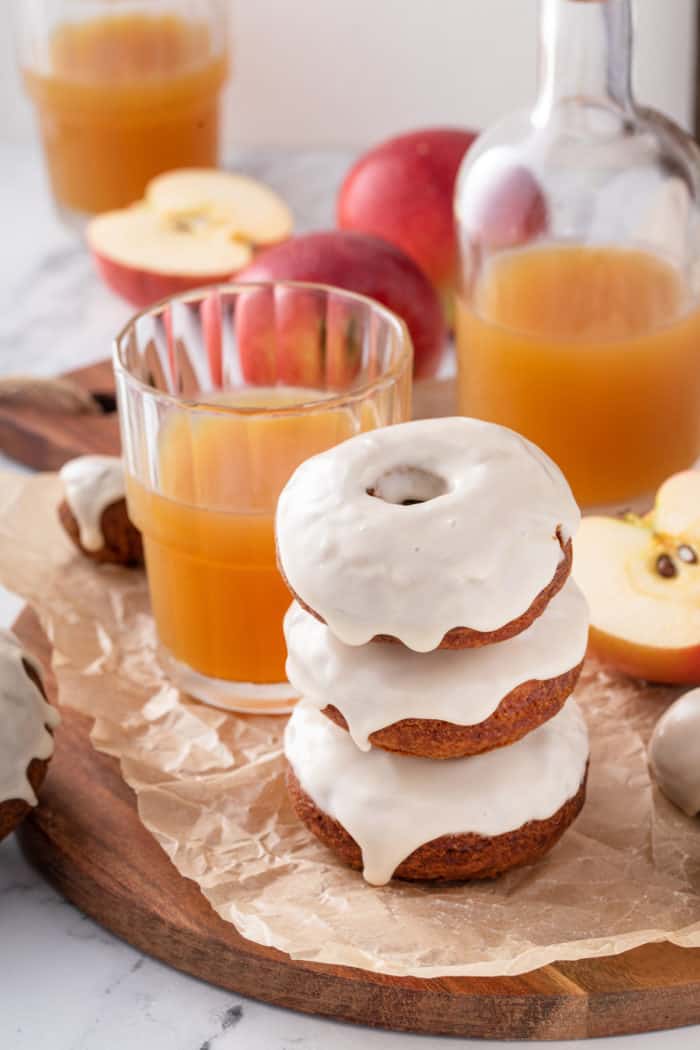 WHAT ARE APPLE CIDER DONUTS?
If you grew up taking trips to the apple orchard, pumpkin patch, and/or corn maze each fall, you probably enjoyed apple cider donuts as well.
These sweet treats appear each fall. Like chocolate glazed donuts, they are a cake donut flavored with sweet apple cider and often coated with cinnamon sugar.
The secret to apple cider donuts is boiling high quality apple cider until it becomes syrup-like in texture. This process really concentrates the rich, deep flavors of the cider and makes for an ultra-flavorful donut.
And although these donuts are pretty great with a toss in cinnamon sugar, I had to take them a step further by dipping them into an apple cider glaze.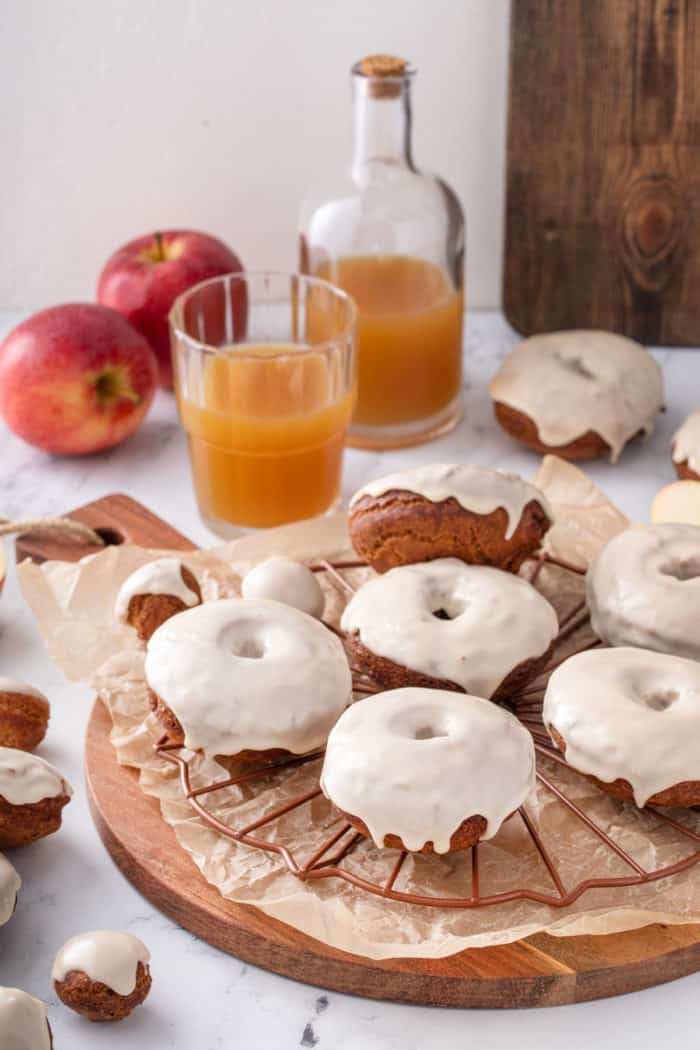 Cake donuts versus yeast donuts
There are two main types of fried donuts: cake donuts and yeast donuts.
Yeast donuts, like homemade doughnuts, are made with a yeasted dough that typically has to go through two rises before the donuts can be fried. Yeast donuts are super light and airy in texture.
Cake donuts, on the other hand, do not contain any yeast. Instead, they are leavened with baking powder and/or baking soda and do not need to rise before frying.
Cake donuts get their name from their cake-like taste and texture after frying. Old-fashioned donuts are a type of cake donut.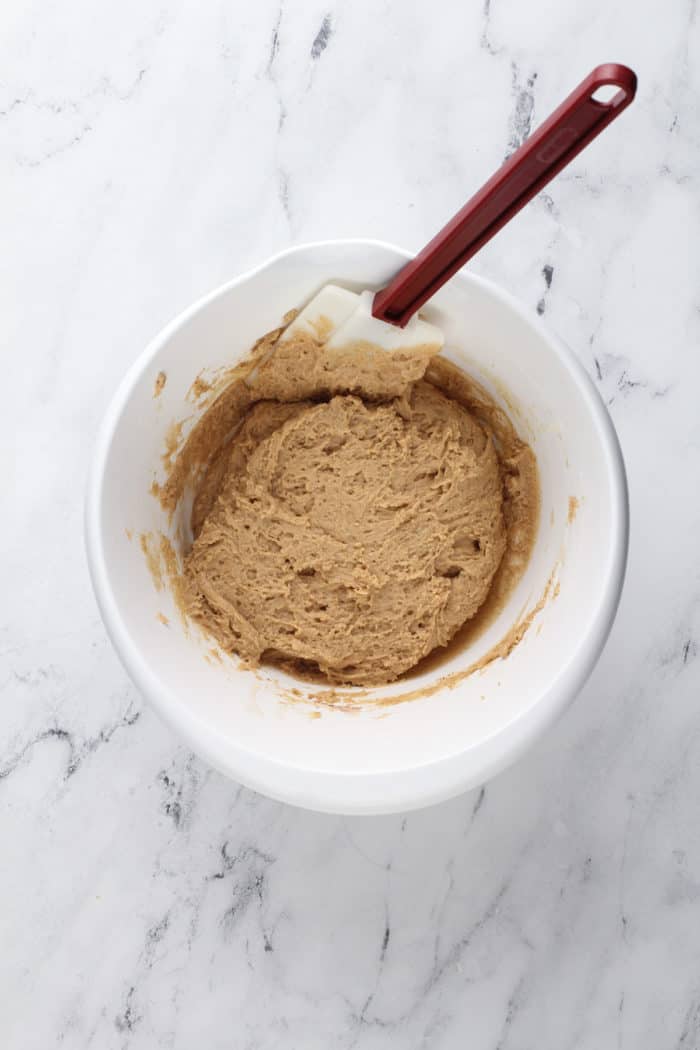 HOW TO MAKE APPLE CIDER DONUTS
These apple cider donuts are fried instead of baked and I know what you must be thinking. "Oh, but she's frying! That's scary!"
I have to tell you, though, these delectable cake-like donuts are actually way easier than you'd think.
All that frying really needs to be easy is some prep work to set up your assembly-line. With your oil ready to go, tools for flipping and pulling the donuts from the pan, and paper towels ready for draining, it becomes as easy as 1-2-3.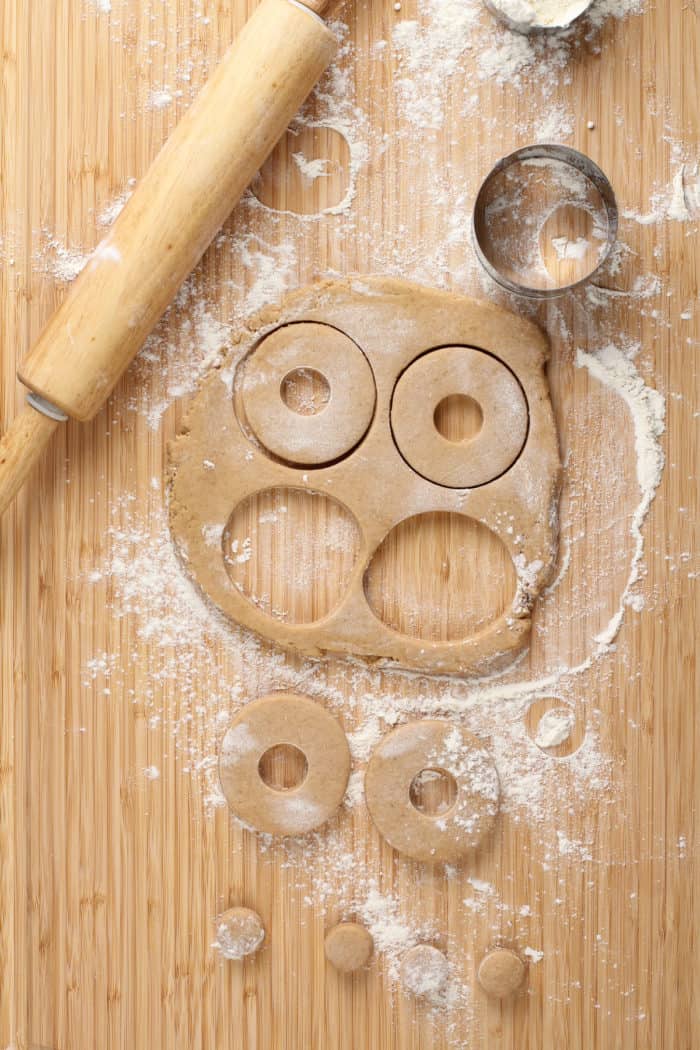 Boiling apple cider
As I mentioned, the key to making these donuts is boiling down your favorite apple cider until it becomes super concentrated. I do recommend getting a good quality apple cider if you can – the flavor will be the best and it will get nice and syrupy!
For this recipe, we'll boil 3 cups of cider until it reduces down to ¾ cup.
This process is really easy – it's literally just letting the cider boil – but will take about an hour. After it reduces, you'll need to let it cool.
This step can be done a few days ahead of time if you'd like. Just keep the boiled cider in an airtight container in the refrigerator.
If you want to skip this step entirely, King Arthur sells a Vermont Boiled Cider, which means they have already done the work for you. If you go this route, use ¾ cup in the recipe below.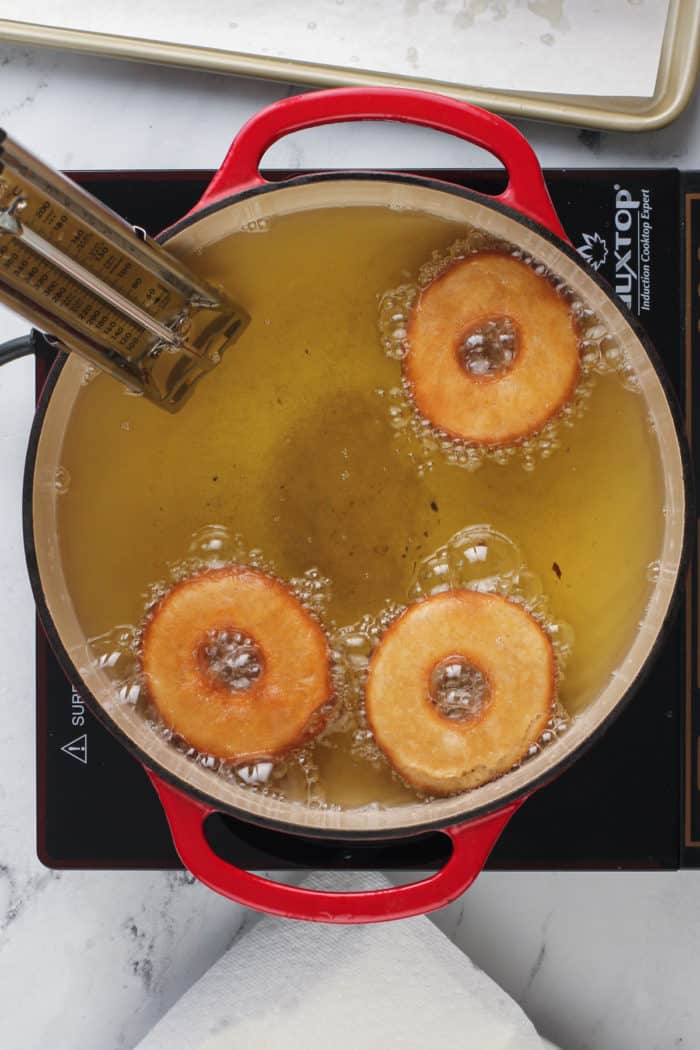 Helpful tools
Deep frying isn't that hard; you just need to have a few pieces of equipment set up and ready to go:
Donut cutter or a set of circle cutters: For cutting the donuts and donut holes. If you don't have a donut cutter, use a 3-inch circle cutter for the donuts and a 1-inch cutter to cut the holes.
Large Dutch oven or other heavy-bottomed pot: Using a heavy pot will allow for more even heating of the oil.
Fry thermometer: Using a frying thermometer will help you to keep an eye on the temperature of your oil and adjust as needed throughout the frying process.
Spider and/or set of wooden chopsticks: A spider (also known as a skimmer or strainer) is helpful for flipping the donuts and removing them from the oil. I also like to use wooden chopsticks for turning the donuts; the chopsticks can also be used to take the donuts out of the oil by putting the chopsticks through the holes in the donut.
Sheet tray with wire rack: Line the sheet tray with paper towels to remove any excess oil from the fried donuts. The donuts can then be moved to the wire rack to cool. It's also helpful to have a sheet tray that fits under the rack when you glaze the donuts – any extra glaze can drip onto the tray without getting your counters dirty!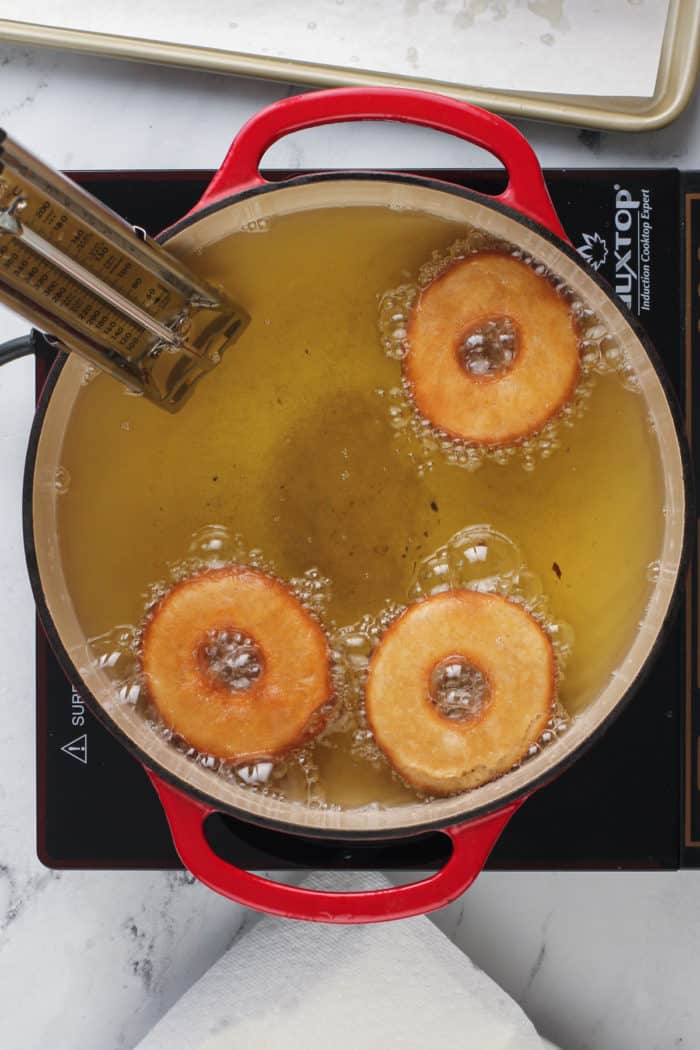 Making this recipe
Like I said above, the first thing you'll need to do is boil your cider. This will take about an hour, but you can do this ahead of time if you'd like!
You'll make the dough next. The dough needs to rest in the refrigerator for at least 4 hours, so I like to make it the night before I play to fry the donuts.
To make the dough, simply combine 2 cups of the flour with the rest of the donut ingredients and ½ cup of the reduced cider. I know it's unusual to add everything together like this, but trust me!
Beat this with a stand mixer fitted with a paddle attachment at low speed until blended, then beat on medium speed for 2 minutes.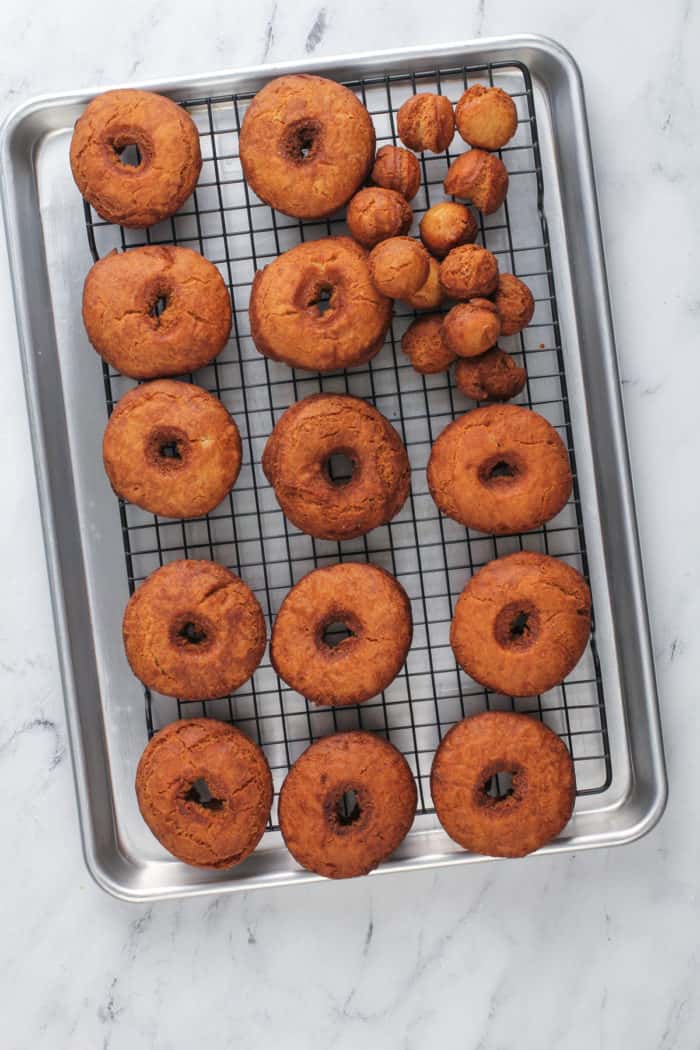 Stir in the remaining flour. The dough will be pretty sticky, but will become easier to work with after it chills in the refrigerator.
Cover the bowl with plastic or a lid and pop it in the refrigerator for 4 hours or overnight.
When you're ready to fry the donuts, heat plenty of neutral oil in your Dutch oven. You want it right around 350°F.
While the oil is heating, divide the dough in half. Roll half of the dough onto a well-floured surface; you want it to be just under ½-inch thick.
Cut out the donuts and their holes, re-rolling the scraps as needed.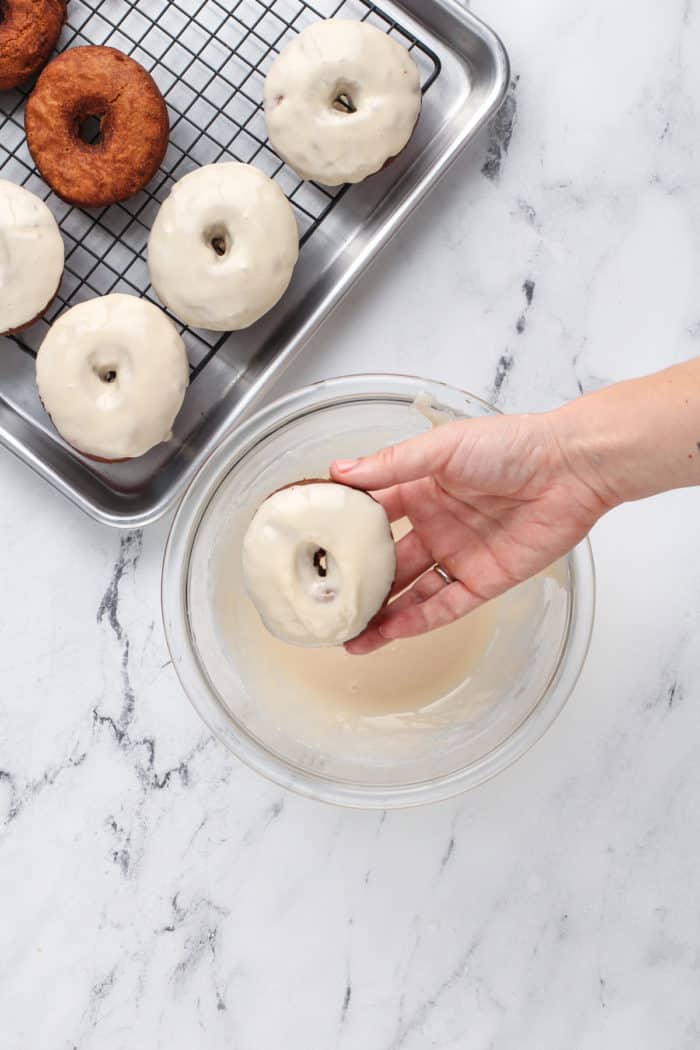 Once the fry oil is ready, fry the donuts 2-3 at a time. They will need to fry for about 1 minute to 1 minute, 15 seconds per side. The holes will only need about 1 to 1 ½ minutes total.
Remove the cooked donuts and holes from the oil – let any excess oil drip off for a few seconds, then drain them briefly on the paper towels before moving them to a wire rack.
When you're ready to glaze the donuts, whisk together the powdered sugar, the rest of the boiled cider, and a bit of milk. Dip the tops of the donuts and the holes in the glaze and set them back on the wire rack until the glaze is set.
If you dip the donuts while they are still warm, the glaze will turn more transparent. If you dip them when they are cooler, the glaze will be more opaque, like you see in the photos here. They'll taste the same (absolutely delicious!) either way!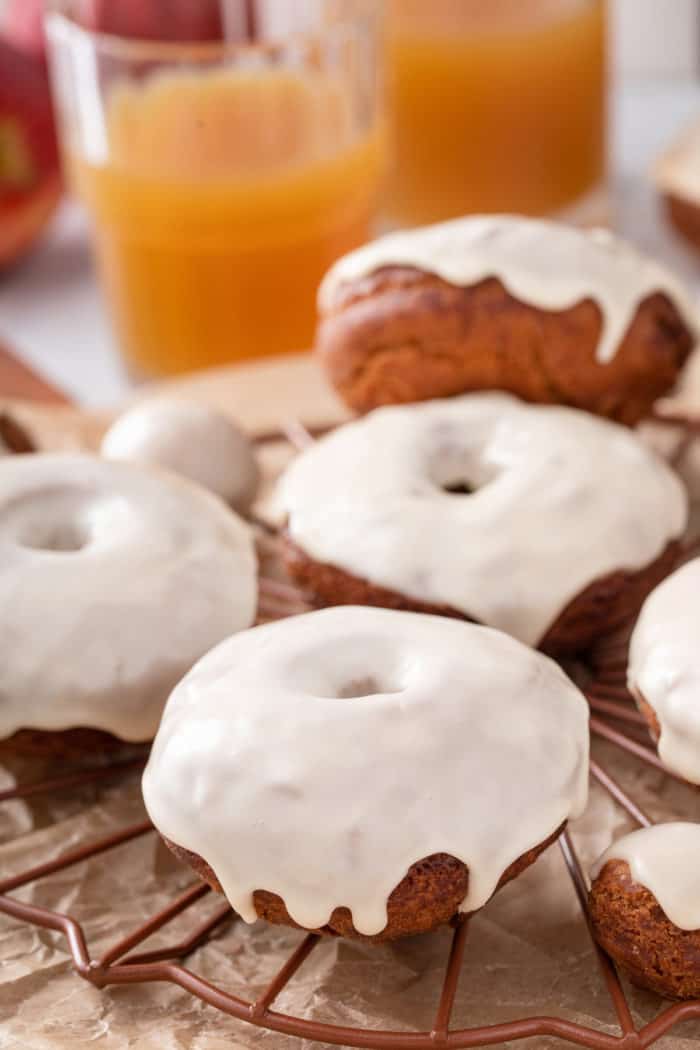 STORAGE TIPS
I find that most donuts, both from the bakery and homemade, are best the day they are made. But if you store them correctly, you can get an extra day or two out of them!
I like to store fried donuts in cardboard bakery-style boxes or in paper bags. The cardboard or paper will help draw oil out of the donuts and will keep them from getting kind of wet, like they can if you keep them in a plastic container.
I also like to pop leftover apple cider donuts in the microwave for about 15-30 seconds to warm them through. After all, who could say no to a warm donut??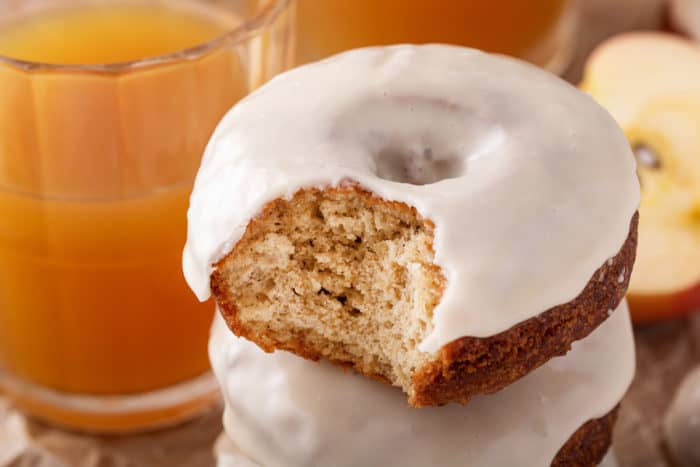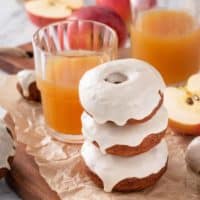 Apple Cider Donuts
Apple cider donuts are loaded with delicious fall flavors and will remind you of trips to the apple orchard. Celebrate the season with this old-fashioned treat the whole family will adore!
Print
Pin
Ingredients
For the Donuts:
3

cups

apple cider

3 ½

cups 

all-purpose flour

divided

⅔

cup

granulated sugar

2

teaspoons

baking powder

1 

teaspoon

baking soda

2

teaspoons

apple pie spice

¾

teaspoon

fine sea salt

¼

cup

unsalted butter

softened to room temperature

¼

cup

buttermilk

2

large eggs

lightly beaten

1 ½

teaspoons

pure vanilla extract

Vegetable or canola oil

for deep frying
For the Glaze:
2

cups

powdered sugar

¼

cup

reduced apple cider

1-2

tablespoons

milk
Instructions
Boil apple cider in a saucepan over medium heat until it is reduced to 3/4 cup. This will take around an hour. Cool completely.

In the bowl of a stand mixer fitted with the paddle attachment, combine 2 cups of the flour with the sugar, baking powder, baking soda, cinnamon, salt, nutmeg, butter, buttermilk, eggs, vanilla and 1/2 cup of the reduced and cooled cider. Beat at low speed until blended.

Increase speed to medium for 2 minutes. Stir in remaining flour. Dough will be sticky.

Cover the dough with plastic wrap and refrigerate for at least 4 hours or overnight.

When ready to fry, heat 2 inches of oil to 350°F in a deep fryer or Dutch oven.

While the oil heats, divide the dough in half. On a well-floured surface, roll each half to slightly less than ½-inch thickness, dusting the top of the dough with additional flour as necessary. Cut with a floured 2 3/4 to 3-inch donut cutter, re-rolling the dough scraps as needed. Reserve donut holes.

Fry 2-3 donuts at a time, 1 minute to 1 minute and 15 seconds on each side, or until golden brown. Fry donut holes 1 to 1 1/2 minutes total time. Drain thoroughly on paper towels before transferring to a wire rack set over a rimmed baking sheet.

Combine powdered sugar, reserved 1/4 cup reduced and cooled cider, and 1 tablespoon of milk in a small bowl; whisk until smooth. If the glaze is too thick, gradually add in more milk one teaspoon at a time to thin it out a bit.

Dip the tops of the donuts and the donut holes in glaze. Set the donuts back on the wire rack until glaze is set.
Notes
Because this dough becomes sticky as it comes to room temperature, I like to roll, cut, and fry half of the dough at a time, keeping the other half in the refrigerator until I am ready to work with it.
Donuts are best on the day they are made. If you have leftovers, I recommend storing them in a bakery-style cardboard box or a paper bag.
Makes about 15 3-inch donuts and donut holes.
Helpful resources:
Nutrition
Serving:
1
donut and hole
|
Calories:
277
kcal
|
Carbohydrates:
53
g
|
Protein:
4
g
|
Fat:
5
g
|
Saturated Fat:
2
g
|
Polyunsaturated Fat:
2
g
|
Cholesterol:
33
mg
|
Sodium:
280
mg
|
Fiber:
1
g
|
Sugar:
29
g
The default measuring system on My Baking Addiction is US Customary. Unit conversions are provided as a courtesy; please be aware that there may be some discrepancies.
Card may contain affiliate links. As an Amazon Associate and member of other affiliate programs, I earn from qualifying purchases.