Delicious banana bars with chopped Fisher walnuts and cream cheese frosting.
So it finally feels like spring – kinda. The trees are starting to bud and every few days the temps will warm ever-so-slightly and the sun will peek out from behind a blanket of clouds. Not perfect weather, but it's definitely progress, so we'll take it!
With spring weather comes backyard barbecues and impromptu entertaining with family and friends. There's really nothing better than getting together during the spring season; however, sometimes I find menu planning to be a little tricky. Spring is such a transitional time for me in regards to food – I'm not quite ready for the light fare of summer, yet, I'm pretty much over the heavier dishes of fall and winter.
I'm in love with these banana bars because I feel like they totally bridge the gap between winter and spring. They're loaded with Fisher walnuts and topped with a deliciously rich and creamy cream cheese frosting. Cutting them into triangular shapes and piping on a swirl of frosting makes them a little more special, so they're absolutely perfect for a Mother's Day brunch or a picnic in the park.
As part of my collaboration with Fisher Nuts, I was able to interview Chef Alex Guarnaschelli. What better way to find spring inspiration than to interview an amazing chef and get the low down on her favorite spring recipes and entertaining ideas.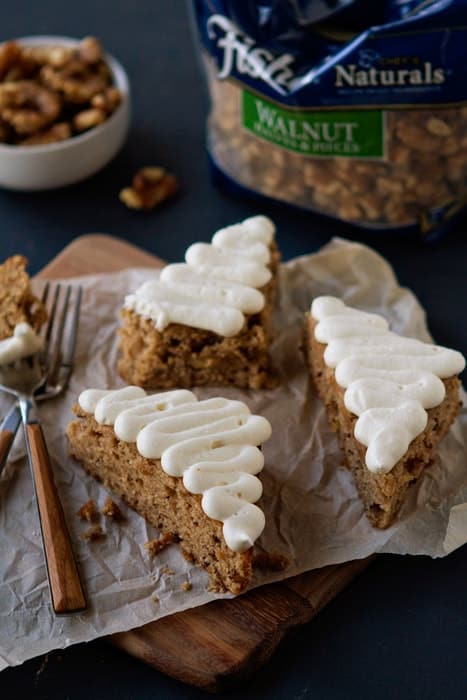 Q. Where do you find recipe inspiration?
A. I find the majority of my inspiration in ingredients. Whether fresh seasonal produce, or a great cut of meat or fish, I love to the let ingredients lead the way. Nuts are often a natural part of my cooking equation because they offer great flavor, richness and texture.
Q. What's your go-to menu for spring entertaining?
A. I love a simple sugar snap pea salad or a quiche and a whole roasted chicken with some spring vegetables in the bottom of the roasting pan. . The chicken roasts as I make the salad or slice the quiche and that leaves me more time to hang out with my guests.
Q. What's your favorite spring ingredient to cook with?
A. I love asparagus and peas. It's a tie. I can't get enough of some roasted asparagus with lemon and chopped egg or a bowl of fresh peas with basil. To me, that's spring.
Q. Do you have a favorite beverage for spring?
A. I love to make a homemade soda from rhubarb, a squeeze of lemon and sparkling water.
Q. What's a must have for spring entertaining?
A. I think a small bouquet of flowers on the table, of any kind and any price point, is a simple way to signal the end of winter and the beginning of spring. I also love a small bouquet of herbs. Edible bouquets inspire eating!
Q. What's your favorite nut to snack on?
A. I have to say that almonds are the nut I snack on the most frequently. Slivered or whole. I also love to toss them in a little warmed olive oil with paprika and salt.
Q. What's the best dessert you've ever eaten?
A. I don't have a best dessert! I have many desserts I love. Too many to name. A standout for me was this Baklava I ate at a local Greek restaurant. The layers of honey soaked pastry, nuts and dried fruits was sublime.
Q. If you could spend a day in the kitchen cooking and baking with anyone, living or dead, who would it be?
A. I would like to cook for French chef Sophie Pic. She is a female Michelin three star chef and her achievements inspire me.
For more recipe inspiration, be sure to check out more of Chef Guarnaschelli's recipes on Fisher's website and Facebook page.
Banana Bars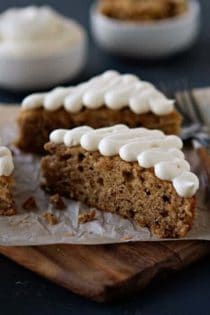 Ingredients:
1/2 cup unsalted butter, room temperature
1 cup granulated sugar
1/2 cup packed light brown sugar
2 large eggs, room temperature
1 cup sour cream
2 teaspoons pure vanilla extract
2 cups all-purpose flour
1 1/4 teaspoon baking soda
1/2 teaspoon salt
2 medium ripe bananas, mashed (about 1 cup)
1 cup chopped Fisher Walnuts
For the Frosting
1 package (8 ounces) cream cheese, room temperature
1/4 cup (4 tablespoons) unsalted butter, softened
2 teaspoons pure vanilla extract
3-3/4 cups confectioners' sugar, sifted
Directions:
1. Preheat oven to 350°F. Line a 15-in. x 10-in. x 1-in baking pan with parchment paper and spray with nonstick cooking spray.
2. In the bowl of a stand mixer fitted with the paddle attachment, or in a large bowl with an electric mixer, cream together the butter and sugars until light and fluffy; about 3 minutes. Add eggs one at a time to the creamed mixture. Mix in sour cream and vanilla until fully incorporated into the batter.
3. In a medium bowl, sift together the flour, baking soda and salt. Gradually add the dry ingredients to the butter and sugar mixture and mix until combined. Stir in bananas and walnuts until they are fully incorporated into the batter.
4. Evenly spread batter into prepared pan. Bake in preheated over for 25 minutes or until the a toothpick inserted into the center of the bars comes out clean. Remove pan to a cool rack to cool completely.
5. While the bars are cooling, prepare the cream cheese frosting. In the bowl of a stand mixer fitted with the paddle attachment, or in a large bowl with an electric mixer, beat the cream cheese and butter on medium-high speed for about 3 minutes. Mix in the vanilla. With the mixer on low, gradually add in the confectioners' sugar and mix until fully combined. Turn mixer up to medium-high speed and beat until super fluffy; about 3-4 minutes. Use an offset spatula to frost the bars or pipe the frosting onto the bars using a small round piping tip (see not below).
Notes:
- If you choose to pipe the frosting, you may need to double the frosting recipe as this technique uses more frosting than simply spreading it onto the bars.
- Refrigerate bars in an airtight container for up to 3 days.
All images and text ©
Follow Jamie on Instagram. We love to see what you're baking from MBA! Be sure to tag @jamiemba and use the hashtag #mbarecipes!
Disclosure: My Baking Addiction has teamed up with Fisher Nuts to share recipes using their products. This is a sponsored post written as part of that program. All opinions about Fisher Nuts are my own.