In the past month or so I have gotten quite a few emails from readers looking for lightened up baked goods to to serve to their families and friends. If you are a regular reader of my blog, you know that butter, cream cheese and sugar are amongst my best pals, but I figured I would give healthy er… healthier baking a whirl!
Contrary to popular belief, I do not eat a ton of desserts. It's true that I make a ton of them, but usually just snag a bite or two for quality control. I do, however, love fruit and since fruit is considered healthy, it will more than likely be my go to ingredient for this the Lightened Up series of recipes.
I will also try to include nutrional info if at all possible! I totally realize these may not be "healthy" in everyones' eyes and I am sure they can be made even better for you by adding in some whole wheat flour, flax seeds, etc. However, in comparison to what I usually serve up here, they are definitely lightened up!
These Strawberry Banana Muffins turned out fabulous. I loved the way they domed up in the oven and they were surprisingly moist without being too sweet. These muffins would be perfect with your morning cup of coffee or tea and an awesome snack to toss into your kiddo's lunch box.
Have a fabulous day and thanks so much for stopping by!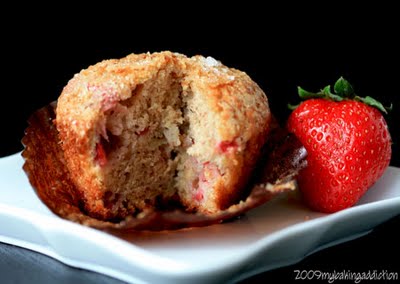 Strawberry Banana Muffins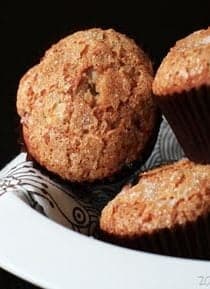 Ingredients:
3/4 cup chopped fresh strawberries
1 medium banana; mashed
1/4 cup white sugar
2 tablespoons white sugar
2 tablespoons butter, softened
1 eggs
1/2 teaspoon vanilla extract (I used Beanilla Vanilla Paste)
3/4 cup and 2 tablespoons flour
1/4 teaspoon baking soda
1/8 teaspoon salt
Directions:
1. In a small bowl, combine the strawberries and 2 tablespoons of sugar. Set aside for 1 hour. Drain, reserving liquid and berries separately.
2. Preheat the oven to 425°F. Grease a 6 cup muffin tin, or line with paper liners.
3. In a medium bowl, cream together the butter and 1/4 cup sugar until light and fluffy. Beat in the egg, then stir in the banana and vanilla paste. Combine the flour, baking soda and salt; stir into the creamed mixture alternately with the juice from the berries. Gently stir in the berries. Spoon batter into the prepared muffin cups.
4. Bake for 18-20 minutes in the preheated oven, or until the tops spring back when lightly touched. Cool in the pan on a wire rack.
Notes:
- I always spray my muffin pan and liners with a very light spray of non-stick spray.
- I poured the batter in almost to the top of the liner and they domed up beautifully without overflowing.
- I sprinkled the tops of the muffins with coarse sugar before baking.
- I also baked for 20 minutes to ensure the centers were thoroughly cooked.
All images and text ©
Follow Jamie on Instagram. We love to see what you're baking from MBA! Be sure to tag @jamiemba and use the hashtag #mbarecipes!
[pinit]
Nutritional Information
Serving Size: 1 Muffin
Calories: 217
Fat: 8
Fiber: 1.4
Sugar: 11 grams
Protein: 7 grams