If you find yourself counting down the days until you can get your hands on Cranberry Bliss Bars, this copycat recipe is exactly what you need to enjoy them at home any time of the year.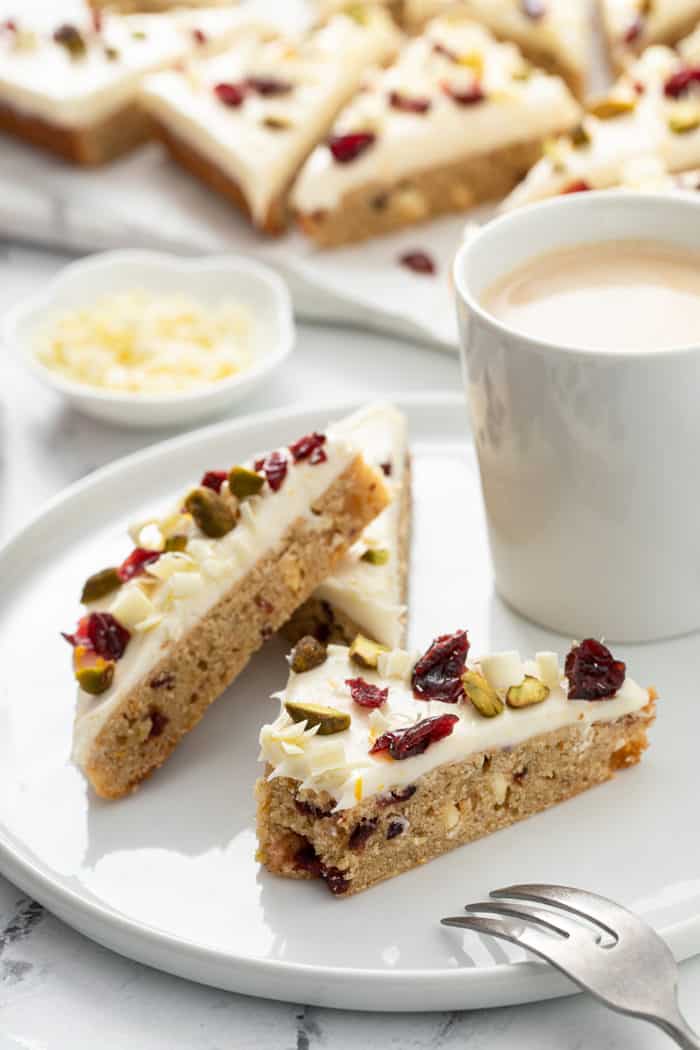 I used to count down the days until I could buy the Starbucks Cranberry Bliss Bar. But now I have my own recipe, and honestly, it's even better!
Cranberry is such a wonderful flavor that deserves more attention all year long. I'm not complaining about it getting its due in winter, though.
The flavors in these cranberry bars are similar to another copycat recipe of mine, glazed orange scones, as well as my cranberry orange bread and cranberry orange cinnamon rolls.
What can I say, I love the combo of cranberry and orange!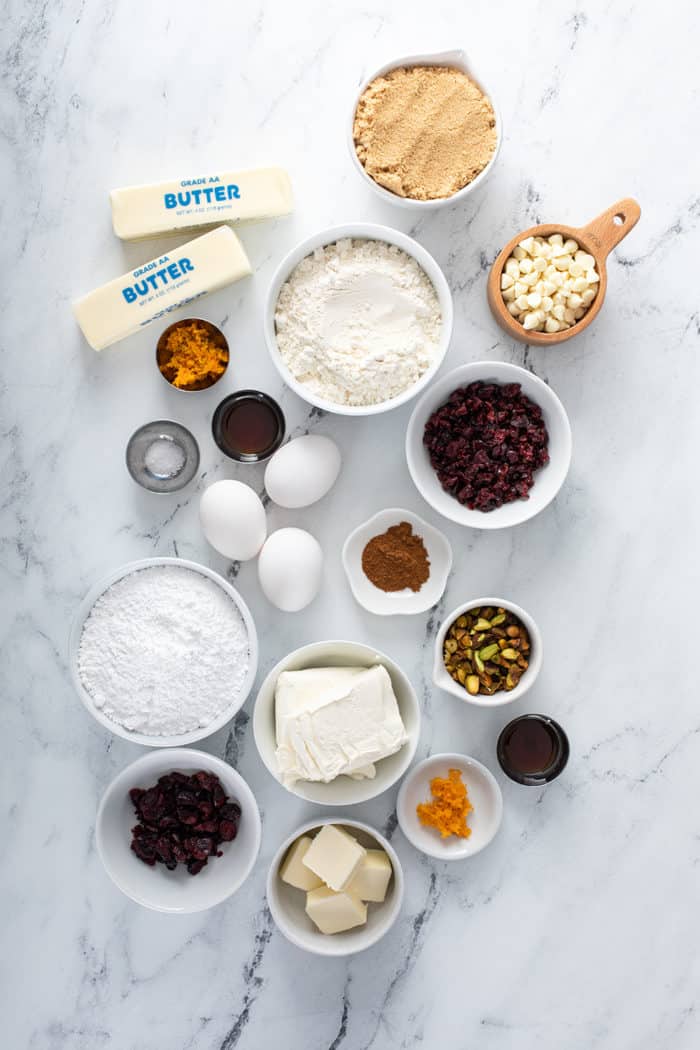 DO CRANBERRY BLISS BARS HAVE NUTS?
The Starbucks version of the cranberry bliss bars does not have nuts. My recipe does not have nuts in the batter, but I add chopped pistachios to the topping.
There are so many things to love about these bars, and the topping is right up there as a favorite.
I like the crunch the pistachios provide, but if you are avoiding nuts, feel free to skip them! The bars are just as delicious with the other toppings.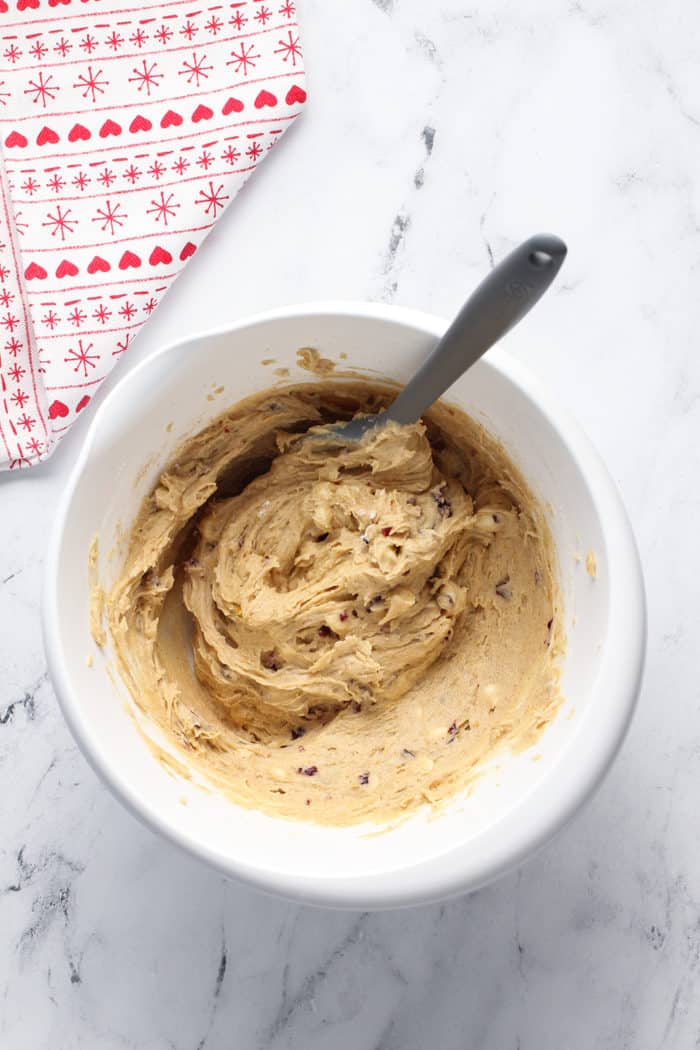 WHAT DO YOU NEED FOR THIS CRANBERRY BLISS BAR RECIPE?
This recipe has a cake base, cream cheese frosting, and toppings.
You'll need:
Softened unsalted butter
Brown sugar
2 oranges, zested
Pure vanilla extract
3 eggs
All-purpose flour
Salt
Dried cranberries
White chocolate chips
Softened cream cheese
Powdered sugar
Chopped pistachios
White chocolate bar, to make curls or shavings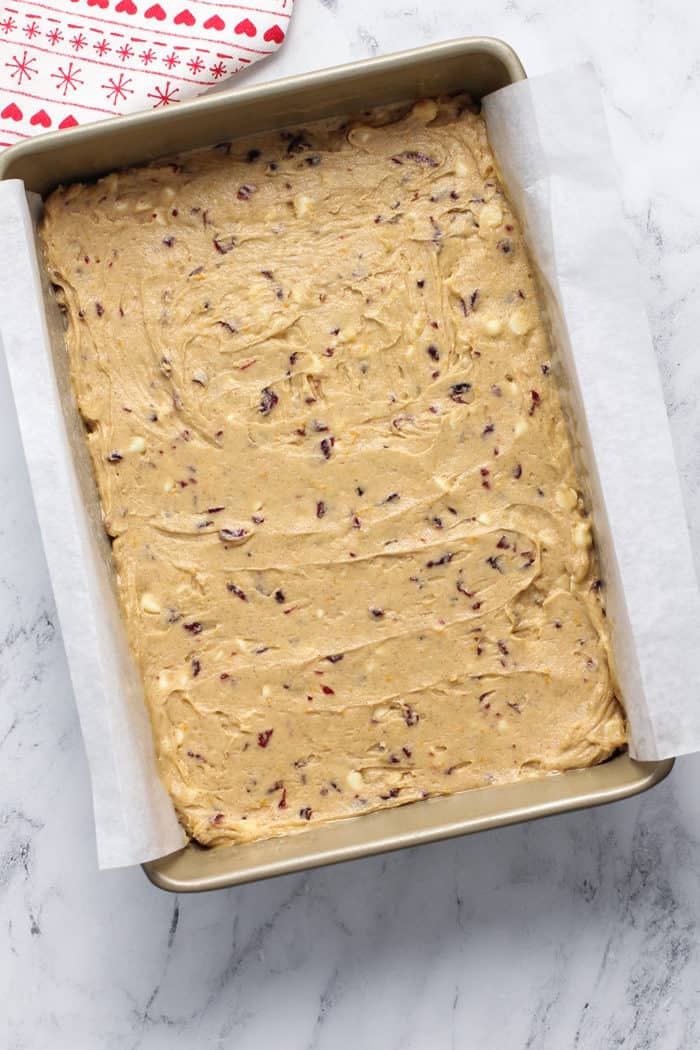 Make sure to set out your butter and cream cheese so they can come to room temperature, or use my trick for quickly warming butter.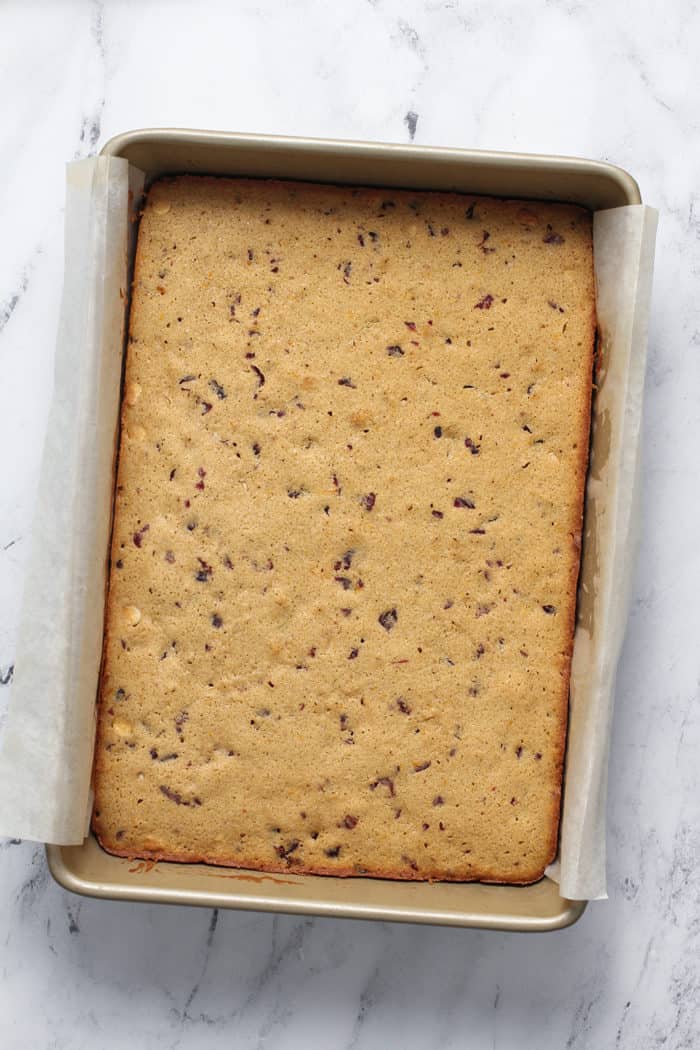 HOW TO MAKE CRANBERRY BLISS BARS
Grab a large bowl and beat together the butter and brown sugar until light and fluffy. You can use a hand mixer or stand mixer for this step to make it quick and easy.
Then, beat in the eggs, vanilla, and orange zest until the mixture is creamy and well blended.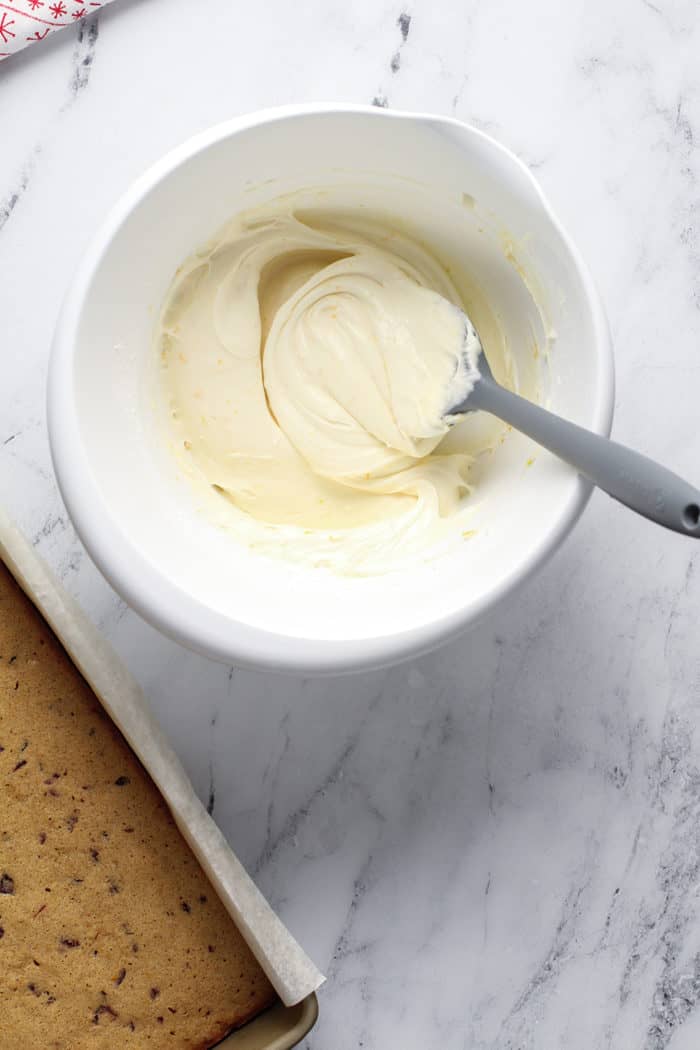 In another bowl, mix together the flour, salt, and pumpkin pie spice. We do this in a separate bowl to ensure the spices are even throughout the bars.
Add the flour mixture to the wet ingredients and stir well. It might seem thick, but that's OK.
Fold in the cranberries and white chocolate chips, then spread it all into your prepared pan and bake.
Let the bars cool completely before frosting.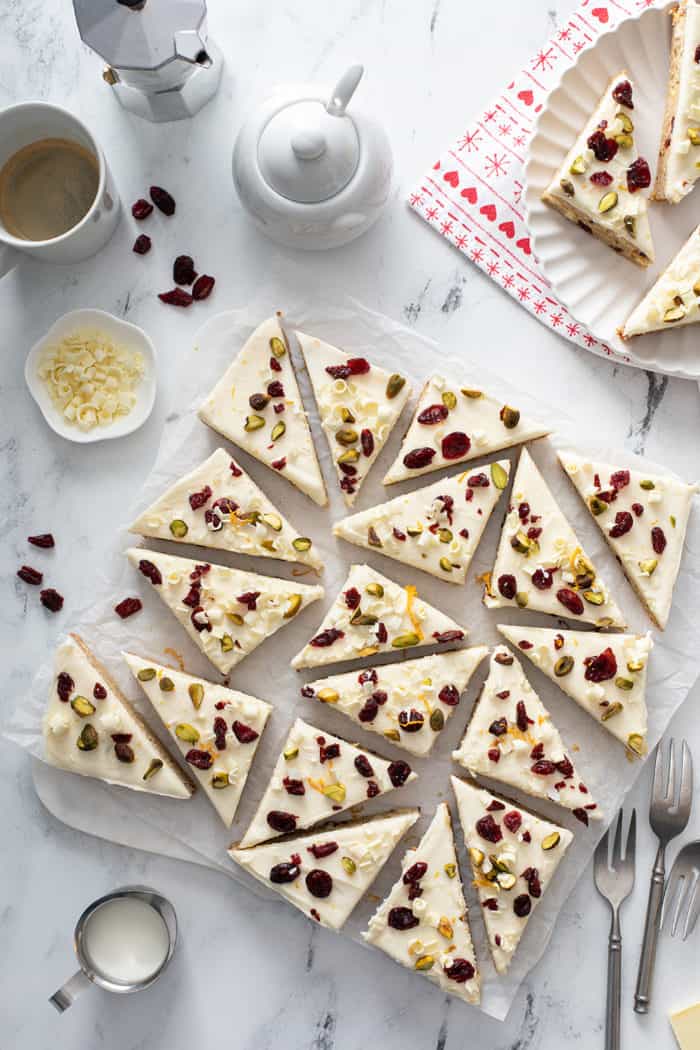 To make the frosting, beat the cream cheese and butter to soften it, then add the powdered sugar, vanilla, and orange zest.
Beat the frosting until it is creamy and smooth, then spread it on the cooled bars. Scatter on chopped dried cranberries, chopped pistachios, and white chocolate curls, then chill until ready to serve.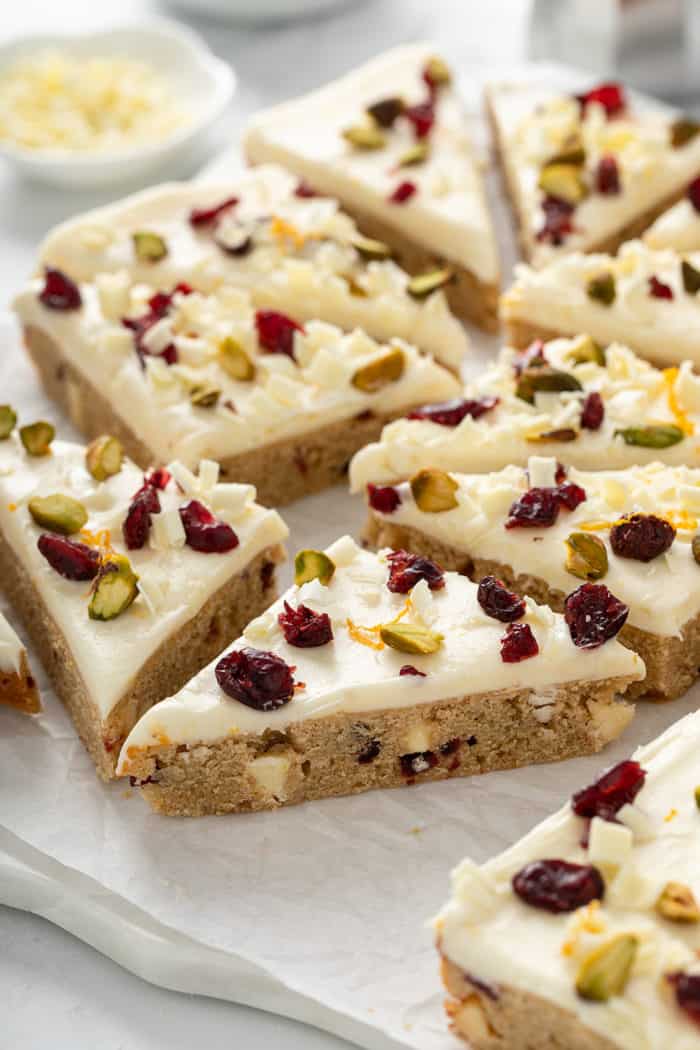 HOW TO MAKE WHITE CHOCOLATE CURLS
I think chocolate curls add such a festive touch to desserts. If you have a vegetable peeler, you can easily do this yourself.
To make the curls, you'll need a bar of white chocolate. This can either be the larger baking blocks, or just a white chocolate candy bar.
The size of your bar will determine the size of the curls, so choose what you prefer. I think the smaller ones are great for the cranberry bars because you can get a little bit of white chocolate in each bite.
Using the vegetable peeler, run it along one edge of the bar, as though you are peeling it. This will create the curls!
You might need a little practice, but you'll be a curl-making pro in no time.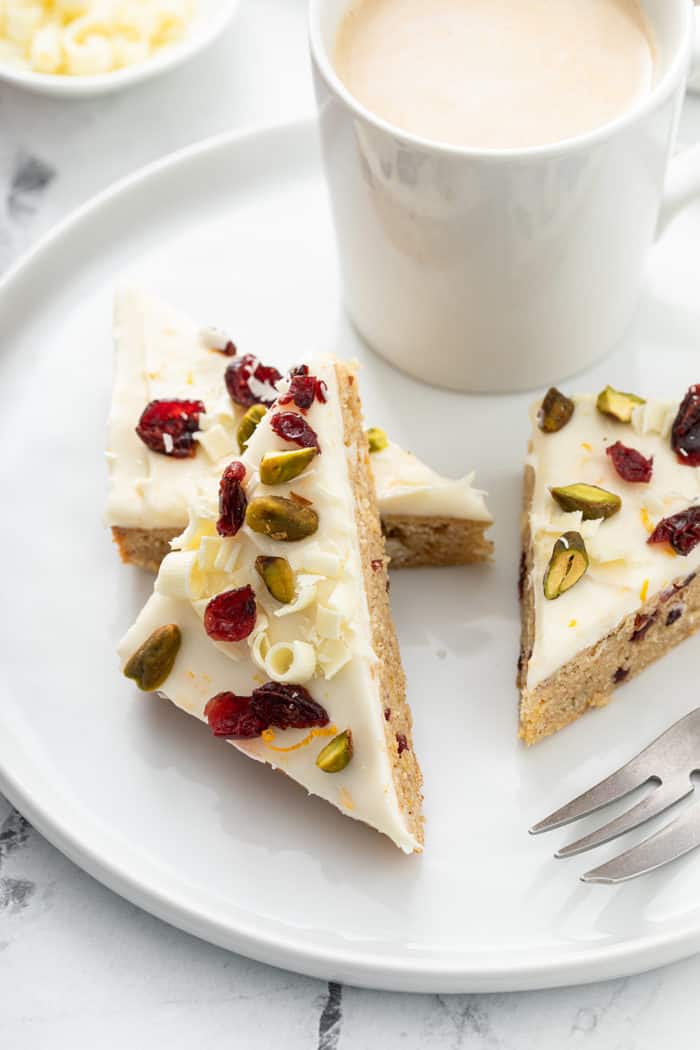 CAN CRANBERRY BLISS BARS BE FROZEN?
This recipe makes a big pan of bars, but you can freeze any extras.
To freeze, cut the bars into individual squares or triangles, then wrap tightly in foil or plastic wrap.
Transfer the bars to a freezer-safe container, and freeze for up to 3 months.
To thaw, simply remove the number of bars you want and thaw overnight in the refrigerator, or let come to room temperature for about 30 minutes.
These cranberry bliss bars are going to be a hit for the holidays! Serve them up with coffee flavored with my own homemade vanilla coffee syrup, homemade pumpkin cream cold brew, or your favorite tea.