Do you ever becoming obsessed with making something, but it just never actually transpires into the finished product?
Last year, I became slightly enthralled with the Cranberry Bliss Bars from Starbucks. I'm fairly certain that they are a holiday selection, but let me tell you they are amazingly delicious.
After my first bite, I knew I had to find a knock-off version of this sweet and festive treat, so I immediately googled the recipe. I'm really great about the bookmarking and printing parts, it's following through that I am lacking.
Another obsession I have developed is my love for Kerrygold butter. Ever since I first tasted this amazing Irish butter back in October, I have been smitten with it. I am really excited that they are our sponsor this week and can't wait to giveaway another Kerrygold Basket! If you haven't tried Kerrygold butter, you need to. All butters may resemble one another in form and color. But get into the taste and texture and you'll start to notice the difference. Kerrygold butter is a soft and creamy in texture, while the taste is full in flavor. In my experience, using it in baked goods, results in exceptional buttery goodness and a more tender crumb.
This year remembering my obsession for Starbuck's cranberry bliss bars, I pulled up my bookmarks and pulled out my Kerrygold to make treats you see here. I found the base recipe for these bars via Mr. Breakfast and I of course added my spin to it. This Cranberry Bliss Bar recipe came out amazingly well. In fact, I kinda think I prefer this version over Starbuck's! This festive bar is loaded with white chocolate, orange zest, dried cranberries and pistachio and sure to the perfect addition to your holiday parties.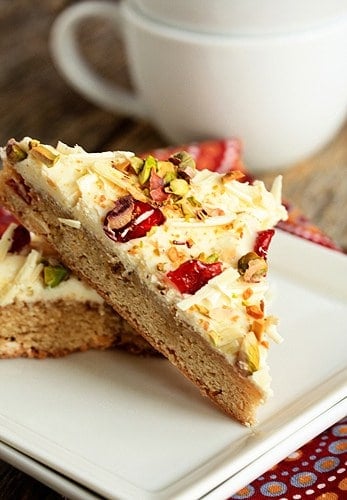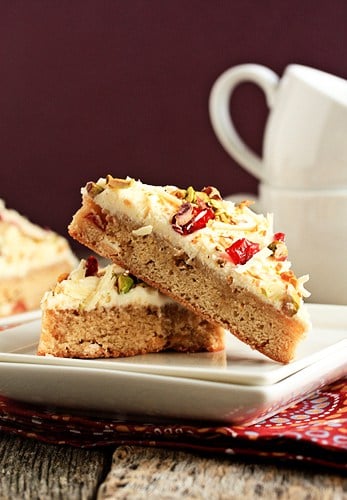 Cranberry Bliss Bars
Ingredients
For Cake Base:
1 cup Kerrygold Unsalted butter; softened
1 cup brown sugar—packed
Zest of one orange
1 teaspoon vanilla
3 large eggs
1 and 1/2 cups flour
1/4 teaspoon kosher salt
2 teaspoons pumpkin pie spice*
1/2 cup minced dried cranberries
1/2 cup white chocolate chips
For Frosting:
8 ounce cream cheese -- softened
3 cups powdered sugar
4 Tablespoons butter -- softened
1 teaspoon vanilla
Zest of one orange
For the Garnish:
dried cranberries
chopped pistachios
white chocolate shavings
Instructions
1. Preheat oven to 350 degrees. Line a 9x13 inch pan with parchment paper and spray with nonstick cooking spray.
2. Beat butter and sugar together until light and fluffy; about 3 minutes. Add eggs, orange zest and vanilla; beating until well combined. Sift together the dry ingredients and then add to the butter/sugar mixture beating well. Fold in the cranberries and white chocolate. Spread thick batter in pan and bake for about 20 to 25 minutes.
3. When cake is cooled, mix all frosting ingredients together and spread over the cake. Garnish with dried cranberries, pistachios and white chocolate shavings.