Peanut Butter Pretzel Bars are an easy no-bake treat to whip up this holiday season! These bars are the perfect balance of salty and sweet. Top them with seasonal sprinkles for a festive touch!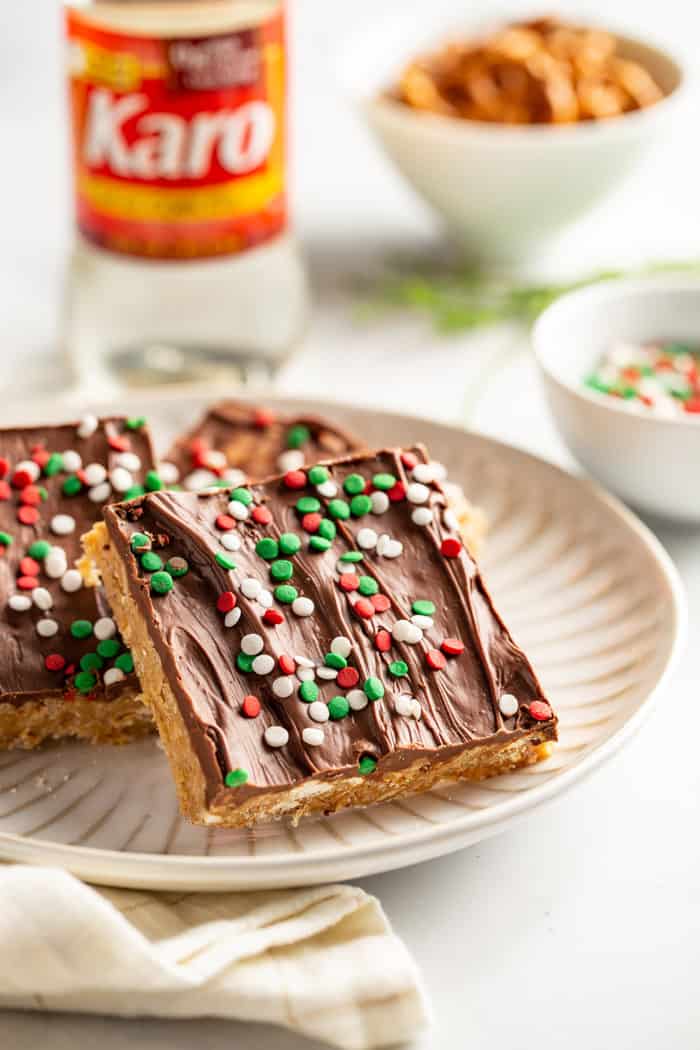 This post is sponsored by Karo® Corn Syrup. Thank you for continuing to support the brands that make My Baking Addiction possible.
It really shouldn't surprise you that getting in the kitchen and baking up holiday treats is one of my favorite things to do once the holiday season rolls around. I mean, I run a site called "My Baking Addiction" for a reason!
But as much as I love whipping up baked goods like Chewy Mint Chocolate Chip Cookies and Easy Chocolate Bundt Cake this time of year, I also love having an arsenal of no-bake recipes to turn to.
After all, sometimes my oven is in use baking something else, and sometimes I just want something that's quick to pull together!
Not to mention that no-bake recipes are so much fun to make with Elle.
That's why recipes like Chocolate Peppermint Scotcheroos, Popcorn Balls, No-Bake Cheesecake Bars, and these Peanut Butter Pretzel Bars are some of my favorites to throw together these days.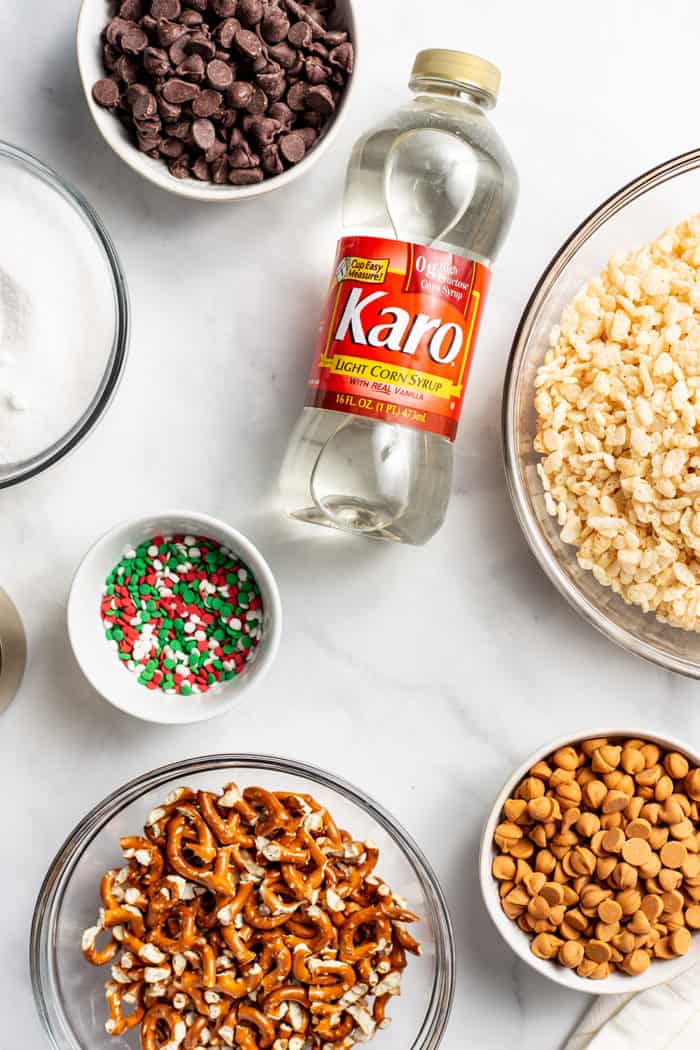 WHAT ARE PEANUT BUTTER PRETZEL BARS?
These Peanut Butter Pretzel Bars are a little bit of a cross between a Chocolate Scotcheroo and No-Bake Butterscotch Bars.
These no-bake bars use crispy rice cereal and crushed pretzels as a base with tons of peanut butter and some chocolate on top.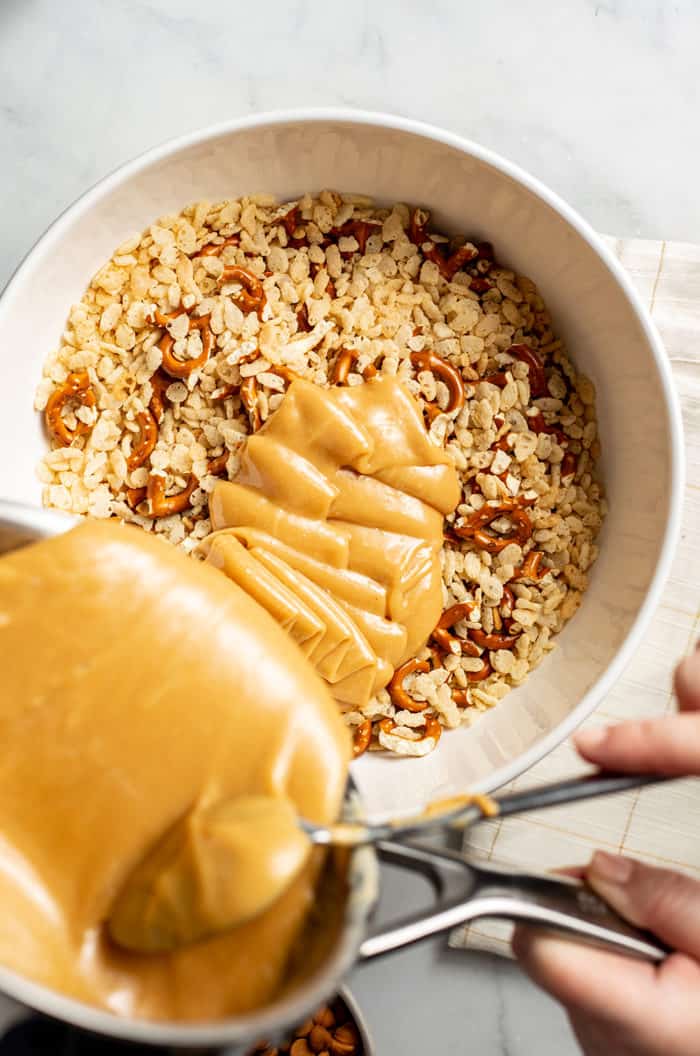 The bars have some sweetness to them, so the pretzels in the bars help add some saltiness to balance out the sweetness. If you're someone who loves salty-sweet combos, these bars are definitely right up your alley.
I also love that these bars can be cut into big pieces for a decadent treat or into small pieces for small bites to serve at a holiday party.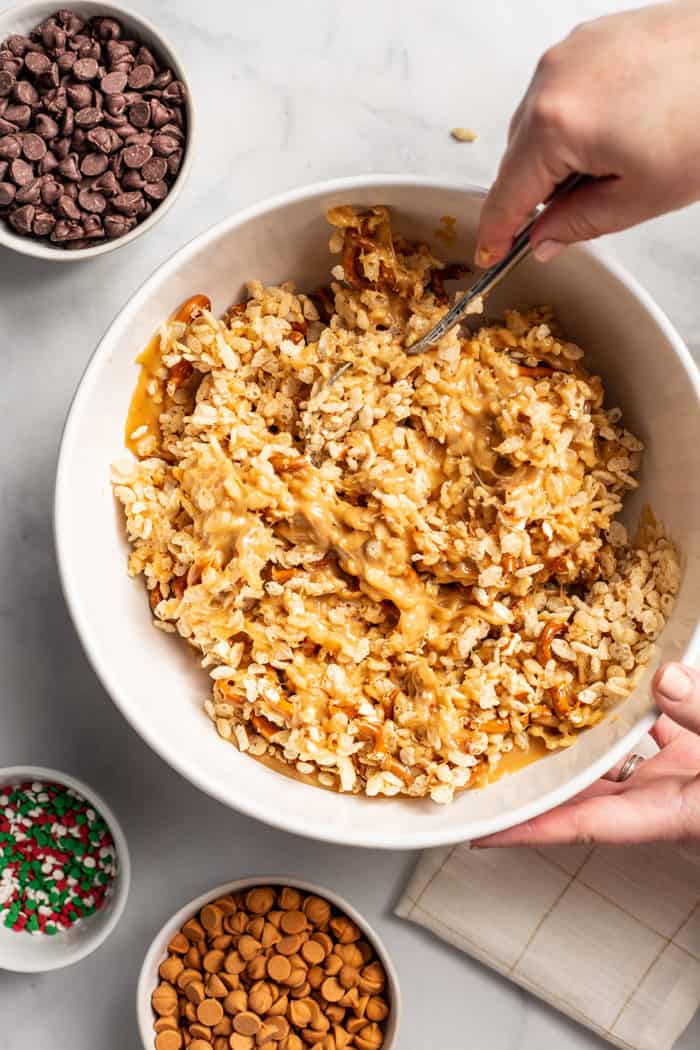 NO-BAKE PEANUT BUTTER PRETZEL BAR INGREDIENTS
These easy bars only use a handful of ingredients. In fact, I bet you have most of what you need in your pantry right now!
You'll need:
1 cup Karo® Light Corn Syrup
1 cup sugar
1 cup creamy peanut butter
2 cups roughly chopped pretzels
4 cups crispy rice cereal
1 cup semi-sweet chocolate chips
1 cup peanut butter chips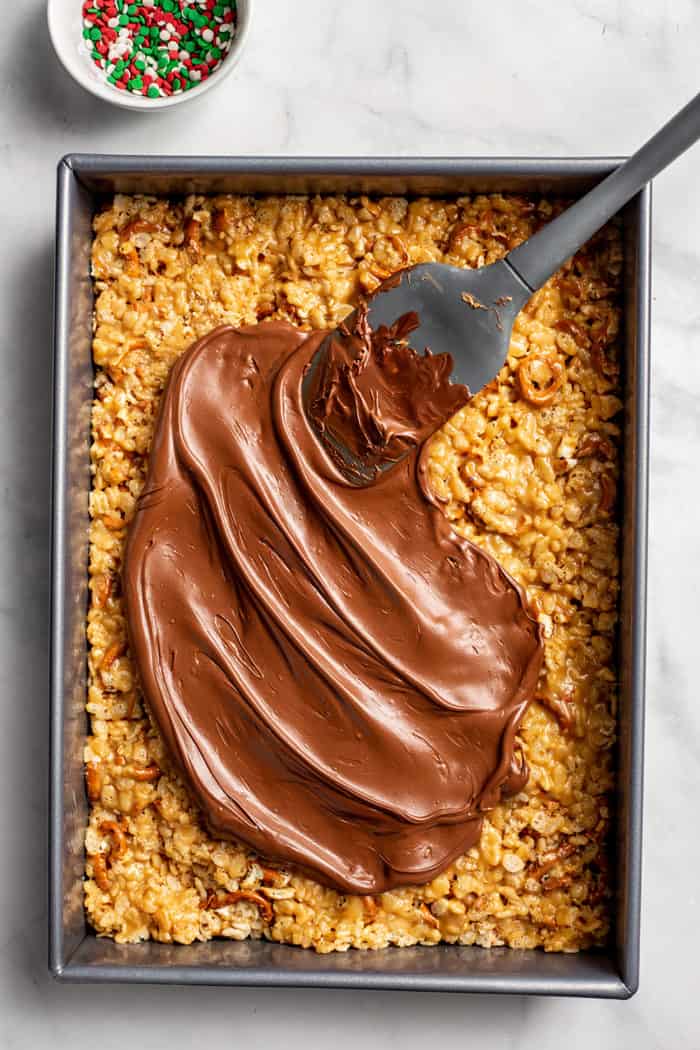 The key to this recipe is using Karo® Light Corn Syrup. It helps hold these no-bake bars together and gives them the perfect texture without any crystallization.
After all, we want these bars to be crunchy from the crispy rice cereal and the pretzels, not from crystalized sugar!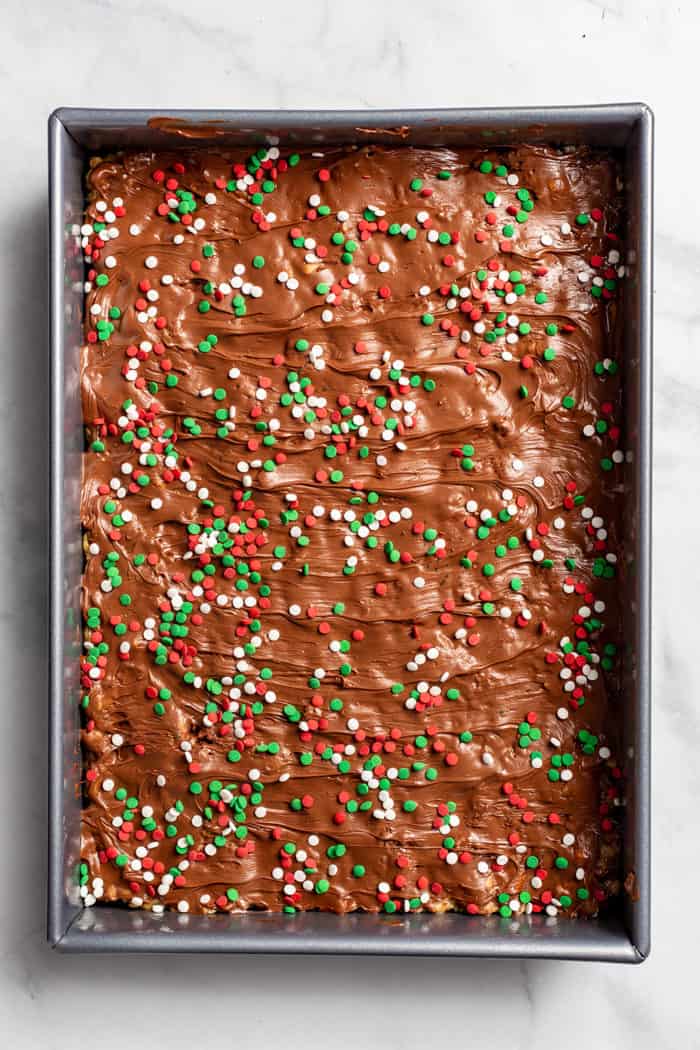 HOW TO MAKE THESE NO-BAKE BARS
If you can make Rice Krispie Treats, then you can make these Peanut Butter Pretzel Bars!
Add the Karo® Light Corn Syrup and sugar in a large saucepan and cook this mixture over medium heat, stirring to dissolve the sugar. Let this come to a boil, then remove it from the heat.
Immediately stir in the creamy peanut butter and mix well, then add the pretzels and rice cereal, stirring until everything is evenly coated.
Pour this mixture into a greased 13×9-inch pan and pat it into place with a silicone spatula.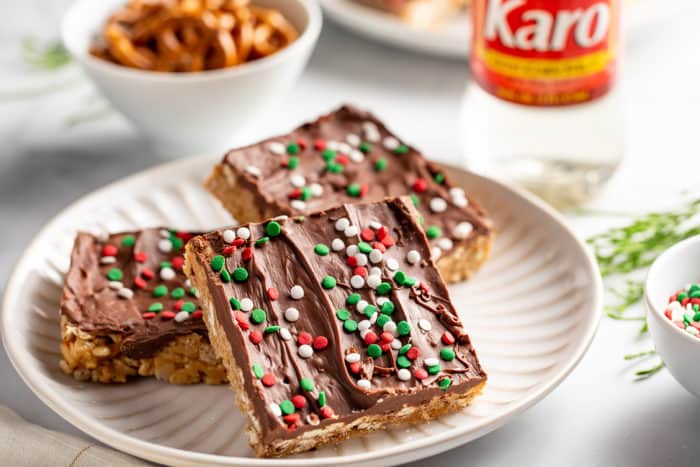 Melt the chocolate chips and peanut butter chips together in a saucepan over low heat, stirring constantly. Once this is melted, spread it over the bars. If you like, this is the time to add some festive sprinkles!
Let the bars cool completely before cutting them and digging in.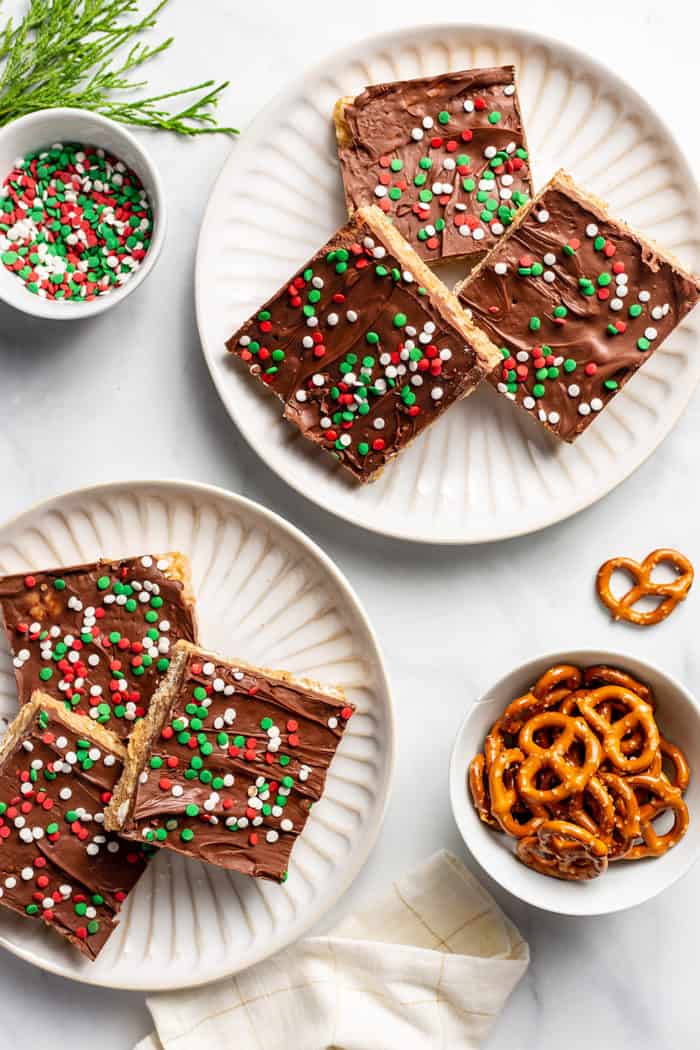 CAN YOU SUBSTITUTE THE PEANUT BUTTER?
If you can't have peanut butter, you can still enjoy these bars. Swap the peanut butter for almond butter, sunflower seed butter, or even cashew butter.
Swap the 1 cup of peanut butter chips for the topping with another cup of semi-sweet chocolate chips or even dark chocolate chips.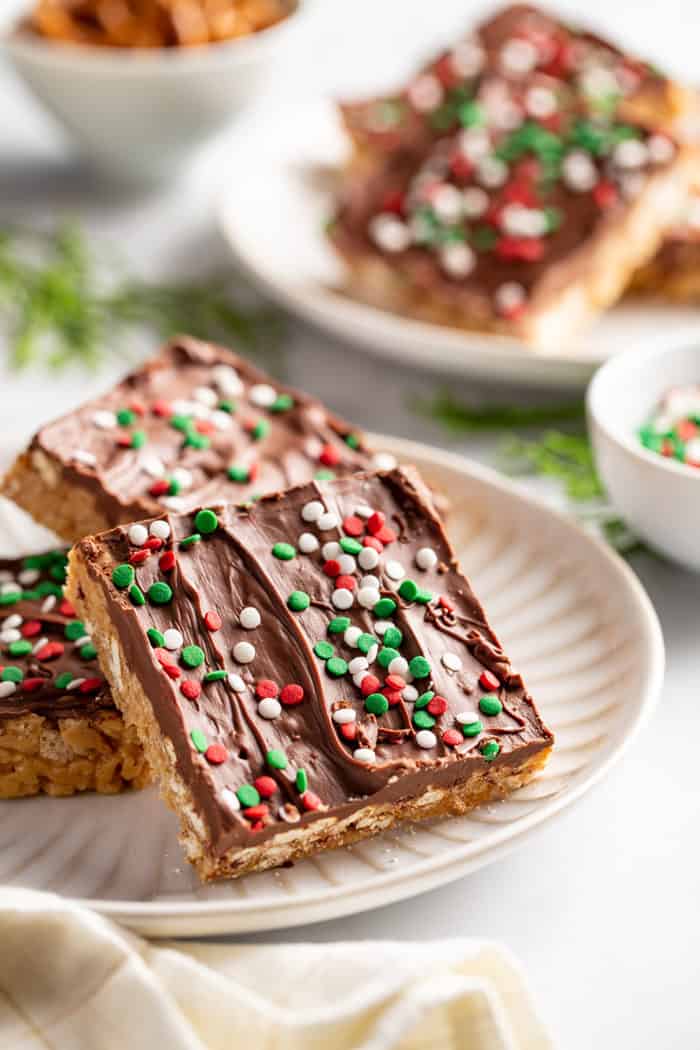 STORAGE TIPS
These bars are great to make ahead of time, so they're perfect for holiday parties or giving to friends and neighbors.
To store, cut them into bars and pop them into airtight containers. They'll keep for up to a week.
These would be adorable packaged in vintage tins for a holiday host gift, or nestled into kraft paper boxes. You can even change up the sprinkles on top to make them perfect for any holiday or occasion.