Popcorn Balls are a fun and delicious way to celebrate the season. This simple recipe is a great base for so many flavor combinations – the possibilities are endless!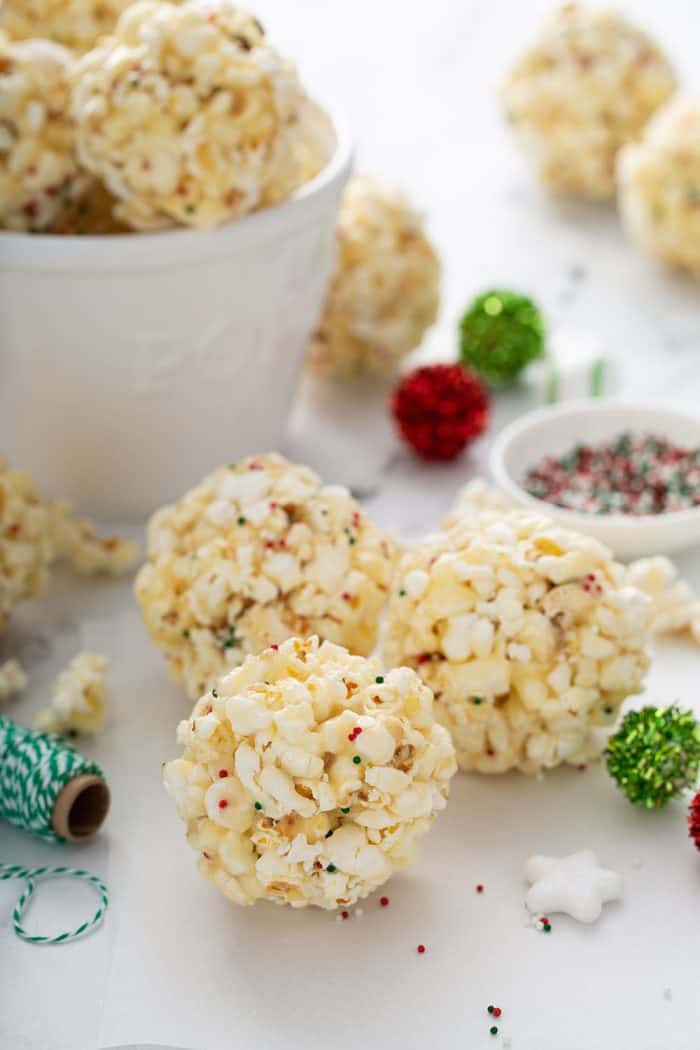 This post is sponsored by Karo® Corn Syrup. Thank you for continuing to support the brands that make My Baking Addiction possible.
When I was a child, we always spent Christmas Eve at my great aunt Dorothy's house.
We'd sip on a batch of holiday wassail that was always simmering on her stove top and munch on a variety of Christmas cookies.
Her home was always in perfect order and smelled of Christmas. At the time, she was the Martha Stewart of our family (I like to think the torch has passed to moi) and had amazing taste in decor.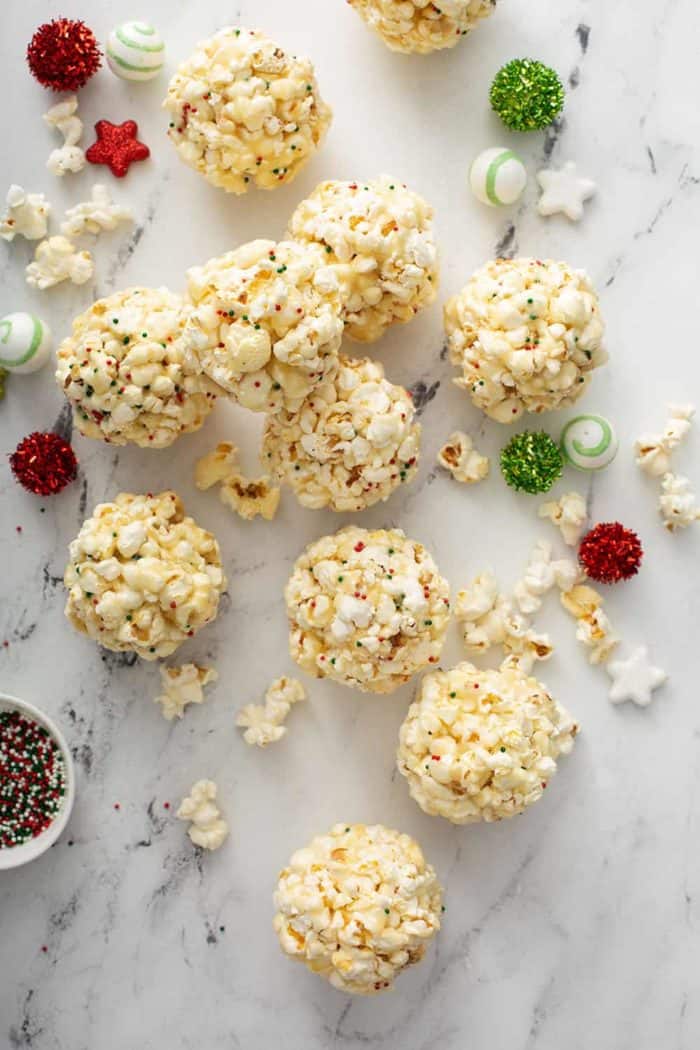 My mom always tells me how proud she'd be of our home since I am also a lover of home decor.
It's in her living room (with the fancy floral carpet) that I developed my love of pencil trees with twinkling white lights.
She also has a huge collection of vintage Santa figurines that were always on display – each with their own unique character and charm.
Aunt Dorothy also always had a little basket or bowl filled with wrapped popcorn balls. Nothing fancy, just a plain white snowball sized popcorn ball wrapped in cellophane.
As simple as this treat was, it was always one of my favorite things about visiting her on Christmas Eve.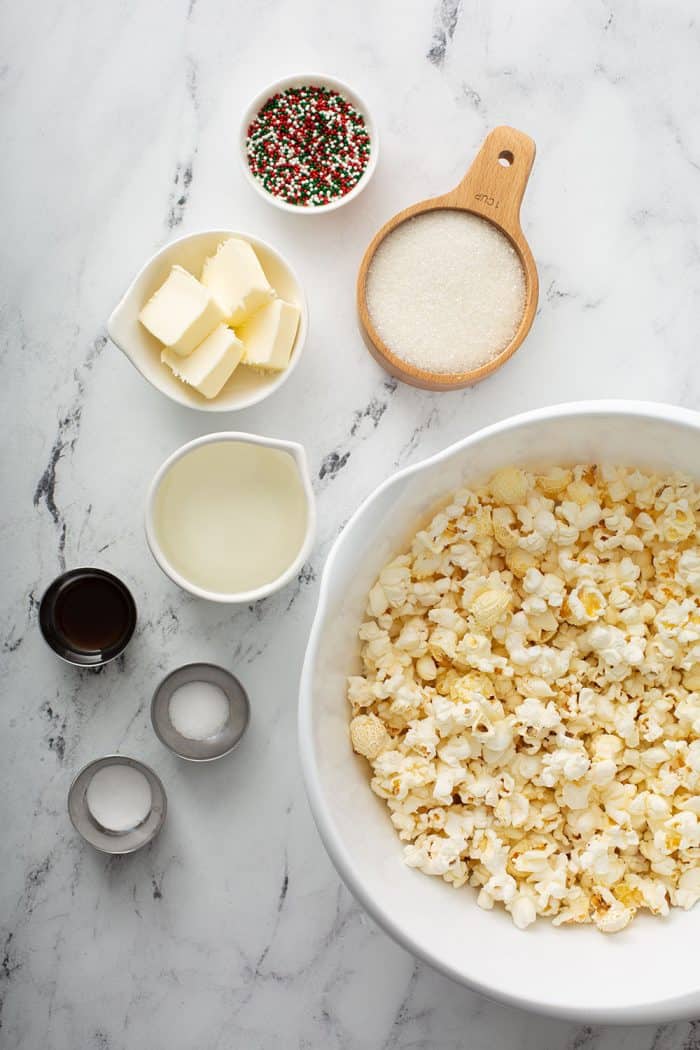 MY FAVORITE HOLIDAY FOOD TRADITIONS
Since having Elle, I am always trying to find ways to keep family traditions alive. From my Nana's pumpkin rolls and my mom's chicken paprikash, to Eric's grandma's date cake.
It's these food traditions that truly make the holiday season extra special. Now that Elle loves getting in the kitchen with me, I love making holiday memories with her while creating some of my favorite childhood treats.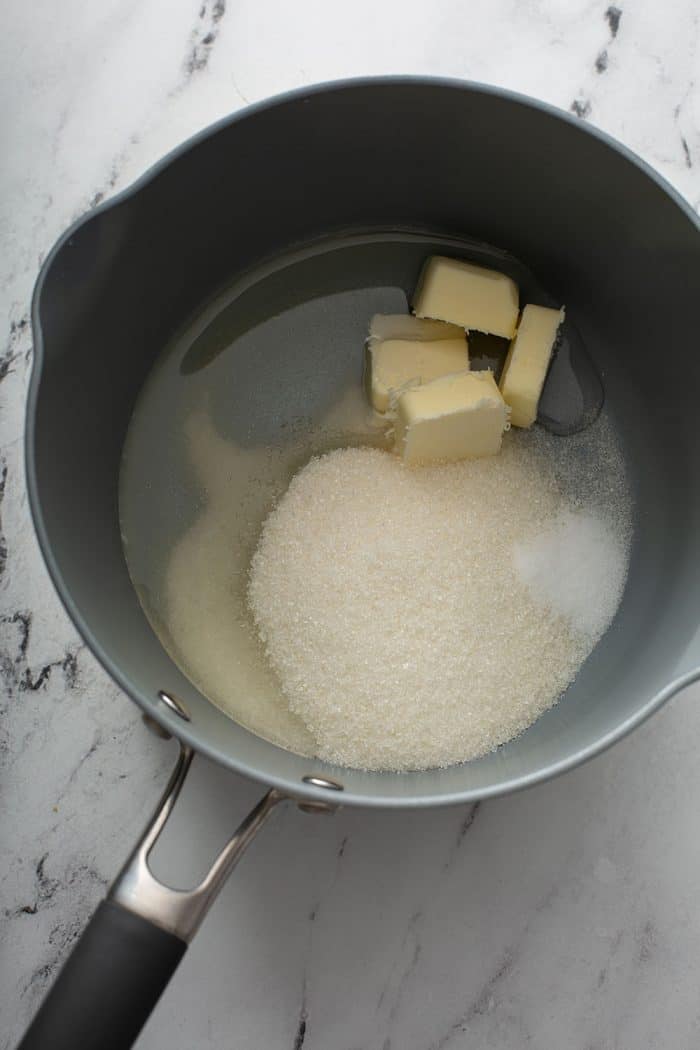 Each year we roll up our sleeves and whip up a batch or two of these simple popcorn balls. If you've never made homemade popcorn balls, you'll be amazed at how simple they are.
And I'm pretty sure you probably already have all of the ingredients on hand.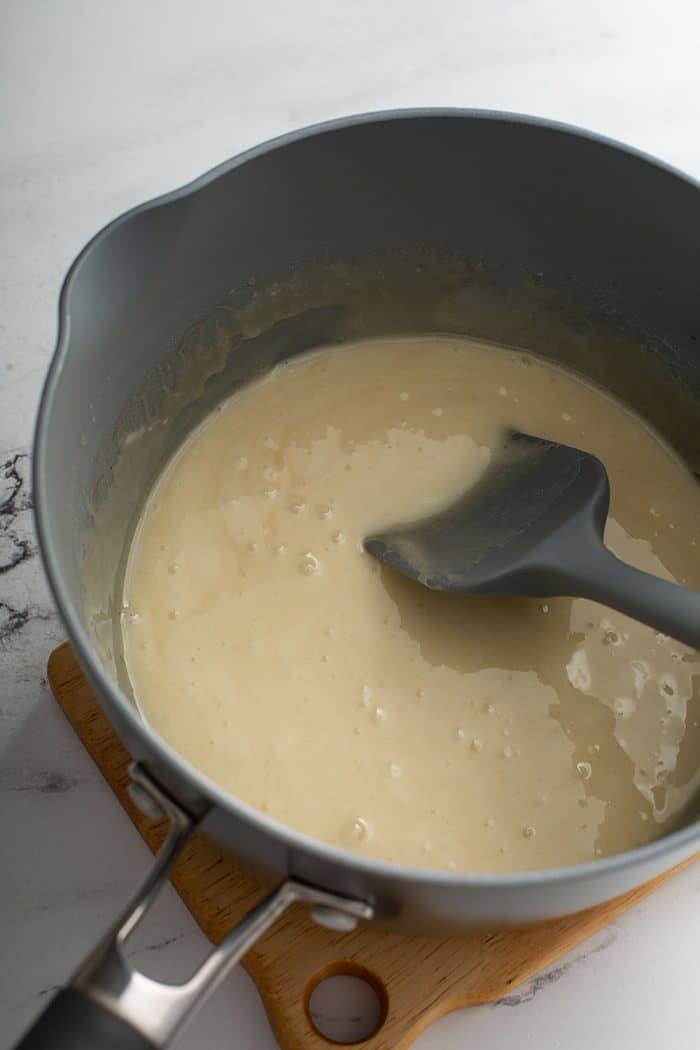 WHAT ARE POPCORN BALLS
I have a theory that you either grew up in a family that made popcorn balls every year or you may have never even had one before.
Obviously I grew up in the former, but if you're in the latter group, you might not be familiar with this holiday treat.
Popcorn balls are kind of like a mix between caramel corn and a rice krispie treat. They're a little crunchy, a little sticky, a little sweet, and a little salty.
And honestly, it's really hard to eat just one!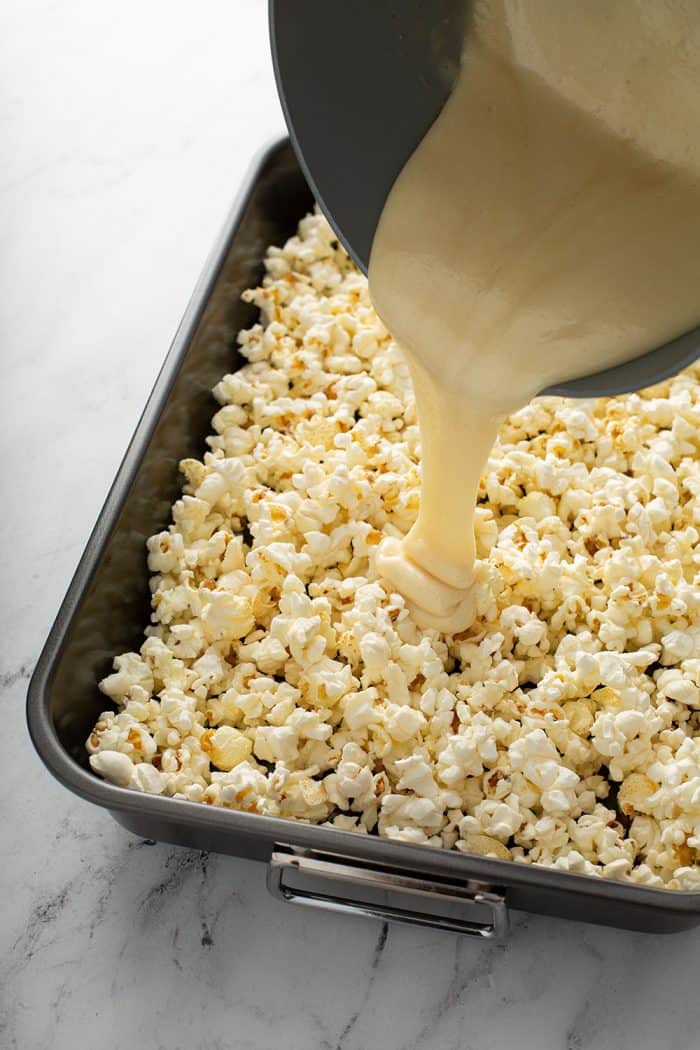 HOW TO MAKE THIS HOLIDAY STAPLE
To make these classic popcorn balls, you'll need:
3 quarts (12 cups) popped popcorn
1 cup granulated sugar
1/2 cup Karo® Light OR Dark Corn Syrup
1/4 cup butter or margarine
1/2 teaspoon salt
1 teaspoon pure vanilla extract
1/2 teaspoon baking soda
3 tablespoons festive sprinkles (optional)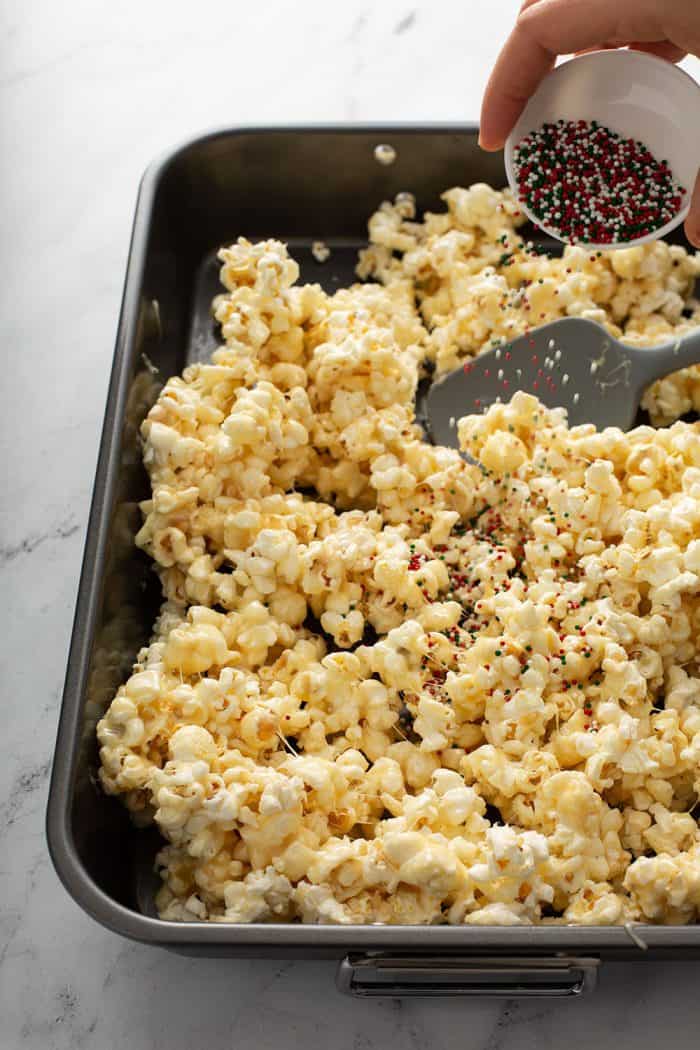 Spray a large roasting pan with nonstick cooking spray; add the popcorn and place it in a warm oven.
Meanwhile, in a saucepan, combine sugar, corn syrup, butter and salt. Bring this mixture to a boil while stirring constantly. Once it starts boiling, boil for 2 minutes – and keep stirring constantly!
After the 2 minutes has passed, remove the syrup mixture from heat. Stir in vanilla and baking soda. The baking soda will cause the mixture to bubble up, so add it carefully.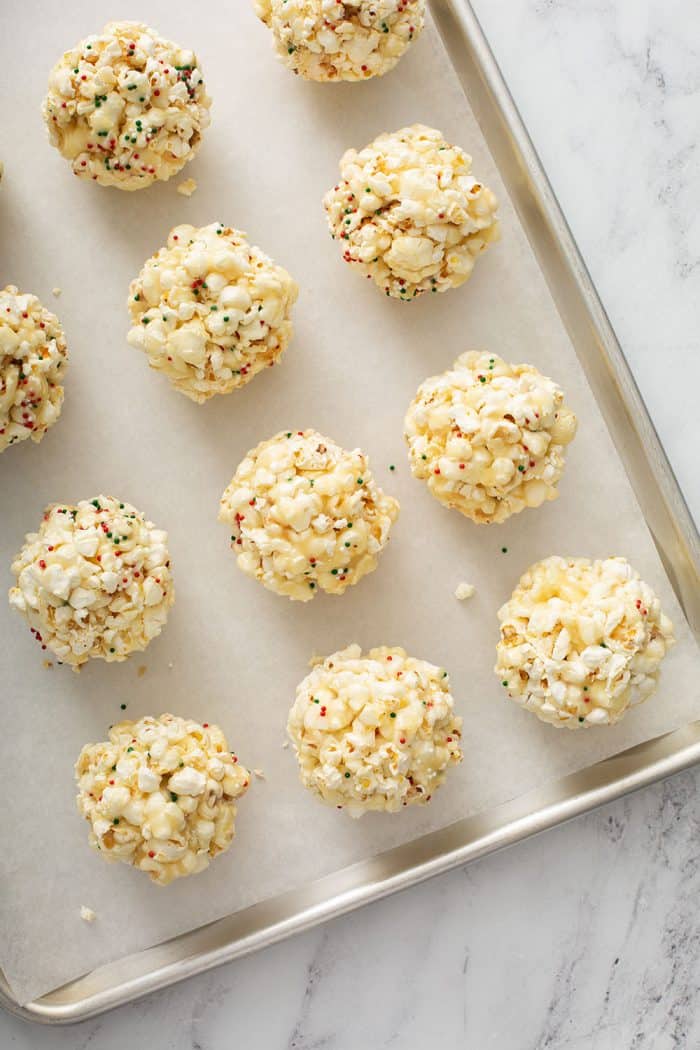 Pour the syrup mixture over the warm popcorn, stirring to coat well. Add in the sprinkles and mix to combine.
My aunt always left her popcorn balls simple and white, but my Elle loves sprinkles, so I like to add them in. And I have to say, my little babe is onto something, because they add just the right amount of festive color.
Once the mixture has cooled slightly and is able to be touched, spray your hands with nonstick cooking spray. Work quickly to shape twelve 3-inch popcorn balls.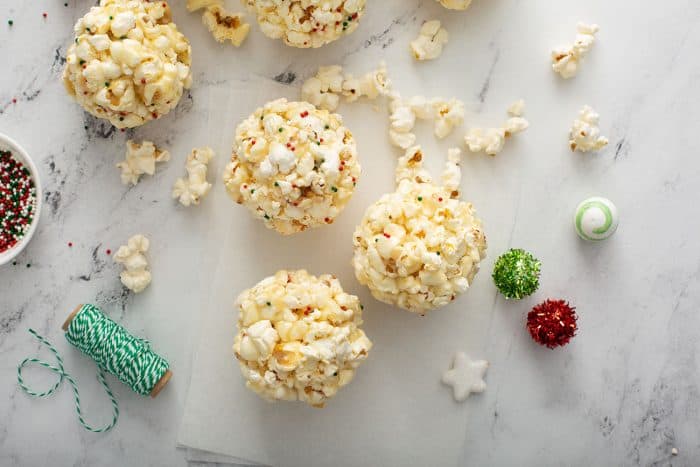 The Karo® Syrup adds just the right amount of sweetness and ensures your popcorn balls will keep their shape.
Spraying your hands with cooking spray before shaping the balls is important because the warm mixture is pretty sticky. It'll cool a lot faster than you think, though, so make sure you work fast!
If you're looking for a fun and delicious treat the whole family will love, give these simple popcorn balls a try! They just might become your new holiday tradition.