Popcorn Balls
Popcorn Balls are a fun and delicious way to celebrate the season. This simple recipe is a great base for so many flavor combinations – the possibilities are endless!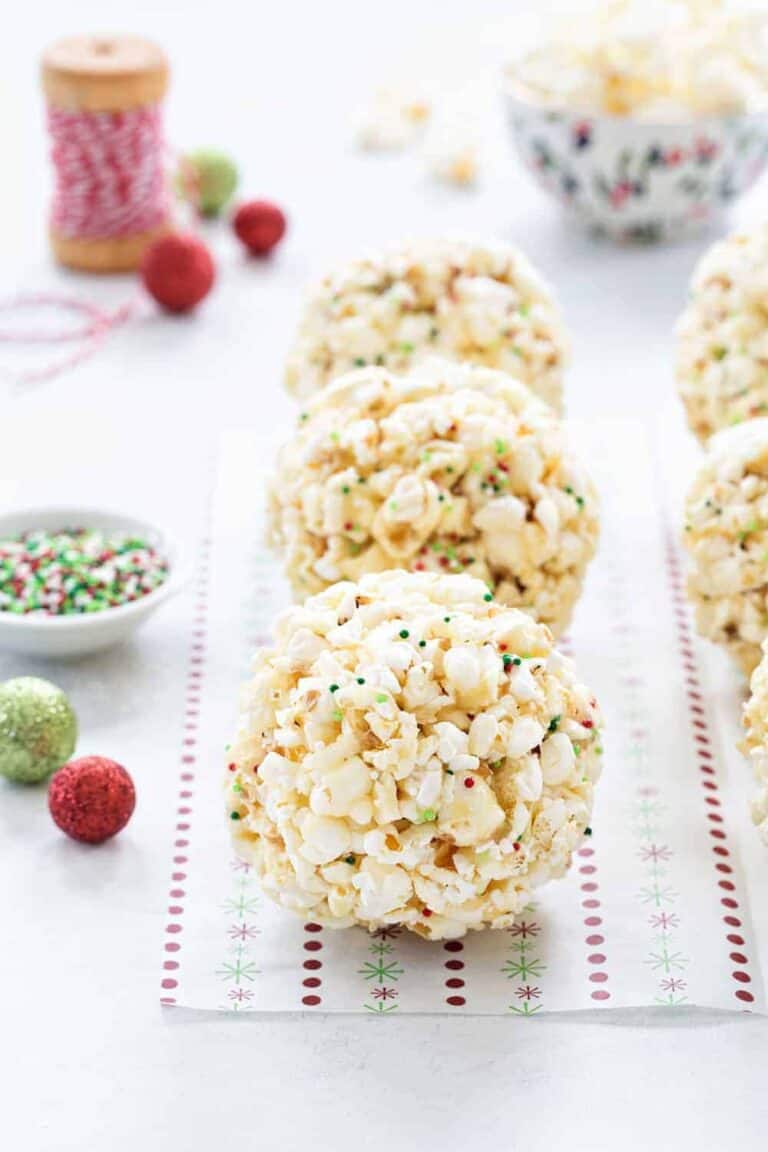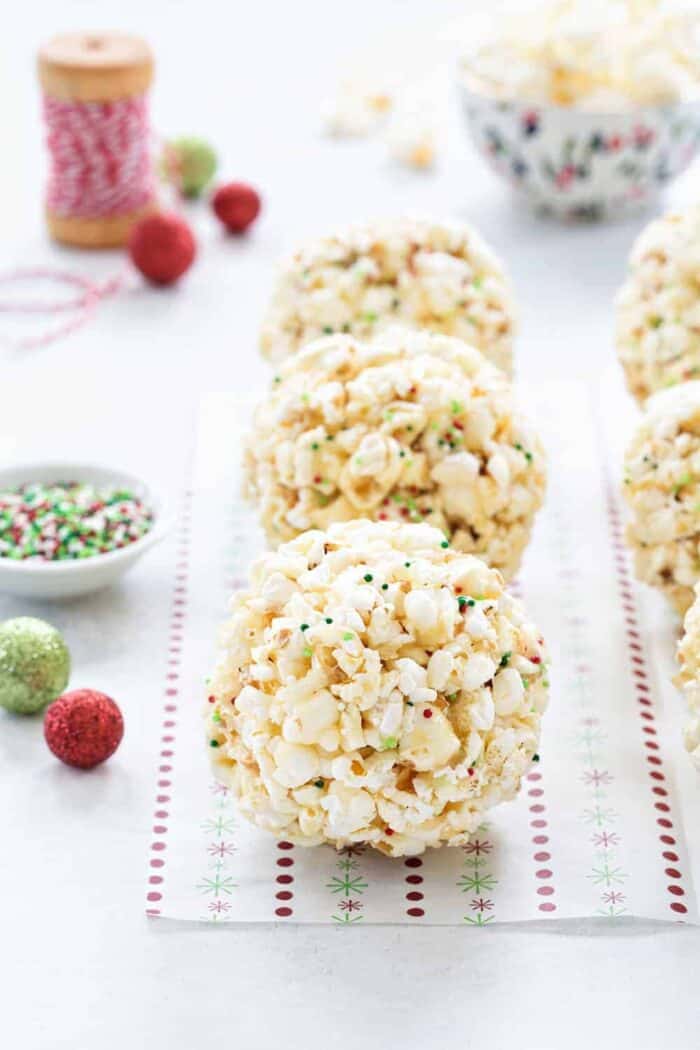 This post is sponsored by Karo® Syrup as part of the Season of Sweetness Blogger Program. Thank you for continuing to support the brands that make My Baking Addiction possible.
When I was a child, we always spent Christmas Eve at my great aunt Dorothy's house.
We'd sip on a batch of holiday wassail that was always simmering on her stove top, and munch on a variety of Christmas cookies.
Her home was always in perfect order and smelled of Christmas. At the time, she was the Martha Stewart of our family (I like to think the torch has passed to moi) and had amazing taste in decor.
My mom always tells me how proud she'd be of our home since I also a lover of home decor.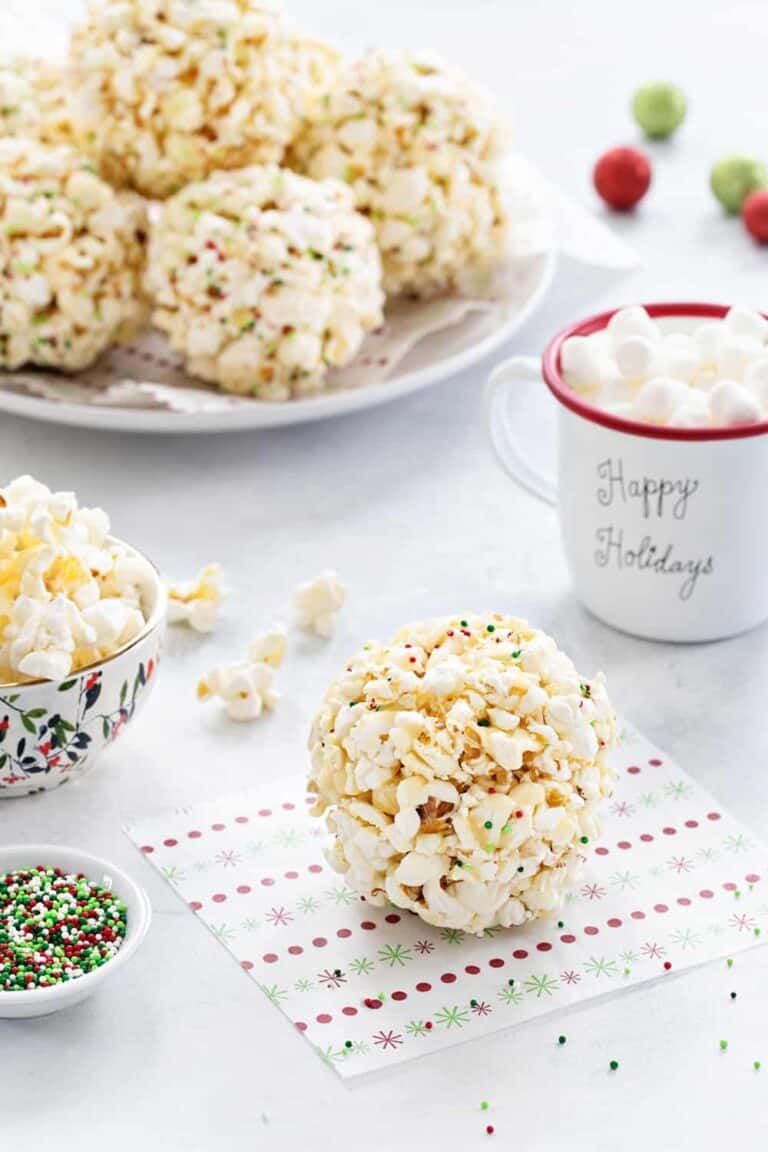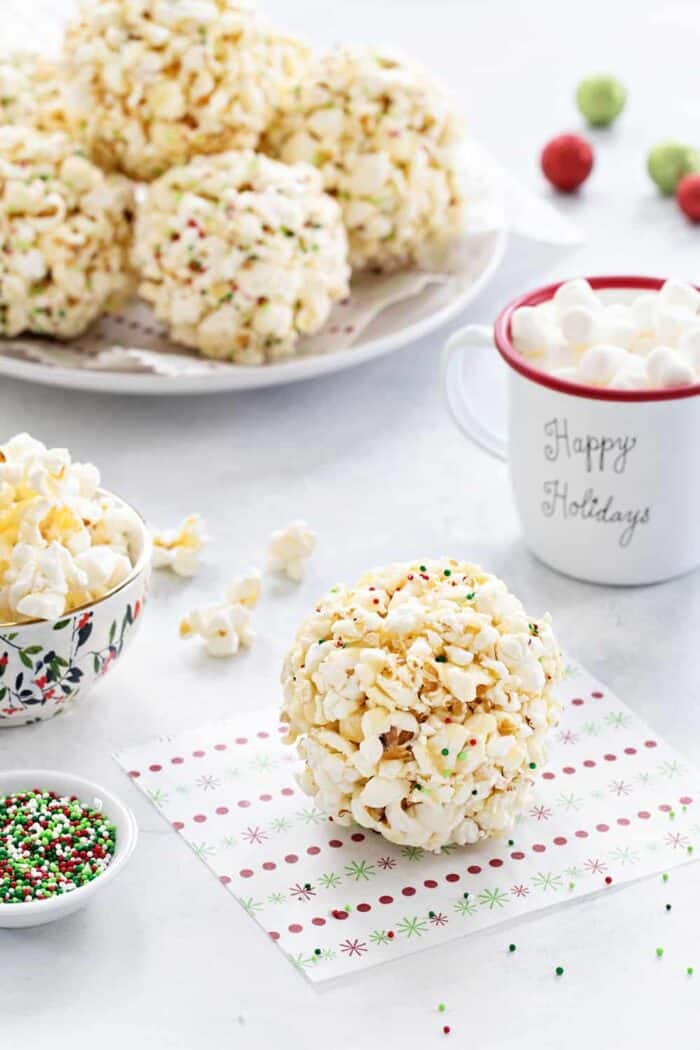 It's in her living room (with the fancy floral carpet) that I developed my love of pencil trees with twinkling white lights.
She also has a huge collection of vintage Santa figurines that were always on display – each with their own unique character and charm.
She'd give my brother and I an envelope every year that was adorned with tiny stickers and she had a creative and clever way of adhering some cash inside the envelope.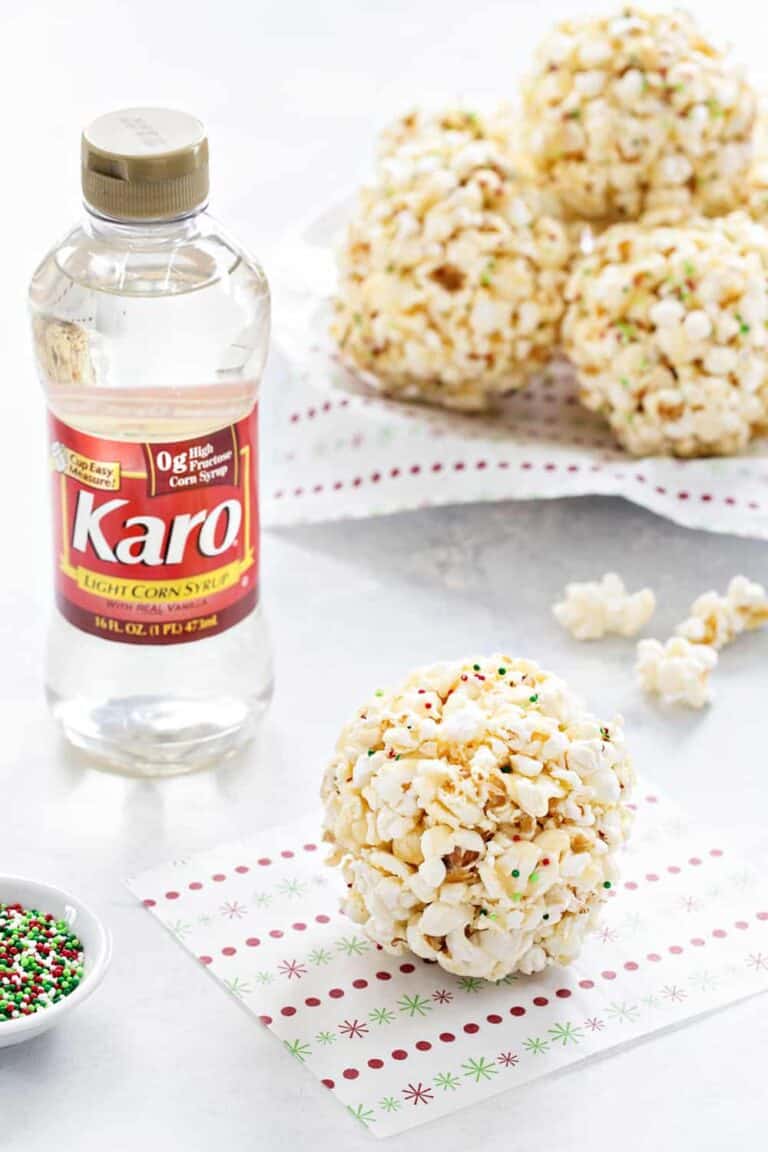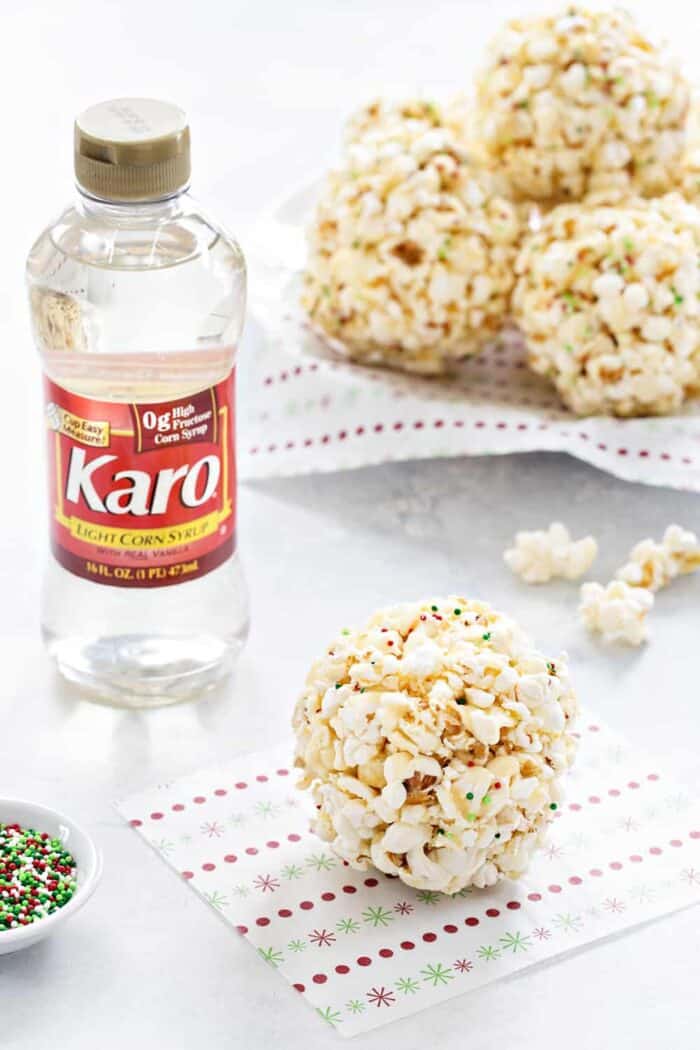 Aunt Dorothy also always had a little basket or bowl filled with wrapped popcorn balls. Nothing fancy, just a plain white snowball sized popcorn ball wrapped in cellophane.
As simple as this treat was, it was always one of my favorite things about visiting her on Christmas Eve.
Since having Elle, I am always trying to find ways to keep family traditions alive. From my Nana's pumpkin rolls and my mom's chicken paprikash, to Eric's grandma's date cake.
It's these food traditions that truly make the holiday season extra special. Aunt Dorothy is still with us, but lives in a memory care facility that focuses on Alzheimer's patients.
Now that Elle is getting more and more eager to be in the kitchen, I love making holiday memories with her while creating some of my favorite childhood treats.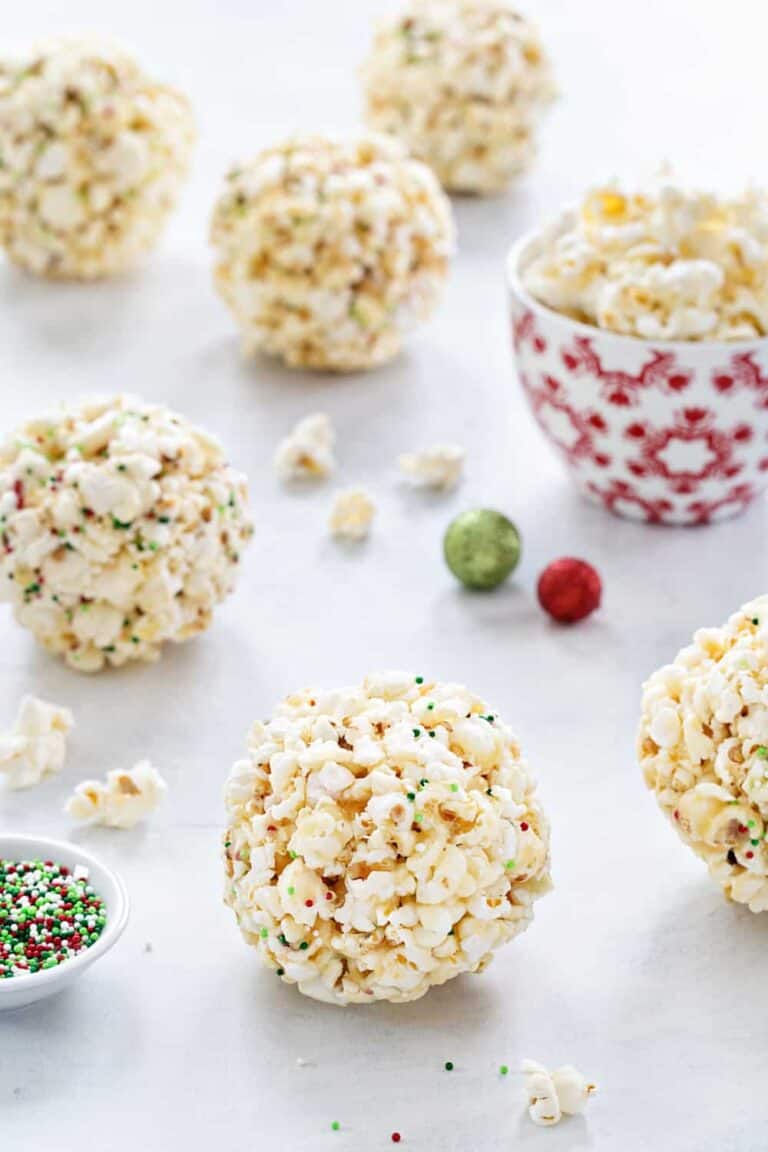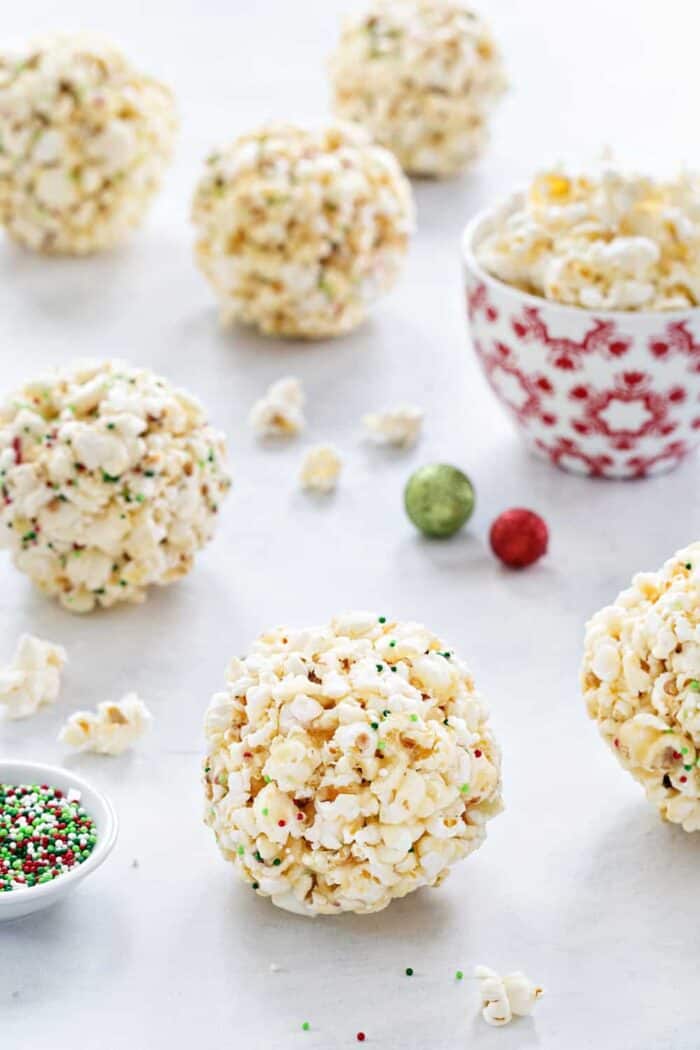 Last week we rolled up our sleeves and whipped up these simple popcorn balls. If you've never made homemade popcorn balls, you'll be amazed at how simple they are.
And I'm pretty sure you probably already have all of the ingredients on hand.
You simply make a sweet syrup by combining sugar, Karo® Syrup, butter, salt, vanilla, and baking soda and then pour it over freshly popped popcorn.
You stir it all together, wait for it to cool a bit, and then form it into balls.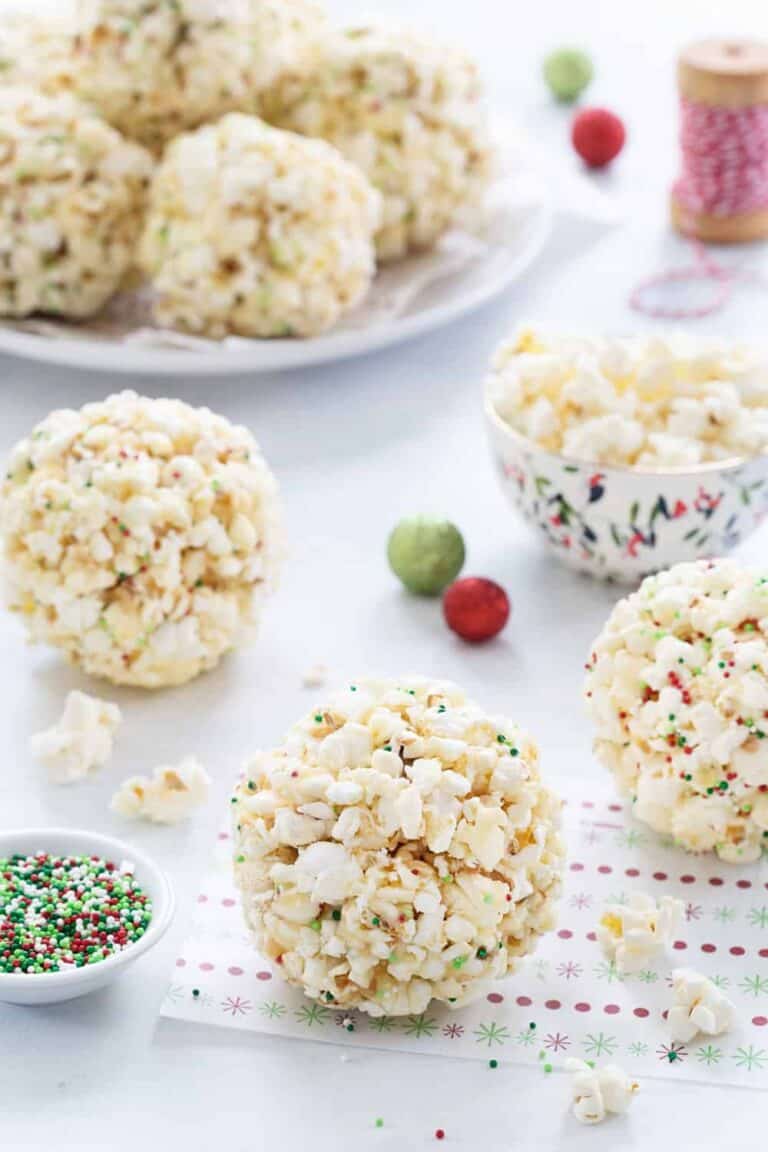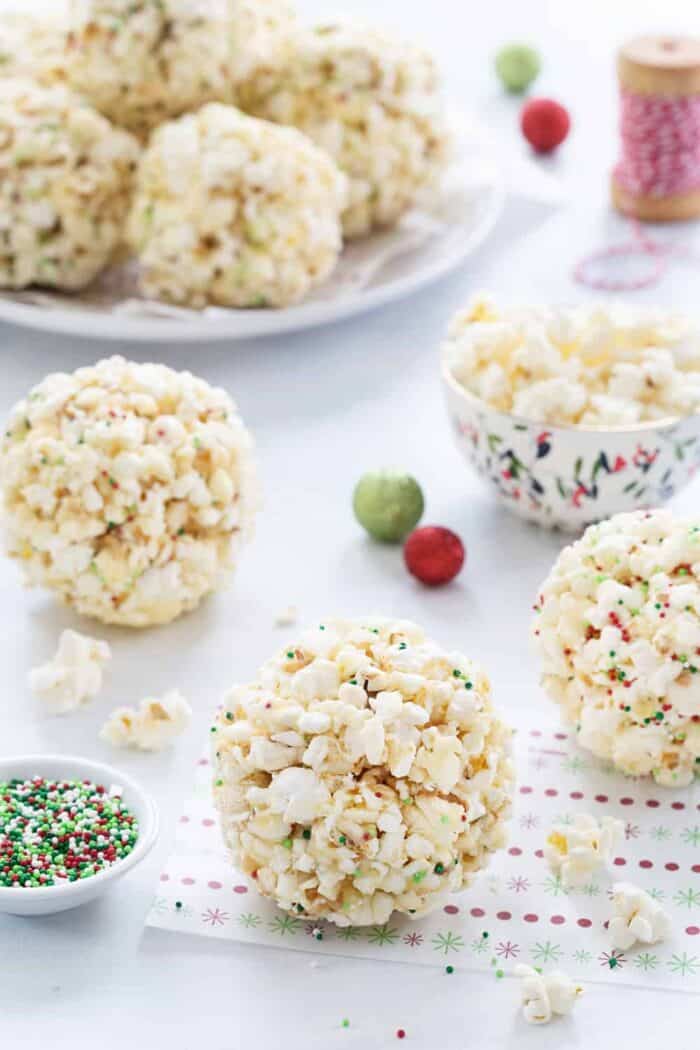 The Karo® Syrup adds just the right amount of sweetness and ensures your popcorn balls will keep their shape.
While I was thinking of ideas for these popcorn balls, so many delicious flavor combinations came to mind, but I wanted to keep these simple, just like Aunt Dorothy's.
Since Elle loves sprinkles, she insisted that we add some to our popcorn balls. And I have to say, my little babe was onto something, because they added just the right amount of festive color.
You can even add a little food dye to create red and green popcorn balls.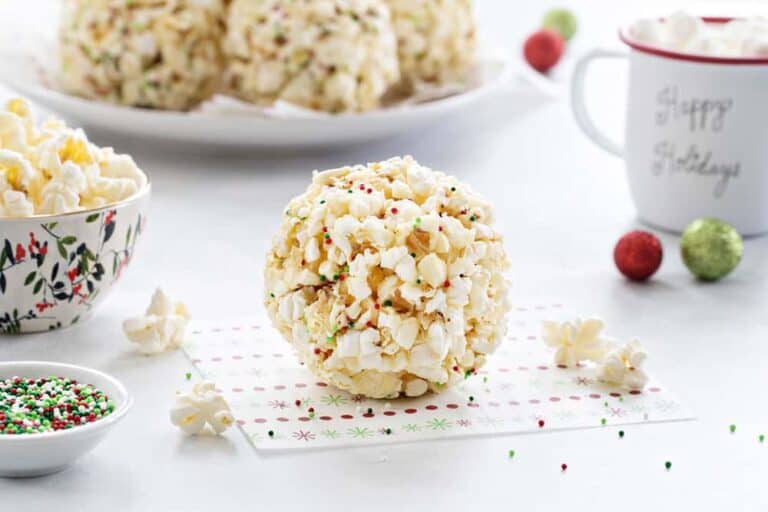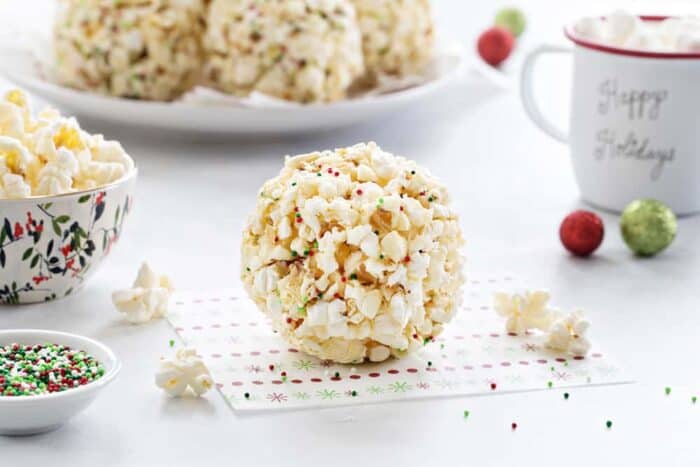 I think we're going to make a brown butter-sea salt version and perhaps maple-pecan popcorn balls later this week.
If you're looking for a fun and delicious treat the whole family will love, give these simple popcorn balls a try! They just might become your new holiday tradition.
For more recipes using Karo® Syrup, be sure to check out these Chocolate Bourbon Pecan Bars and these Mini Chocolate Pecan Cheesecakes.
This post may contain affiliate links. We are a participant in the Amazon Services LLC Associates Program, an affiliate advertising program designed to provide a means for us to earn fees by linking to Amazon.com and affiliated sites.