Biscoff Sandwich Cookies are made up of two Biscoff-flavored oatmeal cookies and a creamy Biscoff filling. They're sweet and indulgent and absolutely perfect for anyone who loves cookie butter!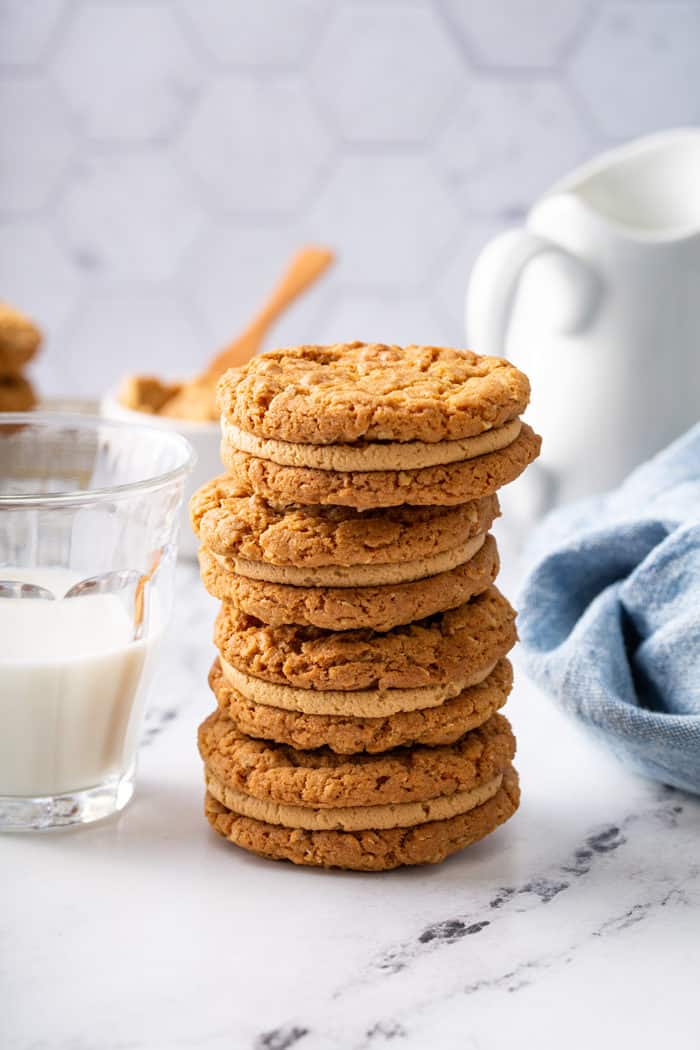 I'm a big fan of pretty much any kind of sandwich cookie.
Oreos are my jam, but only if they're Double Stuf – heck, I even have a recipe for Homemade Oreos here on My Baking Addiction and I'll forever be obsessed with my Homemade Oatmeal Cream Pies.
Personally, I think there's just something about a few sandwich cookies and glass of ice cold milk that just hits different.
By adding in the delicious flavors of cookie butter to create these Cookie Butter Sandwich Cookies, you pretty much have the stuff cookie butter dreams are made of.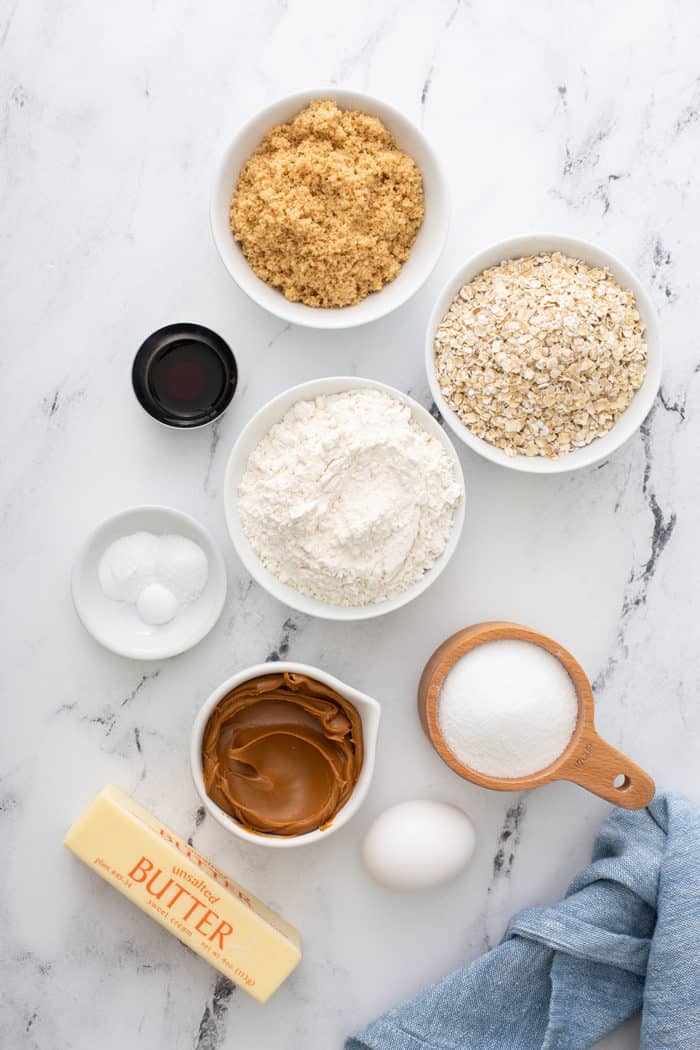 WHAT ARE BISCOFF COOKIES?
I've been an avid fan of Biscoff cookies since the moment I tried them years ago on a flight to California and have affectionately referred to them as airplane cookies ever since.
Never had a Biscoff cookie? Biscoff cookies are speculoos cookies – a traditional, richly spiced Belgian cookie.
Speculoos cookies are crispy and flavored with spices such as cinnamon, ginger, cloves, and cardamom.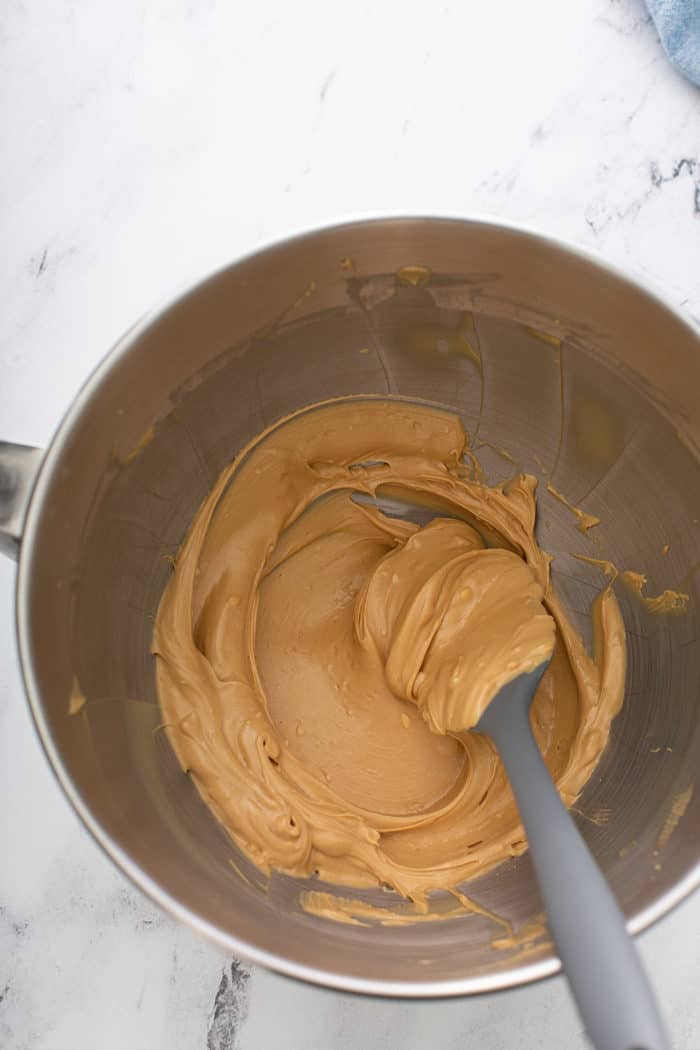 WHAT IS COOKIE BUTTER?
Depending on where you shop and what brands are available, you may have seen something called "cookie butter" or "Biscoff spread."
Cookie butter (or Biscoff spread) is made with speculoos cookies and is similar to Nutella or peanut butter. It's spreadable and full of the flavor of the Biscoff cookies you know and love.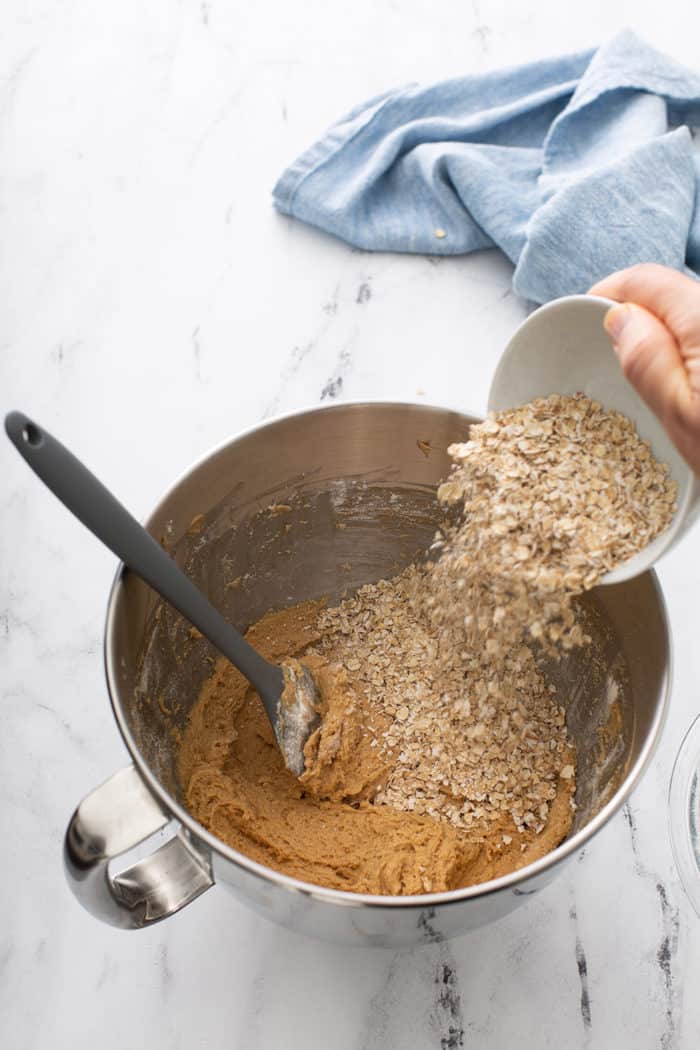 I don't know whose idea it was to turn Biscoff cookies into a spread, but they were clearly a genius. How could something made from Biscoff cookies not be utterly amazing?
Whether it be creamy or crunchy, I'll happily spread it on just about anything. It's perfect on toast, fruit and graham crackers – seriously, try it on s'mores. And if you're feeling a little bit naughty, go ahead and dip your spoon directly into the jar – I won't tell anyone!
Honestly, I find myself reaching for the jar of cookie butter more than I do the peanut butter. And if you've read MBA for any length of time, you know that I am quite the peanut butter addict. (Just check out all of my peanut butter recipes if you aren't sure!)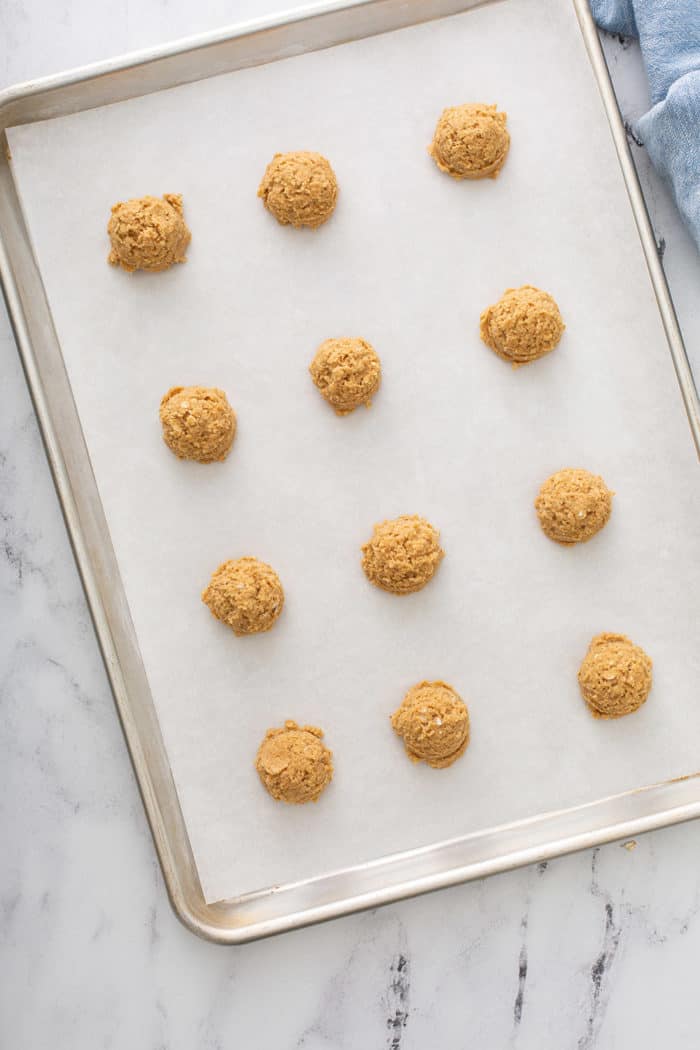 HOW TO MAKE HOMEMADE BISCOFF COOKIES
These Biscoff Sandwich Cookies are a take on these Peanut Butter Sandwich Cookies.
The base cookie is an oatmeal cookie bursting with Biscoff flavor. You can eat the cookies on their own, but I like to make them extra indulgent by sandwiching them with a creamy Biscoff filling.
They're simple and perfect for stashing in lunchboxes or served with an ice cold glass of milk as an after-school snack!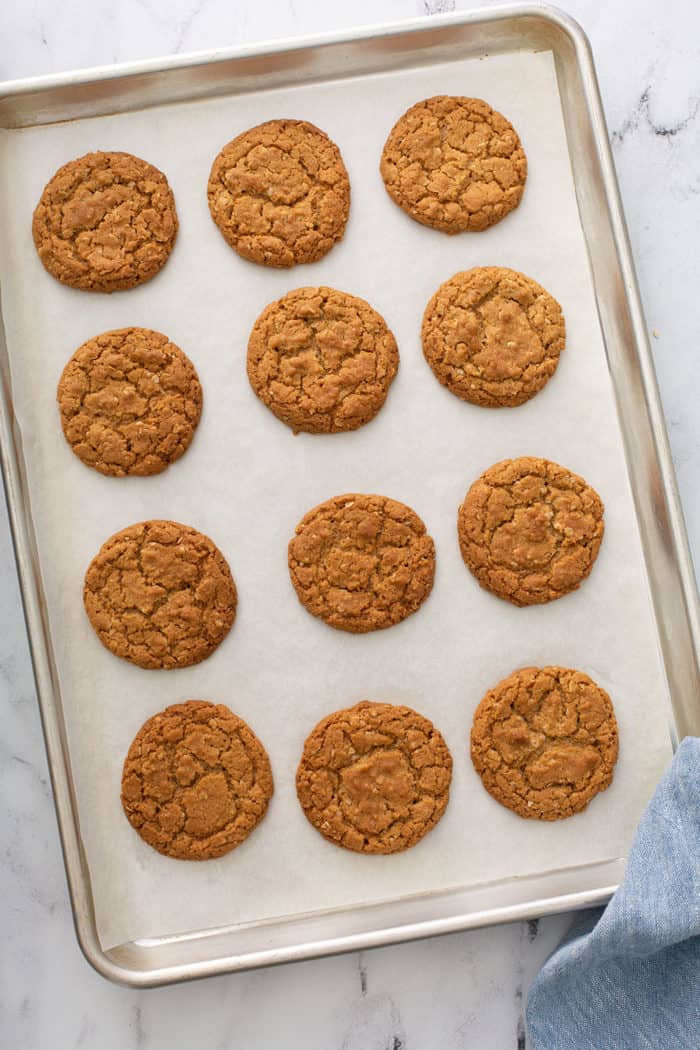 To make these Biscoff Sandwich Cookies, you will need:
1/2 cup unsalted butter, softened
1/2 cup creamy cookie butter (aka Biscoff spread)
1/2 cup sugar
1/2 cup packed light brown sugar
1 large egg
1 teaspoon pure vanilla extract
1 cup all-purpose flour
1/2 teaspoon baking soda
1/4 teaspoon baking powder
1/2 teaspoon salt
1 cup quick cooking oats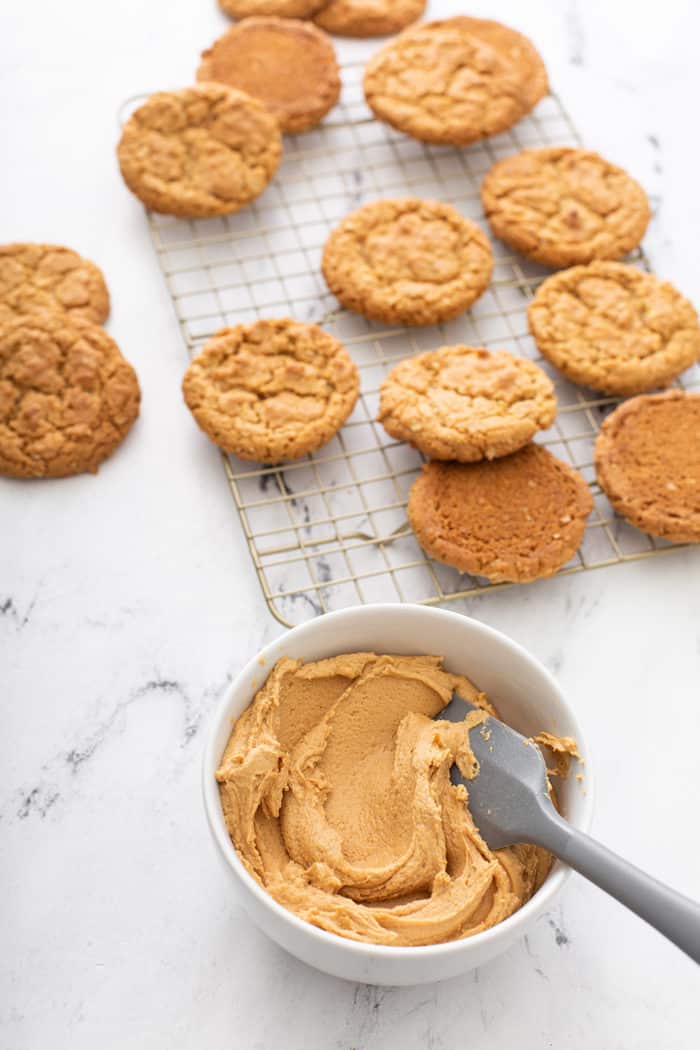 Start by creaming together the butter and the cookie butter until light and fluffy. Add in the sugars and vanilla, followed by the egg.
In a separate bowl, whisk together the flour, baking soda, baking powder, and salt. Stir the dry ingredients into the wet ingredients, then stir in the oats.
Use a cookie scoop to scoop the dough onto a lined baking sheet. Bake for about 10 minutes, then let the cookies cool on the baking sheet for 5 minutes before transferring to a wire rack to cool completely.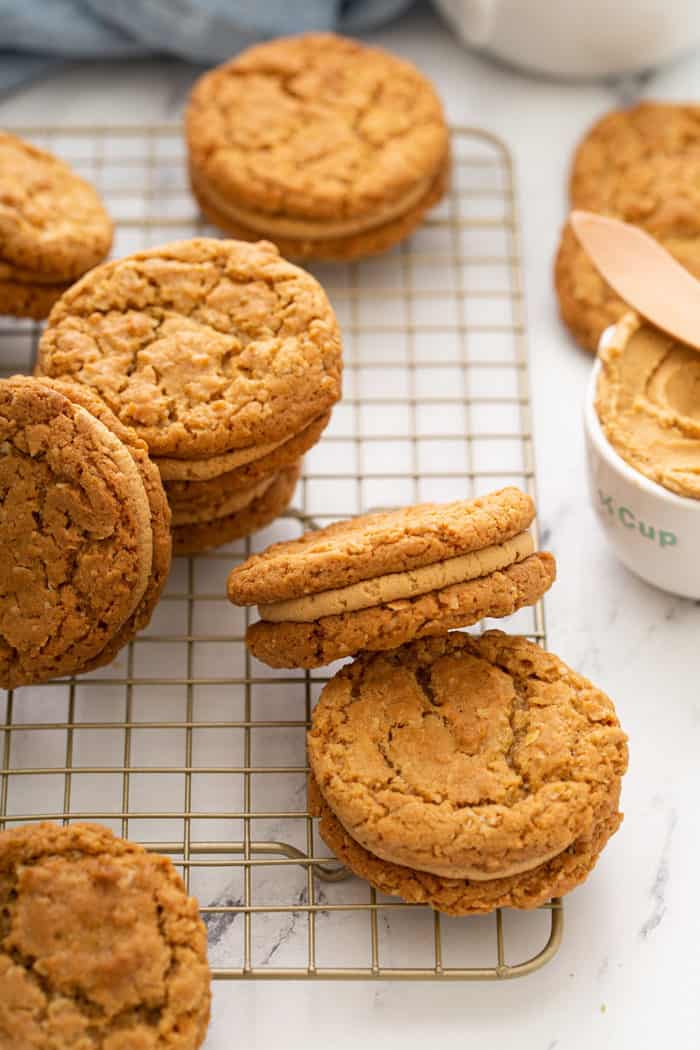 These cookies are sweet, buttery, and the spices from the Biscoff spread pair perfectly with the oats. If you want to make them extra rich, whip up the Biscoff filling and spread it onto half the cookies, making sandwiches with the other half.
Wondering how to use up the rest of that jar of cookie butter? Try making some Biscoff marshmallow treats!
But if you want to just eat it with a spoon, I won't tell anyone.