Crispy crunchy Biscoff Marshmallow Treats may be my very favorite version of that cereal snack. You're gonna love 'em.
This is a sponsored post on behalf of Campfire® Marshmallows. Thank you for continuing to support the brands that make My Baking Addiction possible.
Oh, guys. Moving is the pits. I feel like we've been doing it forever. Which, if you take into account having to piece-meal it together because of the holidays and a toddler, we have been.
Our new house is coming along, but there boxes everywhere and toys scattered throughout the chaos (oh, did I mention baby girl had a birthday in the middle of all this and got ALL THE TOYS as gifts?), and I'm staring down the fact that my kitchen and photography props have to be unpacked in a super hurry, which just stresses me OUT.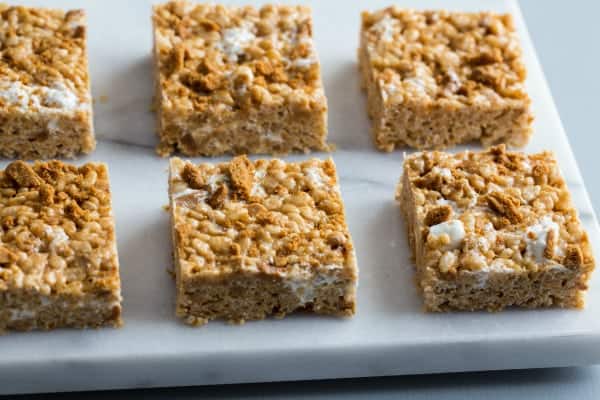 Right before we moved, I made these amazing Biscoff Marshmallow Treats. With crispy crunchy Biscoff cookies, creamy Biscoff spread, and perfectly melted, sweet Campfire® marshmallows, they are indeed as delicious as they sound.
The great thing about these Biscoff Marshmallow Treats is that they're no-bake. All I needed was a big saucepan, a spatula, and a casserole dish to get me where I needed to be – Snacktown heaven.
To make these treats, you'll start as you always do – with the best marshmallows in the land (Campfire®, duh), and butter. As it all starts to melt, you'll mix in creamy Biscoff spread. Once that's all ooey gooey goodness, you'll add chopped crunchy Biscoff cookies and rice cereal.
If you want to get big chunks of marshmallows in your treats, you can mix extra ones in with the cereal and cookies too. There's not much better than biting into a crispy, crunchy rice cereal treat with both cookies and ooey gooey Campfire® marshmallows.
As you may remember from my Strawberry Marshmallow Fudge, I'm thrilled to be teaming up with Campfire Marshmallows again in 2015 to bring you a year of exciting, seasonal, and delicious recipes.
We even created a Marshmallow Madness Pin Board where we'll pinning all of our favorite marshmallow recipes from our favorite food sites.
For more information about Campfire® marshmallows, find them on them on Facebook and Twitter.