These Peanut Butter Sandwich Cookies surround a creamy peanut butter filling with two peanut butter oatmeal cookies. Forget crumbly peanut butter cookies – you'll love the chewy texture and peanut butter punch of these sweet sandwich cookies!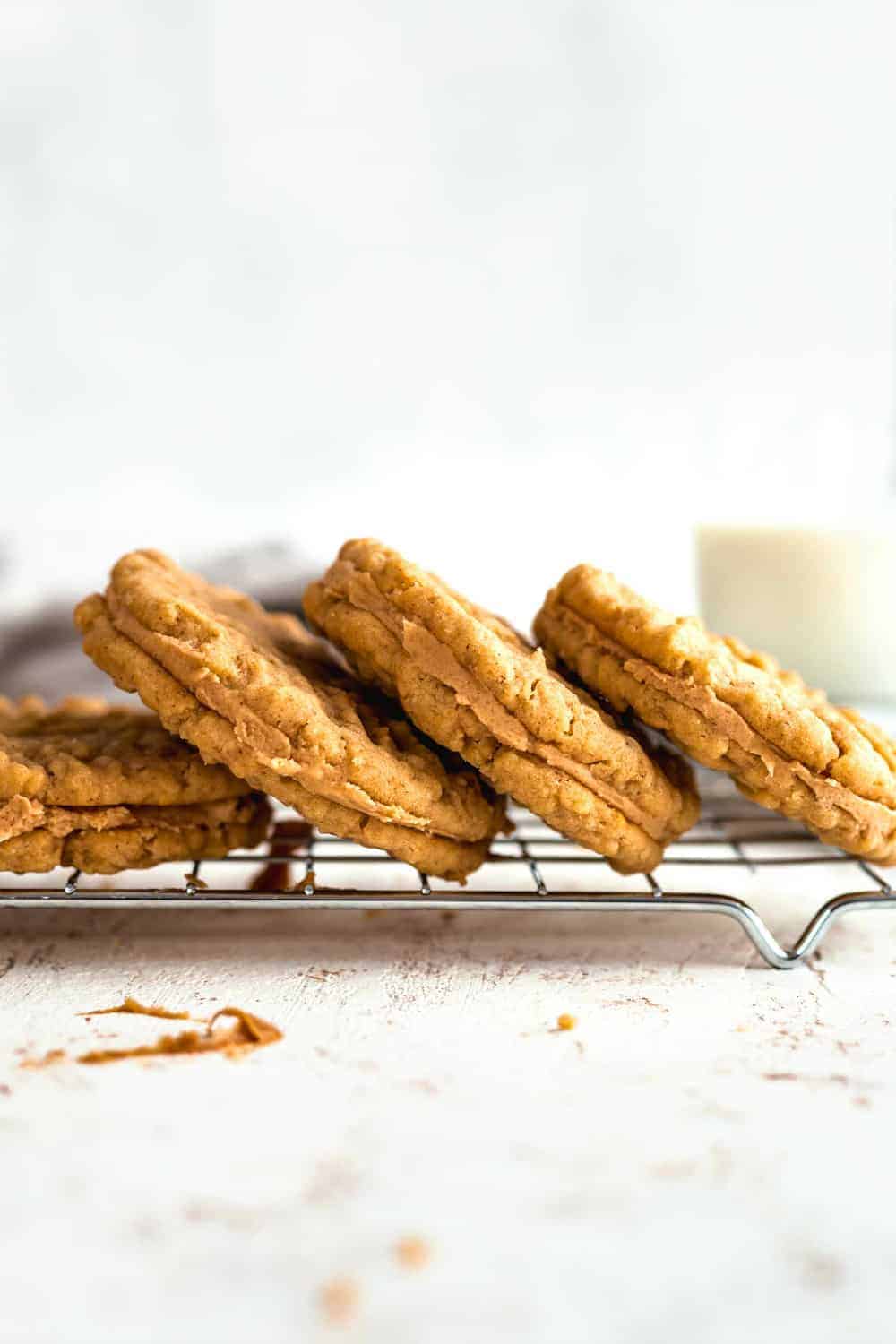 I don't know what it is about spring, but our schedule seems insane right now. Well, let me rephrase that, Elle's schedule is insane.
Between ballet recital rehearsals, piano, karate, and her neighborhood social life, this kid has a fuller Google calendar than my personal and work calendars combined.
The busyness has forced me to stay on top of my meal planning game and dinners like Chicken Piccata, Ritz Cracker Chicken, and Easy Crockpot Pulled Pork are in heavy rotation around here.
If I'm being honest, we're kind of in a chicken rut, so I picked up a new-to-me cookbook to find some quick and easy dinner inspiration. And let me tell you, the chicken lettuce wraps are our new favorite meal around here! Yes, another chicken recipe, but it is so good!
I've also not been super inspired in the cookie department because we've been so obsessed with these Chocolate Chip Cookies, so I decided to start whipping up some more of my old favorites, starting with these Peanut Butter Sandwich Cookies.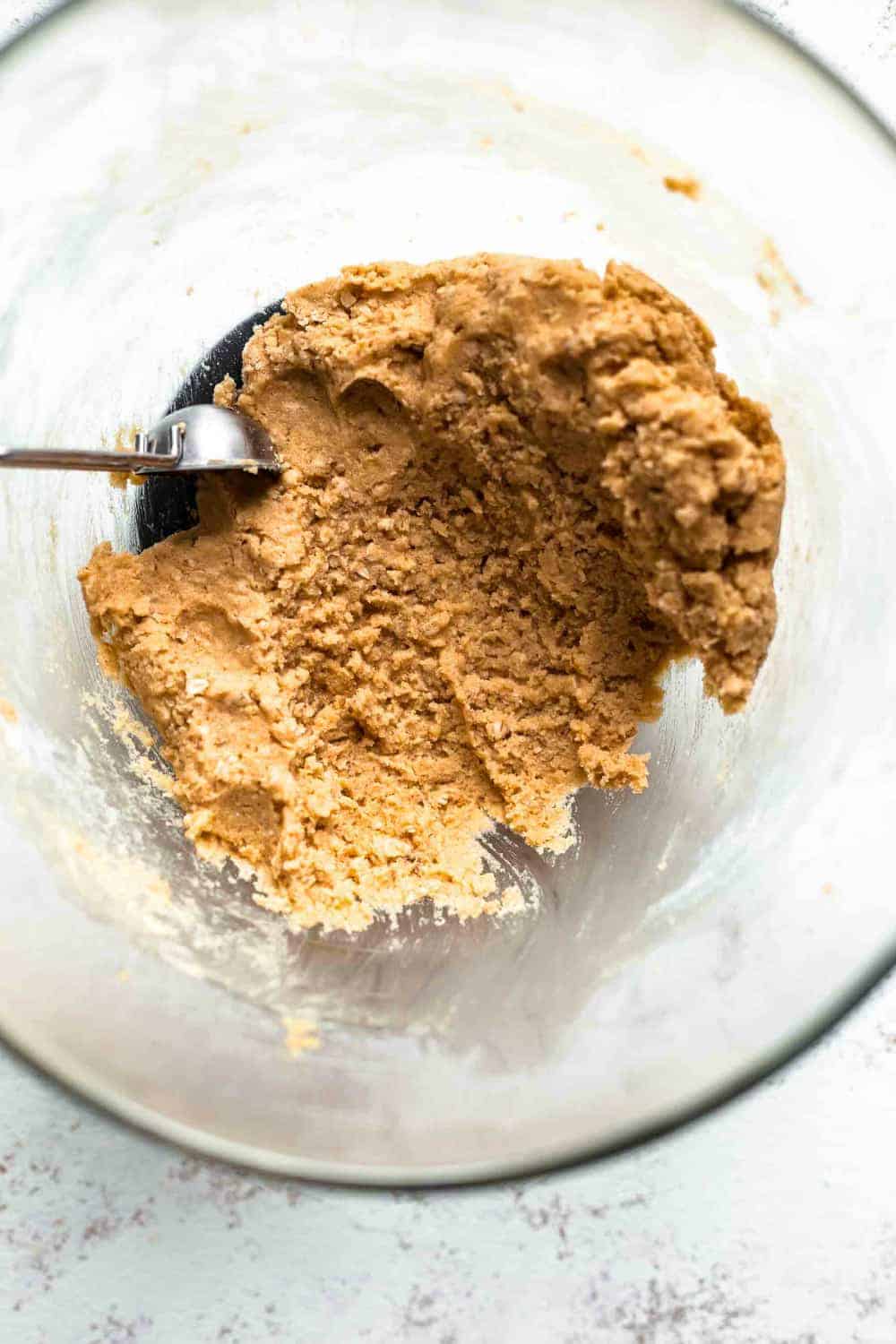 THE BEST PEANUT BUTTER COOKIES
I have done quite a bit of research on peanut butter cookies. Not the Peanut Butter Blossom kind, although those are some of my favorite cookies – the kind with the criss-cross pattern on top.
I have read blogs, recipe websites, message boards, cookbooks, and anything else I could get my hands on.
Most of the peanut butter cookie recipes I have tried had great reviews, but in my opinion made a less than desirable cookie.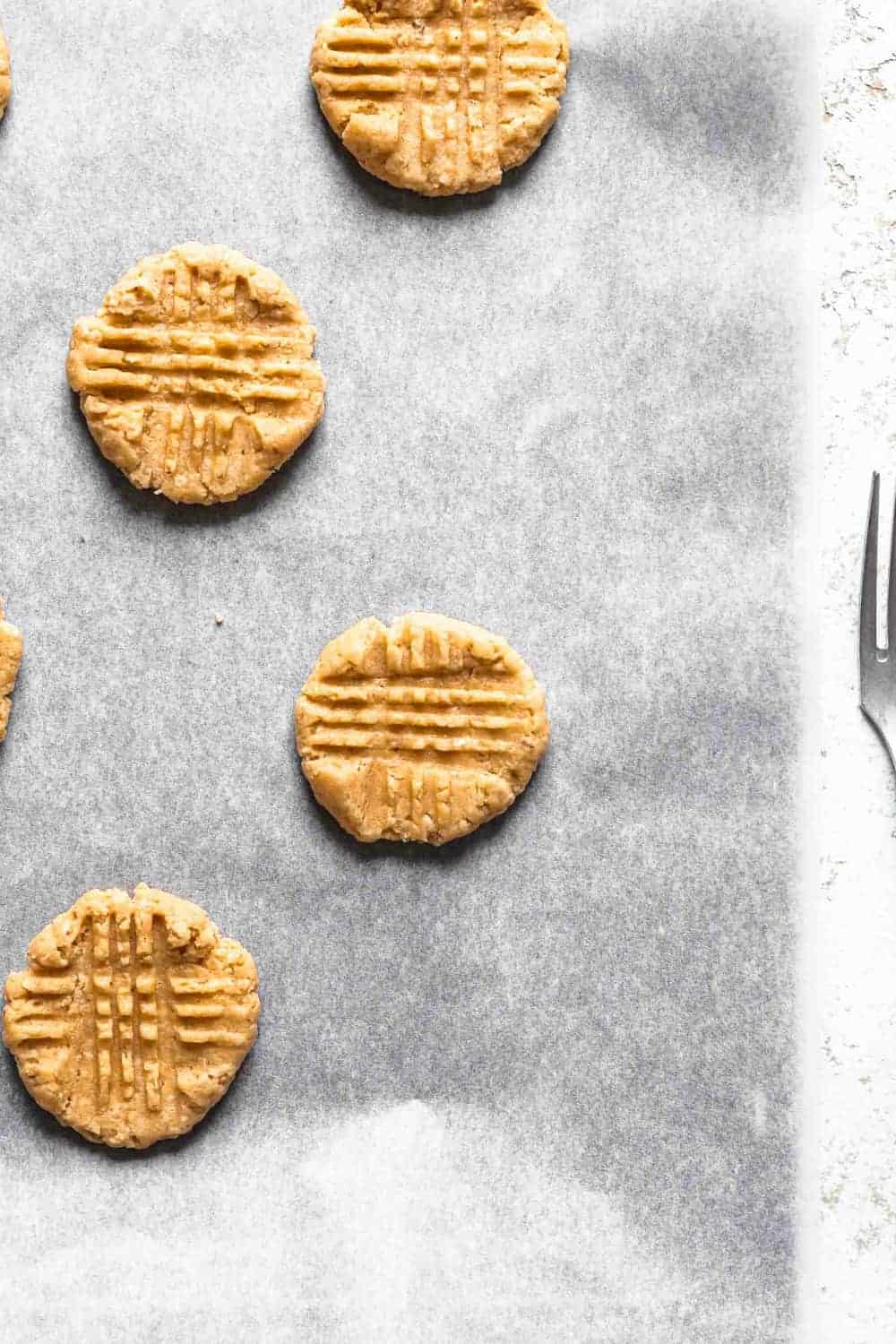 Some of them lacked peanut butter flavor and most an odd crumbly texture. I am as anti-crumbly-cookie as they come!
At that point I decided to try a recipe from AllRecipes. Some reviews for this recipe stated that these cookies actually tasted like my favorite Girl Scout cookies, so of course I was curious.
I made the first batch according to the instructions. I plopped the cookies down by the teaspoon full and baked for 10 minutes. Well, I ended up with slightly crunchy cookies in irregular shapes.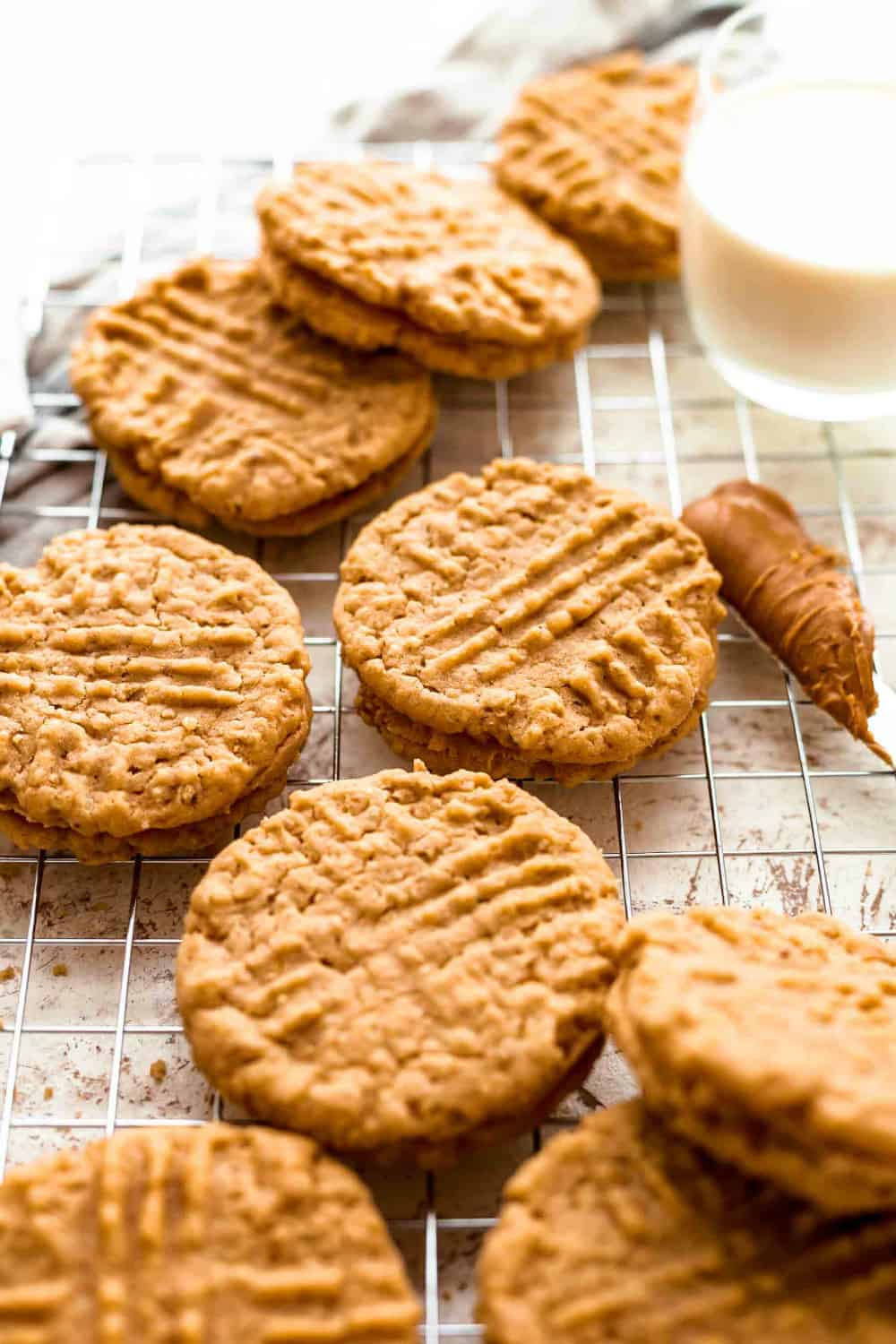 If you didn't know it before, I'm a bit of a perfectionist. Therefore, along with hating crumbly cookies, I also dislike irregular-shaped cookies and I decided to adjust a couple of components.
I ended up baking for them about 7 minutes and rolled the cookies into balls before pressing them down with the fork. I ended up with soft, chewy, perfectly shaped cookies.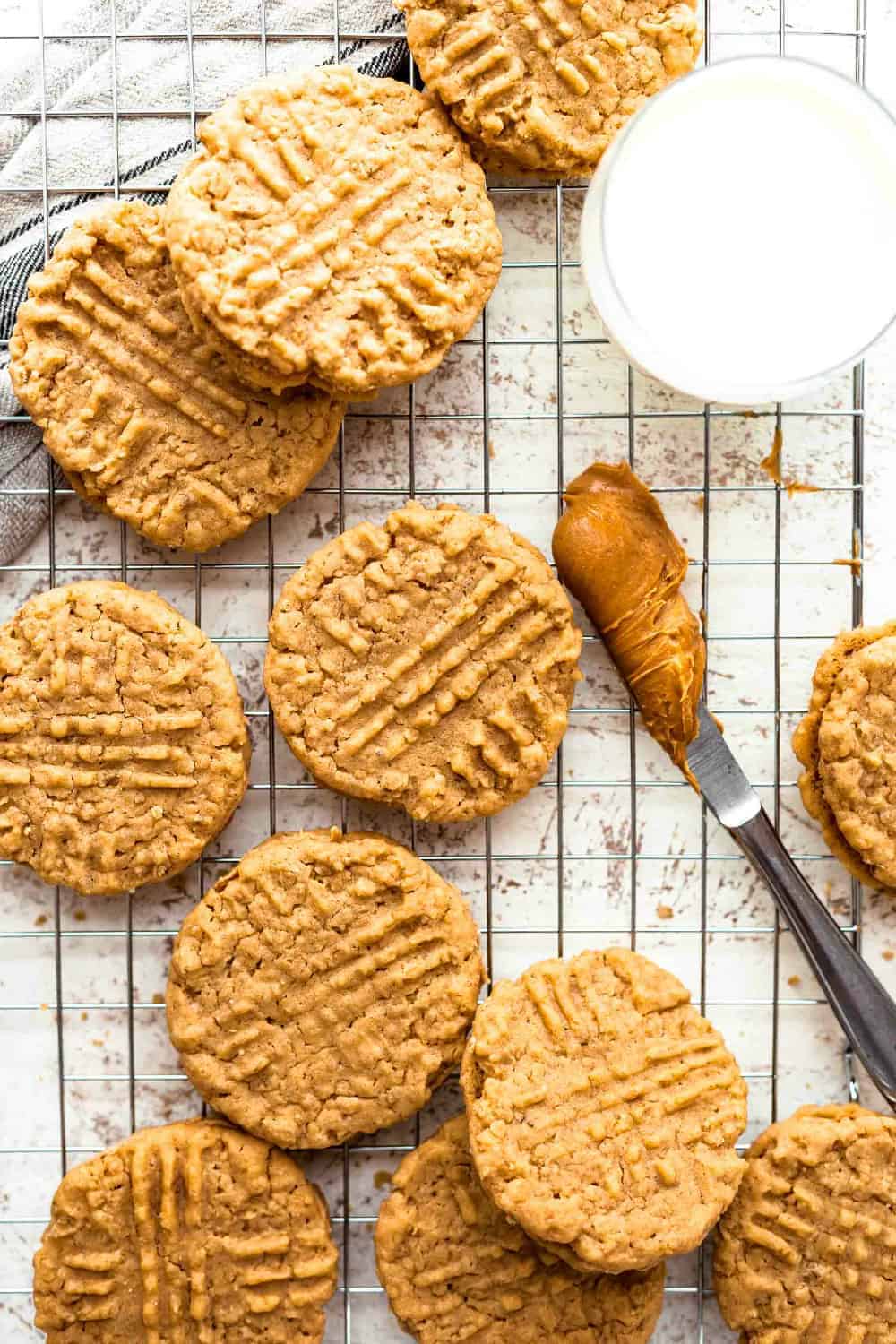 In my opinion, this recipe makes my hands-down favorite peanut butter cookie – it's delicious!!
(Psst! Want to make the dough ahead and freeze it for later? Follow my method for how to freeze cookie dough!)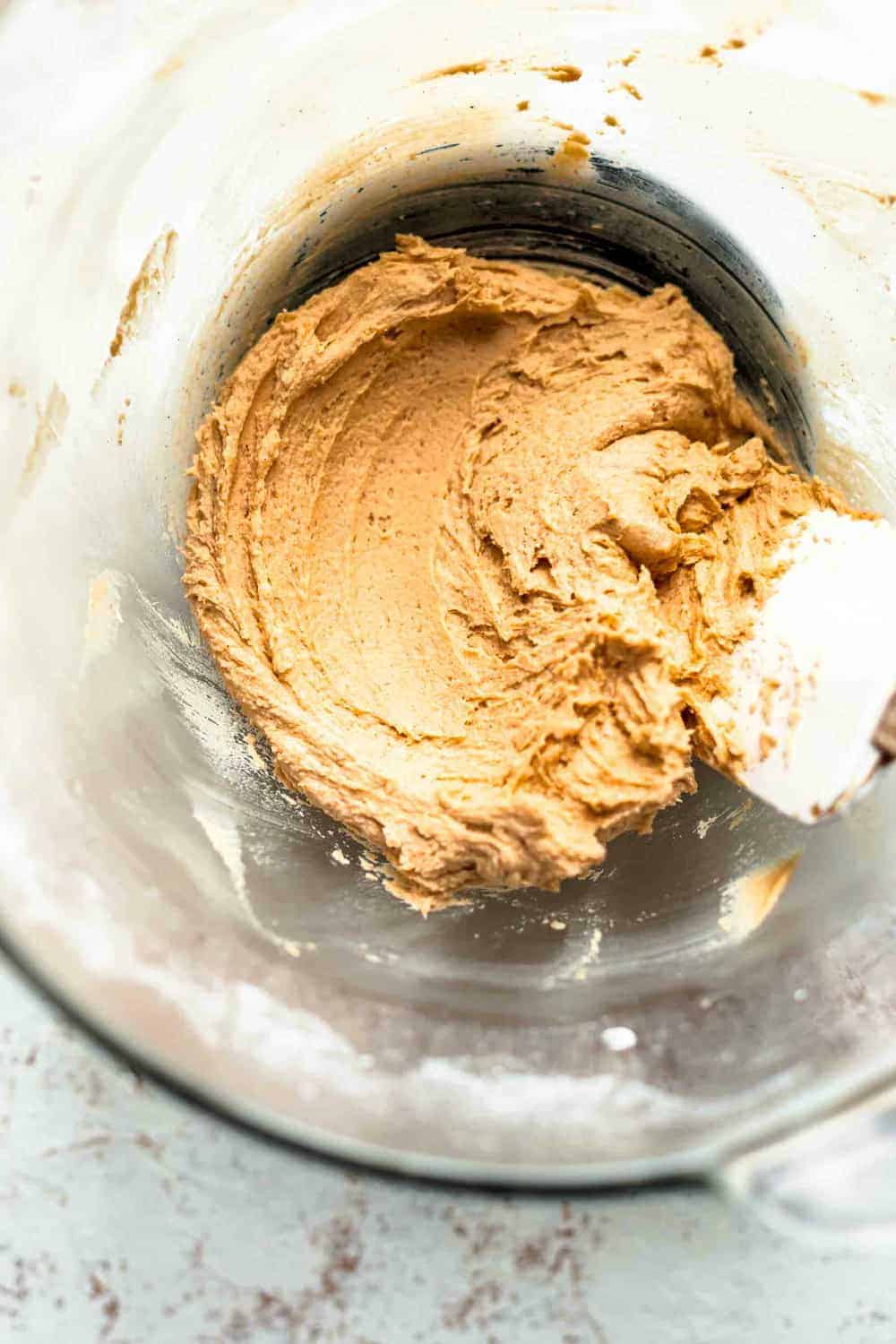 MAKING PEANUT BUTTER FILLING
But you can't make peanut butter cookies that taste just like the Girl Scout stand-bys without turning them into sandwich cookies.
That would be like making Homemade Samoas without coconut or Homemade Thin Mints without chocolate!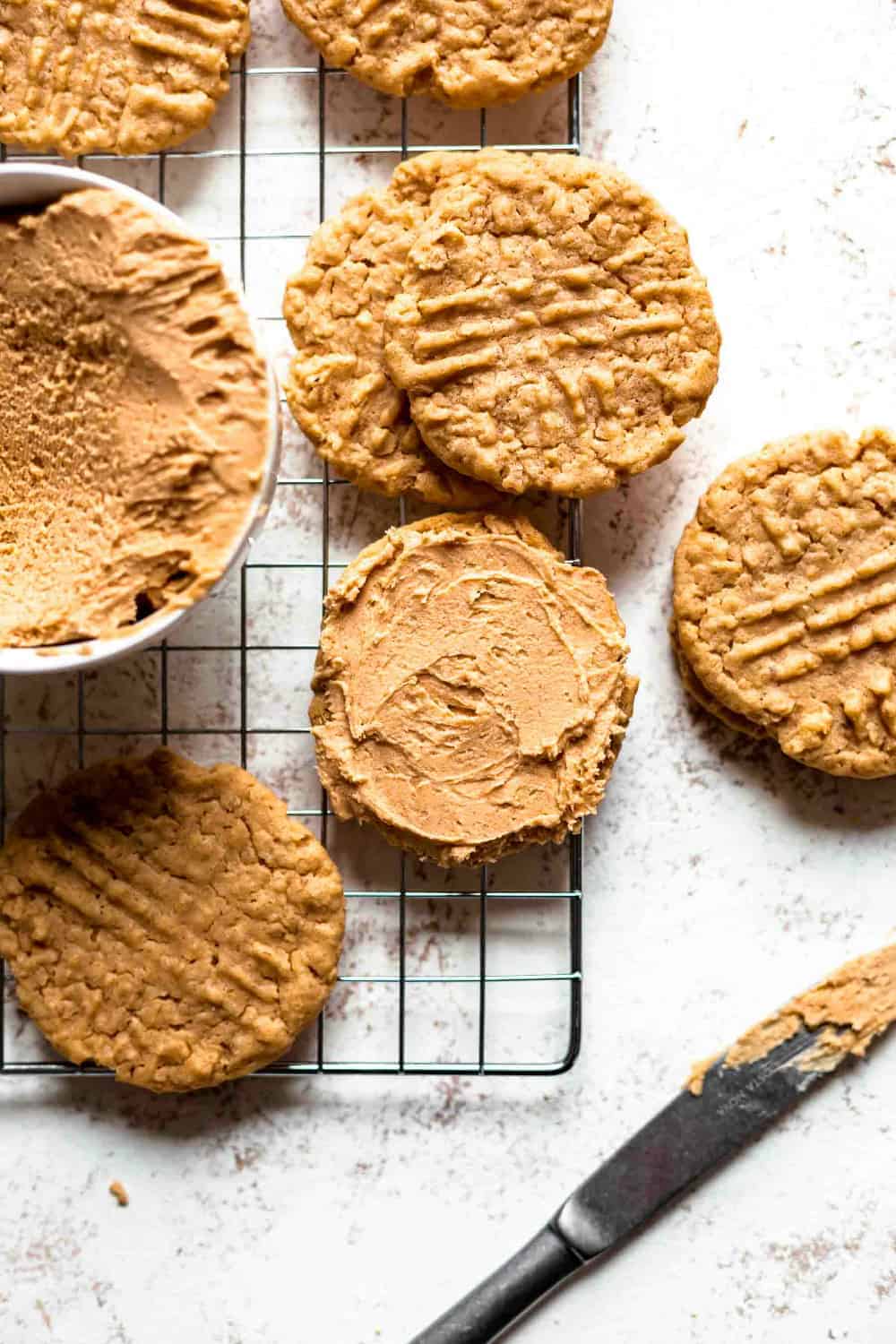 The best thing about Peanut Butter Sandwich Cookies is how the creamy peanut butter filling balances out the texture of the cookies and adds an extra layer of peanut butter flavor.
These cookie sandwiches are a peanut butter lover's dream.
Making the peanut butter filling is pretty similar to making Homemade Buttercream Frosting or the frosting for Apple Peanut Butter Cupcakes. You can choose to spread it or pipe it on to make the Peanut Butter Sandwich Cookies. Either method works great!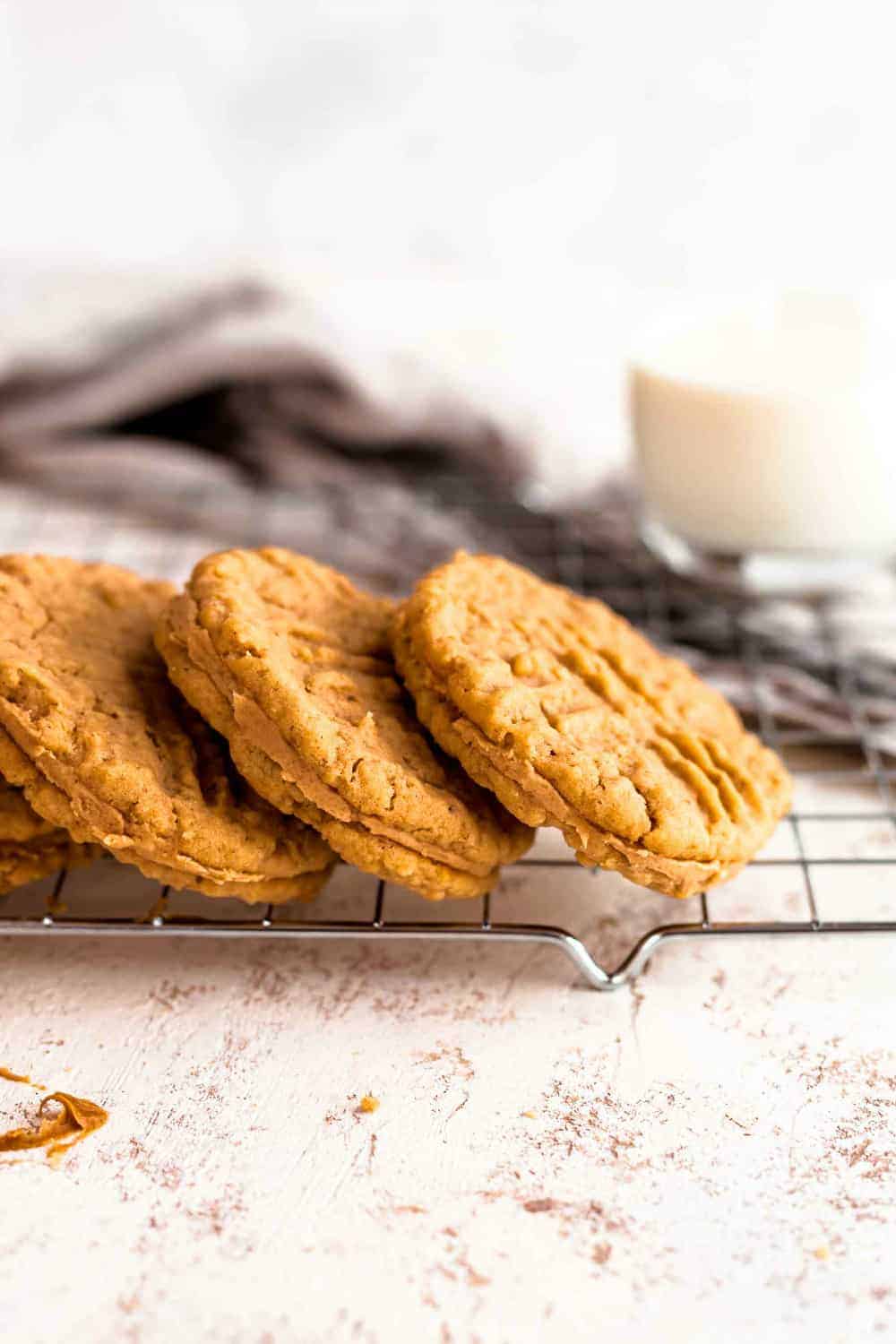 HOW DO YOU STORE PEANUT BUTTER SANDWICH COOKIES?
You can store Peanut Butter Sandwich Cookies in an airtight container at room temperature for up to three days.
You may also store them in the refrigerator if your house is particularly warm. I recommend letting them come to room temperature before serving.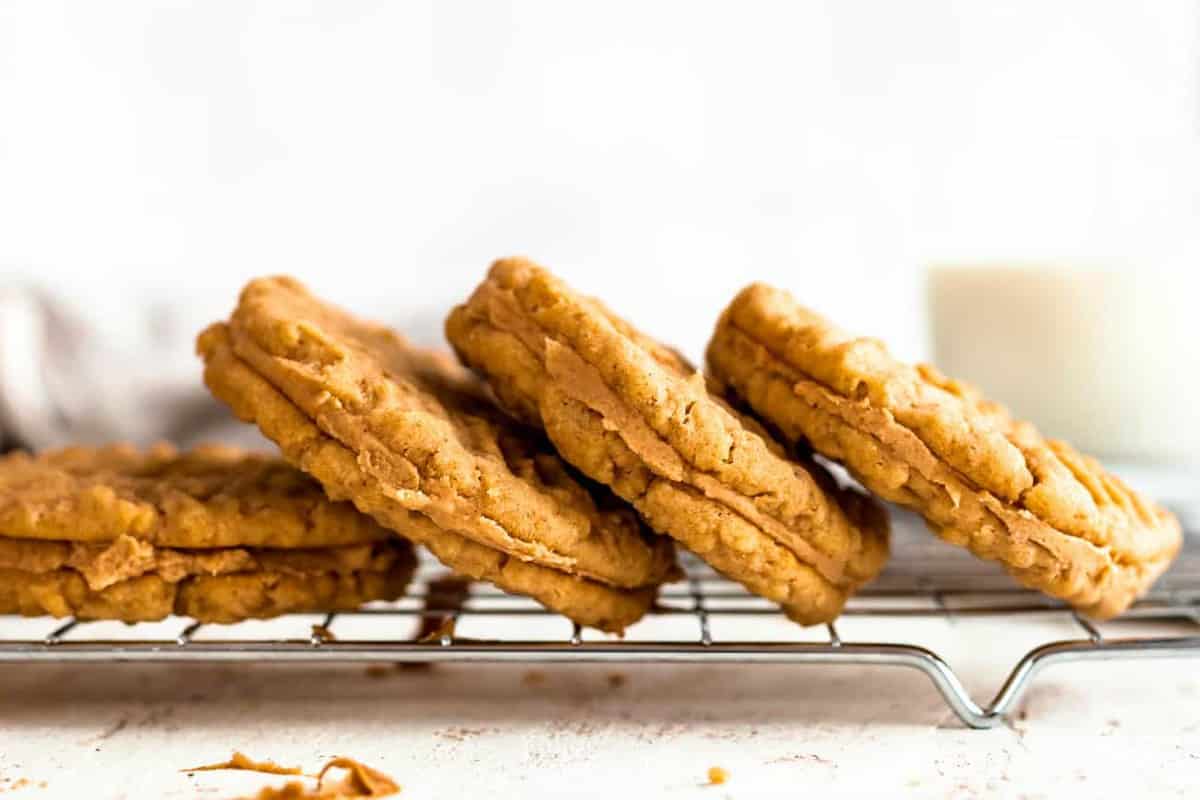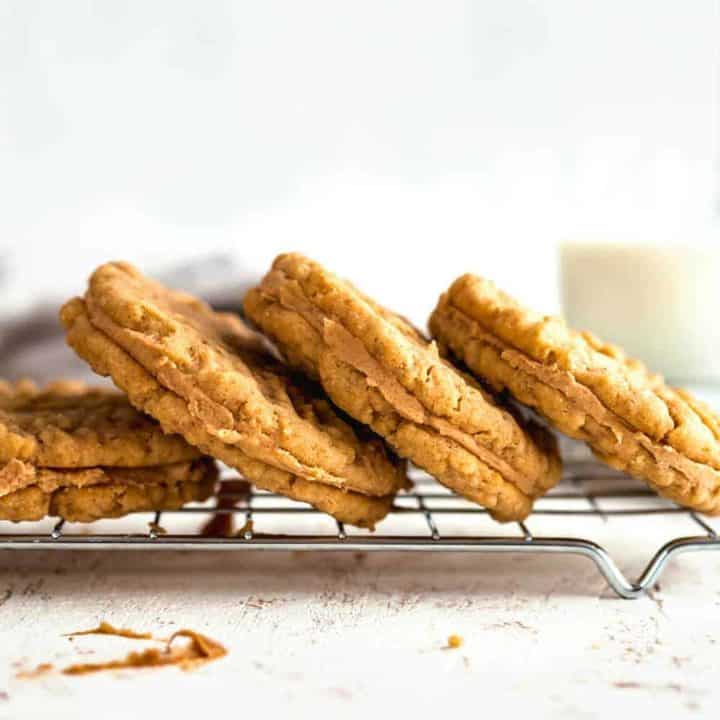 Peanut Butter Sandwich Cookies
Yield:
12 Sandwich Cookies
These Peanut Butter Sandwich Cookies surround a creamy peanut butter filling with two peanut butter oatmeal cookies. Forget crumbly peanut butter cookies – you'll love the chewy texture and peanut butter punch of these sweet sandwich cookies!
Ingredients
For the Cookies:
1/2 cup butter, softened
1/2 cup peanut butter
1/2 cup white sugar
1/2 cup packed light brown sugar
1 teaspoon vanilla extract
1 egg
3/4 cup all-purpose flour
1/2 teaspoon baking soda
1/4 teaspoon baking powder
1/2 teaspoon salt
1 cup quick cooking oats
For the Filling:
3 tablespoons butter, softened
1 cup confectioners' sugar
1/2 cup smooth peanut butter
2 1/2 tablespoons heavy whipping cream
Instructions
For the Cookies
Preheat oven to 350F.
In the bowl of a stand mixer, cream together the butter, peanut butter, white sugar, brown sugar, and vanilla until light and fluffy. Beat egg separately by hand, then add to the mix and beat again.
In another bowl, combine the flour, baking soda, baking powder, salt, and oatmeal. Whisk them to combine equally. Add these dry ingredients to the creamed mixture and mix on low until evenly combined.
Pull by teaspoons and form into round balls with your hands. Drop onto a greased baking sheet, and press each mound down with a fork to form 1/4 inch thick cookies. Bake for 7 minutes, or until light brown.
For the Filling
In a stand mixer or with a hand mixer, cream together the butter and peanut butter.
Add confectioner's sugar a little at a time until fully incorporated, then add the cream a little at a time until you reach the desired consistency. You may not use all the cream.
Spread the filling onto cooled cookies, then combine with a second cookie to form sandwiches.
Notes
- Cookies store in an airtight container for up to 3 days.
Adapted from allrecipes.
Recommended Products
As an Amazon Associate and member of other affiliate programs, I earn from qualifying purchases.
Nutrition Information
Yield

12
Serving Size

1 cookie sandwich
Amount Per Serving
Calories

388
Total Fat

23g
Saturated Fat

10g
Trans Fat

0g
Unsaturated Fat

11g
Cholesterol

47mg
Sodium

346mg
Carbohydrates

41g
Fiber

2g
Sugar

26g
Protein

7g