Peanut Butter Sandwich Cookies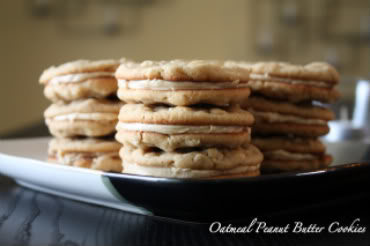 Two weeks ago I set out in search of great peanut butter cookie. I read blogs, recipe websites, message boards, pretty much anything I could get my hands on. I decided on a recipe that had great reviews, but in my opinion made a less than desirable cookie.
It lacked peanut butter flavor and had an odd crumbly texture. I am as anti-crumbly cookie as they come! At that point I decided to try a recipe from All Recipes. Some reviews for this recipe stated that these cookies actually tasted like my favorite Girl Scout cookies, so of course I was curious.

I made the first batch according to the instructions. I plopped the cookies down by the teaspoon full and baked for 10 minutes. Well, I ended up with slightly crunchy cookies in irregular shapes. You'll learn the longer you read My Baking Addiction that I'm a bit of a perfectionist; therefore, along with hating crumbly cookies, I also dislike irregular shaped cookies and I decided to adjust a couple of components.
I ended up baking for them about 7 minutes and rolled the cookies into balls before pressing them down with the fork. This happened to work out perfectly! I ended up having soft, chewy, perfectly shaped cookies. In my opinion, this is hands down my favorite peanut butter cookie – it's delicious!!

Peanut Butter Sandwich Cookies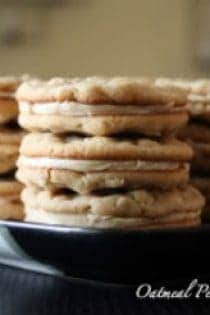 Ingredients:
For the Cookies
1/2 cup butter, softened
1/2 cup peanut butter
1/2 cup white sugar
1/2 cup packed light brown sugar
1 teaspoon vanilla extract
1 egg
3/4 cup all-purpose flour
1/2 teaspoon baking soda
1/4 teaspoon baking powder
1/2 teaspoon salt
1 cup quick cooking oats
For the Filling
3 tablespoons butter, softened
1 cup confectioners' sugar
1/2 cup smooth peanut butter
2 1/2 tablespoons heavy whipping cream
Directions:
For the Cookies
1. Preheat oven to 350F.
2. In the bowl of a stand mixer, cream together the butter, peanut butter, white sugar, brown sugar, and vanilla until light and fluffy. Beat egg separately by hand, then add to the mix and beat again.
3. In another bowl, combine the flour, baking soda, baking powder, salt, and oatmeal. Whisk them to combine equally. Add these dry ingredients to the creamed mixture and mix on low until evenly combined.
4. Pull by teaspoons and form into round balls with your hands. Drop onto a greased baking sheet, and press each mound down with a fork to form 1/4 inch thick cookies. Bake for 7 minutes, or until light brown.
For the Filling
1. In a stand mixer or with a hand mixer, cream together the butter and peanut butter.
2. Add confectioner's sugar a little at a time until fully incorporated, then add the cream a little at a time until you reach the desired consistency. You may not use all the cream.
3. Spread the filling onto cooled cookies, then combine with a second cookie to form sandwiches.
Notes:
- Cookies store in an airtight container for up to 3 days.
Follow Jamie on Instagram. We love to see what you're baking from MBA! Be sure to tag @jamiemba and use the hashtag #mbarecipes!
This post may contain affiliate links. We are a participant in the Amazon Services LLC Associates Program, an affiliate advertising program designed to provide a means for us to earn fees by linking to Amazon.com and affiliated sites.