The bright flavor of lemon juice and the brininess of capers come together in the best way in this Chicken Piccata recipe. It is easy to make for a weeknight dinner but special enough to serve to company!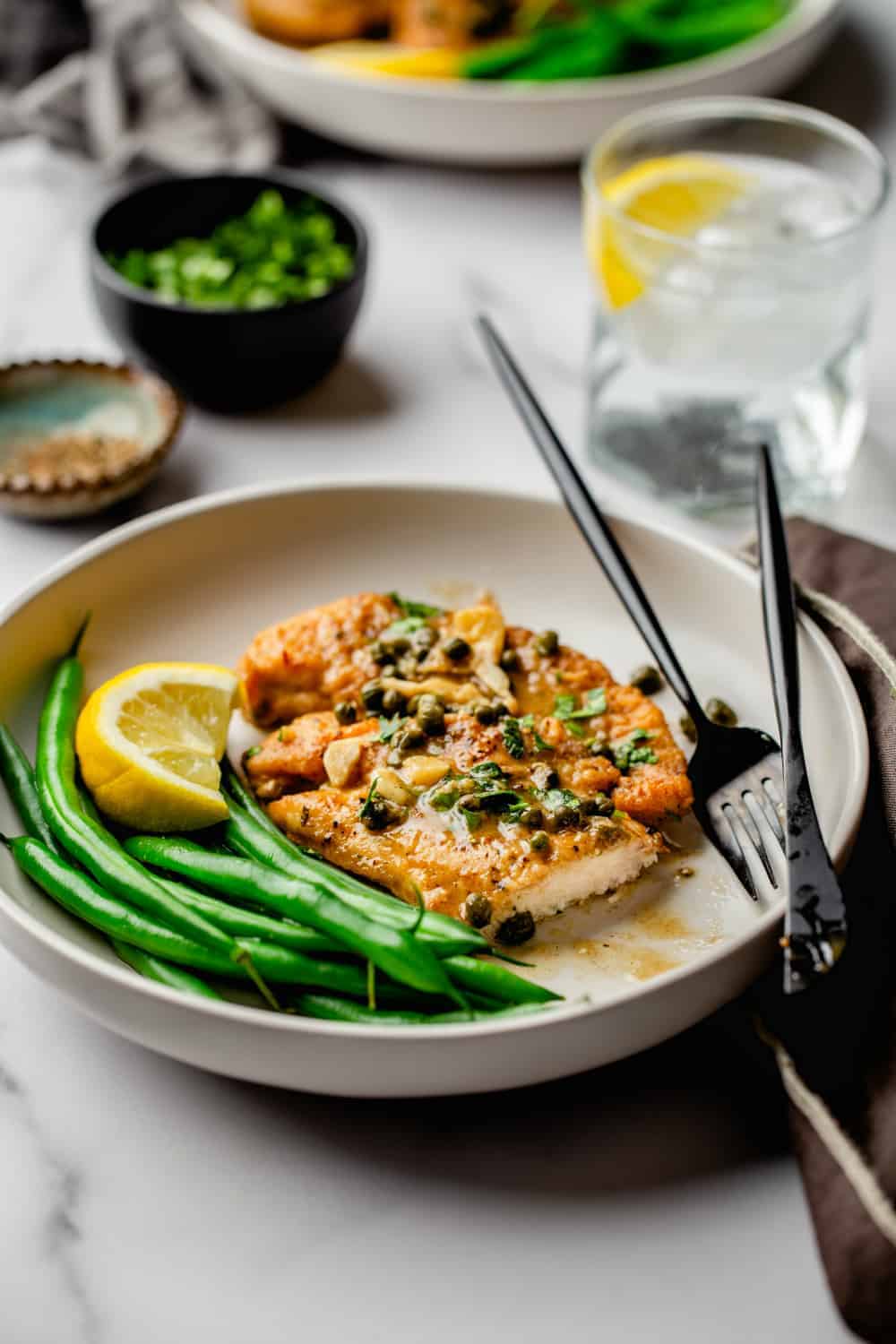 About 2 weeks ago, I spoke the following words into the universe: "Wow, we made it through winter without being sick."
Big mistake.
Less than 2 days later, Elle had a raging fever for almost 5 days which was accompanied by a hacking cough, bloodshot eyes and a literal snot-fest.
Then it hit me. Hard.
I'm not talking about a little cold, Mama can handle that.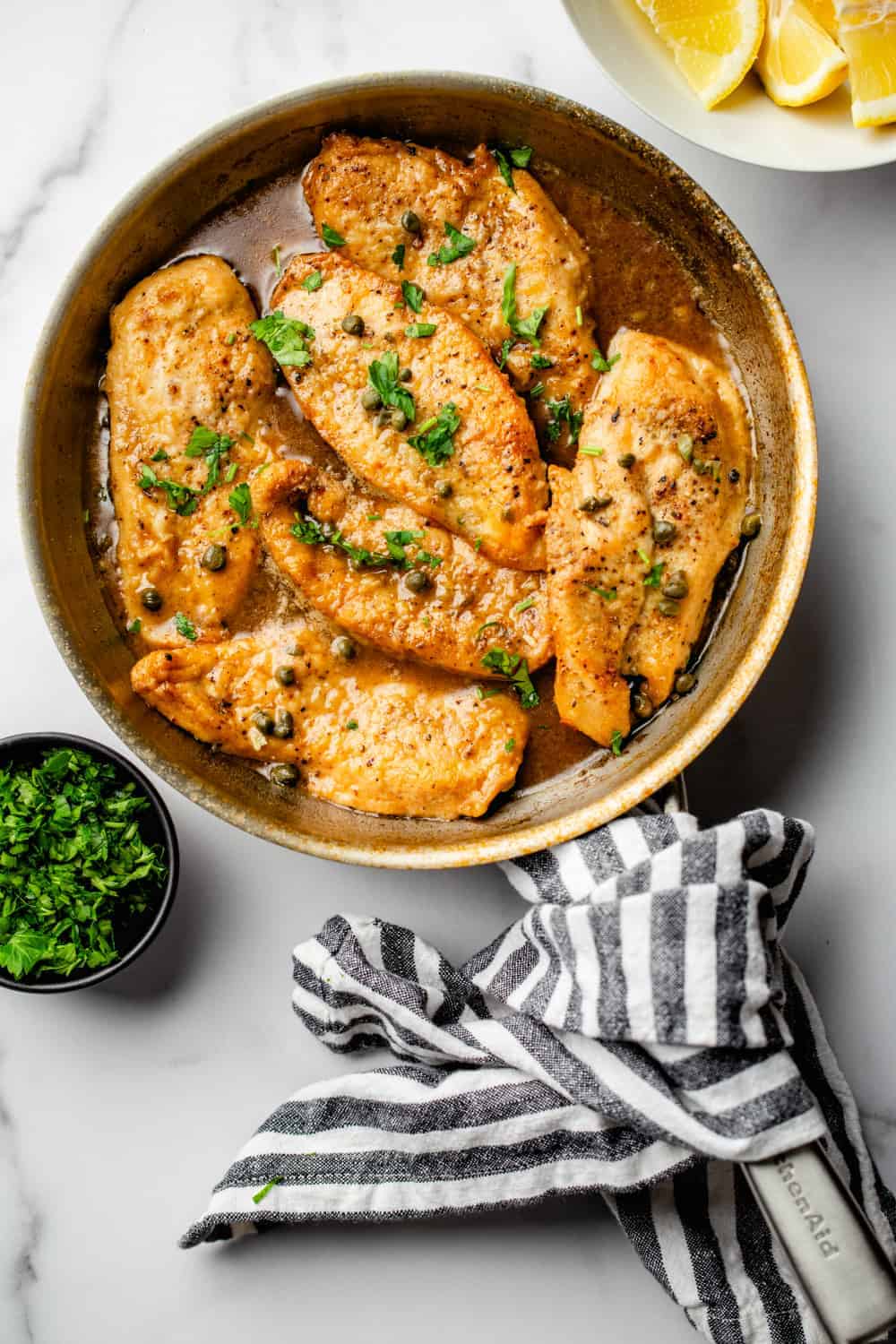 I'm talking ramen-noodle-eating-in-bed, binge-watching-Golden-Girls, sleeping-18-hours-a-day sick.
My teeth hurt and it was painful to even wash my face because my sinuses were so inflamed.
I pretty much sustained life on Cup O'Noodles, orange popsicles and Sprite for 3 days.
I don't think I've had ramen noodles since college, but you guys, that stuff is legit. I'm kind of obsessed with it now and even contemplated buying a case of it from Amazon, but I refrained.
Needless to say, I wasn't cooking or baking much the past couple of weeks, but I'm back at it and sharing one of favorite weeknight meals with you.
I've been making Chicken Piccata for years and this recipe was actually on my blog from way back in 2010 and let's just say it needed a little refresh!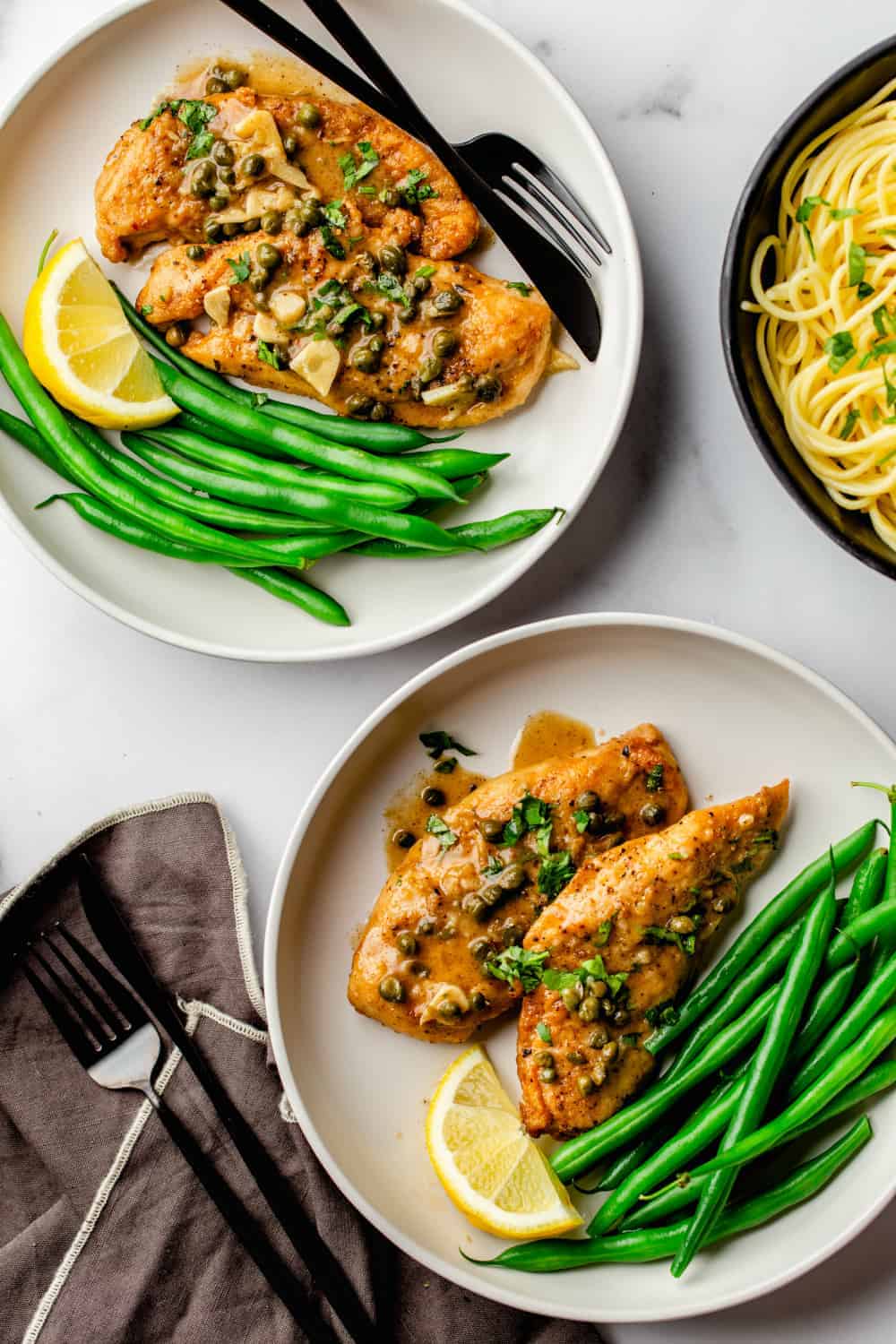 WHAT IS CHICKEN PICCATA
I have to be honest that the first time I made Chicken Piccata, I had never even tried Chicken Piccata before but knew I would love it.
Why? Lemons and capers are my jam, ok?
Chicken Piccata is made from thin, butterflied chicken breasts that are lightly dredged in flour and pan fried. You then make a delicious pan sauce using lemon juice and capers.
Oh, and butter. You can't forget the butter!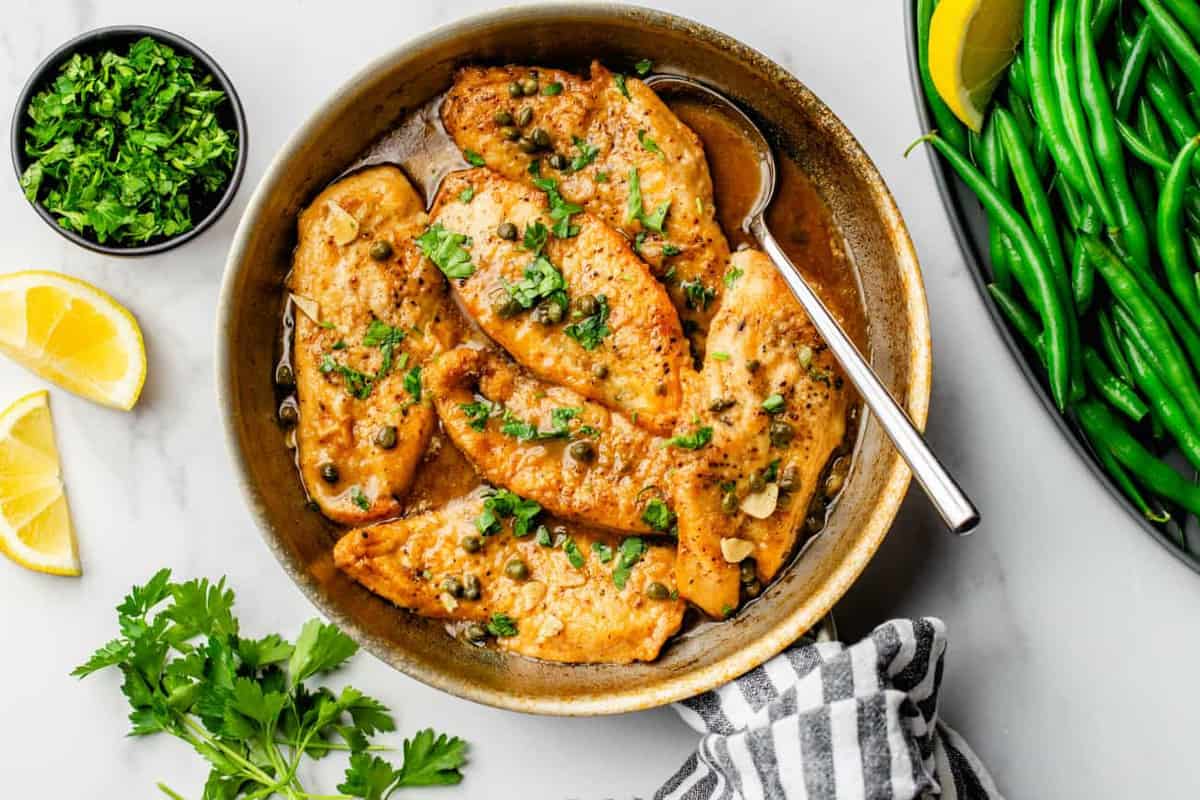 CHICKEN PICCATA RECIPE
This Chicken Piccata recipe has all of these traditional elements, but I also add two flavorful ingredients: minced garlic and white wine.
Honestly, I don't really drink much but even I knew that wine was a no-brainer here. It adds great depth of flavor to the sauce and marries perfectly with the lemon.
And do I really need to justify adding a clove of garlic?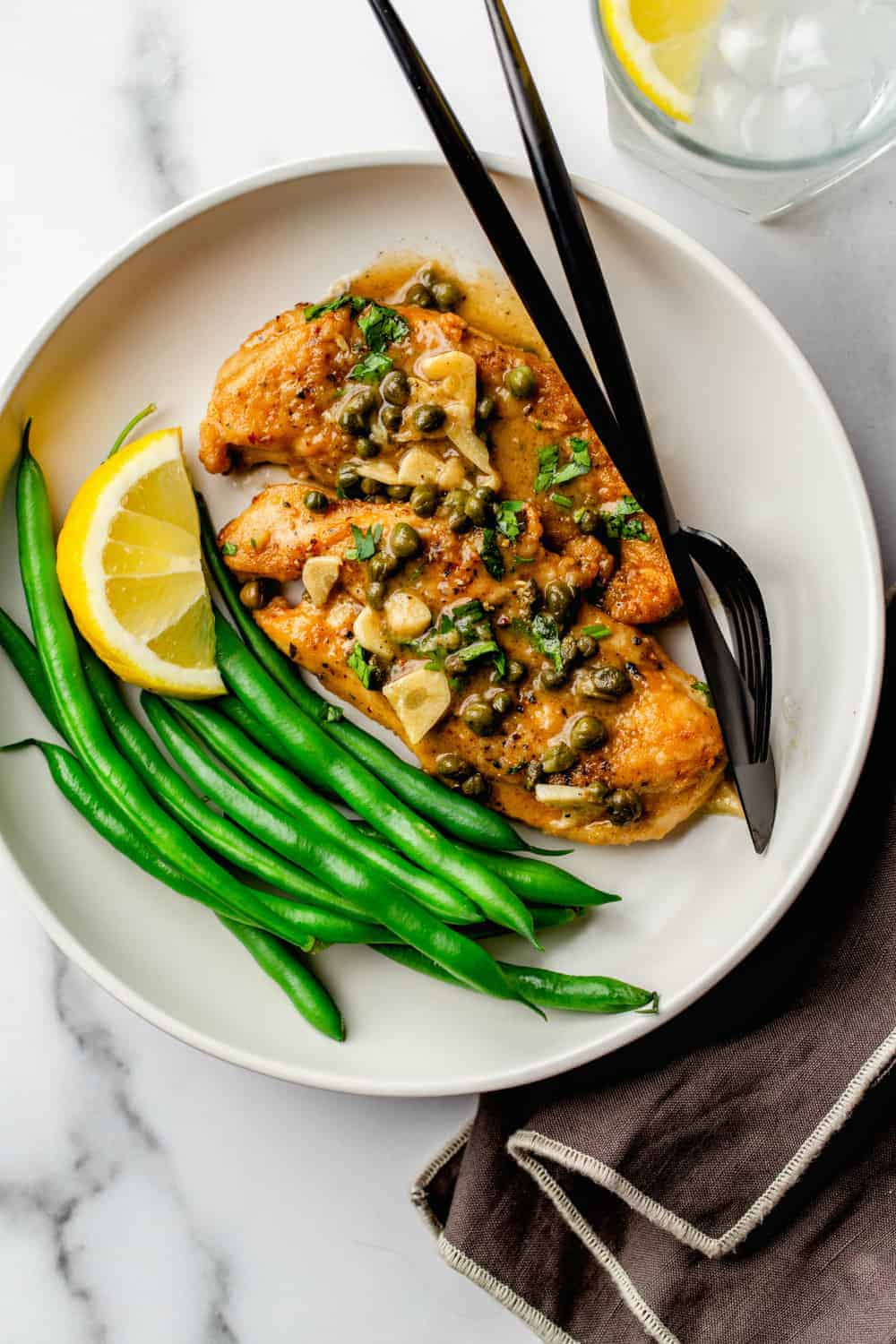 One of the things we like best about this recipes is that it uses butterflied chicken breasts. We definitely prefer thin cuts of chicken in our house, so this recipe is perfect for us.
I know that adding herbs to the top of a dish can feel like a waste of time or simply a fancy garnish. But I promise that adding a sprinkle of chopped parsley over the top of this Chicken Piccata really brightens up the whole dish. It's a flavor you don't want to skip.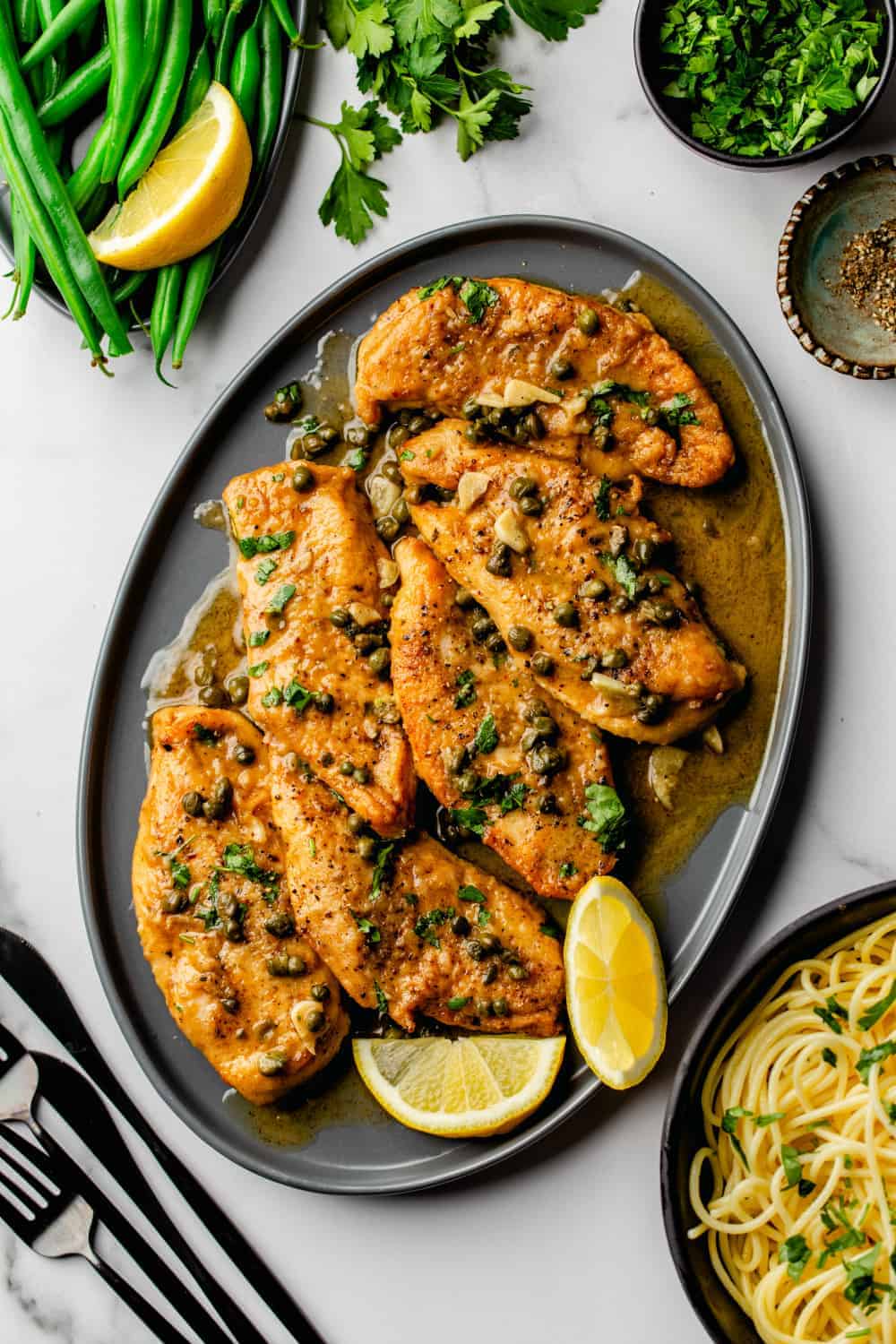 WHAT TO SERVE WITH CHICKEN PICCATA
We really like to serve Chicken Piccata with pasta. Angel hair noodles tossed with butter and some extra chopped parsley is hard to beat.
If you don't want to serve pasta with yours, potatoes would be great here, too. Mashed or roasted potatoes would soak up the extra sauce and compliment the chicken nicely.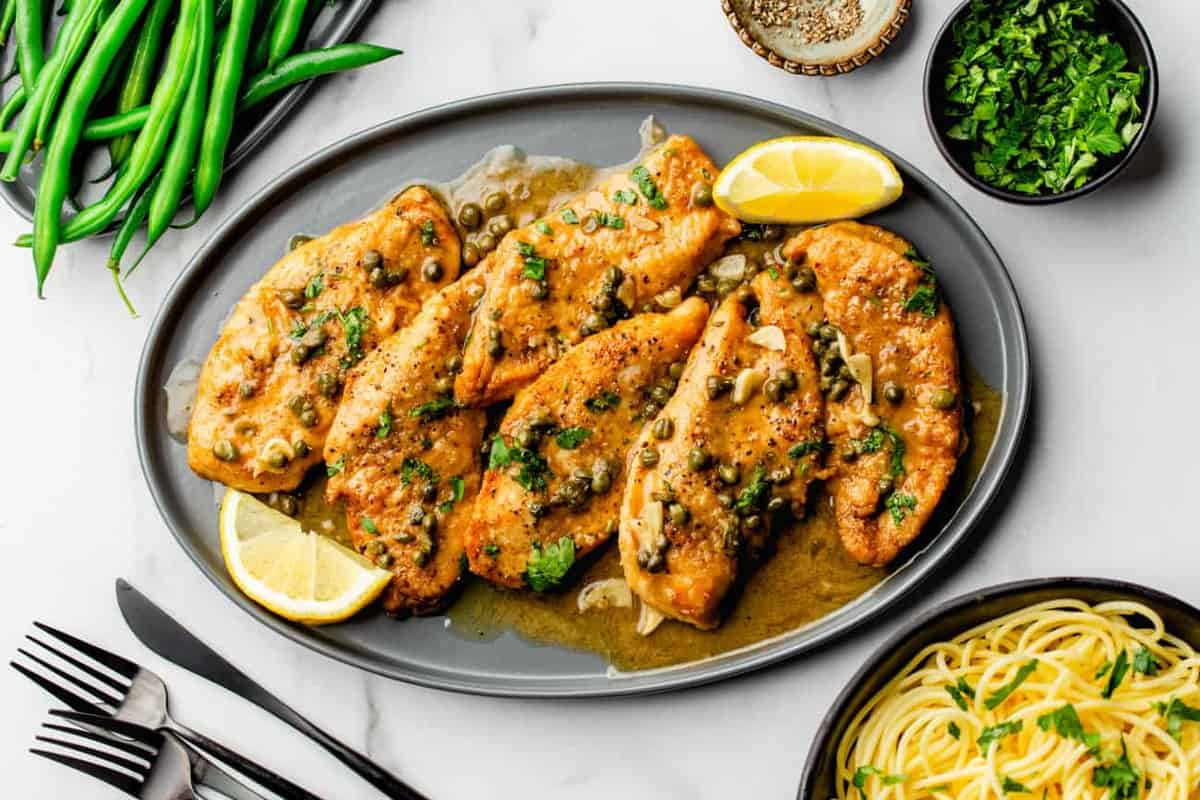 And don't forget your veggies! We like green beans since they go so well with lemon and capers, but peas, asparagus, broccoli, or even a gorgeous green salad (like tomato and mozzarella salad or strawberry salad)are great options, too.
No matter how you serve Chicken Piccata, I can promise this recipe will be a new family favorite! Serve it for a weeknight dinner or dress it up for company. It'll be a recipe you'll come back to time and again.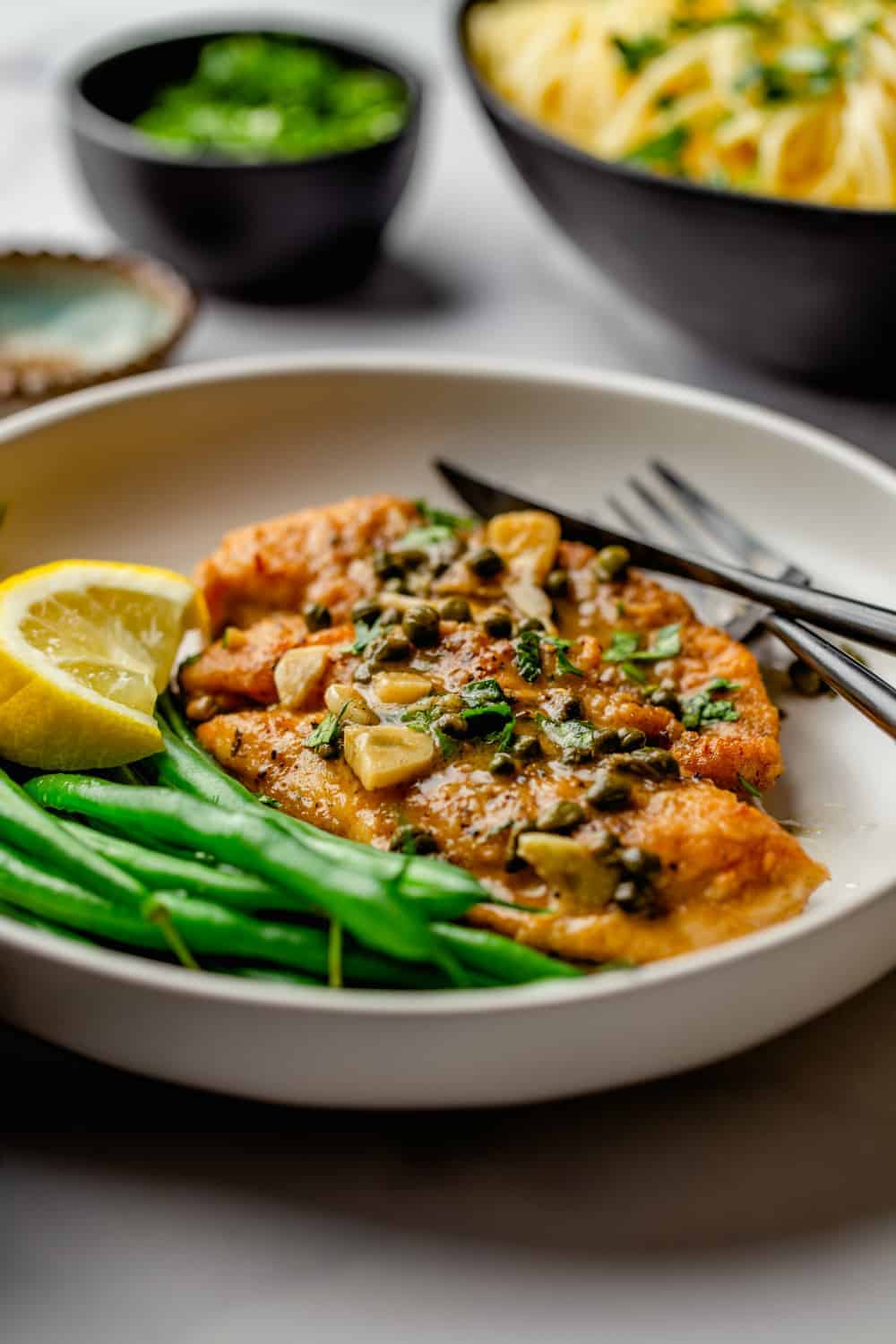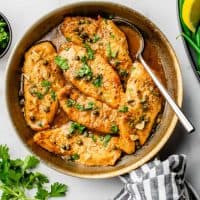 Chicken Piccata
The bright flavor of lemon juice and the brininess of capers come together in the best way in this Chicken Piccata recipe. It is easy to make for a weeknight dinner but special enough to serve to company
Print
Pin
Ingredients
2

skinless and boneless chicken breasts

butterflied and then cut in half

Sea salt and freshly ground black pepper

All-purpose flour

for dredging

6

tablespoons

unsalted butter

5

tablespoons

extra-virgin olive oil

1

clove

minced garlic

⅓

cup

fresh lemon juice

½

cup

chicken stock

½

cup

white wine

2

tablespoons

brined capers

rinsed

⅓

cup

chopped fresh parsley
Instructions
Season chicken with salt and pepper. Dredge chicken in flour and shake off excess.

In a large skillet over medium high heat, melt 2 tablespoons of butter with 3 tablespoons olive oil. When butter and oil start to sizzle, add 2 pieces of chicken and cook for 3 minutes. When chicken is browned, flip and cook other side for 3 minutes. Remove and transfer to plate. Melt 2 more tablespoons butter and add another 2 tablespoons olive oil. When butter and oil start to sizzle, add the other 2 pieces of chicken and brown both sides in same manner. Remove pan from heat and add chicken to the plate.

Immediately add minced garlic to the pan and mix until fragrant. Into the pan add the lemon juice, stock, wine and capers. Return to stove and bring to boil, scraping up brown bits from the pan for extra flavor. Check for seasoning. Return all the chicken to the pan and simmer for 5 minutes. Remove chicken to platter. Add remaining 2 tablespoons butter to sauce and whisk vigorously. Pour sauce over chicken and garnish with parsley.

Serve on top of angel hair pasta if desired.
Nutrition
Calories:
559
kcal
|
Carbohydrates:
28
g
|
Protein:
23
g
|
Fat:
37
g
|
Saturated Fat:
14
g
|
Polyunsaturated Fat:
21
g
|
Cholesterol:
98
mg
|
Sodium:
271
mg
|
Fiber:
1
g
|
Sugar:
1
g
The default measuring system on My Baking Addiction is US Customary. Unit conversions are provided as a courtesy; please be aware that there may be some discrepancies.
Card may contain affiliate links. As an Amazon Associate and member of other affiliate programs, I earn from qualifying purchases.