Tomato and mozzarella salad with arugula and fresh basil vinaigrette.
If you've read MBA for any length of time, you know that I'm kind of a self-proclaimed control freak – especially around the holidays. I go all out in the areas of gift wrapping and home decor and certainly like to have a big part in holiday meals with our family.
Being 34 weeks pregnant has compelled me to toss my overly passionate ways out the window. Our gifts are wrapped a little simpler, our door had a fall wreath hanging on it until yesterday, and the dinner – ha, I'm bringing the salad and a Honey Baked Ham (from the company, not my kitchen.. womp womp).
Back in November, we received an AeroGarden ULTRA and we were pretty darn excited about it. I don't know about your grocery stores, but it's proven difficult for us to find quality fresh herbs at this time of year. Everything seems bruised, dry, and definitely less than appetizing.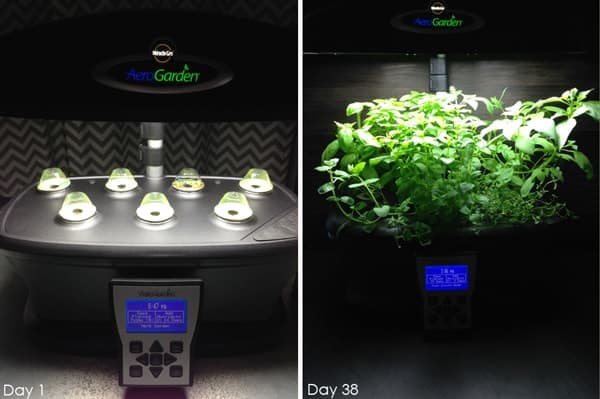 Wanting to get our herbs growing as quickly as possible, Eric assembled our AeroGarden the night it arrived. I gladly handed the task over to him because, quite frankly, I lack the patience for assembling pretty much anything. Surprisingly enough, assembling the AeroGarden was a breeze and we were on are way to growing fresh herbs within less than 30 minutes thanks to the Quick Plant step-by-step process.
The AeroGarden Ultra is wicked smart. And the MyGarden Control Panel automatically runs all growing functions – you can make it simple with the push of a button or advanced with 100 percent customizable options. It gives us tips and even lets us know when it's time to feed our herbs. Pretty genius, especially for someone that kills mint outdoors.
We planted 3 types of basil, mint, oregano, thyme and savory. We were shocked as to how quickly our little basil plants sprouted and now, 38 days later, they're healthy, strong, and full of fragrant basil leaves. In fact, all of our plants are doing well, and we're absolutely loving the fact that we can snip fresh herbs for dinner, right in our kitchen.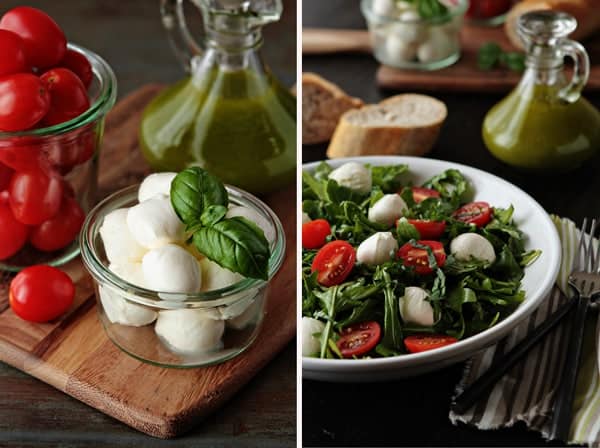 Now, let's talk salad. I've been obsessed with arugula lately, so I thought I'd make a festive Tomato and Mozzarella Salad topped with a Basil Vinaigrette. Simple, incredibly delicious and a fresh edition to any holiday spread. The vinaigrette is bursting with basil flavor which pairs perfectly with the tomato and mini mozzarella.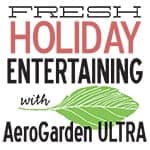 For more Fresh Holiday Entertaining Recipes, visit KitchenPlay.
AeroGrow is running '12 Days of Deals' for the holidays with discounts and special bundles for the season. Plus, get up to 20% on everything storewide when using promo code 'Holiday20' in the shopping cart at checkout. For More information, please visit AeroGarden on Facebook and Twitter.
Tomato and Mozzarella Salad with Basil Vinaigrette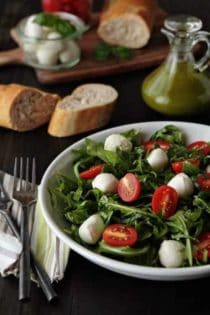 Ingredients:
For the Salad
5 ounce container baby arugula
1 cup grape tomatoes, slice in half
1 cup baby mozzarella balls, drained
black pepper to taste
For the Basil Vinaigrette
1 cup extra virgin olive oil
1/3 cup white wine vinegar
1/4 cup honey
8-10 large basil leaves, roughly chopped or torn
1 clove garlic, minced
salt and black pepper to taste
Directions:
1. Place arugula, tomatoes and baby mozzarella balls in a large salad bowl. Prepare dressing.
2. Place all ingredients in a blender or food processor and pulse machine until dressing is smooth and ingredients are fully incorporated.
3. Drizzle desired amount of dressing over salad and toss to coat. If desired, garnish with chiffonade of basil and freshly ground black pepper.
Notes:
Remaining dressing will store within refrigerator for up to 5 days.
All images and text ©
Follow Jamie on Instagram. We love to see what you're baking from MBA! Be sure to tag @jamiemba and use the hashtag #mbarecipes!
Disclosure: This post is sponsored by AeroGarden. All opinions expressed about the AeroGarden Ultra are my own.