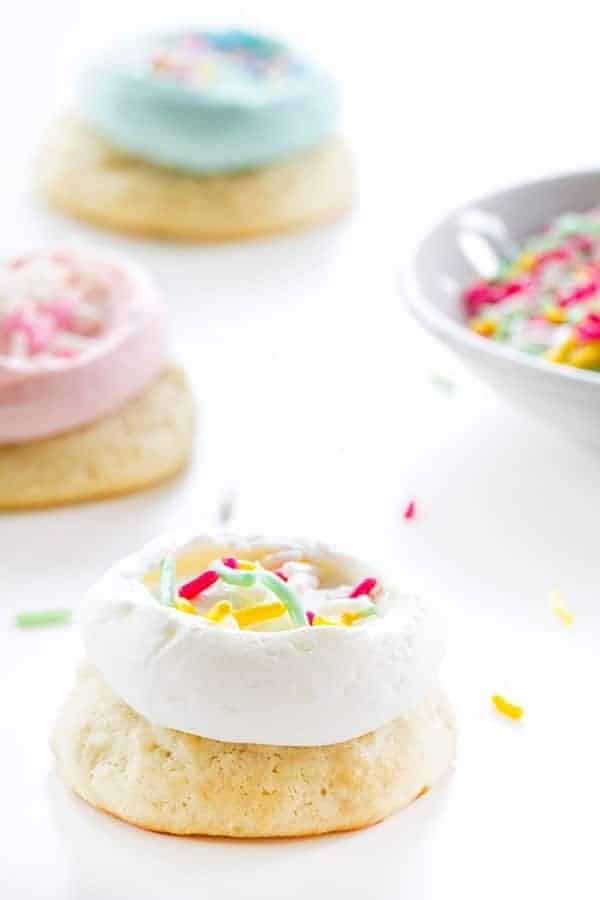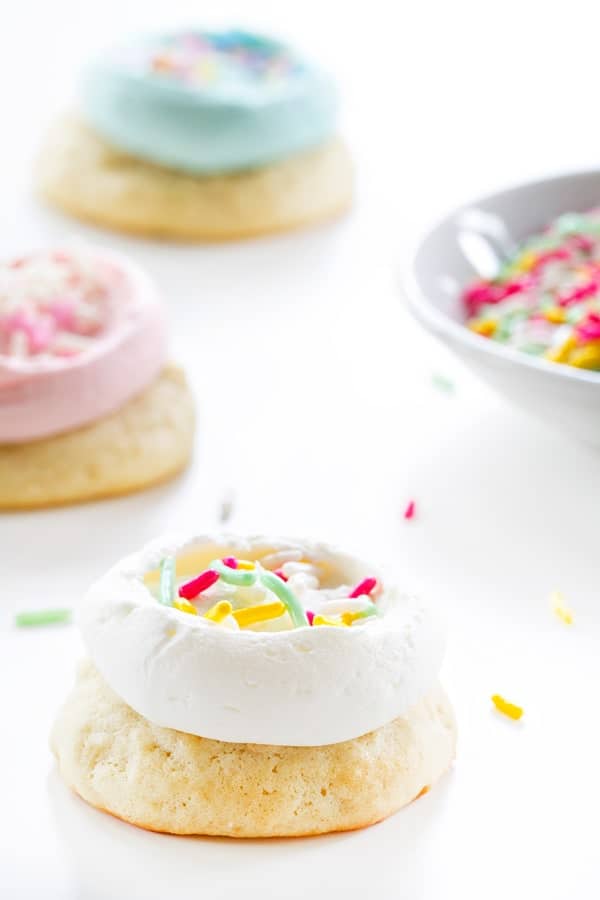 Soft Frosted Sugar Cookies are soft, cakey, and delicious. A swirl of fluffy, pastel buttercream and sprinkles makes them perfect for spring.
So do you guys have certain foods that you simply can't bring into your house, or you'll eat every single crumb? Soft frosted sugar cookies are that food for me.
Specifically soft, cakey, sugar cookies that are loaded with buttercream and sprinkles. And if I'm being honest, the ones from the grocery store are my favorite. You know the ones I'm talking about, the brand is Lofthouse, and I avoid them like it's my j-o-b. And let me tell ya, it's not because they're store-bought and I think I can make them better at home. Nope, been there, tried that – they're never the same. I avoid them because I love them and I've been known to polish off an entire plastic container of them in just a couple of days.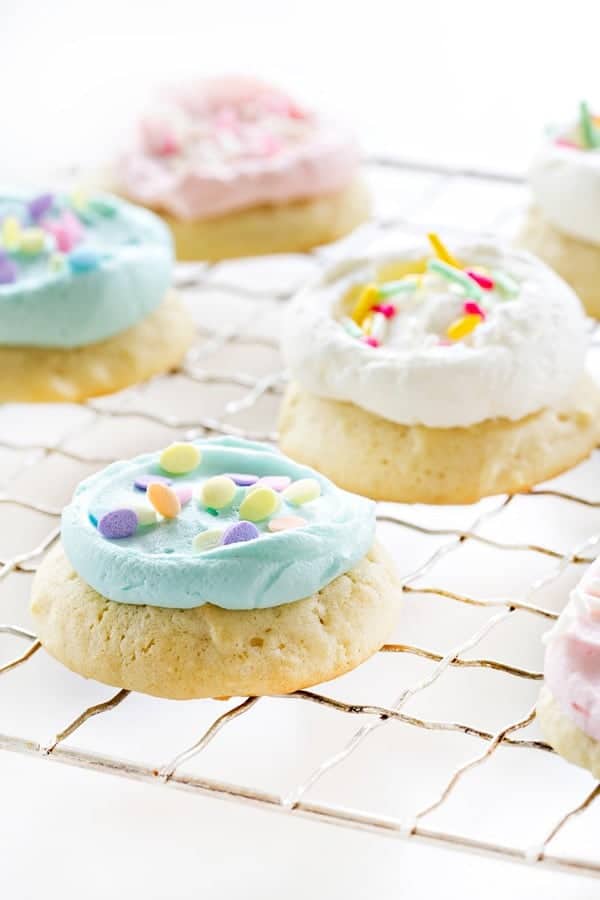 My friend Amber knows they're my guilty pleasure, so a few weeks ago, she snapped a photo of adorable minis. They were covered in white buttercream, topped with festive heart sprinkles and callin' my name.
They were actually the Market Pantry brand from Target, but she swears they're every bit as amazing. I decided to take her word for it, but weeks later, I simply couldn't get those cookies off my brain. I thought they'd be super adorable for Easter with pastel buttercream and cute, spring colored sprinkles and let's be real, I just wanted a cookie, or five.
I want to point out that I adapted a recipe from AllRecipes. Trying both butter verses vegetable shortening and sour cream verses milk. We definitely preferred the butter and sour cream combination the best. And although this recipe is quite similar to some Lofthouse copycat recipes, I just can't call them that because although they're soft, cake-like, and all kinds of delicious, they're just not the same, friends.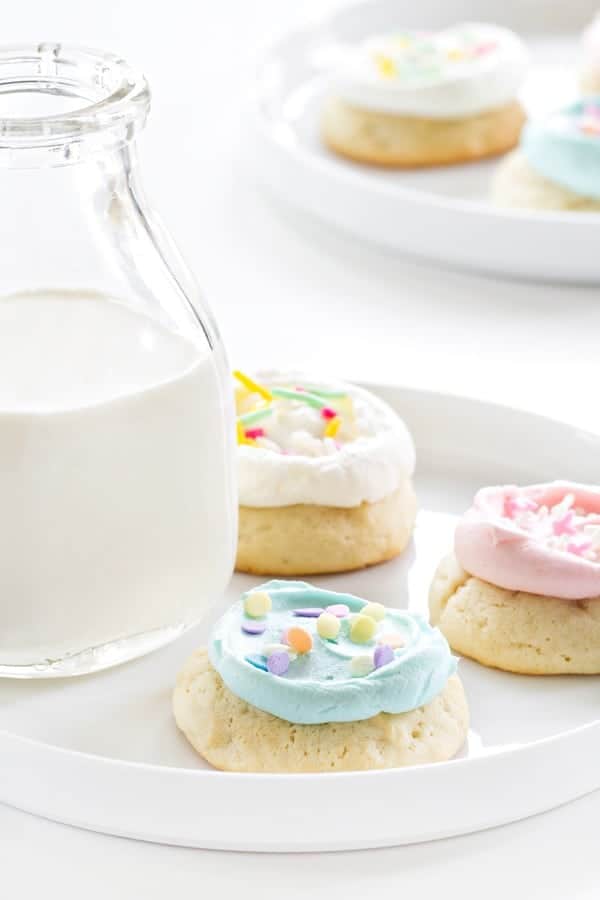 This Soft Frosted Sugar Cookies recipe comes together really quickly, but does require refrigeration because the sour cream makes the dough quite soft. It's best to whip up the dough the night before you plan on making them and let it chill in the fridge overnight.
I used a small cookie scoop to portion the dough into tiny cookies balls that ended up spreading to about 2 inches in diameter when baked. A little swirl – okay, who am I kidding, a big swirl – of frosting and some sprinkles and there you have it, Mini Frosted Sugar Cookies that are as adorable as they are delicious.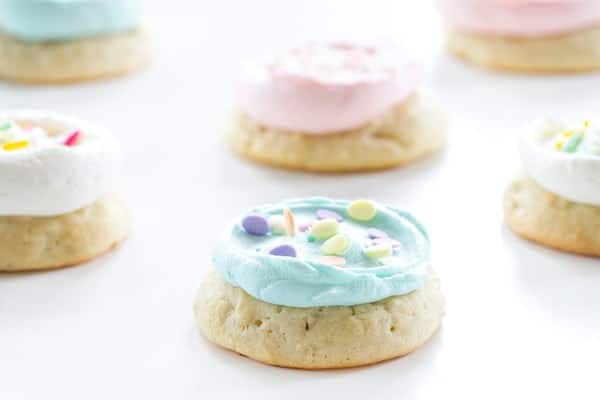 If you're looking for more delicious spring recipes, be sure to check out my No Bake Layered Lemon Pie and my Homemade Blueberry Sauce.