A good chip dip is a must for any game-day spread. This Loaded Baked Potato Dip is filled with all of the ingredients that go on top of a baked potato and is delicious with potato chips or even waffle fries!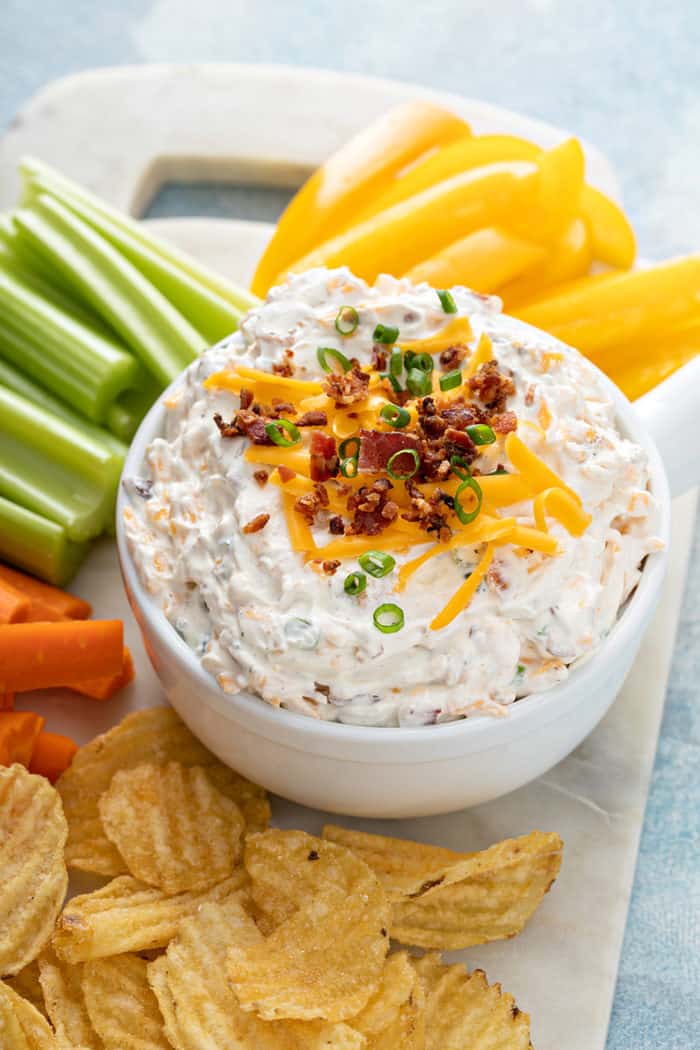 You know I love a good chip dip. My buffalo chicken dip is a staple around here, and french onion dip is a must.
When I shared my homemade ranch dip, I got to thinking about ways I could make it even better.
One popular dip here in the Midwest is Top the Tater. They're known for making dips that are perfect on baked potatoes — so of course I had to make my own ideal version of loaded baked potato dip!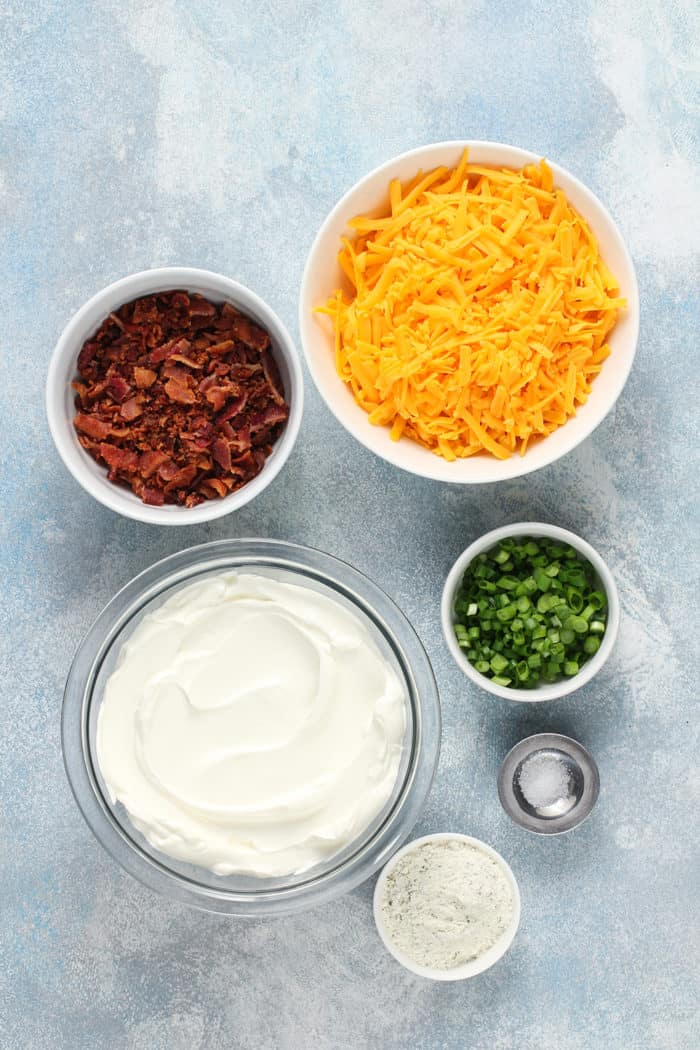 INGREDIENTS FOR LOADED BAKED POTATO DIP
This chip dip has all of the things you love about a loaded baked potato, plus the kick of ranch seasoning.
You'll need:
Sour cream
Dry ranch seasoning
Salt
Grated cheddar cheese
Green onions
Crisp-cooked bacon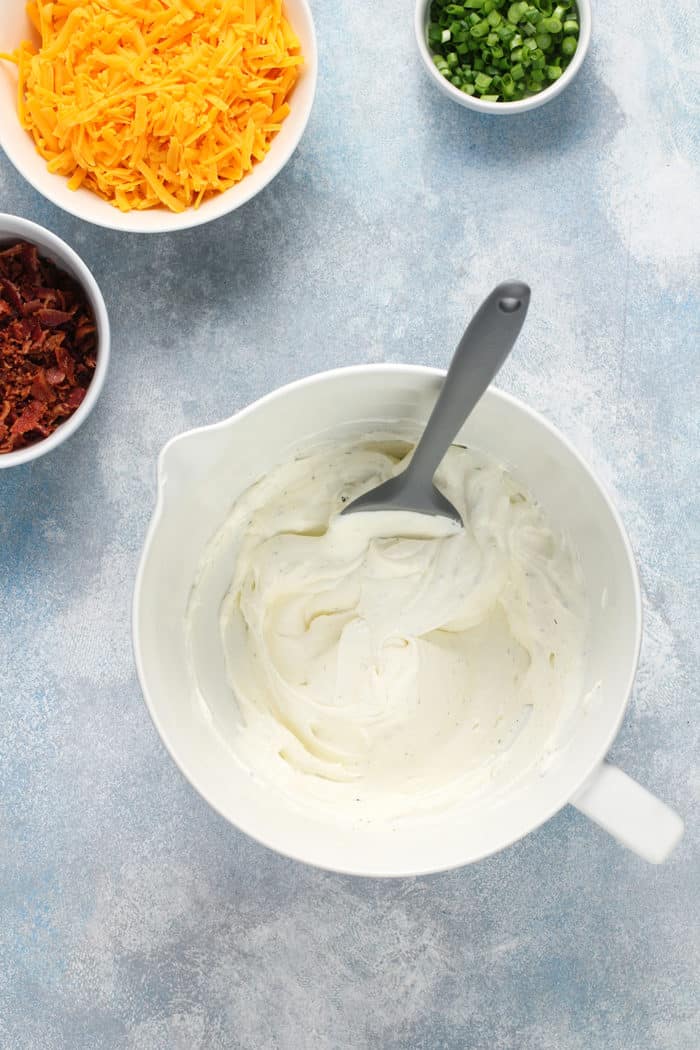 Be sure to use dry ranch seasoning, not bottled ranch dressing. If you are buying instead of making your ranch seasoning, you'll need about 1 ½ 1-ounce packets.
I recommend grating the cheddar cheese yourself rather than buying pre-shredded cheese. Not only is the flavor better, but freshly grated cheese mixes into dips wonderfully.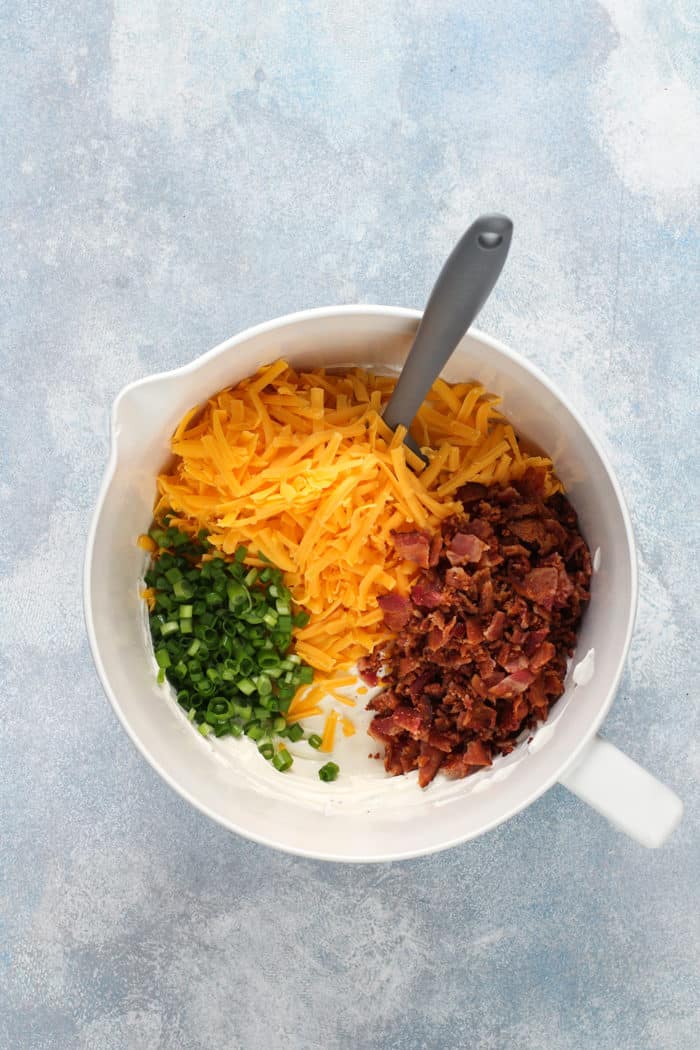 You can use your favorite cheddar from mild, to sharp, to extra sharp.
The green onions add a lovely bite, so don't skip them. They might be labeled as scallions at your grocery store, but rest assured they are the same.
For your bacon, make sure to cook it until crisp. This recipe requires a pound of bacon, so consider cooking the bacon in the oven to help save time.
This recipe makes about 1 quart of dip, so feel free to halve it if you're not making it for a party!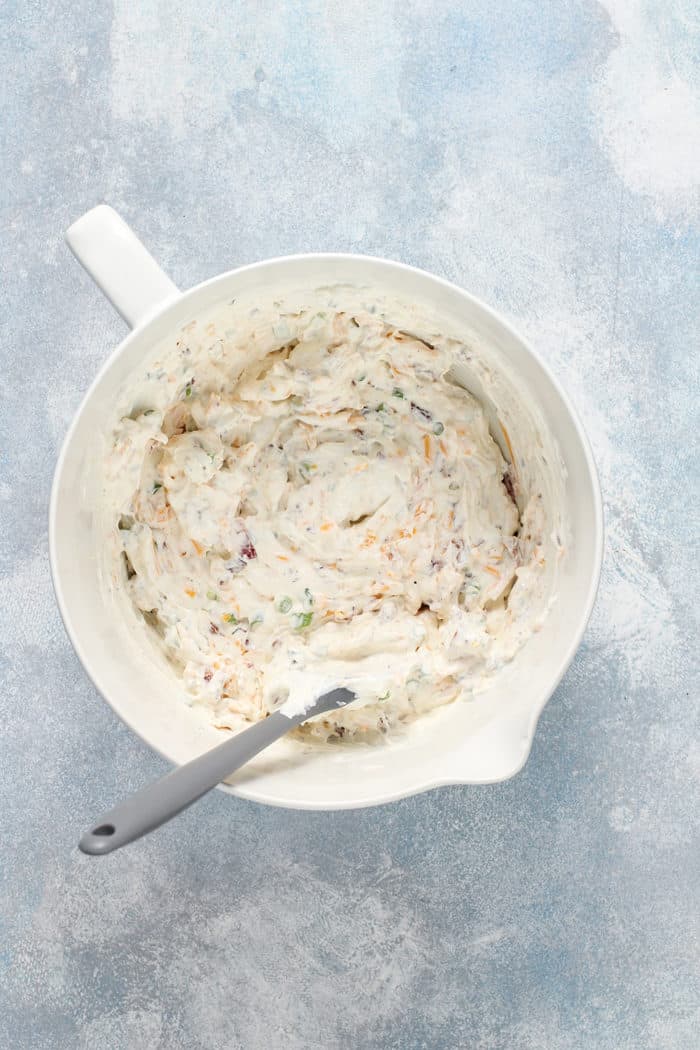 WHAT CAN I ADD TO HOMEMADE CHIP DIP?
This loaded baked potato dip is so chock-full of flavor you won't need to add anything else, but don't let that stop you.
Try adding chopped jalapeños, diced pimientos, or even chopped black olives.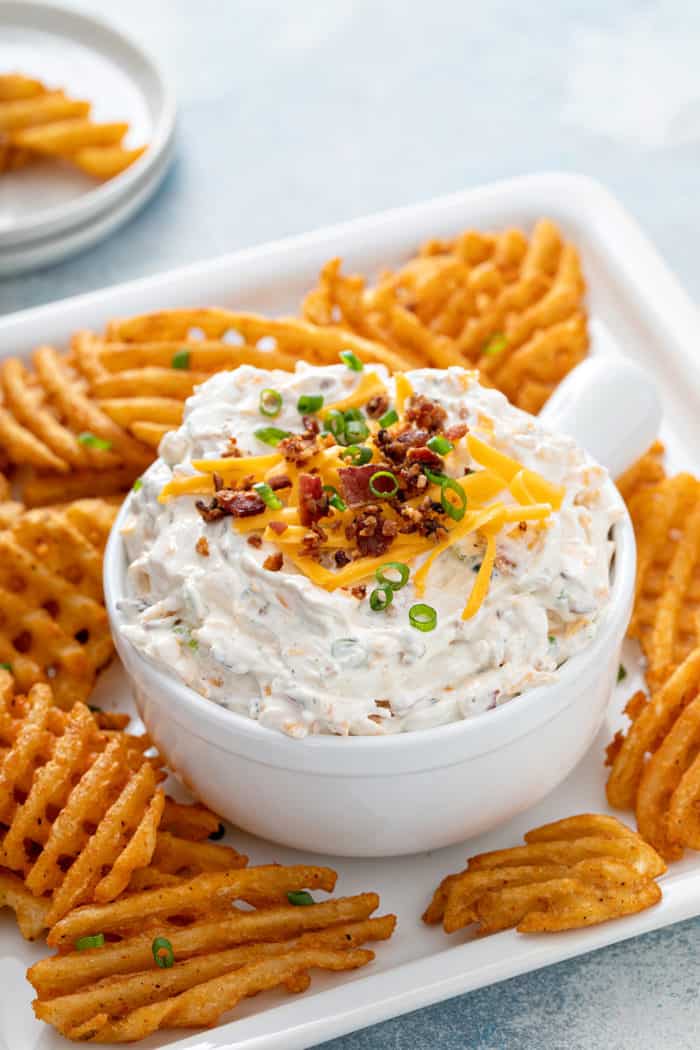 For a kick, stir in a few dashes of your favorite hot sauce.
Swap half the cheddar for pepper jack cheese or even gouda.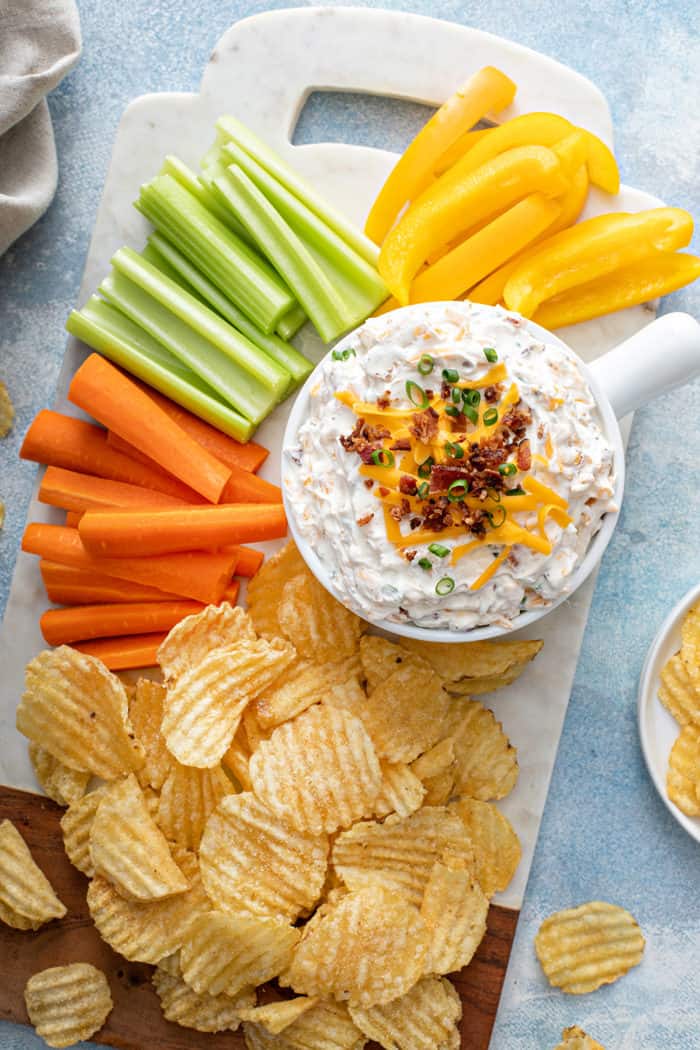 STORAGE TIPS
Chip dip should be made in advance to let the flavors meld together while chilling in the refrigerator.
You can store it by simply covering the mixing bowl with plastic wrap, and then spooning it out into a serving bowl when it's time to eat.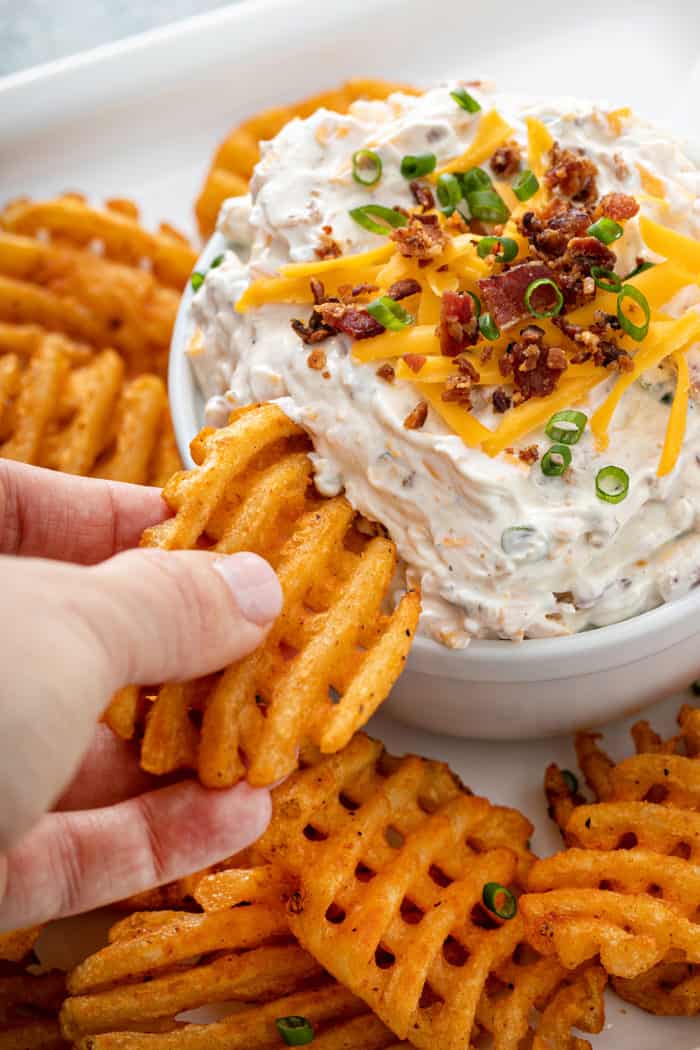 I like to transfer the dip into a reusable container with a lid, or even multiple smaller containers. This helps to keep it fresh, and I can take out only what I need.
Loaded baked potato dip will keep in the fridge for 4-7 days. Because it is mostly dairy, it does not freeze well. Divide the recipe if needed.
I serve baked potato dip with chips, veggies like carrots sticks, or fries. Or, try it on top of your next baked potato! You can't go wrong with this delicious dip.