This hot Spinach Artichoke Dip is rich, creamy, and cheesy, baked with a buttery panko topping for extra flavor and texture. This homemade version is sure to rival even your favorite restaurant's dip!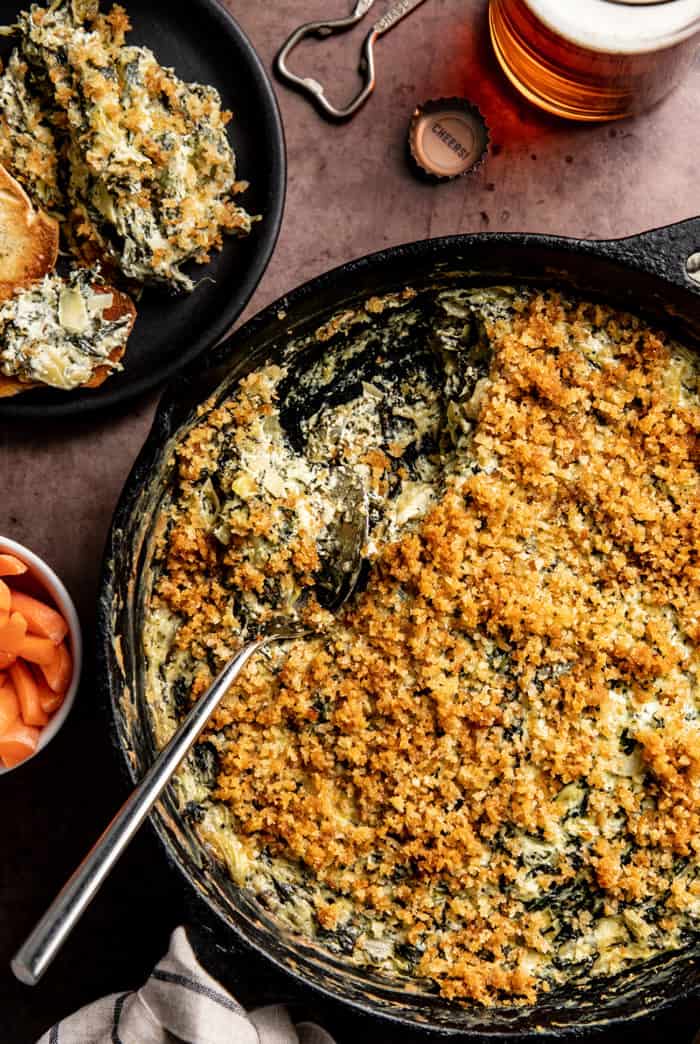 This post is sponsored by Challenge Butter. Thank you for continuing to support the brands that make My Baking Addiction possible.
Confession: Artichokes are not my jam. I'll generally avoid them, unless it's in one very specific dish: Spinach Artichoke Dip.
Put a bowl of warm Spinach Artichoke Dip in front of me and I will ignore all other foods. It's just me, the dip, and whatever I'm using as a dipper – chips, bread, veggies, they're all welcome here.
It's one of my favorite things to order as an appetizer when I'm at a restaurant, but I decided I wanted to be able to enjoy it any time, so it was time to come up with my own version.
This dip is easy to prep ahead of time and will disappear quickly, whether you're serving it as a dinner party appetizer, part of a game-day spread alongside Buffalo Chicken Dip and Baked Potato Dip, or as a movie-night snack.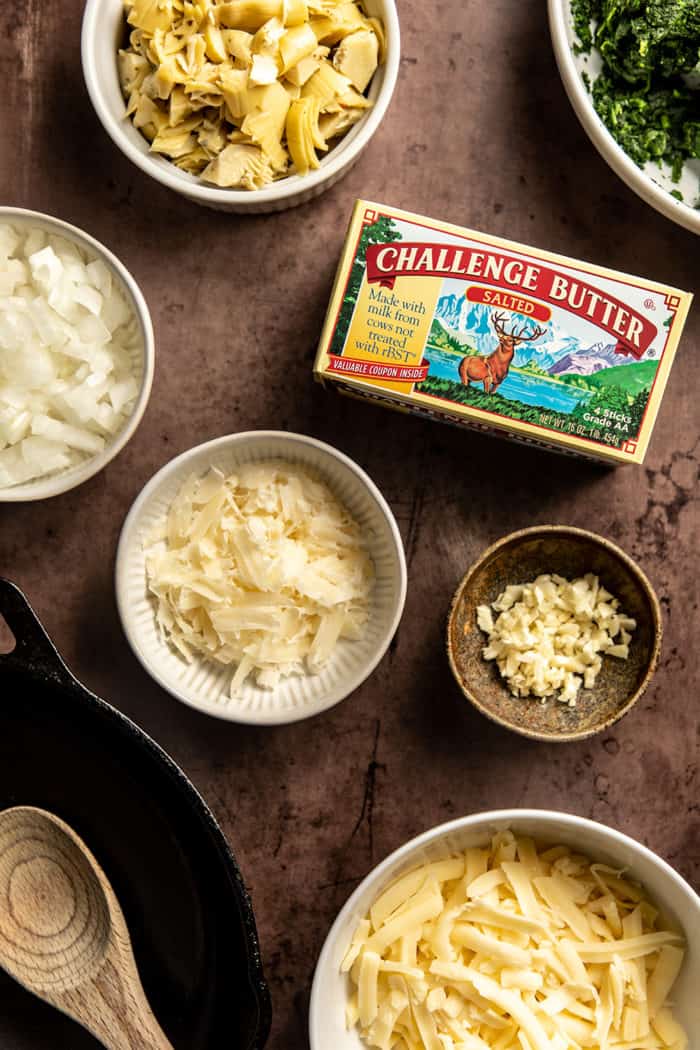 MY FAVORITE BAKED SPINACH AND ARTICHOKE DIP
If I was going to try making spinach and artichoke dip at home, I knew it had to be super creamy, super cheesy, and I also wanted it to have a crispy baked topping.
Most of the baked dips I've had at restaurants don't have any sort of crispy topping on them, and it just seems like a missed opportunity! After all, I love the breadcrumb topping on my Jalapeño Popper Dip, so why not add some flavor and texture here, too?
To really dial up the flavor along with adding that crispy texture, I decided to toast panko breadcrumbs in Challenge Salted Butter. I knew that the rich, pure butter flavor of Challenge Butter would pair perfectly with the cream cheese, spinach, and artichoke hearts in the dip.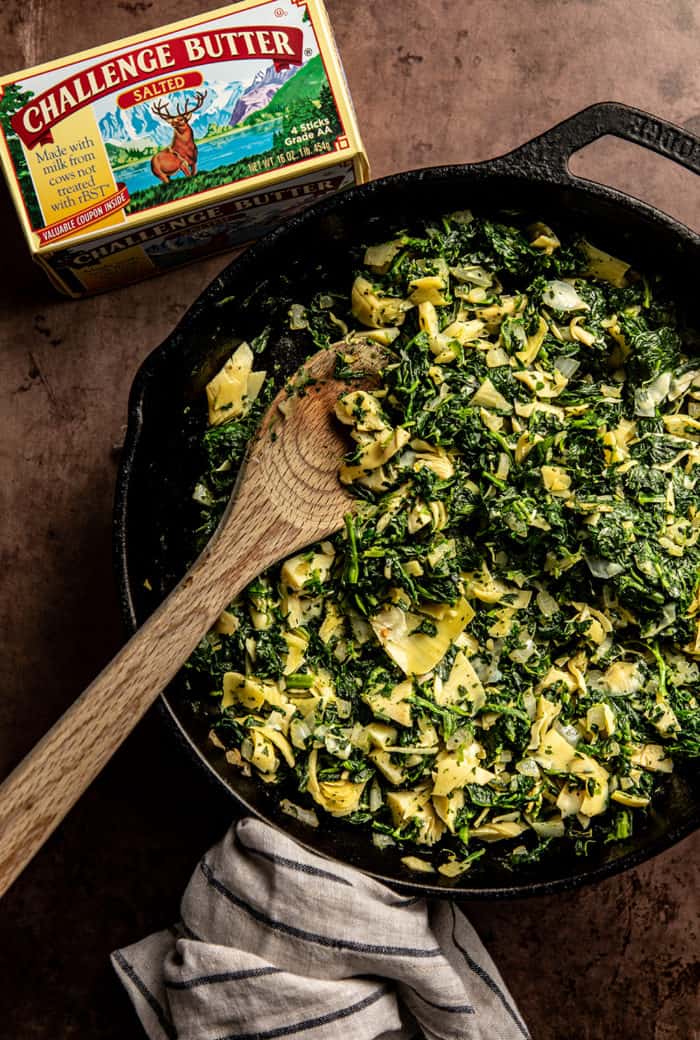 After all, Challenge Butter is churned fresh every single day and is made without any artificial preservatives, fillers, or dyes, so you can count on it for the best possible flavor.
Let me tell you, when you pull the dish of piping hot, crispy-topped dip out of the oven, you're going to be so excited to dig in. Between the creamy cheeses, the sharpness of the artichoke hearts, and the buttery topping, you'll be on cloud nine with this dip.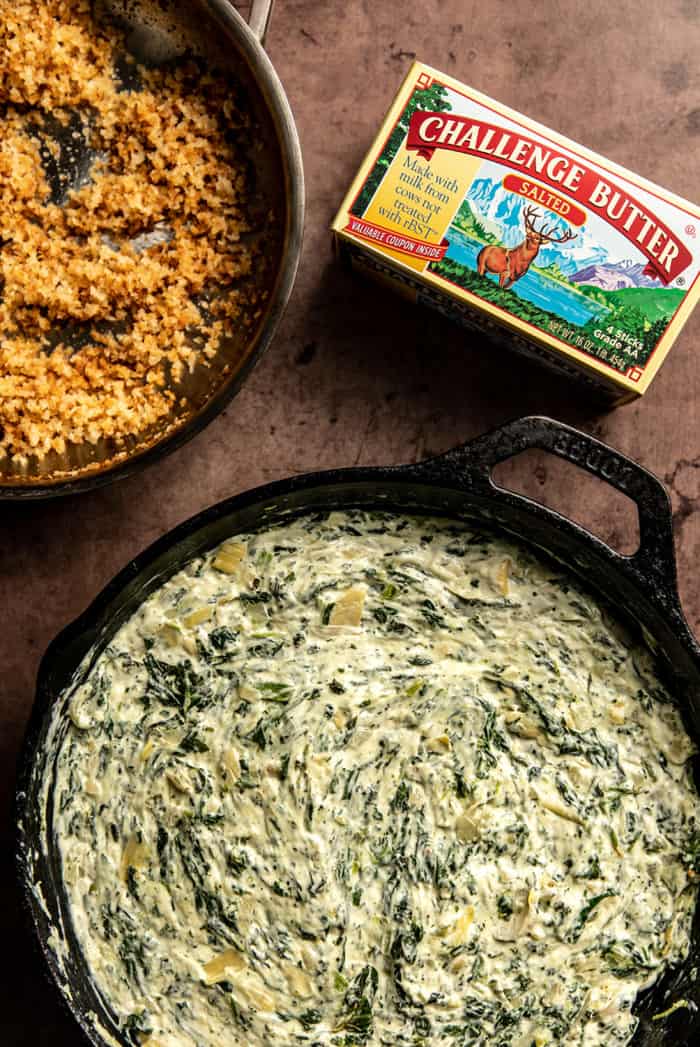 HOW TO MAKE SPINACH ARTICHOKE DIP
Think that making restaurant-worthy Spinach Artichoke Dip at home is hard? Think again.
For the dip, you'll need:
2 tablespoons Challenge Salted Butter
½ medium yellow onion, finely chopped
2 cloves garlic, minced
12 ounces frozen spinach, thawed
1 (12 ounce) jar marinated artichoke hearts, drained and chopped
8 ounces cream cheese, room temperature
¼ cup grated parmesan cheese
4 ounces shredded mozzarella cheese
2 tablespoons sour cream
2 tablespoons mayonnaise
Salt and pepper to taste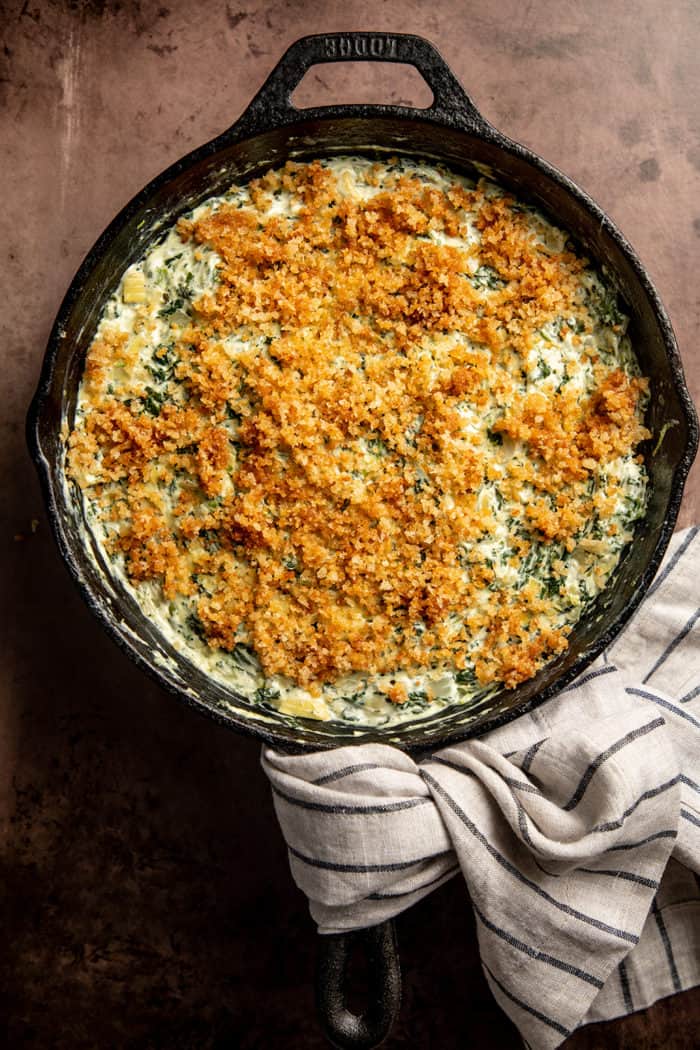 Start by squeezing as much water out of the thawed spinach as possible. This will keep your dip from getting watered down – that definitely would not be delicious.
Melt the Challenge Butter in a skillet over medium heat, then cook the onions, followed by the garlic.
Add the spinach, cooking for 2-4 minutes, before adding the artichoke hearts and cooking for another 2 minutes.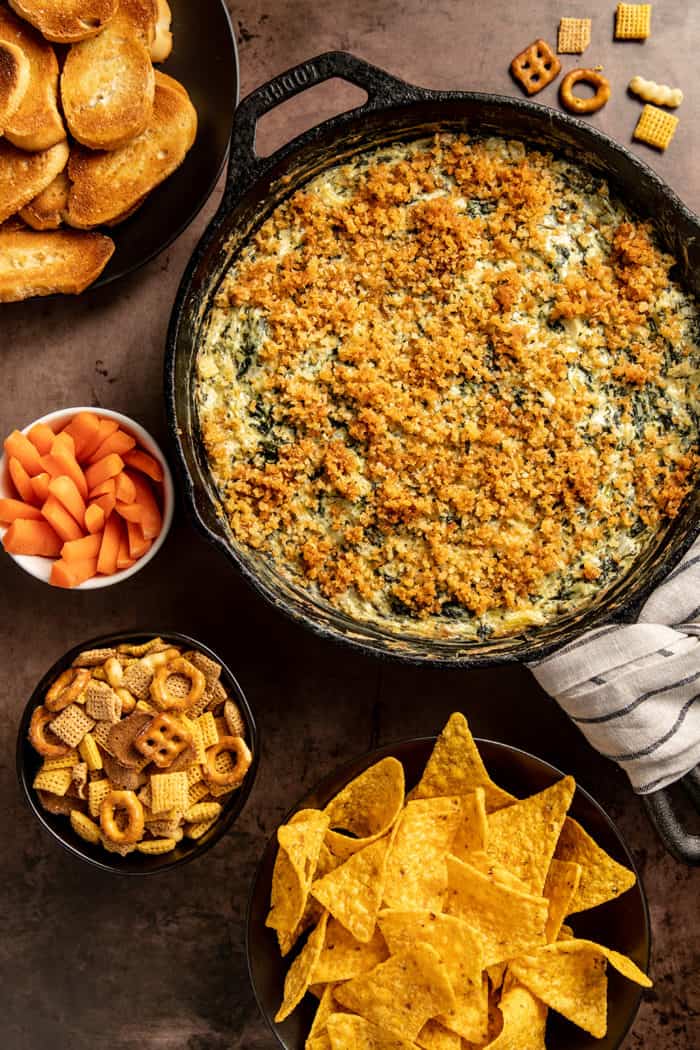 Now it's time for the cheese! Add all of the cheeses, stirring until everything is melted and well combined. Stir in the sour cream and mayo, then season with salt and pepper to taste.
Now it's time for the topping! Melt some more Challenge Butter in a small skillet. Add some panko breadcrumbs and stir, cooking until the panko is golden brown.
Sprinkle the toasted panko over the top of the dip before baking until everything is hot and bubbly around the edges.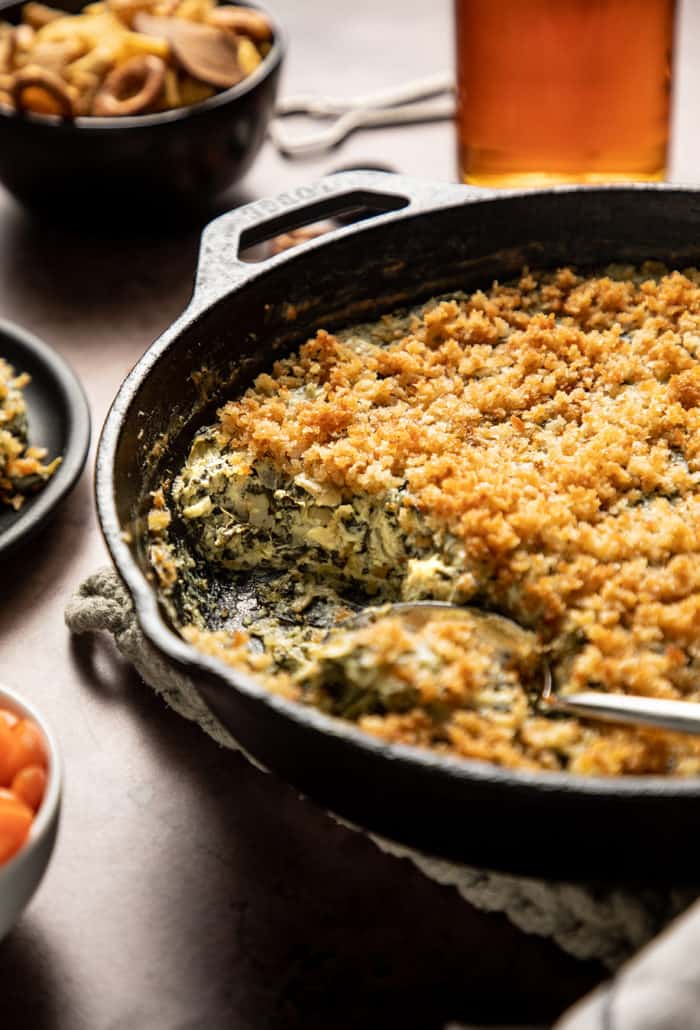 SERVING SUGGESTIONS
I love digging into warm, fresh-from-the-oven Spinach Artichoke Dip with homemade tortilla chips (or my favorite store-bought brand) or with toasted slices of fresh baguette. Pita chips are also a favorite!
Sometimes I'll even dip into it with fresh veggie sticks, such as carrots and celery.
You can even pop some of the dip into crescent roll cups to make Spinach Artichoke Bites!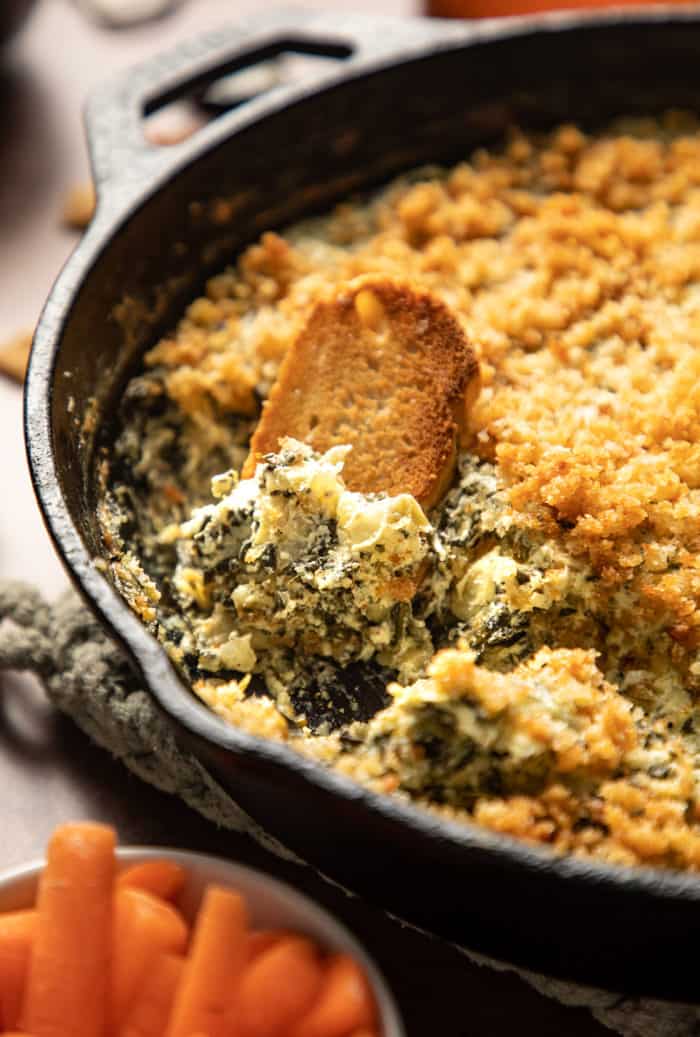 CAN YOU MAKE THIS DIP AHEAD OF TIME?
Don't have time to make this recipe from start to finish before your party starts? Not to worry.
Prepare the dip through step 5, before you toast the panko. Spread the dip into a baking dish, cover and refrigerate until ready to bake.
Before baking, toast the panko and sprinkle it over the dip. Bake as directed; you may need to extend the baking time by 5-10 minutes to get it as hot and bubbly as you like.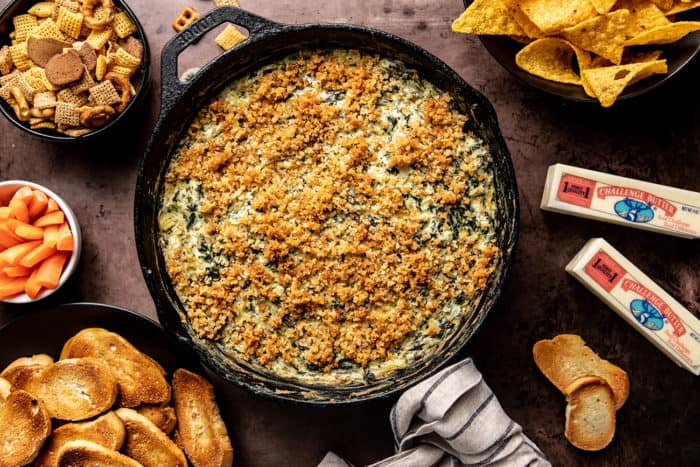 CAN YOU FREEZE SPINACH ARTICHOKE DIP?
Because the base of this dip is primarily cream cheese, this dip is safe to freeze.
I recommend freezing it before baking. As mentioned above, prepare the dip through step 5, then spread it into a freezer- and oven-safe dish. Cover tightly and freeze for up to 1 month.
Before baking, let thaw completely, then continue with toasting the panko, topping the dip, and baking as instructed.