Spinach Artichoke Bites use just two ingredients to make an incredibly easy appetizer! These bites are perfect for a holiday party or even adding to a game-day spread.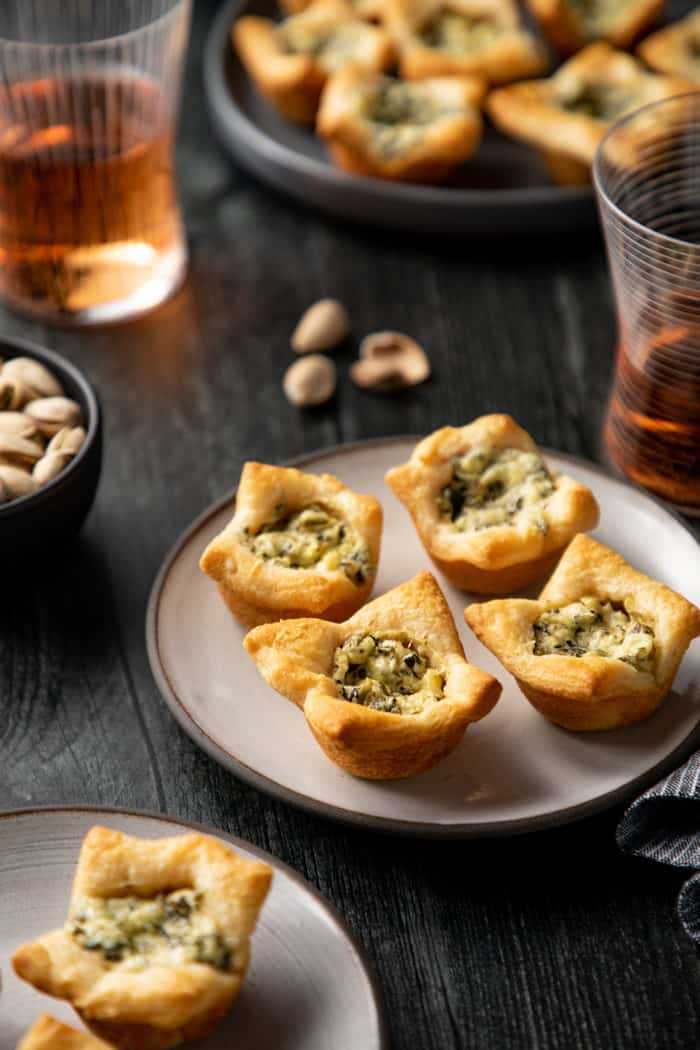 If you happened to see my recipe for the Cranberry Pecan Goat Cheese Ball, you may remember me mentioning that my neighbor got me hooked on the goat cheese dip from Aldi.
Well, that same neighbor also turned me on to a spinach artichoke dip from Costco that is pretty much now a staple in my fridge. Can you tell we like dips around here?
The brand is La Terra Fina and you can also find it in the cheese/dip section of grocery stores other than Costco and it is pretty darn delish!
It's perfect with pumpernickel bread, crackers, veggies, etc. but one of the best ways to use it is for these little Spinach Artichoke Bites. They're simple, delicious and the perfect poppable bite for the holiday season!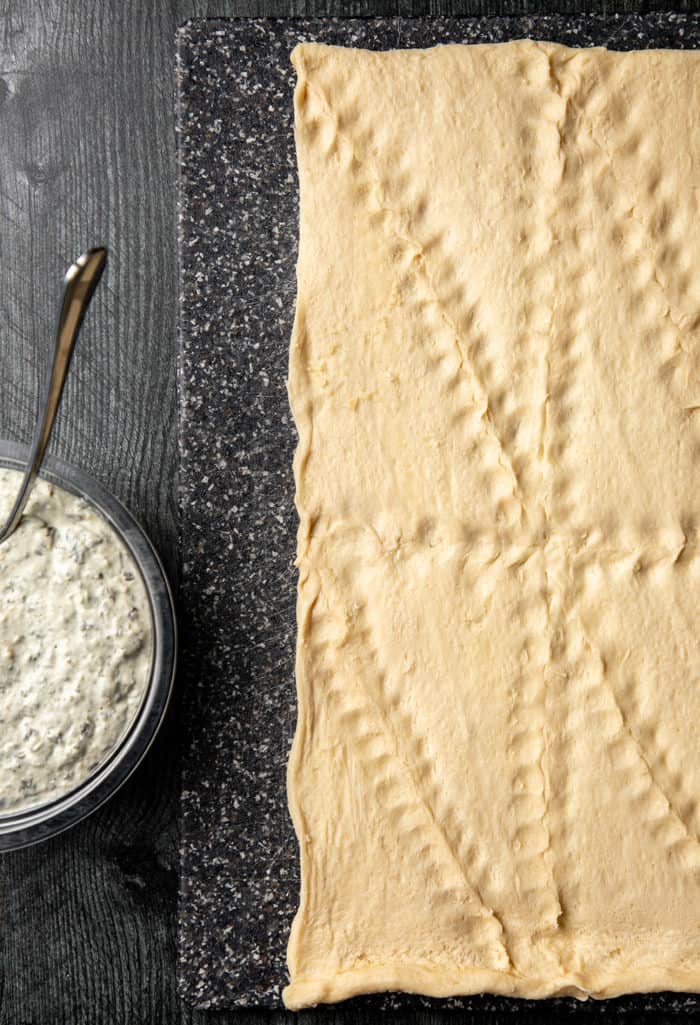 WHAT ARE SPINACH ARTICHOKE BITES?
Apparently this is the time of year where I show you how to make appetizers that are so easy, it kind of feels silly to give you a recipe for them.
Last year I showed you how to use homemade cranberry sauce to make Cranberry Cream Cheese Dip. Two ingredients – so easy.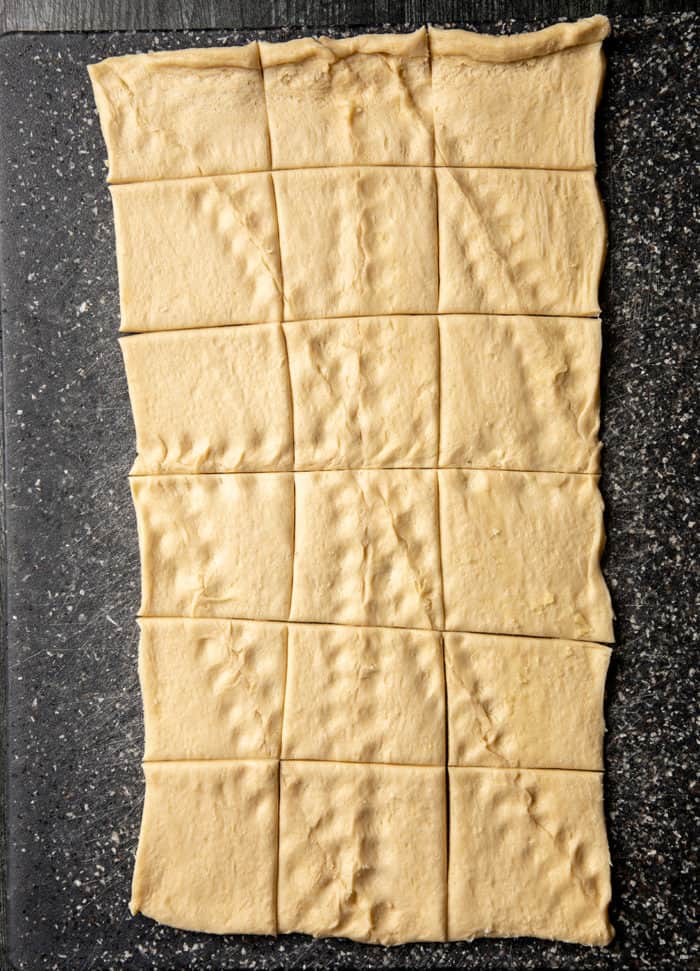 This year, I've got another 2-ingredient appetizer for you: Spinach Artichoke Bites.
These bites are made in a mini muffin tin and use crescent rolls as a base which are then filled with spinach artichoke dip.
They're super pop-able and delicious! It's hard not to want to eat the whole pan as soon as they come out of the oven.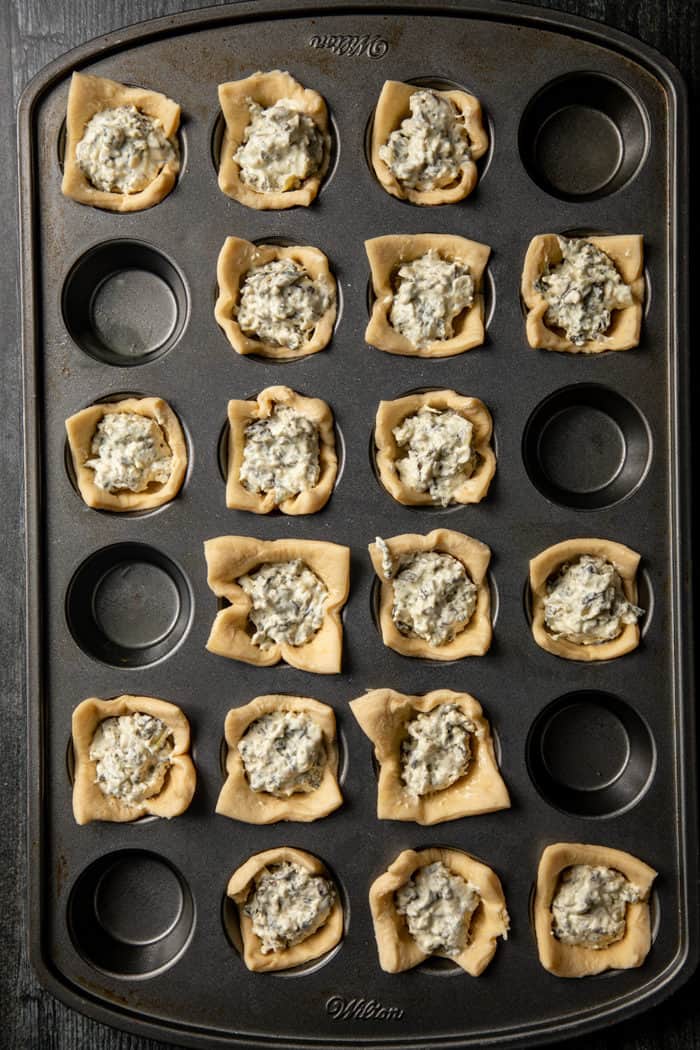 HOW TO MAKE SPINACH ARTICHOKE BITES WITH CRESCENT ROLLS
You'll need just two ingredients to make this recipe:
1 tube of crescent roll dough
1 container of spinach artichoke dip
You could use homemade spinach artichoke dip instead of store bought if you want, but I think they're delicious with a good-quality prepared dip like the one I mentioned above.
If you don't love artichokes, you could use your favorite spinach dip instead. You could even use an artichoke jalapeño dip if you like!
Grab a mini muffin tin and grease it with nonstick cooking spray.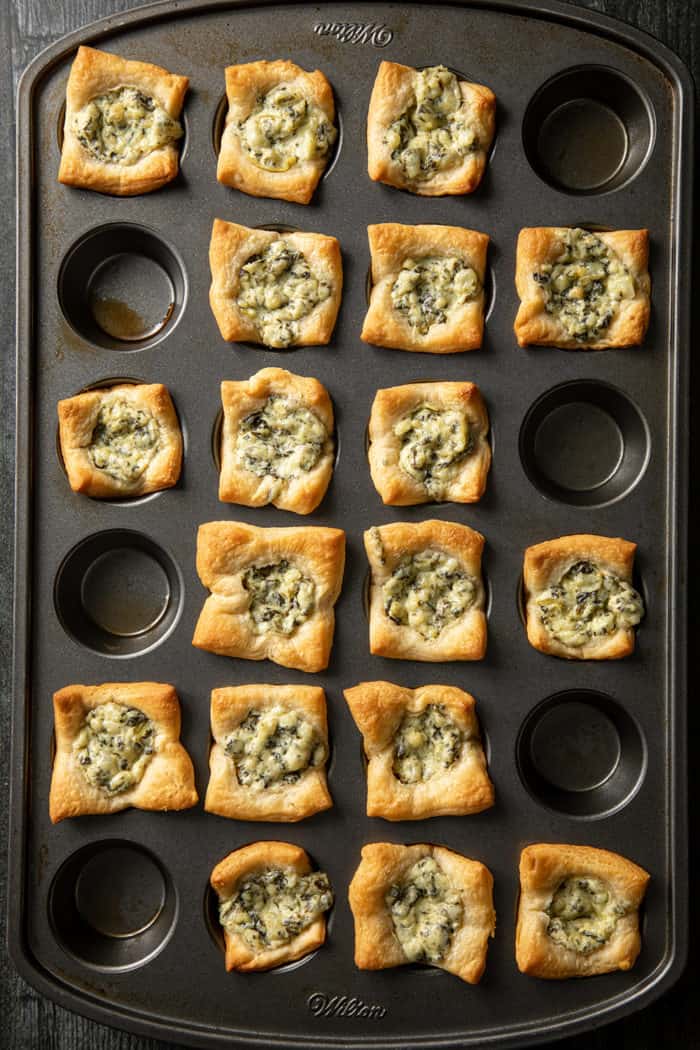 Unroll the crescent roll dough onto a cutting board and gently press the seams together, then cut the dough into 18 rectangles. Place each rectangle into one of the mini muffin cups – make sure the dough covers the bottom, but don't worry if it doesn't come all the way up the sides of the cup.
Place a spoonful of the dip of your choice into the center of each of the dough-lined cups. Each one will probably hold a little less than 1 tablespoon of the dip.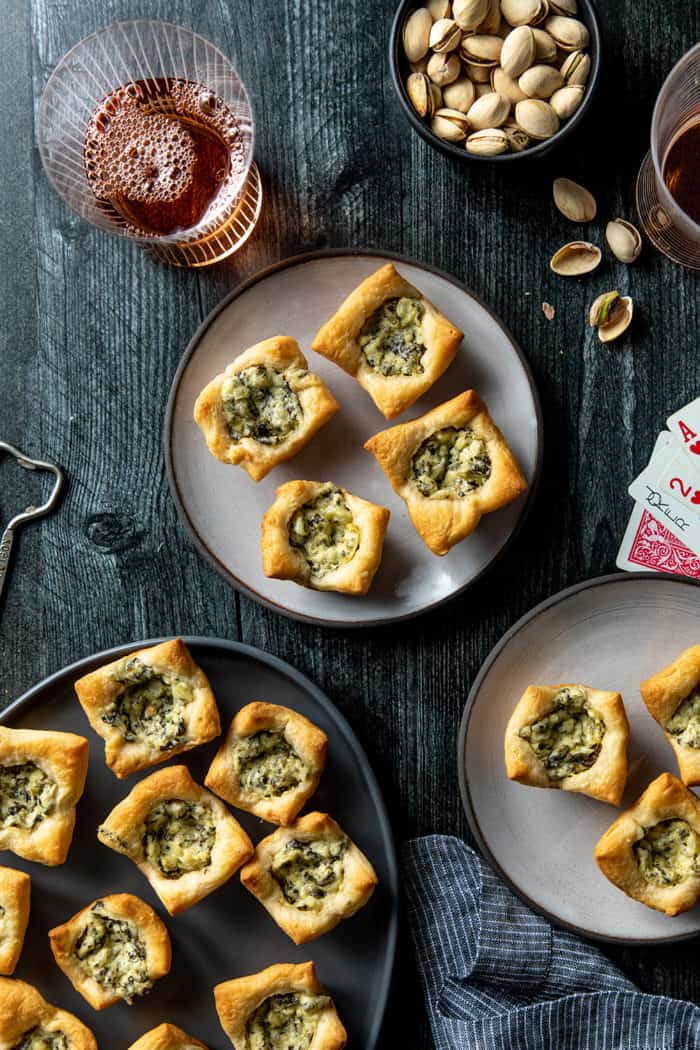 Bake the bites for 12-15 minutes, or until the crescent dough is puffed and golden and the dip is nice and hot.
Immediately remove the bites from the muffin tin and place on a platter to serve warm.
This recipe scales well, so feel free to make as many batches as you like! They're so fun to eat, they'll disappear quickly from any holiday buffet.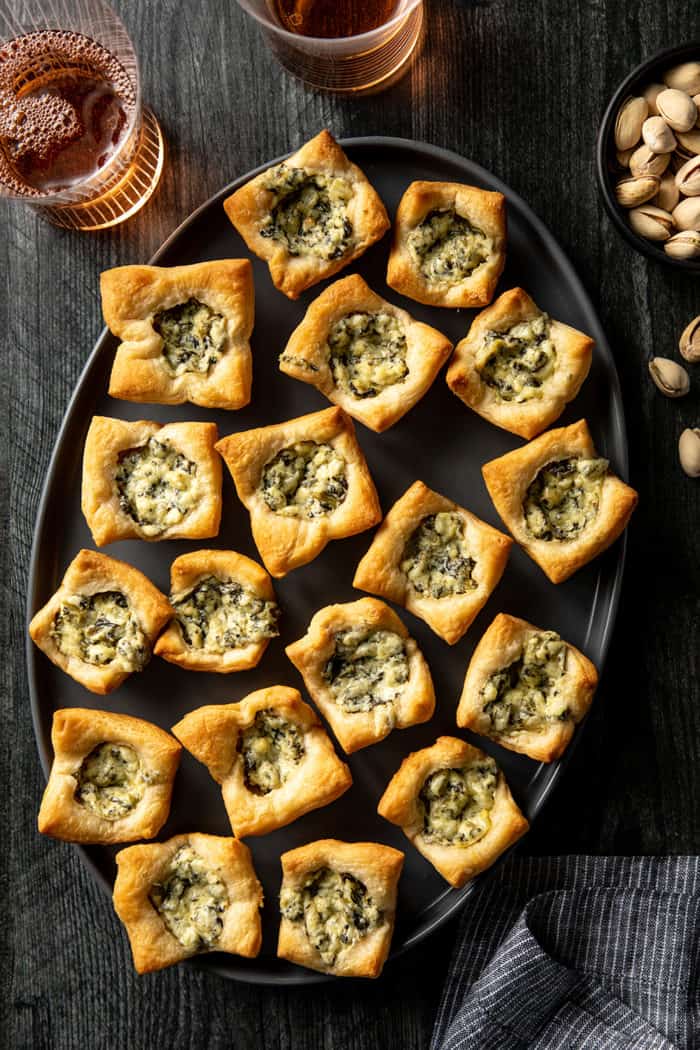 MORE HOLIDAY APPETIZERS
Planning your holiday party menu? I've got more appetizer ideas for you!
Cranberry Brie Bites are another fun and easy way to turn crescent rolls into a festive appetizer.
Cranberry Pecan Goat Cheese Ball is a great blend of sweet and savory, while Sausage Cheese Balls are always a classic.
Spicy Southern Cheese Straws are a great regional favorite, and Whipped Goat Cheese Pomegranate Bites will make all your guests think you're the fanciest person they know.