Sausage Cheese Balls are a brunch classic for Easter or even Christmas. I've made them special with the extra crunch from pecans, and spicy with jalapeño flavor.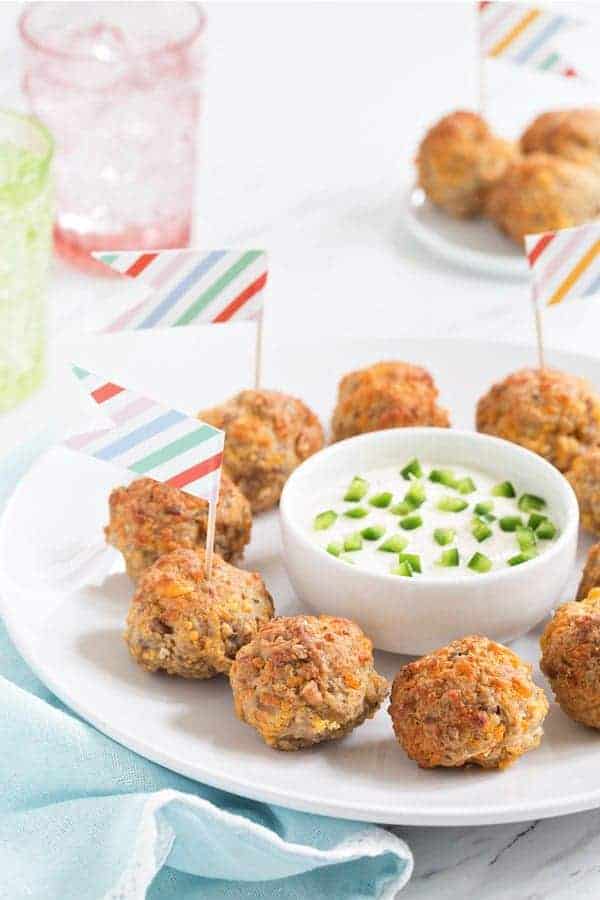 This is post is sponsored recipe development on behalf of Fisher Nuts. Thank you for continuing to support the brands that make My Baking Addiction possible.
Have you ever made Sausage Cheese Balls for Easter brunch? I had not. And then my friend Amber started insisting I do it. "They're SO GOOD!" she says.
Needless to say, I was pretty dubious.
Sausage, cheese, baking mix… feels kinda one note to me. And I can never leave well enough alone. So, I took a look at a lot of different recipes, and then made my own, with flavors I love.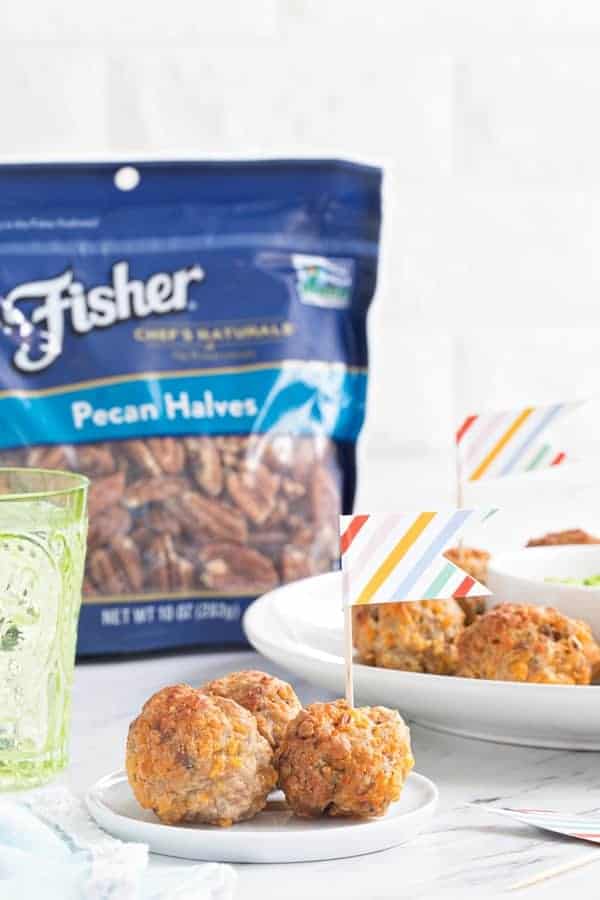 Things like jalapeño (I love spicy food), and lots of garlic. And a delectable ranch dipping sauce to cool things off.
These little Sausage Cheese Balls are completely irresistible. So completely irresistible. I've made them twice, and they're getting made again for Easter, and already earned a spot on our Christmas menu too.
They work for brunch, they work as a party appetizer.. they work at 3 o'clock when you've forgotten to eat lunch and there's a whole bunch of 'em hanging out in the fridge. They're even good cold.
But they're best fresh out of the oven, dipped right into creamy ranch dip.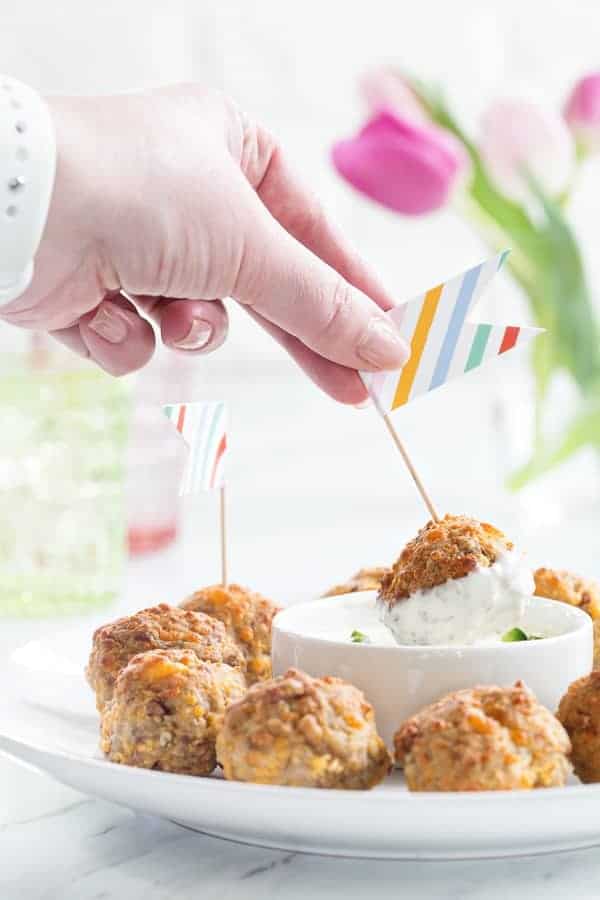 One thing I noticed about all the recipes I looked at is that they were missing a crunch factor. And I think that's folly.
There are a lot of different things you could use to add texture to a simple little app like this, from celery to corn chips, but I went with fresh Fisher Pecans.
You guys know I love a cheese ball, and in my opinion, cheese balls are best when covered in delectable pecans. That flavor combination of sharp cheddar and buttery sweet pecans is one of my favorites.
Now I've added jalapeño and spicy sausage to the mix, making a poppable bite that, when dipped in ranch, becomes a whole other level of awesome flavors.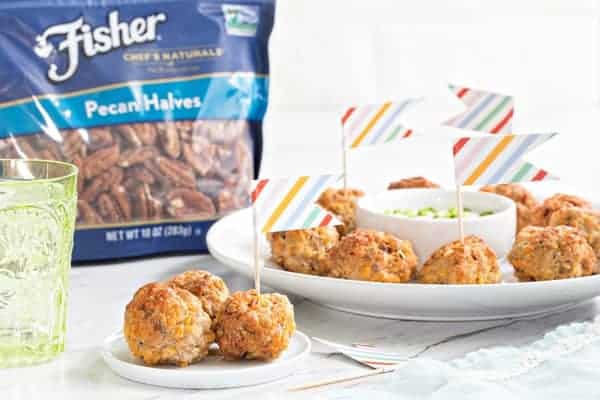 You'll always find me using Fisher Nuts in my recipes, because they don't contain any preservatives. I want my recipes to have only the best nut flavor, and that's what I get from Fisher products, every time.
And, I love that their packaging is resealable. I never have to worry about lost pecan pieces in the bottom of my pantry storage. These bags stay closed, and fresh. Win-win.
Pouring a healthy amount of pecan chips into these Sausage Cheese Balls is also a total win. The texture they add is everything, as far as I'm concerned. I wouldn't have been nearly the sausage ball convert without them.
You'll also notice I call for dried jalapeño flakes in the recipe. They're similar to red pepper flakes. You can use those instead, or omit all together, but I really love the heat they bring.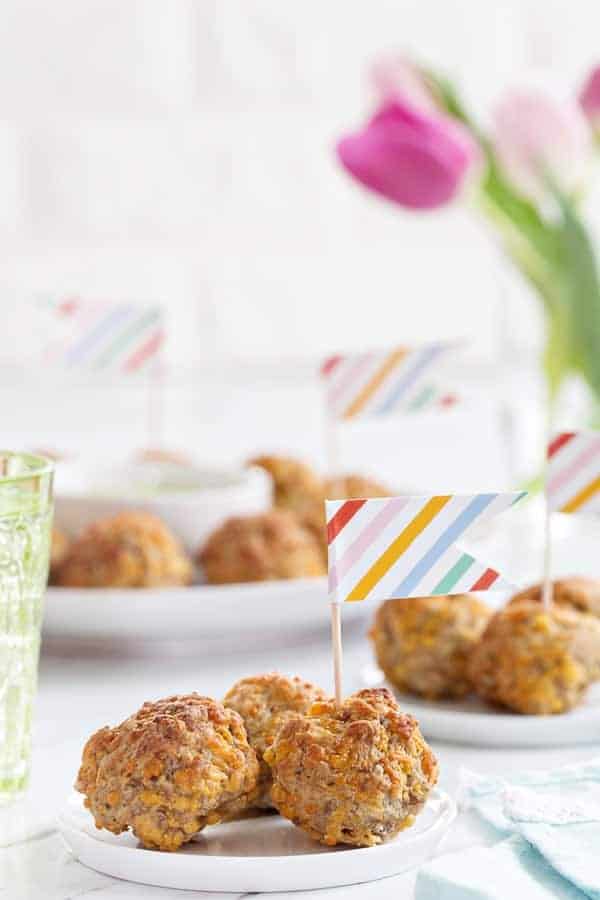 Bake these up using my homemade baking mix recipe, or grab a box from the grocery store. Either is fine, so long as you're making these delicious appetizers STAT.
For more delicious recipes using Fisher Nuts, be sure to check out this Sweet and Spicy Snack Mix and this Frozen Samoa Pie.

Sausage Cheese Balls
Yield: 38 sausage cheese balls
Prep Time: 25 minutes
Cook Time: 18-22 minutes
Total Time: 47 minutes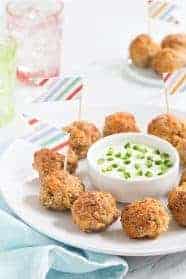 Ingredients:
1 pound ground sausage
2 cups baking mix
1 teaspoon garlic powder
1 teaspoon crushed, dried jalapeños, or 1/2 teaspoon jalapeño seasoning, optional
1 pound sharp cheddar cheese, shredded
1/3 cup finely chopped Fisher Pecans or Fisher Pecan Pieces
Directions:
Allow the ground sausage to sit at room temperature for about 30 minutes.
Preheat oven to 350°F. Line a baking sheet with parchment paper and place a wire baking rack onto the lined pan. Spray the rack with nonstick cooking spray. This step will allow the grease to drip off onto the pan below.
Place the sausage in a large bowl and add in the baking mix, garlic powder, and crushed jalapeños.
Use clean hands to incorporate the baking mix into the sausage. You might think there is too much baking mix, but I promise it will incorporate, you just have to be patient. You can speed up this process by using your stand mixer fitted with the paddle attachment. Easy peasy.
Mix in the cheese and pecans until evenly incorporated.
Use a medium cookie scoop (1 1/2 tablespoons) to portion the mixture. Roll each portion into a ball and place them onto the prepared baking rack.
Bake the sausage balls for 18-22 minutes.
Serve them warm with your favorite dipping sauce.
Notes:
I used spicy Italian sausage, but any type of ground sausage will work.
Since we're dealing with sausage and cheese, these can get a little greasy. If you don't mind the grease, you can bake them on a parchment-lined baking sheet instead of the baking rack as described above.
I served these up with our favorite ranch dressing mixed with a bit of sour cream and freshly chopped jalapeños.
This is a sponsored conversation written by me on behalf of Fisher nuts. The opinions and text are all mine.
6 Responses to "Sausage Cheese Balls"