Sausage Balls are savory, cheesy, and dippable, perfect as an appetizer or as part of a game-day spread! Make them with store-bought or homemade Bisquick mix.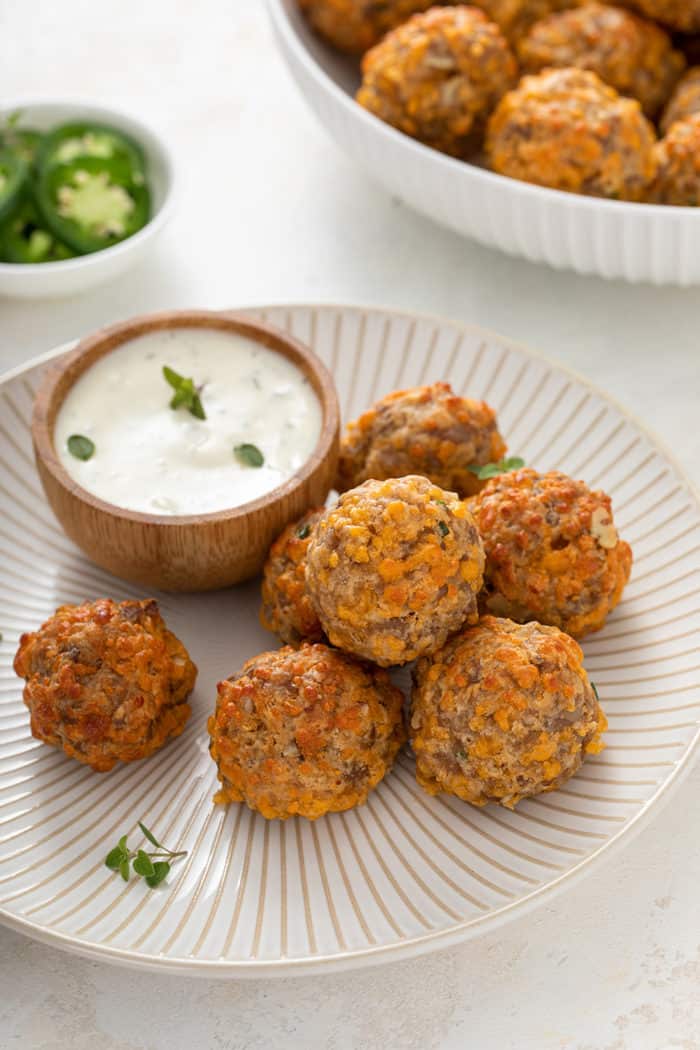 If I've said it once, I've said it a million times – I am not into football – at all. But what I am into is snacks and I can whip up a pretty darn good game day spread!
From ham and cheese sliders and buffalo chicken dip to baked potato dip and sausage cheeseballs, our game day grub is always delicious.
If you've never had sausage cheese balls, you're in for a treat.
Plus, they couldn't be easier to make. All it takes is a few simple ingredients and a stint in the oven, and you've got the perfect nibble for game day, brunch, or your next holiday gathering.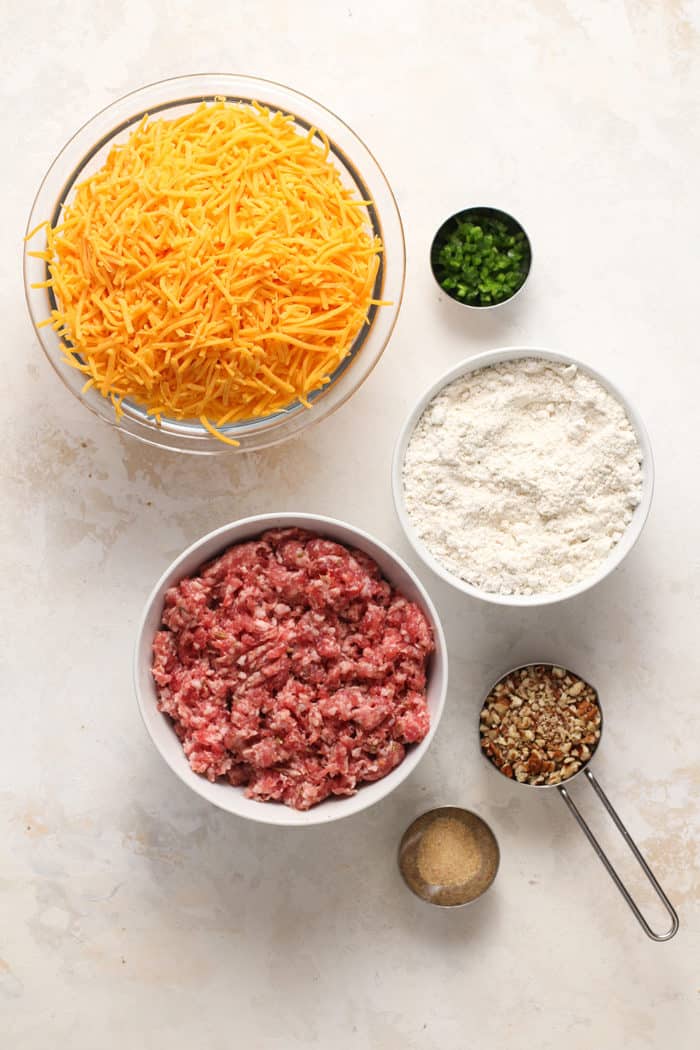 HOW DO YOU MAKE SAUSAGE BALLS?
First, bring the pork sausage out of the refrigerator to come to room temperature while you preheat the oven and prepare the pan. This will make it so much easier to mix with the other ingredients.
Prepare the pan by lining a rimmed baking sheet with foil, then placing a wire rack on top, such as one you'd use for cooling cookies. Spray with nonstick spray.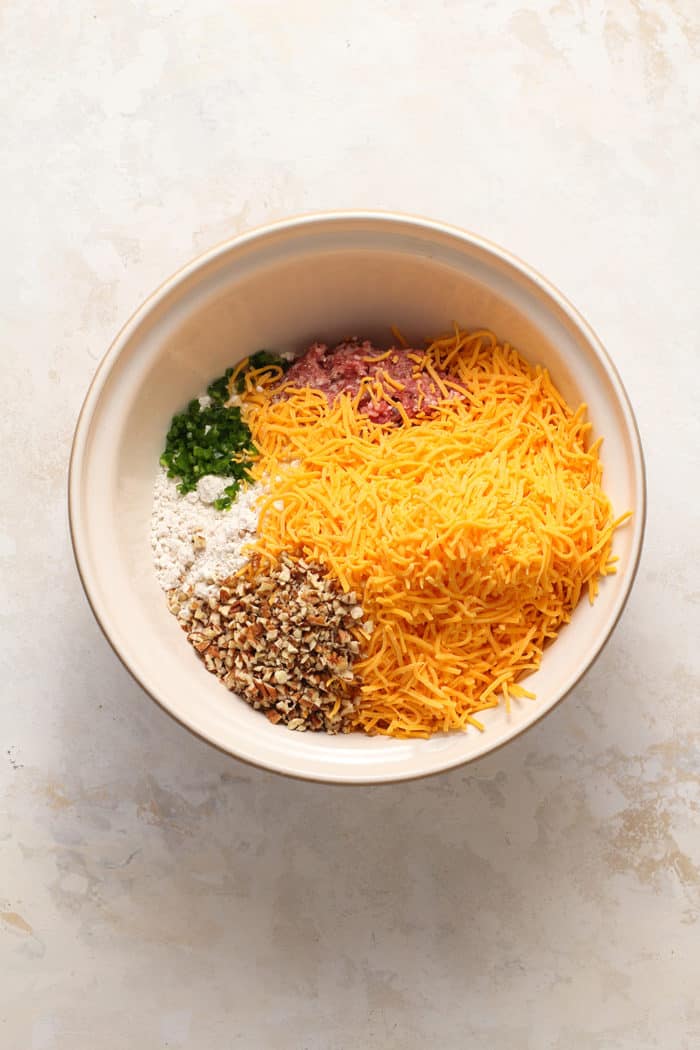 The wire rack will allow excess grease to drip into the pan below. This is also the method I use for baking bacon in the oven.
For this sausage balls recipe you'll need baking mix. My Homemade Bisquick Mix is perfect in this recipe!
Shred the sharp cheddar cheese using the medium holes of a grater. I prefer to shred the cheese myself for the best flavor and texture, but you can always use bagged shredded cheese.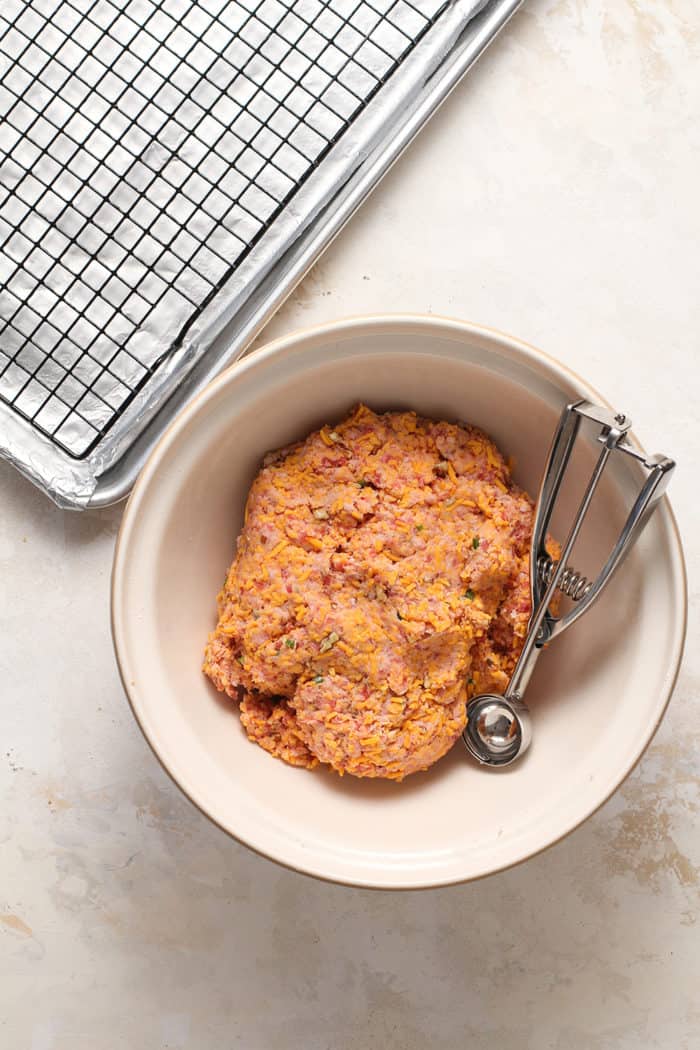 Mix together the sausage, baking mix, jalapeños, garlic powder, shredded cheese, and pecans. You want everything evenly mixed, similarly to if you were making meatloaf or burgers.
If you like, you can use your stand mixer with the paddle attachment to combine ingredients. Be careful to not turn it on too high; low speed works perfectly.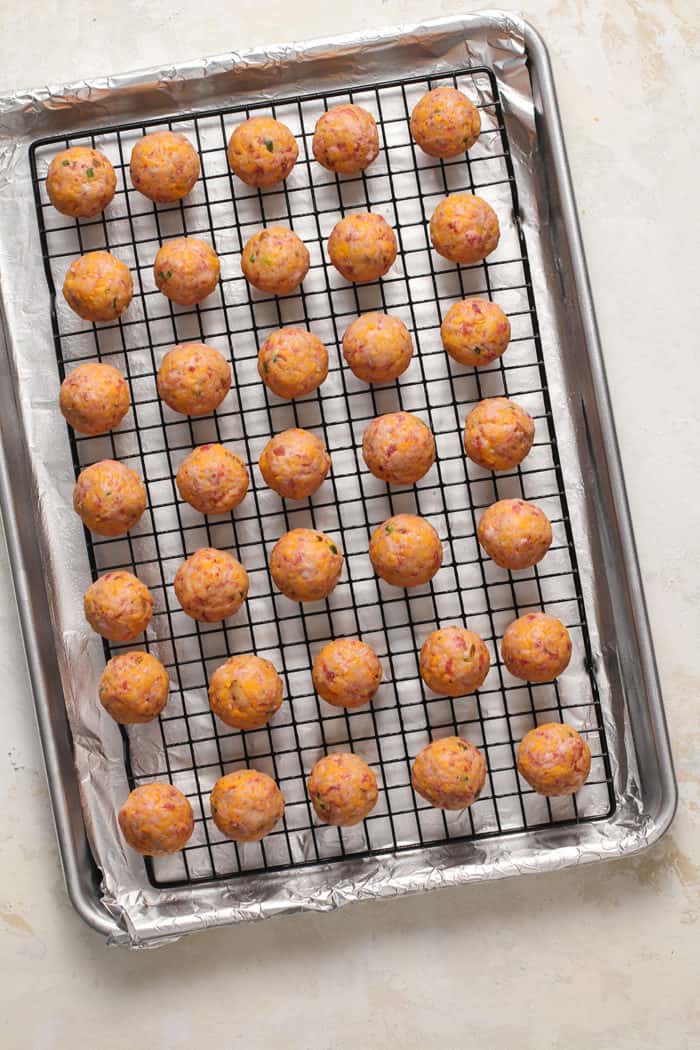 Once everything is mixed, use a medium cookie scoop or a tablespoon to scoop the mixture. Roll it in your hands to form a ball, then place each sausage ball onto the prepared baking sheet.
The sausage balls bake for 18-22 minutes. You'll know they're done when they are nicely browned and have a crisp outer layer.
You can also use an instant read kitchen thermometer to check for doneness. Sausage balls will be fully cooked at 160°F.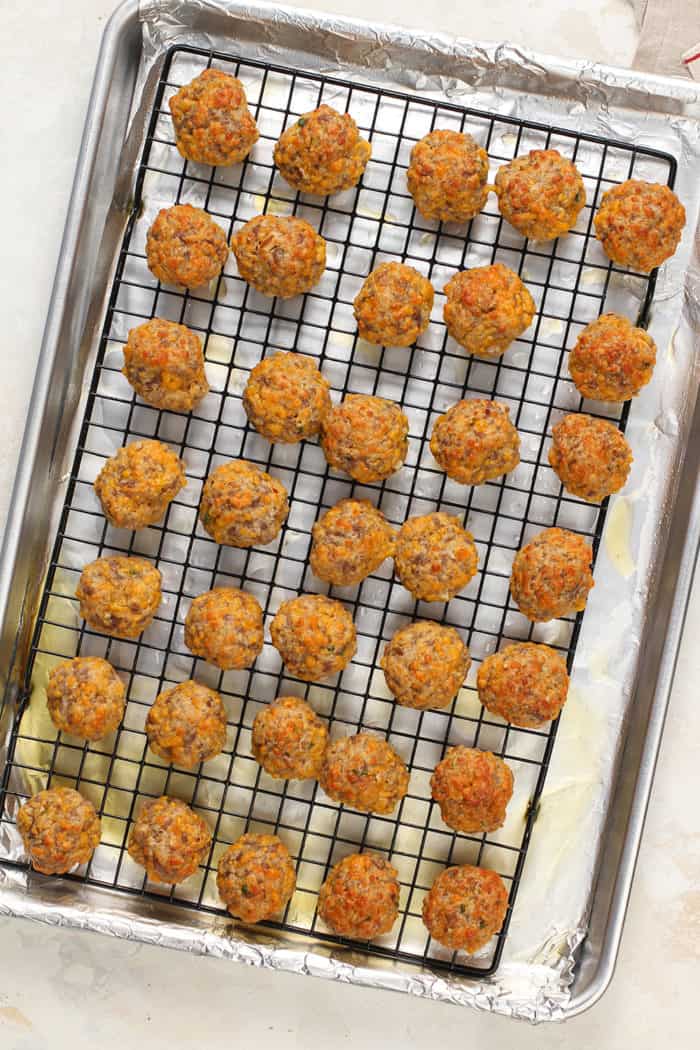 RECIPE SUBSTITUTIONS
I like to change up my sausage balls a little bit every time I make them.
Depending on my mood and the guests I am serving, I might grab the hot pork sausage instead of mild. You can also try making sausage cheese balls with chicken sausage.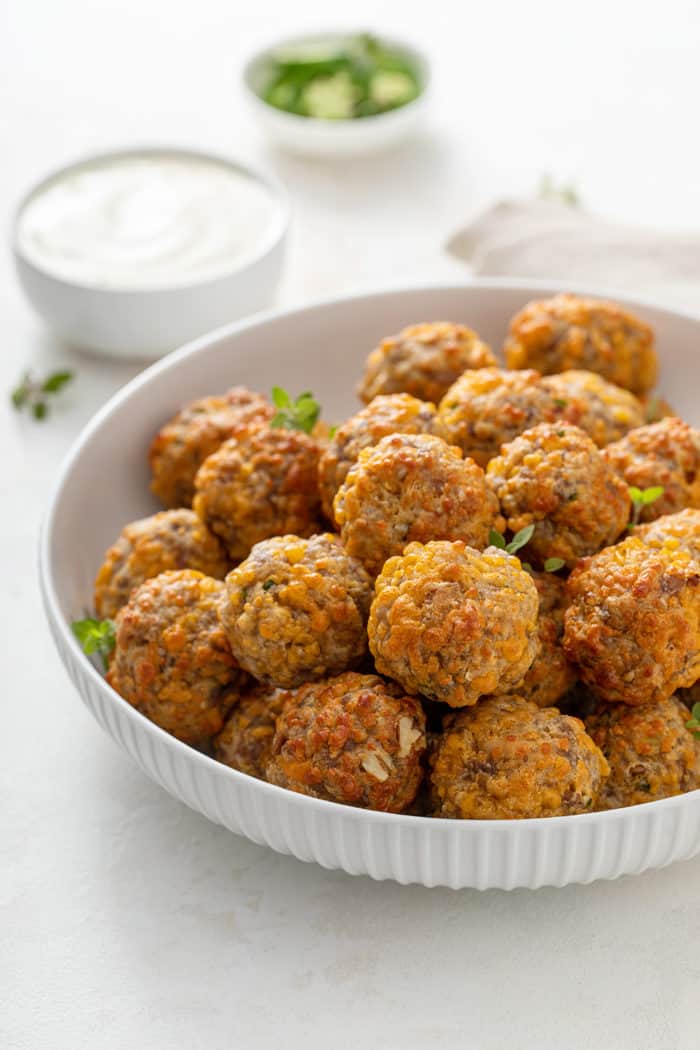 I love the jalapeños for a slight kick, but try your favorite pepper! Serrano pepper will kick things up even more.
Swap in your favorite cheese for the cheddar, such as monterey jack, pepper jack, or even a smoked gouda.
Want even more heat? Add a pinch of ground cayenne pepper or hot paprika or even a few dashes of your favorite hot sauce.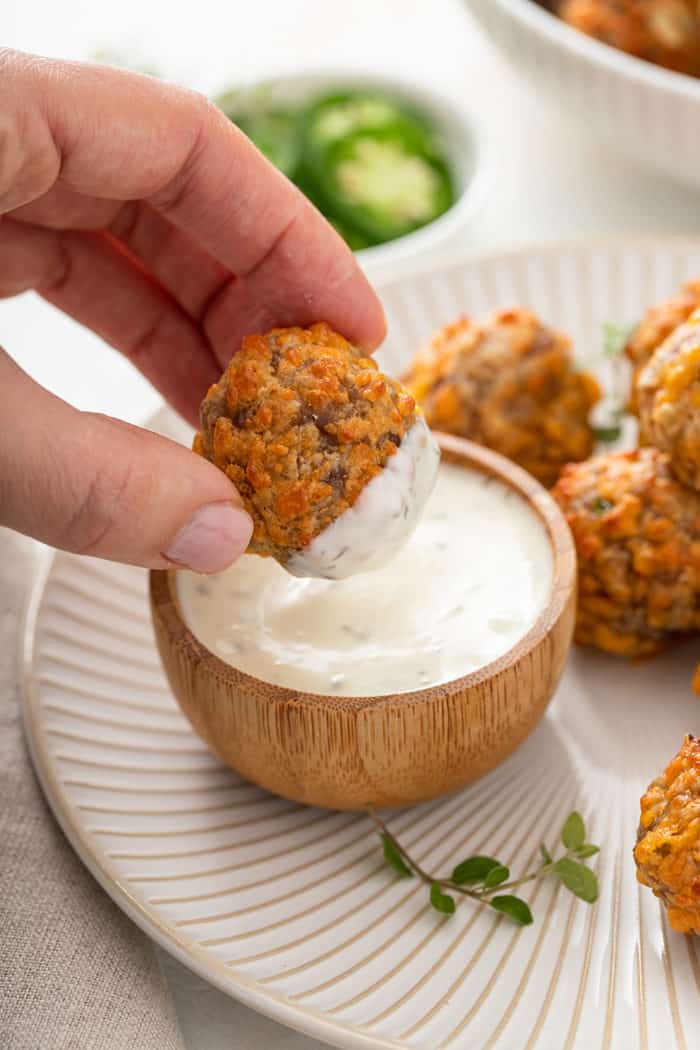 HOW TO SERVE SAUSAGE BALLS
I like to serve bisquick sausage balls with a bowl of homemade ranch dip. Whether it's a dinner appetizer or part of a party spread along with spinach artichoke bites, beer cheese dip, and cheese straws, everyone loves them.
They're best when they're fresh out of the oven, but they are still delicious at room temperature.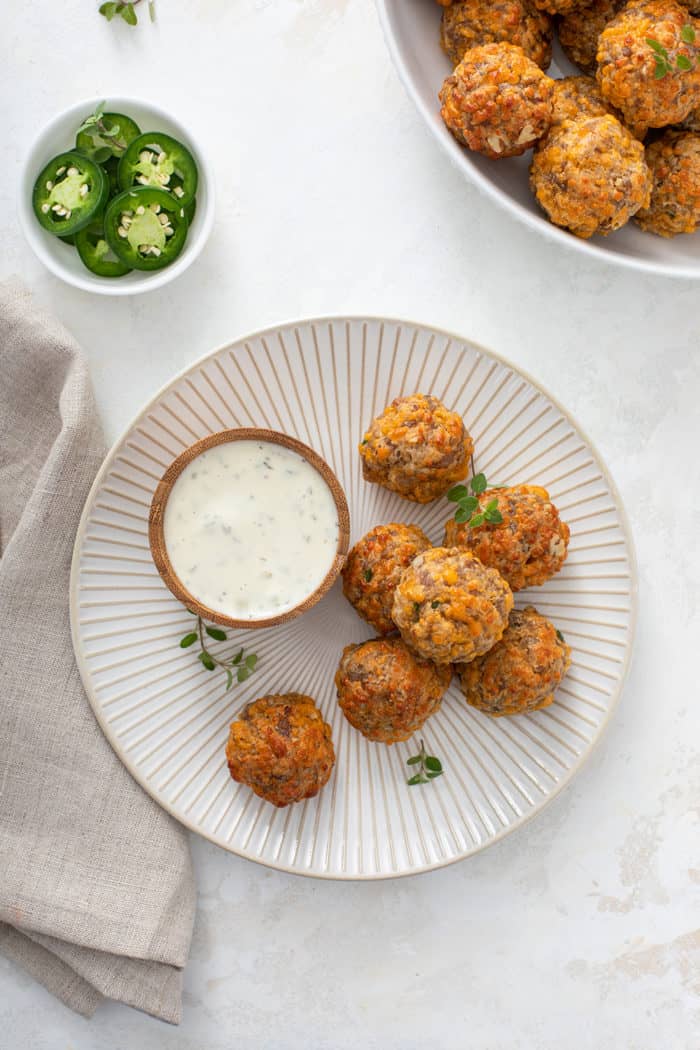 In fact, they're good straight out of the fridge!
If you have leftovers, simply store them in an airtight container in the refrigerator and enjoy whenever the craving hits.
Give these sausage balls a try and see for yourself how delicious they are!