Cranberry Pecan Goat Cheese Ball is a flavorful addition to your holiday spread. Packed with tangy goat cheese, sweet dried cranberries, pecans, and green onions, this cheese ball is sure to be a hit at any gathering!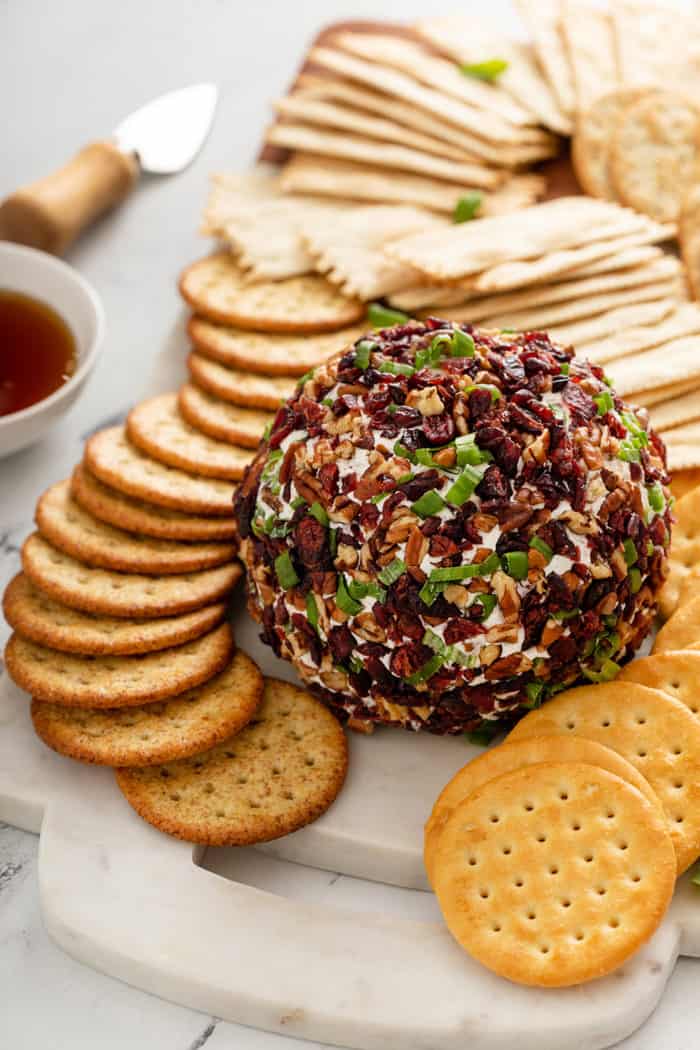 A few weeks ago, my friend Heather gave me a little tub of goat cheese dip and a box of cranberry crisps that she picked up from Aldi. To say I'm obsessed with the pairing is a bit of an understatement.
Of course this combo is amazing on its own, but if you spread just a touch of jam or homemade cranberry sauce on top of the goat cheese dip, it's a total game changer.
Cranberries are such an essential holiday food. It seems unexpected with cheese, but cranberries and cheese make a great combo, like in cranberry brie bites.
When I think of cheese and the holidays, I automatically think of cheese balls. It's such a great party appetizer!
I'm always on the lookout for the best cheese ball recipe, and this is definitely my new favorite.
This cheese ball recipe adds cranberries and goat cheese to cream cheese, pecans, and goat cheese. It's sweet, tangy, and has just a bit of Worcestershire sauce for a bit of umami flavor.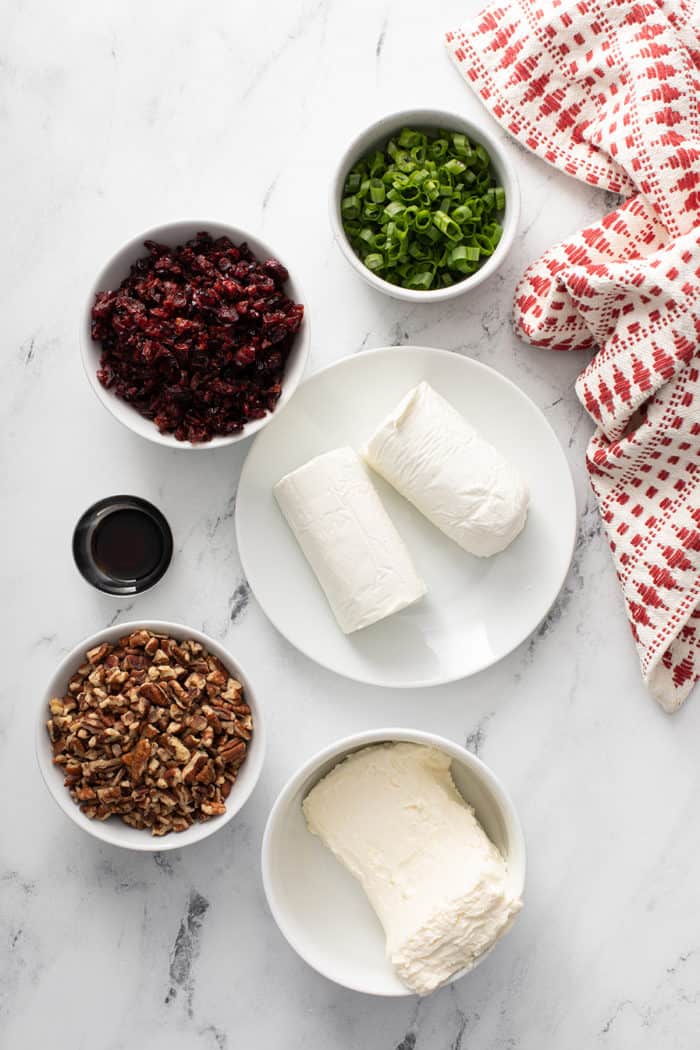 WHAT IS THE BEST CHEESE FOR CHEESE BALLS?
One reason I love cheese balls is that you can add nearly anything you like to them!
However, every cheese ball needs to start with a base of soft cheese like cream cheese or neufchatel. If you want a head start on mix-ins, you can use a flavored cream cheese like in my spicy taco cheese ball.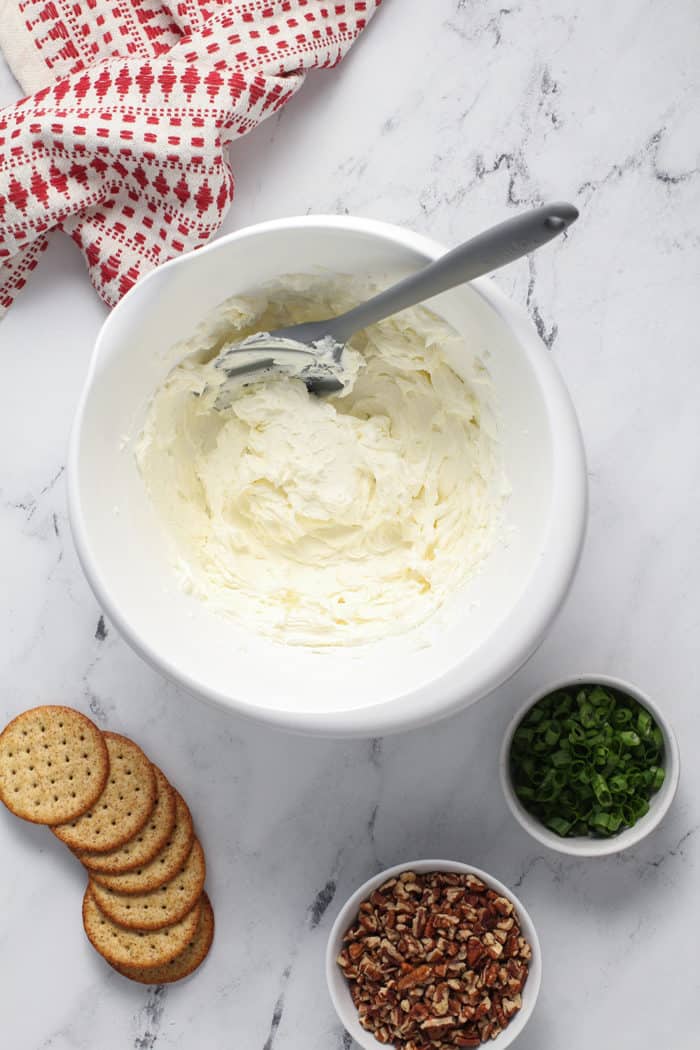 Soft goat cheese, also called chevre, is a great tangy addition to any cheese ball. I recommend using no more than half goat cheese in your cheese ball mixture so it stays spreadable and not crumbly.
Both the goat cheese and cream cheese need to be soft before making the cheese ball, or the ingredients won't blend smoothly.
Be sure to check out my post on how to soften cream cheese so you can make this recipe!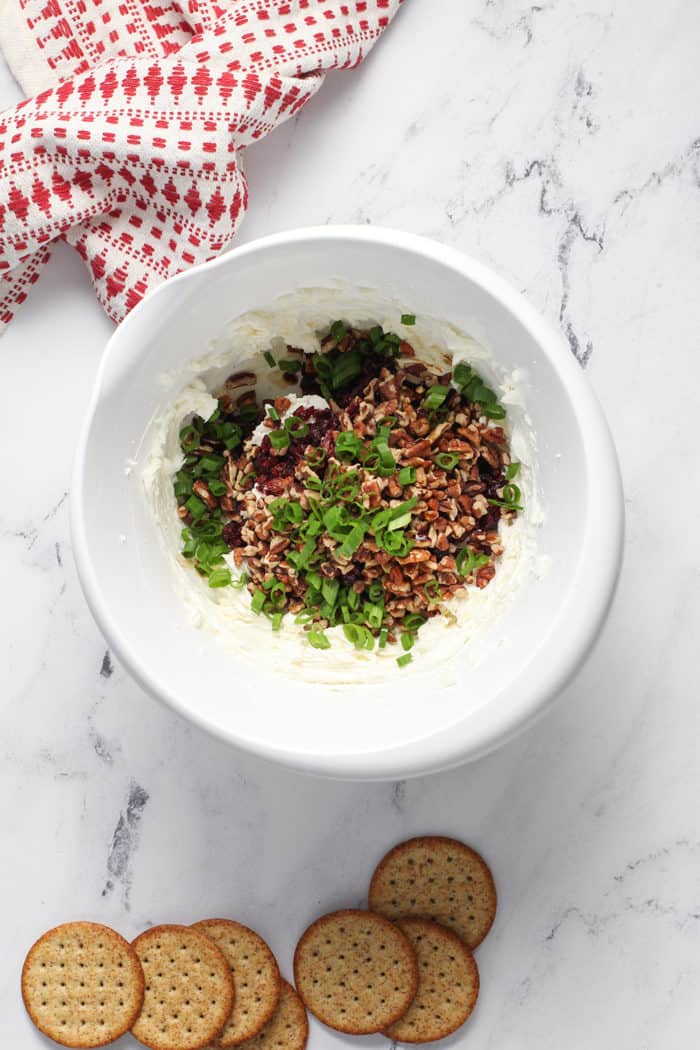 HOW TO MAKE CHEESE BALLS
Cheese balls always look impressive in an appetizer spread, but they are easy to make.
For this cranberry pecan goat cheese ball, you need:
Softened cream cheese
Softened goat cheese (not crumbles)
Dried cranberries, chopped
Dried pecans chips, or finely chopped pecans
Sliced green onions
Worcestershire sauce
To make this recipe vegetarian, skip the Worcestershire sauce.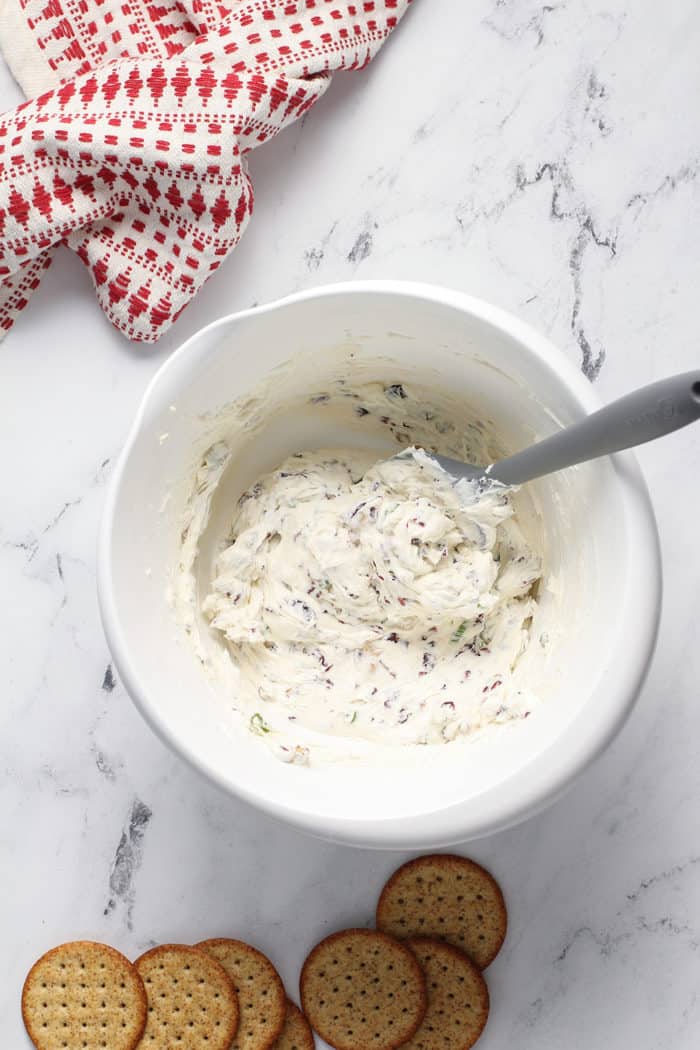 In a large bowl, add the cream cheese and goat cheese. Mix together until blended. I recommend an electric hand mixer here. It makes it much easier!
Divide up your cranberries, pecans, and green onions. For cheese balls, you want both ingredients mixed in and as a coating.
Make sure everything is chopped well. You don't want a huge piece of fruit or nut in the cheese ball, as it won't form as well. Smaller pieces also work best to form the coating.
Mix half the ingredients into the cheese, plus the Worcestershire sauce, and stir until everything is evenly incorporated.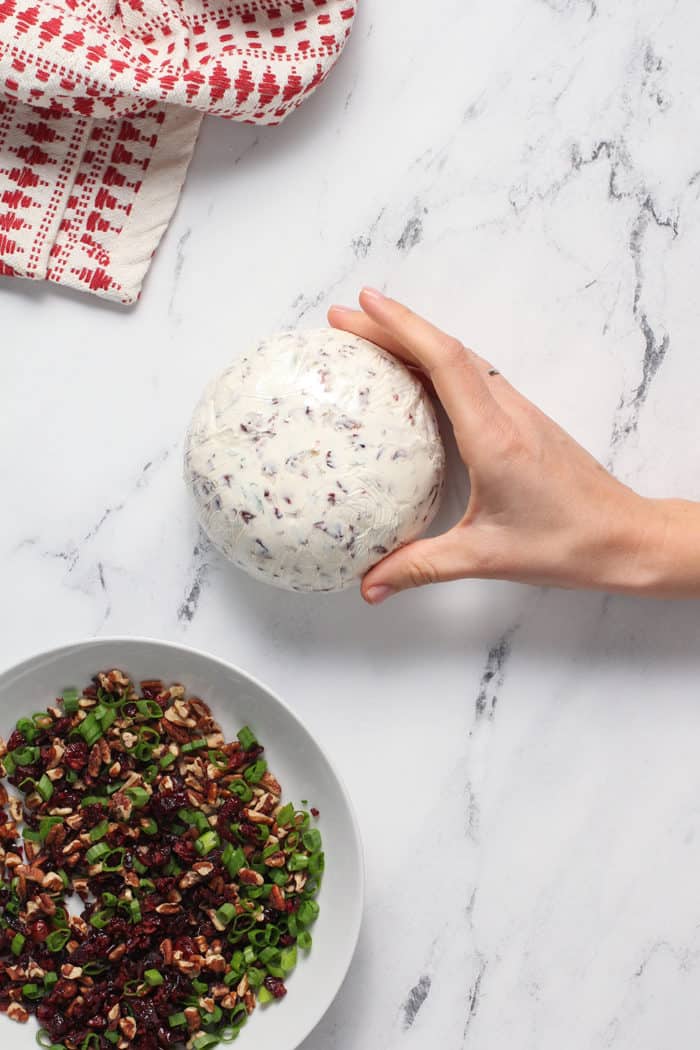 To form the ball, lay a piece of plastic wrap on your counter. Scoop the cheese mixture onto it, then bring the edges of the plastic wrap up and together, forming the cheese into a ball as you wrap.
Chill the ball for at least three hours to firm up.
When you're ready to serve, take the remaining ingredients and mix them together in a shallow bowl or a rimmed plate.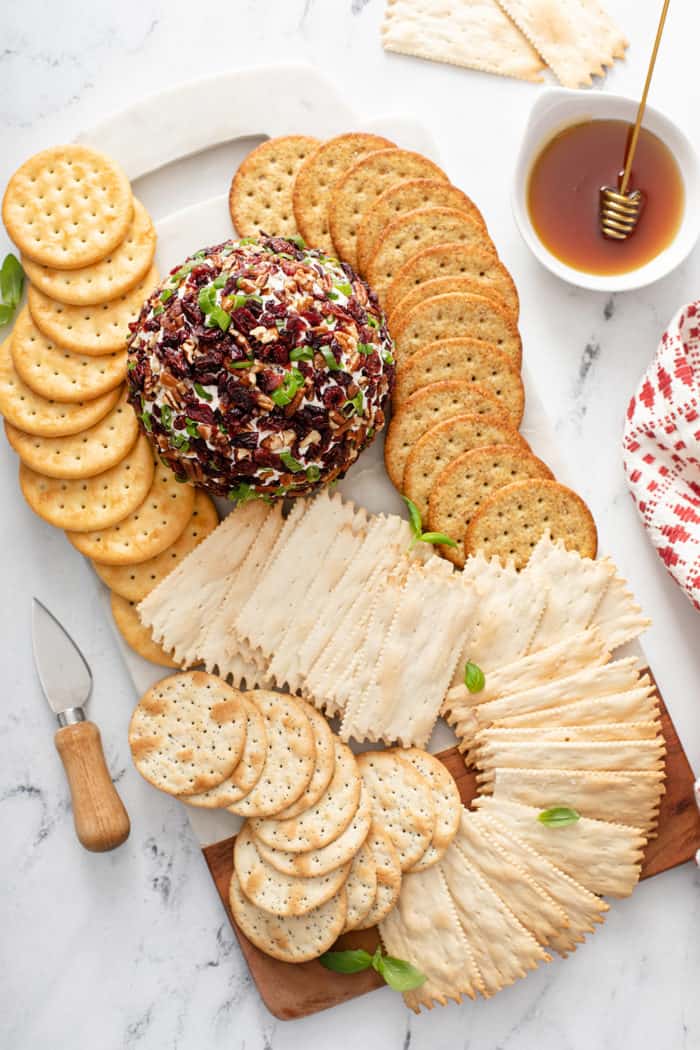 Unwrap the goat cheese ball and place it in the bowl, gently rolling it around to adhere the fruit and nuts evenly. You want the cheese to be completely covered, so don't skimp! Press gently to stick as needed.
If you don't want to make a large cheese ball, you can make mini cheese balls instead.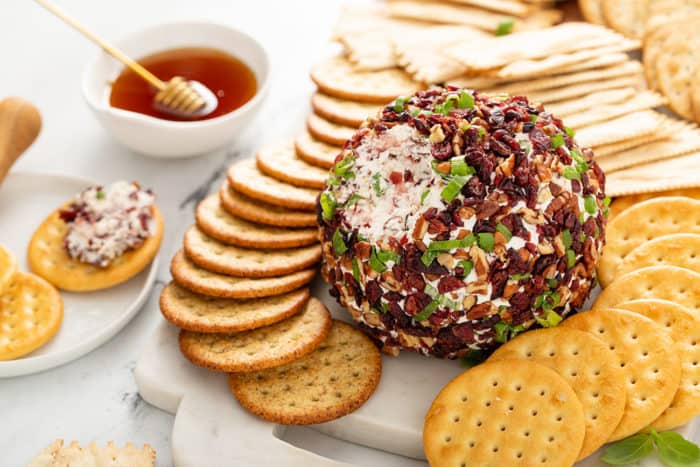 HOW TO SERVE A CHEESE BALL
Cheese balls are great for serving as part of a charcuterie board or cheese display.
If you love goat cheese, add homemade goat cheese crackers alongside whole wheat crackers or fruit and nut crisps.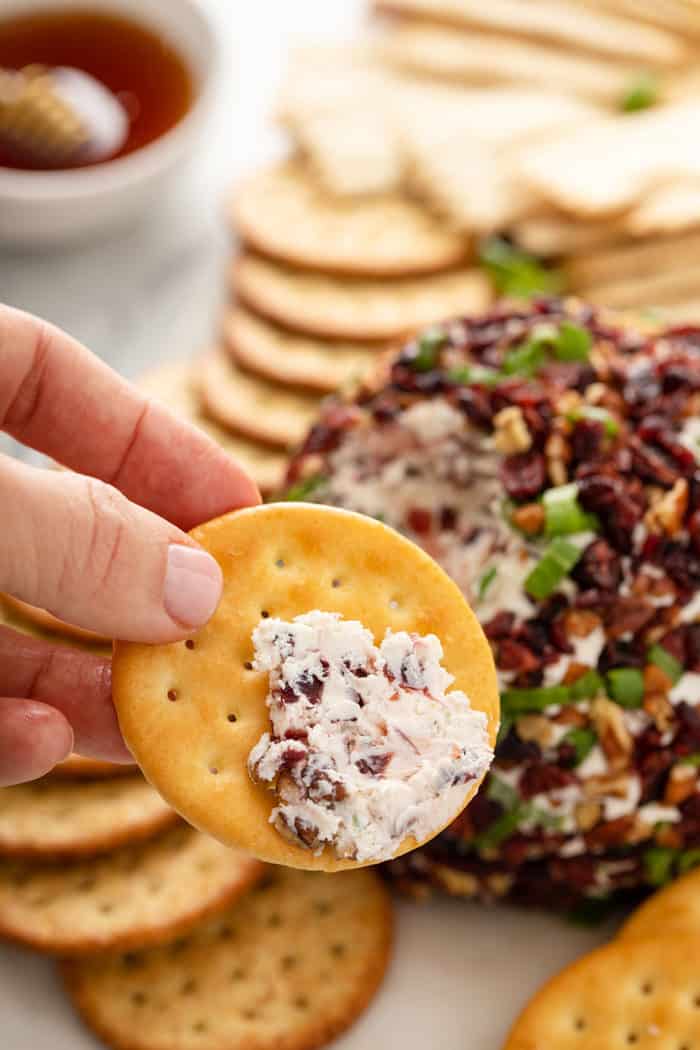 Be sure to serve the cheese ball with a cheese knife, or even a butter knife, so guests can slice off as much as they like. Having appetizer plates handy lets everyone grab snacks without needing to hover over the buffet — even though they might anyway!
I like to make a batch of sausage cheese balls as part of my spread as well. Or, you can serve your favorite cured meats for savory nibbles that balance out the sweet cranberries.
Have fresh cranberries on hand? Make my cranberry cream cheese dip!