This cheese ball recipe is a classic for a reason! This combo of cheese, green onions, pecans, and spices makes for the ideal centerpiece to any snack board.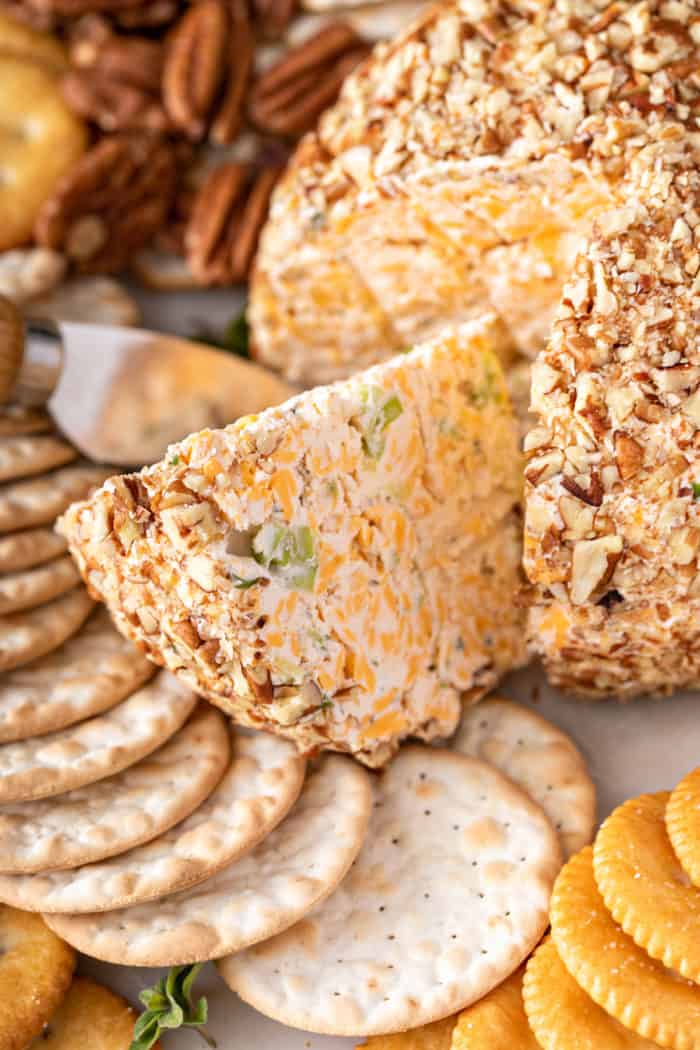 Now that the weather is getting warmer and we've made it through the time change, I feel like I am finally coming out of my winter hibernation mode.
I'm ready to have friends and family over for backyard barbecues and pool parties and am dreaming up what recipes I'll serve.
Besides the classic summer sides like old-fashioned baked beans and amish macaroni salad and a pitcher of strawberry lemonade, I like setting out a plate with crackers, fresh fruit, and a homemade cheese ball for everyone to snack on.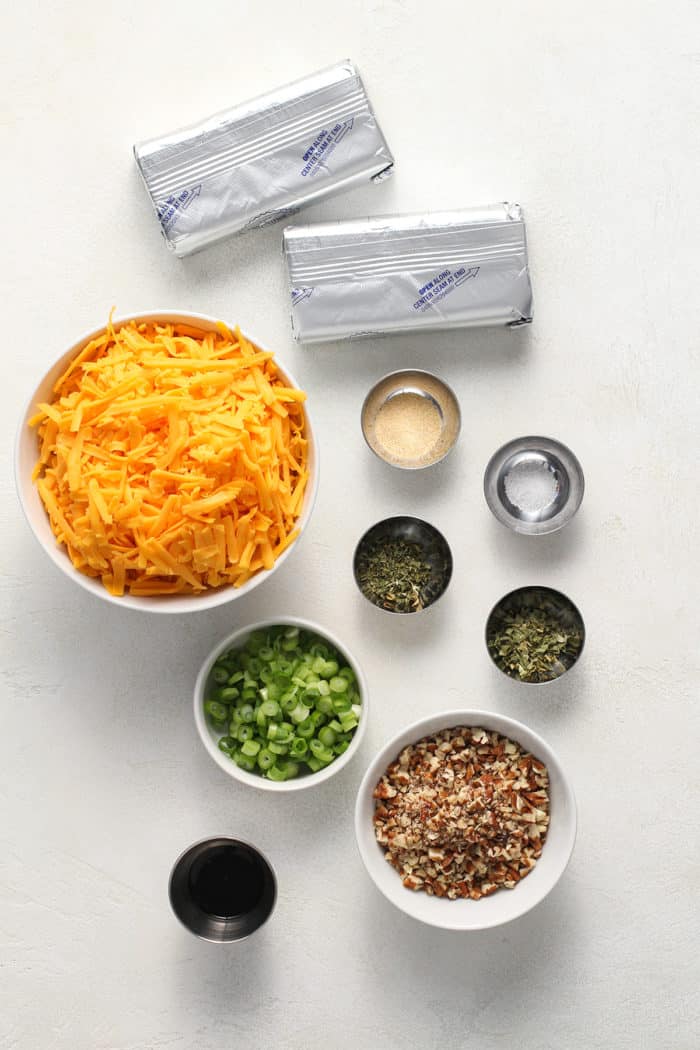 MY FAVORITE CLASSIC CHEESE BALL RECIPE
You guys know that dips and snacks are my jam. It doesn't matter if it's spinach artichoke dip, sausage balls, or a cheese ball and a plate of crackers, I could happily live on snacks.
Growing up in the Midwest, cheese balls were a party staple. It was always a bright orange cheese ball coated in chopped pecans alongside Chicken in a Biskit crackers, or maybe Ritz crackers if you were being fancy.
Don't get me wrong, I can still get down with one of those store-bought cheese balls. But I decided maybe it was time to come up with my own classic cheese ball recipe.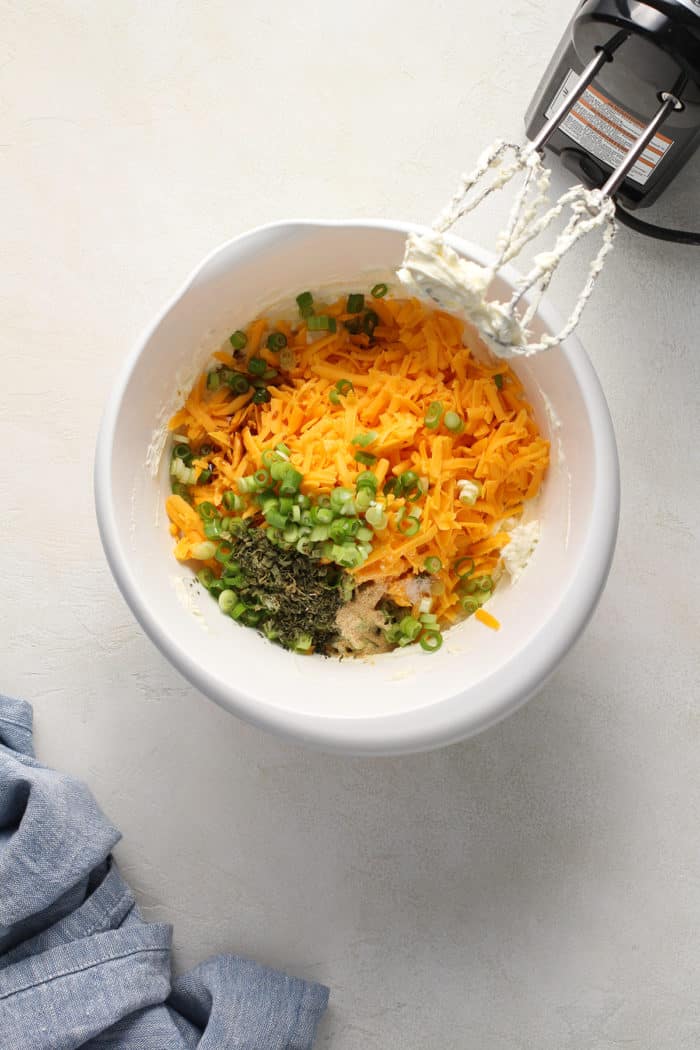 After all, homemade cheese balls are actually really easy to make and are perfect for setting out for any gathering, whether it's a brunch, dinner party, or just a casual movie night.
For this version, I used the classic combination of cream cheese and cheddar cheese, then added some green onions, a nice amount of spices, and finished it off with some finely chopped pecans.
The final cheese ball is flavorful and perfect alongside crackers, nuts, or fresh fruit.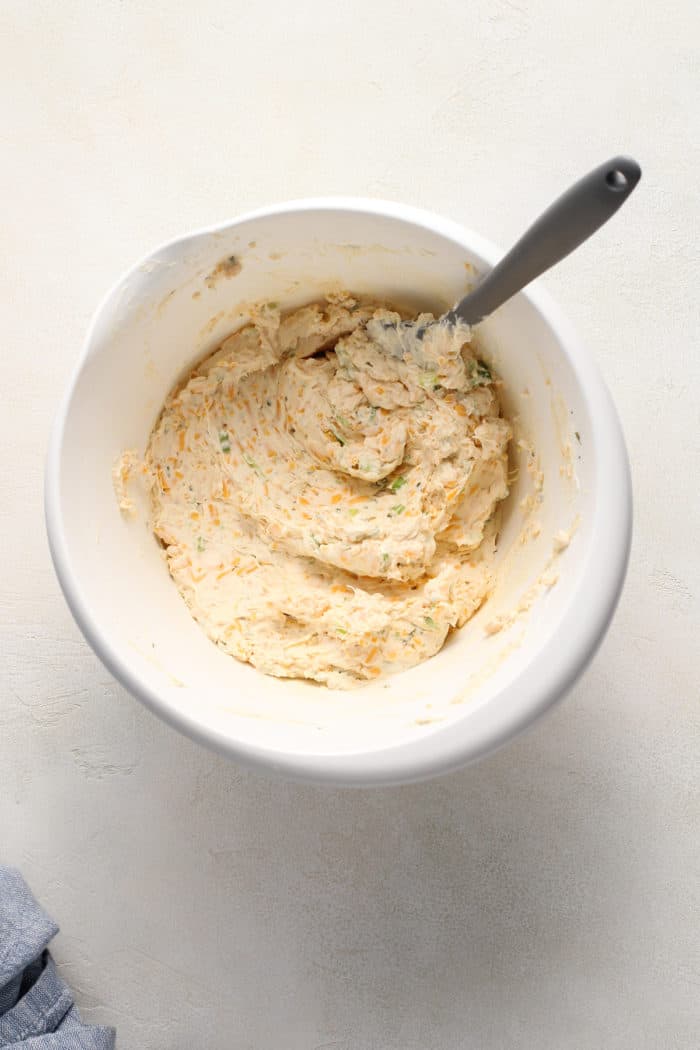 HOW TO MAKE THIS RECIPE
If you thought that cheese balls were going to be hard to make, think again!
Ingredients you'll need
You won't need anything too crazy to make this cheese ball recipe. You'll need:
16 ounces cream cheese, softened
8 ounces freshly shredded cheddar cheese
3 green onions, finely sliced
1 teaspoons worcestershire sauce
1 teaspoon dried chives
½ teaspoon garlic powder
½ teaspoon dried parsley
¼ teaspoon fine sea salt
⅔ cup finely chopped pecans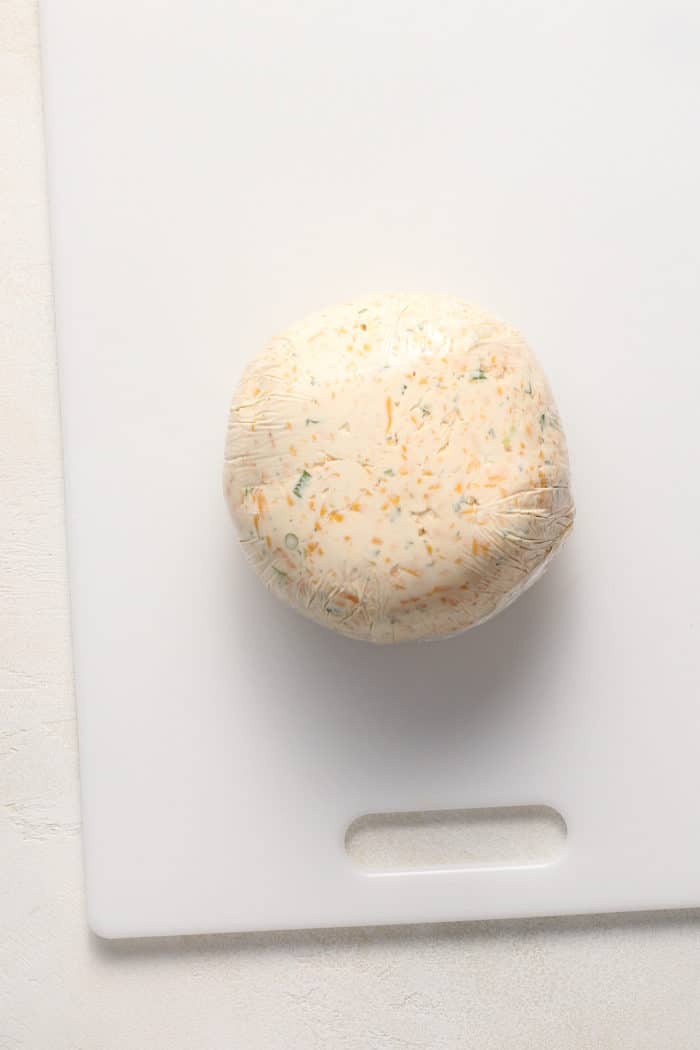 If you need this recipe to be vegetarian, simply leave out the worcestershire sauce and add a bit more salt or replace the worcestershire sauce with soy sauce.
I like to use a nice sharp cheddar in this cheese ball recipe, but you can use a milder cheddar if that's what you prefer or have on hand.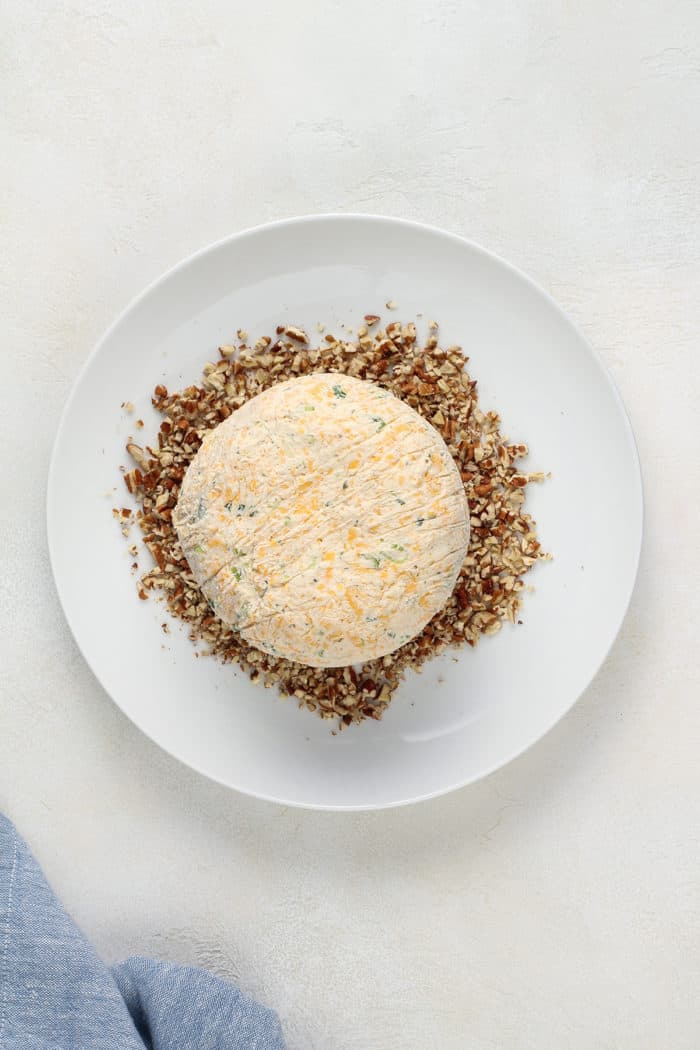 Making this recipe
Make sure that your cream cheese is nice and soft before starting. If you forgot to set it out ahead of time, check out my tips for how to soften cream cheese.
In a large mixing bowl, use an electric mixer to beat the softened cream cheese until it is smooth and creamy.
Add in the cheddar cheese, green onions, worcestershire sauce, and the seasonings. Beat with the mixer until everything is well combined.
Now it's time to shape the cheese ball!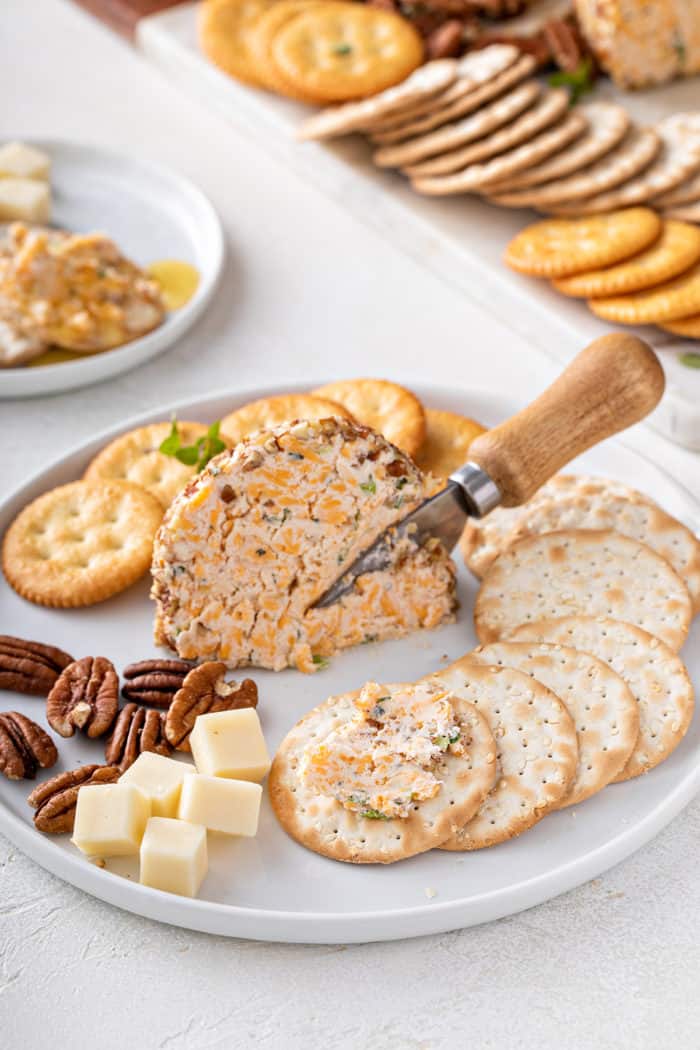 How to shape a cheese ball
This is probably the most intimidating part for most people. How do you get your cheese ball mixture into that perfect round shape?
Place a large piece of plastic wrap on a flat surface. Spoon the mixture into the center of the plastic wrap.
Bring up the edges of the plastic wrap to cover the cheese and form it into a ball. Twist the edges together to tighten up the ball.
I like to place mine in a bowl and then set it in the refrigerator to chill. The bowl will help prevent the cheese ball from forming a flat spot where it was set down!
After the mixture has chilled, you can unwrap the cheese ball and coat it in the finely chopped pecans. The pecans will also help cover any spots that don't look exactly perfect – not that anyone would notice when it is so delicious!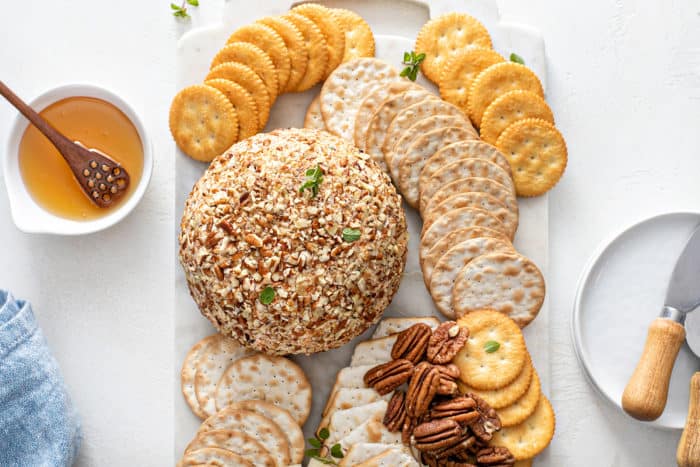 MAKE AHEAD AND STORAGE TIPS
Since the key to any good cheese ball recipe is letting it chill for several hours before serving, this is the perfect recipe to make ahead of time for a party.
Make the cheese ball up to a day in advance, letting it chill in the fridge until you're ready to serve. When you're about ready, roll it in the pecans and set it out for your guests!
Store any leftover cheese ball tightly wrapped in the refrigerator for up to 5 days.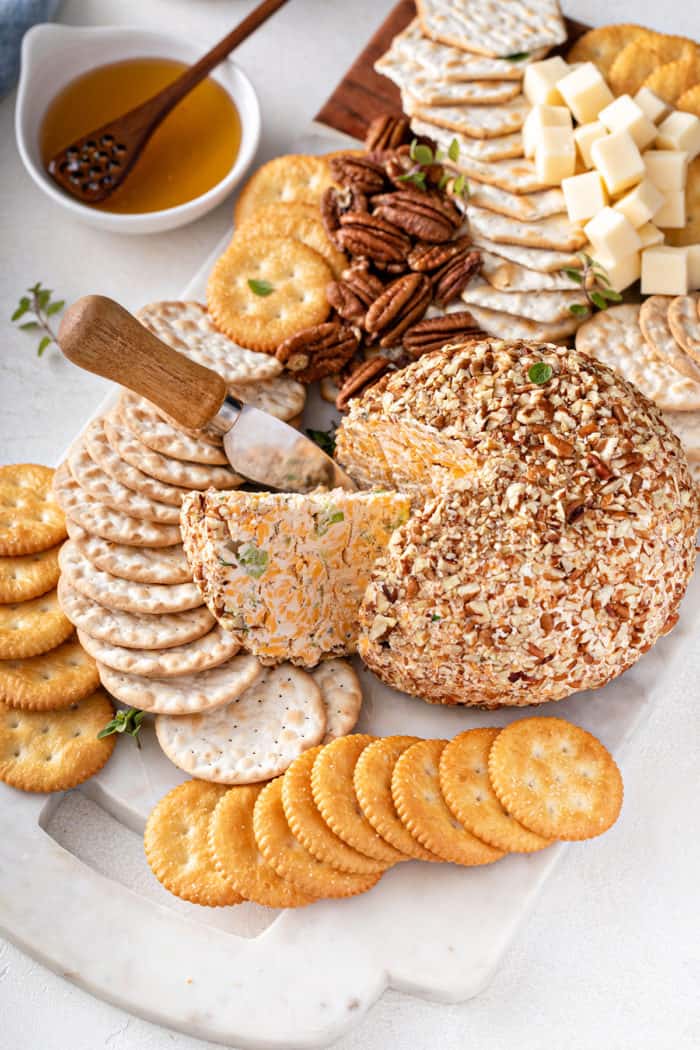 Can cheese balls be frozen?
If you want to try making this cheese ball recipe even further in advance, you can freeze it for longer-term storage.
Freeze the cheese ball before you roll it in the pecans. After it has chilled, wrap it in a second layer of plastic wrap, followed by a layer of heavy duty foil.
Store the cheese ball in the freeze for up to a month.
Before serving, make sure to let the cheese ball thaw in the refrigerator for at least 24 hours. You want to give it plenty of time to thaw before rolling it in the pecans and serving it.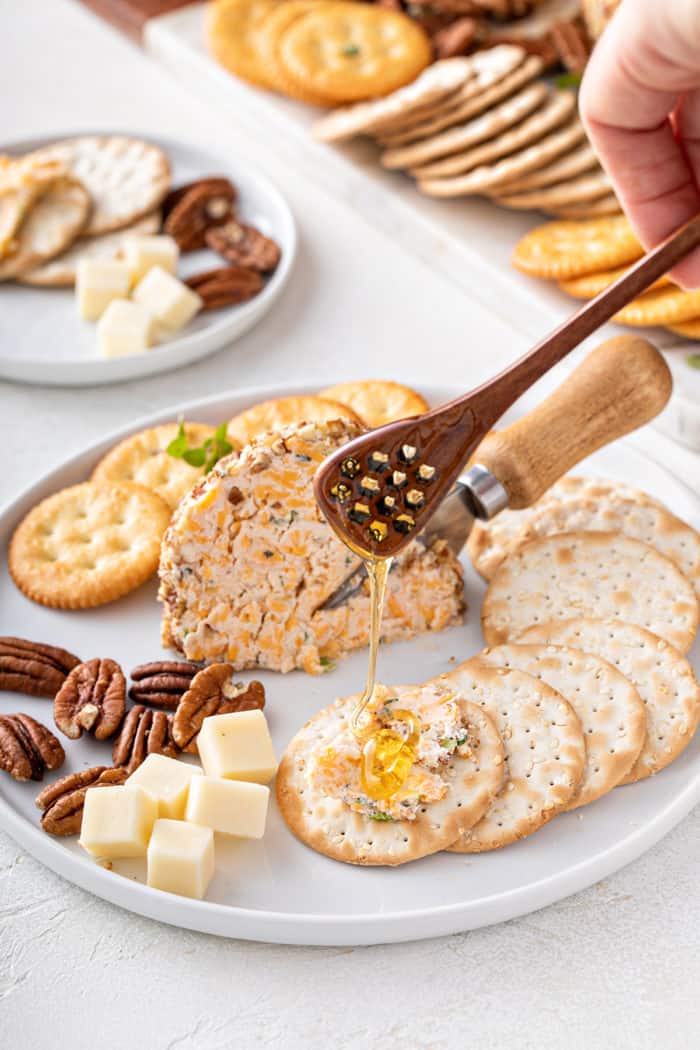 MORE GREAT CHEESE BALL RECIPES
There are so many ways to dress up a cheese ball! If you love this classic cheese ball recipe, you may want to try some of these other recipes: