Philly Cheesesteak Sliders are a fun and easy weeknight dinner or game-day finger food! Get all the flavors of your favorite cheesesteak sandwich in a slider size.
If you're at all like me at this time of year, you're probably searching for simple recipes that feed a small crowd.
Whether it is a gathering of neighbors for game day or a fun family white elephant gift exchange, I'm all about easy recipes at this time of year. And while I am all for take-out from our favorite local restaurants, sometimes I'm just looking to whip up a variety of simple recipes like sandwiches and dips that people can help themselves to.
These Philly Cheesesteak Sliders are absolutely perfect when served up with tater tots, Hash Brown Casserole, One-Pot Mac and Cheese or even this Cheesy Ranch Pull-Apart Bread.
Like Ham and Cheese Sliders or Cheeseburger Sliders, these Philly Cheesesteak Sliders make a fun weeknight meal or the perfect game-day snack! Pair them with some French Onion Dip or Jalapeño Popper Dip and Cheddar Cheese Popcorn and your friends will be so impressed by your snack spread.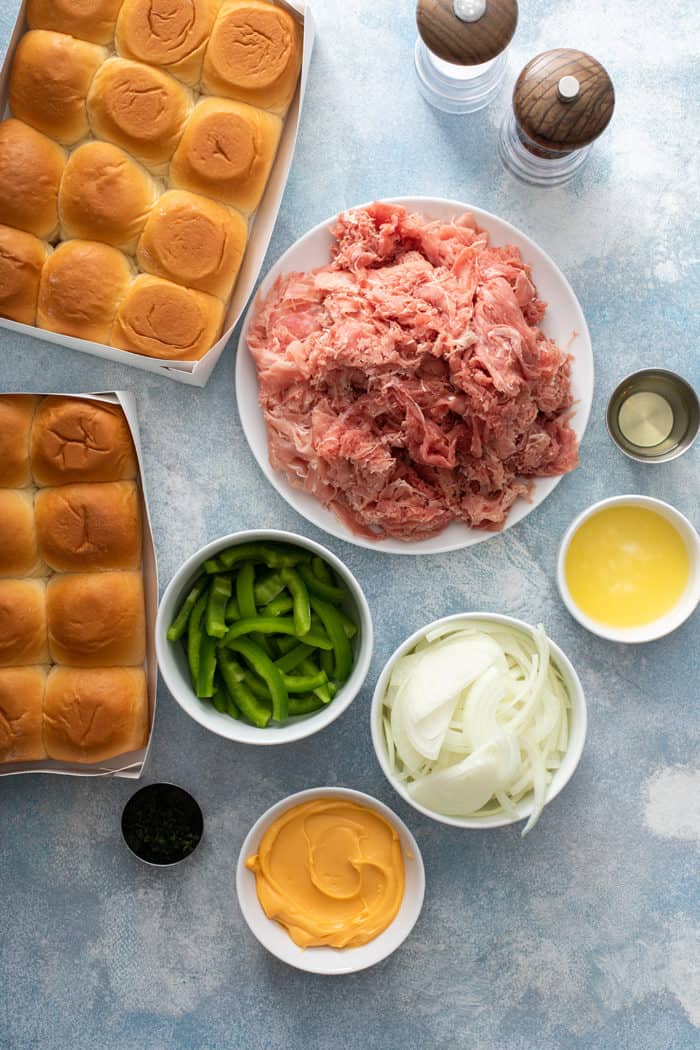 WHAT MEAT TO USE FOR CHEESESTEAK SLIDERS
If you're going to make Philly Cheesesteak Sliders, you want to make sure the steak you use is as thinly cut as possible.
At my grocery store, I usually look for the shaved steak. It is the thinnest steak available at my store. You'll find it in the meat case with the other beef and steak options.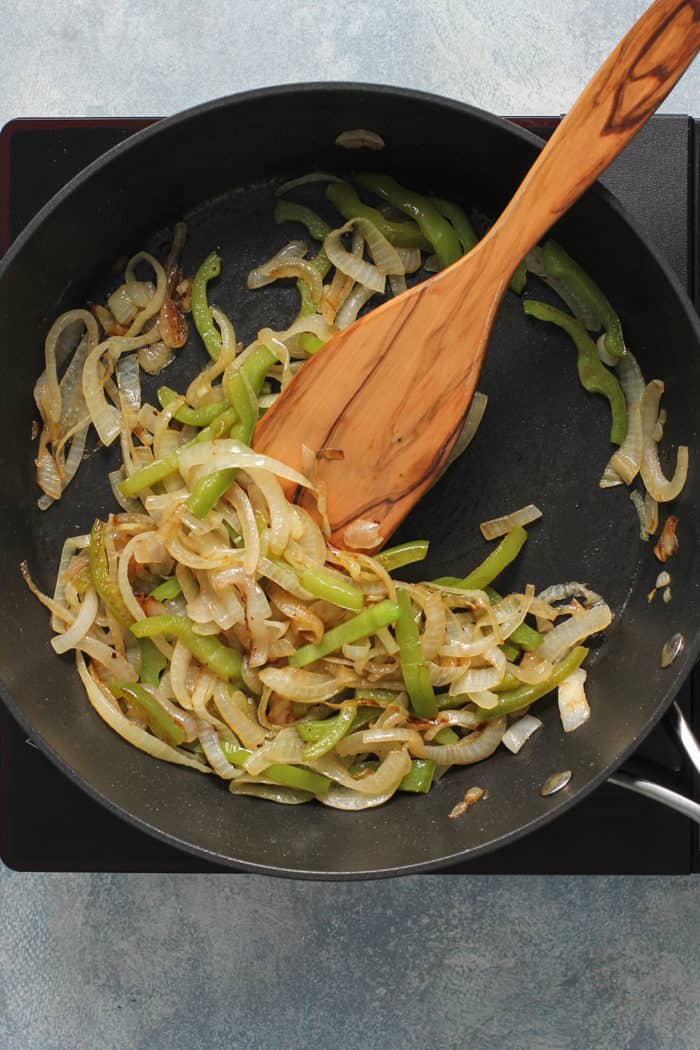 HOW TO MAKE PHILLY CHEESESTEAK SLIDERS
In addition to shaved steak, you'll need:
2 (12 count) packages King's Hawaiian sweet rolls
2 tablespoons olive oil
1 medium yellow or sweet onion, thinly sliced
1 green bell pepper, thinly sliced
½ cup jarred cheese dip (I use Kraft Cheez Whiz)
2 tablespoons butter, melted
1 teaspoon dried parsley and/or chives
Salt and fresh black pepper to taste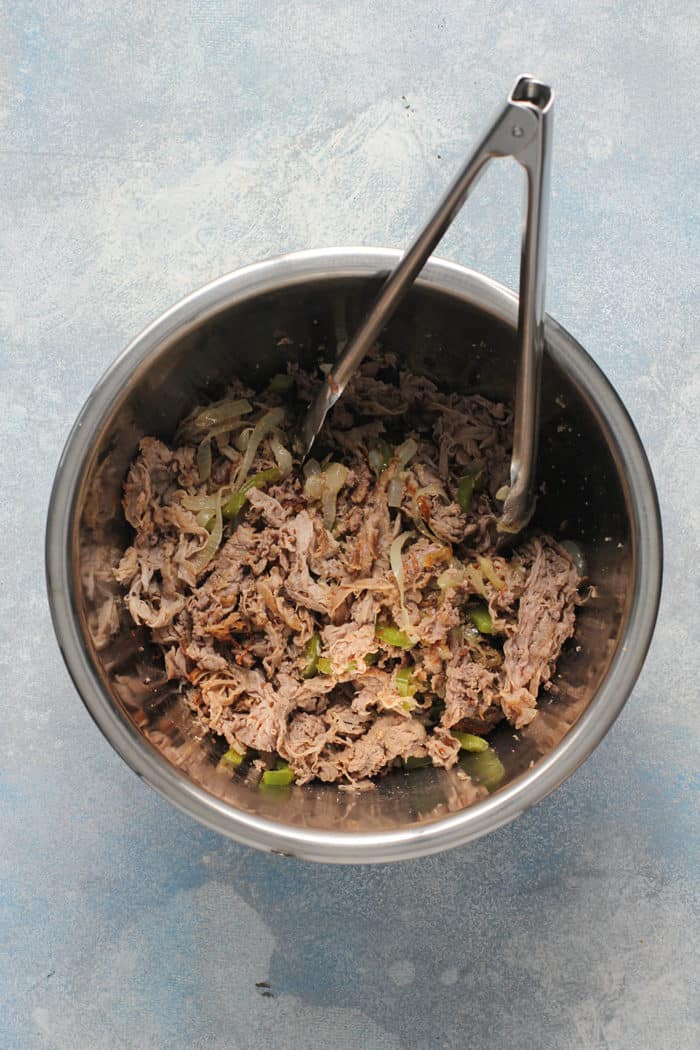 You might be wondering if you really need to use Cheez Whiz in this recipe.
Technically, no. You could use sliced provolone or american cheese instead. But if you want your sliders to be more authentic to a Philly cheesesteak, you'll use the Cheez Whiz!
To make your Philly Cheesesteak Sliders, start by prepping your steak.
Heat 1 tablespoon of the olive oil in a medium skillet over medium heat, then add the onion and bell pepper with a pinch of salt and pepper. Cook the vegetables until the onions are translucent, then lower the heat and let the onions and peppers caramelize.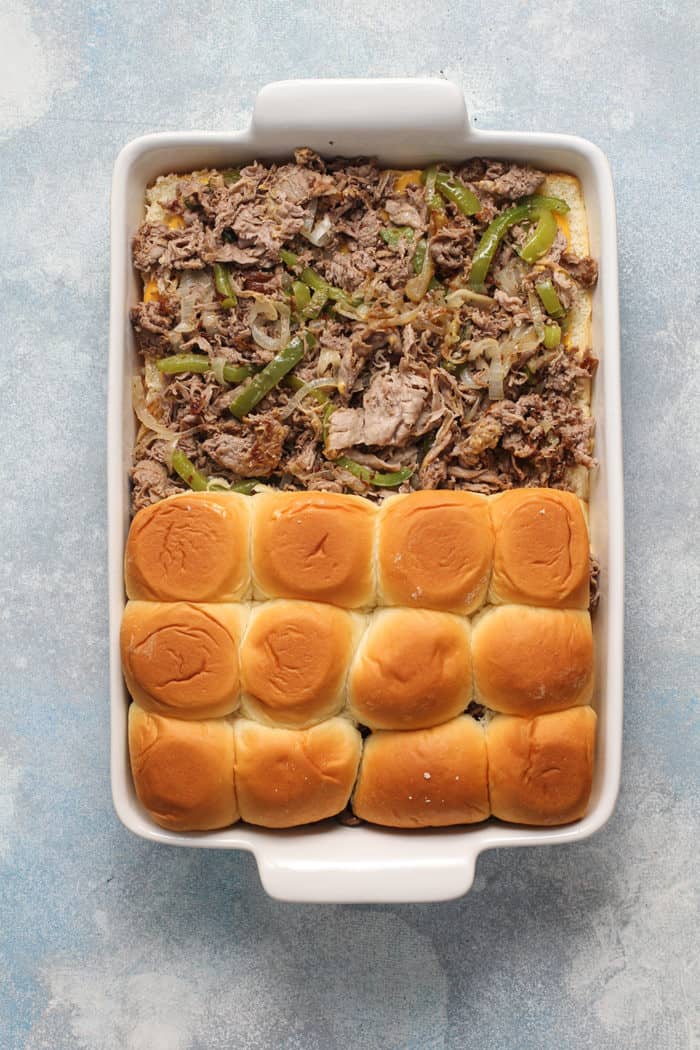 Make sure to stir them frequently, and lower the heat if the onions start to burn.
While the vegetables are cooking, heat a second pan over high heat with the remaining olive oil.
Generously season the steak with salt and pepper, then add the meat in batches to the pan to quickly sear it. Since you're using shaved steak, it'll only take 1-2 minutes to brown the steak.
Add the cooked steak and the caramelized onions and peppers to a large bowl and stir to combine.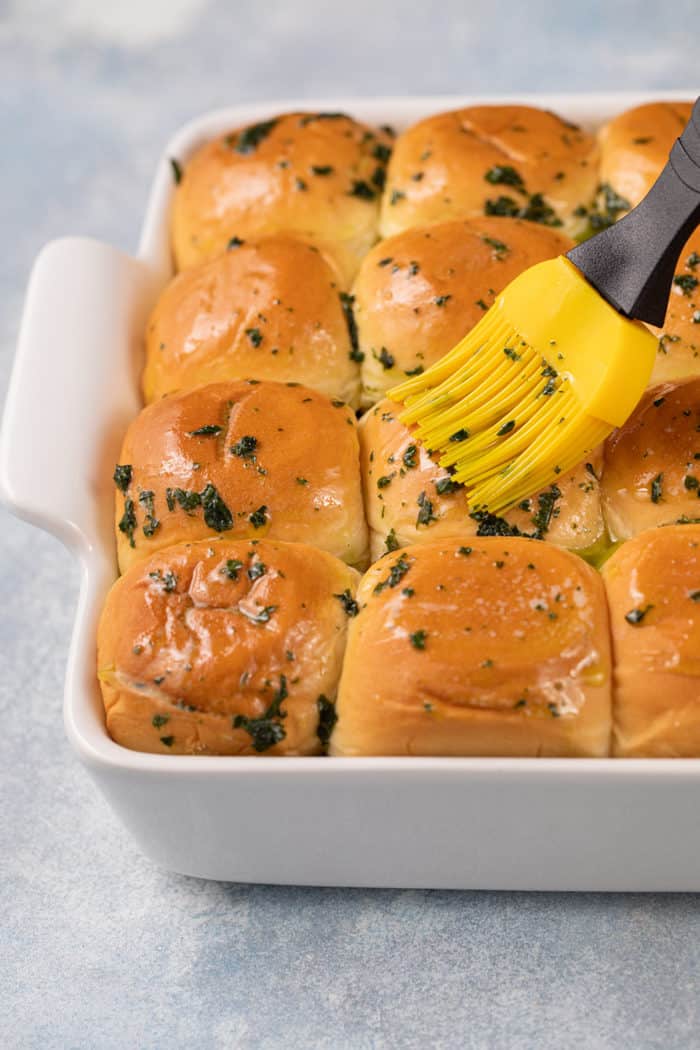 Now it's time to assemble the sliders!
Slice the Hawaiian rolls in half, like you would a bagel, separating the tops from the bottoms. Place the bottoms of the rolls in a greased 13×9-inch pan.
Heat the Cheez Whiz in the microwave (be sure to use a microwave-safe bowl) for about 30 seconds – you just want it easily spreadable.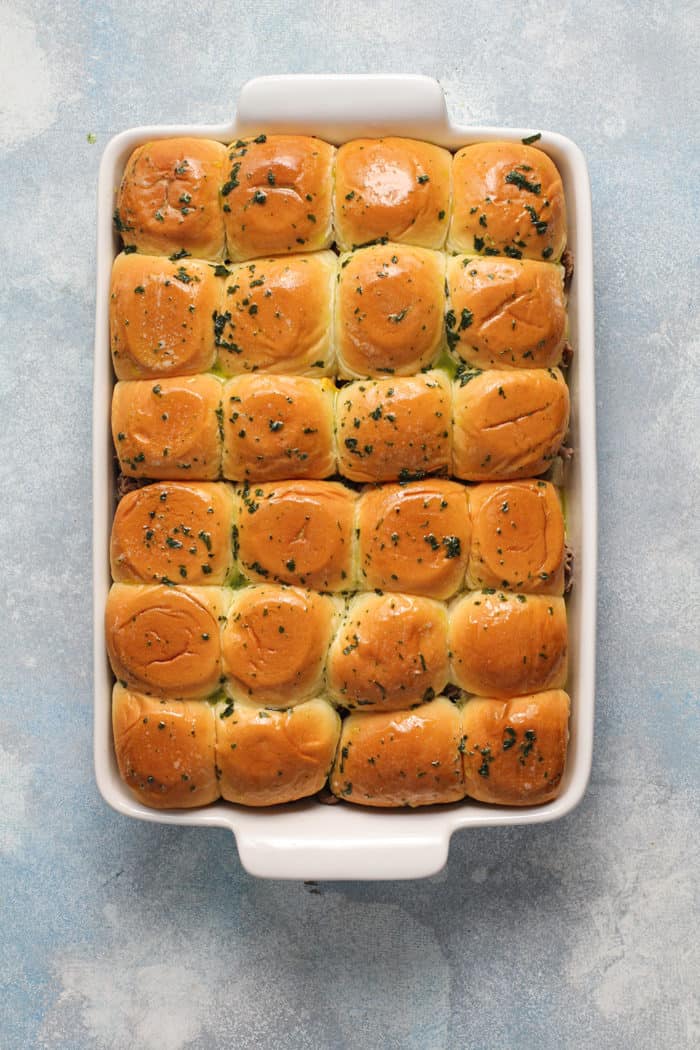 Spread the Cheez Whiz on both sides of the cut rolls, then evenly spread the steak and veggies on the bottoms of the rolls. Top with the tops of the rolls.
Finish by mixing together the melted butter and the dried herbs and brushing this mixture over the top of the rolls before baking for about 15-20 minutes.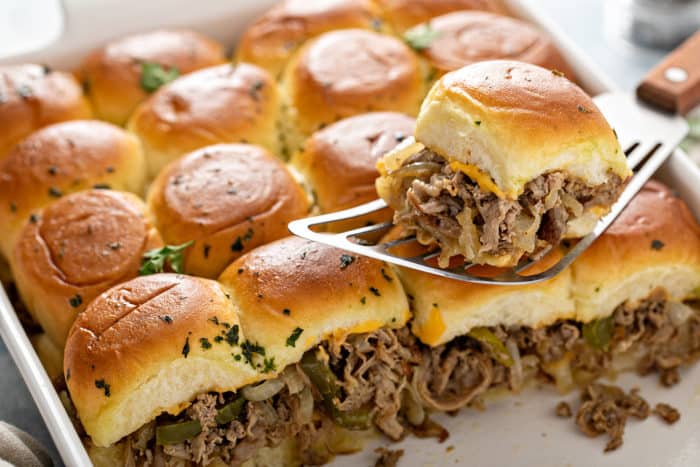 MAKE AHEAD AND REHEATING TIPS
If you want to make these cheesesteak sliders for a party or game night, you can get a head start by prepping the steak and veggies ahead of time.
Cook the onions, peppers, and steak as directed, up to a day ahead of time, then mix and store in an airtight container in the refrigerator until you're ready to assemble the sliders.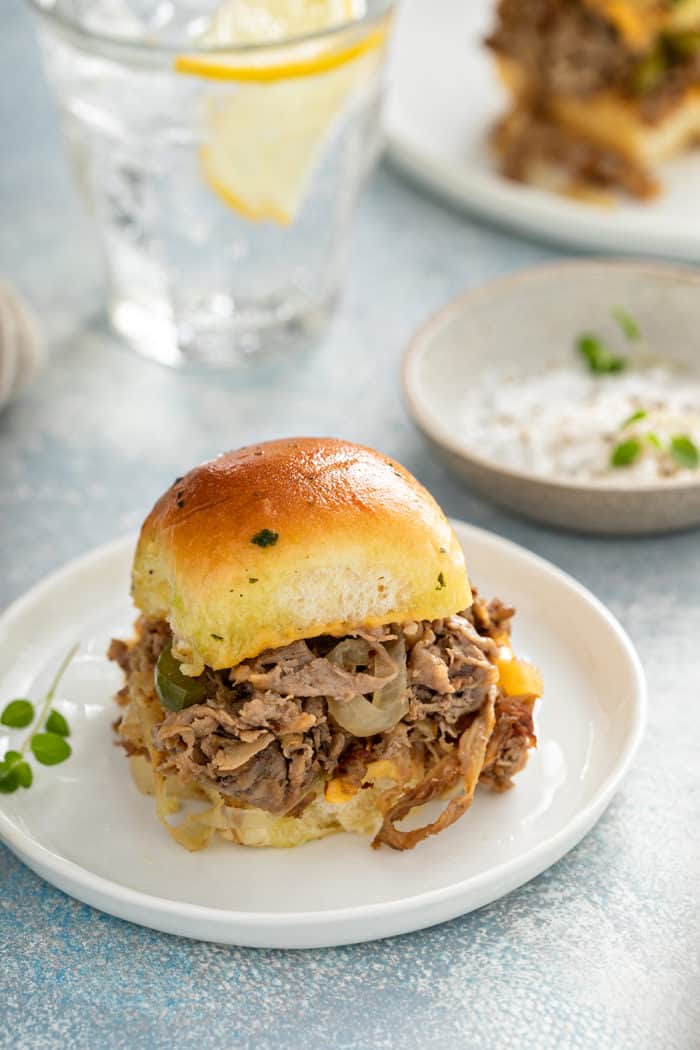 When you're ready to eat, assemble the sliders as written and bake! Add an extra 5 minutes to the baking time if needed to fully heat up the steak.
If you find yourself with leftover Philly Cheesesteak Sliders, don't think you have to toss them out or eat them cold the next day.
Reheat the sliders by wrapping them in foil and baking them at 350 for about 10 minutes. You can also use your air fryer to reheat them – I usually put them at 350 for about 5 minutes.