Buffalo Chicken Sliders are reminiscent of your favorite buffalo chicken dip, but in a hand-held slider form! These sliders have just the right amount of spicy buffalo sauce, melty cheese, and creamy ranch topped with a crispy bun. Make them for any get together and watch them disappear!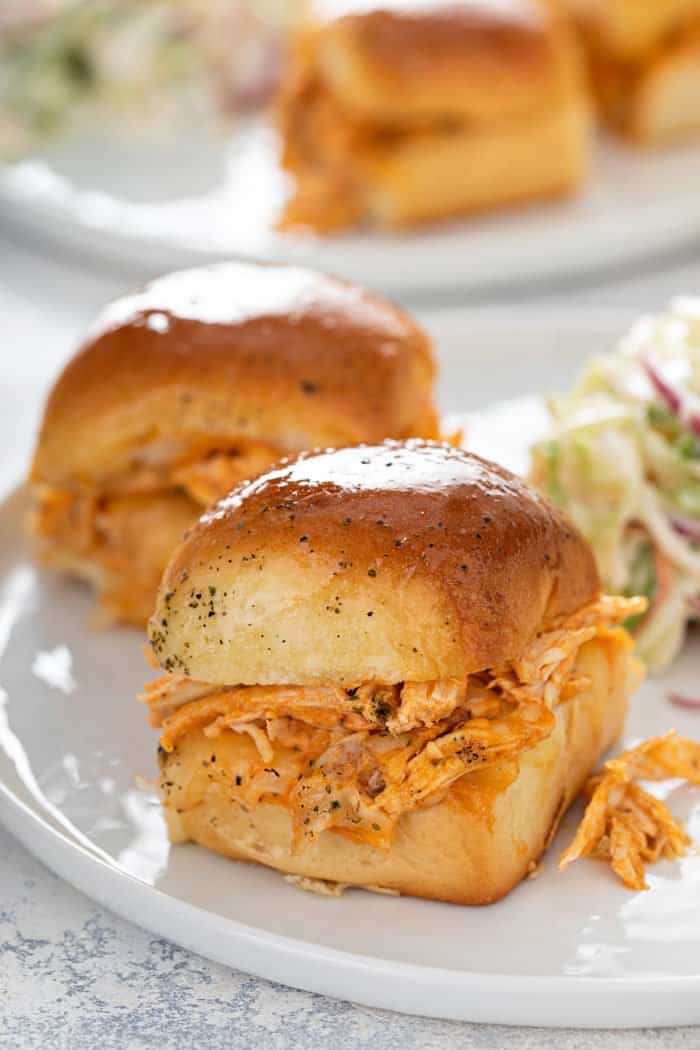 My family loves Hawaiian roll sliders. I swear, I can get them to eat just about anything if I put it between a pack of Hawaiian rolls and call them sliders.
Ham and Cheese Sliders? Of course. Cheeseburger Sliders? Yep. Philly Cheesesteak Sliders? You bet.
And really, it feels like a win every time not just because all three of us are excited about dinner, but because they are so easy to make.
The latest addition to my slider lineup is these Buffalo Chicken Sliders and they just might be my favorite version yet!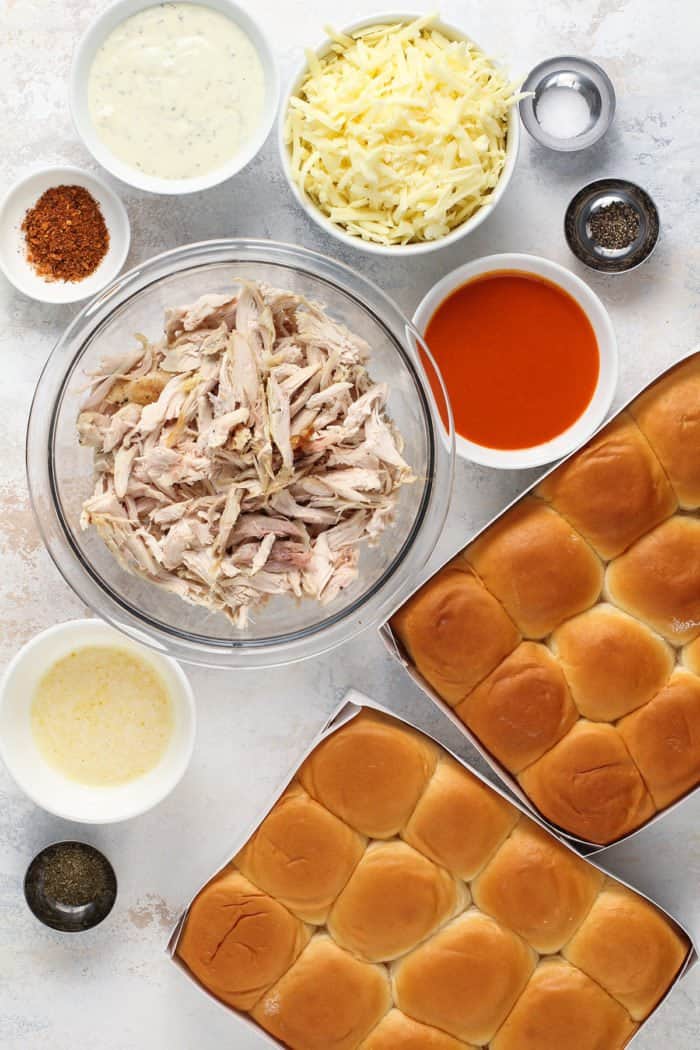 THE BEST BUFFALO CHICKEN SLIDERS
One of our favorite game-day or party appetizers is Buffalo Chicken Dip. In fact, I'm not sure I've been to a party lately that didn't have a big dish of buffalo chicken dip. And it always disappears so fast!
So I decided it was time to try and put all of the flavors of this fan-favorite dip into slider form.
Look, I don't always knock it out of the park on the first try, but I definitely did with these sliders, ok?
The buffalo chicken in the middle is just the right balance of creamy and spicy, there's plenty of melty cheese, and the tops of the Hawaiian roll buns get perfectly crispy. They're loaded with flavor and texture and we couldn't get enough of them.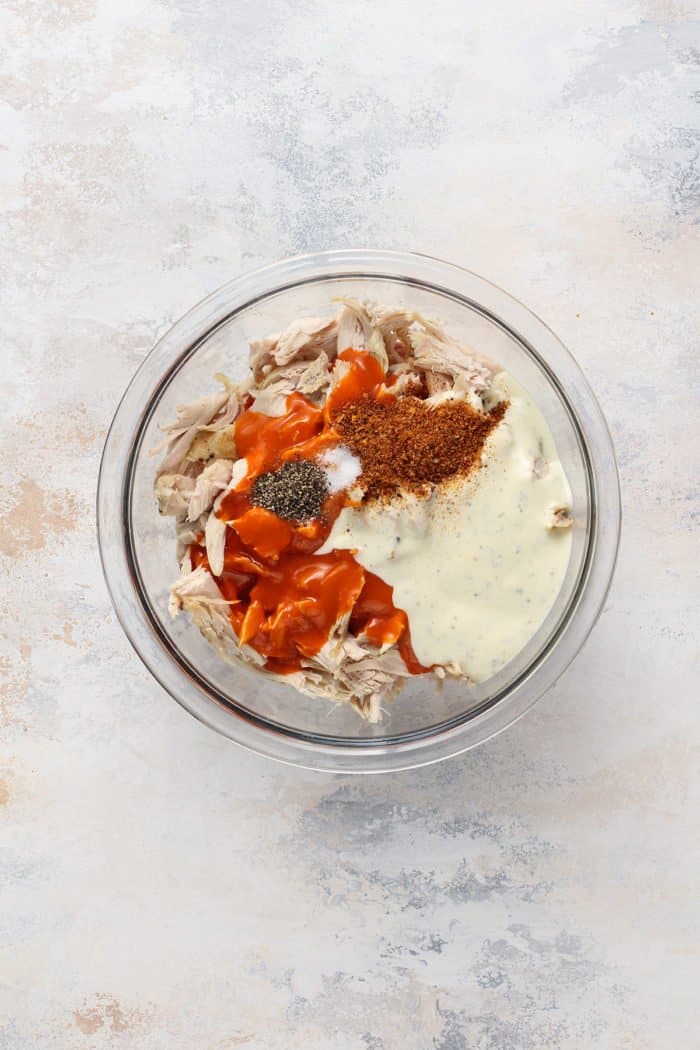 HOW TO MAKE BUFFALO CHICKEN SLIDERS
As delicious as these sliders are, they're made even better because they are so easy to make!
Ingredients you'll need
Here's what you'll need to make Buffalo Chicken Sliders:
King's Hawaiian rolls: These make the absolute best buns for sliders, and the slight sweetness goes great with the spicy chicken. They also make actual slider buns that you can use instead if your store carries them.
Rotisserie chicken: If you've been around for a while, you know that using rotisserie chicken is one of my favorite shortcuts. It makes throwing this dip together so much faster! If you already have shredded chicken on hand, you'll need 3-4 cups.
Monterey jack cheese: This is my preferred cheese for this recipe, but you could use cheddar or even pepperjack if that's what you have or like best.
Buffalo wing sauce: The buffalo wing sauce brings the spice and that classic buffalo flavor.
Ranch dressing: You can use store-bought or homemade ranch dressing here. You could also swap this out for blue cheese dressing if you want!
Cajun seasoning: I like adding a bit of cajun seasoning to my buffalo chicken recipes for a bit of added heat and even more flavor.
Butter and Italian seasoning: These will get mixed together and brushed on the top of the rolls to give them a crispy, buttery top.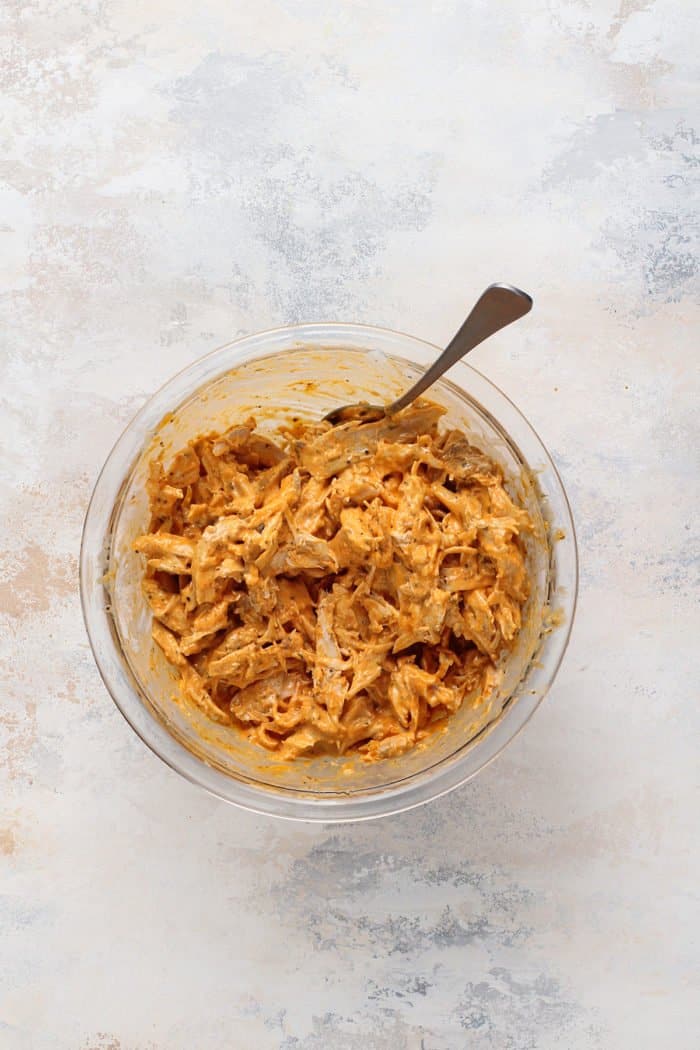 Adjusting the spice level
Whether you love super fiery food or you're making this recipe for your kids and need a milder version, the spice level is easy to adjust to your liking.
Make these sliders spicier by adding more cajun seasoning or adding a few drops of your favorite fiery hot sauce.
Make them milder by decreasing the amount of buffalo wing sauce and adding more ranch dressing or by omitting the cajun seasoning.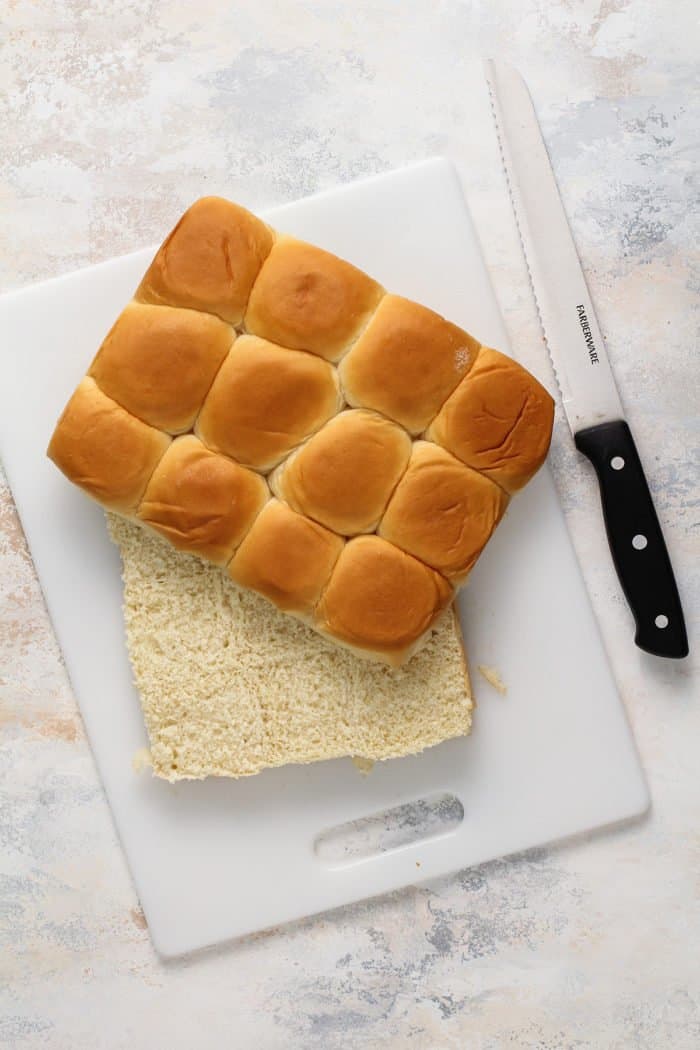 Making this recipe
Start by mixing up the buffalo chicken filling. In a bowl, mix together the shredded chicken, buffalo sauce, ranch dressing, cajun seasoning, and some salt and pepper.
Now prepare your rolls. Don't pull the rolls apart – you want them to still be attached for this.
Simply use a large serrated knife to slice the rolls in half the same way you would a bagel to separate the tops from the bottoms.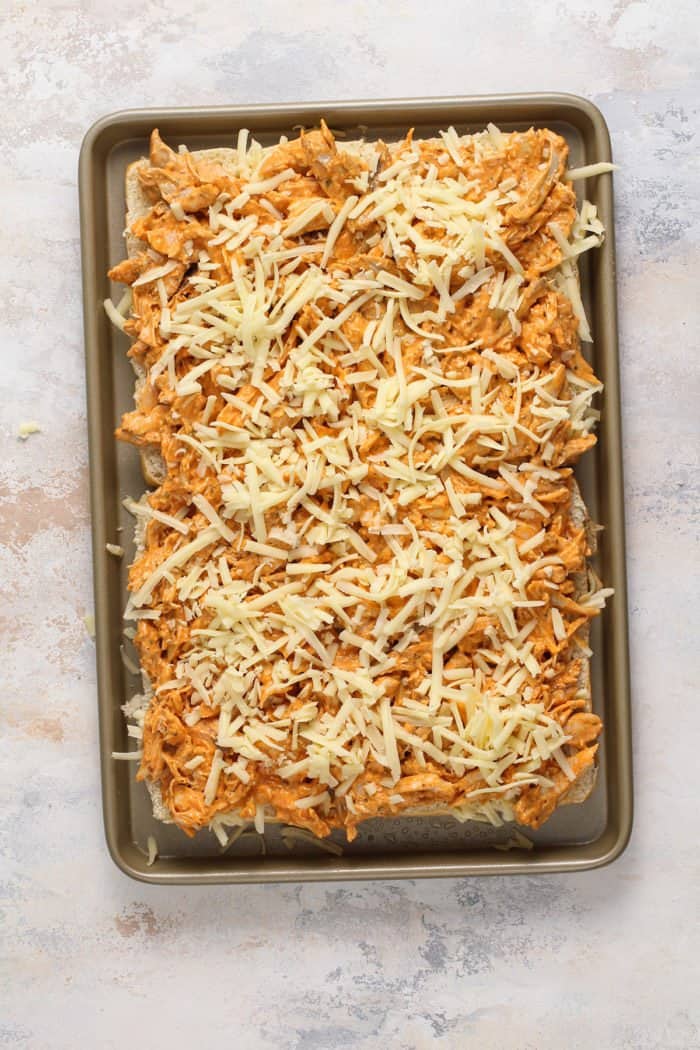 Place the bottoms of the rolls into a greased baking dish, cut side up. Sprinkle on half of the cheese, top with the chicken mixture, and then top with the rest of the cheese.
Place the tops of the rolls on top of everything. Mix together the melted butter and Italian seasoning and brush this over the tops of the rolls.
Bake the sliders until the cheese is melted and the tops are golden brown. This will take about 10-15 minutes.
Now you're ready to serve and enjoy!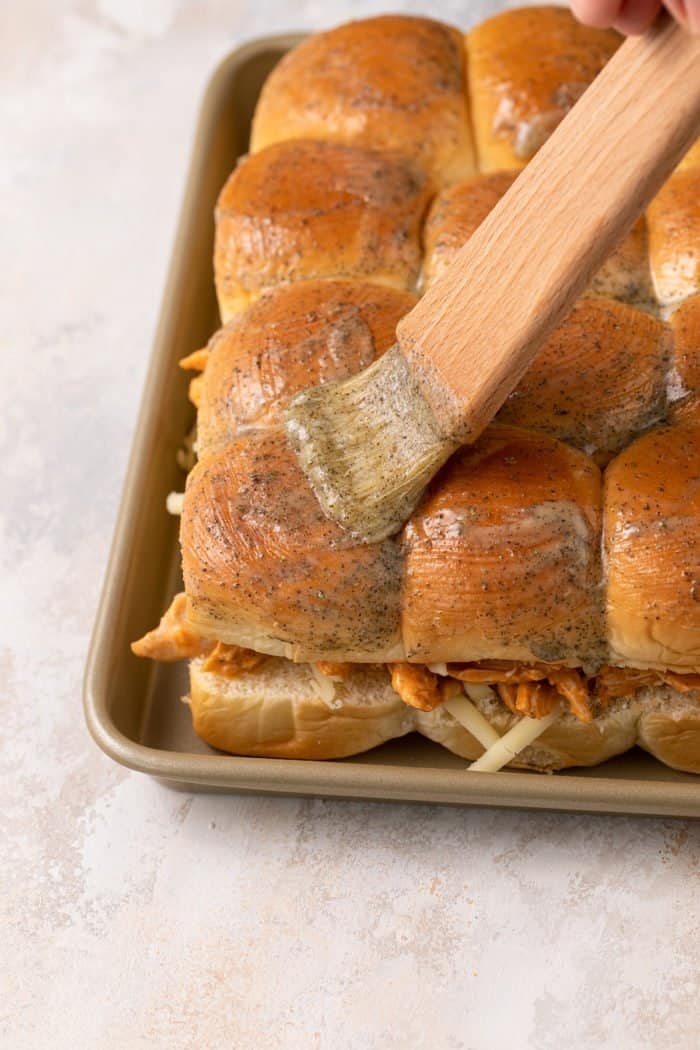 SERVING SUGGESTIONS
My favorite way to serve these spicy sliders is by topping them with some of my easy coleslaw. The contrast of the creamy slaw and the spicy chicken, plus the crunch from the cabbage, is just about the perfect combination!
Make some roasted broccoli or jo jo potato wedges and toss together a big green salad or cucumber salad and you've got yourself a complete meal.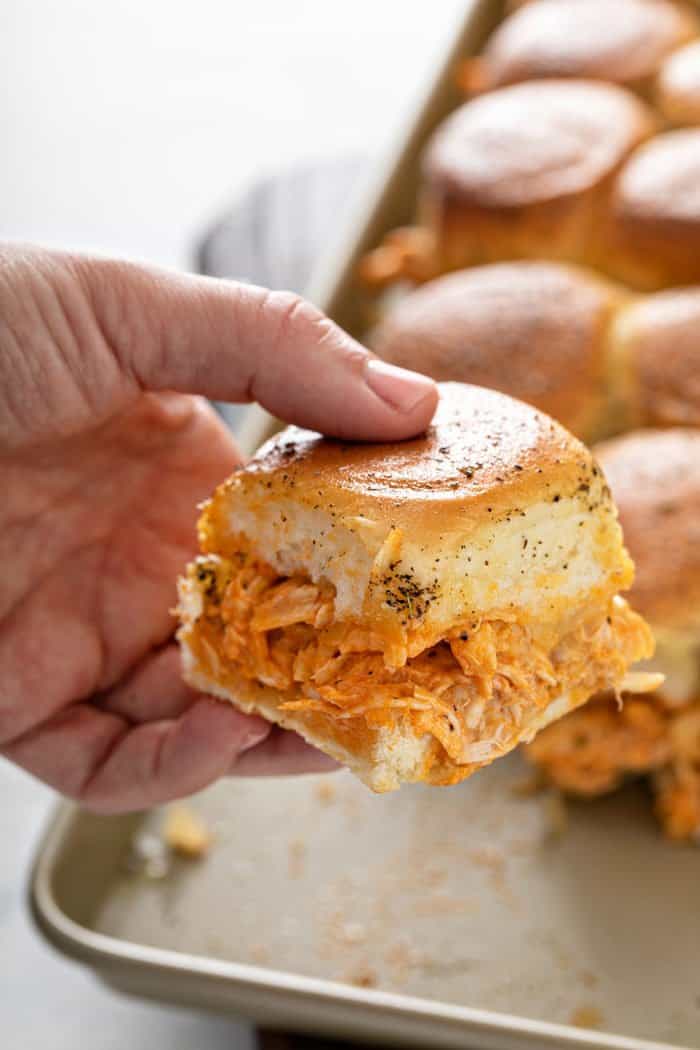 MAKE-AHEAD TIPS
If you're making Buffalo Chicken Sliders for a party or game day gathering, you're in luck because you can totally prepare the chicken ahead of time.
Mix up the chicken with the buffalo sauce, ranch dressing, and seasoning. Put it in an airtight container or zip-top bag and store it in the refrigerator for up to 3 days, or until you're ready to assemble the sliders.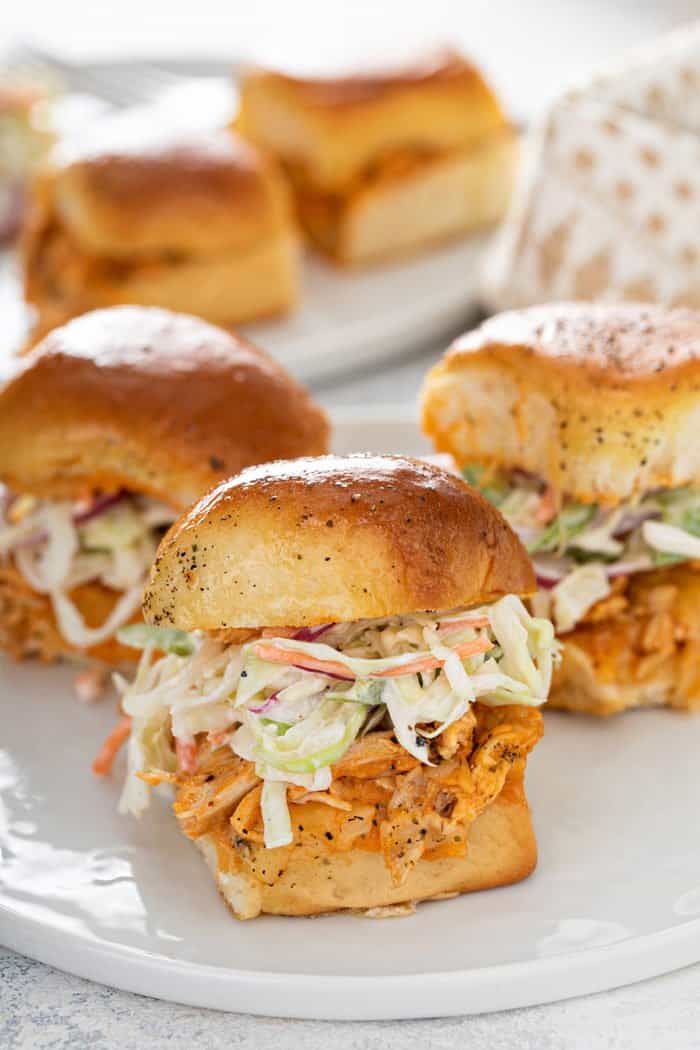 You could even freeze the chicken mixture in an airtight container for up to 3 months. Let it thaw overnight and then assemble the sliders when you're ready to bake them.
Whip up these Buffalo Chicken Sliders as an easy weeknight dinner or a crowd-pleasing party appetizer. Either way, you're sure to make everyone very happy.