This easy coleslaw recipe will quickly become your new slaw go-to! Serve this simple coleslaw with everything from pulled pork to fish tacos to buffalo chicken sliders and more. You'll be sure to turn to it time and again this summer!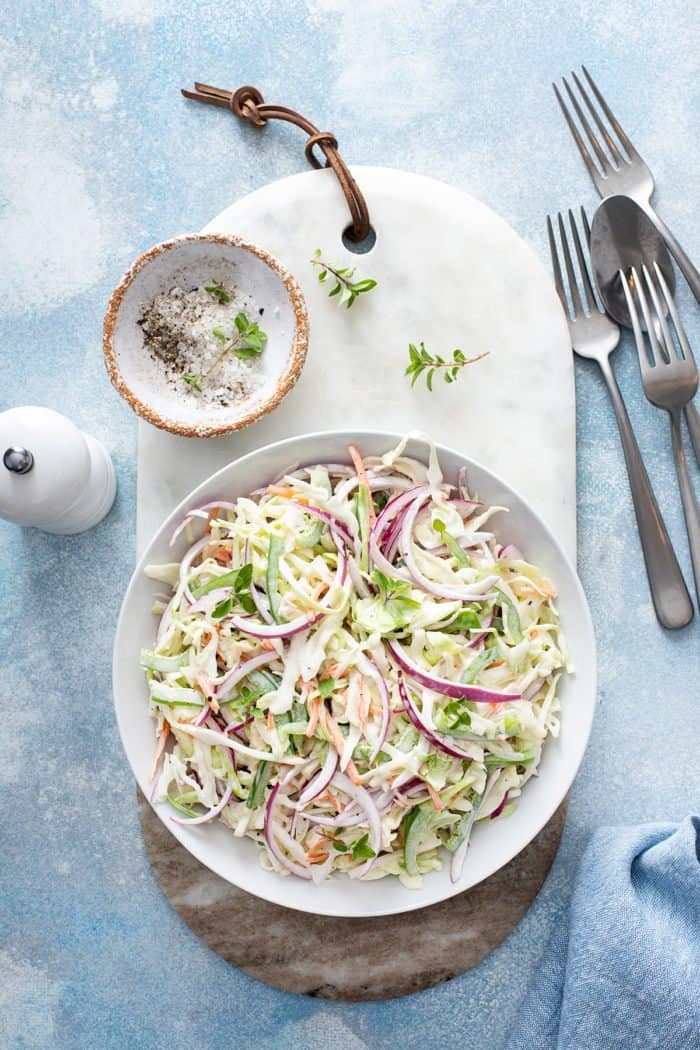 I'm almost embarrassed to admit how often I find myself in the middle of making dinner only to realize that I haven't fully thought out my sides.
Especially vegetables. Getting my family to eat their veggies is hard enough, and then I go and forget to plan one.
It's times like these that I'm glad for simple side recipes like honey glazed carrots, homemade ranch dressing to throw on a simple green salad, and this easy coleslaw. They're things I can throw together at the last minute and at least have a vegetable option for my family, even if I end up being the only one eating them.
This coleslaw recipe is so quick and easy to make and goes great with so many different dishes. Give it a try – I bet you'll find yourself making it all summer long!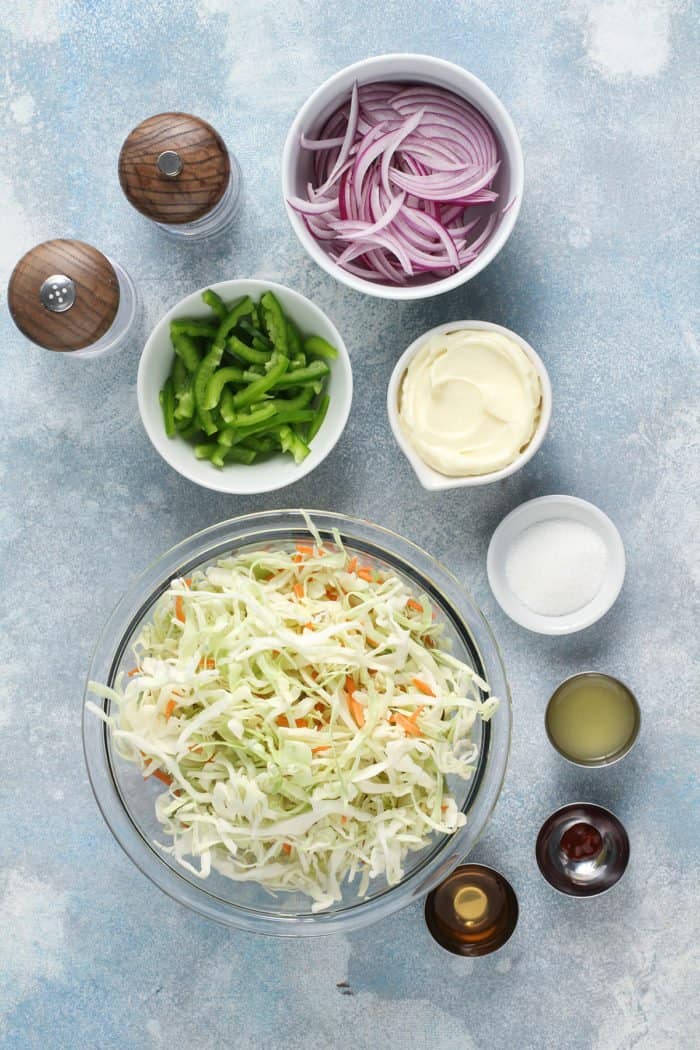 HOW TO MAKE EASY COLESLAW
This slaw will take you a whopping 5 minutes to throw together. That's really all I have the time or energy for at the end of a long day!
Ingredients you'll need
I like to use a combo of bagged slaw mix and some freshly sliced vegetables to make this coleslaw super easy but still a bit special.
You'll need:
Pre-shredded coleslaw mix
Thinly sliced red onion
Thinly sliced green bell pepper
Mayonnaise
Sugar
Lemon juice
Apple cider vinegar or white vinegar
Hot sauce, salt, and pepper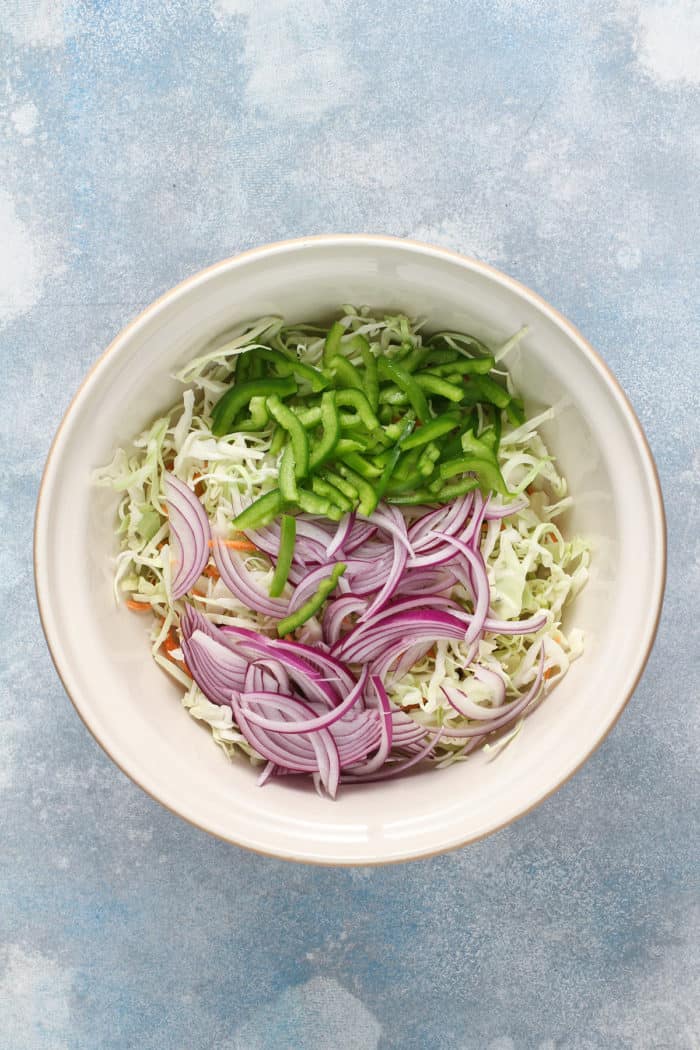 If you're really on a time crunch, you could skip the red onion and bell pepper and just stick with the pre-shredded coleslaw mix. Or if you have extra time on your hands, you could shred your own cabbage mix instead of using a bagged slaw mix!
This is a creamy coleslaw dressing, so it uses mayo as the base. But don't worry – this claw isn't that goopy stuff you'd get at the diner as a kid. I promise that it is just enough dressing to add flavor without overpowering the cabbage.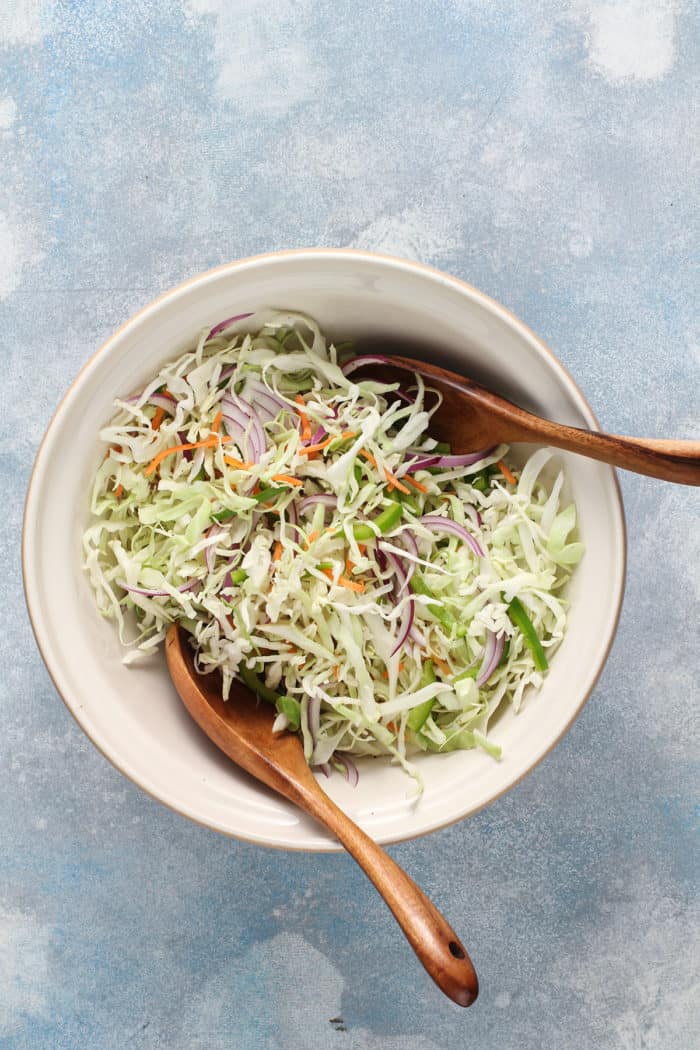 Making this recipe
As you'd expect from an easy recipe, this slaw only takes a couple of steps to mix together!
Toss together the coleslaw mix, onion and bell pepper with a nice pinch of salt and pepper. Give that a stir to combine.
Add the rest of the dressing ingredients: mayonnaise, sugar, lemon juice, vinegar, and hot sauce. Mix until the vegetables are fully coated, then taste for seasoning. You may find you want to add a bit more salt and pepper or even another dash of hot sauce!
You can serve this right away or cover it and refrigerate it until you're ready to serve.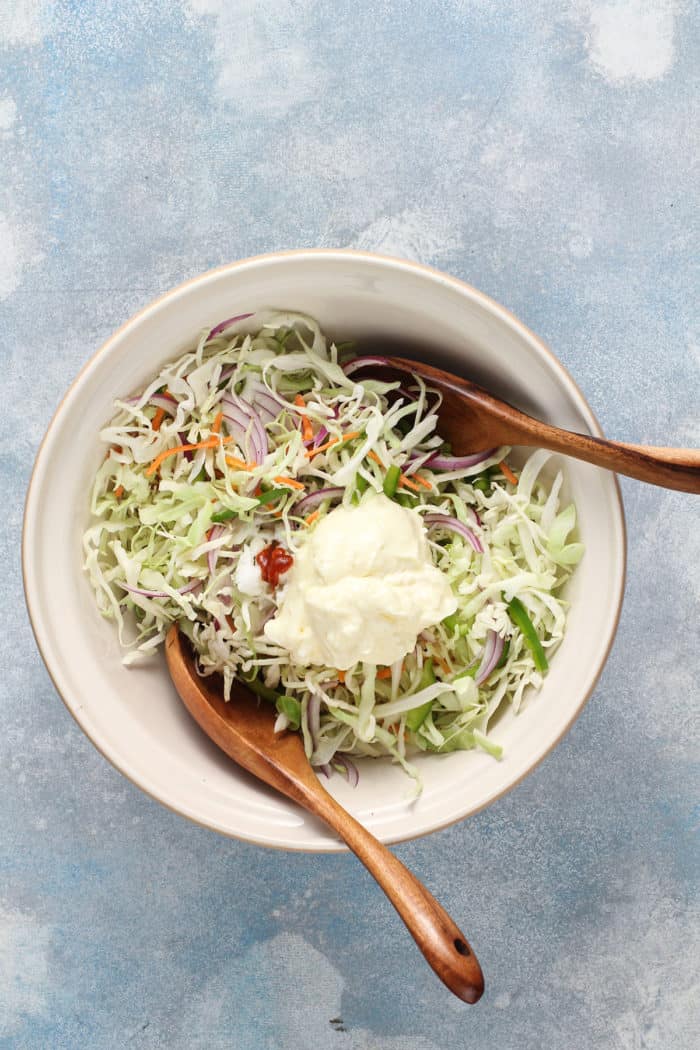 WHAT TO EAT WITH THIS COLESLAW
So what do you serve your easy coleslaw with?
I love piling this slaw on top of easy crockpot pulled pork. The combination of the crunchy coleslaw with the rich pork is just perfect!
I also love putting it on top of buffalo chicken sliders. The creamy coleslaw dressing balances out the spiciness of the sliders so well.
It's also great on fish tacos, as a side for Italian beef sandwiches, or nestled up alongside old-fashioned baked beans and Amish macaroni salad with your grilled burgers and hot dogs.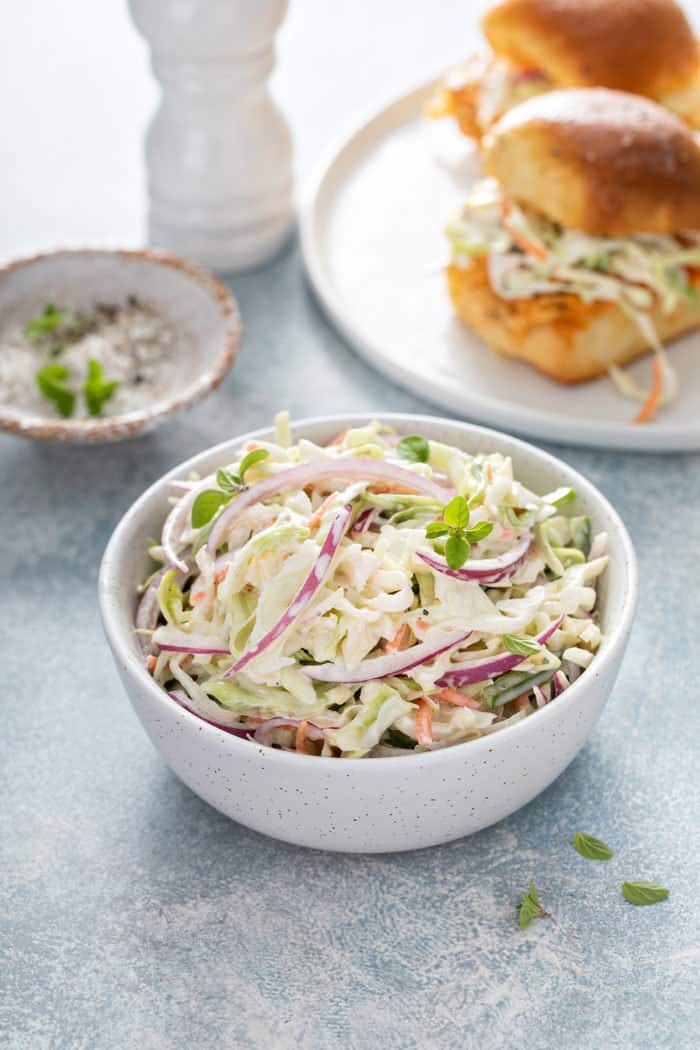 MAKE-AHEAD AND STORAGE TIPS
Like all the best side dishes, you can definitely prep this coleslaw ahead of time so you aren't running around throwing it together at the last minute. Assuming you're the type that thinks ahead, that is!
Easy coleslaw actually tastes better when it has had time to chill in the fridge for a couple of hours, so feel free to make it in the morning or early afternoon before you plan to eat it.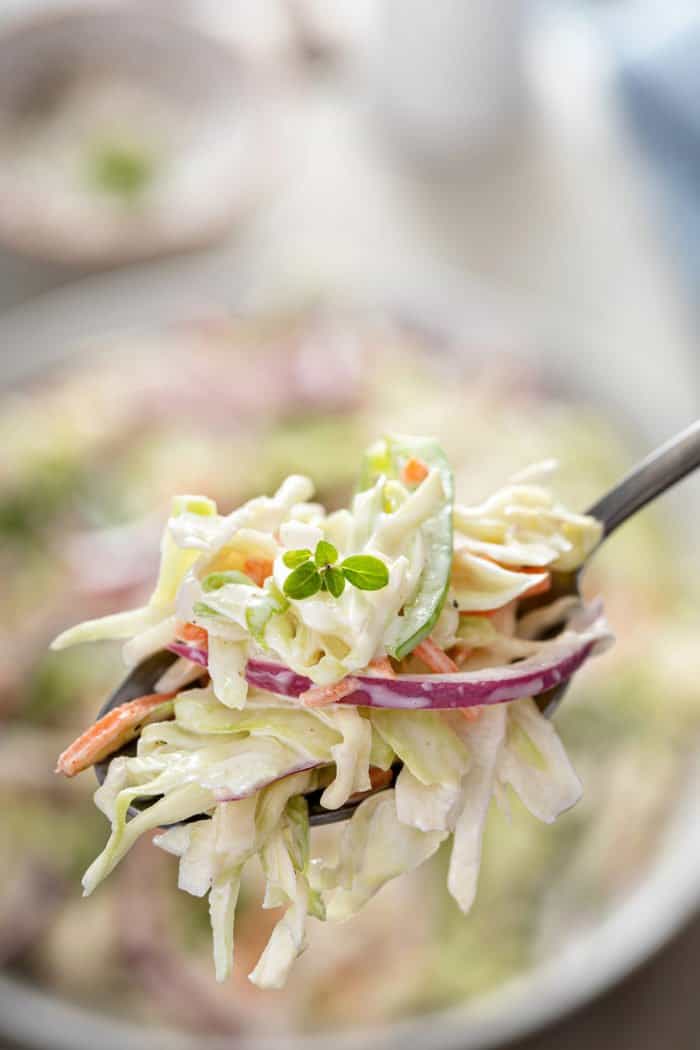 You could even make it the day before if you wanted to!
If you want to get things prepped even further ahead, slice the onions and peppers and keep them in an airtight container in the fridge for up to 4-5 days. Whisk together the dressing and keep that in a separate container. Toss them together before you're ready to eat!
Keep any leftovers in an airtight container in the refrigerator for up to 3 days. I actually like to keep my slaw in a jar so I can give it a good shake before serving it. Just another way to keep things super easy!