Thinly sliced cucumber, marinated red onions, herbs, and a vinegar dressing combine for a crunchy, refreshing cucumber salad. Serve this salad at your next cookout or alongside your favorite protein.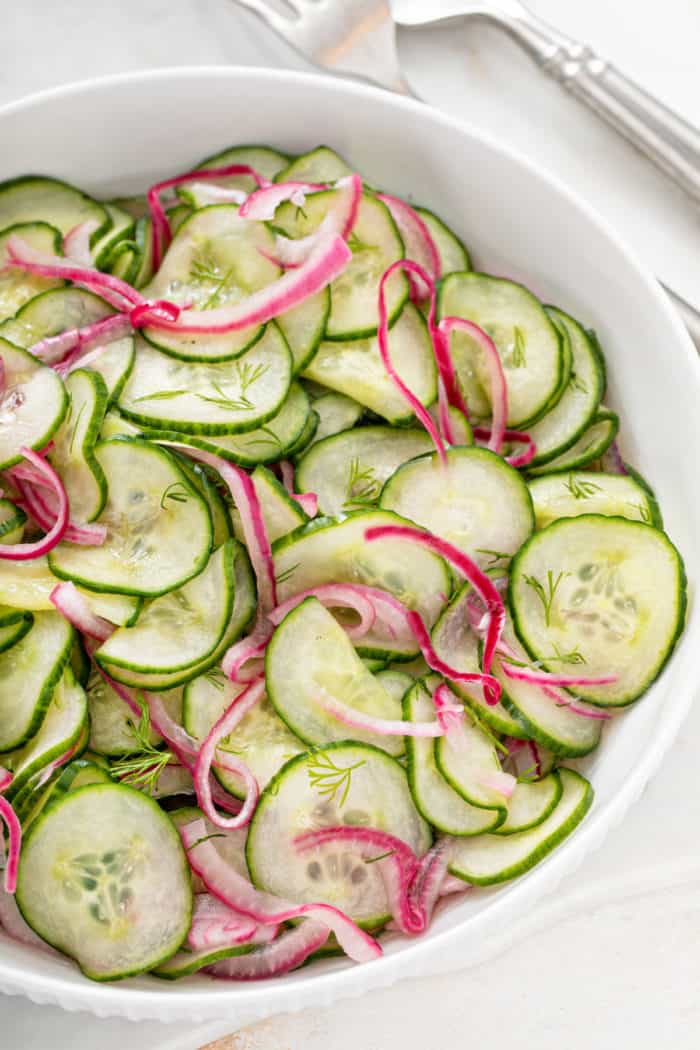 This post contains affiliate links.
One of my absolute favorite side dishes for summer is cucumber salad.
Ever since I can remember, farm-stand corn on the cob and creamy cucumber salad were a staple in our house all summer long. My mom made her cucumber salad with cucumbers, onions, sour cream, fresh dill and salt and pepper.
Although I still love my mom's simple creamy version, the one I'm sharing with you today is my new fave!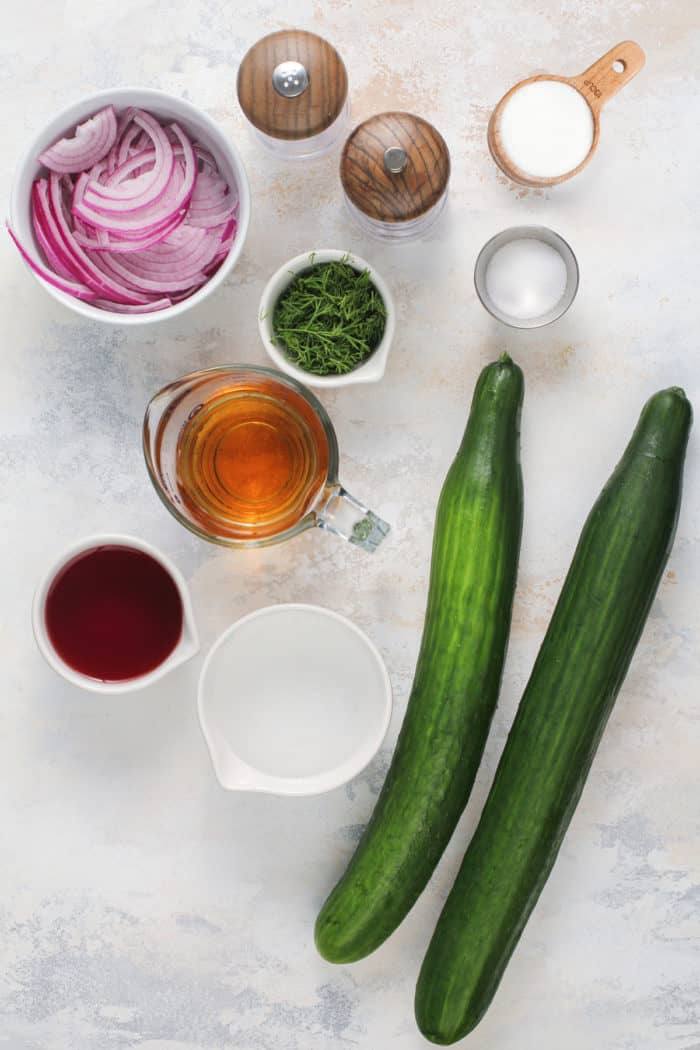 CRUNCHY CUCUMBER AND ONION SALAD
One of the hallmarks of a Midwestern cookout is a whole table full of salads that certainly don't have any lettuce or other leafy greens in them.
We're talking easy potato salad, Italian pasta salad, ambrosia salad, and probably some version of Amish pea salad. And surely some kind of homemade ranch dressing to dip veggies in.
I can't lie: I love it. Give me a whole plate of just these salads and I'd be totally happy, ok?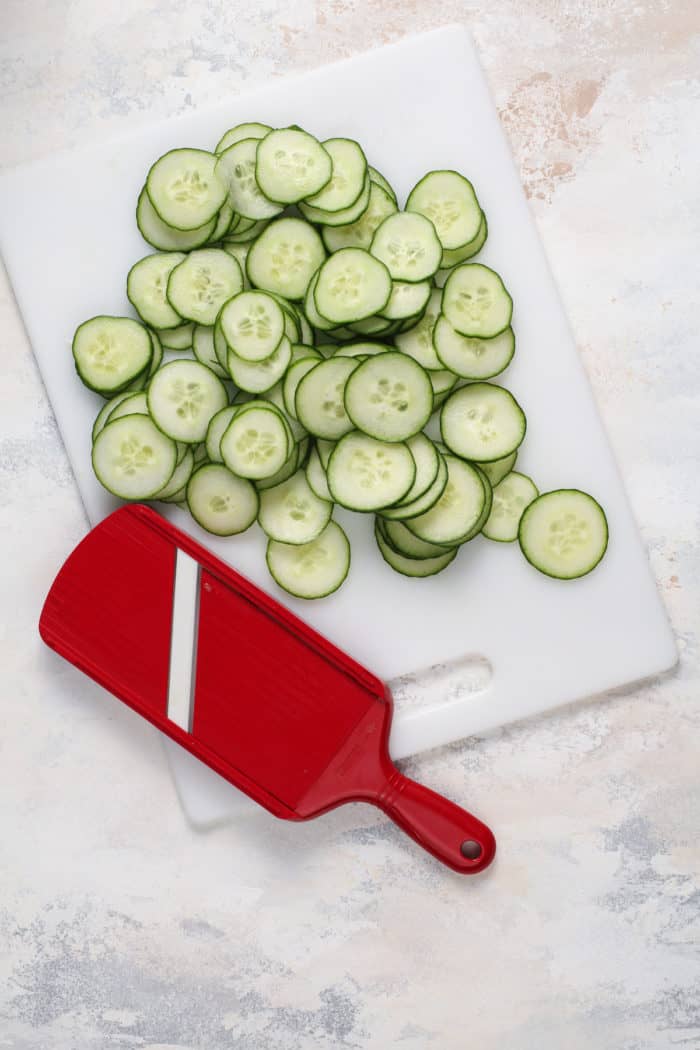 But in the height of summer, I also love having a cool, crunchy salad on my plate.
This cucumber salad may not have any lettuce in it, but it definitely fills that need for something cool and crunchy.
Thinly sliced fresh cucumbers are tossed with marinated red onion, a simple vinegar dressing and fresh herbs for a salad that is refreshing and makes the most of those summer cucumbers.
It's right at home next to burgers and brats or chicken and fish. Dress it up or dress it down – it's delicious any way you cut it!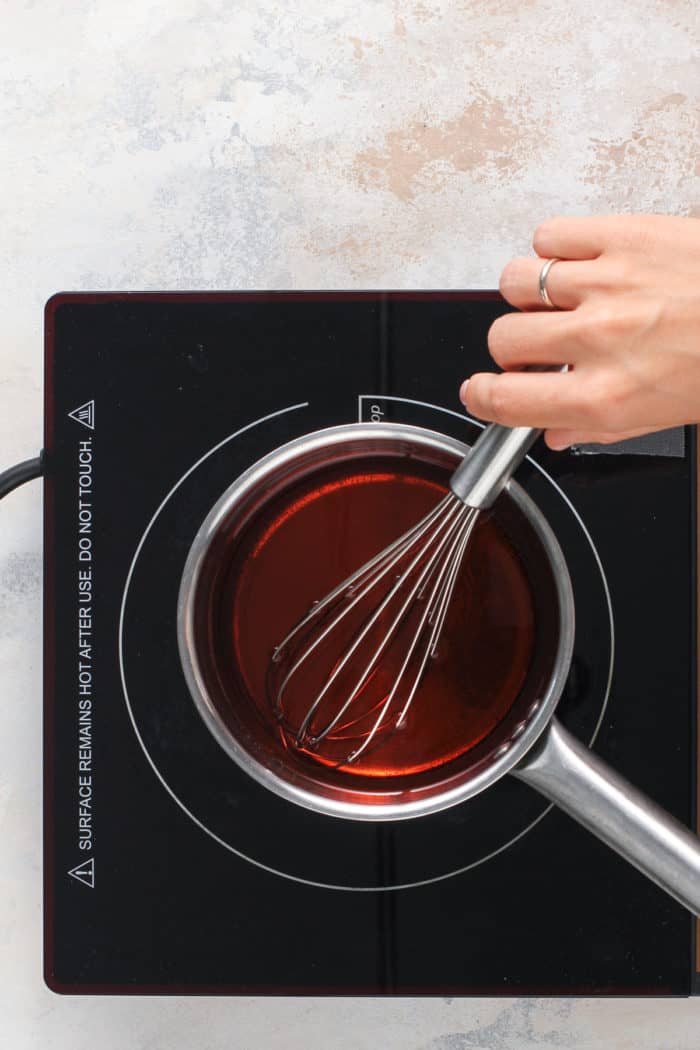 HOW TO MAKE CUCUMBER SALAD
There are a lot of different cucumber salad recipes out there, and everyone seems to like something a bit different in their salad, whether it be sour cream, yogurt, vinegar, or lots of dill.
This version is pretty simple, letting the crunchy, fresh cucumber really shine through. It's perfect for making in the middle of cucumber season when they are at their best.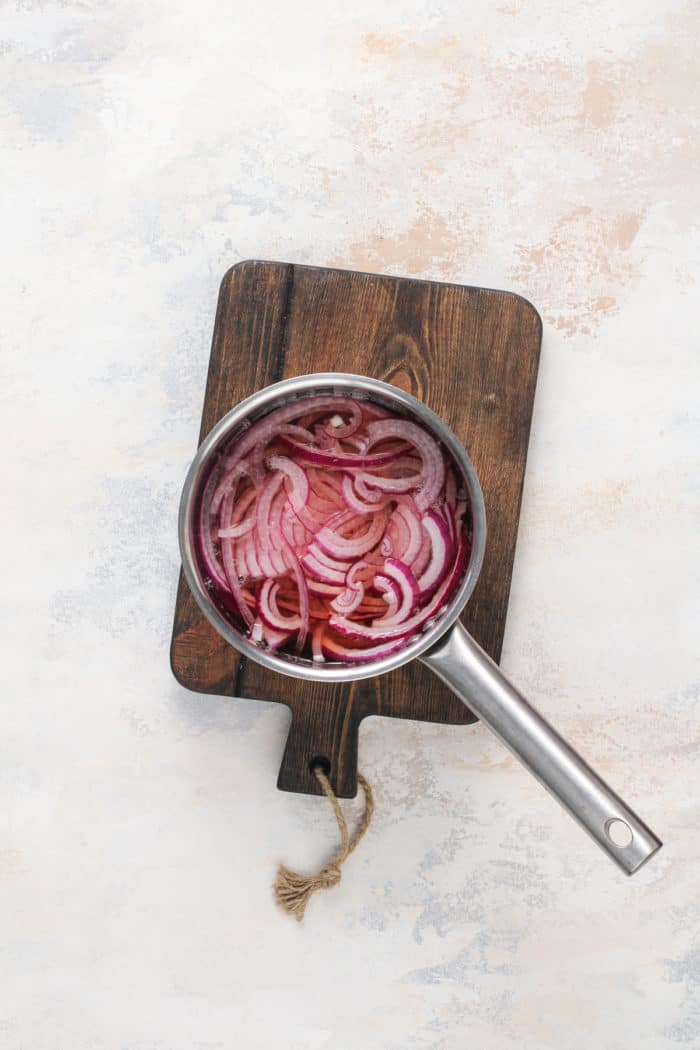 Ingredients you'll need
Let's talk through the ingredients in this recipe:
English cucumbers: I like to use English cucumbers for this salad. Scroll down to the next section to learn more about the difference between English cucumbers and common cucumbers and why I prefer English cucumbers for this recipe.
Red onion: Thinly sliced red onions pair so well with cucumbers and bring so much flavor and color to this salad.
Apple cider vinegar + red wine vinegar: I love using both apple cider vinegar and red wine vinegar for the brine that also serves as the dressing in this recipe. Feel free to play around with your favorite vinegars here and see what you like best!
Water: Since the dressing and brine for marinating the onions is one in the same, we'll need a bit of water to balance out the acidity of the vinegar.
Granulated sugar: Sugar obviously adds a bit of sweetness, but also plays an important role in balancing out the vinegar.
Fresh dill: Dill and cucumbers were meant to be together! You can always add more or less dill than called for in the recipe to suit your taste.
Fresh tarragon: I think just a bit of fresh tarragon adds a special "something" to this salad. You can totally leave it out if you don't have any on hand or don't care for the flavor of tarragon. (I encourage you to give it a try, though, if you never have!)
Salt + pepper: We'll use a good bit of salt to sweat and season the cucumbers, then season the salad to taste at the end with more salt and pepper if desired.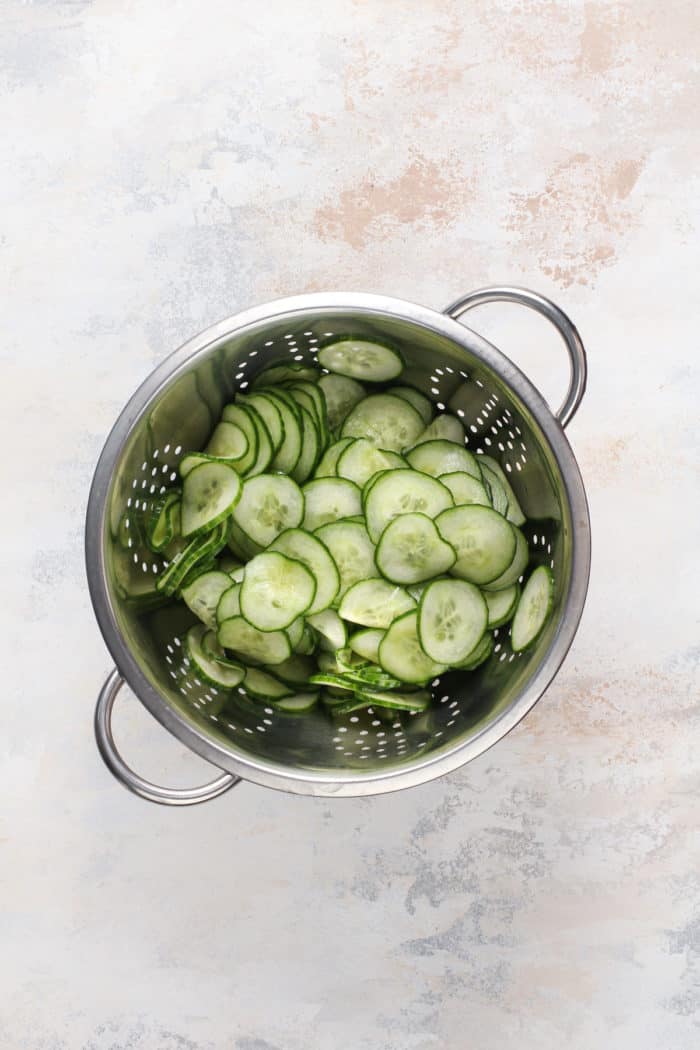 What's the difference between English cucumbers and common cucumbers?
English cucumbers are also known as hot house (or greenhouse) cucumbers, seedless cucumbers, or European cucumbers.
They're usually a little longer and thinner than common cucumbers (aka American cucumbers or pickling cucumbers) and are nearly always wrapped in plastic to protect their very thin skin.
In addition to having a thinner and smoother skin, English cucumbers have fewer seeds and are sweeter than regular cucumbers. All of this also means that they typically aren't bitter like American cucumbers can be.
These are all reasons why I like using English cucumbers in this cucumber salad. Since you don't need to peel or seed them, you can simply wash and slice them. (Plus, leaving the skin on makes the salad prettier!)
Not to mention that the sweeter flavor pairs so nicely with the vinegar and onions in this recipe.
You can definitely make this recipe with common cucumbers as well, but you will probably need to peel them first, and you may want to slice them in half and remove the seeds as well.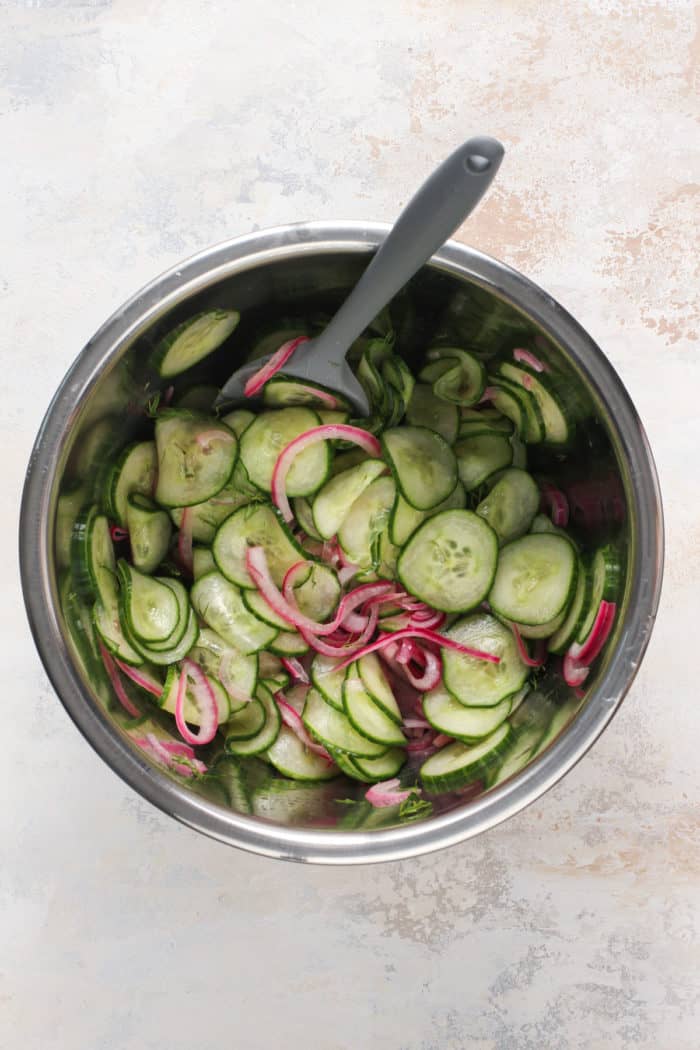 Slicing the cucumbers & onions
How do you get such even, thin slices of cucumber and onions??
I let a mandoline do the work for me!
Most mandolines have settings for slicing at different thicknesses. For the cucumbers, set it to ⅛"-¼" thick, depending on your preference.
You can use the mandoline on the onions as well! Just cut the onion in half, remove the skin, and run it through the mandoline.
Just be extra careful when using a mandoline slicer – they are super sharp, so always use the hand guard that comes with it for safety!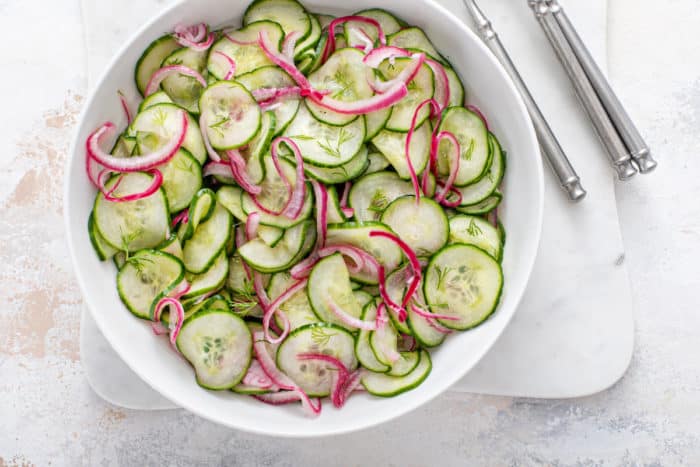 Making this recipe
After you have sliced the cucumbers, toss them in a bowl with 2 tablespoons of salt. Let them rest in the fridge for 30 minutes to sweat.
What's the point of this step? It draws out the water in the cucumber so that it doesn't make your salad soggy!
While the cucumber slices do their thing in the fridge, make the brine for the onions.
Combine the vinegars, water, and sugar in a saucepan and place it over medium heat, whisking until the sugar dissolves. Don't let the mixture boil.
Once the sugar has dissolved, take the pan off the heat and add the onion slices. Let the onion marinate in the brine for about 20 minutes. The onions should finish marinating around the same time that the cucumbers are done resting.
Drain any liquid from the rested cucumbers and give them a quick rinse in cold water, draining well.
In a serving bowl, toss the cucumbers and the pickled onions with about half of the brining liquid. Add the herbs and taste for seasoning: add more of the brine, more fresh dill, or additional salt and pepper as desired.
Feel free to serve the cucumber salad right away or let it chill in the refrigerator for a few hours before serving.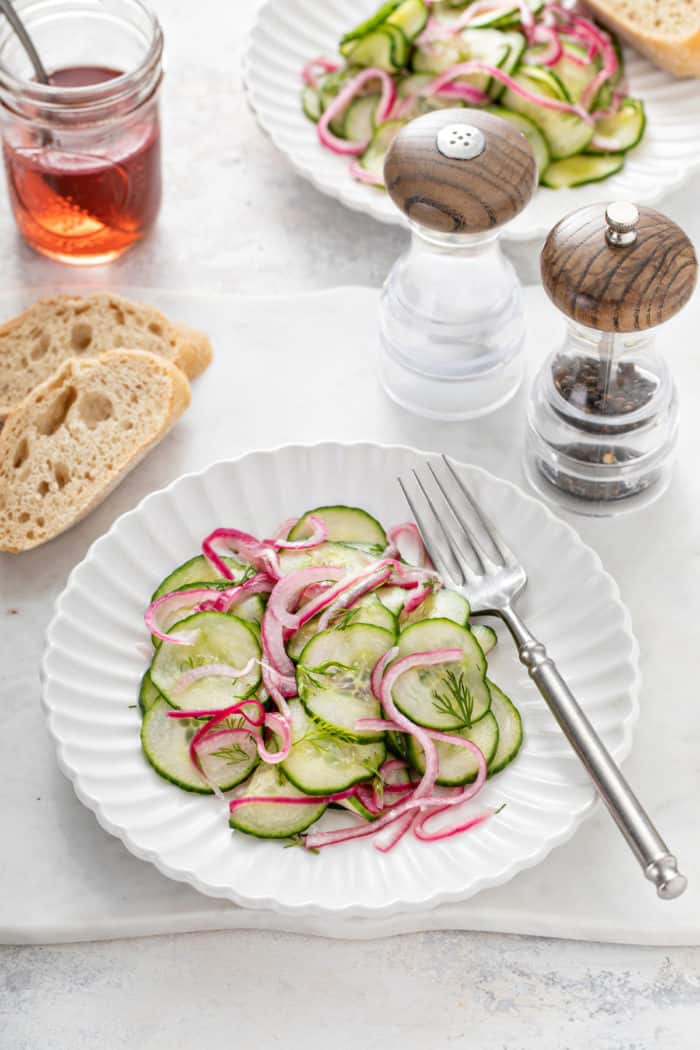 SERVING SUGGESTIONS
So what do you serve with cucumber salad?
Anything you like!
It's great alongside burgers, brats, or hotdogs at a cookout, but it's also amazing alongside any weeknight dinner.
Try it as a side to Italian beef sandwiches, Ritz cracker chicken, Instant Pot pulled pork, or garlic butter salmon.
It's such a flavorful yet simple salad, it can really go with anything you like!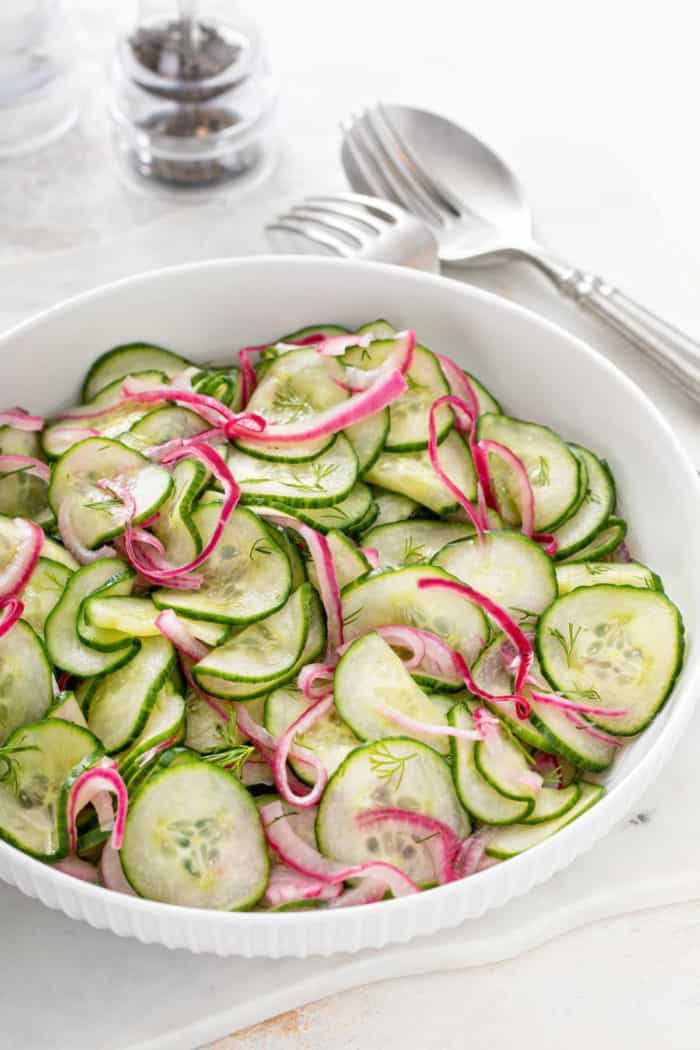 MAKE-AHEAD AND STORAGE TIPS
One of the benefits of sweating the cucumbers in salt before adding them to the salad is that you can store this cucumber salad in the refrigerator for quite some time before it gets watery.
You could easily make this salad a day in advance. The flavors will only get better over time!
If you do make it ahead of time, give it a toss before serving and perhaps add a few extra sprigs of fresh dill to brighten it up.
Store any leftovers in an airtight container in the refrigerator for up to 3 days.