Amish Ham & Pea Salad is a delicious side dish that comes together in minutes. It's a fantastic way to use up leftover holiday ham.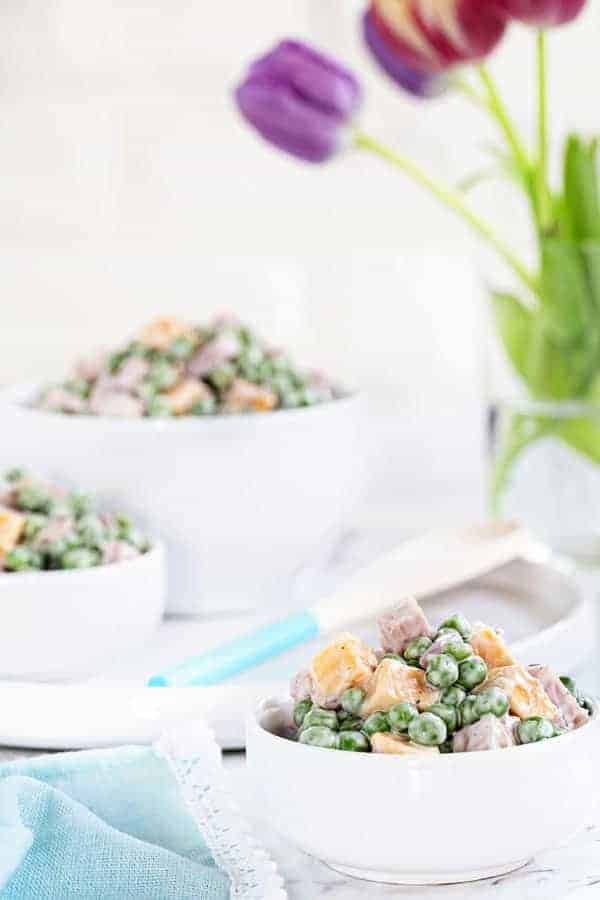 This is a sponsored post on behalf of Glad®. Thank you for continuing to support the brands that make My Baking Addiction possible.
So Easter has come and gone. We're still finding little plastic eggs around the house which were clearly hidden a little too well by the Easter Bunny.
And we've also spending the better half of our mornings trying to explain to a 3-year-old that Starburst candies are not an acceptable breakfast. To which she's been responding with, "How about a chocolate carrot or gum ball?"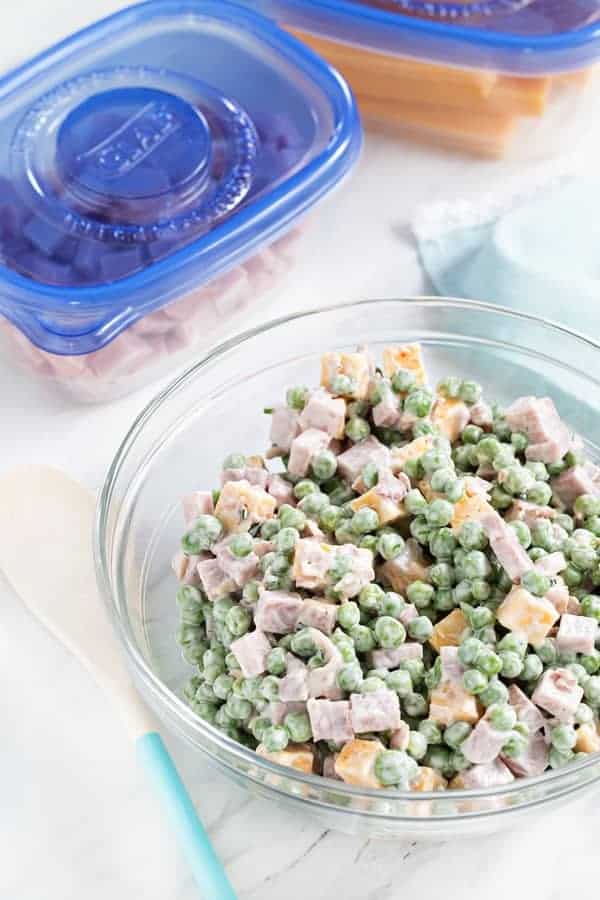 Also, the leftover situation around here is real. Despite regularly having to cook for a crowd, I always make too much.
We're currently staring down epic portions of Cheesy Potatoes, Cherry Cheesecake and Sausage Cheese Balls, copious amounts of hard boiled eggs, and of course, ham.
It's not Easter without ham, and I always purposely buy one that's bigger than we need to feed our family, so we have some leftovers. Since I don't want any of the leftovers to go to waste, we've been enjoying ham sandwiches, ham and cheese omelettes, and this Amish Ham & Pea Salad.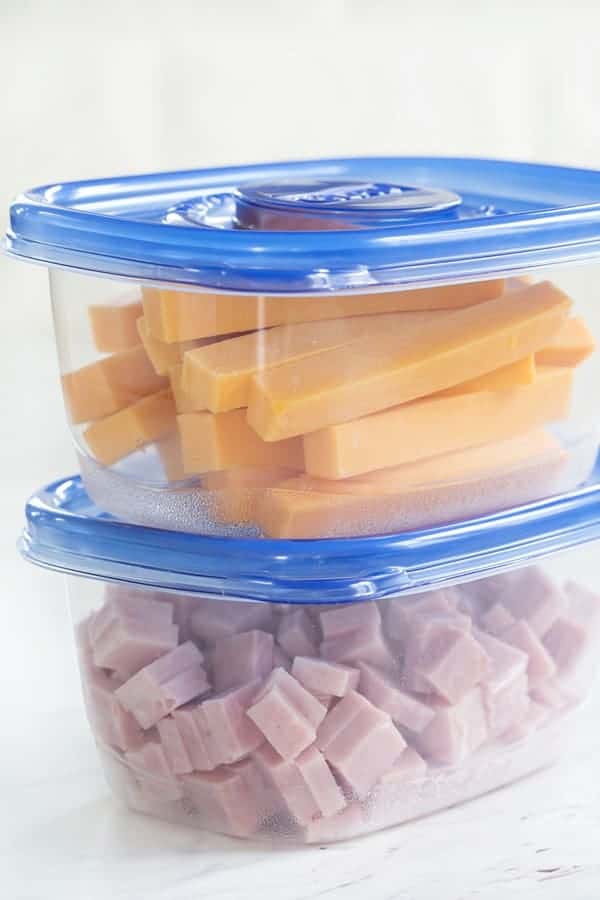 I've been keeping these leftovers fresh in our favorite GladWare® containers, until I got time to make this Amish Pea & Ham Salad.
Eric has started a little tradition where we head to Amish country every year around my birthday. We rent the same cabin and spend a couple of days wandering around Amish shops, bakeries and eating the best food in the local restaurants.
I'm fairly certain Eric could live on Amish pot roast and mashed potatoes, but I typically opt for broasted chicken and the salad bar because I know I'll find Amish Ham & Pea Salad along with homemade rolls and Amish peanut butter.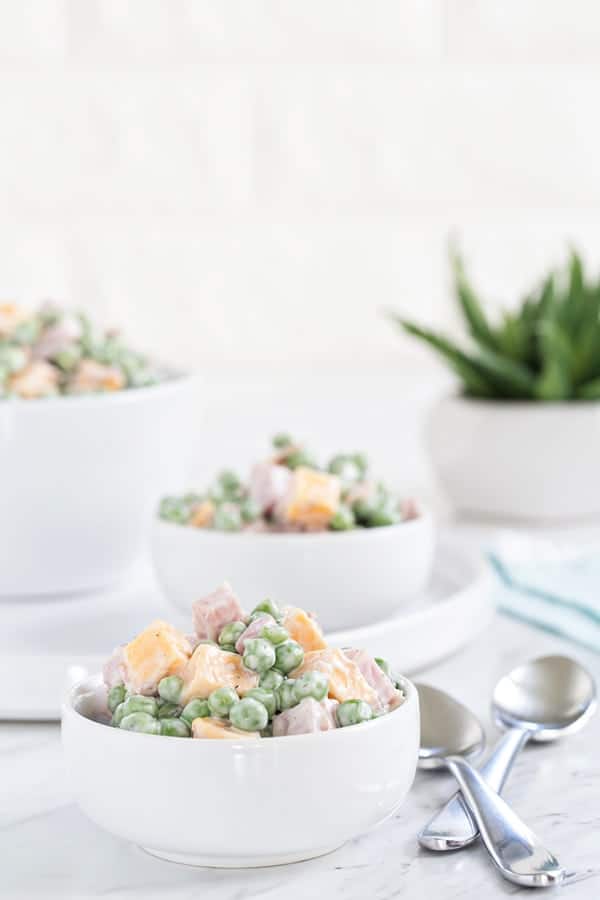 I even purchased a cookbook from one of the restaurants because we love Amish food so much, and I wanted to try and replicate some of the recipes at home. I used a pea salad recipe that I found in the cookbook, but of course added a few more ingredients.
Savory ham, bacon, cheddar cheese, fresh green peas, and flavorful chives. I've combined them with a combination of mayo and ranch dressing that makes the salad perfectly tangy and creamy.
The resulting ham and pea salad is easily served as a side dish along with grilled chicken, burgers, or straight from the bowl. I've even been known to stuff it into a pita pocket for a simple lunch sandwich.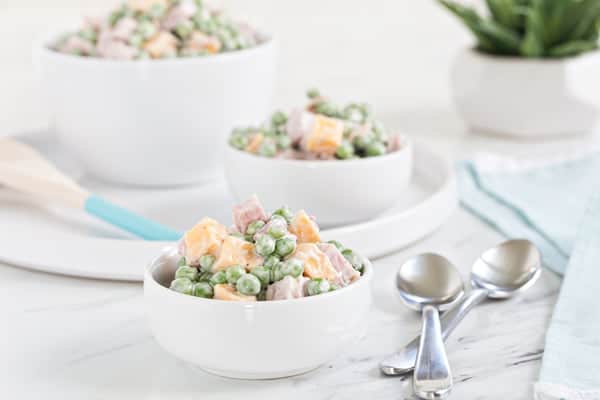 Amish Ham & Pea Salad is perfect for sending off to school or a work potluck in a fresh GladWare® container. And, it's an easy way to stretch that ham into lots of other meals.
Call me crazy, but I'm loving that flavorful ham in this salad even more than I did on Easter Sunday next to green bean casserole.
If you're looking for more recipes that I've made in partnership with Glad®, be sure to check out the Slow Cooker Taco Soup and these Chocolate Covered Peanut Butter Balls.
This is a sponsored conversation written by me on behalf of Glad Food Protection. The opinions and text are all mine.