Amish Pea Salad with Ham & Cheese is a delicious side dish that comes together in minutes. It's a fantastic way to use up leftover holiday ham.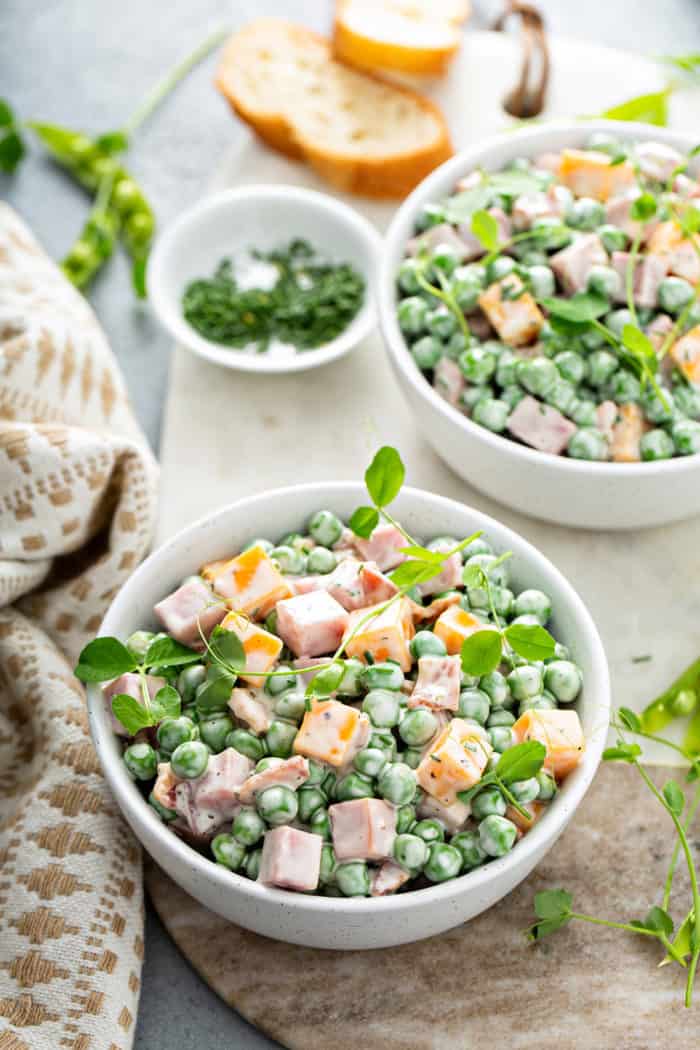 If you're anything like me, you still have some leftover Easter ham in your freezer.
Despite regularly having to cook for a crowd, I always make too much, regardless of the holiday.
It's not Easter without ham, and I always purposely buy one that's bigger than we need to feed our family, so we have some leftovers. After the holiday is over, we enjoy ham sandwiches, ham and cheese omelettes, and I tuck some ham away in the freezer for later.
One of my favorite ways to use up that leftover ham is alongside sweet green peas in this Amish Pea Salad with Ham & Cheese.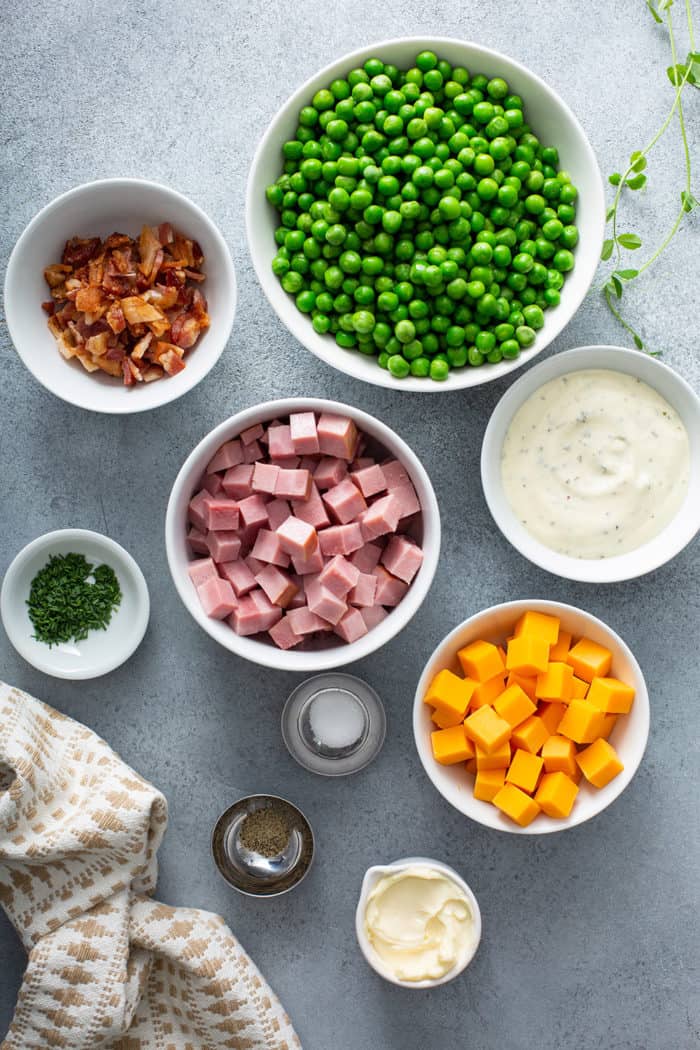 WHAT IS PEA SALAD?
Pea salad recipes are a little bit like ambrosia salad recipes: every family seems to have their own, slightly different, version.
Some use sour cream in the dressing. Some add red onion. Some use bacon while others add ham. Some use cheddar cheese while others use American.
Most of them seem to have a few things in common, though: A base of sweet green peas, a creamy dressing, and the addition of cheese and bacon and/or ham.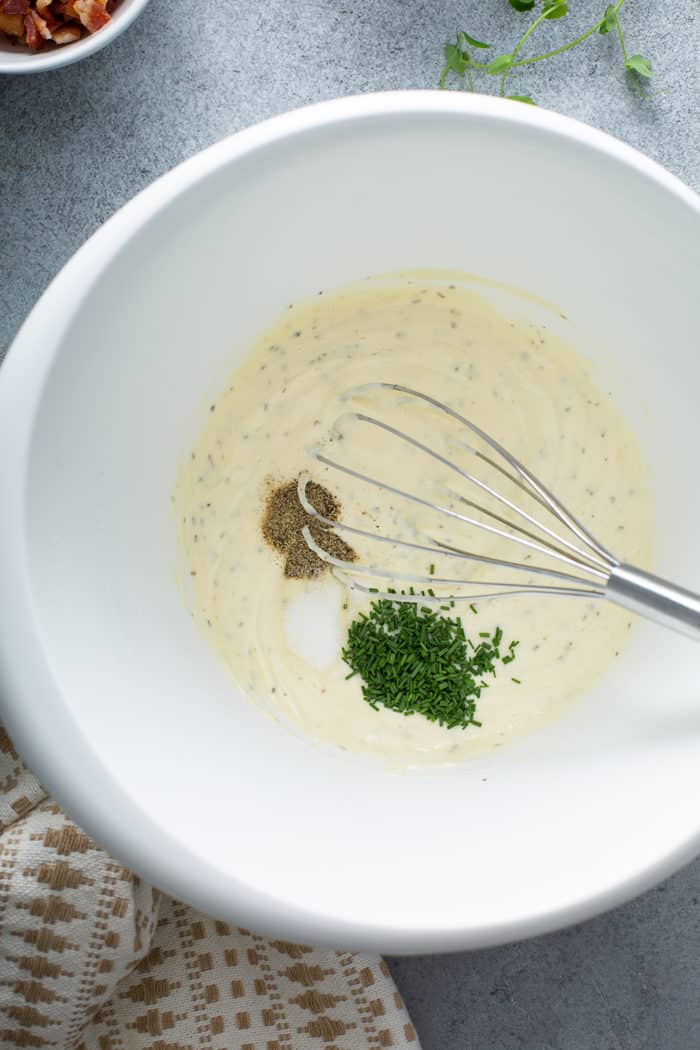 Our family's version is based on our frequent visits to Amish country.
Eric started a little tradition where we head to Amish country every year around my birthday. We rent the same cabin and spend a couple of days wandering around Amish shops, bakeries and eating the best food in the local restaurants.
I'm fairly certain Eric could live on Amish pot roast and mashed potatoes, but I typically opt for broasted chicken and the salad bar because I know I'll find pea and ham salad along with homemade rolls and Amish peanut butter.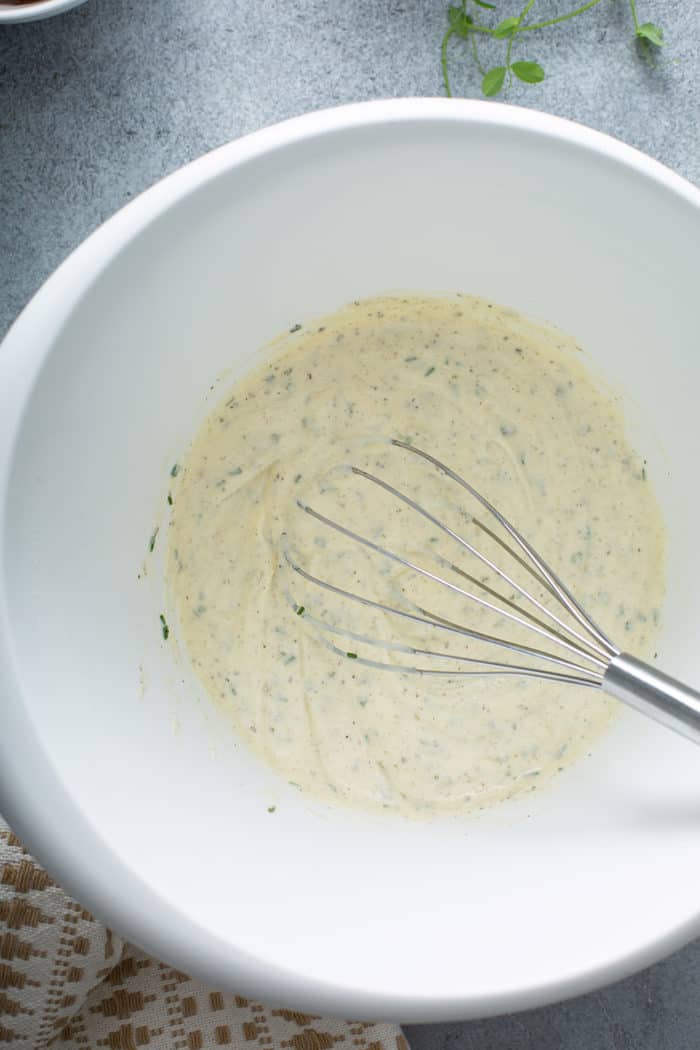 A few years ago, I purchased a cookbook from one of the restaurants because we love Amish food so much, and I wanted to try and replicate some of the recipes at home.
I based this recipe on a pea salad recipe that I found in the cookbook, but of course added a few more ingredients.
The resulting Amish Pea Salad is easily served as a side dish along with ritz cracker chicken, meatloaf, or straight from the bowl. I've even been known to stuff it into a pita pocket for a simple lunch sandwich.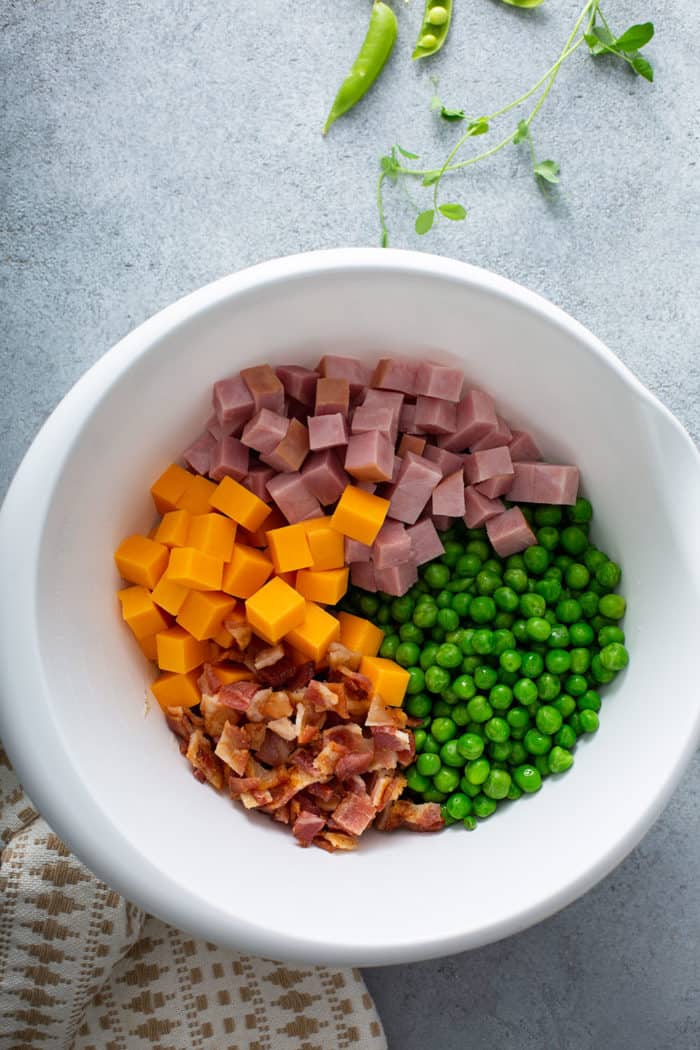 WHAT'S IN MY PEA AND HAM SALAD?
A lot of the pea salad recipes I've come across have a mayo and sour cream dressing base. Mine uses ranch dressing instead of sour cream and adds some extra herby flavor with fresh chives.
I also like to add in diced ham along with the bacon to make it like the Amish pea salads I love so much.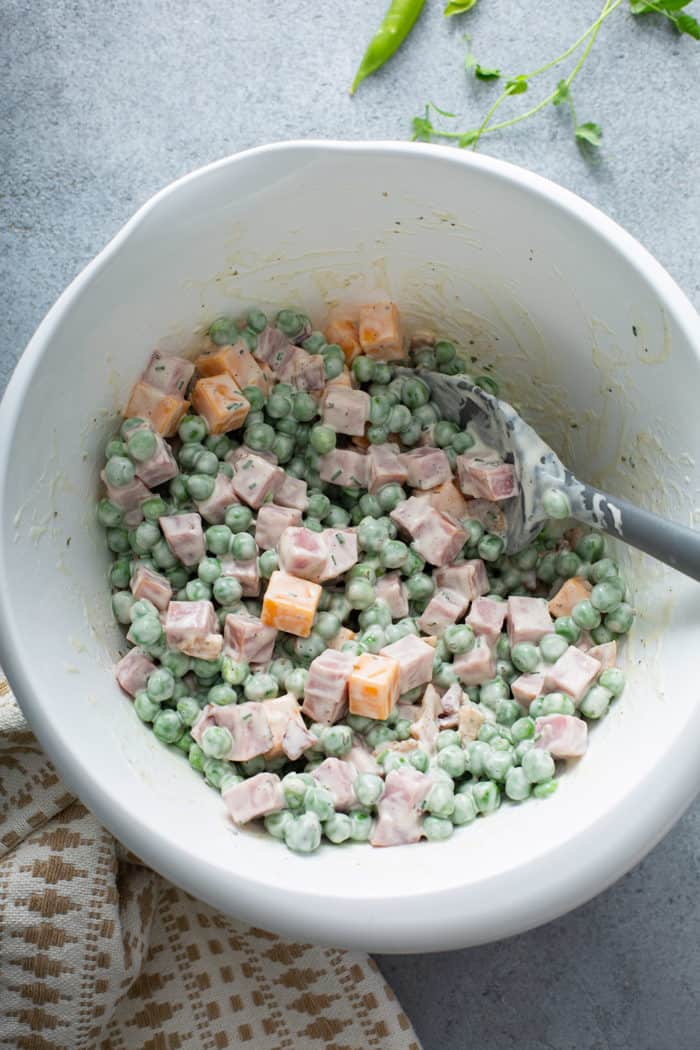 To make my Amish Pea Salad with Ham & Cheese, you'll need:
1/4 cup mayonnaise
1/2 cup ranch dressing
1 tablespoon finely chopped chives
1/4 teaspoon salt
1/4 teaspoon black pepper
16 ounces frozen peas, thawed
8 ounces fully cooked ham, cubed
4 ounces cheddar cheese, cubed
4 sliced fully cooked bacon, finely chopped
I always grab our favorite bottled ranch dressing for this salad, but you could totally use homemade ranch dressing if you have some on hand.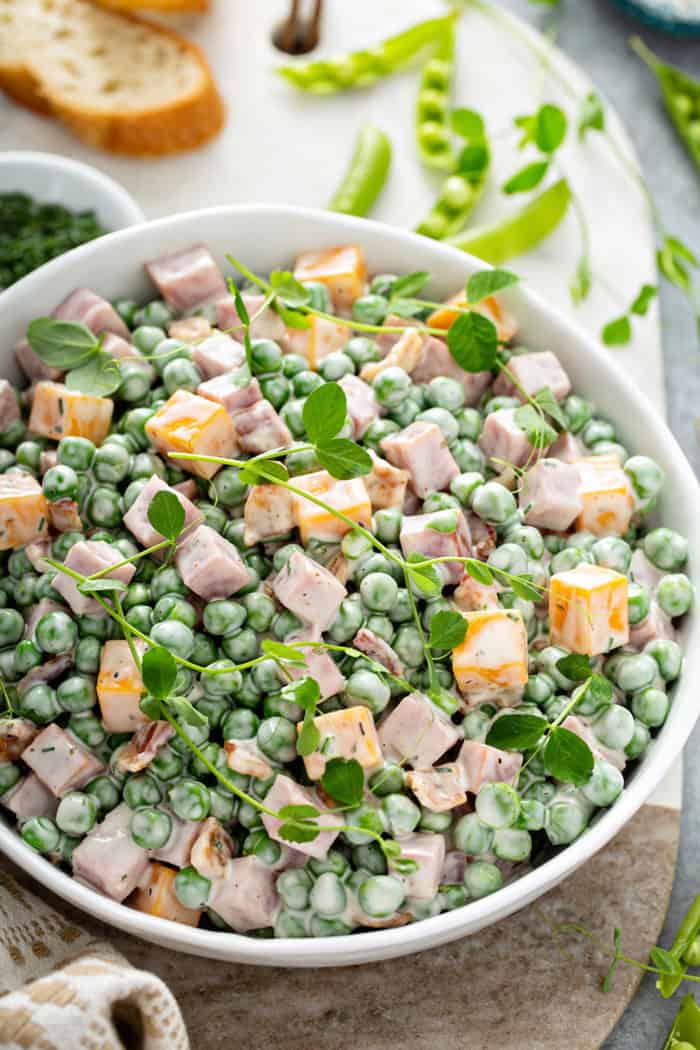 HOW TO MAKE THIS PEA SALAD RECIPE
As much as I love how this salad tastes, the thing I love even more is how easy it is to make.
To make this salad, simply whisk together the mayo, ranch dressing, chives, and salt and pepper. Then gently fold in the peas, ham, cheese, and bacon.
Let the salad chill in the refrigerator for at least 3 hours before serving.
This salad will keep in the fridge, well wrapped, for up to 3 days. Sometimes I like to add a few more fresh chives before serving to brighten it up – and after all, who doesn't like extra fresh chives?