Packed with veggies, salami, and cheese and tossed with zesty Italian dressing, this Italian pasta salad makes for the perfect lunch or summer side dish!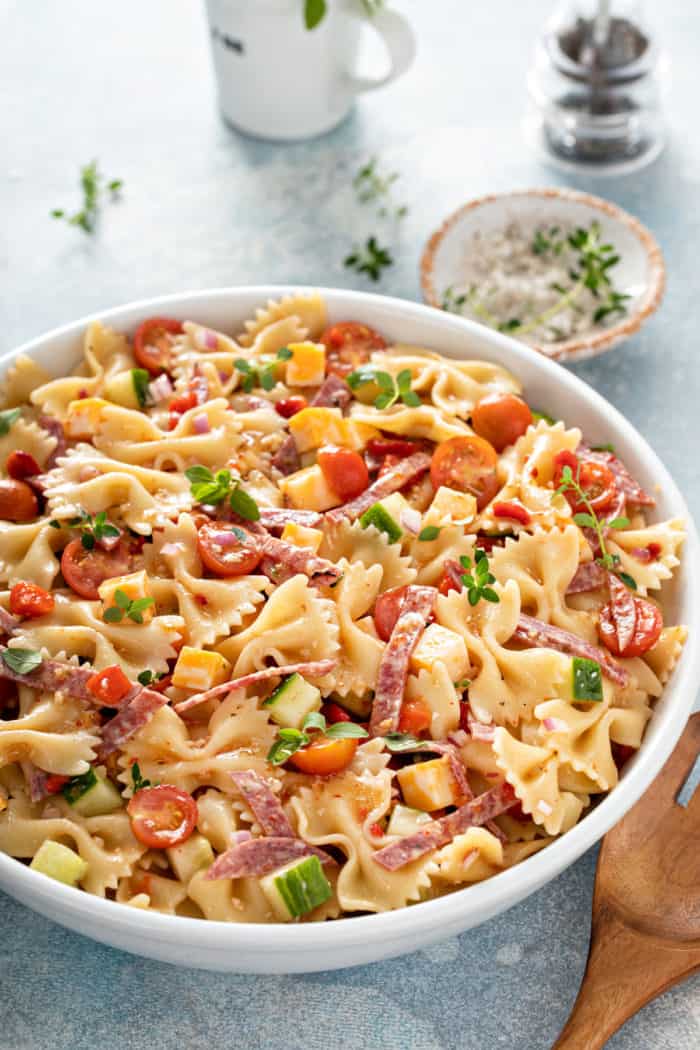 I don't know about you, but I feel like this is the summer of cookouts.
After two years of staying in our bubbles, friends are starting to throw cookouts and potlucks again. Which means I have to get my summer side dish recipes ready to whip up.
When I need to take a hot side dish, I always turn to my old-fashioned baked beans. When I need to take a cold side dish, it's always some kind of salad.
This year, I am all about this easy Italian pasta salad.
ZESTY AND DELICIOUS PASTA SALAD
I think we all know that the star of any summer potluck or cookout buffet is the salad section, right?
Forget sad green salads. I'm talking about rich, filling salads that may not be the healthiest but are definitely the most delicious. This can't just be a Midwestern thing, right?
Nestled among the potato salad, pea salad, and ambrosia salad is always at least one kind of cold pasta salad.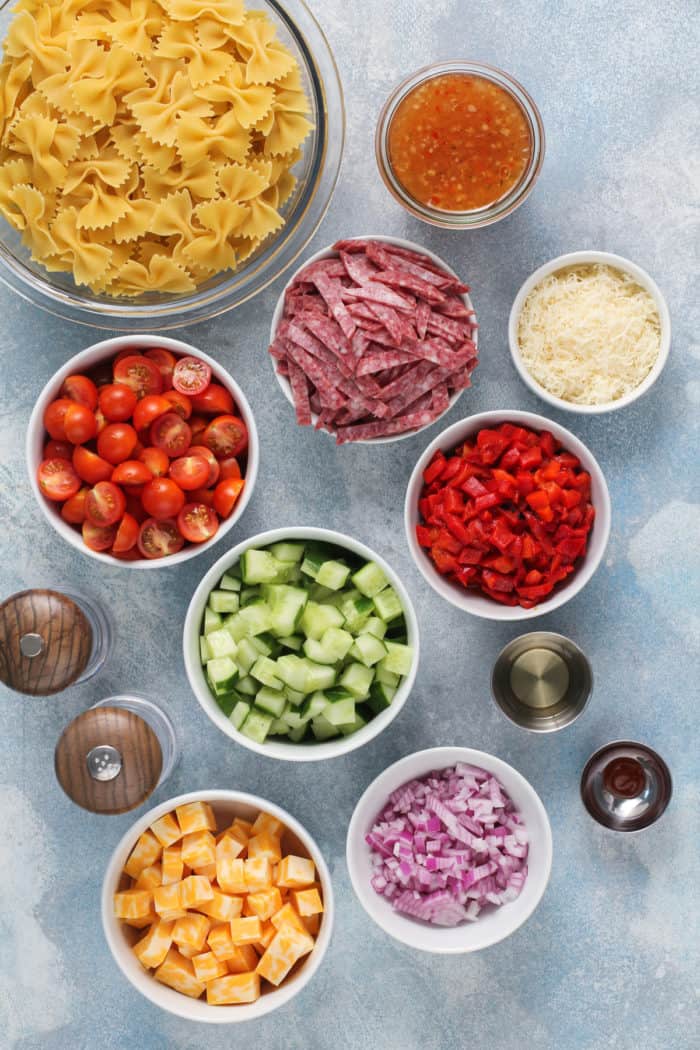 This year, the pasta salad I'm taking to every cookout is going to be this zesty Italian pasta salad. It's loaded up with veggies, salami, and cheese, then tossed with Italian dressing and a dash of hot sauce.
It's filling enough to eat on its own for lunch or delicious as a side dish alongside cheeseburger sliders, Italian beef sandwiches, or your favorite hot dogs or brats.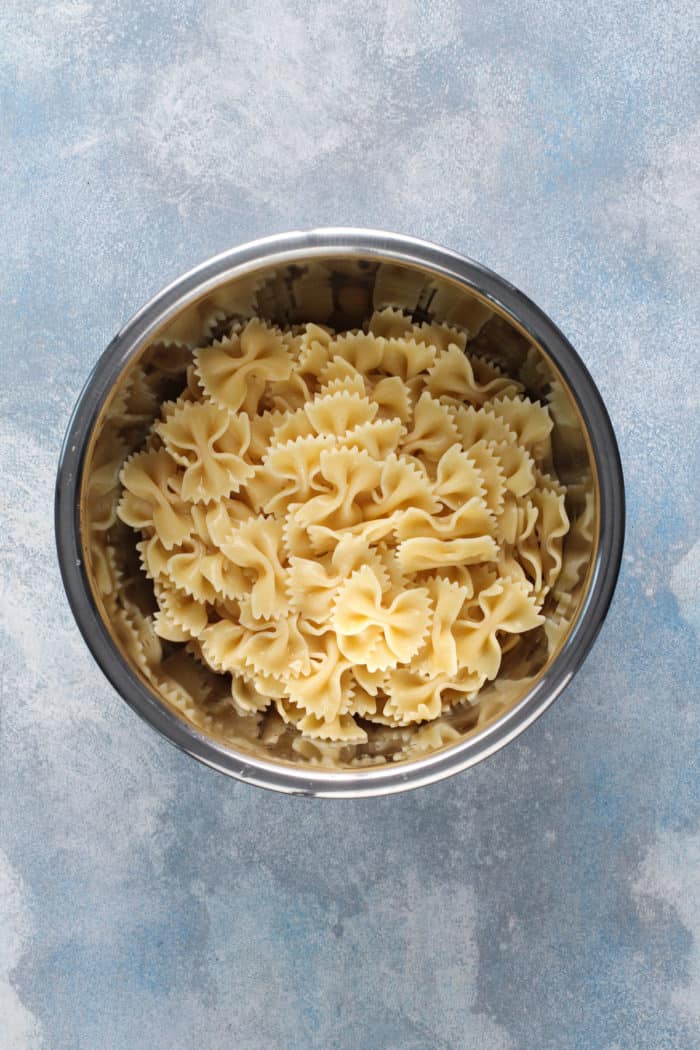 HOW TO MAKE MY ITALIAN PASTA SALAD
Most of the work involved in making this pasta salad comes down to chopping and preparing the ingredients themselves.
What's in Italian pasta salad?
The best part of this pasta salad recipe is all of the mix-ins. My Italian pasta salad recipe includes:
Bowtie pasta: You can really use any shaped pasta you like, but I particularly like bowtie pasta in pasta salad. I think it's cute and fun!
Italian salami: I generally use a mild salami for this, but you could use a spicy salami or even pepperoni or sopressata if you prefer.
Cherry tomatoes: No summer pasta salad is complete without cherry tomatoes for me!
Red onion: Red onion adds some great texture and a nice bite to the salad.
Roasted red peppers: I like the contrast in textures that the roasted red pepper brings against the other vegetables, but you could use fresh bell pepper if you don't have roasted red peppers on hand.
Cucumber: I like to use an English cucumber so I don't have to peel it. Leaving the peel on makes for a prettier pasta salad!
Colby jack cheese: You could also use cheddar cheese, cubed mozzarella or mozzarella balls.
Parmesan cheese: Some finely shredded parmesan cheese adds a great nutty flavor and saltiness to the salad.
Italian dressing: I like using a bottle of Italian dressing in this pasta salad. Sure, you could make your own, but this tastes great with the bottled stuff and it makes it so simple to throw together!
A dash of hot sauce: Adding a small dash of hot sauce adds a bit of extra zest to the salad. You can always leave this out, but I think it really makes a difference! Don't have hot sauce on hand? Add a pinch of red pepper flakes!
If you're an olive lover, you can add your favorite olives to the mix, too!
Making this recipe
Italian pasta salad is such an easy recipe to throw together. You can easily make it ahead of time or whip it up at the last minute.
Go ahead and cook your pasta according to the package directions. I like mine to be al dente – no one likes mushy pasta in their pasta salad!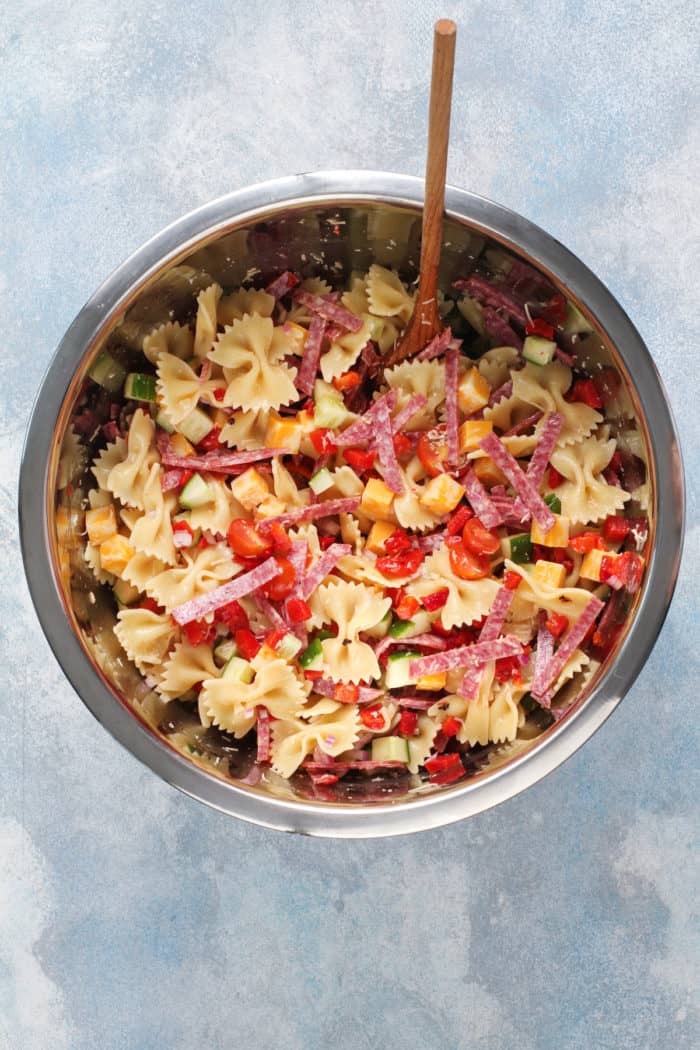 Once the pasta is done cooking, drain it and rinse it under cold water, then toss it with some olive oil and let it cool while you prepare the rest of the ingredients.
Toss the rest of the ingredients with the pasta, then taste and add salt and/or pepper as desired.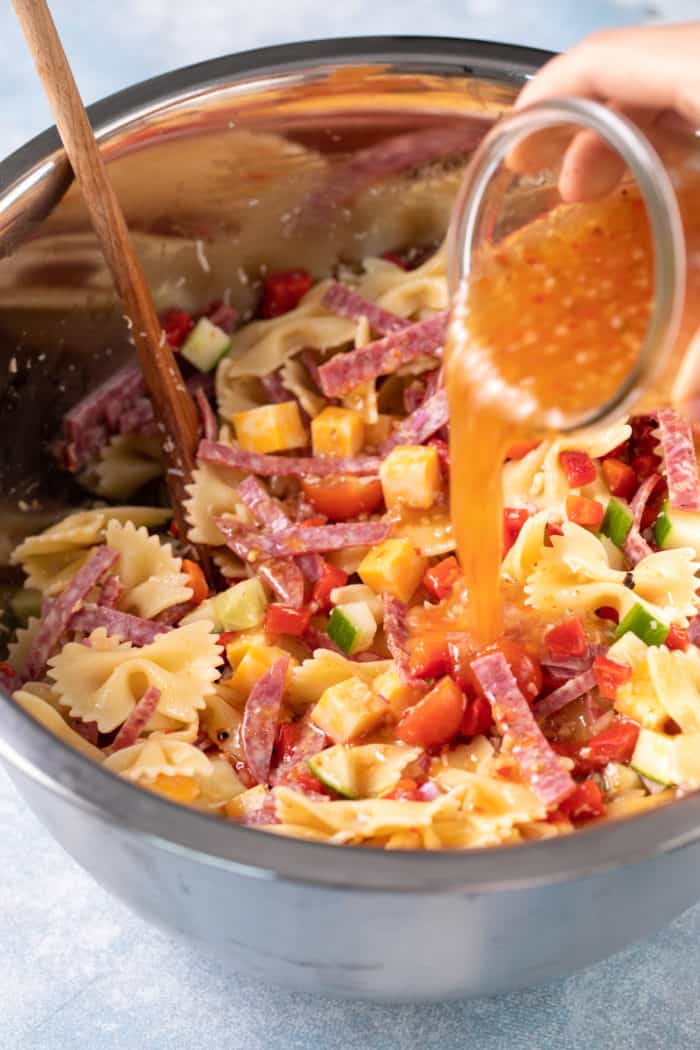 MAKE-AHEAD AND STORAGE TIPS
This pasta salad can be eaten as soon as it is made, or you can let it chill in the refrigerator before serving it.
I actually think it tastes better after it's been in the fridge for at least a few hours, so it's perfect for making ahead of time. You could easily make this the day before you plan to serve it.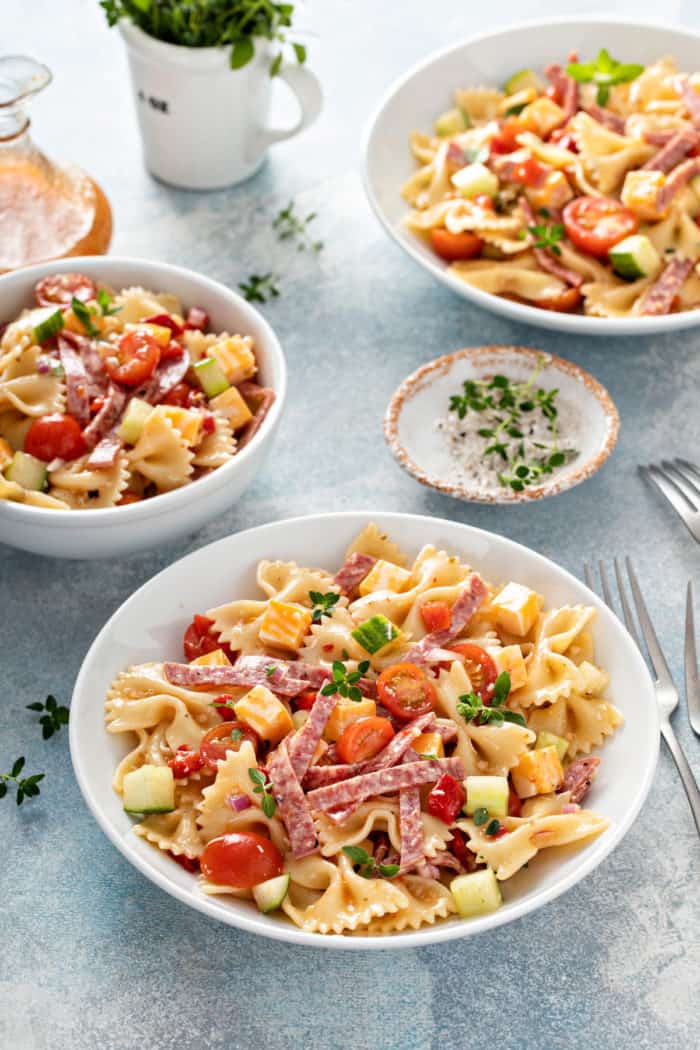 If you want to make it more than 1 day in advance, I would recommend waiting to add the cherry tomatoes until the last minute. They aren't as pretty after the second day.
Store any leftovers in the fridge for up to 5 days. You could even portion it into smaller containers to make it easy to grab and go for lunch!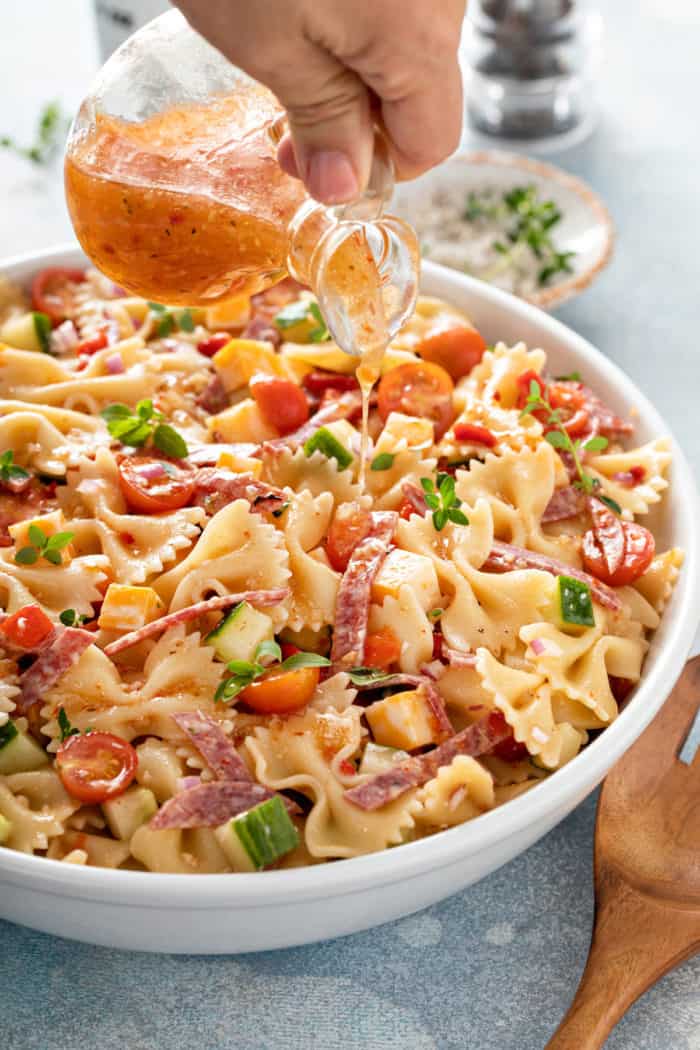 MORE SUMMER PASTA SALAD RECIPES
Looking for even more pasta salad recipes for all of your summer cookouts and get-togethers? Give these recipes a try – there's a little something here for everyone!