Greek Orzo Salad is fresh and bright, perfect for summer! Made with feta cheese, tomatoes, cucumber, olive, and plenty of herbs and lemon, this pasta salad is delicious on its own or alongside grilled chicken.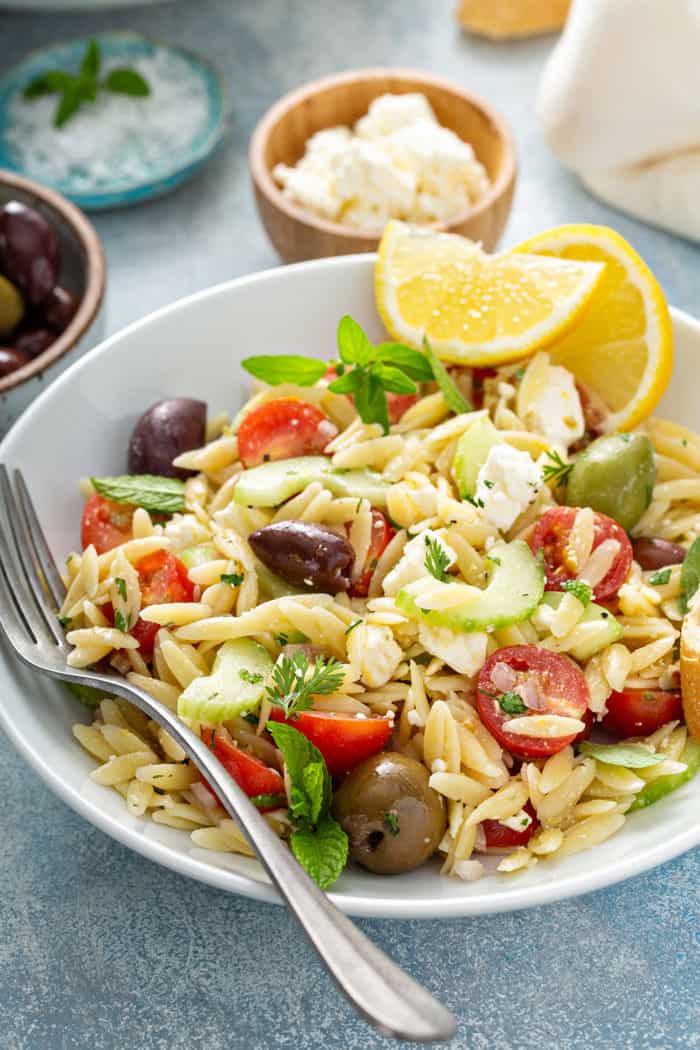 As the temperature heats up here in Ohio, we're starting to crave lighter dinners like this simple Greek Orzo Salad. We can pull it out of the fridge and top it with grilled chicken breast or even leftover pulled rotisserie chicken.
Not only is it perfect for a quick weeknight meal, it's also great for a potluck or backyard barbecue.
Once you give this Greek Orzo Salad, I'm pretty sure it will become one of your new summer favorites.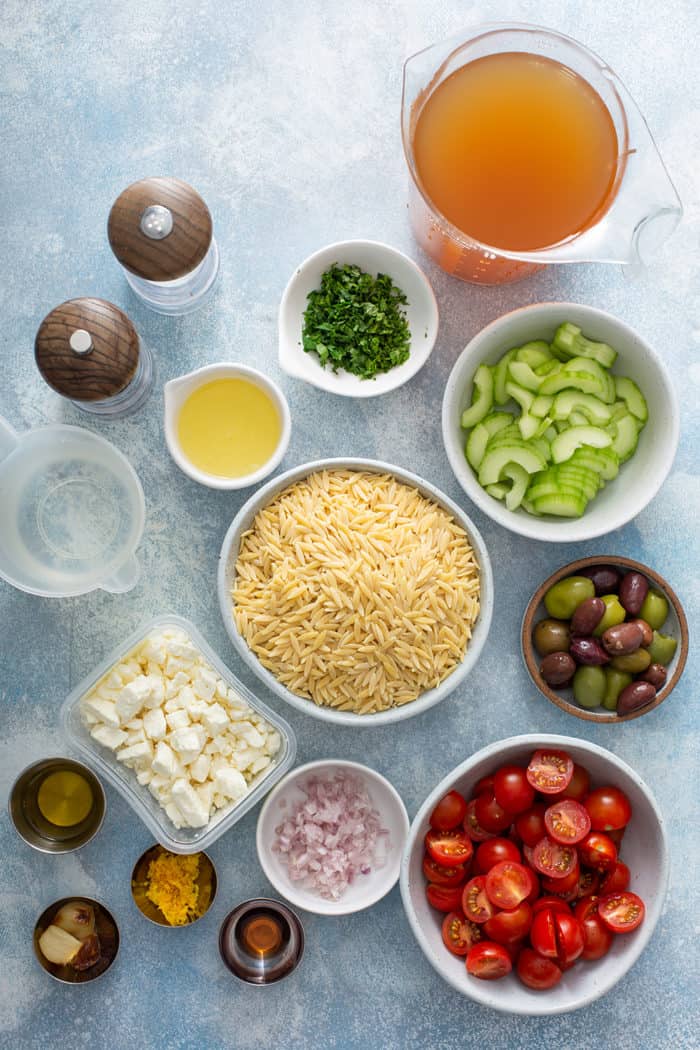 WHAT IS ORZO
If you've ever eaten orzo at a restaurant, you might think it's a type of rice because of the shape. It looks a lot like rice, after all!
But orzo is actually pasta! You can find it in the grocery store with the other small, shaped pasta.
Orzo is great in pasta salad recipes like this Greek Orzo Salad, but is also delicious in soups and even in risotto-like dishes like Parmesan and Spinach Orzo.
Just like most pastas, you can often find whole wheat orzos in addition to regular orzo. Feel free to use the whole wheat version in this recipe if you'd like to up the fiber and protein content.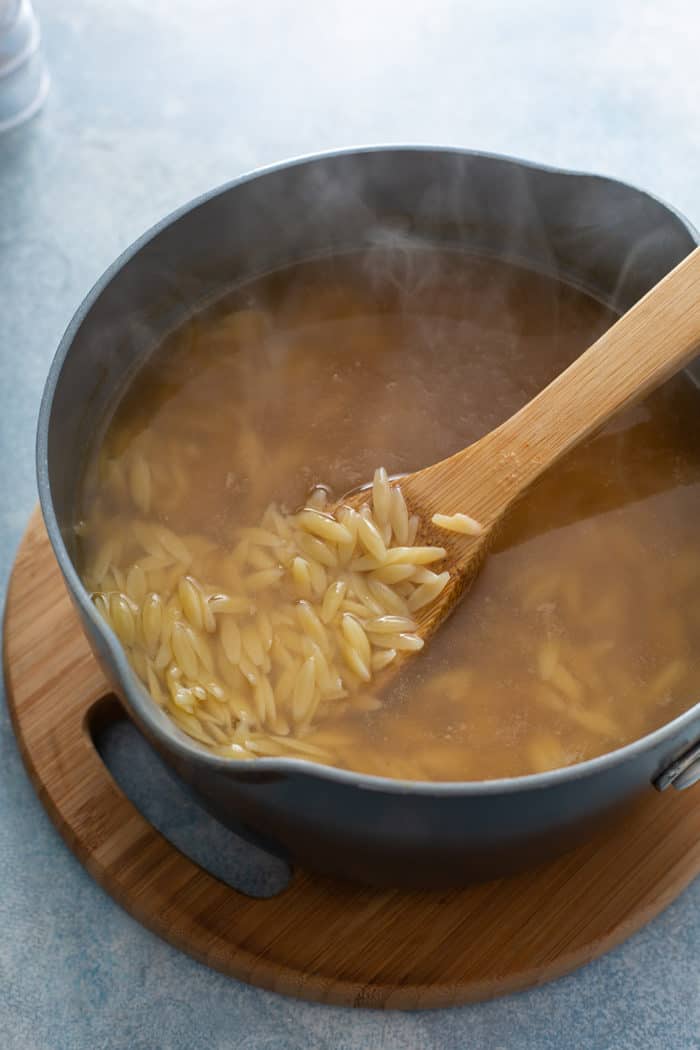 HOW TO COOK ORZO
Again, don't get distracted by the fact that orzo looks like rice. Orzo is cooked up just like any other type of pasta!
Cook as much orzo as you like in a pot of boiling, salted water for 8-10 minutes. Once the orzo is al dente, drain the pasta.
In this recipe, I like to cook the orzo in a mixture of vegetable stock and water to add more flavor to the orzo itself before mixing up the pasta salad. You could also use chicken stock if you prefer!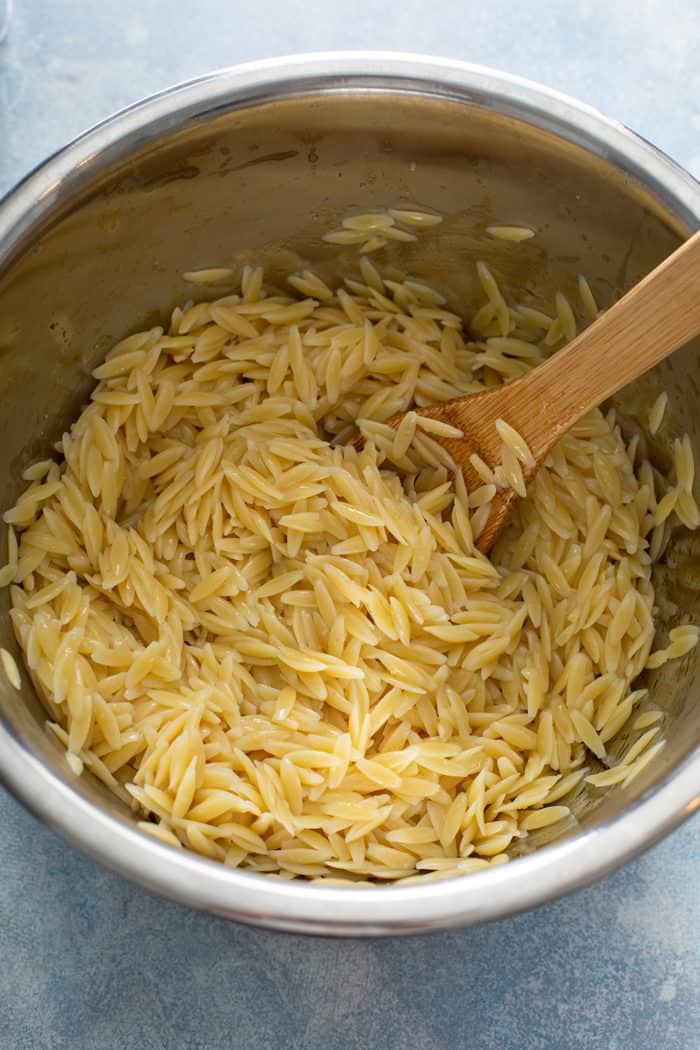 HOW TO MAKE THIS GREEK ORZO SALAD RECIPE
I love using orzo to make this Greek Orzo Salad. It's similar to my Greek Pasta Salad, but there's something about eating a salad made with orzo that feels extra special.
To make this summery salad, you'll need:
1 pound Orzo
1 (32oz) carton vegetable stock
1 cup water
2 tablespoons olive oil
6 ounces Feta cheese, crumbled
3 cloves roasted garlic
1 medium-large shallot, finely diced
10 ounces cherry tomatoes, halved or quartered
1 medium cucumber, peeled, seeded, and cut into half moon shapes
⅓ to ½ cup olives, roughly chopped
Zest and juice of 1 large lemon
1 tablespoon each fresh basil, mint, and parsley, finely chopped
A splash of red wine vinegar
Salt and pepper to taste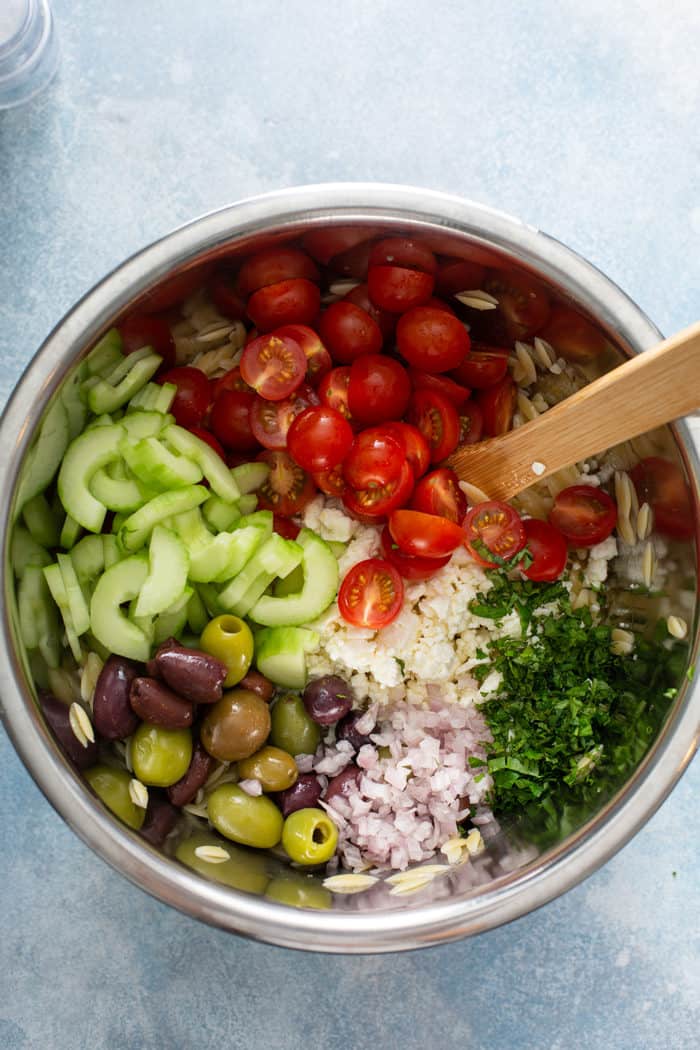 I like to use a mix of green and black olives, but you can use whichever you prefer. I know some people have strong opinions on green versus black olives!
If you really don't like olives, you can leave them out altogether, although I think they add a nice briney flavor to the salad.
Start by cooking the orzo in the vegetable stock and water. Drain the orzo, rinse it in cold water, and toss it with 2 tablespoons of olive oil.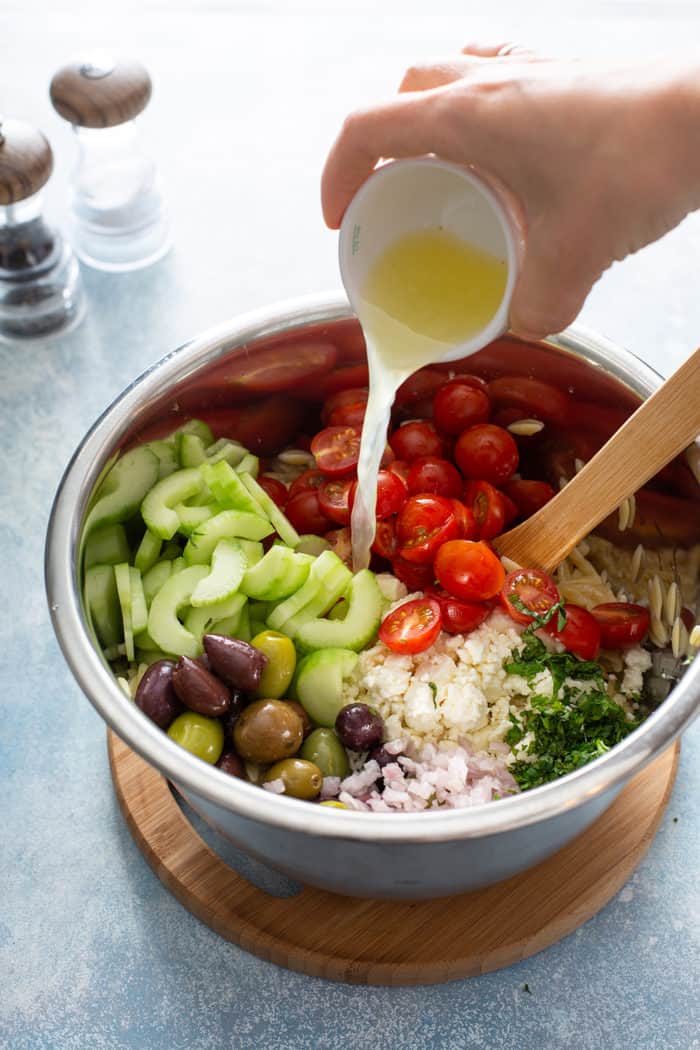 Mix the cooked orzo with all of the remaining ingredients, seasoning with salt and pepper to taste. It's important to give the salad a taste before salting it – feta and olives are both really salty, so you don't want to add too much salt on accident.
I recommend covering the salad and letting it rest in the refrigerator for a few hours before serving it. The flavors will really start to pop after a few hours or even the next day, but you can definitely serve it right away if you like.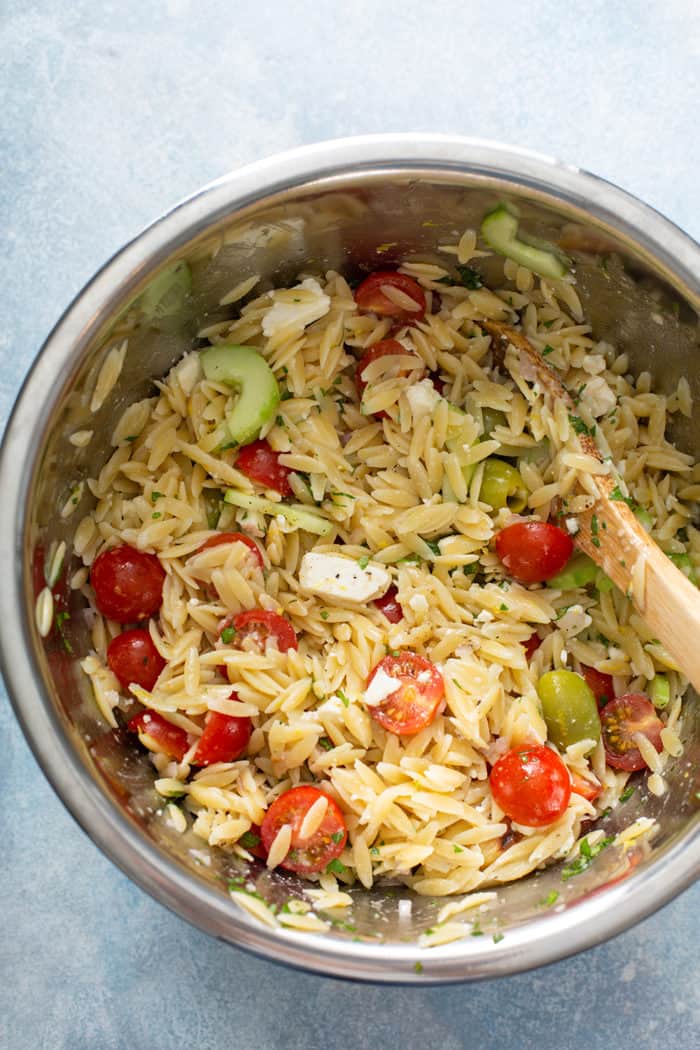 WHAT TO SERVE WITH GREEK ORZO SALAD
I think this salad is totally delicious all on its own, but you can pair it with your favorite protein to make it a full meal.
It is a delicious side dish alongside Greek Chicken Kebabs or Salmon Kebabs.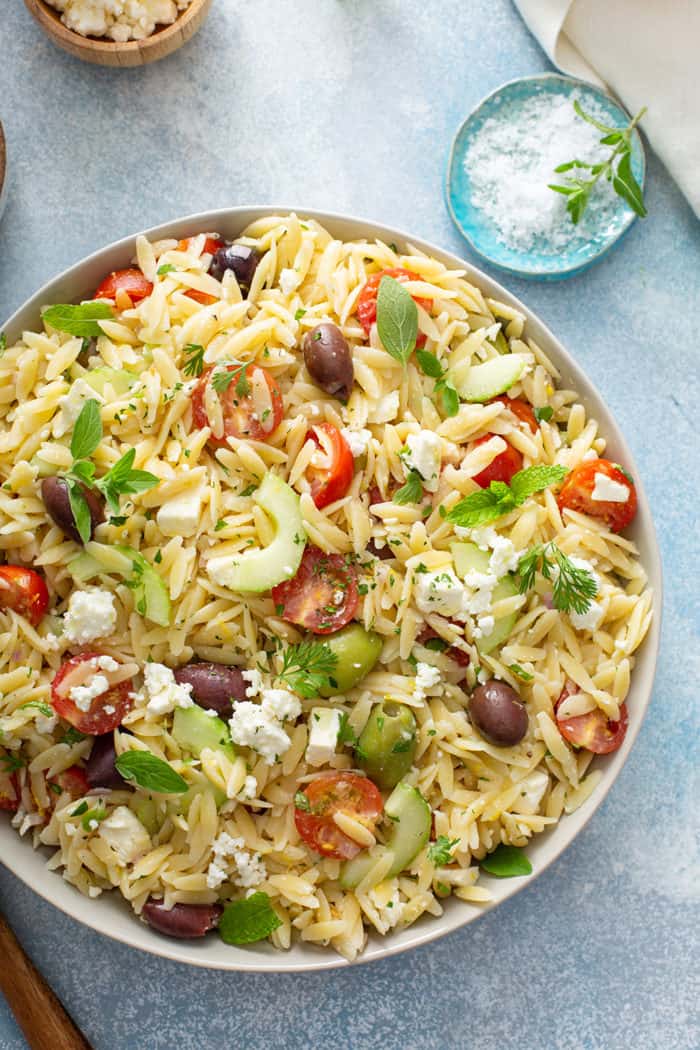 You could even whip it up for your next cookout alongside staples like Ambrosia Salad or Old Fashioned Baked Beans.
If you are looking for a pasta salad full of bright flavors, you'll definitely want to try this Greek Orzo Salad this summer.