Our weeknight dinners can become a little monotonous at times, but I make an effort to change things up on Sundays. Whether it's an in depth recipe that takes hours to prepare or just a simple fresh marinade, I always try to incorporate something new to our repertoire.
Since it's really warming up in Ohio, we have been using our grill to cook dinner on a regular basis. When we have time, we love to fire up the charcoal and hang out on the deck to enjoy the weather. What smells better than a fiery charcoal grill on a warm spring evening?
This past Sunday, I wanted to create a meal that was rich with Greek flavors. I decided on grilled chicken kabobs that were bathed in an amazing marinade. I paired the kabobs with grilled asparagus and orzo pasta tossed with fresh peppers, cucumbers, tomatoes, olives, feta and a mouth-watering Greek dressing.
Although this marinade smelled a little odd, the flavor of the grilled kabobs was very fresh and delicious. I will definitely use this marinade again and can't wait to experiment with different types of proteins. I imagine shrimp and fish would turn out quite fantastic. If I piqued your interest with the mention of the orzo salad, stop back on Wednesday for the recipe.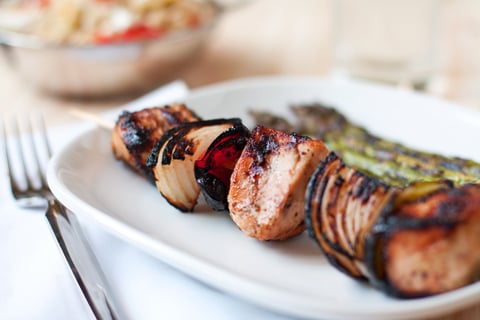 [pinit]