Greek Pasta Salad is loaded with fresh vegetables, feta cheese, pepperoni and a homemade Greek dressing to create the best pasta salad you'll ever eat.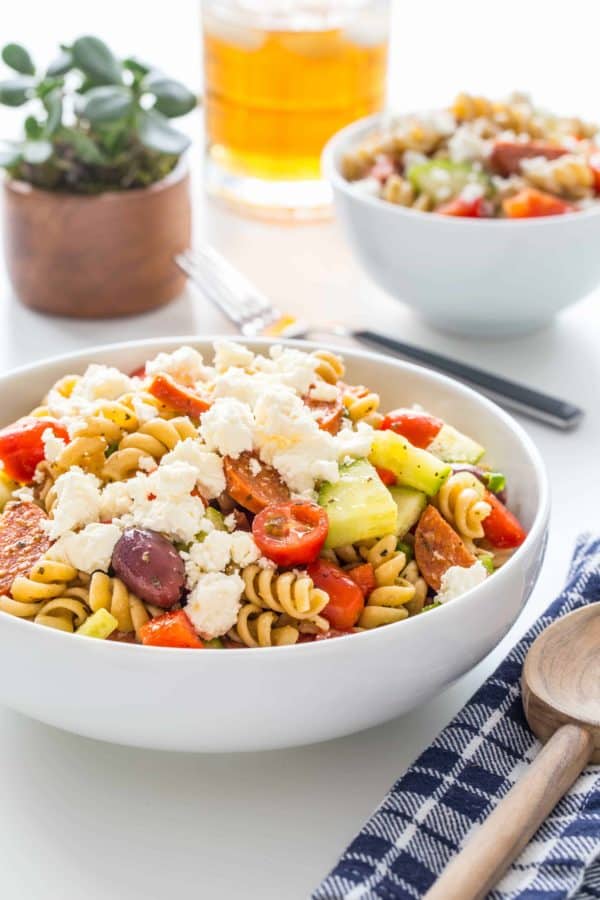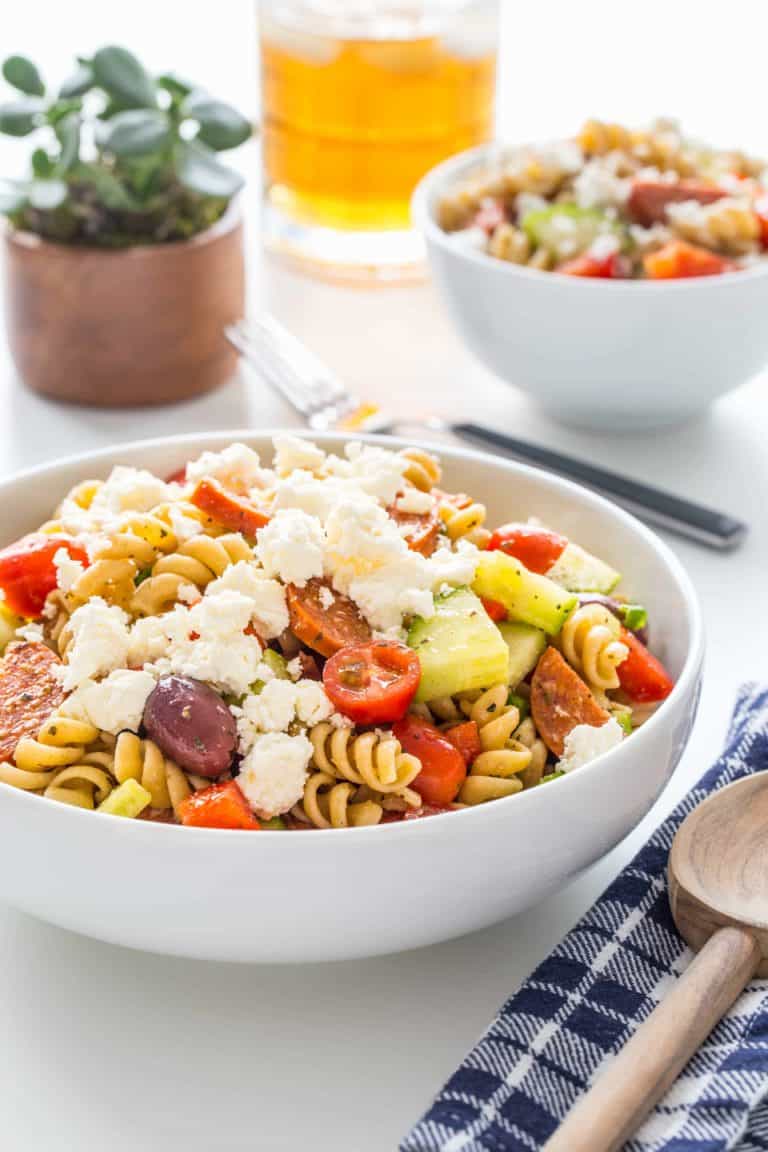 You guys, our patio is almost finished and I'm seriously so excited about it. We made the last minute decision to add a seating wall and lighting and we're so happy we did because it's all coming together beautifully. I can't wait to share it with you in an upcoming post.
This whole patio thing has been an intense project for us because I'm pretty much the most indecisive human when it comes to spendy things like patios, furniture, etc. It takes me forever to make up my mind and I always question my decisions every step of the way.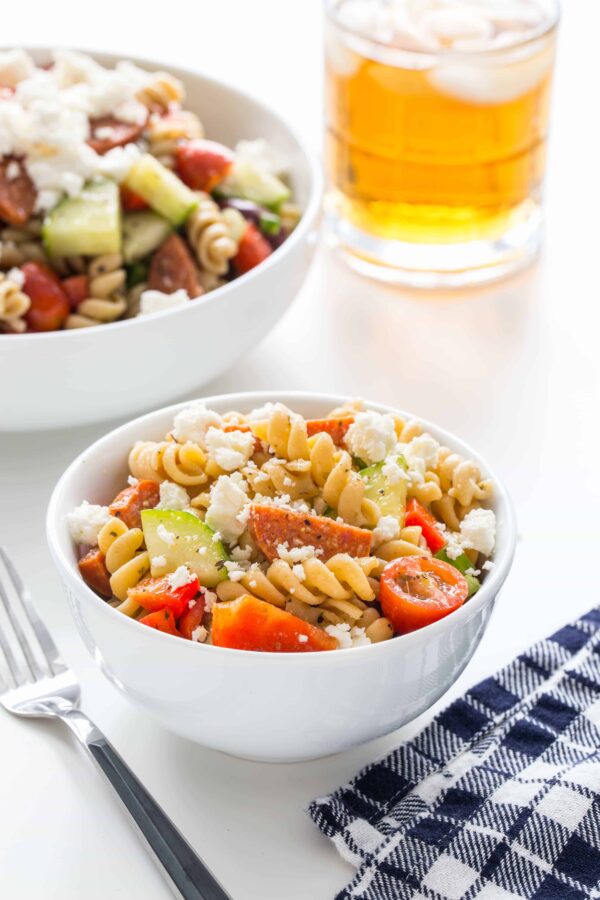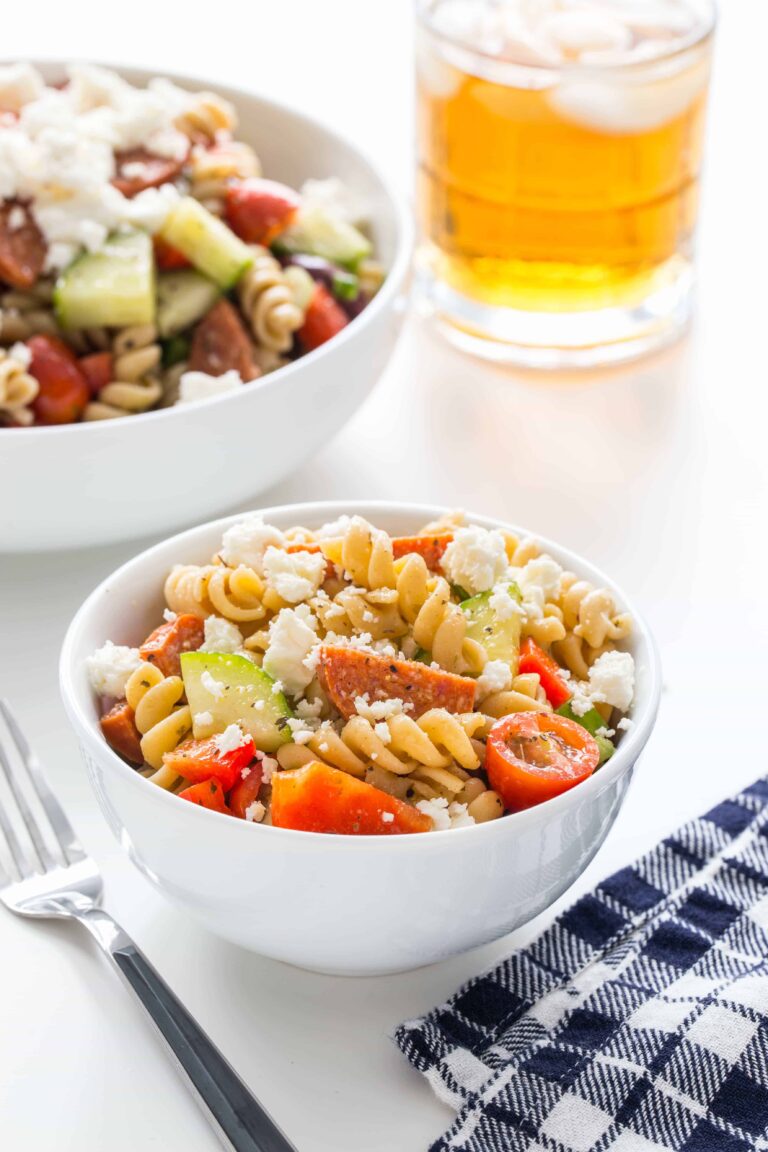 We lucked out with an amazing crew, so they've just rolled with every change I've requested even if it has required them to remove stone that's already been set into place.
We've been trying to keep them hydrated because the humidity has to be at 2,000% here in Ohio, and well-fed because we think full bellies equal happy workers.
I'm already planning to host our first family get-together on the new patio and thinking of fun food themed ideas like a hot dog bar and burger bash! Now I just need to pick out an outdoor dining table for us to sit at!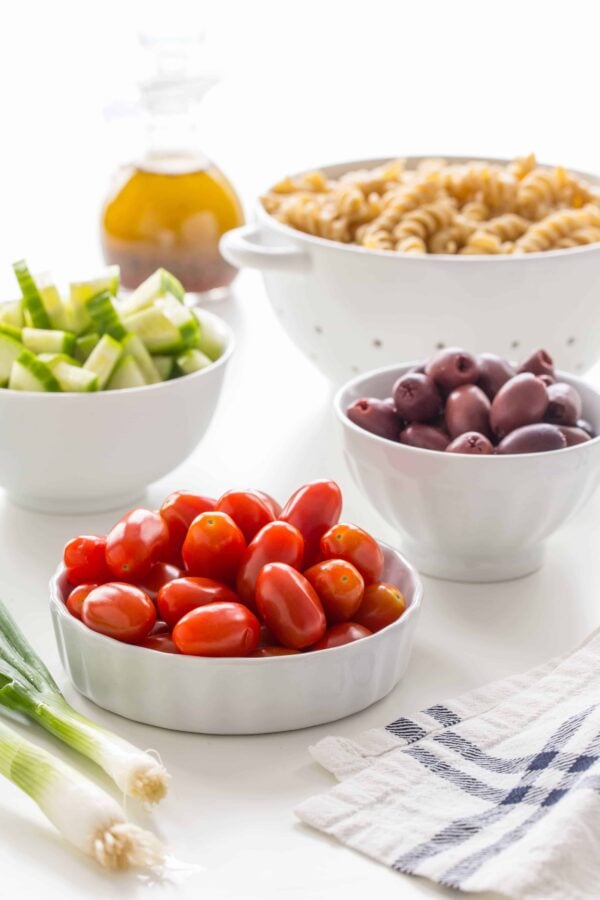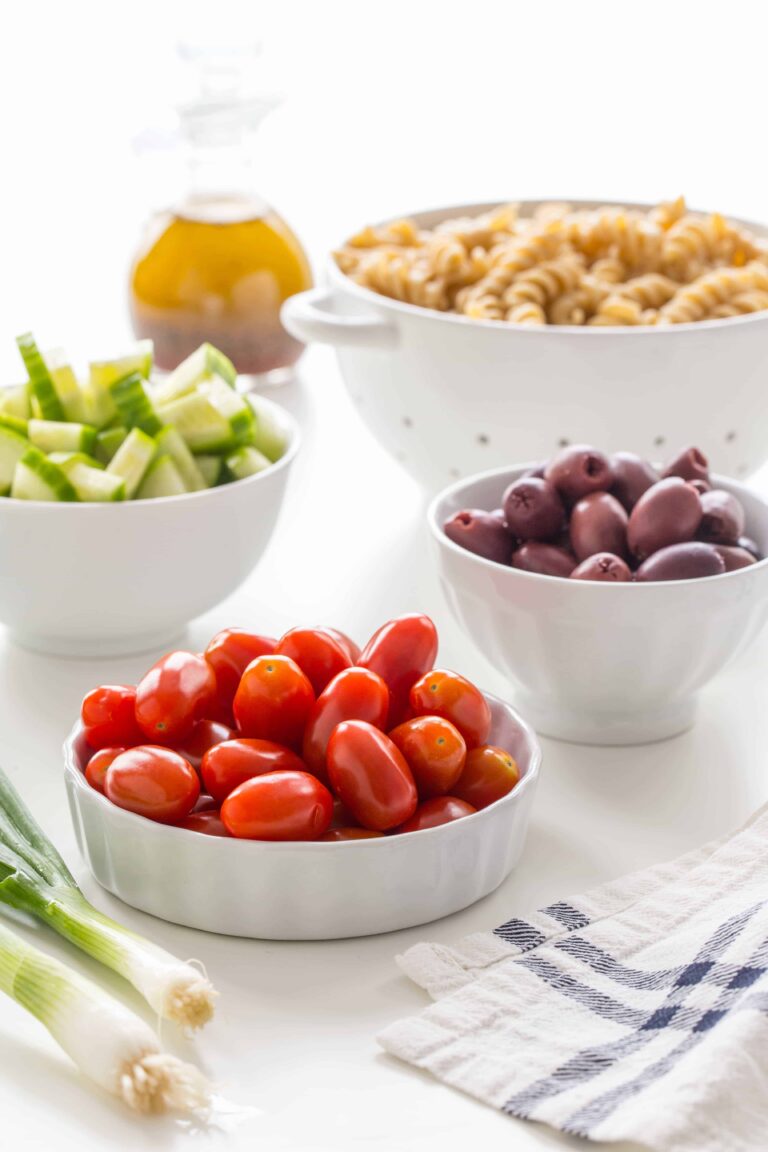 I love this Greek Pasta Salad for so many reasons, but my favorite thing about it is that it feeds a crowd. So whether you've got a crew of hungry workers, or a family to feed on a warm summer night, this pasta salad is the perfect side dish for you.
The ingredient list for this recipe may seem a little bit long, but the beauty about pasta salad recipes is that you can totally adapt them to meet your taste or the ingredients that you have on hand. And if you have a garden, you're golden because it's full of fresh vegetables.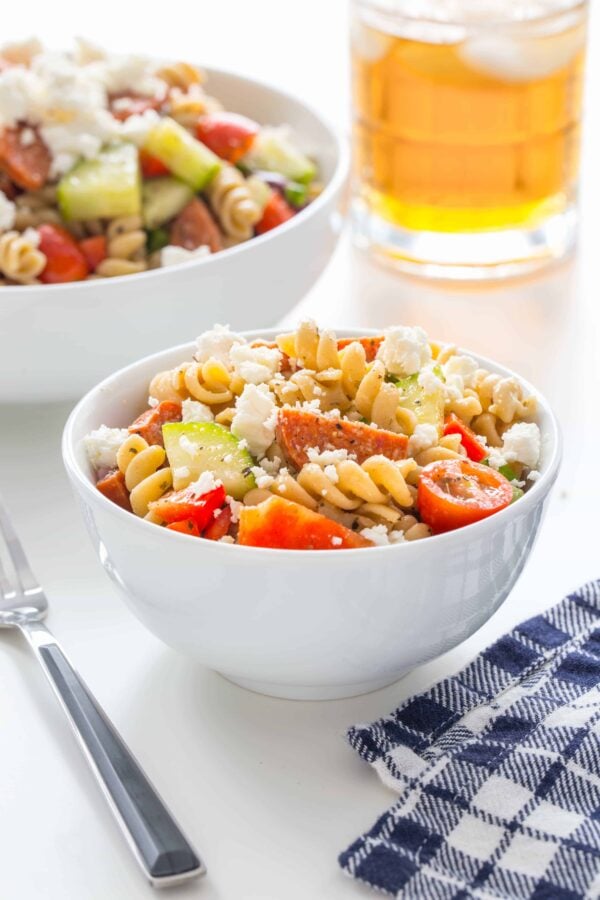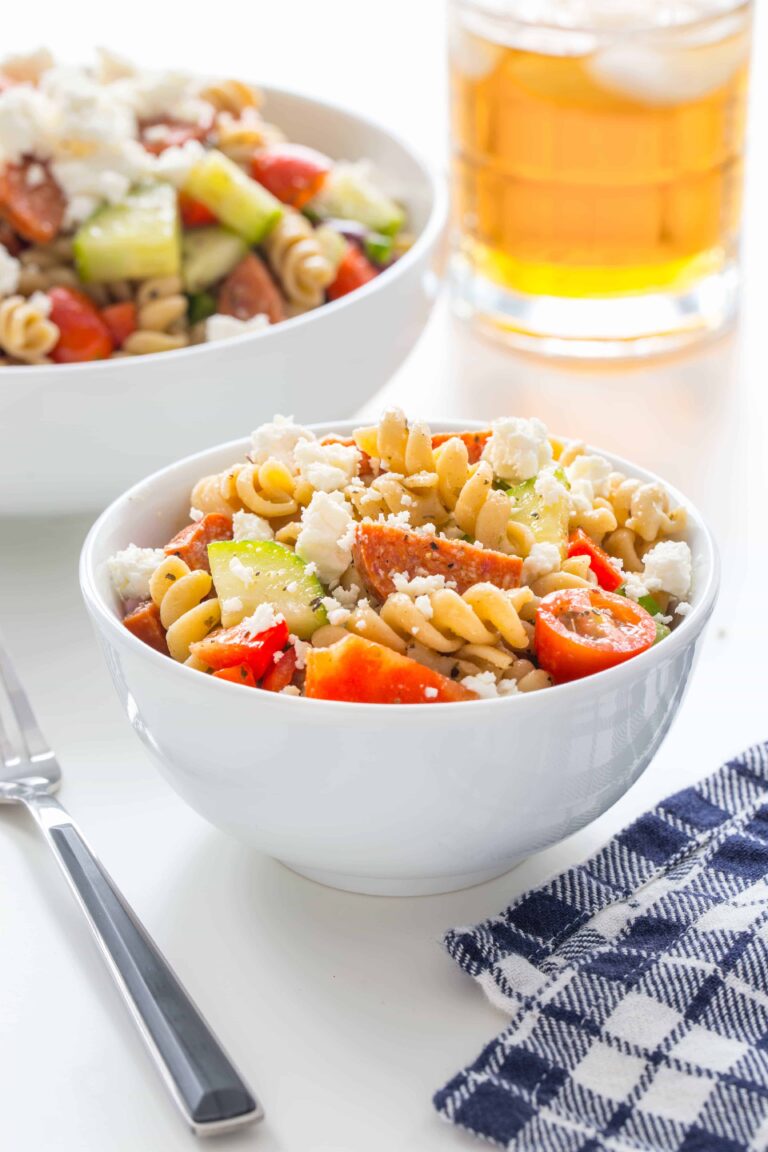 Pasta salad is one of those great side dishes because you can make it ahead and just leave it until you're ready for party time. The longer it sits, the better the flavors get. And you can totally serve it for dinner as the main dish – just add in a bit of shredded rotisserie chicken and you're good to go!
The true star of this salad is the incredible homemade Greek salad dressing that pulls all of the flavors together. It creates what is, in my opinion, the best pasta salad you'll ever eat.
Definitely make it the night before you are going to serve it because it just gets better when the flavors have time to develop, or even a day before.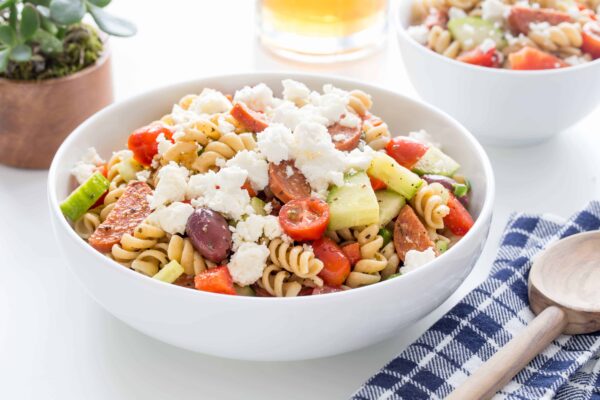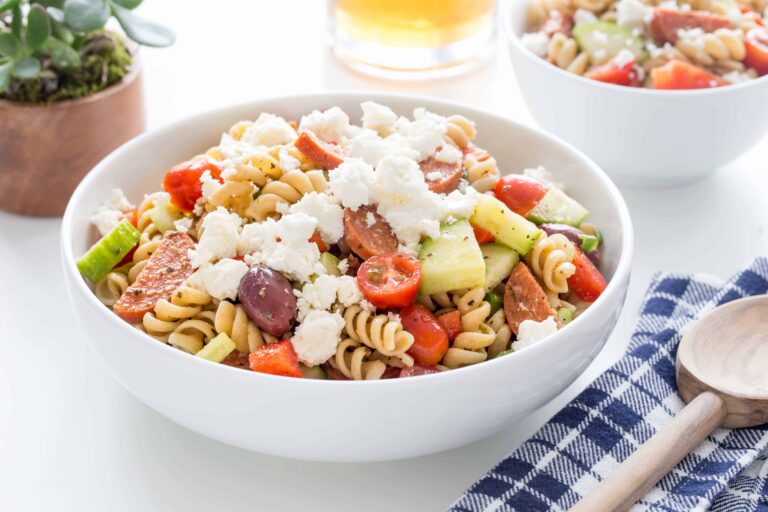 Go crazy with the veggies, but for the love of Pete, don't forget the Feta. Feta cheese makes everything better, and you NEED it in this pasta salad in all its salty glory.
I hope this Greek Pasta Salad recipe is the perfect addition to all of your summer barbecues. It truly is a showboat of a side dish, and your whole crew will love it!
For more delicious summer recipes, be sure to check out this Seven Layer Salad, Baked Beans, Frozen Samoa Pie and this Chocolate Chip Cookie Ice Cream Sandwich Cake.
Greek Pasta Salad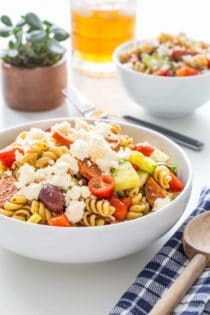 Ingredients:
For the Dressing
1 cup olive oil
3/4 cup red wine vinegar
2 teaspoons garlic powder
2 teaspoons dried basil
2 teaspoons dried oregano
2 teaspoons Za'atar*
1-1/2 teaspoons freshly ground black pepper
2 teaspoons granulated sugar
For the Salad
1 pound rotini pasta cooked according to package directions
1 pint cherry tomatoes, cut in half (you can also sub in grape tomatoes)
1 large cucumber, seeded and chopped
1 red bell pepper, chopped
1 green bell pepper, chopped
4 green onions, thinly sliced
3/4 cup Kalamata olives
1-1/2 cups crumbled feta cheese
1 7-ounce pepperoni stick, sliced
Directions:
In a a large Mason jar or other sealable container, combine olive oil, vinegar, garlic powder, basil, oregano, Za'atar black pepper, and sugar. Shake well to combine.
In a large bowl, combine cooked pasta, tomatoes, cucumber, bell peppers, green onions, olives, feta cheese and pepperoni.
Separate and reserve ½ cup of dressing in the refrigerator.
Toss the pasta salad with the rest of the dressing until evenly coated. Cover, and chill overnight.
Right before serving, freshen the salad with the reserved dressing, tossing to coat.
Notes:
Pasta salad is best made the night before it is served. Reserve about ½ cup of dressing in the refrigerator and freshen the salad before serving.
This Greek Pasta Salad recipe is totally customizable. If you aren't a fan of something on the ingredient list, substitute it with another vegetable. I have added mushrooms, artichoke hearts, and banana peppers to this recipe with great results.
I highly recommend finding Za'atar. It's such a great spice (a blend of sumac, sesame seeds and herbs) to have on hand.
All images and text ©
Follow Jamie on Instagram. We love to see what you're baking from MBA! Be sure to tag @jamiemba and use the hashtag #mbarecipes!
This post originally appeared on My Baking Addiction in July of 2011. Photos and text have been updated.