These easy, cheesy meatball sliders are the perfect marriage between meatball subs and Hawaiian roll sliders. Whip these up with homemade meatballs or frozen meatballs for a weeknight dinner or a game-day snack.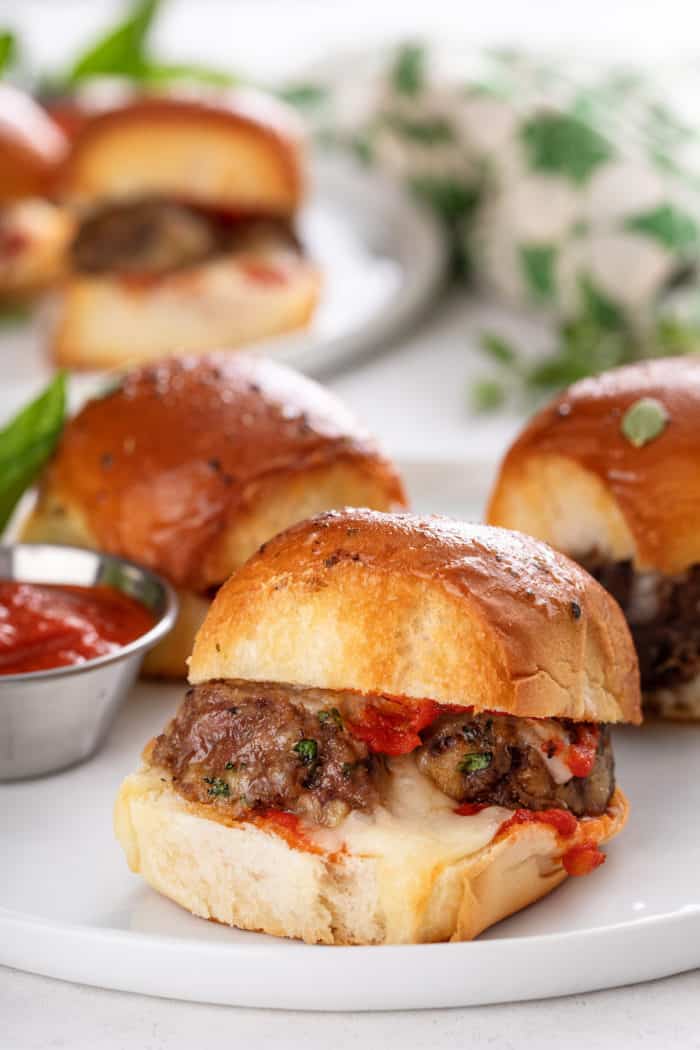 There's finally a crisp chill in the air in the mornings and the leaves are starting to turn, so you know what that means: fall is officially here!
It's time to curl up with a slice of pumpkin bread, make a batch of slow cooker apple butter, and shop online for new sweaters.
It's also tailgating season, and while I am not out here tailgating on a regular basis, I know a lot of people who are and they're always looking for fun game-day foods.
Luckily, one of our new weeknight meals is also a perfect game-day snack. These meatball sliders are my newest slider recipe and are perfect for all the meatball sub fans out there.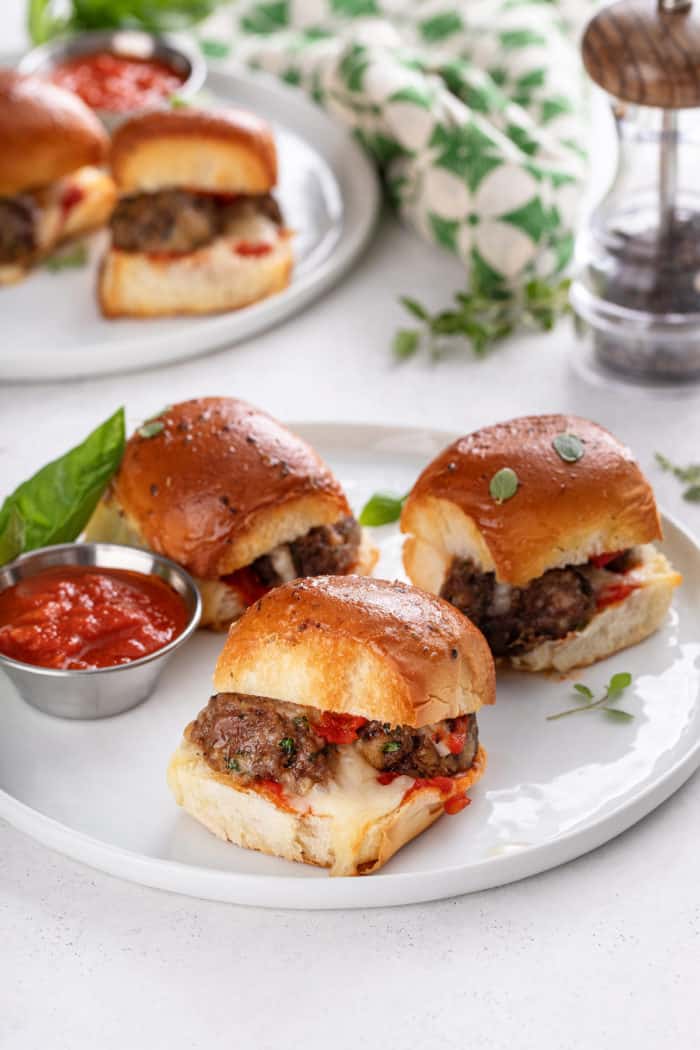 EASY HAWAIIAN ROLL MEATBALL SLIDERS
My family is really into Hawaiian roll sliders.
From ham and cheese sliders to pizza sliders to cheeseburger sliders, they're a meal that I know all of us will happily enjoy.
And you know what? I'm totally happy with that, since they're a super easy dinner. And they're versatile and delicious!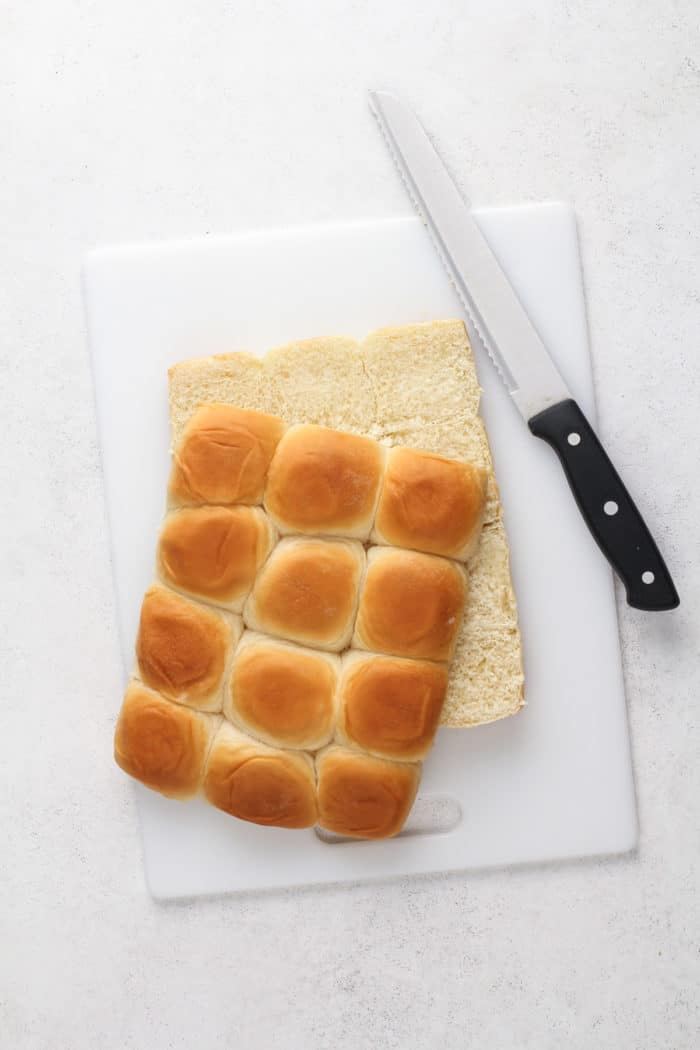 Our newest version uses homemade meatballs for a meal that is a meatball-sub take on sliders.
Meatballs, marinara, and melty cheese are piled on top of King's Hawaiian rolls for all of the flavors of a meatball sub in a smaller, easier to eat form.
And don't forget the garlic and herb butter that goes on top! It's the perfect way to finish these off.
Serve these up as part of a game-day spread alongside spicy sausage dip and buffalo chicken dip, or turn them into a dinner with a big green salad and homemade ranch dressing and honey glazed carrots or garlic roasted green beans.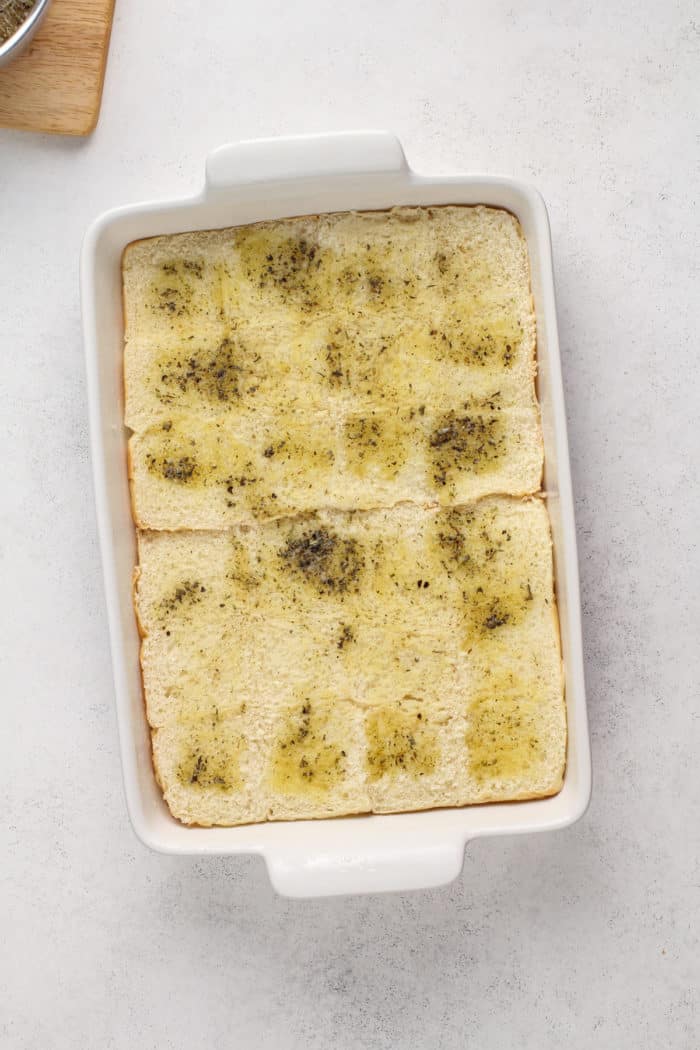 HOW TO MAKE MEATBALL SLIDERS
Sliders are so fun and easy to make. They're a great way to get kids involved in making dinner – they'll love assembling these little sandwiches!
Ingredients you'll need
Like so many of my slider recipes, these meatball sliders only use a handful of ingredients that I try to keep on hand as much as possible.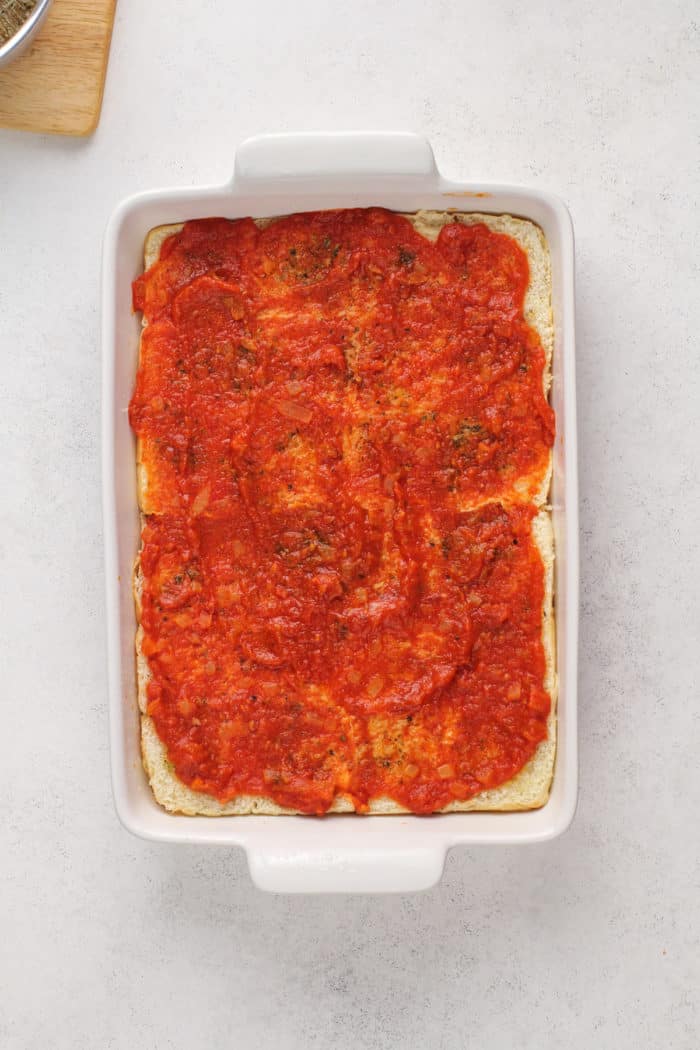 For the sliders, you'll need:
You'll also need to make the garlic butter:
4 tablespoons unsalted butter
1-2 cloves garlic, grated or minced
2 teaspoons Italian seasoning
pinch salt & pepper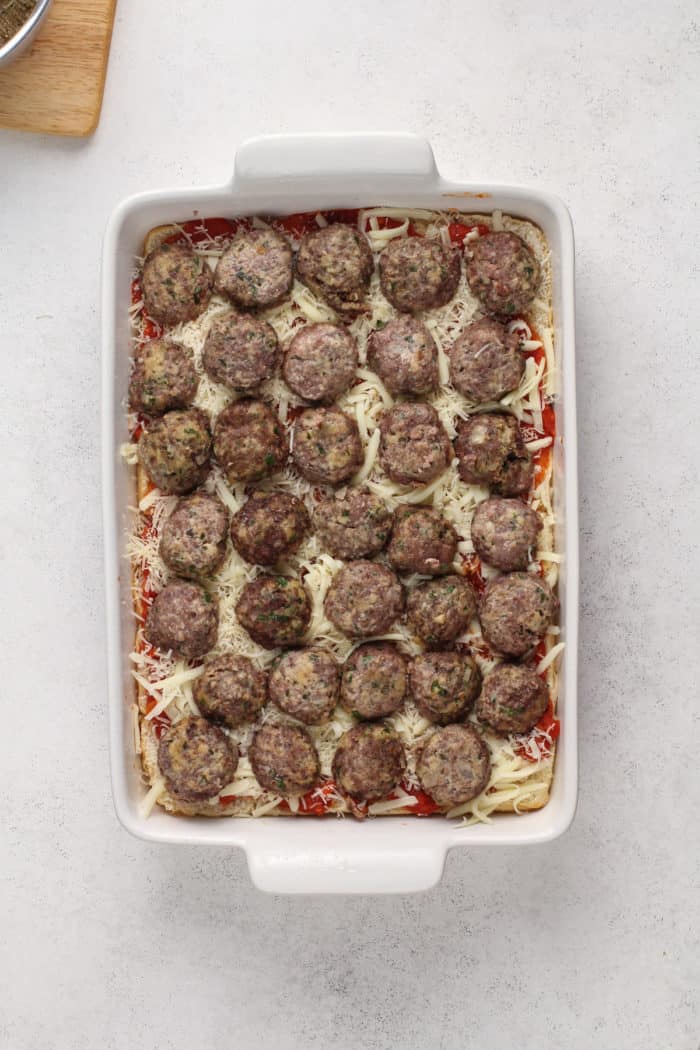 If you don't have homemade meatballs on hand or don't want to use them, you can use frozen, fully cooked meatballs instead. Thaw them fully and then proceed with the recipe as written.
You can also replace the quick marinara sauce with your favorite jarred marinara or pizza sauce.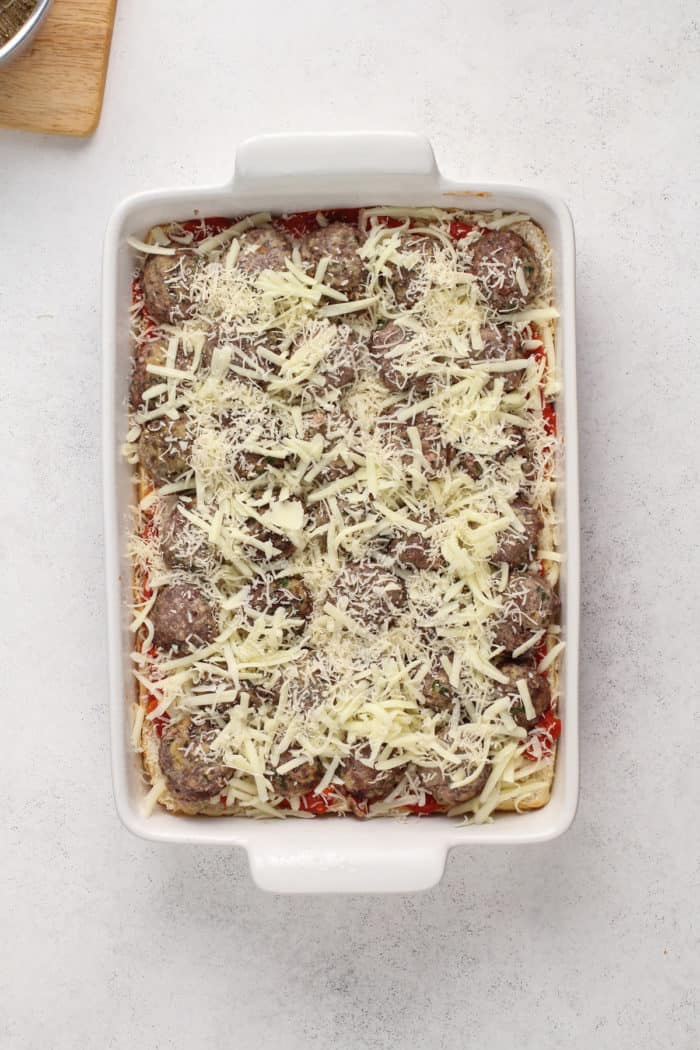 Making this recipe
Start by prepping the Hawaiian rolls by slicing them in half horizontally, the same way you would a bagel. Place the bottoms in a baking dish or on a sheet tray. Set the tops aside for now.
Melt the butter in a small saucepan, adding the garlic and other ingredients and warming until the butter is nice and fragrant.
Brush the garlic butter over the bottoms of the rolls. Top with some of the marinara sauce. You can add a lot of sauce if you like them nice and saucy or just a little – it's all up to you!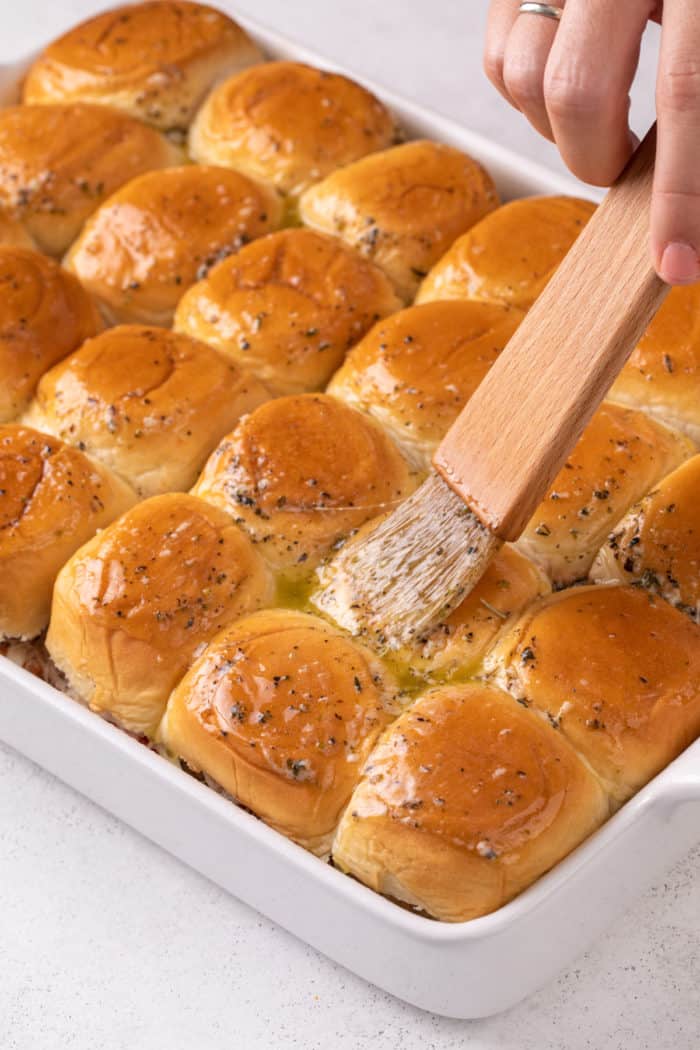 Sprinkle on half of the cheeses, then add the meatballs.
You can either place a whole meatball on each bun or cut the meatballs in half and arrange them across the rolls. I usually cut them in half; I think this makes them easier to serve and eat.
Top the meatballs with the rest of the cheese. Spread more marinara on the tops of the rolls, then put the tops on the sliders.
Brush the rest of the garlic butter over the top of the sliders and bake until the cheese is melted and the tops are nice and golden. This should take about 15-20 minutes.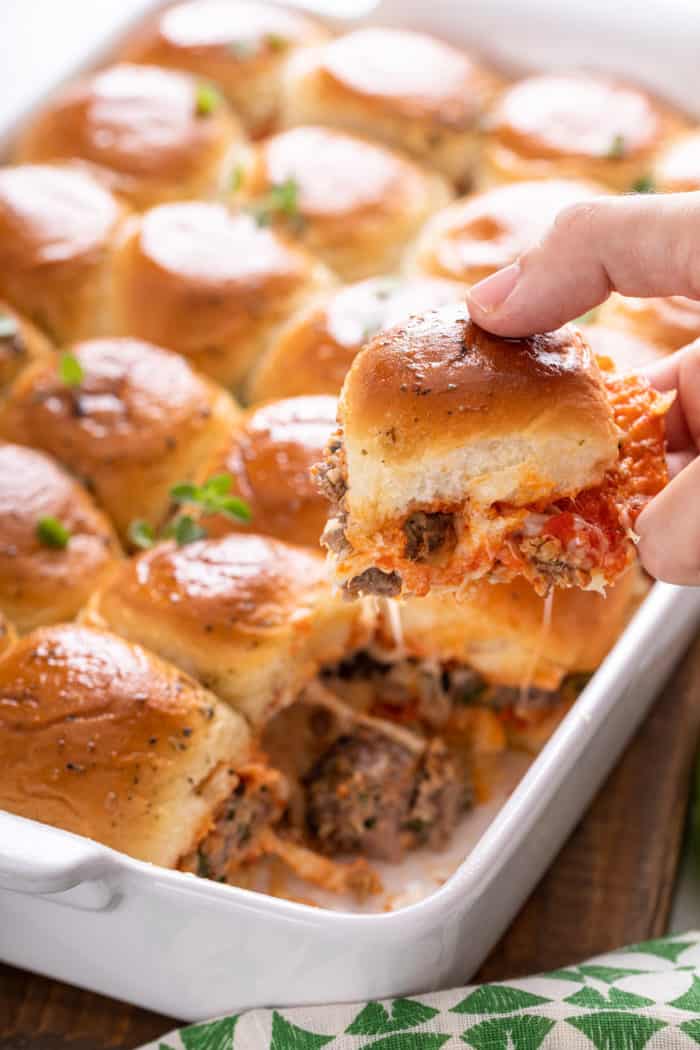 REHEATING INSTRUCTIONS
If you happen to have any meatball sliders left over, you can easily reheat them the next day. The best way to do this is in an oven or an air fryer.
Place the leftover sliders in the basket of an air fryer and cook at 375 degrees for about 5-10 minutes. I usually place them on a piece of foil just to keep the air fryer basket from getting dirty.
Alternatively, wrap them in foil and reheat in a 375°F oven for 10-15 minutes.
Give these meatball sliders a try while watching your favorite team this weekend or for dinner next week. You won't be disappointed!